The best time to publish a blog post varies by many factors, including blogging niche, audience, publishing goals, and the methods used to promote the post. According to Kissmetrics, the average blog gets the most views on Mondays, and traffic generally spikes around 11 a.m. In truth, though, the best time to publish is a lot more complicated than that.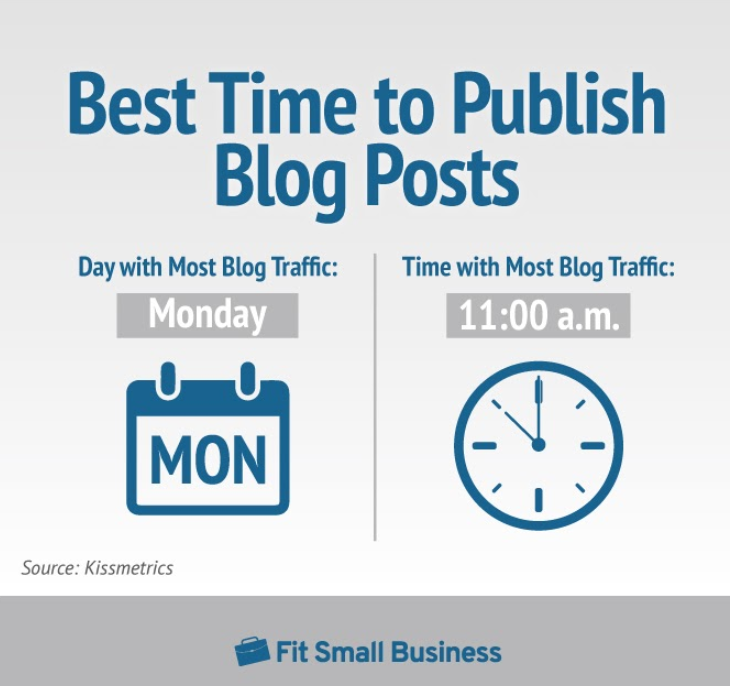 Asking when is the best time to publish a blog post is a lot like asking when's the best time to eat. Just as people eat at all times of the day, people read blog posts at various times too. Yet, there are some general parameters that can guide you. Much like restaurants have their peak service times, blog audiences tend to read blogs more heavily at certain times of the day—and that can vary not only by blogging niche but also by where and how the reader learned about the blog post, for example through an RSS feed, email, or social media channel.
If your audience is primarily a business audience, you'll want to publish blog posts on weekdays during typical work hours. Business readers tend to view blog posts early in the day and then again around lunch time.
If your blog serves individuals rather than businesses, then you need to determine when your customers are most likely to visit your website. This can vary greatly by website, but luckily you can use Google Analytics to help you better understand your current traffic patterns.
Use Google Analytics to Guide Your Blog Post Publishing Schedule
Google Analytics provides you with hard data on when your audience is visiting your blog. To find this information, simply navigate to your Google Analytics page, click on Acquisition > All Traffic (or you can search by Channels) > Source/Medium on the left navigation bar. Then, click on Secondary Dimension and select the timing parameters you want to review (see below).
To give you a better sense of what you'll see when you perform this search, I gathered information on Google Analytics for an actual blog, selecting the day of the week option in the drop-down menu. The example I used happens to be a personal development blog that serves individuals rather than businesses.
As you can see from the results below, Monday receives the highest traffic in organic search, followed closely by Tuesday and Wednesday (in Google, days of the week are numbered zero through six with zero being Sunday and one being Monday). Saturday sees the lowest traffic for this blog. You could also perform the same search and look at traffic by day for various social channels you use to promote your blog posts.
You can find another tool that breaks down overall blog visits from all sources by day and time on your Google Analytics Home Screen. The breakdown of traffic patterns over the last 30 days for our personal growth blog example is below.
The best day to publish a blog on your website might not necessarily be when you're experiencing the most traffic on your site right now. After all, your current traffic patterns are a result of your blog posting and promotion patterns to date—which might not be ideal.
Factors That Influence the Best Time to Publish
There are a number of factors to consider when deciding when to publish. These factors include how often you plan to publish blog posts, your blog timing strategy, and your overall blogging goals.
How Often Should I Publish New Blog Posts?
If you've developed an overall blog content strategy—which I highly recommend doing—you probably outlined your blogging frequency goals there. If you haven't developed a content plan yet, now's a good time to decide how often you plan to publish new posts.
For those who intend to make money blogging, consistency is key. You need to publish regularly to develop a strong bond with your audience. I recommend publishing new content at least twice a month, and once a week if you have the time. Never sacrifice quality over quantity, though; it's far better to create two amazing blog posts a month than several shoddy ones.
Some bloggers publish two or three times a week, which can be beneficial if you have the time and resources to keep your blog quality high. There are also those who publish new posts daily, which is a fairly tough schedule to keep unless you have access to a staff of writers. In my experience, daily blogging isn't necessary for most blogs and is not advised as quality suffers when your blogging editorial calendar is over packed.
Seasonality Also Influences When & How Often Bloggers Publish
Your audience may have heightened interest in your blog posts at different times of the year. For example, blogs about business training often see a traffic spike in the first quarter and then again in September and October. Blogs about vacation travel spike in popularity in the summer months, over spring break, and on holidays. Adding fresh blog content during these seasonal traffic surges can be a profitable blog timing strategy.
Should I Publish Blog Posts at Peak Times or Non-Peak Times?
Obviously, not all blog posts are posted at 11 a.m. on Mondays; that's merely the time when the most blog posts are scheduled. That time is peak traffic—which can also lead to traffic jams in today's crowded blogosphere.
The advantage of publishing blog posts during peak reading times is that this is when most people are reading blogs. The downside is that there are so many blog posts competing for attention, your posts could get lost in the crowd.
When developing a publishing strategy for your blog, it's best to experiment with posting on various days of the week and times of the day. Then, see what works best for your blog audience. Keep testing and analyzing results over time, and then establish a publishing cadence that your audience likes best.
What Are Your Sharing Goals for Your Blog Post?
There's a difference between when most people might be available to read blogs and when they're most likely to share blog posts. According to a report by TrackMaven, blog posting peaks between 9 a.m. to 1 p.m. while blog post sharing peaks between noon and 4 p.m., though remains relatively high through 11 p.m.
The day you post can also influence social sharing. Studies offer conflicting viewpoints on which day sees the most social shares. BuzzSumo, a leader in social trend monitoring, reports that Tuesday sees the most social shares, followed by Thursday and Monday.
Remember that all social share statistics are based on averages. Blog posting stats across different channels can vary widely, which is why we'll now look at social media post timing.
The Link Between Blog Post Publishing & Social Media Post Timing
A whopping 97% of bloggers use social channels to promote their new blog content. That's why you simply can't have a discussion about the best time to publish a new blog post without also talking about the best time to post about that new content on social media. More importantly, every social channel is a bit different, so we'll walk through the best times to post on Facebook, Instagram, Twitter, Pinterest, and LinkedIn.
Best Time to Post on Facebook
The best time to post on Facebook, according to Social Sprout, is Wednesday at 11 a.m. or between 1 and 2 p.m. Take a look at the chart below and those areas that are darkest represent the times where bloggers often see the highest engagement. Overall, Sunday sees the lowest engagement, though that doesn't mean it's a bad day to post for all bloggers.
You can't rely on averages across all industries to know what works best for your blog, though. Instead, navigate to your Facebook Insights toolbar to see when your fans are active online.
For the personal development blog we discussed previously, Tuesday is the best day for engagement on Facebook while Saturday is the worst (see the graph below). This Facebook page sees a peak at 8 a.m. and again at 6 p.m., with fairly decent engagement throughout the day. This just goes to show that you can use overall social channel averages for direction, but always take a look at your own statistics to see what works best for your audience.
Best Time to Post on Instagram
Later is an Instagram marketing platform that studied 12 million Instagram posts. Later found that 9 a.m. to 11 a.m. Eastern time is the best time to post on Instagram. Sprout Social, another well-regarded marketing platform, found that the best time to post was Wednesday at 11 a.m. and Friday from 10 a.m. to 11 a.m.
Once again, though, it's important that you review when your followers are actually online and adapt your posting schedule to their preferences. You can view that information on Instagram Insights from your business account via your profile.
Best Time to Post on Pinterest
According to Oberlo, the best times to post on Pinterest are between 8 and 11 p.m. It turns out Saturday and Sunday are the best days to post on Pinterest.
Once again, overall averages won't necessarily reflect what's best for your blog. As you can see from the Tailwind audience research report below for the Believe and Create personal development blog, peak reach hours (those in dark green) happen at various times of the day, though they tend to cluster around 4 p.m. every day.
Most Popular Times to Tweet
Buffer analyzed more than 4.8 tweets and found noon to 1 p.m. is the most popular time to tweet in all US time zones except Pacific time, where 8 to 9 a.m. is the top time to tweet. Tweets sent between 2 and 3 a.m. earn the most engagement, while tweets sent at 9 a.m. garner the most retweets.
Tweets posted Friday, Saturday, and Sunday get higher click-through rates (CTRS) than those posted on other days. A CTR is the percentage of people who click on a tweet to go to the website mentioned. This is helpful knowledge for those who are specifically trying to get more blog traffic from their tweets.
Best Time to Post on LinkedIn
CoSchedule broke down the results of 25 different research studies and found that overall, Tuesday, Wednesday, and Thursday are the best days to post on LinkedIn. LinkedIn members often read blogs in the morning between 7:30 and 8:30 a.m., at noon, and again at 5 to 6 p.m.
CoSchedule also found that different types of businesses fared a little better at different times of the day. For example, on LinkedIn, B2C businesses did well posting at noon, while the best time to post for B2B businesses was at 8 a.m., 10 a.m. to noon, and 6 p.m. See the chart below for results from more industries.
The Best Time to Promote Your Blog via Email
Roughly 66% of all bloggers promote their blog posts via email marketing. You'll want to make sure to send your emails when you can get the best results. The best email marketing providers offer solution-specific analytics where you can monitor what days and times are working best for your email campaigns.
According to SendinBlue, Tuesday and Wednesday are typically the best days to send email campaigns, while 10 a.m. and 3 p.m. are the optimal times to send emails promoting your blog posts. SendinBlue found that optimal email timing varies a bit by industry, which you can see in the chart below.
Bottom Line
The best time to publish a blog post varies by blogging niche and individual audience characteristics. Various social channels each tend to have their own best times to post. The statistics we provided are directional in nature and merely give you a glimpse at which days and times typically work best. Successful bloggers always monitor their own results, though, as those could vary significantly from overall industry averages.