Video technology provides a convenient way to interview job applicants without concern about arranging meeting times, dealing with transportation, or worrying about COVID-19 issues. It's also a great time saver. While you can always arrange a Zoom meeting, using a video interview software gives you many more advantages.
Video interview software lets a candidate pre-record answers to given interview questions that you can review at your leisure. It also sets up live video interviews, provides evaluation and rating tools, and facilitates collaboration among your hiring team. Some include tools for recruiting, skills evaluation, and even rejecting or hiring. We looked at the eight best video interview software services for employers.
Top Video Interview Platforms
| Video Interview Software | Best for |
| --- | --- |
| | (Best Overall) Employers wanting to do live video interviews |
| | Small businesses doing panel (or group) interviews over video |
| | International companies that want video interview software that caters to different languages |
| | Small businesses that want free video interview software |
| | Companies that want to streamline video interviewing with their recruiting process |
| | Organizations that want to increase their diversity |
| | Businesses that need video interview software as part of a complete hiring product |
| | Tech companies hiring engineers and coders |
Top Features of Video Interview Software
Video interviewing is more than a convenience. Users say it has reduced the time and cost of hiring an employee by 50% to 90%. Here are some of the features that helped our video interview software picks make the list:
Flexible pricing: Free, low-cost, and unlimited package options ensure all businesses can try the software.
Pre-recorded responses: By allowing candidates to record and send answers on their own time, candidates can answer more concisely and thoughtfully.
Objective assessment tools: By creating a set of questions to provide every candidate for a job, you have greater conformity and a basis for objective comparison. Star or scale ratings help give an objective assessment, while notes and discussions can address discrepancies among evaluators.
Prerecorded questions: Pre-recorded interviews can be viewed—on desktop or mobile—when the evaluator has time. Also, if it's obvious a candidate is not right, the evaluator can simply move on to the next candidate.
Replay feature: Rather than relying on notes or memory, recordings can be replayed to let evaluators rehear an answer or get a feel for the personality of the candidate.
Integrates with applicant tracking systems (ATSes): Some of the video interviewing solutions we considered come as part of an applicant tracking system (ATS) or recruiting package. Nearly all integrate with third-party ATS systems.
If you need help learning how to interview, check out our guide on interviewing candidates.
Spark Hire: Best Overall Video Interview Software for Employers

Spark Hire is a highly rated video interviewing software with excellent features to make it easy to select your next employee. You can choose interview questions from its bank of libraries to use for pre-recorded or live interviews. If you want to schedule a live interview, the software integrates with Google, iCloud, Outlook.com, Exchange, and Office 365 to make it easy for candidates and your team. In live interviews, you can use a private chat to share comments with your hiring team. Recordings mean you can rewatch an interview or share it with someone who couldn't be there.
Evaluating your candidates is easy too. The library of questions helps ensure all interviewees start at the same place. You can anonymize candidate information to help reduce bias, use a 5-star rating system for quick evaluation, and share comments to further discussions. The software even makes rejection easier with a menu of rejection options and templates for emails to send the candidate.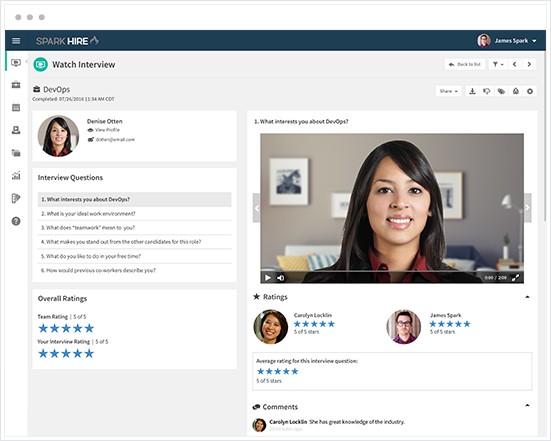 Pricing: Spark Hire's plans run from $119 per month for unlimited interviews, one job at a time, to $599 per month for unlimited interviews and unlimited jobs. It has a 14-day free trial.
Standout Features: A stand-alone video interviewing software, it integrates with over 35 programs for applicant tracking and other necessary features, and is developing several more integrations. It also works in over 100 nations, making it a good choice for hiring internationally.
Additional Services: Free webinars, articles, and a podcast on recruiting and hiring topics and tips.
User Reviews: 4.8 stars on G2; users say it's versatile, straightforward, and a great time-saver.
VidCruiter: Best Video Interview Software for Panel Interviewing

VidCruiter is one of the most popular video interviewing software services because of its ease of use and excellent features. You can send questions to recruits for pre-recorded interviews or schedule live online interviews. Live interviews work through a link, so no one needs to download a special app. VidCruiter allows screen sharing with the recruit or privately with your hiring team, so you can have documents on-hand for interview discussions, making it a great option for panel interviews.
Candidate scores from all interviewers are calculated in real time to make ranking quick. You can share recordings of interviews or review them yourself. One advantage to the sharing is that it still allows the viewer to make notes and rank in the system, so they can comment and evaluate as they watch. You can also create a rating system to help keep everyone rate on the same parameters.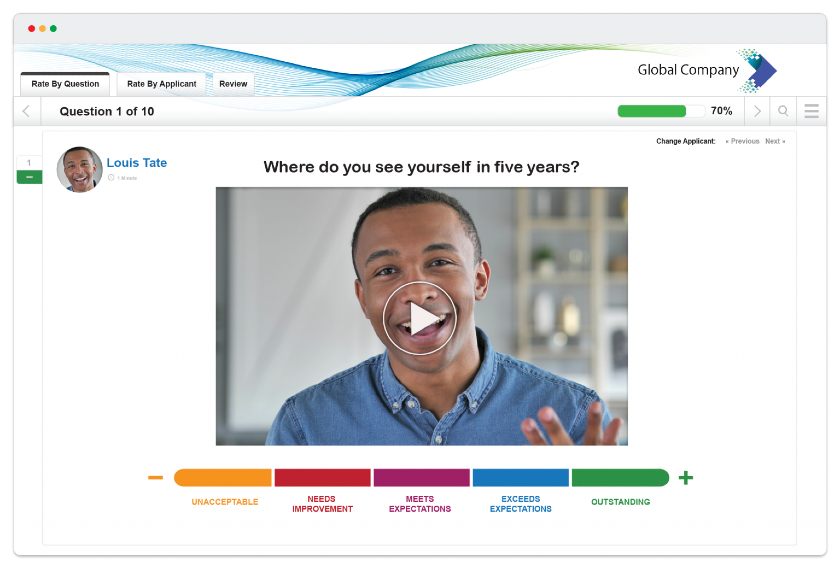 Pricing: Contact Sales.
Standout Feature: Screen sharing during live interviews makes it easy to share and discuss documents.
Additional Services: Automated referencing, audio interviews, and skills testing with optional video proctoring
User Reviews: 4.7 out of 5 stars on G2; users praise the ease of use and say the customer support is top-notch.
OutMatch: Best for Businesses Expanding Into New Countries

OutMatch supports eight languages and has been used to hire in 100 countries, making it a good choice for companies expanding internationally. The software allows both pre-recorded and live interviews. The pre-recorded interviews stand out because you can record the questions as well, a good way for recruits to get a personal feel for the interviewer or the people in your company.
The scheduling system lets you schedule in-person interviews as well. The interview guides and scoring system help your team evaluate using the same parameters, making for a more consistent and objective decision.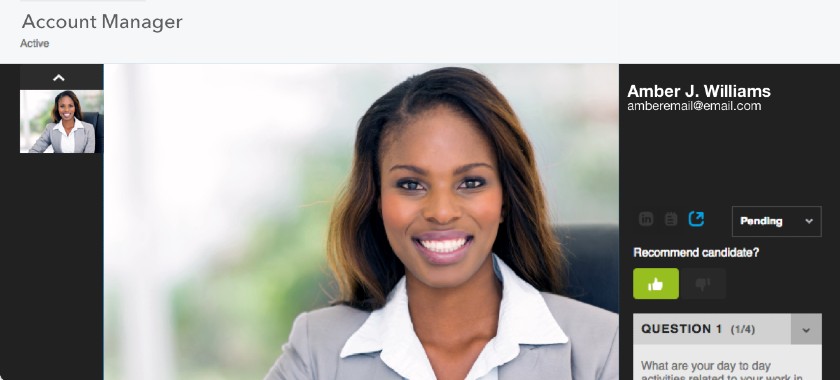 Pricing: Call for a quote. OutMatch offers a 60-day free trial.
Standout Features: OutMatch supports eight languages for service in over 100 countries. It also lets you record interview questions.
Additional Services: Talent assessment, automated reference checking, and culture analytics.
User Reviews: 4.4 out of 5 stars on G2; users praise the ease of use and the interview guide, which they said helped in assessing behavioral, as well as job-specific skills.
myInterview: Best Free Video Interview Platform

If you need a basic video interviewing system, myInterview offers a free plan that gives you the ability to conduct pre-recorded interviews for up to 30 candidates per year. The free video interviewing program lets you choose from 10 questions or create your own, request interviews, and evaluate responses.
However, its paid plans offer more functionality, including live interviews with collaboration, personalized video introductions, and team viewing with collaboration and discussion. It integrates with many ATS platforms, and you can invite candidates through the platform if you prefer. Interviews are automatically transcripted, and keywords are highlighted to make reviewing easier.
Pricing: myInterview has a free plan that lets you have one active job at a time, with two user seats and up to 30 candidates per year. The other plans run from two active jobs, five user seats, and 80 candidates for $39 per month to $259 per month for 12 active jobs, 15 active seats, and 700 candidates. Higher plans have more features as well.
Standout Features: myInterview Intelligence analyzes the video recordings for soft skills, personality traits, and keywords to help you find the candidates that match your company culture. It can also create your shortlist for you.
Additional Services: Higher-level plans come with email templates, myInterview Intelligence, additional languages, advanced analytics, and candidate sourcing.
User Reviews: 4.7 out of 5 stars on G2; while this software only received 4 and 5 stars and was praised for how much easier it made the hiring process, users nonetheless said they'd experienced glitches and wished the lower-tier plans came with more features.
Breezy: Best Video Interview Software for Recruiting

Breezy is a complete recruiting system that includes live and pre-recorded video interviewing. The video interviewing tool is relatively basic, allowing for the inclusion of pre-recorded answers in interview questionnaires, scheduling of live interviews, and team collaboration and evaluation of candidates.
The real advantage of this video interviewing software is that it is part of the Breezy recruiting platform. The platform as a whole makes advertising for and selecting a candidate easy. It's highly rated among users as well.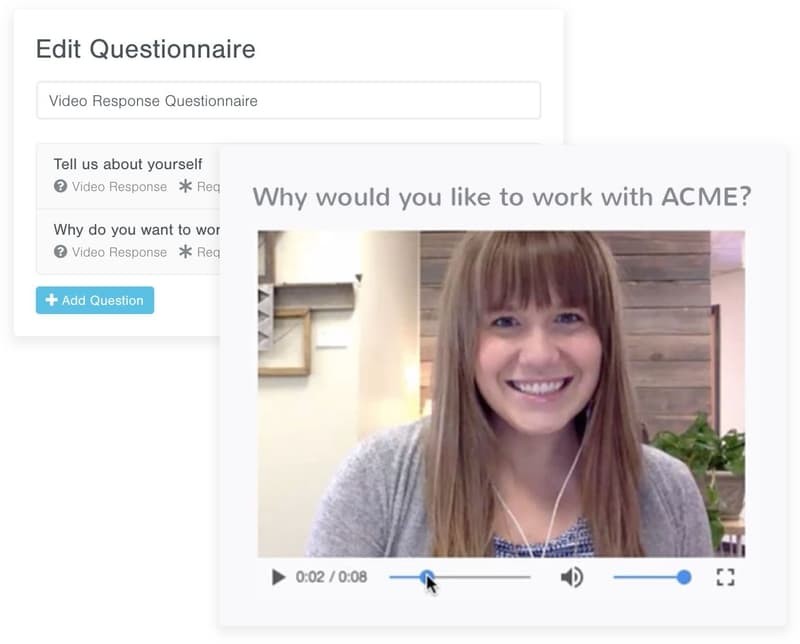 Pricing: Breezy's paid plans are $171 per month for the Startup Plan and $479 per month for the Business Plan, with significant discounts for purchasing an annual plan. Both plans include recruiting and video interviewing, but the Business Plan adds custom assessment tools, automated reference checking, and more.
Standout Features: Breezy can post jobs to over 50 boards, parse resumes for key qualifications, allow self-scheduling for interviews, check resumes, and send offers and approvals.
Additional Services: Depending on the plan you choose, you can get posting, resume handling, automated resume checking, background check integrations, multi-path interview questionnaires, candidate comparisons, and more.
User Reviews: Users who reviewed Breezy gave it 4.9 out of 5 stars. According to their experiences and reviewers on other third-party sites, Breezy is user-friendly and made it easy to organize and keep track of applicants. Little was said about the video interview portion.
HireVue: Best Video Interviewing Software for Diversity

HireVue uses a model that combines interviewing and assessment steps into one; validated by industrial-organizational psychologists, the system is designed to reduce hiring bias. According to HireVue, its customers were able to increase diversity hiring by 16% by using its software. It also says it reduces time-to-hire by 90%. During live interviews, you can take advantage of real-time evaluation tools, chat, and interview guides. Recordings are shareable, so you can get absent team members involved as well.
HireVue has extensive experience in the video interviewing field, having hosted over 15 million interviews in 30-plus languages for its more than 750 customers.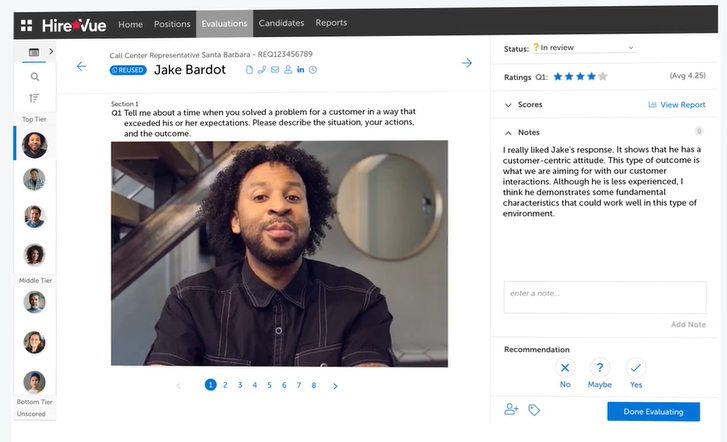 Pricing: Call for a quote.
Standout Features: Automatically send rejection notices to lower-tier candidates and use evaluation tools for middle-tier candidates to help determine whether to move them to the next phase in the interview process.
Additional Services: Webinars and articles on the hiring process.
User Reviews: 4.3 out of 5 stars on G2; users said it streamlined the hiring process, improving their ROI. One mentioned they liked the ability to change the speaking speed of the videos.
Avature: Best Complete Hiring Package With Video Interviewing Software

Video Interviewing is one of many products offered by Avature as part of its hiring platform. It lets you request pre-recorded interviews and have candidates schedule live interviews themselves. During live interviews, you can collaborate with others on your team and take notes. Afterward, you can review text answers with the recording and the candidate profile to make a deeper assessment.
The video interviewing software can be ordered alone or as part of the platform. Avature customizes the platform to your needs, and you must call for pricing.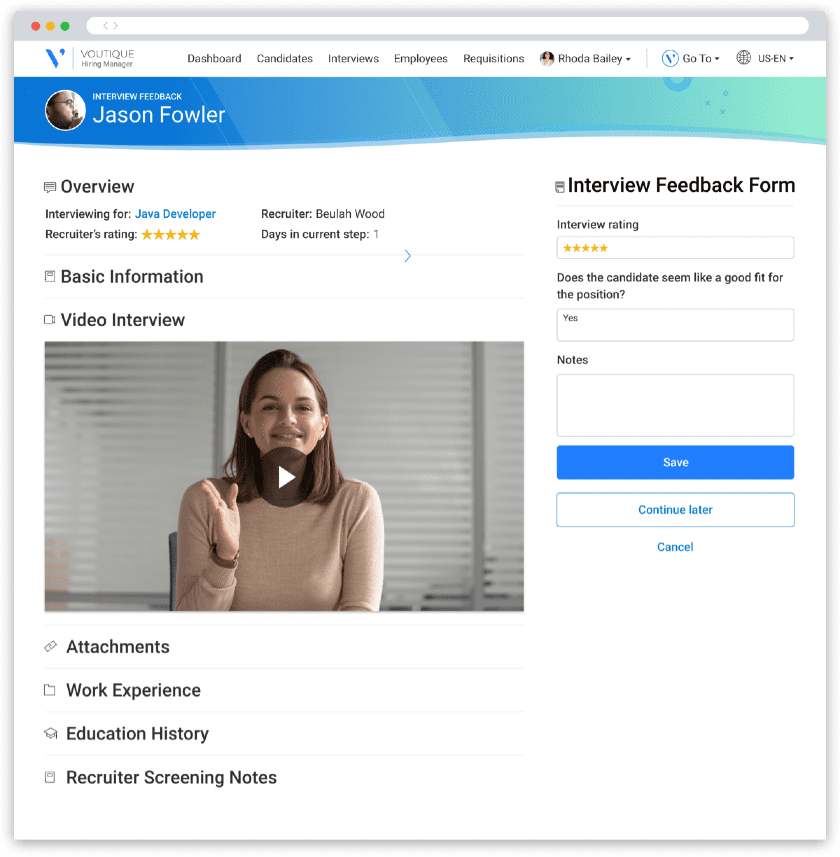 Pricing: Call for a quote.
Standout Features: Get real-time metrics about the interviews and compare top candidates to make better decisions.
Additional Services:
Talent Acquisition

Candidate relationship management
Applicant Tracking System
Campus recruiting
Recruiting events management
New hire onboarding
Employee referrals
Retail recruiting
Agency management
Career website optimization

Talent Management

Employee engagement
Internal mobility
Performance management
Succession planning
Contingent workforce management
User Reviews: 4.5 out of 5 stars on Capterra; reviews do not specifically address the video interviewing feature, but overall, users say it is easy to use, greatly streamlines the hiring process, and is constantly improving.
Codility: Best Video Interview Platform for Hiring Engineers and Programmers

Designed for programmers and software engineers, Codility offers more than a standard video interview software. It has additional features that make it easier to assess the strengths of the candidate in programming, from feedback forms covering skills tasks and ambiguities to a dedicated place to code during the interview itself.
Codility is not just for software engineers, however. It serves customers in the technology, finance, government, ecommerce, transportation, and entertainment industries.
Pricing: Call for quote.
Standout Features: You can open an online room to code together to get a real-time impression of your candidate's skills. Codility also operates in over 40 languages and frameworks.
Additional Services: CodeCheck evaluates skills at four difficulty levels. CodeChallenge lets you set up coding challenges for promoting your brand and attracting new and upcoming programmers.
User Reviews: 4.7 out of 5 stars on G2; one user said the ability to code in the interview was a great asset.
Bottom Line
Video interviews are an excellent way to streamline your hiring process, saving you time, increasing responses, and reducing bias. You can find stand-alone services that integrate into your existing ATS software or find a software that includes video interviewing. Most offer a bank of questions and scheduling, collaboration, and evaluation tools.
Overall, we found Spark Hire the best for those needing a standalone service. With excellent features in an intuitive format, it's highly regarded by users in small businesses and large companies. It's also reasonably priced for the services it provides. Get Spark Hire's free trial today.