6 Best Real Estate Virtual Staging Companies (+ Examples)
Virtual staging is a digital alternative to home staging that saves time and money and enables real estate agents to target specific buyer types. The best virtual staging companies provide photos and floorplans that make real estate listings more appealing to potential buyers to entice multiple offers, increase the sale price, and sell the home more quickly. Here are the six best real estate virtual staging software options based on price, quality, customer service, and turnaround time.
Best Real Estate Virtual Staging Companies at a Glance
Company

Stand Out Features

Furniture Library

Price Range

(depending on service)

Customer Support

Largest variety of editing and staging choices
Free trial
Unlimited revisions

✕

$1.60 to $176

Phone, email, and live chat

Real estate photography
Photo and video services
Packages for agents, brokerages, and commercial real estate professionals

✕

$39 to $199

Phone and email

Staging collections created by designers
3D floor plans
Virtual renovations and renderings

✓

(with fee)

$49 to $199

Phone, email, and live chat

Do-it-yourself virtual staging software
Easy to use platform
Library of over 4,000 furniture pieces

✓

$15 to $699

Phone and email

Staged by professional interior designers
Furniture and decor from popular retailers
Virtual renovations and landscaping

✓

(with fee)

$29 to $39

Phone and email

Editing services for $5-10
Photo delivery in one business day
Responsive customer service

✕

$10 to $59

Phone and email
BoxBrownie: Best Virtual Staging Software for Variety of Editing Services
BoxBrownie is a real estate photography company that also provides virtual staging and photo editing services. It's a great option for real estate agents and brokers who work with many different types of listings, from commercial properties to fixer-uppers, and want a range of options to make whichever edits are necessary.
With BoxBrownie, you can make minor edits like image enhancement, day-to-dusk exterior lighting changes, or large virtual renovations to remove and replace appliances, flooring, wall colors, and furniture. These are impactful changes, especially for images that don't have optimal lighting or homes undergoing renovations that are not yet completed.
General Features
24-hour turnaround time for photo edits
48-hour turnaround time for virtual staging
Customer service available 24/7
Unlimited revisions
Designs for residential and commercial properties
Real Estate Virtual Staging Examples From BoxBrownie

---

---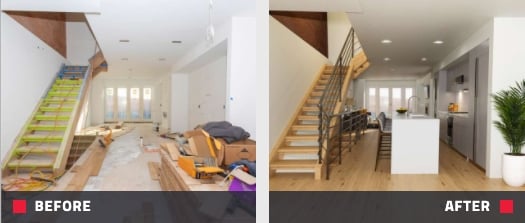 ---
BoxBrownie Reviews
Unfortunately, we found only a limited number of third-party reviews for BoxBrownie. However, it did receive a high rating of 8.5 on Hooquest for its design quality and well-rounded range of services. Plus, testimonials shared on the BoxBrownie website rave about fast turnaround times and realistic images. You can test BoxBrownie risk-free with the free trial. Or for a similar range of services, try VHT Studios.
Pricing
Image enhancement: $1.60 per photo
Day-to-dusk edits: $4.00
Item removal: $4 to $8 based on number of items
Virtual staging: $24 per photo
Floor plan redraws: $24 to $32 based on floor plan type: 2D Black and White, 2D Full Color, 2D Textured, or 3D Full Color
360-degree virtual tours: $16 to $24 based on the number of photos
Virtual renovations: $24 to $176
Renders: $280 to $600
Free trial: With three image enhancements and one day-to-dusk edit
VHT Studios: Best for Photography & Staging Services
VHT Studios is a real estate photography, videography, and image management service for agents and brokerages of all sizes. Through contracts with local professionals, VHT is able to offer quality photography and videography all over the country, while all post-production services are done in-house.
VHT Studios is especially great for real estate agents who use photos and videos to market their listings in marketing materials, listing websites, or on social media. You can also use this company to implement creative open house ideas with unique video tours and photos.
General Features
Three photography packages
Floor plans and home tours
Large collections of real estate virtual staging designs
Commercial photography partnerships with custom packages
Media management includes posting images and videos to the multiple listing service (MLS), listing pages, and social media
Real Estate Virtual Staging Examples From VHT Studios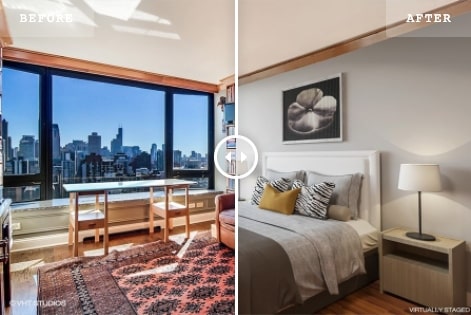 ---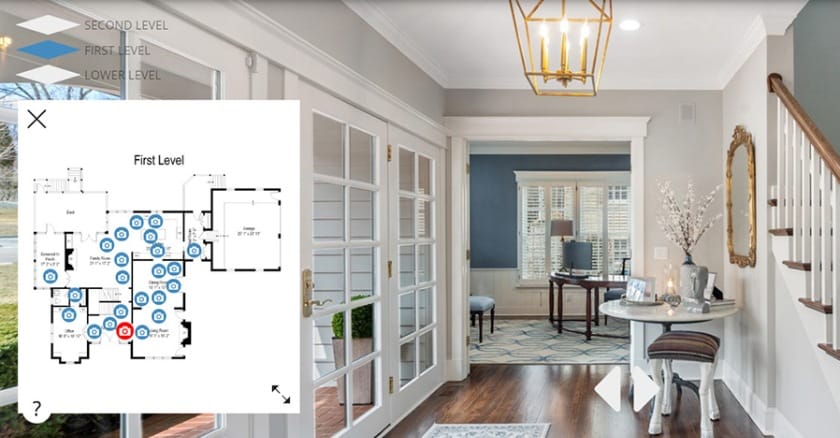 ---
---
VHT Studios Reviews
VHT's reviews are extremely mixed, with a rating of 3.5 out of 5 on Yelp. Satisfied users said they never list a property without consulting VHT for all of their photography needs. But less happy customers describe poor experiences with their photographers and with customer service and complain about the steep prices.
When working with VHT Studios, interview the photographer in your area to make sure they meet your expectations before paying for a package. Alternatively, if you want your virtually staged photos to have the best design quality, check out Stuccco.
Pricing
Virtual staging: From $79 to $199 per photo
Real estate photography: From $119 to $829
Drone photography: From $229 to $329
Matterport 3D tours: $199
Video walk-through: From $99 to $449
Floor plans: Varies on size, call for cost
PadStyler: Best for Virtual Renovations & 3D Renderings
PadStyler's virtual home staging services offer design collections created by professional interior designers. In addition to staged rooms, PadStyler offers virtual renovations, 3D floor plans, and architectural renderings. Since many prospective homebuyers have trouble visualizing spaces that aren't finished or need repairs or remodeling, this can be a vital tool to show buyers a visual of what the finished product could be.
Virtual renovations make it easy to market properties, even when there are still studs showing from demolition or when there isn't anything built yet. These features make PadStyler best for new homebuilders, construction companies, and real estate agents who market new builds or fixer-uppers. These renderings can be used for listing presentations and potential clients who are interested in seeing the finished building prior to purchasing.
General Features
Same-day turnaround available
Interactive 3D rendering
3D floor plans
Video walk-through
Virtual remodeling and kitchen revision
Virtual landscaping
Unlimited revisions
Live chat with customer service
Real Estate Virtual Staging Examples From PadStyler

---

---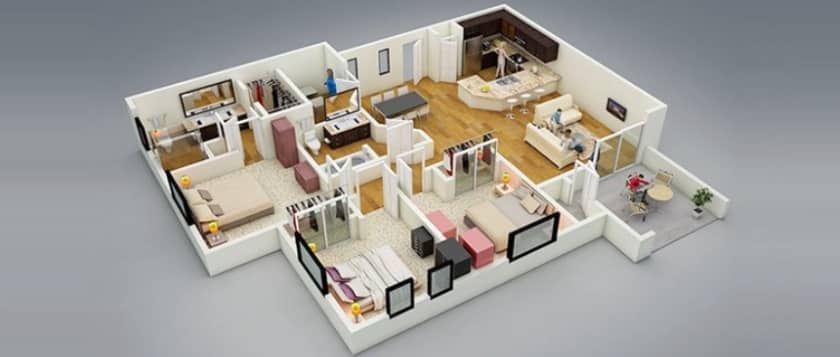 ---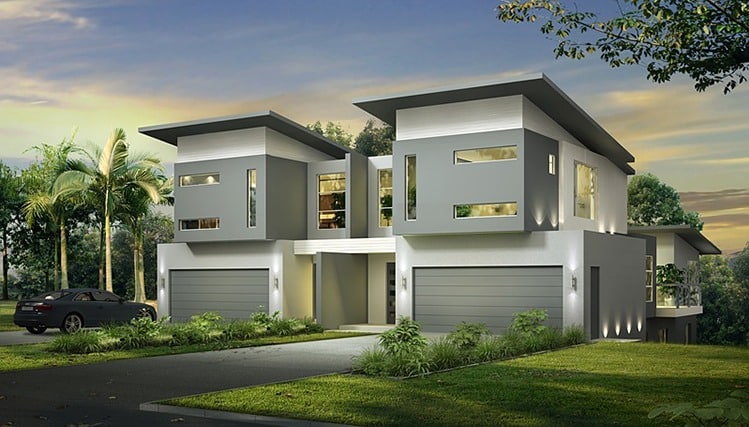 ---
PadStyler Reviews
On Verified Reviews, PadStyler has more than 100 5-star reviews. Customers rave about how realistic the photos look, the quick turnaround, and the design quality. A few unhappy customers on Trustpilot noted that the virtual furniture can be repetitive and that customer service can be difficult to reach. If you don't need floor plans or renderings and want a similar, high-quality virtual staging service at a lower price point, try Stuccco.
Pricing
Eight or more photos: $29 per photo
Five or more photos: $34 per photo
Two or more photos: $39 per photo
One photo: $49
3D floor plan: $199 per floor
3D rendering and remodeling: Prices only available on request
Money-back guarantee: Yes
VisualStager: Best Do-It-Yourself Virtual Staging Platform
What We Like
DIY platform for agents who want to make this service available to clients
Drag-and-drop furniture and accessories
Library of over 4,000 furniture pieces
What's Missing
Platform can be slow to load
Design quality depends on the user
Pricing structure can be confusing
VisualStager is do-it-yourself (DIY) virtual staging software created to give real estate agents (or their clients) the power to add furnishings to a property. The software allows you to easily drag-and-drop furniture, rugs, and pictures into place to self-stage a room.
There are other DIY virtual staging software on the market, but VisualStager is by far the one with the best quality and highest reviews. If you have a specific vision in mind for your clients' homes, VisualStager is perfect for agents and brokers who want quick, inexpensive staging for a property and do not need superior realism.
General Features
Pay-as-you-go pricing
View software samples for free
DIY format available on any device
White label reseller plans
Large library of furniture and home accessories
Real Estate Virtual Staging Examples From VisualStager

---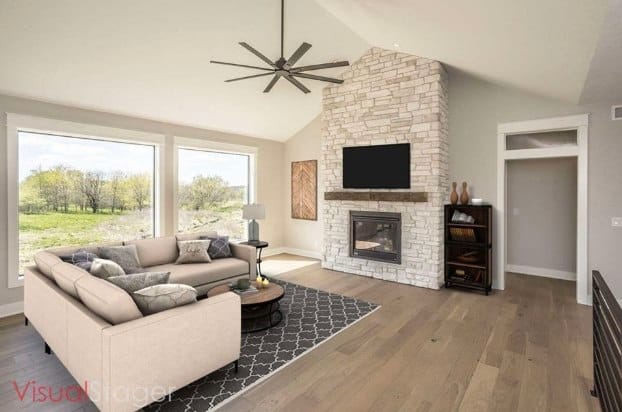 ---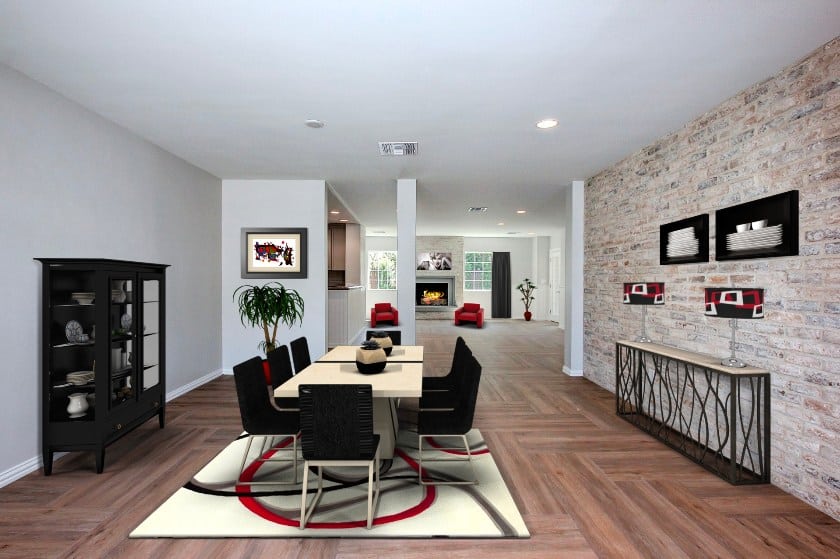 ---
VisualStager Reviews
There are very few third-party reviews for VisualStager online, but the existing reviews are positive. Real estate agents appreciate the ability to virtually stage a home without overpaying, and note that the platform generally works well. If you don't want to go full DIY but still want to be an integral part of the staging process, look at VHT Studios. VHT offers hundreds of furniture and decor packages you can select for each space.
Pricing
10 credits to stage a standard photo; 15 credits for a 360-degree photo
10 credits: $15
50 credits: $59
100 credits: $99
300 credits: $269
500 credits: $399
1,000 credits: $699
Stuccco: Best for Virtual Staging Design Quality & Furniture Availability
Stuccco is a virtual staging software service where your listing photos are individually staged by professional interior designers. Each listing photo you send gets attention from someone who has extensive knowledge and experience making rooms look their absolute best. You can leave the designs up to the professionals, or you can choose from one of Stuccco's design styles like Comfortable Contemporary, Industrial, or Farmhouse.
In addition to professionally designed spaces, all of the furniture and decor pieces used in Stuccco's virtually staged images are available in popular retail stores. This makes it possible for homebuyers to recreate a room's design exactly or purchase one or two key items they fell in love with.
General Features
Seven design styles and customization options
Custom requests
Simple order process
Budget-friendly
Retailer-agnostic interior design platform
10% to 20% discount with membership
Unlimited revisions
Real Estate Virtual Staging Examples From Stuccco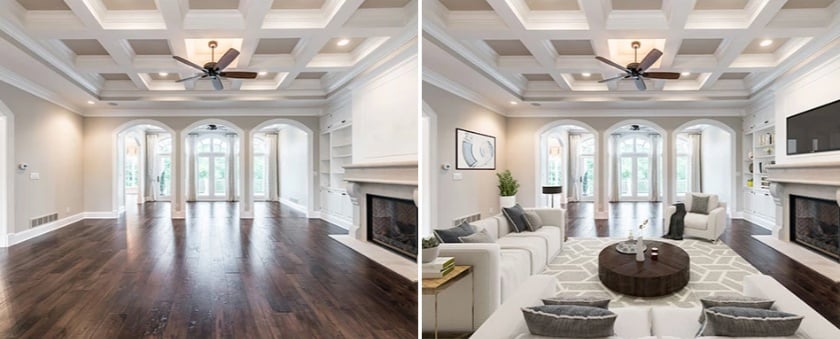 ---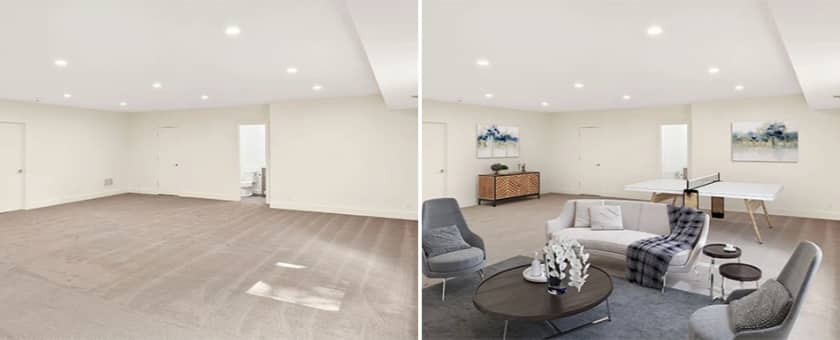 ---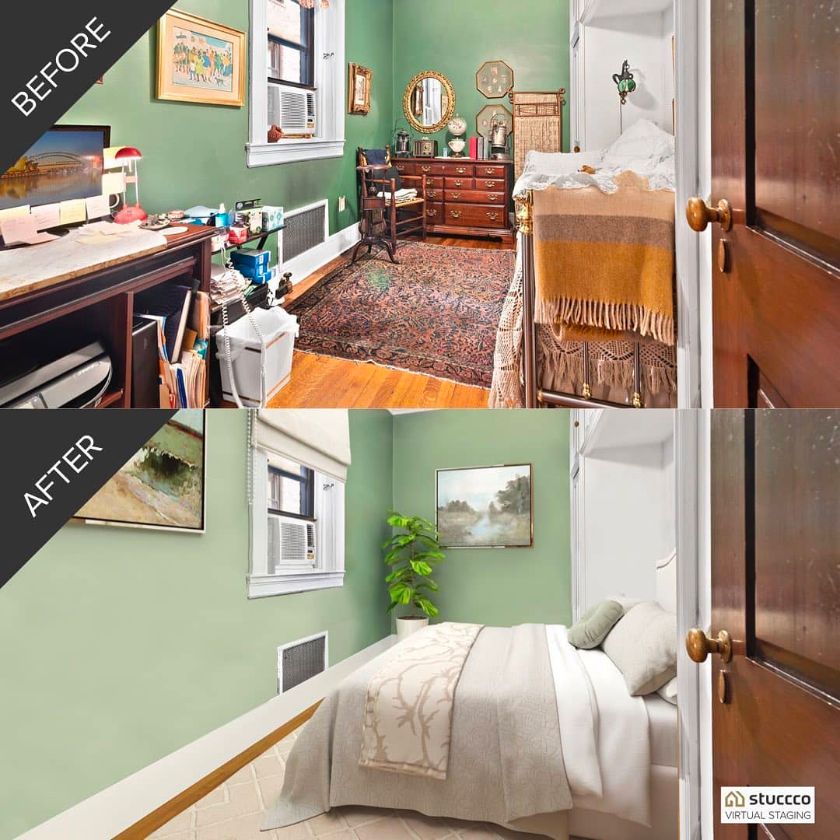 ---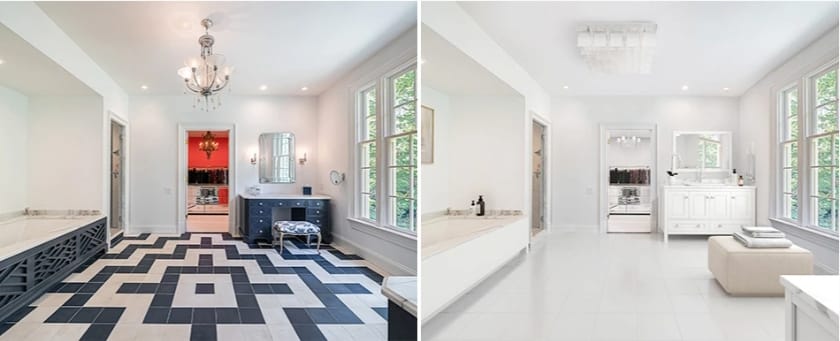 ---
Stuccco Reviews
Stuccco has positive 5-star reviews on Facebook and Google, with customers raving about the quality of designs, customer service, and the fast turnaround time. They currently have no negative reviews. However, if you'd like the option for a wider range of editing and staging services, look into PadStyler.
Pricing
Virtual staging: $29 per photo
Remove items or add furniture and decor: $39 per photo
Change interior wall and trim colors: $15 per photo
Change flooring: $15 per photo
Change ceiling: $15 per photo
Change exterior wall, trim, or door color: $39 per photo
Change landscaping: $39 per photo
Day to dusk: $39 per photo
Photo enhancement: $1.50 per photo
Satisfaction guarantee: Yes
Unlimited revisions: Yes
VRX Staging: Most Affordable Virtual Staging Services
VRX Staging offers a suite of affordable virtual staging and editing services, including virtual twilight, enhancing the sky and grass, and changing paint colors. When scrolling through online listings, buyers are typically clicking through the photos of many different properties, so standing out with the right colors can make them more impactful and help get more showings. These types of enhancements are effective real estate marketing tactics that can make a big difference when it comes to grabbing the attention of potential buyers.
Plus, VRX Staging is connected to VRX media, which offers both real estate photography and videography services. If you find that VRX Staging fits your needs and budget, you'll be able to easily order more services when needed.
General Features
Next business day delivery
Most affordable prices for photo edits like twilight and enhancement
One free revision per photo
Real Estate Virtual Staging Examples From VRX Staging

---

---

---
VRX Staging Reviews
Online reviews for VRX Staging include 5-star reviews that are overwhelmingly positive. Real estate agents say that the virtual home staging images are high quality, especially at such an affordable price point. Other reviews noted that the customer service was accessible and the quick turnaround made the process easy. But for more editing services with the same level of quality, try BoxBrownie. They offer a wider selection and even more affordable prices for editing.
Pricing
Virtual staging: $29 per image
Virtual twilight: $10 per image
Blue sky and green grass: $5 per image
Wall paint color change: $15 per image
Furniture removal: $55 per image
Honorable Mention: National Home Staging Companies
As an alternative to virtual home staging, traditional home staging is the process of placing physical furniture and decor pieces into a home for the purpose of making the property as appealing as possible for potential buyers. If events are big pieces of your real estate marketing strategy, in-person staging is likely a key element on your open house checklist.
Home staging also makes it easy for agents or real estate photographers to take beautiful photos of the property to use when designing marketing materials, websites, landing, pages, or posting on listing websites. During open houses and showings, physical home staging helps buyers envision the home as their own while they are walking through it, and being able to refer to a memorable design element can help when following up with potential buyers afterward.
Due to the physical nature of home staging, it's tough to compile a list of the best staging companies in the U.S. because the company you choose will depend on your specific location. However, we wanted to include this category as an honorable mention for this article.
First, for luxury home staging, check out Barion Design, which has multiple locations across the United States. Or if you prefer to support individual designers or local businesses, look for a home staging company closer to your location. Our winner for honorable mention is Showhomes Home Staging, which we profile below.
Showhomes Home Staging: Best In-person Home Staging & Improvements

PROS

CONS

Full staging services
Only available in 15 states
35 years of experience
More expensive than virtual staging
Multiple package options
Pricing changes based on each franchise
Showhomes Home Staging is described as America's largest home staging company because they have many locations in 15 states, including multiple locations in Florida, North Carolina, Texas, and Tennessee. In every location, they offer home staging, home restyling, and home updating for those who want to make strategic improvements to their home before listing.
General Features
Individual franchises in 15 states:

Tampa Bay FL
Houston, TX
Jacksonville, FL
Raleigh, NC
Coral Gables, FL
Triad, NC
Nashville, TN
Kansas City, KS
Memphis, TN
Tulsa, OK
Franklin, TN
Portland West, OR
Baldwin County, AL
Santa Fe, NM
Northville, MI
North Shore, Illinois
Minneapolis, MN
San Diego, CA
Volusia County, FL
Lincoln, NE
Miami, FL
Frisco, TX
Charleston, SC
North Charlotte, NC
Woodlands, TX
Pasadena, CA

Uniquely offers home manager staging
Traditional Home Staging Examples From Showhomes Home Staging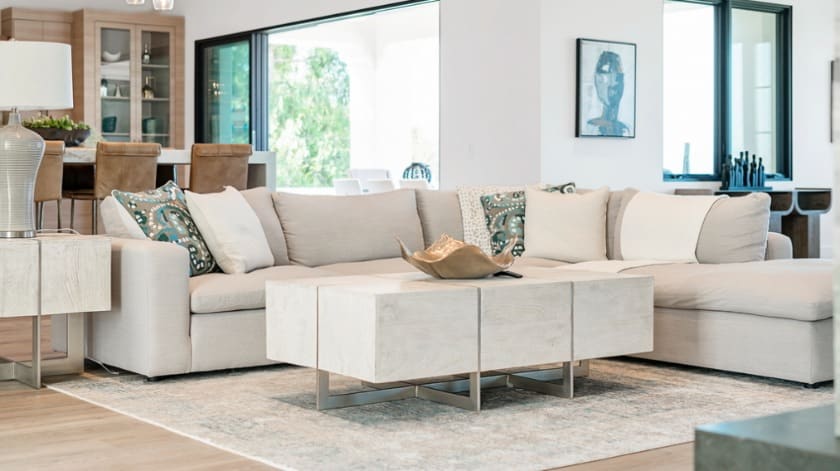 ---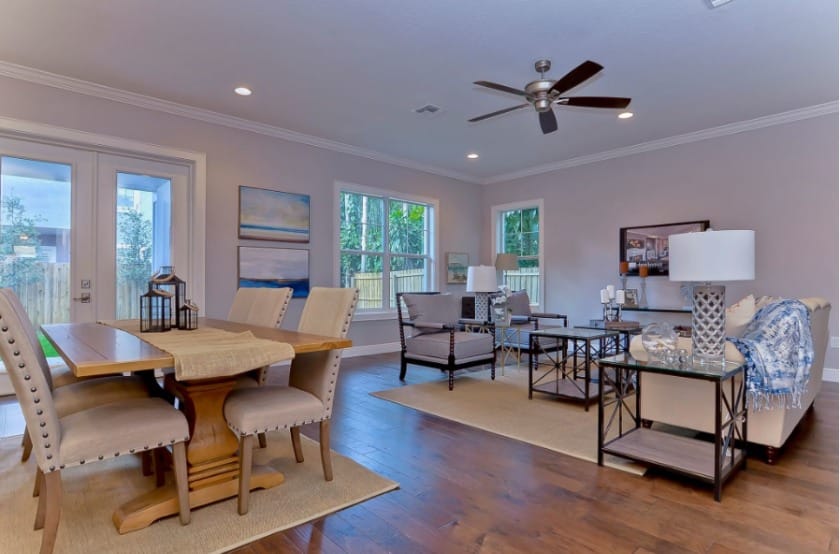 ---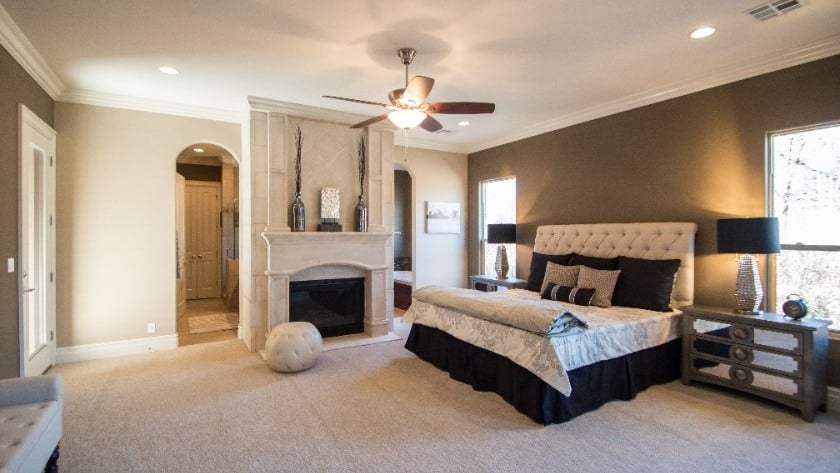 ---
Showhomes Home Staging Reviews
Specific reviews for Showhomes Home Staging vary depending on each individual location, but as a whole are extremely positive. For example, customers near Woodlands, Texas, enthusiastically shared pictures and stated how successfully their home sold after using Showhomes, and other reviews include positive comments from real estate agents who use their services.
Pricing
Varies based on location and franchise
How We Evaluated the Best Virtual Staging Companies for Real Estate Agents
In order to choose the best virtual staging services for real estate, we created a specific set of criteria. Successful real estate agents know that the process of listing a house for sale is often extremely time-sensitive, so the best virtual staging services need to fit into a tight schedule.
In addition, virtual real estate staging is a powerful alternative to traditional home staging because of the realistic designs and wide range of design possibilities. Therefore, we looked at the quality of each company's images, designs, and furniture during our evaluations.
After all of our research, we determined that the best overall real estate virtual staging service is BoxBrownie. It provides the widest range of services for affordable prices while maintaining a high design and image quality within a short turnaround time. BoxBrownie is a great choice for any real estate professional or homeseller who wants to optimize listing photos for maximum appeal.
These are the criteria used to find the best virtual staging services:
30% of Overall Score
When using virtual staging software and services, it's important to consider the per-photo cost and overall value each company provides. Although the cost of staging or virtually renovating multiple photos can add up quickly, the right staging can attract higher offers and multiply the agent or seller's profit. We evaluated each option to find companies that offer the best value for the price.
25% of Overall Score
The goal of virtual home staging is to sell a property for the maximum value in the least amount of time. With that in mind, we researched each company for features that can help agents generate real estate leads to more effectively sell properties. Examples include photo enhancement, furniture and clutter removal, furniture replacement, changing paint colors, changing appliances, floor plans, and photography.
15% of Overall Score
Based on customer feedback for each program, with particular attention given to reviews of the product and popularity of the company, to certify the provider meets user satisfaction.
15% of Overall Score
When evaluating the ease of use of virtual staging software, we noted the time required for delivery, whether or not staging could be completed or ordered on a mobile app, and whether or not there was a satisfaction guarantee. We also included how many revisions each platform allows.
10% of Overall Score
While many virtual staging companies claim to offer many additional services and options, these options are not always beneficial to real estate pros. Our expert score evaluated the helpfulness and effectiveness of each platform's features as a whole.
5% of Overall Score
We looked into the convenience and obtainability of customer service for technical support and assistance.
*Percentages of overall score