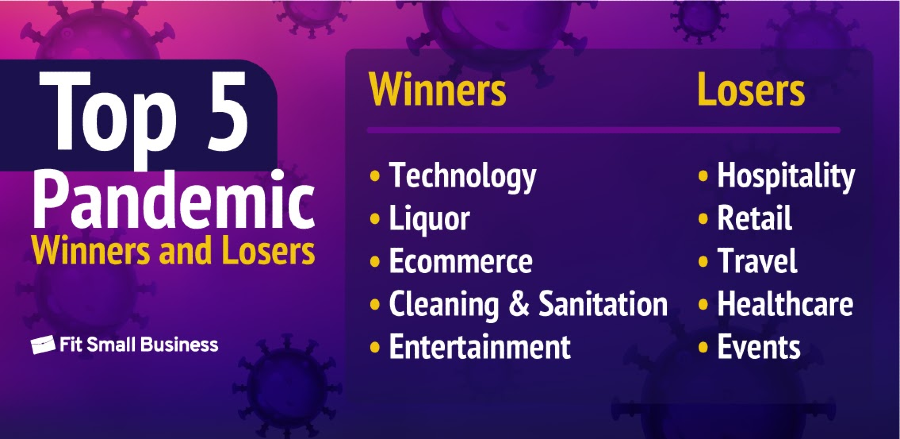 COVID-19 has wreaked havoc on industries across the country, but not everyone is losing money. With total travel spending in the US expected to plummet $355 billion this year, sectors like hotels and airlines are hemorrhaging revenue and jobs. On the opposite end of the spectrum, work technologies like video conferencing are seeing incredible gains while all of us shelter at home. Zoom reached a staggering 200 million daily participants in March. What emerges is a national economy struggling against the odds, but also embracing innovation that may change the world.
Let's look at some of the biggest winners and losers, and how they'll affect the way you live:
Industry's Biggest Losers
1. Hospitality
COVID-19 has devastated the hospitality industry. The American Hotel and Lodging Association reported last month that COVID-19 had a more severe economic effect on its industry than 9/11 and the 2008 recession combined. Hotels employ more than one out of every 25 people in the US so the economic impact is a concern not only for companies like Marriott and Hilton but for huge swaths of American workers. Nearly 4 million total hotel-supported jobs have disappeared since the crisis began.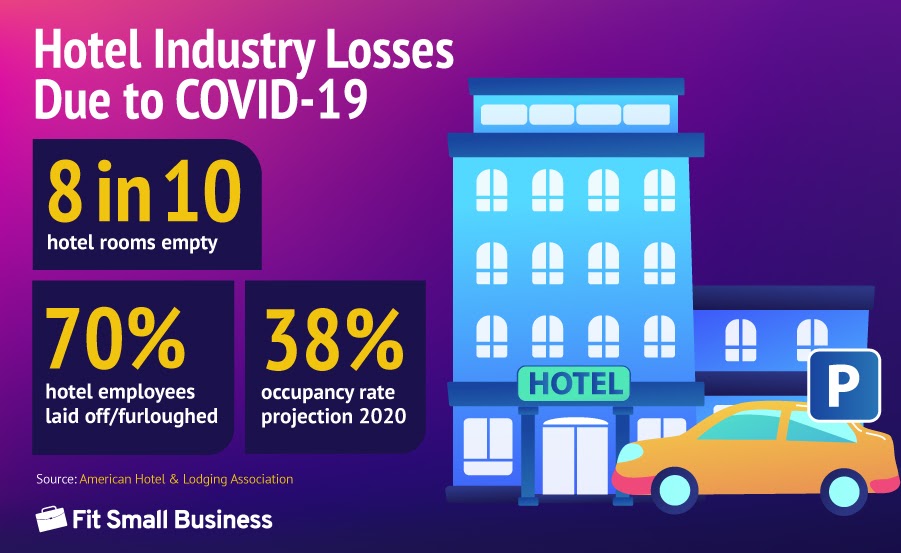 Casinos
Casino gambling is another sector of the hospitality industry feeling the financial pain of COVID-19. This $261 billion juggernaut has seen stocks plummet and doors to casinos and racetracks close everywhere from Las Vegas to Atlantic City.
The American Gaming Association (AGA) estimated in March that more than 530,000 industry employees were out of work, and that casinos could suffer a $21 billion loss due to virus-related shutdowns.
The online gambling industry, on the other hand, is currently booming as people seek to place bets from home. For example, Penn National Gaming's online sector has helped the company's stock triple over the last month, and there is also talk that lawmakers might expand legal online gambling to accommodate the increased demand.
Casino Industry Losses Due to COVID-19, March 2020
95% of casinos closed
616,000 of 750,000 gaming industry employees out of work
Source: American Gaming Association
2. Retail
The coronavirus epidemic has only deepened the financial wound ensuing from the so-called retail apocalypse that shuttered over 9,000 stores last year. The U.S. Department of Commerce announced that retail purchases were down almost 9% in March—the biggest drop in three decades. Worst hit were sectors considered "non-essential" and ordered temporarily closed by some state governments. Data indicates that consumers reduced their in-store spending by 47% by the second half of March. Of course, that's largely because people across the country are sheltering in place. Lockdown won't last forever, but the industry will be feeling the aftershocks of that drop long after we're all back outside again.
Impact of COVID-19 on Consumer Spending
Accessories: -55%
Jewelry: -53%
Apparel: -50%
Furnishings & Appliances: -44%
Consumer Electronics: -36%
Books/Magazines/Newspapers: -10%
Source: Statista
Malls and Shops
Nearly 75% stated they would shun malls in the future if the outbreak worsened, according to those surveyed. Mall shopping centers are not only densely-populated public areas, but are also dominated by retail outlets considered non-essential.
But some experts believe that when quarantines are lifted, customers will still crave the interaction of going to a destination to shop rather than relying on their devices. If they want to survive, those retail shops and malls will have to use new practices and technologies to assure the public that they're safe from the virus.
3. Travel
The pandemic didn't spare the travel industry either. An Oxford Economics report predicted a 75% drop in travel industry revenue over March and April, with continued losses through the rest of 2020 totaling $355 billion. Around $66 billion of that projected loss is attributed to airlines, a sector which has seen a record number of flights canceled due to the virus. The number of US scheduled flights in the last week of April declined almost 65% over the same time the previous year, and since the end of March the TSA has screened less than a tenth of the passengers it did on the same day last year. And in a May 1 quarterly earnings conference call, United Airlines President Scott Kirby announced that travel demand is "zero," noting that mass layoffs are imminent if business does not pick up by the fall.
While the current situation is challenging for airlines, there might be some new hope just over the horizon. In mid-April, the industry reached an agreement with the federal government for a $25 billion bailout. And the institution of stringent new cleaning guidelines in planes, such as the "Delta Clean" initiative, can keep travelers safer in the future.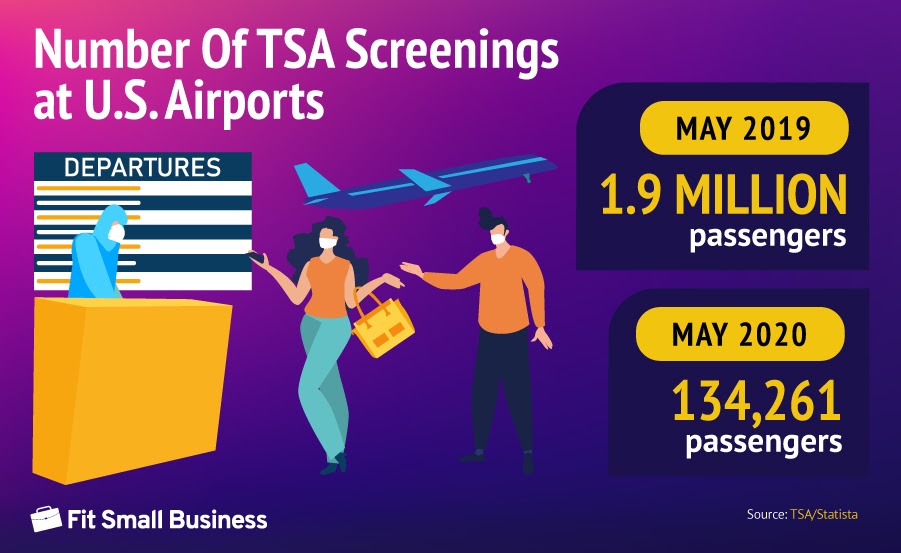 Cruise Lines
The pain of the airlines is nothing compared to what the cruise industry is going through. Since the epidemic began, there have been outbreaks on over 40 cruise ships worldwide, the most infamous case being the long-quarantined Diamond Princess. The financial losses incurred by the industry were compounded when the U.S. State Department issued a warning that American citizens shouldn't travel by cruise ship. The result was massive stock drops for companies like Carnival Corp and Royal Caribbean Cruises, which by mid-March were both seeing shares down by 80%. Hospitality industry expert and Pace University professor Andrew Coggins told the U.S. News & World Report that COVID-19's impact on these businesses was "worse than 9/11 and SARS," and that they were "in uncharted waters."
Cruise Line Market Value Losses, March 2020
Norwegian Cruise Line: -72%
Royal Caribbean Cruises: -68%
Carnival: -67%
Source: Visual Capitalist/Statista
4. Healthcare
You might think the healthcare industry, although overwhelmed and beleaguered, would be making money during a pandemic; it isn't. There is unprecedented demand for doctors, nurses, and hospital services in those areas impacted by COVID-19, but many elective procedures and non-COVID medical visits are on hold. According to the Agency for Healthcare Research and Quality, nearly half of hospital revenue is brought in by surgical procedures, of which most are elective and considered "non-urgent."
Cosmetic surgeries and procedures are plummeting during this crisis. In a letter to Congress seeking financial relief, the American Society of Plastic Surgeons (ASPS) noted that around 62% of certified plastic surgeons are in solo practice, and many of them are being forced to lay off staff.
But the pandemic isn't just hurting plastic surgeons—the healthcare industry as a whole reported record layoffs in March. And the amount of healthcare services offered also declined, with some practices reporting reductions of up to 70%. This situation also creates financial pressure on the medical device makers; late March saw nearly 50% drops in medtech sales, with more predicted until the economy starts to reopen. There's a chance that the recent boom in telemedicine will both help the medical establishment treat more patients, as well as fortifying its bottom line. For example, virtual visits to Partners HealthCare alone jumped from 1,600 in February to 90,000 in March.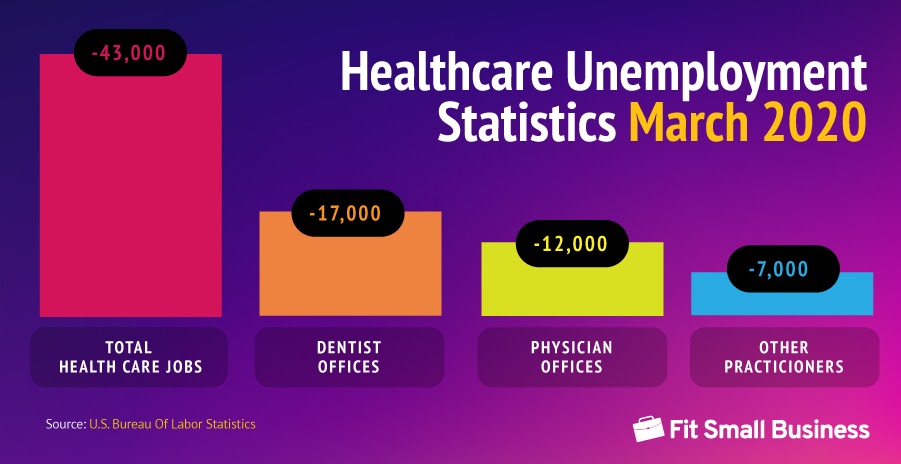 5. Events
The events industry relies on unrestricted travel, much like hotels, airlines and casinos. Conventions, concerts, business conferences, and even weddings are all posting record losses. There was a 500% increase in event cancellations and postponements in February, and the economic hit has surpassed $1.1 billion. Event promoters Live Nation and AEG have canceled or postponed all major tours, and estimates are that the concert industry could lose as much as $9 billion worldwide due to the coronavirus epidemic.
Economic Losses Due To Event Cancellations, February 2020
$480 million: Mobile World Congress
$350 million: SXSW
$129 million: Game Developers Conference
$75 million: E3
$20 million: Google I/O
Source: PredictHQ/Recode
Film Industry
The film industry is also feeling the effects of COVID-19, facing a $5 billion global loss this year. In mid-March, ticket sales hit a 20-year low, dropping 60% from the same time a year ago. Movie theaters fared better on the weekend after the Sept. 11 attacks than they are now. And the National Association of Theater Owners (NATO) has joined the professional organizations asking the federal government for a bailout, citing the 150,000 movie theater workers across the nation.
News of the demise of the events and entertainment industry is somewhat premature, however, as video streaming services pick up the slack. People are streaming an unprecedented number of live concerts and industry conferences directly to their devices. Even movie studios are getting in on the act by releasing more first-run films online.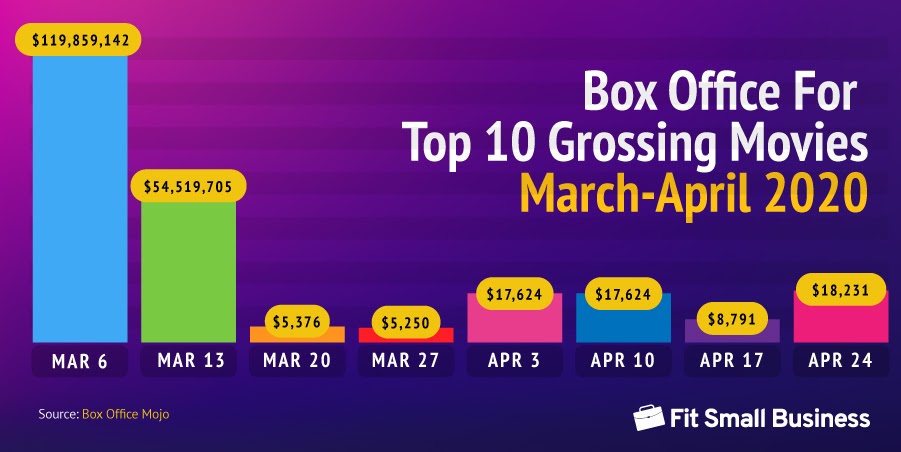 Industry's Biggest Winners
1. Technology
Not all industries are faring poorly. On the contrary, video conferencing is experiencing stratospheric sign-ups and stock prices. The CEO of video conferencing app Zoom, Eric Yuan, has seen his estimated net worth rise to $8 billion from $4 billion before the pandemic.
Zoom's ascendance has seen a massive increase in sign-ups since lockdowns began, reaching 2.13 million downloads March 23 alone. Microsoft's Teams app is seeing boosts too. The company doubled its global users from 20 million in November to 44 million mid-March.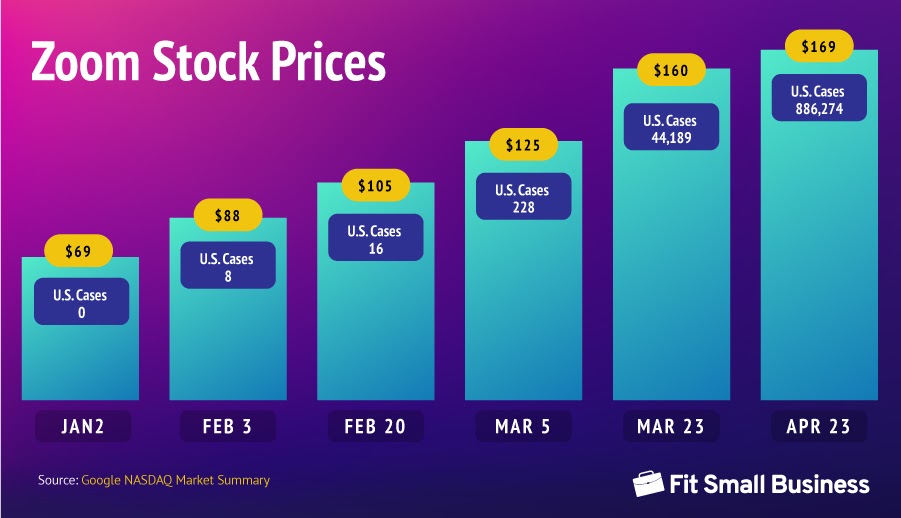 Augmented Reality
Augmented reality (AR) has now made the jump from high-concept futuristic tech to everyday use in a matter of months. With many "non-essential" brick and mortar stores closed, customers face the dilemma of not being able to see products up-close or try them on before purchase. Enter AR for ecommerce, which allows people to virtually try on clothes, glasses, and even cosmetics from the convenience of their smartphones. While this tech has been around since 2016, interest has recently soared during the era of the coronavirus. Real estate is also seeing benefits from virtual tech, with bookings for AR-driven home tours also skyrocketing. Look for AR tech to remain on the scene long after COVID-19 is a memory.
Projected Adoption of Augmented/Virtual Technologies:
2020: 83 million users
2021: 91 million users
2022: 95 million users
Source: eMarketer/Statista
2. Liquor Sales
State- and city-wide quarantines have turned the restaurant industry upside-down, with substantial losses and layoffs. The liquor industry, on the other hand, is posting huge sales. Liquor sales are up 55% overall and online sales up 243% in March. Alcohol ecommerce platform Drizly saw a 461% sales increase during the week of March 30, and another, Minibar, had a 75% sales increase. The surge in online alcohol purchases has forced many brick and mortar liquor stores to up their own online sales game as well as provide no-contact home delivery. One of the most popular purchases is boxed wine, which increased sales in early March by 53% over the same time last year. This industry is not only adapting, but thriving.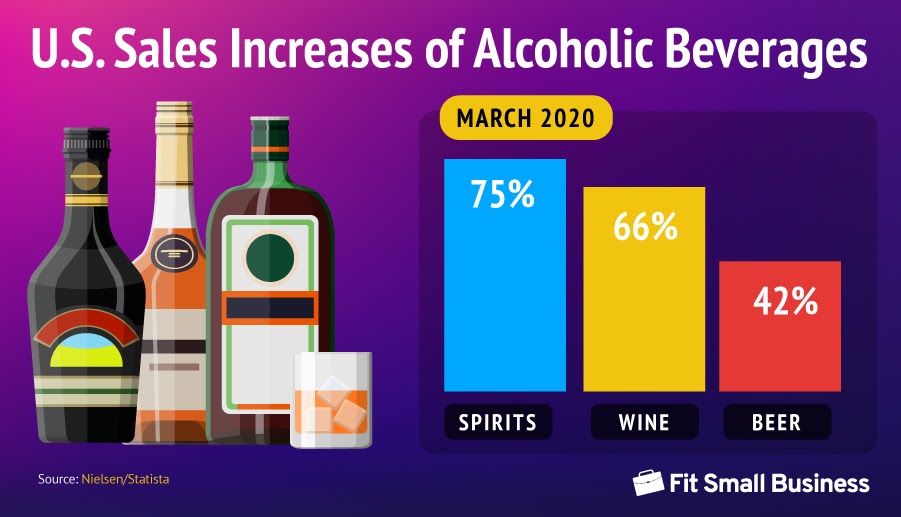 States such as New York, Maryland, and Texas have authorized the sale of "to go" alcoholic beverages from restaurants as takeout food sales are through the roof. Much of the profit eateries make is from liquor markups, so revenue from "to go" cocktails has been a boon. As H.G. Parsa, University of Denver professor of hospitality management, recently told The Atlantic: "I've spoken to lots of restaurants who say that alcohol delivery has saved their company."
Fun Facts Re: Drinking While Working From Home
One in three people are more likely to drink during work in lockdown.
Over a third drink more than usual during self-isolation.
Beer is the most popular drink while working from home.
Source: alcohol.org
3. Ecommerce
As witnessed with the example of alcohol sales, ecommerce is experiencing a massive financial high at the moment due to state lockdowns. Ecommerce spending was up more than 30% from the start of March through mid-April compared with the same time last year. Categories with the largest jumps in sales as of May include Food & Drink (+31%), Hygiene Products (+29%) and Household Cleaning Products (+28%). And, of course, the heavy hitters are only gaining more dominance in the wake of COVID-19, with Amazon sales up 80% in late April over the same time in 2019 and Walmart's online sales up 20%.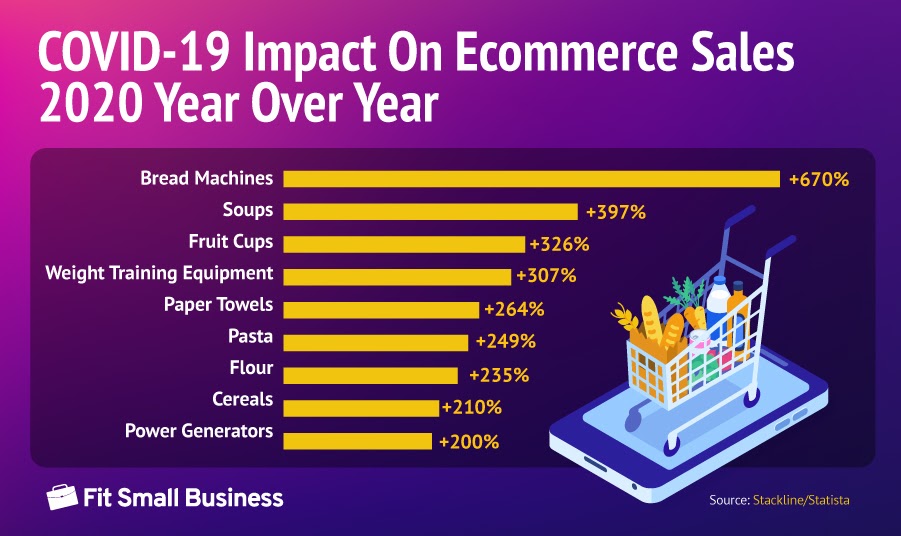 Grocery Delivery
Grocery delivery apps, in particular, have surged during the pandemic. Initially, they had been very slow to gain traction with the public. Only 4% of US grocery spending was online before the coronavirus, according to this research, but that has jumped to 15%. March 15 was a record day for downloads of apps such as Instacart (+218% since the previous month), Walmart Grocery (+160%), and Target's Shipt (+124%). Many experts predict that online food delivery will stick around.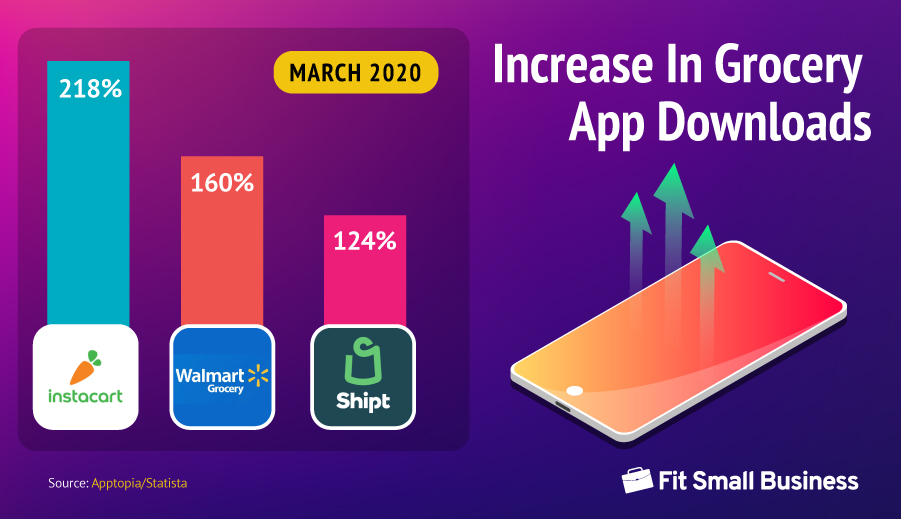 4. Cleaning & Sanitation
One of the sectors stealthily growing amid this sea change in US commerce is the $117 billion cleaning industry. It makes a lot of sense. The Centers for Disease Control and Prevention (CDC) recommends explicitly performing routine environmental cleaning and disinfection in the workplace and other public areas. Some cleaning companies are receiving so many requests they're recruiting newly unemployed workers from the hospitality and construction industries.
The focus on disinfecting public spaces has created the latest trend in deep cleaning: electrostatic spraying, in which a charged cleaning mist is sprayed onto the surfaces in need of disinfection (the charge helps the stuff stick). Currently very high in demand to clean everything from hospitals to airplanes, electrostatic sprayer dealers say they can hardly keep the units, which average around $1,000 apiece, in stock.
Cleaning Industry Market Projections
2021: +7.4%
Through 2025: +5.4% annual gains
Source: MarketResearch.com
5. Entertainment
Americans may be staying at home in greater numbers, but they still want to be entertained. Video streaming revenue is expected to grow from $26 billion in 2020 to $30 billion in 2024. According to a recent poll, people are currently streaming an average of eight hours of content every day, and have binge-watched about three shows a week. The survey also revealed that since the start of the COVID-19 outbreak, three in four respondents admitted to using streaming services more. The result is a boom for streaming services like Netflix, which greatly exceeded forecasts and added a staggering 15.77 million global subscribers in the first quarter, largely due to the coronavirus quarantine. This has made the streaming company, at least in the short term, worth more than Disney.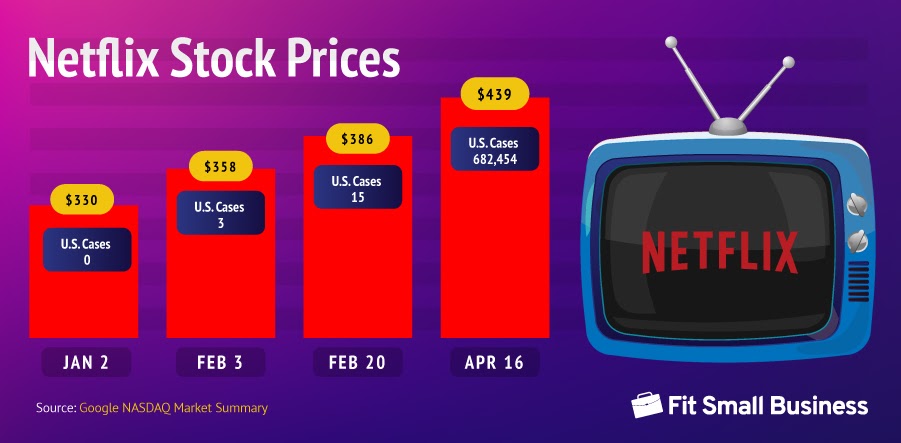 Video Games
The coronavirus has also caused a boom in video game sales and play. In this recent survey, 37% of respondents aged 18 to 29 indicated that they planned to spend more on video games precisely because of the coronavirus. The new Bethesda game Doom Eternal saw the biggest opening weekend for the series in mid-March, with over 100,000 people playing the game on Steam. From Q4 of 2019 to Q1 of 2020, game streaming platform Twitch surpassed a record 3 billion hours watched. Though the video game industry is still recovering from staffing shortages and delays due to COVID-19, the games are still in high demand.
The Bottom Line
There is no doubt that the COVID-19 pandemic has turned the global economic picture upside-down. Many Americans have lost their jobs and closed their businesses due to lockdowns, and more are in a holding pattern as they wait to see what's next. But adversity can also bring innovation, and there are sectors, technologies, and new approaches being utilized now in US industries that are bringing in surprising dividends. We are genuinely on the cusp of a bold new era in commerce.
Methodology
We chose the items on this list utilizing data and expert opinions from the fields of retail, business, and statistics. These sources include The U.S. Chamber of Commerce, Statista, McKinsey & Co., MarketWatch, and Oxford Economics.