The blockchain is a new and innovative way that people and companies can create, verify, and enforce transactions without a middleman or central authority. It's essentially a decentralized ledger that records transactions chronologically. Transactions recorded on the blockchain can include the exchange of money, property, or anything that requires an enforceable contract or authorized access.
Many small business owners think that the blockchain is used only for the creation and exchange of cryptocurrencies like Bitcoin (BTC). However, this isn't true. This article details blockchain technology and how it can affect small businesses. By the end, you should understand what the blockchain is, how it works, which businesses already use it and which industries should expect to use it in the future.
What Blockchain Is & How It Works
Blockchain, at its core, is platform-like technology upon which other applications can be built. Currently, the most notable use of blockchain is the decentralized ledger that tracks cryptocurrency transactions. However, blockchain technology can be used as a decentralized ledger that records and verifies any transaction or contract between two parties.
The technology behind blockchain records the terms of each transaction as a "block" on a long "chain." Each transaction is recorded and verified using mathematical encryption techniques, making it almost impossible to change after the fact. Then, as each successive transaction adds to the end of the chain, previous transactions become even harder to alter, further adding to security.
The blockchain is decentralized, meaning that multiple, independent machines are running copies of the blockchain ledger at once. As each transaction is created and recorded on the chain, it's broadcasted to all of these decentralized ledger copies. These decentralized ledgers then record and verify the transaction by double-checking with the rest of the ledgers. If at least 51% of the decentralized ledgers have the same information the transaction is verified.
This is in contrast to centralized ledgers used by central authorities like a central bank or Treasury. These centralized ledgers aggregate transactions into one recording system that's controlled by a single entity. A bank statement is a good example of a centralized ledger. With the blockchain, however, copies of the ledger are distributed among a network of users, who independently record and verify transactions with the others.
The blockchain can be used to track and enforce almost any contract that facilitates the exchange of property or has enforceable terms. It can manage the execution of business contracts, streamline overall contractual enforcement, speed up the exchange of property (including currency), verify identities, and more.
Specifically, blockchain does 3 things with each transaction sequentially:
Create Transaction – First, the blockchain creates a transaction by recording it on all of the individual blockchain ledgers. For example, if you buy goods/services for $500, every participating blockchain ledger will record the full terms of the sale on the blockchain.
Verify Transaction – Once a transaction is recorded on the blockchain, each individual ledger will independently verify that the transaction is valid. If the information on one ledger matches at least 51% of the others, it's flagged as a correct transaction.
Enforce Transaction – Depending on the type of transaction, the blockchain can actually enforce the terms of the agreement. For example, if you bought goods/services on net terms, the blockchain could automatically deliver the money when it's due.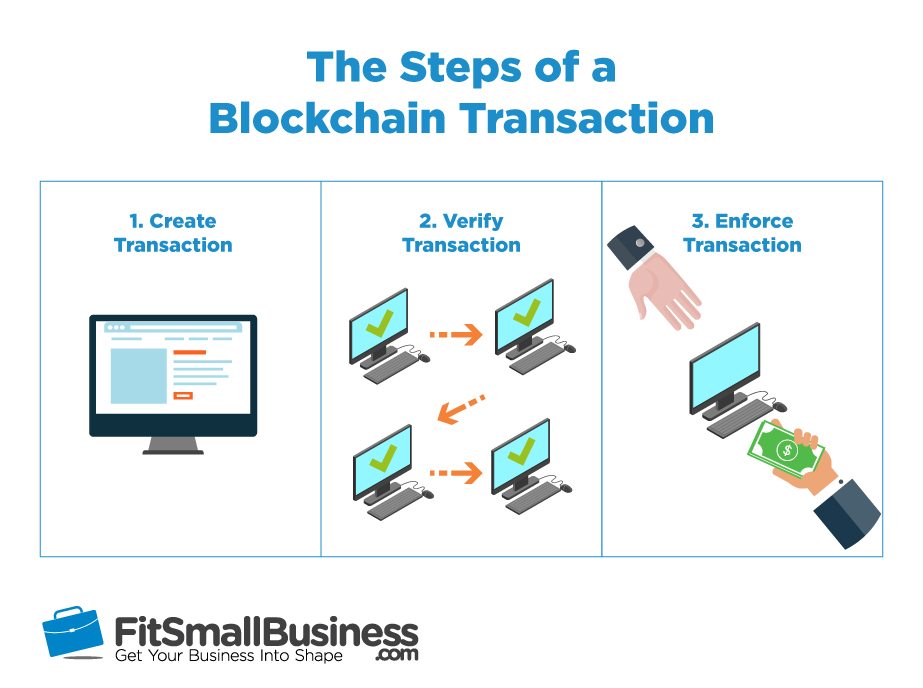 Blockchain transactions are known as "smart contracts." Smart contracts are the automated computer protocols that facilitate, verify, and enforce the negotiation and/or performance of a contract on the blockchain. These smart contracts written as transactions on the blockchain provide a safe and secure way to negotiate, including less fraud and more security, lower transaction costs, faster transaction execution, and no middleman.
"Smart contracts are a way to perform the value transfer
of most of the contract without having to resort to legal means to exact performance. For example, if funds are supposed to be sent on a certain day, the funds can be sent based on information coded directly onto the blockchain. As long as the transaction is agreed upon by both parties and verified on the decentralized ledger, it can enforce the terms – whatever they are – automatically." – Ivan Brightly, Chief Investment Officer at Full Node Capital.
The most common type of smart contract is a cryptocurrency transaction. For a better understanding of blockchain, let's now compare blockchain technology to cryptocurrency. For more information on cryptocurrency, you can read our article about the effects of cryptocurrency on small businesses.
Blockchain vs Cryptocurrency
Remember that blockchain is a decentralized ledger that creates, verifies, and enforces contracts. The blockchain is the backbone ledger that tracks and verifies the movement of cryptocurrencies. The blockchain is not cryptocurrency, and vice versa. Instead, blockchain is the platform on which cryptocurrency is built, helping facilitate and enforce the transfer and record keeping of the currencies.
Each individual cryptocurrency typically has its own blockchain. This means that there are many peer-to-peer blockchains on which only some transactions are being recorded. For example, the Bitcoin (BTC) blockchain only records Bitcoin transactions and can't record any transactions involving Ethereum's (ETH) Ether. However, any blockchain can be used to record any number of transactions and not just cryptocurrency.
"A commonly used analogy is that cryptocurrency is to
blockchain what email is to the internet. It's one application built on a platform that supports many different applications. The use of blockchain technology is crucial in cryptocurrencies however cryptocurrencies are not the only application of blockchain." – William J. Rowe, Ph.D, Associate Business Professor of Supply Chain at East Carolina University.
It's therefore important to start thinking of cryptocurrency transactions as individual smart contracts. Two parties agree to exchange cryptocurrency for cash or goods and services. Once agreed, the parties use their wallet accounts (like a bank account for cryptocurrency) to facilitate the transaction and the terms of the transaction are recorded/verified on the decentralized blockchain. Once verified, the transaction is final and can't be reversed by either party.
However, while blockchain isn't cryptocurrency but rather the decentralized ledger behind it, new coins like Ethereum have more "user-friendly" blockchains that allow for other applications to be built on top of them. This means that the Ethereum blockchain can be used in the future to enforce other smart contracts like the title transfer of real estate investments, the execution of business insurance policies, and more.
"Bitcoin's blockchain has a limited scripting capability
because it was created as a specific value-for-value transfer while Ethereum's blockchain is more of a building application that can be used to create things that are powered by it. For example, Ethereum is 'Turing complete,' meaning that you can run programs on top of it similar to apps in the Apple store." -Ivan Brightly, Chief Investment Officer at Full Node Capital.
The Different Uses of Blockchain for Small Businesses
The decentralized way in which the blockchain records, verifies, and enforces transactions allows for multiple uses. Currently, blockchain is predominantly used by small businesses as a decentralized ledger for accepting digital currencies, like Bitcoin. However, blockchain can also be used in any contractual situation as well as in situations where a person's identity needs to be verified.
Here are the 3 ways small businesses use blockchain:
1. Monetary Exchange
The primary way that small businesses use blockchain technology is by accepting cryptocurrency as a form of customer payment. Small businesses also use blockchain technology if they pay vendors and suppliers in cryptocurrency, but this is less common. The blockchain ledger records all customer cryptocurrency payments as well as company payments using cryptocurrency.
If you currently accept cryptocurrency as a form of payment then you already use blockchain technology. This is fairly common. Typically, small businesses use (or will use) blockchain technology without even realizing it. All they might see is a more efficient transactional process that results in lower costs and better contractual arrangements.
2. Smart Contracts
Smart contracts are a way for two parties to exchange almost anything of value without having to use a middleman. Currently, smart contracts help facilitate the exchange of cryptocurrencies. However, at its core, a smart contract is a protocol coded onto a blockchain that automatically facilitates, verifies, or enforces the performance of a contract when certain criteria are met.
For small businesses, smart contracts may have an impact in one of two ways. The first is that anything that requires a business contract could soon be powered by blockchain. This means that insurance policies, commercial real estate contracts, payment terms, financial contracts like startup business loans and more will be tracked on a decentralized ledger and enforced by automatic protocols.
For example, if you agree to purchase real estate property you could write a transaction on the blockchain that holds a set amount of cryptocurrencies in escrow in return for a digital receipt. The protocol would release the funds to the seller should a private access key to the home be sent to the buyer as a blockchain transaction. If the key isn't sent before a set period of time the blockchain protocol refunds the cryptocurrency to the buyer, the holder of the receipt.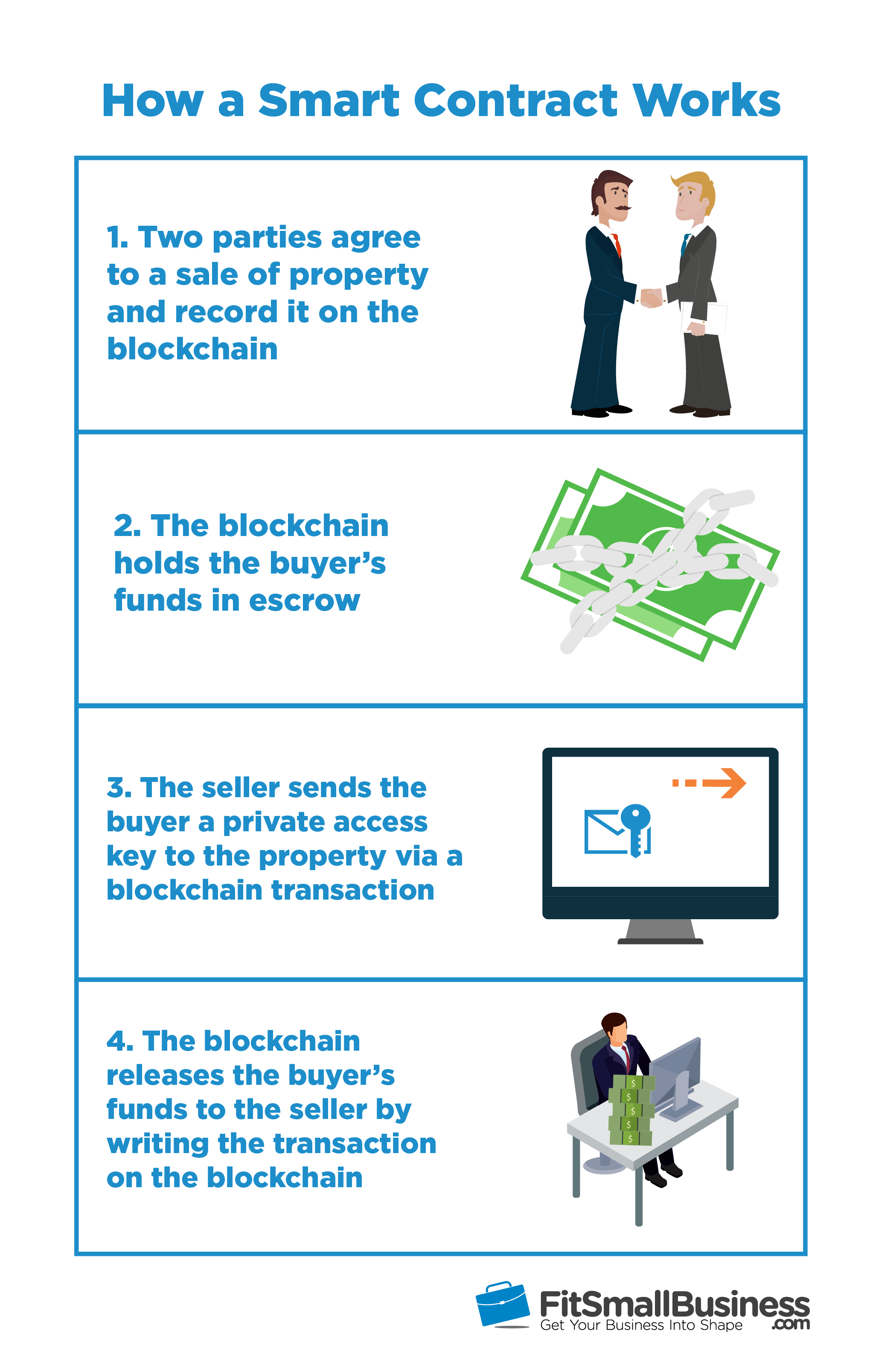 This reduces transaction costs, speeds up the transaction, and removes the need for enforcement or middleman. For example, any type of financing that requires a middleman, like accounts receivable financing, could be approved. So too could small business financing products like purchase order financing, trade financing, letters of credit, and more. These short-term options would be faster and cheaper using the blockchain.
The second way that blockchain can impact small businesses is by changing industries where contracts are prevalent. This might be an issue for law firms, real estate agencies, notary publics, and more. For example, the need to enforce contracts might go away, reducing a small business's legal costs but also reducing the amount of work a law firm might receive. Further, businesses like title companies and clearinghouses that act as middlemen in property transactions might need to adopt this new technology or become replaced.
However, the use of smart contracts is still in its infancy. While now is a good time to stay aware of smart contracts and the impact on your small business, it's not currently a pressing matter. Still, for such businesses as escrow services and notary publics, it's expected that blockchain could soon turn those professions into an "Uber" type of economy, where anyone with access to a decentralized ledger can verify a transaction.
3. Identity Verification
One of the few non-monetary uses of the blockchain is to help small businesses track and verify identities. It's possible to code information regarding a person's identity directly onto the blockchain. The blockchain can then use smart contracts to verify a person's identity before they pass a digital access point such as when a customer hits a paywall on your website. This helps you keep premium content and information safe, sharing it only with verified individuals.
This blockchain use is known as "proof of existence," and it can be used by small business owners to verify customers' identities online, similar to the current Facebook authentication. This proof of existence gives a safer and more secure way to verify online identities so that sensitive information isn't shared with the wrong people or stolen outright. Using blockchain technology for this purpose keeps customer data safe.
Further, proof of existence will allow content publishers or any small businesses using digital marketing tactics to safely distribute content onto other people's platforms as well as provide cross-platform access. This is done via "token-holders" who hold tokens similar to cryptocurrency. Instead of exchanging the token for cash or goods, the token is used as a verification tool, giving a user access to paid content or his or her private account across multiple verified websites.
How Will Blockchain Technology Affect Small Businesses?
The blockchain is an important technology for small businesses because it will change the way transactions are negotiated, verified, executed, and enforced. The current and future use of blockchain for small businesses will be largely positive. However, there are still some detractors since the technology is so new and cutting edge.
Benefits of Blockchain Technology for Small Businesses
Since the blockchain facilities transactions, the speed, transparency, safety, and low cost of the blockchain's decentralized ledger will be a big benefit for small businesses. However, more often than not, this technology will typically run in the background and go unnoticed. The only things a small business might see are more efficient contractual and transactional processes.
Here are 5 benefits of the blockchain for small businesses:
1. Transparency
Each transaction (or block) on the blockchain has a unique ID, a number that corresponds to the previous block, all transactions included in the smart contract (can be 1 to over 1,000), and a public key to identify the transaction. Public blockchains keep all of this information open to the public. This means that there is complete transparency with public smart contracts.
Private blockchains, on the other hand, like the ones that power cryptocurrency, might provide only some info while keeping other information private. For example, Bitcoin makes all of a transaction's information public except for the identity of the two parties. Other crytpocurrencies like Zcash (ZEC) provide more anonymity and keep the transaction details private, too.
2. Security
Once a transaction is recorded and verified on the blockchain it can't be altered. This is because of the mathematical cryptography used to record each transaction and the fact that each transaction is stored on thousands of decentralized ledger rather than a single master ledger. To alter a transaction, you not only would have to figure out how to do it once, but then alter 51% of all the ledgers in the network.
Further, as each successive block is added to the chain, it protects previous blocks because to alter a previous transaction, you'd have to first alter all the transactions that came after it. For this reason, people talk about a block in the blockchain like a fly in amber, the amber getting thicker over time and protecting the fly inside.
For example, Trade Finance Market (TFM) created Invoice Check to reduce fraud. The company uses blockchain technology to help invoice factoring companies check to see if prior invoices have been paid. This helps factor companies lower their risk, allowing them to offer their services to business owners with potentially lower costs.
3. Real-Time Transactions
It typically takes between 20 seconds to 10 minutes for a transaction on the blockchain to be verified by the network decentralized ledgers. This means that the blockchain can facilitate transactions in as little as 20 seconds. For example, you can send Ethereum from one cryptocurrency wallet to another in less than a minute. By comparison, an ACH transaction can take up to a day.
These real-time transactions become more beneficial when the traditional transaction time is longer. For example, the title transfer of real estate is currently facilitated by a title company and can take as long as 30 – 45 days. With the blockchain, the transfer of a title's asset can happen as quickly as it takes to verify the terms of the transaction.
4. Low Transaction Costs
There are typically little-to-no transaction costs when a small business uses the blockchain. This is because there is no middleman or central authority. Additionally, current networks of decentralized ledgers receive incentives to lend computing power to the blockchain.
For example, Bitcoin miners are the people who let the Bitcoin blockchain run on their computers. In return, the miners create Bitcoins by "mining them." The amount of cryptocurrency a miner earns is dependent on the computing power used.
This means that when you send Bitcoin from one wallet to another, there are no transaction costs. This is in contrast to the 2% – 3% transaction costs that accompany accepting credit cards. However, some merchant wallet accounts charge a monthly service fee for use. Additionally, you can sometimes pay as little as 1% of your transaction to get priority verification.
5. No Middleman
Since the blockchain is decentralized there is no middle man or central authority like a central bank or treasury. Instead, the distributed network of ledgers independently work together to track, record, verify, and enforce transactions on the blockchain. This allows for the fast transaction speed and decreased transaction costs mentioned above.
Drawbacks of Blockchain Technology for Small Businesses
The drawbacks of using blockchain technology for small businesses really stems from the fact that the technology is so new. Currently, it's tough to import or include external data when using the blockchain, limiting its use. Further, since the technology is so new, it might cause technological unemployment, which is unemployment that comes from advances in technology.
Here are 2 drawbacks of blockchain for small businesses:
1. No External Data
The blockchain is great at knowing what's encoded on its decentralized ledger and how to execute and enforce smart contracts. However, the blockchain can't use external data to increase its use and effectiveness for small businesses.
For example, blockchain currently can't automatically import the price movements of a publicly-traded stock and execute a buy or sell order with a third-party digital broker. So, while it can execute the payment of a contract should obligations within the chain be met, it can't be used to purchase stock or other property should the external market price of that property move a certain way.
The reason for this is two-fold. The first is that almost all of the existing blockchains are earlier technological models that were built to carry out a specific task. For example, the Bitcoin blockchain was coded to track Bitcoin transactions and not much else. The second is that the blockchain is still new and there isn't yet high demand for smart contract use.
However, the technology behind the decentralized ledger itself is flexible enough to include external data in its smart contracts. There just simply aren't any commercially-facing blockchains and blockchain applications that have working APIs and other information-sharing capabilities. This might soon change in the coming months and years.
2. Technological Unemployment
While it's not a short-term threat, blockchain might cause technological unemployment in the future. This type of unemployment comes from technological advances, such as the case with the automation of the automobile assembly line. Any industry or profession that uses or enforces contracts will either have to adapt or risk being replaced.
For example, notary publics, lawyers practicing contract law, many financial professionals, and more will have to adopt the use of blockchain as part of their business. This technological advance might create an "Uber-like" economy within these industries where anyone with access to the blockchain's decentralized ledger can provide services once saved for specialized professionals.
Industries that Will Use the Blockchain
The blockchain is still an emerging technology but there are already businesses and industries who have use cases for it. Currently, the companies and industries interested in using blockchain are ones with heavy transaction or contract volume. As a small business, it's important to know who's adopting blockchain so you know how and when you might be exposed to it.
Large companies in finance and other industries are either already adopting blockchain technology or are in the process of figuring out how blockchain fits into their business model. As these large businesses adopt blockchain there will be an expectation for small business to follow. However, the challenge for small businesses is a lack of financial and human capital to experiment with the new technology. Further, small business owners are too busy running the business day-to-day.
"Differing adoption rates presents a strategic opportunity for small businesses who can position themselves as leaders in adopting blockchain technology. This requires small businesses to not only pay attention to what big business is doing but also keep a keen eye on competitors to avoid being outmaneuvered in this fast changing landscape being driven by blockchain." – William J. Rowe, Ph.D, Associate Business Professor of Supply Chain at East Carolina University.
The following industries will use blockchain in the future:
1. Banks & Financial Institutions
Banks and financial institutions stand to benefit greatly from blockchain. First, the financial sector would be able to reduce a lot of the fraud and security risks it currently faces. Second, any financial transaction can be automated by the blockchain. Futures contracts, options, buying and selling ETFs and more will be soon powered by blockchain.
Currently, large payment systems like SWIFT are experimenting with blockchain as a way to record the transactions of depository institutions. Companies like R3 are working with companies like Microsoft, Intel, and multinational banks to implement its distributed ledger platform for the financial markets. Finally, Myanmar launched the Yangon Stock Exchange (YSE), the first to use blockchain as part of its settlement process.
2. Digital Publishers
Digital publishers should be able to take advantage of blockchain as a proof of existence. Instead of using Facebook authentication, these publishers and online companies can use blockchain as a safer and more secure way to verify online identities. Publishers and online marketers can also use tokens to provide cross-platform access as well as cross-promote content on other publications.
3. Medical Companies
Medical records might soon be coded directly onto the blockchain. This would increase the ability to share documents securely without having to worry about HIPAA compliance. Further, the documents and transactions on a medical blockchain would be unalterable, providing safety and security to new and existing medical documents.
4. Insurance Companies
The verification and execution of small business insurance policies will soon be powered by the blockchain. All insurance policies can be recorded directly on the chain in individual blocks. As soon as one of the protocol criteria is met the smart contract will execute the policy.
For example, if you have liability insurance and an employee is hurt on the job, the liability insurance might execute automatically should the employee's medical records also be coded on the blockchain.
5. Legal Industry
Most of our legal contracts will soon be coded onto the blockchain in individual blocks. This means that instead of a PDF contract signed by two parties, business owners might have an access key to information held on the blockchain that corresponds to a specific agreement. Should the protocol be met, the smart contract will execute, meaning that business owners will not need to worry about contractual enforcement.
Bottom Line: Blockchain Technology
The blockchain is a decentralized ledger of transactions that verifies and enforces contracts coded onto the chain. Blockchain technology can streamline any contractual agreement between two parties. This helps reduce transaction costs, speed up transaction time, and cut out any middlemen.