One of the most important but least understood steps in building a money-making blog is the content planning process, which is part of your overall blog content strategy. When done well, content planning can result in massive traffic increases to your blog.
What Is a Blog Content Strategy?
Your blog's content strategy is your plan for how the content you create will help you achieve your overall business goals.
Your blogging strategy outlines:
Your target audience
Topics you'll address on your blog
Types of content you'll develop
How you'll develop content
Actions you want your audience to take
Why a Blog Content Strategy?
Over 4 million blog posts are written every day. That's a big number. With that kind of volume, it's probably clear that your blog won't succeed without a content strategy. Bloggers who take the time and energy to develop a sound overall content strategy tend to generate far better results than their counterparts who take a "wing it" approach. I've been working with bloggers and have been a blogger myself for nearly a decade, and I've seen firsthand the benefits of what a sound content strategy can do.
Table of Contents: Definitive Guide to Creating Your Blog Content Strategy
Three Foundations of an Effective Blog Content Strategy
Know Your Niche & Study Your Competitors
Be Deliberate About the Scope of Your Blog Content
Generate Compelling Blog Content Ideas
Use the Most Popular Blog Post Formats
Tips for Creating Off-the-Charts Amazing Content
Use an Editorial Calendar to Organize & Manage Content
Track Results & Adjust Your Blog Content Plans as Appropriate
Top Techniques for Promoting Your Blog
Key Benefits of a Content Strategy
Specific Questions to Answer in Your Blog Content Strategy
Remember: The Best Content Strategies Are Flexible
Bottom Line
Three Foundations of an Effective Blog Content Strategy
Your blog content strategy needs to align with your blog's overall business plan. As you begin the strategy development process, begin with the fundamentals of why your blog exists, who your blog serves, and the specific goals you hope to achieve.
1. Be Clear About Your Why: Why Does Your Blog Exist?
You've launched or are in the processing of launching a blog. Why did you get started? You may have started a blog to make money, to build your online credibility, to increase awareness for a cause or endeavor, or simply because you have a passion for a subject and wanted to write about it. There are many reasons to start a blog, you need to be crystal-clear on what your specific "why" is.
2. Know Your Audience: Who Does Your Blog Serve?
The most successful bloggers focus on serving a specific audience and endeavor to learn as much as they can about that audience. Many find that creating a customer profile or customer personas is extremely beneficial.
Your blog content needs to answer your target audience's questions and solve their problems. The better you get at doing this, the more likely you'll achieve your blog's primary goals.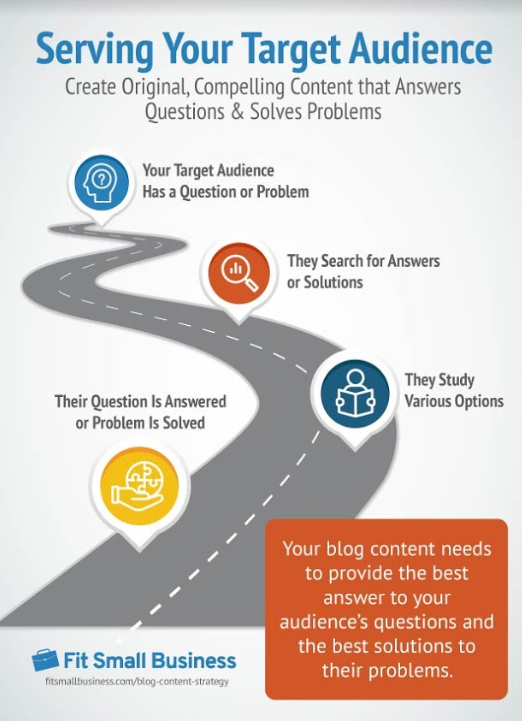 3. Establish Clear, Specific Goals: What Do You Hope to Achieve?
You may want to turn your blog into a money-making machine, but what precisely does that mean to you? It could mean $5,000 a month or $5 million. Whatever your ultimate goal is, it will be hard to achieve without establishing clear, specific actions you intend to take to reach that goal.
It's also important to be realistic; I don't want to be a dream-crusher, but you may not make $5 million overnight. Take heart, though, as there are many six-figure and even seven-figure bloggers in the world, and that could be you one day, too.
When setting goals for your content strategy, it's best to break big goals down into smaller goals. You also want to set SMART goals, that are specific, measurable, achievable, relevant and time-bound.
Keys to Setting Specific Goals
| Instead of … | Your goal would be this … |
| --- | --- |
| Make money | Make $5,000 a month by 6/1/21 |
| Get more page views | Increase blog page views 10% a month through 12/31/21 |
| Increase social shares | Get 2,000 social shares on Facebook every month |
| Regularly add new content | Create one new blog post every week |
| Capture more emails | Add 100 new email subscribers to my list every week |
You may have heard the saying that a goal without a plan is just a wish. Your content strategy is your plan for turning your "wishes—in other words, your goals—into reality.
"When setting your blog content goals, consider your audience, the amount of time you have to create content, what type of content you want to create, and what you want your blog to accomplish. Make sure you set realistic goals, but don't be afraid to push yourself. You might even want to consider making two goal lists—one for your short-term goals and one for your long-term goals. Your long-term goals should be the ones that push you the hardest while your short-term goals can be easier to achieve."

—Alayna Okerlund, Senior Strategist, BestCompany.Com
Know Your Niche & Study Your Competitors
One of the best ways to become an expert in your niche is to listen to your audience. Go where they go. Read what they read. See the world from their viewpoint. When you understand your audience and offer the solutions-based content they need, your odds of succeeding with your blog increase exponentially.
Why Performing Market Research Is a Must
Studying the content that others are creating in your target market—as well as monitoring topic trends and post sharing patterns—provides tremendous insight into untapped and underserved opportunities to win over your audience. This knowledge can help you choose the primary topic categories for your blog, as well as help you come up with evergreen content and individual blog post topics that are in high demand.
There are two types of research, primary and secondary. Primary research is that which you initiate yourself such as conducting interviews, focus groups, or surveys to gather information based on questions you develop. Secondary research is the process of combing through existing data and information that offers insights into the market you serve.
Top bloggers typically use a combination of the two research methods, though often lean more heavily on secondary research—especially when they're first starting out.
Popular Tools for Performing Market Research
Thankfully, there are many tools available to help you study what's going on in your blog niche. You'll want to explore several methods of gaining insights into your audience, such as:
Survey Tools: Popular survey software options include Snap Survey, SurveyGizmo, QuestionPro and my personal favorite—because it's so doggone easy to use—SurveyMonkey.
Keyword Research Tools: Research and evaluate search terms your audience frequently uses with free tools like Google Keywords or Ubersuggest or premium tools with more robust features, such as Ahrefs or MozPro.
Tools for Monitoring Trending Topics: Google Trends helps you watch topic trends while social tracking tools like BuzzSumo help you monitor popular content on various social media channels.
Online Q&A Platforms & Content Aggregators: Question-and-answer platforms like Quora and content aggregators like reddit offer a wealth of information about customer wants, needs, and interests.
Bestselling Book Lists: Spend a little time pursuing bestseller lists, and you'll likely find several books targeted to your niche.
As you begin to research your ideal blog audience, what they're talking about, and the solutions they have available to them, patterns will emerge. You can use this knowledge to inform your overall content strategy–in other words, the reward for your research is solid insight into what types of content to cover on your blog.
How to Gain Content Insights from Your Competitors
When going through the market research process, you'll likely find that certain sites in your niche seem to pop up again and again. That's a sure signal these sites are top competitors in your niche.
To find additional competitors, search online for various subjects you're thinking about covering on your blog. Don't just search on Google; be sure to study social channels as well.
Here are a few things you want to observe as you review competitors:
What are your competitors doing well?
How many categories do they cover on their blogs and what are they?
What solutions are they providing to their audience? (And, do you have a better solution you could offer?)
What appears to be their most popular content (which you can determine by looking at their popular post list, number of comments, and total social shares)?
How many social followers do they have, and are their followers actively engaged?
What are the "content holes" on their site?
How high is their content ranking in search engine results pages? (Tip: the keyword search tools mentioned previously can help you discover this.)
Once you've completed a thorough market and competitive review, you have the foundation you need to build your unique content strategy. It's now time to decide the depth and breadth of content you'll cover on your blog, as well as create a plan for organizing and managing existing and new blog content.
Be Deliberate About the Scope of Your Blog Content
One of the most common mistakes new bloggers make is trying to cover too many subjects on their blogs. Big media sites with dozens of writers can do it, but most independent bloggers simply don't have the time or resources to effectively pull that off.
There are two humongous reasons why you want to limit the scope of your blog:
It confuses and loses your readers. When your blog content is all over the place, readers have trouble understanding who you are and what you do. This leads to higher bounce rates and super-low return visitor rates.
You'll have trouble ranking high on Google search results. Google rewards sites that demonstrate expertise, authority, and trust (EAT). Your target audience is unlikely to see your posts in their searches if your site doesn't have sufficient content in the categories you cover.
The best way to serve your audience is not by being a jack of all trades, but rather by being a master of a few subject areas that are most important to your ideal blog readers. When you're just starting out, it's best to limit your blog to three to five topic categories.
When you conducted your market and competitive research, you undoubtedly found that overarching themes emerged. Choose your core blog categories from those themes you feel will best serve your audience, then set your sights on developing the best content you can in each of those areas. Over time, as your content library grows, you can always add new categories.
The Pillar-Cluster Model
A popular way to plan and organize your content is to use the Pillar-Cluster Model, first popularized by HubSpot. In this model, blog content is organized around a few key pillar posts on your site, as demonstrated in the image below. If you use this Model, you will write a pillar post for every main category you write about on your blog.
Think of pillar content on your blog as a pillar in a building; it holds everything else up. A pillar post is a foundational content that contains substantial content presented in considerable detail.
If a blog visitor reads only your pillar posts, they'd know exactly what your blog is about and how you help them solve the problems you face. Cluster content—the content that surrounds the pillar post—is useful content that elaborates on the principles introduced in pillar posts. Cluster content has a narrower focus than pillar content.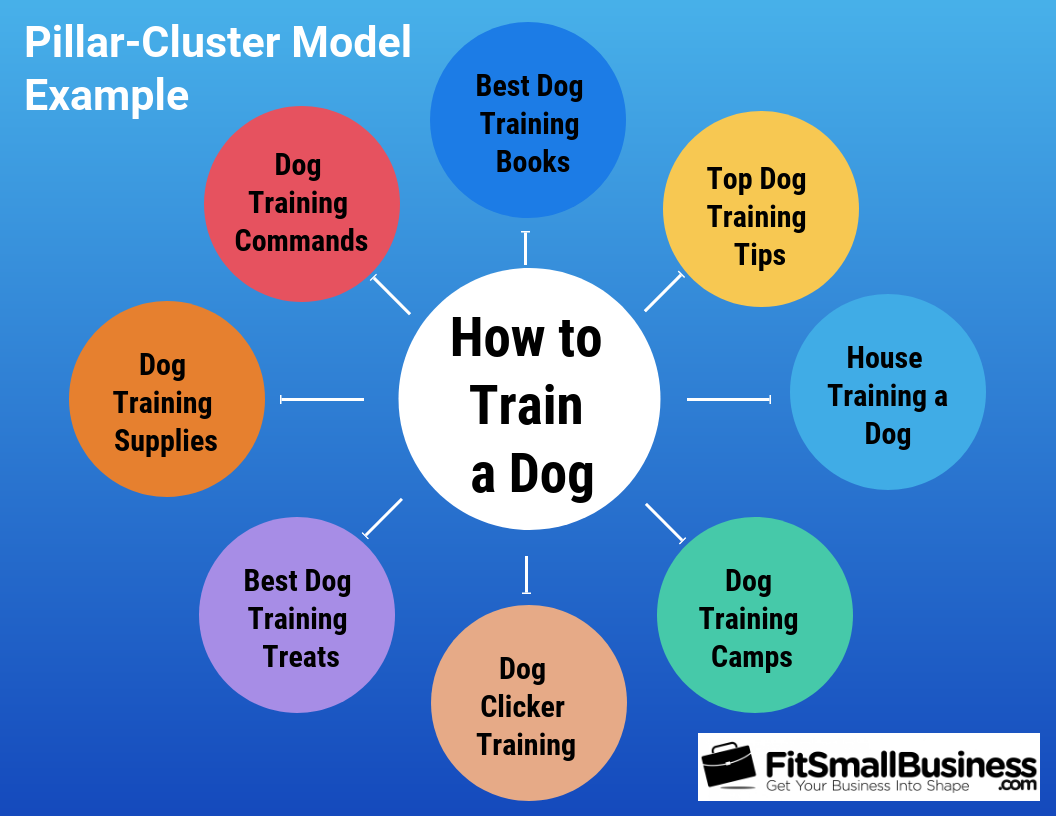 Develop Content for Every Phase of the Sales Funnel
If one of your primary goals for your blog is to make money, you need to develop content that supports your monetization goals. This means you need to create content for every stage of the sales funnel.
High-funnel content refers to people at the top of the funnel. These blog visitors are just now becoming aware of your blog and are in the early stages of their research. Low-funnel content, on the other hand, is targeted to people who are very close to making a buying decision but require more details before making a purchase. These individuals are at or near the conversion stage of the funnel; this is when you can capture a sale.
Develop Top-of-the-Funnel Content
At the top of the funnel, your site visitors are looking for answers to their questions. Some blog visitors at this stage may just be curious about something or have a question, while others may be researching ways to solve problems. If you push readers too hard into making a buying decision with your content at this stage, you'll likely lose them.
Build Middle-of-the-Funnel Content
The middle of the funnel is where your blog readers are developing deeper interest in what you're blogging about and are considering specific options to solve the problems they're facing. For people at this stage of the funnel, you want to create blog content that boosts your brand's reputation and compels your reader to keep coming back to your blog.
Create Bottom-of-the-Funnel Content
The bottom of the funnel is where you have a chance to convert readers into buyers. Developing content about the amazing benefits of what you're selling, demonstrating the value you bring to the table, and assuring your audience that your solution is the best solution to their problem is key here.
Generate Compelling Blog Content Ideas
The quality of your blog—and your blog's ultimate success—hinges on the quality of your blog posts. A great blog post begins with a great idea, yet many bloggers struggle with figuring out what to write about. This is truly a shame, because there are so many terrific ways to come up with content ideas that will wow your blog readers.
Here are a few ways you can come up with on-target ideas for new blog posts:
Reader Surveys: Ask your readers to rate blog post ideas, and write about those that rise to the top.
Turn to the Experts: See what other experts in your niche are writing about, and write something even better.
Popular Posts: Research which of your blog posts are getting the most traffic, page views, or conversions, and write more posts like them. Also look for content within popular posts that is worthy of expanded discussion.
Social Media Hashtags: Look for trending topics on various social media channels.
Table of Contents (TOCs) of Bestselling Books: Search for books in your niche and look at the TOCs for inspiration.
Keyword Research: Research blog ideas using search engine tool like Ahrefs or Google Keyword Planner.
Here's an example of how keyword research leads to on-target blog post ideas. A food blogger wanted to write some blog posts about family dinners but she was at a loss for where to start. So, she searched for "family dinners" in ahrefs and found 2,888 related keywords, some of which were the perfect foundations for new blog posts. Even better, by using a keyword research tool, the blogger developed a good understanding of the search volume for related keywords as well as the potential difficulty of ranking high on Google searches (see image below).
There are so many tools that can help you research content ideas. Here's a list of a few you'll want to check out:
Brainstorm Blog Post Ideas First, Evaluate Later
When generating blog post ideas, you want to brainstorm first without evaluating anything. Let the ideas flow and try to come up with as many new concepts as you can. After you have come up with a number of potential new posts—at least a dozen or more—you can then go back and evaluate those ideas for viability.
You may want to put a day or so between your idea generation session and your idea evaluation session. Some concepts seem great at first, but upon further reflection, you find that they don't align well with your blog content.
If you depend heavily on Google organic traffic, you'll want to use a keyword research tool to examine the search volume and competitive intensity of your new content ideas. Keywords with high search volume and low competition are ideal targets for new blog content, though admittedly, that combination of high volume and low difficulty is sometimes hard to find.
You also want to keep a long list of ideas in queue at all times. I'll show you how to include those ideas in your editorial calendar shortly.
Use the Most Popular Blog Post Formats
Most bloggers use multiple types of blogging formats, as this provides variety for readers and allows for various ways of discussing related subjects. While "how to" posts are the most popular blog format, there's no right or wrong answer when it comes to which formats you should use.
You may find that you're more comfortable writing some formats than others. Always play to your strengths, as a well-written post that achieves your primary blogging goals can be accomplished through a variety of blog formats.
Here is a list of the most popular types of blog post formats:
How To Posts
List Post
Reviews
Case Study
Expert Roundups
Interviews
Behind-the-Scenes Posts
Opinion Posts
Controversial/Opposite Logic Posts
Blog Series
Question & Answer Posts
This vs That
Pay Attention to the Blog Formats Your Audience Likes Best
When creating your overall blog content strategy, double-check that the formats you use are well-received by your audience. If you're just starting out, then experiment with a variety of formats. Once you have several posts on your blog, you can measure which formats resonate best with your audience by monitoring key performance indicators (KPIs), such as page views, social shares, and conversion rates.
Tips for Creating Off-the-Charts Amazing Content
When formulating your blog content strategy, you don't just want to focus on developing any content. You want to create content that's amazing.
You need a strategy that not only addresses what types of content you're going to create, but also how to make sure that content is better than the choices your audience already has available to them. (Remember that over 4 million blog posts are written every single day, so your target audience has a mountain of options available to them.)
There are several ways you can make your blog posts stand out from the crowd. For instance, you can use amazing visuals, add interactive content such as quizzes, incorporate helpful videos into your posts, or develop 10x content that takes advantage of many of these techniques.
The Importance of Using Great Visuals
Many bloggers today use only one or two images in their posts; it turns out, that's often a mistake, especially on longer posts. But, you ask, "How many images should I use?" Great question.
A study by Orbit Media found that 75% of bloggers who included 10 or more visuals in their posts reported strong results for their articles. A joint study by Canva and BuzzSumo found that blog posts that contained one image for every 70 – 100 words were shared the most (see image below).
Create Videos for Your Blog
Video content is skyrocketing in popularity. In fact, 85% of all internet users in the US watch online video content monthly.
Including videos in your blog posts is a way to establish a more personal connection with visitors than you can create through text-based content alone. Videos are also highly shareable, and hence you may get more exposure for your blog. Creating share worthy posts is a key goal in most bloggers' content strategy plans.
Add Interactive Content to Your Blog
Adding quizzes and surveys to your blog helps you more fully engage with your audience. Interactive content also increases the amount of time your visitors spend on your site, and hence lowers bounce rates.
There are several easy-to-use quiz builders and survey creators available that you can use to add interactivity to your blog posts. Popular options include Survey Anyplace, Typeform, Qzzr, and Riddle.
Create 10X Content That Wows Your Blog Audience
Rand Fishkin first introduced the idea of 10X content in one of Moz's Whiteboard Friday sessions. Basically, 10X content is content that's 10 times better than anything else available. In truth, the measure for 10X content is relatively subjective. Still, there are a few common elements to add to your blog posts that work together to create an exceptional customer experience.
According to Fishkin, in order for content to qualify as 10X, it needs to:
Deliver a terrific user experience through site design and navigation as well as content design.
Be trustworthy, interesting, high-quality, and remarkable in some way.
Evoke an emotional response from the reader.
Be substantially different from other content that addresses the same user's needs.
Provide a comprehensive solution or answer to readers' problems and questions.
Be delivered in a powerful, enjoyable, unexpected way (i.e., think outside the box and don't be boring!).
Be Truthful and Don't Over Promise or Underdeliver
There are two big mistakes bloggers make that keep their content out of the "amazing" zone. The first mistake is to not meet reader expectations by delivering underwhelming content. The second mistake is to over-promise or make exaggerated claims that makes your audience doubt your trustworthiness.
When you develop content that's not unique, not helpful, and not engaging, you lose your audience—quite possibly for good. When you create content that makes big bold claims and yet offers little to support those claims, you damage your credibility in your readers' eyes.
Use an Editorial Calendar to Organize & Manage Content
A blog content strategy will fail if it's there's not a plan in place to execute it effectively. Successful bloggers understand the importance of using an editorial calendar to plan, organize, and manage content; it's an invaluable tool for staying on track with your overall content strategy.
How to Develop an Editorial Calendar for Your Blog
Your editorial calendar can be as simple or as detailed as you'd like. The basic content required in every editorial calendar includes a list of content that you plan to create as well as the status of the article's progress—for example is it being researched, written, edited, in line to be posted, or already posted?
The editorial calendar for the blog Idyllic Pursuit shown in the image below was created using Trello, which in my opinion is one of the easiest tools available for developing an editorial calendar. Plus, Trello offers a free plan that is more than adequate for most bloggers.
Track Results & Adjust Your Blog Content Plans As Appropriate
When creating your content strategy, you outline specific goals you want your blog content to achieve. You must also set a plan in place for how to track and measure progress toward those goals. You will need to use analytics tools to help you gauge blog success, the most common of which is Google Analytics.
How & Why You Need to Use Google Analytics
Google Analytics is a free powerhouse tool that can help you track blog performance parameters both at the overall site level and the page level. Knowing what's working—and what's not—on your site is key to your overall success, and Google Analytics is an invaluable tool for monitoring key performance indicators (KPIs).
Here are some top performance statistics or KPIs you may to track using Google Analytics:
Number of site users by date range
Number new visitors vs returning visitors
Bounce rates
Number of total page views
Top-performing pages
Audience demographics
Audience conversion rates
Audience acquisition by source (e.g., paid ads, social channels, organic)
Site speed
Audience search behavior
User behavior flow on your site (e.g., where do they enter your blog, what pages they go to, and when do they leave)
You may find that the Google Analytics dashboard is a bit daunting when you first start using it. Over time, you'll find that it's actually quite intuitive. If you feel you need help, the Google Analytics Academy offers free training for beginners and advanced users alike.
My No. 1 piece of advice when it comes to creating an effective blog content strategy is to look at your top 10 most popular blog posts of the past year and see how you can expand on these topics for a new post or write about the same topic from a different perspective.
"If you are a brand-new blog with no past content to refer to, then identify some blogs in your niche and look at their top most popular posts, as many list this on their homepage, but you can also judge what's popular based on social shares or the number of blog comments."

—Gail Oliver, Small Business Marketing Consultant, Attention-Getting Marketing
Don't Abandon Older Blog Content: Refresh It
As your blog content library grows, you want to make sure that you're not allowing older content to die on the vine. When you update older content regularly, Google notices and oftentimes your updated posts start ranking higher in Google's search engine results pages (SERPs). This, in turn, means more exposure and more traffic for your blog.
You can use Google Analytics directly to identify older blog posts that aren't performing as well as you feel they should. Another tool that can help you identify old posts worthy of updating is Animalz Revive. This free tool automatically analyzes your Google Analytics data for you and gives you a list of blog posts that are ready for a refresh.
Top Techniques for Promoting Your Blog Content
There are many ways you can promote your blog content. Social media, email marketing, paid advertising, guest blogging, and conducting blogger outreach are among the most popular techniques—and the most effective.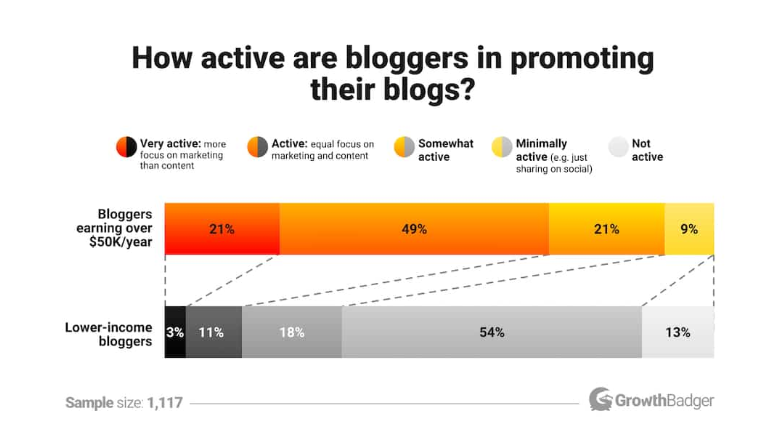 Promote Your Blog on Multiple Social Media Channels
Most bloggers promote their blog content via social media marketing. If you're just starting out, you may want to focus on just one or two social channels that your ideal audience use the most. Later, when you have more time and resources available, you can expand your social media presence.
Promote New Content to Your Email Subscribers
If you haven't already done so, you'll want to sign up with an email solutions provider such as MailChimp, Constant Contact, or Drip so that you can collect email addresses and send emails to your email audience. Email marketing is highly effective because your email subscribers are often your most avid fans. Even your top fans won't necessarily visit your site without a little nudge though, and a simple email announcing new content can result in big spikes in traffic.
Purchase Paid Ads to Promote Your Content
For monetizable content, you might want to invest in paid advertising to get the word out about your blog. Most social media channels offer paid advertising opportunities. You can also advertise on Google AdWords. The beauty of promoting your content via pay-per-click (PPC) advertising is that you can deliver your ads to highly targeted audiences.
Guest Post on Other Blogs
Writing articles for other blogs is another great way to get attention for your blog— especially if the other blog has a massive following. Another terrific reason to write for other sites is that you earn a backlink for your efforts. Backlinks help raise your site's domain authority, which is a rough estimate of how credible you are in Google's eyes. When Google believes your blog is a credible and trustworthy site, your blog content tends to rank higher in Google search results.
Conduct High Quality Blog Outreach
Blog outreach is the act of reaching out with market influencers and other bloggers in an attempt to get more exposure for your blog. When influential bloggers mention you and your content to their audiences, your blog traffic can soar. There are several popular tools that can help you scale your blog outreach efforts, including OutreachPlus, NinjaOutreach, and BuzzStream.
The Best Content Strategies Are Flexible
You never want to compromise on your core blogging goals, but you will need to be flexible when it comes to how you go about achieving those goals. Your blog content strategy is a living breathing plan that must be able to adapt to the ever-changing needs of your business, your audience, and market-at-large factors that sometimes require you to pivot at a moment's notice. Always build flexibility into your strategy.
Key Benefits of Developing a Content Strategy
It's important that you understand the main benefits of developing a content strategy. While overall improved blog success is the main goal.
To summarize, a blog content strategy will:
Help you clarify and stay focused on your primary and secondary target audiences, which in turn, helps you serve them better.
Facilitate better content organization, which is helpful for site users and could help your blog rank higher on Google.
Ensure you create content for all stages of your customer's buying journey—from gaining initial awareness to landing actual sales—which helps you generate more subscribers, and close more sales.
Offer guidance for future content development, which helps you avoid the trap of scurrying to figure out what blog posts you should develop next.
Help you shorten the time it takes to turn an idea into an amazing blog post as you have an overall strategy that guides all content decisions.
Map out a plan for pinpointing which content is working on your site so you can create more winning content.
Clearly, the benefits of developing a content strategy outweigh the downsides, namely, having to invest time and effort on your part to formulate your plan. You want your blog to stand out from the crowd (and that's unlikely to happen by chance).
Bottom Line
You now have the foundation you need to create your blog content strategy. The most important thing to remember in creating your strategy is that you want to be crystal-clear about what you want to accomplish and how you intend to go about reaching your goals.
To summarize what we've discussed throughout this post, your blog content strategy should answer the following questions:
Why does your blog exist? What is your primary "why?"
Who does your blog serve (be specific)?
What problems will your blog solve for your audience?
What are your primary goals for your blog; what do you want to accomplish (be specific)?
What are the resources you'll invest (time and money) to develop blog content?
How do you plan to accomplish your blogging goals via your content?
Who are your top competitors and what are they good at and not so good at?
Where are the content "holes" your competitors aren't addressing, and how will you turn that to your advantage?
What topics are popular in your niche?
What are the top three to five categories you plan to address on your blog?
What primary clusters will your blog contain (remember the Pillar-Cluster Model)? What are your pillar posts? What will you create for your cluster content?
What types of content will you develop for each phase of the sales funnel?
What's your plan for generating new content ideas over time?
Which content formats will you use? How and when will you use them?
How do you plan to make your blog content off-the-charts amazing?
How will you use an editorial calendar to organize and manage your blog content?
What are the key performance indicators (KPIs) you'll track to measure blog performance?
What specific techniques will you use to promote your blog content?
A well-planned content strategy is a road map that keeps you from getting lost in the dense forest of decisions you must make as a blogger. When key content parameters are clearly outlined, you'll create on-target content that will resonate with your readers.
If you haven't started your blog yet, then you'll need to choose a blogging platform. I recommend setting up a self-hosted blog using WordPress. You'll need a hosting solution, and Bluehost is a popular choice among bloggers who need an affordable and reliable hosting solution. Visit Bluehost today.