Email marketing is a terrific way to build ongoing relationships with your blog audience. But you can't benefit from email marketing if you don't have an email list. That's why it's crucial that you learn effective ways to collect email addresses from your blog visitors. We've identified the seven best email capture tools that will help you build your email base quickly and easily.
The best way to collect email addresses on your blog will depend a lot on your audience. The most successful bloggers—those who make the most money blogging—test a variety of email capture tools and techniques and then narrow their efforts to those that work the best on their sites.
Here are the top seven tools for capturing more emails from blog visitors:
1. Embedded Sign-Up Forms
Most top email services providers—such as Constant Contact, Mailchimp, and ConvertKit—offer bloggers a way to create custom forms that can be embedded directly into their blogs. This makes it easy to capture email names anywhere on your site.
The process for creating embedded sign-up forms is a little different for each email provider. Some providers have custom WordPress plugins for setting up forms; others help you design a form on their platforms and then give you HTML code that you can place anywhere on your blog.
You can use embedded (also known as inline) sign-up forms to collect emails for newsletters or e-books or for any other reason under the sun. Offering a free gift or incentive—which in blogging terms is called a lead magnet—is a strategic way to improve your email capture success rate.
Tip: To collect more email addresses, make sure your embedded sign-up form is prominent on your site. It's best to place it "above the fold"—which simply means high enough on your blog so visitors will see it without having to scroll.
2. Pop-ups
I've been a blogger and worked with bloggers as a business growth consultant for nearly a decade. I can't tell you how many times I've heard new bloggers cringe when I propose using pop-ups to collect more email addresses.
Many people—bloggers and blog visitors alike—find pop-ups annoying. That's why many bloggers don't want to use them, that is, until they see how effective pop-ups can be. If making money blogging is one of your top goals, I strongly encourage you to at least experiment with using pop-ups to collect emails on your blog.
Here's the truth about pop-ups: Those that provide extreme value to blog visitors work best. Those that don't offer high value merely annoy readers and detract from the user's experience on your blog.
Here are a few tips to make your pop-ups work better:
Align pop-up content with the content your visitor is viewing on the blog page they're reading.
Keep your pop-ups simple and clear by adding a single call to action, such as "download this free report."
Use a time delay so pop-ups only appear when the reader is exiting the page.
Schedule pop-ups so they don't appear every time someone returns to your blog.
Test pop-up copy and visuals to make sure your offer is appealing.
3. Slide-ins
As the name implies, these email capture devices slide in. Slide-in boxes are similar to pop-ups but are a little more subtle. Slide-ins are typically smaller than pop-ups which often cover a large swath of the blog visitor's screen. You can schedule slide-ins to appear when and where you want them to appear on your blog.
HubSpot conducted a study on slide-in effectiveness. They found that slide-ins generated a 192% higher click-through rate (CTR) and netted 27% more submissions than other email capture devices that were tested.
While most email service providers offer pop-ups and embedded forms, not all offer slide-ins. OptinMonster, MiloTree, and ThriveLeads are just a few of the many service providers that offer email capture slide-ins along with other types of email collection tools.
For a slide-in to be effective, you need to follow the same rules you would for pop-ups. In other words, make sure your slide-in's call to action is clear and limit the number of times each site visitor sees your slide-ins. Also, offer your readers something of extreme value so they'll gladly give you their email address and not be annoyed by the intrusion the slide-in creates.
4. Header Bars
When it comes to capturing emails, it doesn't pay to be subtle. That's why you may want to try adding a header bar to your site with the sole aim of collecting more email addresses.
Sign-up forms placed in graphic bars above your blog's header are prominent yet not as intrusive for your visitors as pop-ups and slide-ins. Headers bars can be static, which means they disappear as the blog visitor scrolls through your blog pages and posts. You can also add a sticky bar to your site, which means the bar doesn't disappear as your visitors scroll.
You can use an email capture tool provider like Hello Bar to create a header bar for your site. You could also create a header bar through your email marketing service provider, provided your blog theme allows for header bars (many do).
5. Landing Pages
Another popular tool for capturing email addresses is a landing page. In essence, a landing page is a simple blog page that focuses on capturing user information in exchange for providing something of value to page visitors.
Landing pages allow you to include more information about your offer than other types of email capture tools and hence are wonderful tools for marketing and promoting your blog. Many bloggers use social media to promote online courses, resource guides, challenges, and other giveaways and then direct followers to special landing pages where the blogger then collects emails.
You can create landing pages using a full-service marketing funnel provider, such as ClickFunnels. You can also create landing pages using a solution like Leadpages, Unbounce, or InstaPage.
Landing page providers specialize in offering templated layouts that work especially well for collecting emails—which means you can create proven-effective, professional-caliber designs in minutes rather than hours. If you're design-savvy, or on a budget, you can create your own landing pages from scratch.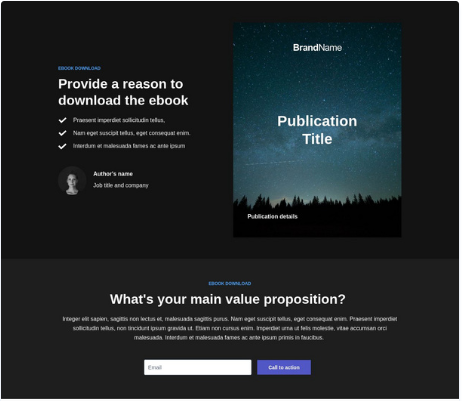 6. Chat Boxes
While chat software is typically added to websites to serve customers better, you can also use online chats as an opportunity to collect emails from site visitors. Online chats are most common on blogs that also offer ecommerce capabilities.
Most chat software, including Freshchat and Livechat, allow you to ask for emails during live chats. Collecting emails via chat boxes won't be the primary way you build your email base; they are simply one more avenue for gathering emails from highly engaged blog visitors.
7. Surveys & Quizzes
Adding high-value quizzes and surveys to your blog is yet another way to collect more email names from your blog audience. Surveys are ideal for collecting information about your blog audience so you can serve them better. Quizzes are growing in popularity as they offer a chance to create value for blog readers. The more entertaining or helpful your quiz, the higher your email opt-in rates will be.
You can create simple surveys using Google Forms, Typeform, or Survey Monkey. Popular quiz makers include Interact and LeadQuizzes. Even better, all of these tools make it easy to create surveys and quizzes in mere minutes.
Tip: If you plan to add quizzes to your blog, make sure the quiz is relevant to your blog content and targets your ideal blog audience. Collecting names that aren't likely to further engage with your blog is a waste of time and will drive up your email marketing costs, as most providers charge by the number of contacts in your email list.
The Link Between Email Capture & Blog Monetization
Having a large, well-targeted email list is extremely helpful for monetizing your blog. Research shows that the average return on investment (ROI) for email marketing is 3,800%. If you're serious about making money blogging, make sure you're using a variety of tools to capture email addresses from your blog's visitors.
Top Tips for Capturing the Most Emails
Now that you're familiar with the top tools for collecting email addresses, you want to optimize your collection rates by using techniques and strategies that assure success. The most important strategy for growing your email list is to use lead magnets that your blog visitors simply can't resist.
Create an Irresistible Lead Magnet
People can be reluctant to give you their email address unless they know there's something in it for them. That's why it's wise to give your blog audience something they want in exchange for their email address. The incentives you offer to optimize email capture rates are called lead magnets.
Lead magnets take many forms, including courses, checklists, e-books, exclusive videos, reports, and resource guides. Coming up with the right lead magnet for your blog audience can exponentially magnify your email capture success.
The most successful bloggers create multiple lead magnets. Creating a variety of lead magnets, and tracking who responds to different offers not only helps you build your email list, it also lets you better segment your email list so you can make more money through your email marketing campaigns.
Test Various Lead Capture Tools
There's no one email capture tool that works the best for every blog. Test at least three to five of the seven top email capture tools we reviewed. For optimal results, vary your copy, layout, images, and placement of lead capture devices on your blog.
Time Your Email Pop-Ups and Slide-Ins Wisely
When using tools that distract your visitors from what they're doing, time the appearance of those email capture attempts wisely. Allow your visitors to peruse your website for several seconds before interrupting them. Even better, time your email capture efforts so that your pop-ups and slide-ins only appear once visitors signal that they're about to exit the page.
Limit the Number of Email Capture Devices on Each Page
Too many attempts at collecting emails will come across as pushy or desperate. As a rule of thumb, you should limit your email capture efforts on any single page or blog post to no more than two or three attempts. For example, you may have a header bar where you capture emails on every page of your blog. Then, you might also have an email capture device in your blog's sidebar or a pop-up that appears when the visitor begins to exit the page.
Don't Forget About Your Mobile Audience
A lead capture tool that works beautifully when a blog visitor is using a desktop may look or work horribly for visitors on a mobile device. Be sure to view your email capture forms on multiple devices before posting them live on your site.
Not sure whether your audience is primarily using a mobile or desktop device? You can easily find that information by navigating to your Google Analytics dashboard.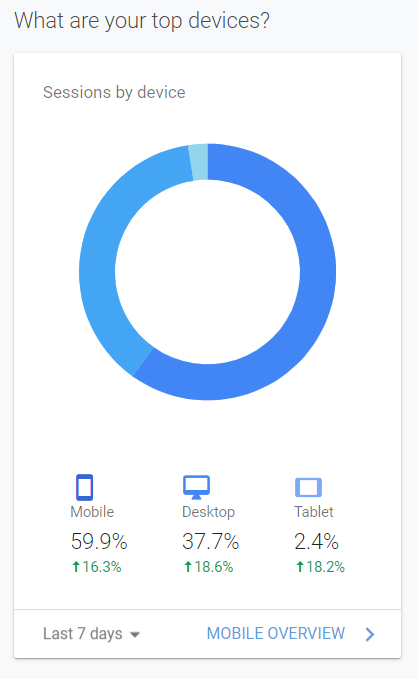 Bottom Line
Email marketing is one of the top ways bloggers make money today. Both the volume and the quality of email addresses you collect is important. The better you get at acquiring targeted email addresses, the more money you'll make through your email efforts.
The top tools for email capture include embedded sign up forms, pop-ups, slide-ins, header bars, landing pages, chat boxes, quizzes, and surveys. To achieve optimal results, experiment with different types of lead magnets and various lead-capture tools.