The user-friendly site builder, Squarespace, is a top all-in-one website builder that's made a name for itself with its beautiful, modern theme designs, but isn't the least expensive option. After hearing how the leading web hosting provider, Bluehost, has recently launched its own easy-to-use website builder, you might be left wondering which is better. To help you find the best solution for your business website, we'll compare Squarespace vs Bluehost head to head.
Bluehost: Best for small businesses and bloggers on a budget that want to be able to expand to a WordPress site
Squarespace: Best for the average small business or startup that wants a fast and easy way of building a reliable and visually pleasing website
Squarespace vs Bluehost at a Glance
| | | |
| --- | --- | --- |
| | | |
| Price | $12 to $40 per month | $2.95 to $12.95 per month |
| Ease of Use | Very easy | Very easy |
| Design | 200+ free responsive themes | 1 free responsive theme |
| Ecommerce | Proprietary system | Uses WooCommerce |
| Functionality | 24 extensions (plugins/add-ons) | 60+ plugins |
| Capabilities | Limited customization | Limited customization (unless you switch to WordPress) |
| Support | 24/7 support via email and Twitter, live chat on weekdays | 24/7 support via email, live chat, and phone |
| | | |
Best Value for Price: Squarespace
| Bluehost | Squarespace |
| --- | --- |
| Introductory pricing starts at $2.95 per month, and ecommerce plans start at $12.95 per month with long-term contracts | Plans start at $12 per month with no surprise fees as everything you need is included (with a 12-month contract) |
Comparing the two providers in terms of cost can be a challenge as Bluehost offers a variety of services and, thus, has a range in pricing. Bluehost plans start at $2.95 per month with a long-term, 36-month contract, or $4.95 with annual billing. The cost for an ecommerce plan jumps to $12.95 per month with a 36-month contract or $29.95 for month-to-month. Squarespace plans start at $12 per month with annual billing, and ecommerce plans start at $26 per month.
Keep in mind that while Bluehost appears cheaper, it's not an all-inclusive price like Squarespace plans are. So if you need plugins or want a premium theme via Bluehost or WordPress, you'll pay extra for those too. A Bluehost premium theme will cost $39 to $69 each. Also, keep in mind that the pricing listed is the promotional cost, and after your first term ends, you'll pay the regular price, which goes up by nearly 50%.
Winner: Squarespace—it offers more value in its transparency, shorter terms, and features.
Best for Ease of Use: Tied
| Bluehost | Squarespace |
| --- | --- |
| Lots of helpful guides and walk-throughs from setup to design make it easy to build a site | Gets you started with the design quickly and gives you a full view of your site with its visual editor |
Both Bluehost and Squarespace make creating websites so easy that you don't need to know technical knowledge to build a beautiful website quickly. When comparing the dashboards and editors, though, Bluehost walks you through every step of getting started. Plus, every section is labeled something that makes sense even if you have no web design experience. Squarespace is easy to use too, but navigating the menus can be confusing at first.
Building a Site With Bluehost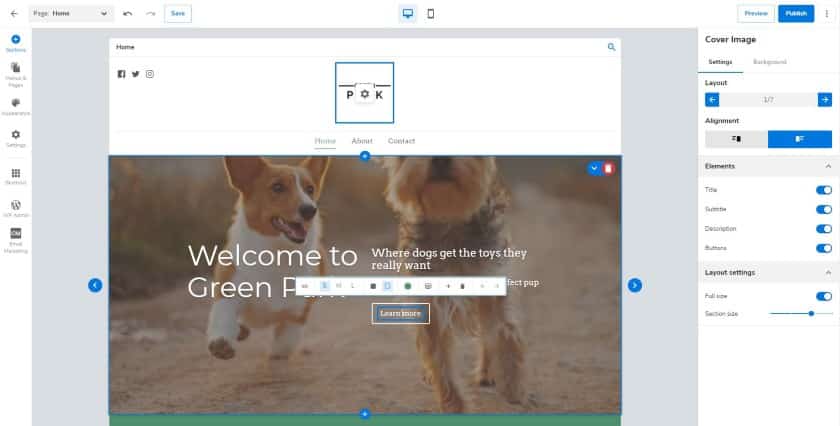 Bluehost starts by asking you a series of questions to understand your level of experience, the type of website you want, and whether you want a WordPress site or the Bluehost Website Builder. Get specific about your business (we typed in "dogs"), and the builder will fill in with stock images to show you what your site will look like. Upload your own photos, if you'd like, add your logo, choose the fonts and colors you want, pick a menu layout, and that's it. Next, you'll be in the editor, where you can change text, add or remove sections, and customize the site to your liking.
Building a Site With Squarespace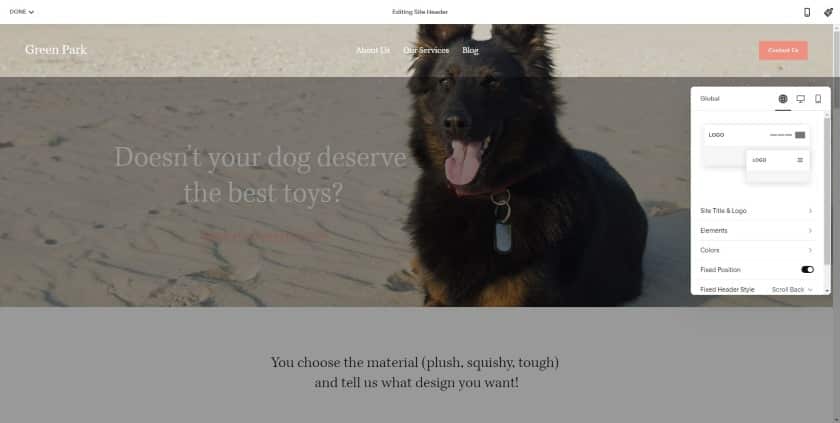 Squarespace is known for design, so it's no surprise that it starts with choosing the template you like best. You can narrow the results to topic or type, so you get a template that fits well. If you don't see anything you like, you can look at the older templates (that are on the older builder). Once you choose a design you like, you name your site, get a brief explanation of how to edit your site, and then you can start building it. Check out the step-by-step details on how to build a website with Squarespace.
Winner: The Bluehost site builder is more simplistic and a bit more intuitive than Squarespace. However, since they are both very easy to use, the answer boils down to your own editing preferences.
Best for Design: Squarespace
| Bluehost | Squarespace |
| --- | --- |
| You can purchase a premium Bluehost theme if you don't want the basic free theme | There are more than 200 templates available for free |
Sometimes it's hard to tell which is better, Bluehost or Squarespace, because they're so similar in many ways. When it comes to design, though, Squarespace wins by default. This is because it's an award-winning site builder known for its professionally crafted templates, whereas the Bluehost site builder is still the new kid on the block, per se, and has some catching up to do in the design department.
Bluehost Design
Bluehost doesn't offer much in terms of templates or themes, at least not for free. You start with a basic theme and adjust with sections and layout tweaks, but if you want something better, you'll have to purchase a premium Bluehost theme, which costs $39 to $69. You can still access WordPress themes—but then you'll have to install WordPress on your site.
Squarespace Design
Squarespace offers more than 200 templates, and all of them are free. Every design is clean, balanced, and created to perfectly fit a topic or type of business. And there's no limit to how many times you can change themes. If you find a Bluehost Premium theme you like, purchase it, and then decide you don't like it, you'll have to buy a new one or go back to the basic theme it offers for free.
Winner: Squarespace wins by a landslide here simply because it offers so much more choice in design compared to Bluehost.
Best for Ecommerce: Tied
| Bluehost | Squarespace |
| --- | --- |
| You get an all-in-one ecommerce solution from a hosting company that sets you up on WordPress and WooCommerce | The proprietary ecommerce solution from Squarespace gives you lots of powerful features in one plan |
The biggest difference in the Bluehost vs Squarespace ecommerce comparison is that Bluehost sets you up with a WordPress site and a WooCommerce online store, while Squarespace has a proprietary ecommerce solution.
Both platforms can help you start selling products online, but you'll have more options if you choose the Bluehost route. WooCommerce isn't a complete ecommerce website, but it does have online store themes, and it allows you to use extensions to make it more useful, such as for shipping, marketing, and analytics.
A Squarespace ecommerce plan comes with a huge feature set, so you can offer discounts, gift cards, express checkout, and abandoned cart recovery emails. There are fewer integrations and add-ons with Squarespace, though, so you're limited in what you can do with your store.
Winner: It's a tie. Squarespace is better for the average small business looking for an easy and reliable way to sell online, whereas Bluehost is a better choice for large retailers that need a number of added features.
Best for Functionality: Squarespace
| Bluehost | Squarespace |
| --- | --- |
| Bluehost offers over 30 types of sections to add to your site, and 60 different plugins | Squarespace gives you multiple designs of section types, plus seamless integrations with its approved extensions |
Even with the best website builders, you're going to run into some limitations when it comes to functionality. Bluehost only offers one free website design when you use the Bluehost Website Builder, but it offers dozens of different types of sections you can add to a page, such as maps, countdown timers, and price lists. For greater functionality, you're limited to the plugins Bluehost offers (60 in its store right now). However, you can swap over to a WordPress site for even greater access to themes and plugins.
Similarly, Squarespace offers a variety of sections you can add to a page, including reservation menus, calendars, and charts. It has an even shorter list of approved extensions (24), making it even more limiting. Plus, you can't easily switch a Squarespace website to WordPress to extend its functionality.
Winner: Squarespace sites always work as you expect them to, so it's the winner here.
Best for Capabilities: Bluehost (With WordPress)
| Bluehost | Squarespace |
| --- | --- |
| Bluehost makes it easy to customize site details, like color palette and fonts, without you needing to know about design or coding | Squarespace includes tools you need to customize almost every element of your site |
Both website builders can give you a
professional website
or online store with the basics you need. Design customization is easier with Squarespace because your content stays, even if you swap out a template. With Bluehost, you'll have to redo sections if you change the design. What's more, with Bluehost, you can easily migrate your site to WordPress, so if your site needs new and unique capabilities down the line, you'll be able to easily make the switch.
Winner: Bluehost wins here because it offers more sections, plugins, and the ability to easily switch over to WordPress, which offers endless capabilities with its huge library of plugins and the ability to add code.
Best Customer Support: Bluehost
| Bluehost | Squarespace |
| --- | --- |
| 24/7 support via live chat, phone, and email | 24/7 email support, as well as live chat and phone |
Sometimes choosing which website builder is better for you comes down to the customer support options. If you prefer to find the answer yourself, there's not much difference between Bluehost and Squarespace, as both offer comprehensive knowledge bases. If you prefer to speak to someone, then Bluehost is going to be a better choice for you because it offers 24/7 live chat, email, and phone support. Squarespace offers email support 24/7, but limits live chat support to 5:30 a.m. to 8 p.m. Eastern Time Monday through Friday.
Winner: Bluehost gives you lots of options to find the answer you need, including 24/7 phone and live chat support. To learn more, check out our Bluehost review.
Best Alternatives
There's a chance that there was no winner for you in the Bluehost vs Squarespace showdown, and that's OK. You'll find plenty of alternatives to Squarespace with more prebuilt designs or lower prices. And Bluehost isn't the only hosting company to jump into the website builder arena.
Here are three of the best alternatives:
Wix: Best for those who want design freedom over an easy-to-use platform
Weebly: Best for easily building an online store
GoDaddy: Best for service-based businesses with built-in appointment and scheduling tools
The best website builders are easy to use, affordable, and include the features and plugins that will help your business.
Frequently Asked Questions (FAQs)
Is WordPress free with Bluehost?
WordPress is an open-source content management system (CMS), and it's free to use. When you choose a Bluehost plan, you're paying for the hosting of a domain on which you can freely install and use WordPress to manage your content and website. Learn how to make a WordPress website.
Can you use Bluehost with Squarespace?
You can use a domain name you've purchased through Bluehost on Squarespace. You'll just need to transfer it and point it to Squarespace servers. There are instructions on how to do so with any web host. If you still need to register a domain name, you can do so with various web hosts, including all-in-one website builders.
What is the difference between Bluehost & Squarespace?
Bluehost is more of a web host that includes a website builder, while Squarespace is more of a website builder that also offers web hosting. You can opt for a hosting plan with Bluehost and use WordPress for free, but with Squarespace, you're paying for an all-in-one service that requires you to use Squarespace-designed websites. Here's an article about some of the best web hosting companies.
Bottom Line
Bluehost and Squarespace offer similar website building tools and options for either a website or an online store. For most small businesses looking for a headache-free way of building a professional site at the best value, Squarespace is the best choice. Since it's an all-in-one platform, you get everything you need in one place to quickly build a beautiful small business website. Plans start at $12 per month, but you can test it out with its free 14-day trial.
You Might Also Like…
Even if you're using a website builder, it's a good idea to know how to design a website.
In addition to SEO, you can try pay-per-click (PPC) as another marketing strategy—advertising on Google is a great place to start.