Bluehost
What We Like
Beginner-friendly way to build a site on WordPress
Clean interface with one-click access to the WordPress dashboard
Nearly limitless customization options through WordPress plugins
Affordable prices starting at $9.99 per month (regular price)
Unlimited bandwidth for unlimited web traffic
Low-cost unlimited storage for content-heavy sites (e.g., portfolios)
30-day money-back guarantee
What's Missing
No free trial
No month-to-month payments
Large jump in renewal prices
Not a true drag-and-drop builder
No native ecommerce features and very basic built-in features
WordPress integrations aren't seamless
Bluehost Website Builder Is Recommended For:
Beginner builders who want a quick and easy way of building a WordPress website
New businesses that need everything from a domain name to business emails
High-traffic websites
Businesses that need an affordable website
Bluehost is a leading web hosting service that also boasts of a drag-and-drop website builder. Unlike other all-in-one site builders, it uses the WordPress content management system (CMS). Its site builder enables you to build a website on WordPress through a beginner-friendly, drag-and-drop interface that Bluehost provides, making it a great choice for beginners who need to get started on WordPress.
Find out more about the site builder with our Bluehost Website Builder review below.
Who Bluehost Website Builder Is Best For
Bluehost Website Builder's unique drag-and-drop WordPress integration, complete with the WordPress dashboard and plugins, makes it a great way to build a customizable website. It allows anyone to create a site without having much experience.
Bluehost Website Builder is best for:
Beginners who want to use WordPress: WordPress is well-known for its almost limitless customization options, but it isn't exactly beginner-friendly. With Bluehost Website Builder, you can access WordPress' features using a beginner-friendly, drag-and-drop builder.
Businesses that need a true all-in-one site building solution: Bluehost has everything you need to build a website for your small business. Not only does it come with an easy website builder, but each plan also offers a free SSL certificate, professional email addresses, and a free domain name for one year. For more, you can pay for additional features like search engine optimization (SEO), dedicated IP, and a premium SSL.
Websites with high traffic: Each of Bluehost's shared hosting plans, even its cheapest Basic plan, comes with unmetered bandwidth. At $9.99 per month, this is one of the cheapest options out there. Both Squarespace and Weebly are known for their affordable bandwidth solutions, but their professional plans start at $12 per month.
Businesses that need an affordable website: Bluehost Website Builder doesn't have separate pricing. It comes available on all of Bluehost's hosting plans, including its shared hosting plans starting at $9.99 per month. This makes Bluehost Website Builder one of the cheapest site builders.
Businesses that need advanced SEO: Although Bluehost Website Builder's native SEO is pretty basic (e.g., you can edit SEO titles and add meta descriptions), it allows code injection. Plus, it has an SEO add-on you can purchase for an extra $23.88 a year. What we really like, however, is its WordPress integration, allowing access to most WordPress SEO plugins. This makes Bluehost one of the best SEO site builders available.
Who Bluehost Website Builder Isn't Best For
The trade-off for customization is less ease. Although Bluehost Website Builder makes it easy for anyone to create a website on WordPress, to customize it to your needs, you'll still need to download and set up plugins, which isn't the most straightforward solution if you want a site up quickly.
Bluehost Website Builder is not recommended for:
Businesses that want to get a site up as quickly as possible: With the amount of plugin choices provided by WordPress, it's difficult to decide which are right for your website. A traditional site builder like Squarespace gives a good mix of customizability and ease of use, helping you set up a beautiful, professional-looking website much more quickly.
Experienced WordPress users: Bluehost Website Builder utilizes WordPress, but it makes it simpler for beginners to get started. It doesn't provide any extra functionalities that you can't already get with WordPress, aside from an easier interface. If you're an experienced WordPress user, there's not much point in using Bluehost Website Builder to build or edit your website.
Ecommerce businesses: Bluehost Website Builder doesn't have a dedicated ecommerce feature, although you can add this by connecting your WordPress site to Shopify or any other ecommerce platform. Unfortunately, you won't be able to manage your site on Bluehost. For an easier way to sell online, we recommend our top ecommerce platforms.
Bluehost Website Builder is an extremely unique site builder, and it may not be the perfect builder for everyone. Businesses use all-in-one site builders to speed up the process of building a beautiful website. While Bluehost Website Builder makes getting a WordPress website up and running easier, it's still a much more involved process than building a website through other, top site builders with more traditional features.
Bluehost Website Builder Pricing
Unlike other website builders, Bluehost Website Builder doesn't have a dedicated pricing scheme. Instead, Bluehost Website Builder is available on every hosting plan Bluehost offers. Below are the cheapest ways to get Bluehost Website Builder, which is through its shared hosting plans.
| | Basic | Plus | Choice Plus | Pro |
| --- | --- | --- | --- | --- |
| Pricing* | $9.99/month | $13.99/month | $18.99/month | $28.99/month |
| Free Domain | 1 year | 1 year | 1 year | 1 year |
| Websites | 1 | Unlimited | Unlimited | Unlimited |
| Storage | 50GB SSD | Unlimited SSD | Unlimited SSD | Unlimited SSD |
| Bandwidth | Unlimited SSD | Unlimited SSD | Unlimited SSD | Unlimited SSD |
| Connect to Domain | ✔ | ✔ | ✔ | ✔ |
| Professional Email | ✔ | ✔ | ✔ | ✔ |
| SSL Certificate | ✔ | ✔ | ✔ | ✔ |
| Advanced Code | ✔ | ✔ | ✔ | ✔ |
| Free Automated Backups | N/A | N/A | ✔ | ✔ |
| Free Dedicated IP | N/A | N/A | N/A | ✔ |
*On an annual billing cycle
For more information, select a plan from the drop-down menu below:
Basic
At a starting price of $4.95 a month (which renews at the regular rate of $9.99 per month), this is Bluehost's cheapest hosting plan. Since Bluehost doesn't offer a free trial, this plan is an affordable way to test out the builder. Those interested in using Bluehost Website Builder will be happy to know that all of its plans come with the exact same builder. They only differ on the hosting capacities. For example, this plan gives only 50GB of storage, making it a bad choice for sites with heavy visual content.
Plus
At just $4 more per month, you get access to an unlimited number of websites, plus unlimited storage. These are the main differences between the two cheapest plans. The Plus plan still doesn't offer free automated backups, although you can always download a backup plugin via WordPress and run it manually. Despite the higher price, this is still a very reasonable choice if you're planning to build a content-heavy website, like a visual portfolio.
Choice Plus
At $18.99 per month (regular rate), you get everything in the first two plans, plus free automated backups for one year. You also get some added security and privacy benefits like free domain privacy. However, if you're on Bluehost specifically for its WordPress integration, then this plan just isn't worth it. Looking at its site building capacity, it doesn't offer anything that you can't get with the two previous options.
Pro
The Pro plan is Bluehost's most expensive shared hosting plan at $28.99 per month. On this plan, you get better site performance and free automated backups forever. While it's not the most expensive plan in the market, take note that none of Bluehost's shared hosting plans offer dedicated ecommerce (although you can connect a store via Shopify or another ecommerce platform through WordPress). At this price point, many site builders like Squarespace or Wix already offer ecommerce capabilities, making this a poor option for any small business.
Bluehost Website Builder Features & Key Insights
Bluehost Website Builder is a very niche site builder. It uses WordPress' system, but with a section-based editor, making it easy to build your site. However, the trade-off for ease of use is its lack of customizability. Even with all its WordPress plugins, the integration isn't completely seamless. If you're looking for more advanced site building, we suggest heading straight to WordPress or giving Squarespace or Wix a try.
Ease of Use
One of the key features of the Bluehost Website Builder is how easy it is to use. It's presented as an extremely easy way to build a WordPress website, and we agree. Its ease of use starts with the onboarding. It uses artificial intelligence (AI) to pick a template based on your answers. Once you've gotten your chosen template, you can then edit it using the section-based drag-and-drop editor.
On the back-end, we find that Bluehost's interface is extremely clean and easy to use. Adding sections and managing your site's pages are a breeze—definitely much easier than trying to build a site on WordPress directly. However, as aforementioned, its integration with the WordPress system isn't perfect. Depending on the plugins you download, you may have to configure things on the WordPress dashboard, bringing down its ease of use significantly.
Website Design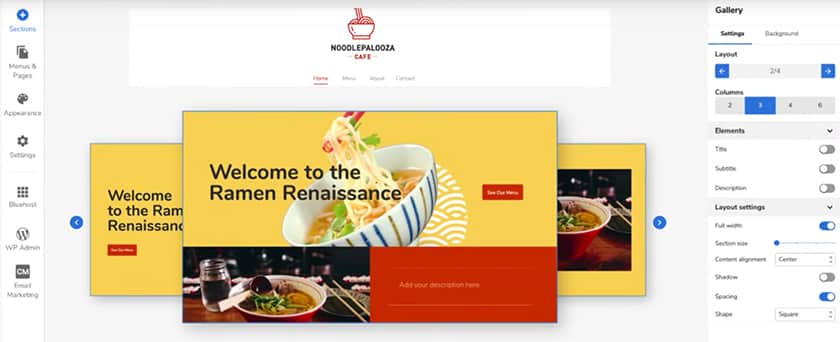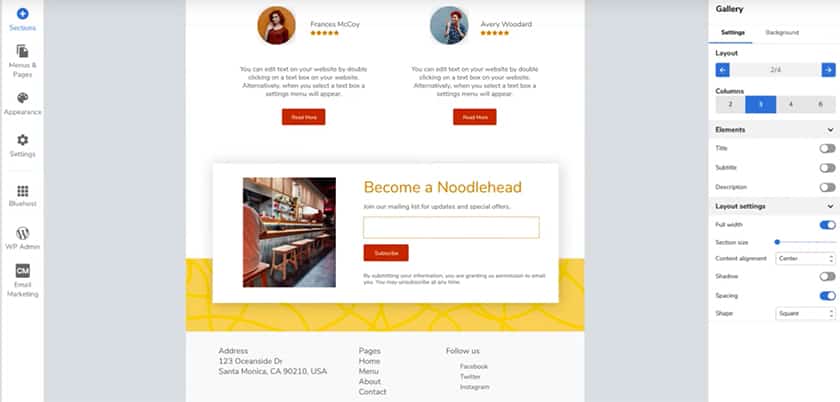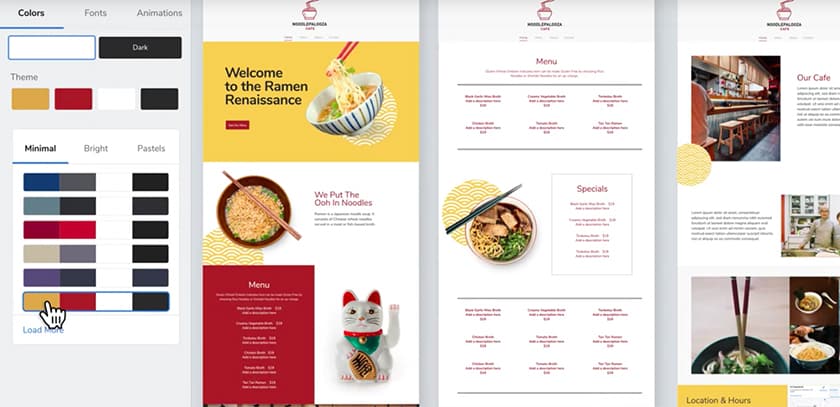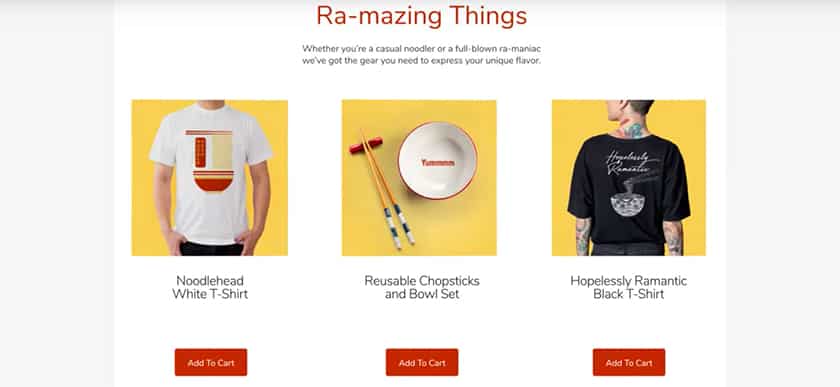 Having an easy-to-use site builder often means having less customization options, which is true for Bluehost Website Builder's design capabilities. It uses an AI to determine the best layout for your site. Although there are around 1,000 different layouts available, there's only one main theme, so every site looks similar to each other.
Its drag-and-drop builder is also extremely limited. Unlike a true drag-and-drop builder like Wix, Bluehost Website Builder uses section-based editing (much like GoDaddy) where you can manage, move, and edit premade sections around the page. If you want more customization, you can always access WordPress Admin through the Bluehost dashboard and edit your site through there. However, be aware that not all WordPress plugins integrate with Bluehost.
Unique Features & Capabilities
Bluehost Website Builder's most unique feature is that it's built on top of WordPress. This means that despite the easy Bluehost interface, you can always access the WordPress (WP) dashboard when needed. The WP dashboard gives you added functionality like:
WordPress plugins for ecommerce, search engine optimization (SEO), and backup features—three things that aren't native to the Bluehost Website Builder.
Access to content already present on your website (like blog posts built using the Bluehost interface). You can edit the content further using WordPress.
This is extremely useful, as with WordPress plugins, you get an almost unlimited amount of customization in both features and design. However, installing and configuring plugins comes with its own set of problems. Not all plugins are compatible with each other and with the Bluehost builder, so keep that in mind before installing all the plugins you want on your website.
Ecommerce
Unfortunately, Bluehost Website Builder doesn't come with a built-in ecommerce tool. To get any sort of ecommerce on your website, you'll need to purchase a plan from an ecommerce platform like Shopify and integrate it with your WordPress site. You'll also need to manage the store using your WordPress dashboard—definitely not the easiest way to build an online store, especially if you're a beginner.
Keep in mind that relying on WordPress for ecommerce also means that you can get a large amount of ecommerce plugins to help you out. From analytics to management, there are thousands of WordPress plugins out there so you don't have to be boxed into standard site builder features. However, if you want a beginner-friendly way of building an online store, use a site builder such as Squarespace, Wix, or Square.
Customer Support
Bluehost provides 24/7 customer service through live chat, tickets, email, and phone. But despite having tons of avenues for customer service, its reviews are a mixed bag. Some people praise Bluehost's quick and knowledgeable agents, while others have trouble reaching customer support. Its live chat is available without having to purchase a plan, so you can test it out for yourself before signing up.
Like most builders, Bluehost also has a knowledge base with extensive FAQs and articles. Unfortunately, since the Bluehost Website Builder is fairly new, most articles are centered around its old builder that isn't available for new sign-ups. It still is a good source of basic information. You may find what you're looking for without having to reach out to one of their customer service representatives.
What Users Think of Bluehost Website Builder
Bluehost Website Builder isn't extremely well-known, but its hosting service is one of the best and most popular in the market. Users agree that Bluehost offers good services for decent prices:
Overall, while its hosting, speed, and customer support are pretty well-rated across the board, we just weren't impressed with its site builder. Its integration with WordPress strips WordPress of what it's famous for—full customization for your website. In this instance, we think that Bluehost Website Builder falls extremely short.
Bottom Line
Bluehost Website Builder offers a unique take on all-in-one site builders. Unlike other builders, Bluehost Website Builder uses the WordPress system with a drag-and-drop editor, making it a great option for beginners looking to get started on WordPress. However, it is also a very niche site builder. Its ease of use means less overall customization, especially with design. If you want more customizability or more advanced features, we suggest using Wix.
You Might Also Like…