BlueJeans Review: Is It Right for Your Business?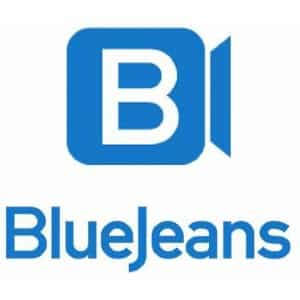 BlueJeans Overview
Anyone who's done business in the last two or three years already knows that video conferencing is essential. BlueJeans specializes in this aspect of unified communications (UC) and is one of the industry stalwarts, providing video calling since 2011. In April 2020, Verizon opted to purchase the company. This is just another major indicator of how vital video conferencing has become.
BlueJeans stands out from competitors thanks to the overall call quality in particular. BlueJeans uses Dolby Voice and provides high-definition (HD) video for every interaction, making it feel more like you're speaking in person and preventing issues that detract from communication and overall presentation quality.
As a service, BlueJeans offers strong security, some of the best audio performance of any Zoom alternative, and there's no limit on the duration of conferences, which is something that might please Zoom detractors. There's no free plan, but at base, you're only spending about $10 per host, per month, so it doesn't exactly break the bank.
PROS

CONS

The mobile app has a very user-friendly interface
File sharing capabilities are not available
Screen-sharing functionality is easy to use
Does not always incorporate Google calendar events
Audio quality is quite clear
No shortcuts for creating a virtual background
Straightforward login process
Audio quality can be affected by internet connection
Easy to schedule meetings with others
Videos can be difficult to edit
Up to 75 breakout sessions can be created at once
Lacks some webinar features
Easily scalable
Support team is responsive and available 24/7
Meeting duration is unlimited on all plans
What We Recommend BlueJeans For
BlueJeans is a great fit for small businesses that have extensive meeting requirements with customers, colleagues, and business associates. Since it has some of the highest video and audio quality available, video conferences feel more like face-to-face conferences with the right setup. Additionally, with five hours of video recording per month at base, the service is friendly to businesses needing to catalog and store data.
When to Use BlueJeans
To conduct virtual sales meetings: BlueJeans' excellent call quality makes it a top choice for businesses that meet with clients or deliver sales presentations online. It's straightforward to join and leave a BlueJeans video conferencing session, and there is also a wide variety of available software and hardware platforms on which to use the service. Call quality is the defining feature that made BlueJeans one of the best GoToMeeting alternatives for video conferencing.
For advanced security features: BlueJeans has several key features to make Zoombombing and other attacks less likely. These include randomized nine-digit meeting IDs, encryption, the ability to lock meetings, and participant passcodes. You can also expel participants when needed. In addition to data and meeting security, BlueJeans offers advanced analytics, which is why it made our list of the best Webex alternatives.
When you need unlimited meeting durations: There are no meeting duration limits with BlueJeans. Even if you schedule an event between set hours, the meeting will not automatically end when the scheduled end time arrives. This is useful for free-form meetings that may go overtime, and it also helps presenters to not feel rushed.
When you want breakout rooms: Breakout rooms provide a way for teams to collaborate in smaller sessions or have private conversations during video conferences. With BlueJeans, you're allowed to create up to 75 breakout rooms. This is higher than two of the industry leaders, Zoom and Microsoft Teams, which only allow up to 50 breakout sessions.
When dealing with electronically protected health information (ePHI): Based on the Health Insurance Portability and Accountability Act (HIPAA), patient ePHI data must be stringently protected. Fortunately, BlueJeans for Healthcare helps providers and their associates protect this data through several important features.
When BlueJeans Might Not Be a Good Fit
If you need a free or low-cost solution: Unfortunately, unlike Zoom and RingCentral Video, there's no free plan with BlueJeans. This can be more than a bit inconvenient for small startups and solopreneurs looking to host video conferences on the cheap. Find more options on our list of the best free video conferencing tools.
When you need to share files: Video and screen sharing is done relatively easily, but what if you need to send a presentation to coworkers? Unfortunately, if you need to share files during video conferences, there's no real way to do this on BlueJeans. Features like this are basic to competitors like Zoom and RingCentral, and is native to Google Meet, which integrates seamlessly with Google Workspace apps.
When you regularly host webinars: While you can create webinars with BlueJeans Events, features like screen share and live feedback are mediocre. For example, when sharing your screen, you can't always see the screen being presented, so you don't know if the software is working correctly. Also, some webinar features require participants to first download extensions, an extra step not present in competitor webinar solutions. Check out our list of the best webinar software to find a better alternative.
BlueJeans Pricing
BlueJeans pricing encompasses four plans that provide scalable options. While there's no free plan, the difference in BlueJeans pricing from plan to plan is relatively small, so you can upgrade without too much stress. Additionally, you also have the option of paying annually, which reduces the monthly cost significantly.
All BlueJeans plans include Dolby Voice audio and HD video. In addition, a handful of key video conferencing features, such as an interactive dashboard, Outlook and Google Calendar integrations, active speaker and gallery views, and downloadable recordings, come standard.
BlueJeans Plans

Standard

Pro

Enterprise

Enterprise Plus

Best For

Solopreneurs and small businesses wanting high-quality video calls

Businesses needing more integrations

Businesses needing unlimited recordings

Large enterprises looking for advanced support

Monthly Pricing

($/Host/Month)

$12.49

$17.49

$99.99

Contact BlueJeans for a quote

Annual Pricing

($/Host/Month)

$9.99

$13.99

$16.66

Contact BlueJeans for a quote

Number of Participants

Up to 100 participants

Up to 150 participants

Up to 200 participants

Up to 200 participants

Included Meeting Recordings

5 hours of recordings

25 hours of recordings

Unlimited recordings

Unlimited recordings

Slack and Microsoft Teams Integrations

✕

✓

✓

✓

Security and Incident Management Integrations

✕

✓

✓

✓

Command Center Analytics

✕

✓

✓

✓

Command Center Live

✕

✕

✓

✓

Real-time Transcription

✕

✕

✓

✓

Company Branding

✕

✕

✓

✓

Automated Closed Captioning

✕

✕

✓

✓

Advanced Support With Dedicated Specialists

✕

✕

✕

✓
BlueJeans Features
BlueJeans has several features that ensure quality meetings and like most providers, an increasing feature set is unlocked with each tier of the service. In general, you'll find that the provider delivers some strong options that make it a very competitive solution for small businesses, especially when call quality is a top priority.
General Features
Like many video conferencing providers, BlueJeans has all the general features needed to host video meetings. For example, it's relatively easy to screen share and host breakout rooms, and there are integrations with business solutions like Slack, Google Calendar, Office 365, and Microsoft Teams.
The interoperability inherent in the platform also makes it an excellent solution for businesses with different endpoints. Users can access the software in a browser, via PC or smartphone, or using a video conferencing system in a meeting room.
BlueJeans has an enhanced gallery view that displays up to 25 attendees at a time, which is the same as the default setting on Zoom. While this isn't quite as high as Zoom when you change the settings to display 49 attendees, it's more than enough for most small businesses. This video conferencing solution also employs virtual backgrounds and allows you to blur your background if desired.
---
Fraud Detection
To ensure that only credentialed people are admitted to meetings, BlueJeans has fraud detection and management features that are very useful. The fraud detection mechanisms detect issues during login and meeting join attempts.
When a fraudulent login occurs, the account and associated meeting is immediately locked. Once this happens, BlueJeans contacts the user and the administrator associated with the account via email. The sent email provides instructions on how to unlock the account. When a fraudulent meeting join is attempted, the ability to join that meeting is disabled. When this happens, this message displays:

If the message was sent in error, the meeting organizer can unblock any locked IP addresses. This helps prevent any instances of BlueJeans-bombing that could occur otherwise.
---
AES 256-Bit Encryption
In order to ensure that each meeting is secure, BlueJeans has adopted AES 256-bit encryption so that your data is safe when transmitted and while at rest on your local servers. This encryption system uses the Galois/Counter Mode (GSM) system to create symmetric-key cryptographic block ciphers, which are very hard to crack by external sources. These also extend to recordings that are stored so that everything is well-protected.
---
Meeting Highlights
This feature must be enabled, but when it is, the "Start Rec" button is replaced by a button that reads, "Start Meeting Highlights." Participants can then use this button to designate certain parts of the meeting as important. This is available in up to 40-second increments, and each highlighted section will be presented as a clip to those checking out the recording later.
Participants can categorize Meeting Highlights clips in three ways:
Action items
New topics
Decisions
There's also a setting that allows for @ tagging. This is useful if a certain clip pertains to a specific stakeholder as it allows the user to be tagged relative to the clip.
---
Dolby Voice
When teams go remote, employees may start to feel disjointed and separated from their colleagues. This is the reason for the massive upsurge in video conferencing, but without good video and audio, the experience becomes problematic. Fortunately, with BlueJeans utilization of Dolby Voice, users can communicate naturally in a more organic way.
The technology ensures consistent and clear volume so that both loud and soft talkers can be heard easily. Additionally, it suppresses background noises. Finally, the incorporation of spatial audio allows each attendee to sound as if they are in the same room, even when they are in separate locations. This software-assisted technology also helps each voice ring clear, even when voices overlap.
---
BlueJeans Alternatives
BlueJeans may not have the features that you are looking for when it comes to video conferencing. However, there are several BlueJeans alternatives that a small to midsize business might prefer. Some options to consider include:
Best for: Businesses looking for a free method for employees to collaborate, share files, and chat easily

Best for: RingCentral Video

is our top

GoToMeeting alternative

and a good option for businesses looking for video conferencing as part of a cloud-based unified communications platform with calling features

Best for: Businesses looking for a large ecosystem of interrelated communication and collaboration tools; GoToMeeting is part of the LogMeIn suite of solutions

Starting price: Free for the basic plan, $14.99 per user, per month for the first paid tier*

Starting price: $19.99 per user, per month**

Starting price: $12 per user, per month
*The free plan has a limited meeting length.
**Pricing based on one user. Monthly cost per user drops to $19.99 with RingCentral for two to 20 users.
What Users Say in BlueJeans Reviews
For the most part, BlueJeans reviews from customers match the analysis we've provided here at Fit Small Business. Users praise the platform for easy video meetings, and the typical user seems to appreciate the fact that the solution is free of duration limits. This is a major plus for those who want more than what Zoom's free plan offers.
Additionally, many BlueJeans reviews express appreciation for the security of the video conferencing platform. With both AES-256 GSM encryption and fraud detection in place, many users seem confident when holding meetings. Finally, most also cite the system's reliability, even during slow Wi-Fi speeds, as a major plus.
At the time of publication, BlueJeans reviews garnered the following average scores on these popular user review sites:
If there was a problematic factor with BlueJeans, the most common complaint is that not every feature is available on every endpoint. In general, you have more features on a PC desktop than you would on a smartphone or in a browser. Some also cite that the user interface on the smartphone app isn't very intuitive.
Bottom Line
BlueJeans is a standout solution for any small business needing quality video conferencing. While it costs a bit more than some of its competitors, the presence of high-quality audio and video are a major advantage of the service. Still, if pricing is an issue and you don't mind the duration limits, free products like Zoom and RingCentral Video are more than capable of delivering quality meetings.
The overall BlueJeans experience is also bound to be enhanced even further in the coming years―Verizon's recent purchase is a sure sign of this. Not 100% sure BlueJeans is for you? Try it for yourself. BlueJeans is offering a free 14-day trial of their BlueJeans Enterprise plan, and there's no credit card required.