BOARD International is a data analytics and business intelligence platform. It compiles all relevant insights and data in a single platform, enabling businesses to see the results of their sales and marketing initiatives. We compiled reviews from around the web and determined that BOARD International has generally positive ratings.
BOARD International Customer Reviews
Overall Experience: Excellent
Ease of Use: Excellent
Customer Service: Excellent
Pricing: Customized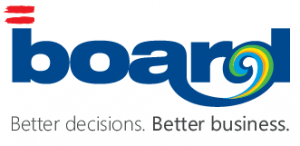 Summary of BOARD International Customer Reviews
What BOARD International does well:
Users who recommend BOARD International said that the platform is able to provide sleek and sophisticated data reports. A lot of users also liked the ease of use and ability to customize reports.
What BOARD International does not do well:
Users who left negative reviews of BOARD International said that the platform is code-free and is limiting for some users with advanced requirements. Some users also experienced difficulties in using the platform on mobile devices.
Most Helpful Positive Review
A user who left a positive review on G2 Crowd said that BOARD International provides endless possibilities for planning and reporting, analytics, and visualization in one tool. He said that there's no need to switch from planning environment to business intelligence mode when analyzing data. According to him, the platform is seamless, powerful, and can simply be adapted by end users.
Most Helpful Negative Review
A user who left a negative review on G2 Crowd said that one of the main disadvantages of the platform is its code-free nature. The user said that while it benefits many users, it can sometimes be limiting if you have very advanced requirements, especially in highly complex planning environments. He said that users can always find a solution using BOARD International's own training toolkit, but sometimes a bit of coding would be helpful to the advanced solutions architect.
BOARD International Reviews From Users Around the Web
Here are a few other resources for finding helpful BOARD International reviews from customers. We rated the review sites on a scale from poor to excellent based on how trustworthy and useful the reviews seemed.
User Review Website

Average Rating

Number of Reviews

Quality of Reviews

Software Advice

4.5 out of 5

55

Excellent

Gartner Peer Insights

4.5 out of 5

32

Excellent

G2 Crowd

4.7 out of 5

18

Excellent

*Average rating as of date article was written: October 17, 2017
BOARD International Pricing
BOARD International doesn't publish its subscription plans on its website. However, according to third party sites, pricing starts at around $10,000 per year. It employs a customized pricing scheme depending on the kind of business intelligence requirements a user needs.
BOARD International features include the following:
Employment of in-memory technology, toolkit, data-fast track, dynamic data models to ensure maximum speed and high performance of the platform.
Use of self-service data-discovery environment enabling users to easily search for information, interact intuitively with their data, and perform in-depth analyses.
Programming-free and coding-free approach for business users to rapidly develop and maintain sophisticated analytical and planning applications with minimal IT Support.
Seamless unification of Business Intelligence, Performance Management, Analytics, and Data Discovery in a single product.
Compare BOARD International Competitors
Not sure if BOARD International is the right analytics software for your business? Check out our reviews of all analytics software.