BookingBug is an appointment setting software that caters to a wide range of business industries including fitness, rentals, temp jobs, and more. The software allows users to schedule appointments, events, classes, or courses. We compiled user reviews from around the web and determined that BookingBug has a mix of positive and negative reviews. We also compared the most common pricing options for small business owners.
BookingBug Customer Reviews
Overall Experience: Good
Ease of Use: Average
Customer Service: Excellent
Pricing: Fair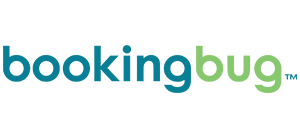 Summary of User Reviews
What BookingBug does well:
According to the positive reviews online, users enjoy using BookingBug because of its customizable booking features such as templated appointments, sessions, and events. Others mentioned how convenient it was to distribute coupons and discounts through the application.
What BookingBug does not do well:
According to the negative reviews of BookingBug online, they sometimes get complaints from their clients about the user interface. Some mentioned that there was no flexibility in adjusting appointment start times and rescheduling sessions. Reviewers also made numerous complaints about the low quality of the mobile application.
Most Helpful Positive User Review
According to a user who gave BookingBug positive feedback on TrustRadius, he liked how easy it was to set up courses using the software. He finds the pre-designed templates convenient because it automatically sets up the details of his appointments. He is also pleased that BookingBug lets clients create their accounts so they can easily rebook appointments or courses for another time.
Most Helpful Negative User Review
According to one user who gave BookingBug negative feedback on Capterra, he feels that the software needs to improve its features on the customer's view of the interface. He says that his clients can't see upcoming classes, but he can. He also says that he can't change the dates once a course is booked or modify its schedule. He dislikes using the mobile application as well.
Other BookingBug User Reviews From Around the Web
Here are a few other resources for finding helpful BookingBug customer reviews. We rated the review sites on a scale from poor to excellent based on how trustworthy and useful the reviews seemed.
| User Review Website | Average Rating | Number of Reviews | Quality of Reviews on Website |
| --- | --- | --- | --- |
| TrustRadius | 3.2 out of 10 | 6 reviews | Excellent |
| Capterra | 3 out of 5 | 12 reviews | Good |
| Trustpilot | 3 out of 5 | 5 reviews | Fair |

*Average ratings as of October 20th, 2017
BookingBug Pricing
BookingBug has three pricing plans — Solo, Small, and Medium. Their prices range from $19.95 to $69.95 per month. The main differences between the plans are the number of staff who can access the platform, the resources users can offer (such as venues, services, etc), and the number of services/events a user can host per month.
| | Solo | Small | Medium |
| --- | --- | --- | --- |
| Price | $19.95/ month | $34.95/ month | $69.95/ month |
| Staff | 1 | 5 | 10 |
| Resource | 1 | 10 | 20 |
| Services/Events | 30 | 40 | 50 |
| Booking/ month | 200 | 500 | 2000 |
| Support | Email/Knowledge Base | Email/Knowledge Base | Email/Knowledge Base |
Other
BookingBug
features include:
Configurable Events
Dynamic Queue Management
Outlook Integration
BookingBug also offers a free trial for those who want to try out their services.
Compare BookingBug Competitors
Not sure if BookingBug is the right software for you? Check out our comparison of three top appointment setting software.