Brochures are great at providing instant information about your company's brand values, explaining your products or services, and making customers aware of new policies. Having a well designed company brochure can help you convert leads into paying customers. But with all the options available, how do you know which one's for you?
We've rounded up the best free and paid customizable brochure templates. Once you've selected a template, be sure to check out Fiverr, where you can hire a professional to design your brochure for as little as $5.
Here are the top 25 brochure templates:
---
Megan Morahan, Art Director, Vistaprint
This is a multipurpose brochure template from Vistaprint, which can be customized for use by virtually any type of business. You can easily customize the template directly on their website with their user-friendly interface, and then save and download your final layout once you're done. They can also print your brochure for you with the paper size and quality of your choice.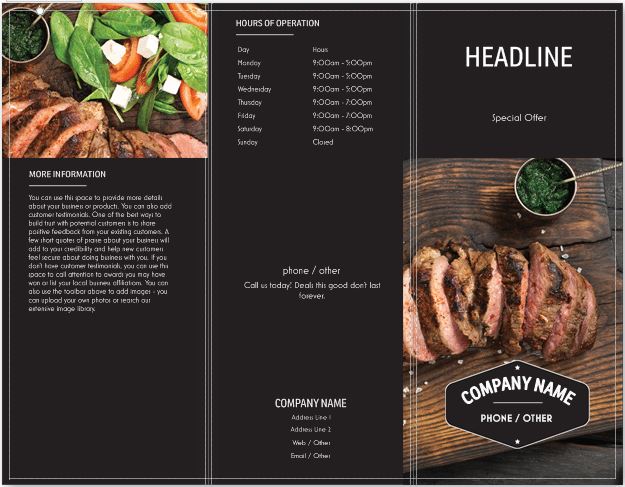 ---
Cost: $15
This is one of the most popular paid, print ready business template sets available online. Purchase of the regular license gets you a 4 Page Bi fold Brochure + Tri fold Brochure + Flyer + Business Card, perfect for any business type that wants to present itself and its brand with continuity. Anyone with a basic knowledge of Adobe software can customize these templates with ease.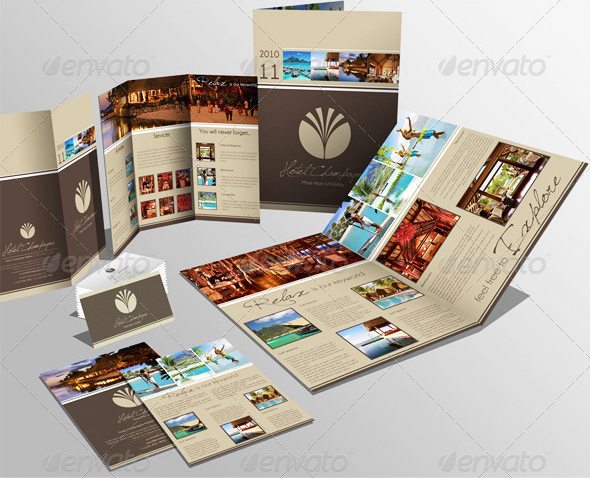 ---
This corporate tri fold template comes free from Lucidpress with sign up. It's designed using well balanced, bold, and sophisticated colors to keep your readers interested while allowing enough space to deliver your key messages. Perfect for any type of business from finance to ad agencies.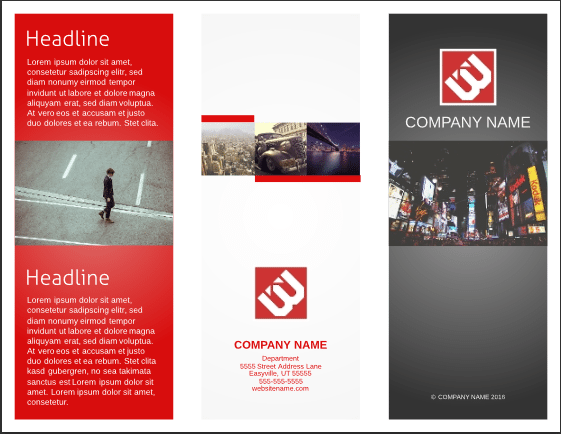 ---
If you have a more complex or visually appealing product or service, opt for a bi fold brochure template that has room for larger text and images. This layout from Pixeden is a nice and clean 11 x 8.5 inch corporate brochure with a contemporary style. Adapt the design to your company's colors, fonts, and photos, or you can use Pixeden's stock royalty free images.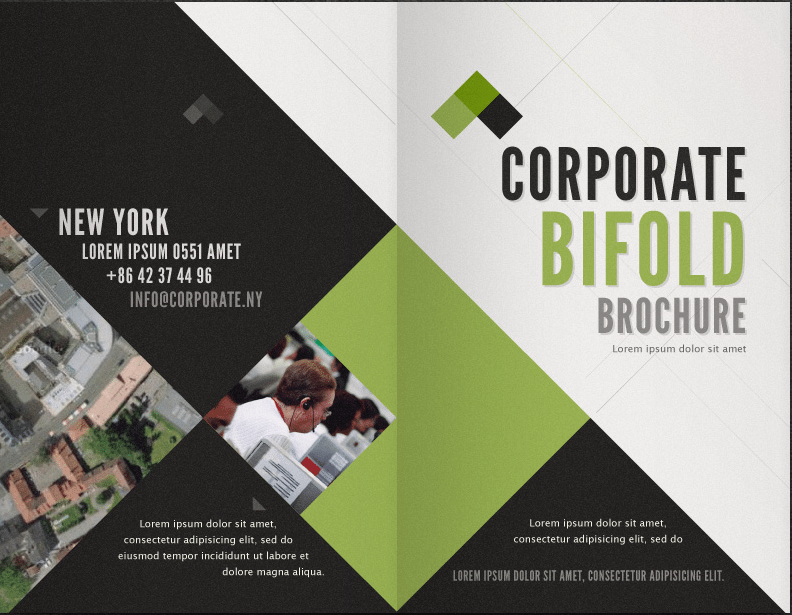 ---
Travel agencies or other travel related businesses can stand out with this bi fold travel brochure template to showcase featured destinations. The bright colors makes it an instant eye catcher for your audience. There are nicely divided segments throughout this travel brochure template where you can describe specific destinations or features of the main destination, and photos can be customized to your liking. Also free from Lucidpress on sign up.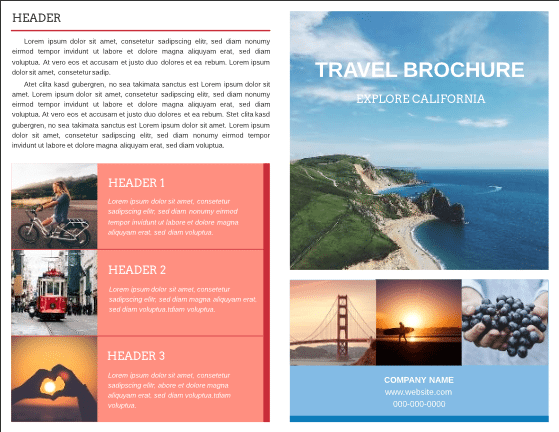 ---
Cost: Starts at $1.49 per brochure
This real estate brochure is a glossy 11″x17″ or 8.5″x11″ brochure, featuring a well formatted layout that allows space for large photos as well as an area for information about the listing agent or firm. The layout makes the presentation feel personal but also exudes competence to give your firm that competitive edge. ProspectsPLUS!® brochure templates are designed and edited using their online editing tool.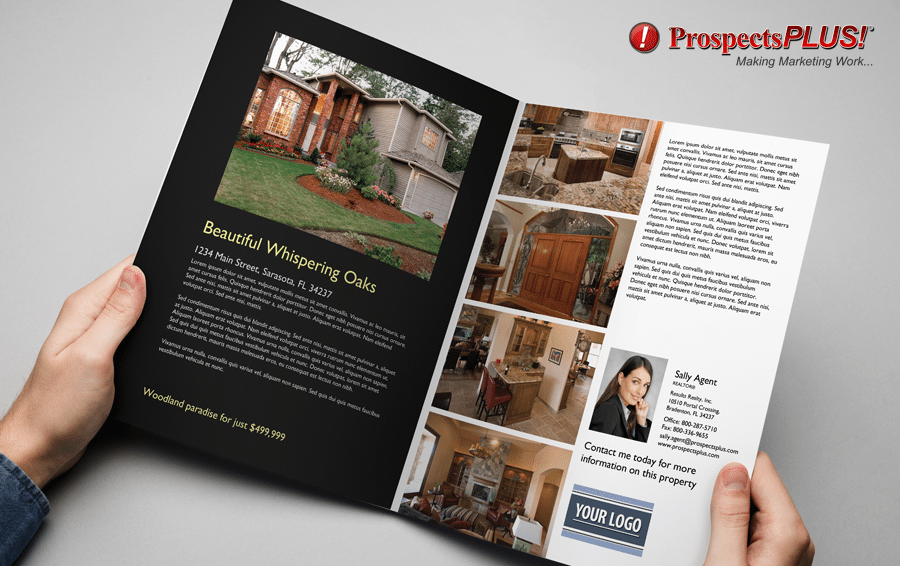 ---
Commercial real estate brochures usually feel cold and heavy whereas this one has a contemporary yet personal design that makes it light and easy on the eyes. The triangular theme presented throughout the template suggests progress and forward thinking, which is what most business owners are looking for when scouting for a commercial property.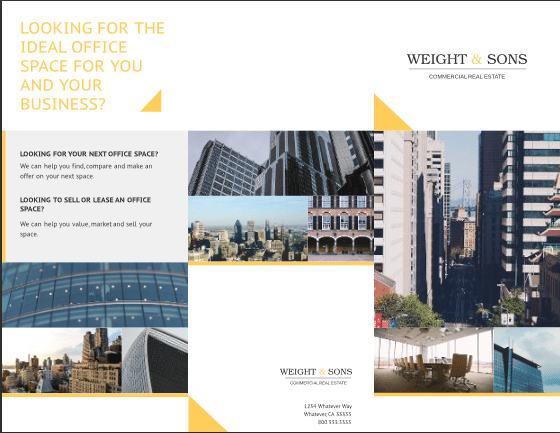 ---
This Wine Country hotel brochure template is attractive, inviting, and pleasant which goes a long way to getting people to choose your hotel over all the others out there. It is customizable so you can add your images, which is complemented by the colors and layout. Every section of this tri fold template holds key features that will surely capture your audience's' attention.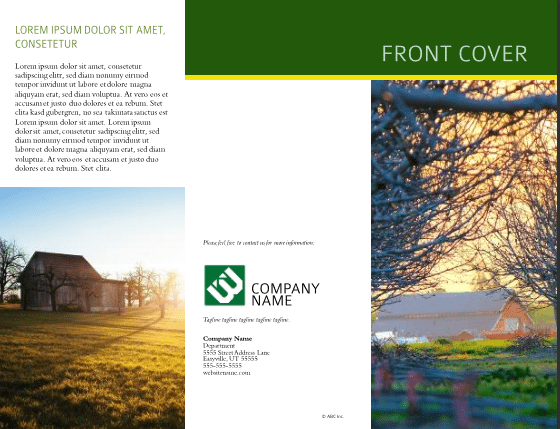 ---
Cost: $59
Accounting and tax brochures don't have to be boring and this template makes sure that the bold red colors catch your attention. The overall design exudes professionalism and competence, which is a perfect backdrop as you add in your company's key services to the layout. This template uses Adobe Illustrator and comes with the artwork and images.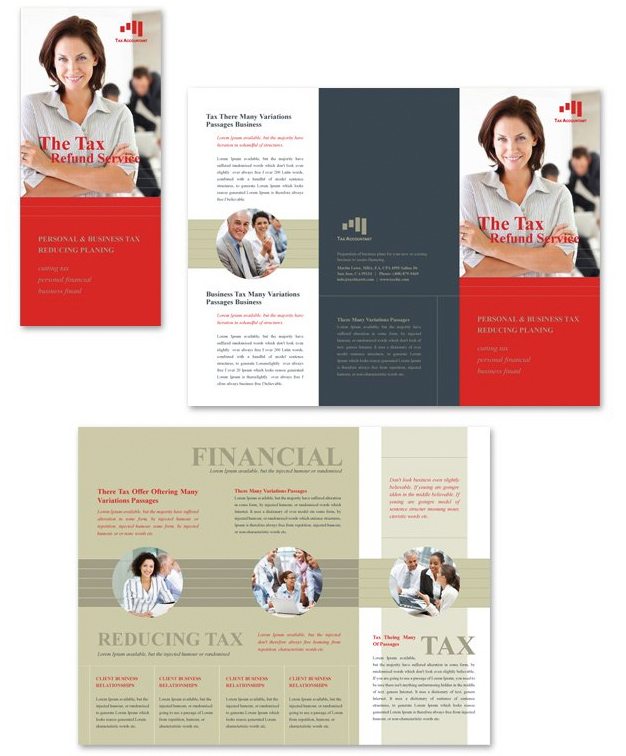 ---
Cost: Free, Premium plan starts at $16/month
When designing a brochure it is important to think about how the visuals will fit your theme. This brochure template allows you to easily communicate your mission without clashing visuals or distracting the readers from important sections. You don't need to be a designer to easily edit templates in Venngage's brochure maker.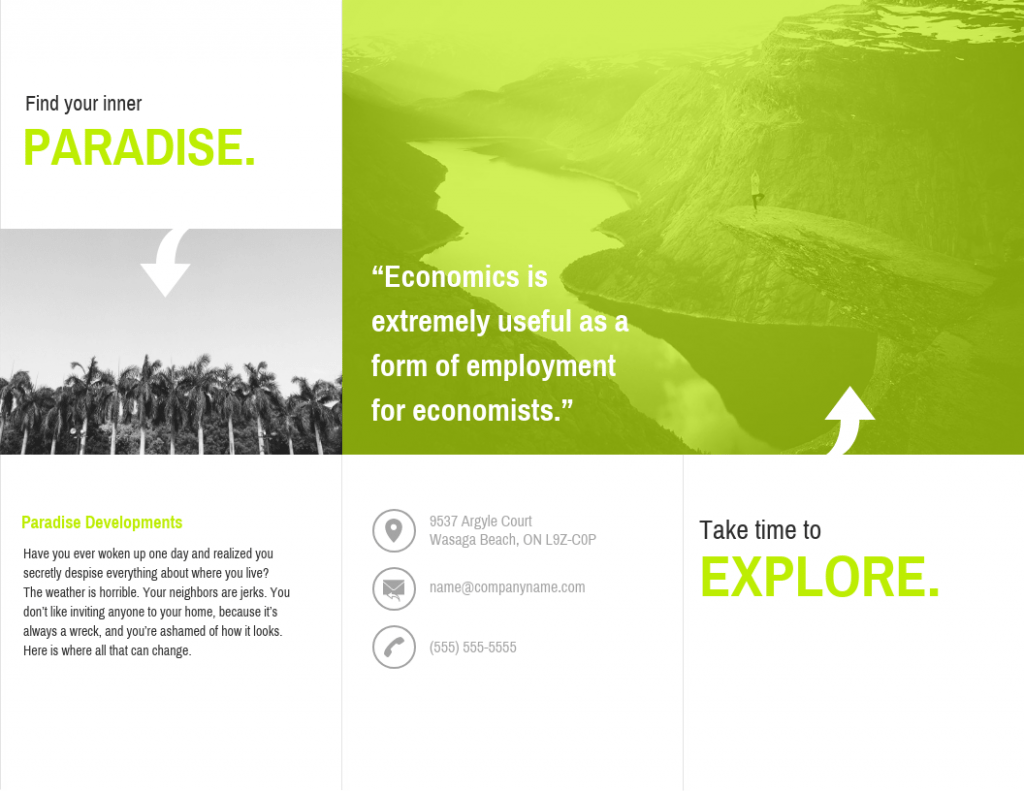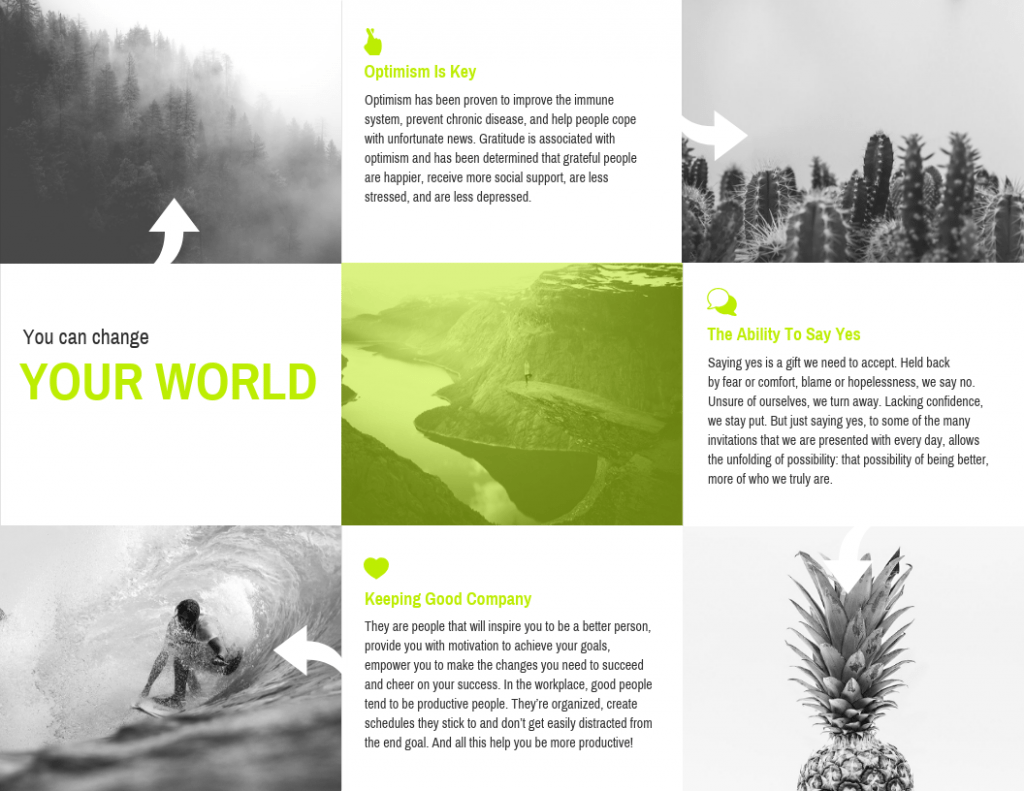 ---
This template sports a tri fold design that's both sophisticated and playful, perfect for any business in the fashion industry. The layout lets you showcase your products and the company behind it, making for a good platform to build a strong brand for your customers.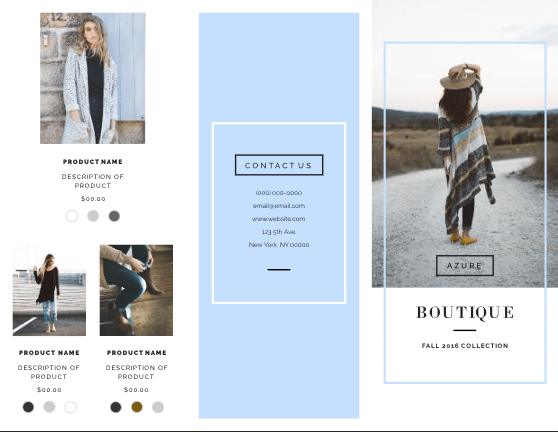 ---
You get a clean and laid back feel from this template, matching the essence of a spa and retreat experience. This template gives you a few color schemes to choose from so you can customize the tone fit to your brand. It also includes a vertical element designed to hold a quote and a photo, so that you can include a customer testimonial or a message from the founder.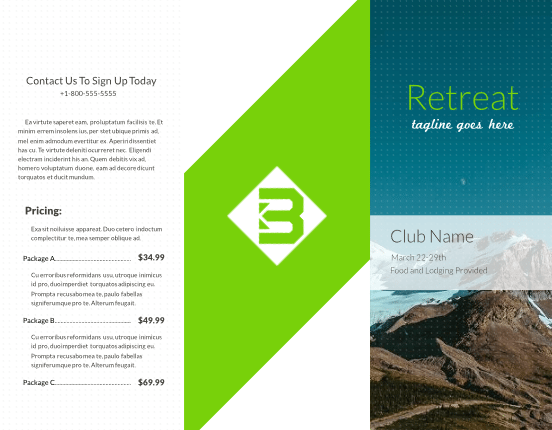 ---
Cost: $70
This playful template features whimsical shapes and cute characters that are ideal for a business that sells children's clothes or other children's merchandise. The wording and other elements, including graphics, are customizable to match your company's theme. The file types vary so you can edit it on your program of choice. The template is downloadable from inkd.com upon purchase of license or free when you sign up for an all access subscription.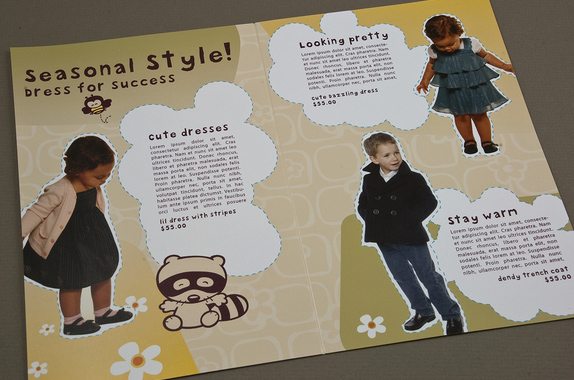 ---
Cost: $18
This template is perfect for interior decorators and any kind of business related to home furnishings and design. Use it for presentations or as a personal portfolio for your clients to get them engaged and interested in your services. Featuring perfect binding, this home decor brochure template also showcases a QR code right on the cover for easy scanning. It's print ready, very customizable, and comes with a free help file when you purchase the regular license.
---
Cost: $9
The soothing color palette and the interesting shapes makes this an exciting template choice for architecture or design firms. This brochure template comes in a light and dark version to match the tone you want to set. Customize it with your own photos along with the information you would like to share with your clients. This template is print ready upon purchase from Graphicriver.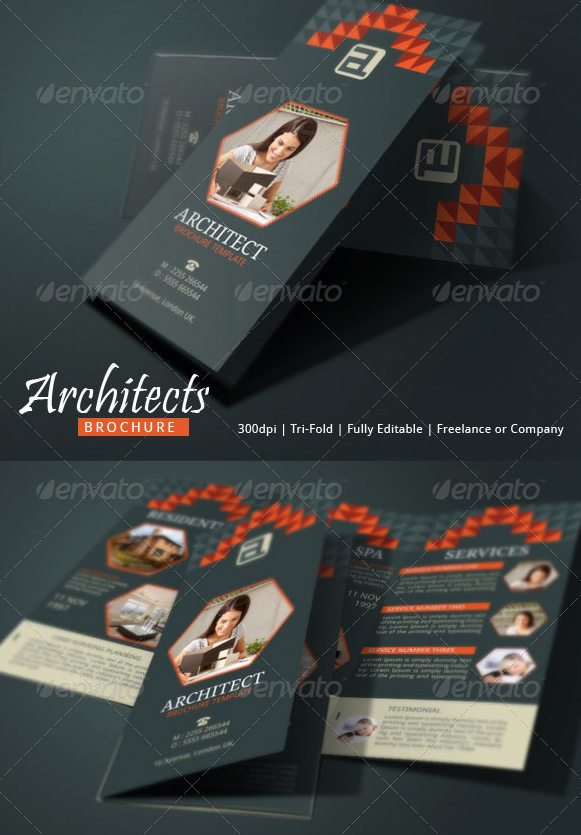 ---
The bold colors of this template design exude warmth and coziness. You can feature your top items in this free brochure template to entice the readers to visit your shop. The layout is clean with enough space to add content describing your food and service. This template can also be distributed digitally, so you can reach out to a wide range of potential customers.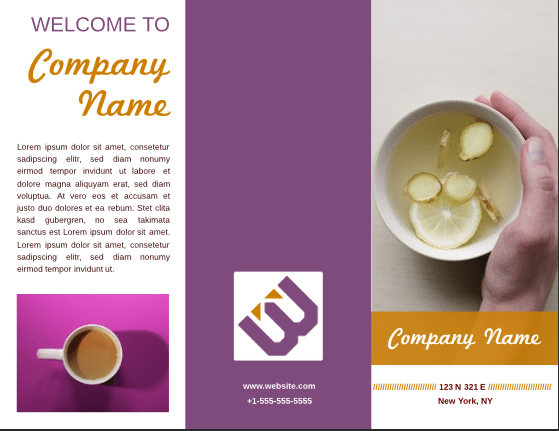 ---
With its clean layout and soft colors, this free brochure template sports a minimalist design that puts more focus on your products. Feature your best selling product followed by a few more items. There's also space to add content to describe your company background and values. Finally, complete your brochure with the simple and elegant contact section prominently situated at the back of the tri fold layout.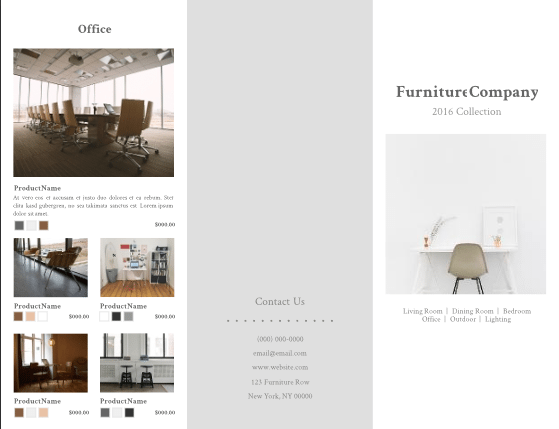 ---
Brochures are a great way to announce sales and promotions. You could even include a coupon somewhere in your brochure. This free brochure template uses eye catching red with white font, which is also customizable to fit your brand. Make changes to the layout using the Brother's own creative center that's free to use. From the brochure page, click on the yellow box and it will take you to the application where your template is waiting for you.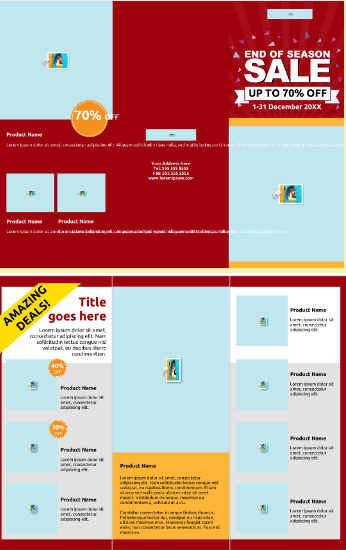 ---
This template is specifically designed to catch the attention of animal lovers. The colors are striking but not overwhelming, and the bright fonts against the background make for an entertaining yet informative reading experience. You can always adjust the colors to fit your needs. Brother's own creative center lets you easily add your own photos and content and save your file once you're done. Just click on the yellow box from the brochure page to take you to the application to start on your project.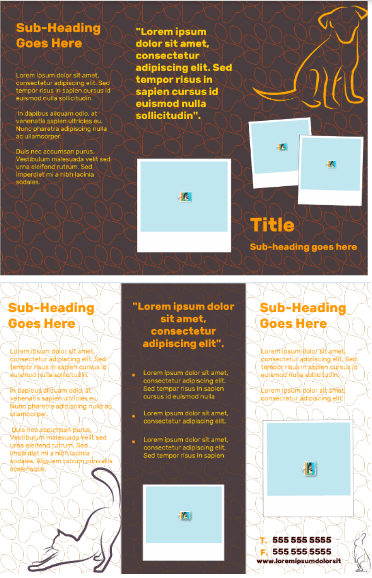 ---
Cost: Free with $19.95 Subscription to Website
There are few customers out there that are more careful than parents taking care of their child. A bright and colorful brochure is perfect for a pediatric office or anything related to children. This template not only lets you add your content but also photos as well that can help encourage parents to entrust their children's health to your care. It's available in two sizes and can be customized directly using MyCreativeShop's online editing platform.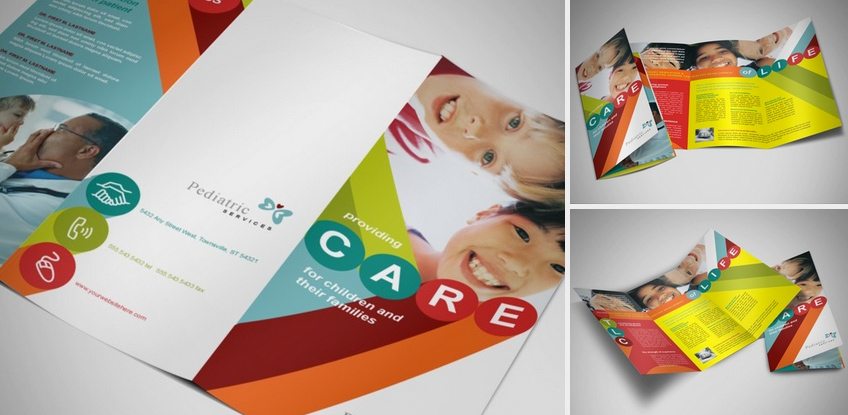 ---
Cost: $59
This brochure template is good for a home repair business or other freelance/service businesses. This template allows you to share photos of your previous projects and other content that can build trust with potential clients. The border design and monotone color scheme adds to the charm of this brochure, while the unusually shaped patterns create a sense of excitement. You can use this brochure template by purchasing the regular license which includes artworks, images, and two versions of the template in Adobe Illustrator and Microsoft Word format.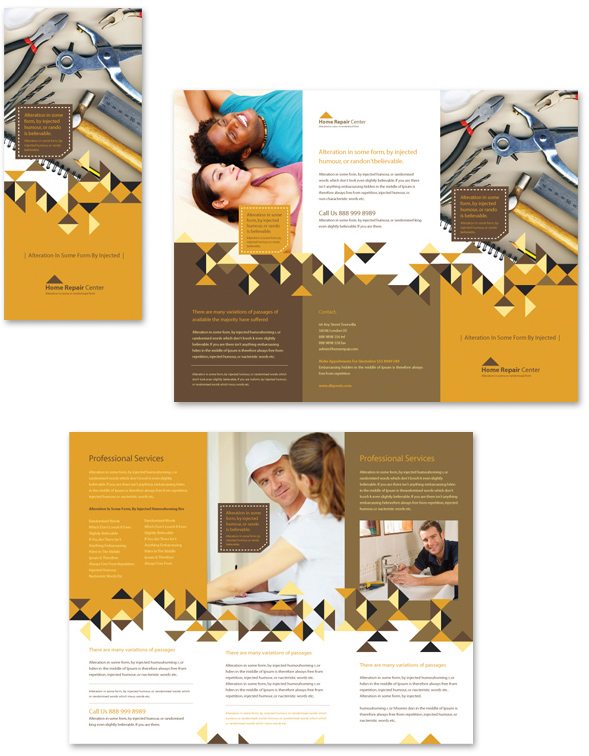 ---
Cost: Free with $19.95 Subscription to Website
This cleaning brochure template can be adapted for all kinds of cleaning service businesses. The color theme is warm and relaxing, giving that fresh and clean vibe perfect for this type of business. The layout is fully customizable in MyCreativeShop's online editing tool and comes in two sizes: A4 and 8.5×11 to match your need.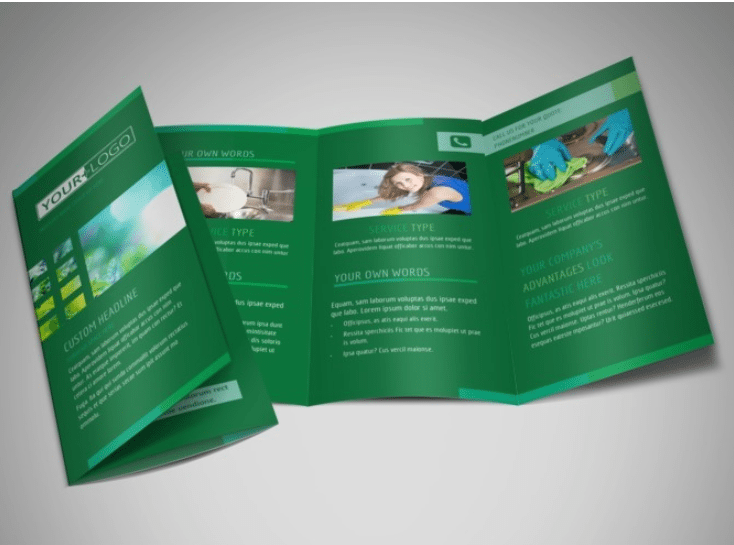 ---
This template is for businesses that focuses on education, learning, or art. The layout is relaxed and contemporary, giving that artistic vibe that stimulates creativity. It's fully editable so you can change anything from colors to font. Brother's own creative center lets you easily add your own photos and content and save your file once you're done. Just click on the yellow box from the brochure page to take you to the application to start on your project.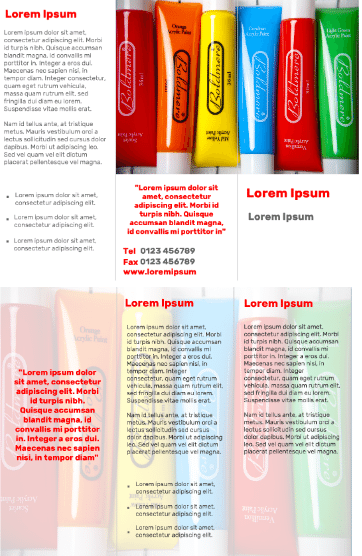 ---
Cost: Free upon $19.95 All Access Subscription to Website
Salon businesses benefit a lot from the use of brochures. It satisfies a customer's imagination by displaying before and after photos of the variety of services you provide. This brochure template uses vibrant colors and an elegant theme with enough space to list and promote services. It is fully customizable using My Creative Shop's online editing platform and free upon paying for their all access subscription fee.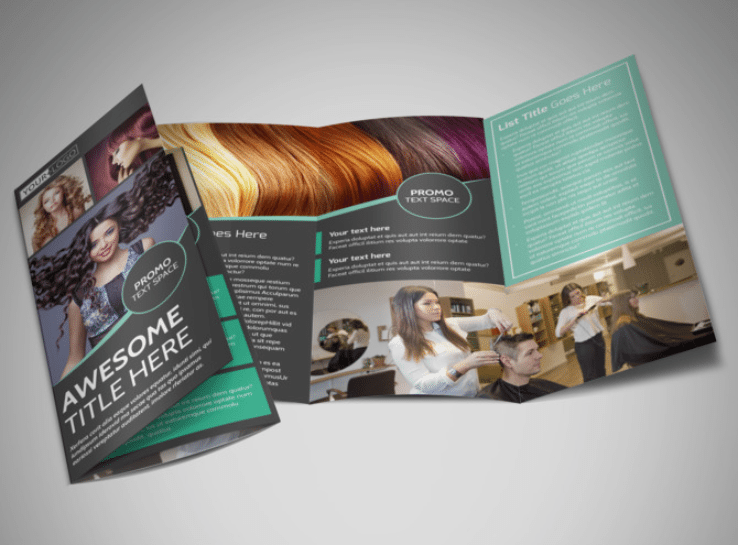 ---
Cost: $9
This brochure template for event planners is a must for trade show marketing activities. In trade shows, the first impression comes from a well designed brochure and this template is up to the task. It's fully editable, so it can be adapted for any type of event. Purchasing the regular license gets you an A4 and 8.5×11 size tri fold brochure template of fully layered Indesign and Illustrator formats.
In addition to the templates above, you might also want to take a look at our Ultimate Guide To Brochures for tips on how to effectively design one of your own. Or you can ask a graphic designer from Fiverr to create one for you for as little as $5.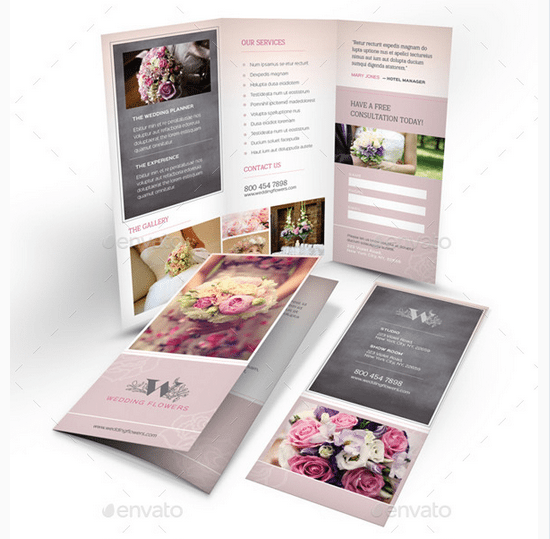 ---
Over To You
Found anything you like from the list above? Whatever business you have, these paid and free brochure templates are well designed so you can focus more on adding great content for your potential customers.
Do you have any go to brochure templates you would like to share? Leave us your tip on the comments below.
Click Here to get our FREE Google advertising guide and discover the 6 steps you can use to show up #1 in Google search