E-learning is a $200 billion dollar industry that enables your business to attract students and earn revenue across many business types and topic areas. You can build an online course website in just seven steps using WordPress as a learning management system (LMS). First, get web hosting and choose a domain. Then install an online course theme, install and configure your LMS plugin, customize your theme, and build your e-learning website.
Here's how to easily publish your online course using WordPress as an LMS in seven steps:
1. Get Web Hosting
The first step in building any type of WordPress website, including an online course platform, is to get web hosting. By choosing the right hosting provider for your e-learning website, you'll save money with hosting that includes features like free domains and Secure Sockets Layer (SSL) certificates, and save time with one-click WordPress installation functionality.
If you're not sure which web hosting provider to use, we recommend Bluehost for its low-cost, feature-rich plans which start as low as $2.95 per month. For more information or alternatives that might be best for your business, check out the best web hosting companies.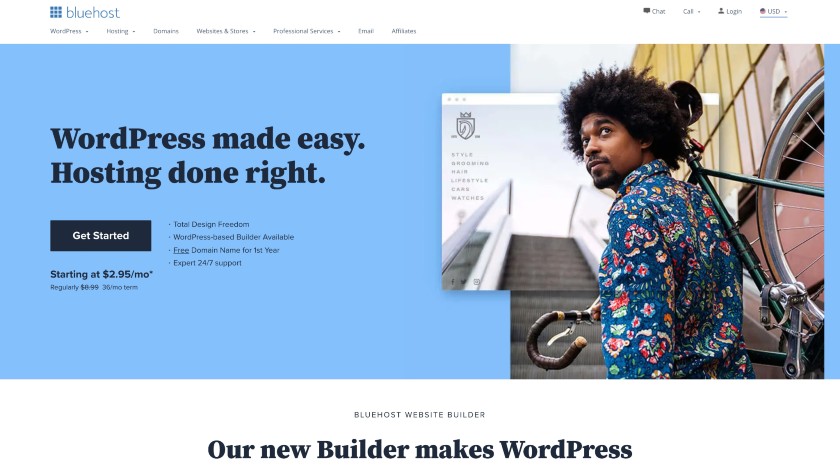 2. Choose a Domain Name
Choose a domain name that reflects your business name or the type of online courses you plan to offer. If your business name is not available, consider phrases that describe what your business does. Ideally your domain name will be short and easy to remember and spell. If you need more help choosing a business domain name, learn more with our tips on how to choose a domain name.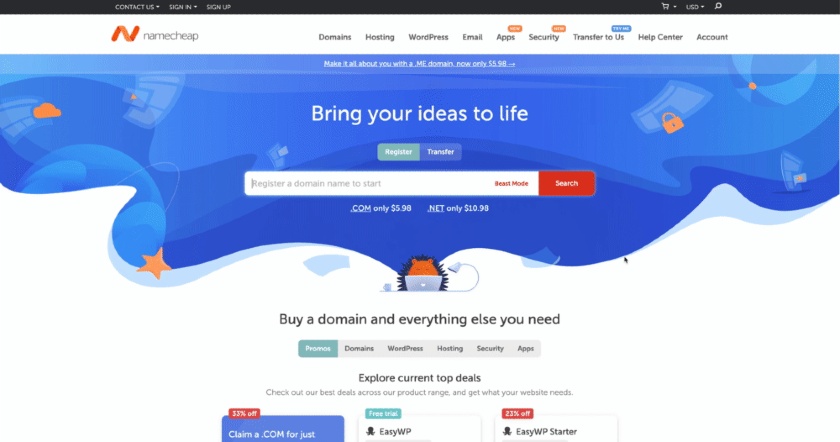 3. Choose & Install Your Online Course WordPress Theme
WordPress offers thousands of free themes. However, most are not built for using WordPress as an LMS and thus offer only a limited set of features that may not be adequate for the customer experience you want to provide.
Choosing a premium theme designed specifically for building an online course platform will save you time and frustration. Plus, most come with everything you need to build a monetizable online course business, from basic to advanced e-learning platform capabilities, payment gateways, and third-party integrations.
Themeforest offers many themes to help you build your online courseware website. They come with specific features that complement learning environments and may be fully compatible with your favorite page builder. Alternatively, many LMS plugins have their own themes for seamless integration. Some are included when you purchase a plugin, but most require an additional fee.
Still, it may be well worth your investment to choose a plugin and theme you already know work well together. Regardless of which you choose, it is important to read the plugin and theme documentation for step-by-step instructions to maximize your ability to publish online courses and cut down on setup time.
Installing a premium theme is similar to installing a plugin. Once you download your theme, navigate from your WordPress Dashboard to "Appearance" and click on "Themes." Click on the "Add New" button and then the "Upload Theme" button. Click "Choose File" and select the ZIP file of your downloaded theme. Once uploaded, click on "Activate Theme" and your premium theme will be immediately active on your website.
All the plugins that came with your theme should also now appear in your plugin list, but you still need to go to "Plugins" from the left-side navigation menu in your WordPress Dashboard and activate each one by clicking "activate" under the plugin. Alternatively, you can activate plugins in bulk by selecting the check box for each of the plugins you want to activate and clicking "Activate" from the Bulk Actions drop-down menu.
If your theme recommended but did not automatically install specific plugins, you may also have to find and install them from the WordPress plugins library or provider's websites. Review your theme's documentation for more information on installing and configuring recommended plugins.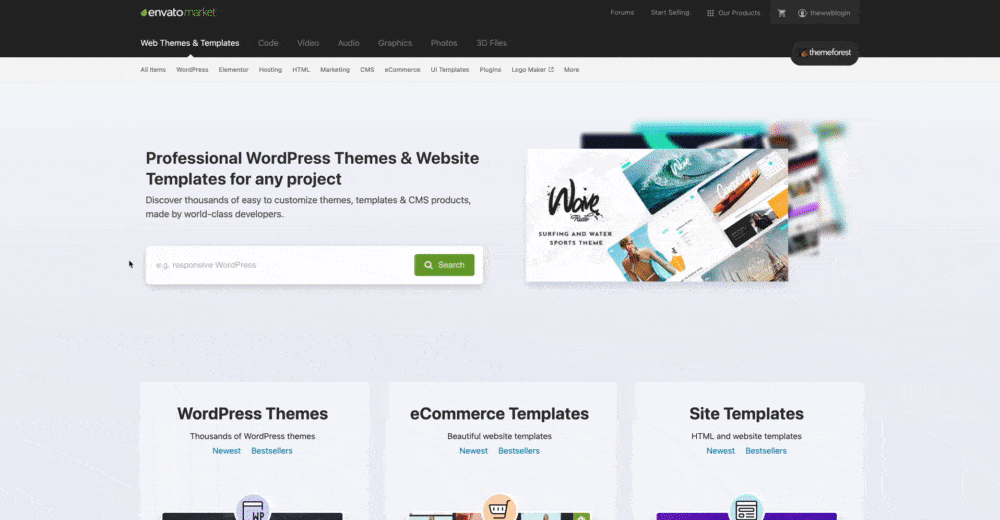 Note: If you already have a live website, it is recommended you do the above on a staging or development site prior to moving it live. This will reduce the risk of confusing, and possibly losing, customers if they visit the page before the theme is fully set up.
4. Install Your LMS Plugin
After adding your online course or e-learning theme, the next step is to install your chosen learning management system (LMS) plugin as well as any plugins required or recommended for your theme. If you haven't chosen an LMS plugin yet, learn more about the best LMS plugins and their use cases to determine which is right for building your online course website using WordPress.
To install your LMS plugin, download your plugin from the provider you purchased it from (or find it by searching the WordPress plugin library) and navigate to your WordPress dashboard, where you'll find "Plugins" on the left vertical menu. When installing from your device, choose "Plugins" and click "Add New." Then click on "Upload Plugin" and the "Choose File" button. Find and select your downloaded LMS plugin.
Next, click on "Install" and WordPress will automatically unpack and install your plugin. Once uploaded (or installed from the WordPress plugins library), click on the "Activate" button and your plugin will be immediately available to set up. In some cases, the license will be automatically configured, or you may have to add account information to fully access all features.
Note that most premium LMS plugins require some kind of activation key, such as entering a unique license number or connecting with the provider's system and activating online. Read the plugin documentation to learn how to properly set up your plugin, including where to find your activation key and where to input it.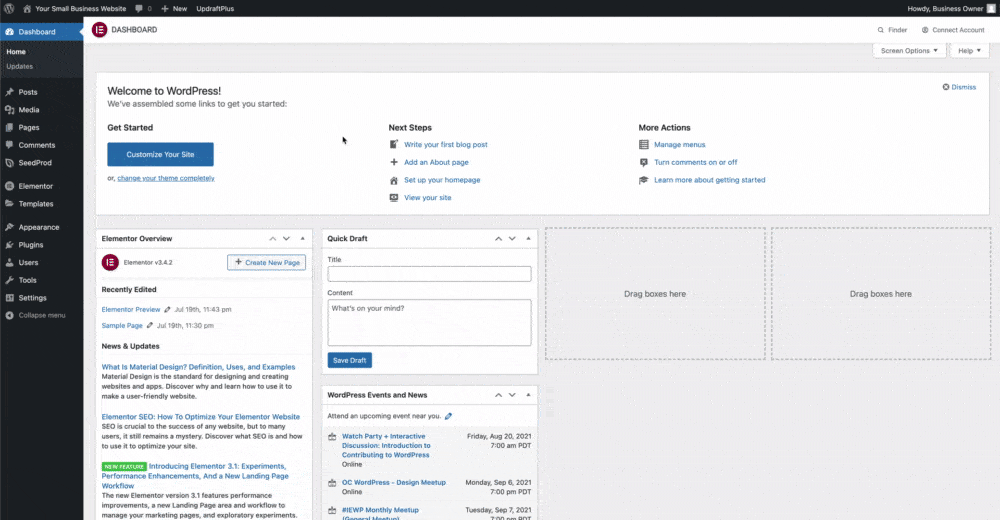 5. Configure Your LMS Plugin
Your WordPress LMS plugin includes many features that vary depending on which plugin you choose. Commonly, learning management system plugins offer the ability to create lessons, topics, categories, quizzes, drip-feed content over time or based on prerequisites, embed videos, sell subscriptions, host member forums, and more.
If you plan to monetize your online course, you also need to set up a billing structure and payment gateway such as PayPal, Stripe, or Authorize.net. Refer to your LMS plugins documentation to learn how to set these up on your WordPress installation.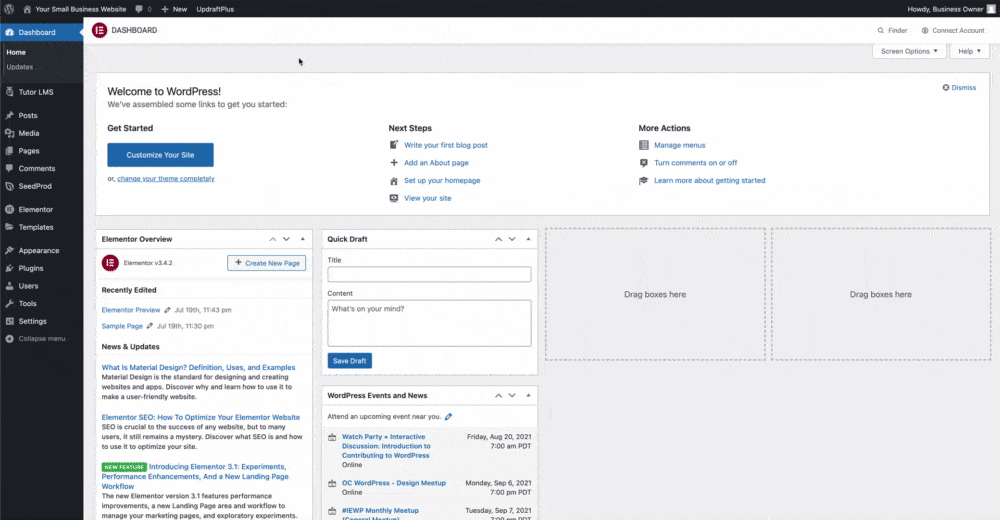 6. Customize Your E-learning Theme
Every WordPress installation allows you to customize elements of your theme, such as website navigation menus, your website's header, footer, page structure, and layout, and branding elements like colors and your logo. Use our 10-step beginner's guide to familiarize yourself with the WordPress CMS.
If you don't already have a drag-and-drop page builder plugin installed, make designing your website and building your online course much easier by using one of the best page builder plugins.
Here are some of the parts of your website you'll want to customize, each of which is accessed from your WordPress Dashboard:
Navigation: Navigate to "Appearance" and click on "Menus." From here you will have options to create, edit, and delete any menu within your website. You can also assign menus to specific locations, such as setting your sitewide main or header navigation menu and footer navigation menu.
Header: If you are using a page builder, follow the instructions on how to create a custom header. If your theme doesn't have its own menu of elements, find your theme's header settings by navigating to "Appearance" and "Customize." If your theme offers header support, you will find it on the left-hand side. Once done, click on the "Publish" button to confirm your settings, which will immediately go into effect on your site.
Footer: If you are using a page builder, follow the instructions on how to create a custom footer. To find your theme's footer settings, navigate to "Appearance" and "Customize." If your theme offers footer support, you will find it on the left-hand side. Once done, click on the blue "Publish" button to confirm your settings. Generally, you will also use widgets to add specific content areas to columns in your footer. To view and configure footer widgets, choose "Appearance," then "Widgets."
Homepage: To set one of your pages as the homepage, navigate to "Settings" and then "Reading." In the "Your homepage displays" section, select "A static page" and choose your desired page from the drop-down menu next to "Homepage."
Posts (blog): To set one of your pages as the primary blog or article access page, navigate to "Settings" and then "Reading." In the "Your homepage displays" section, select "A static page" and choose your desired page from the drop-down menu next to "Posts page."
Pages (web pages): To create, edit, or delete pages on your WordPress website, navigate to "Pages." To create a page, click on the "Add New" button. To edit or delete an existing page, hover over the desired page and click "Edit" or "Trash."
Online course: Every WordPress LMS plugin has unique options and interfaces. Some may require you to add course content by adding a traditional page as above. Most premium plugins will have a custom "Courses" menu item found on the left-hand side of the dashboard.
For more detailed information, check out the step-by-step instructions on how to make a WordPress website.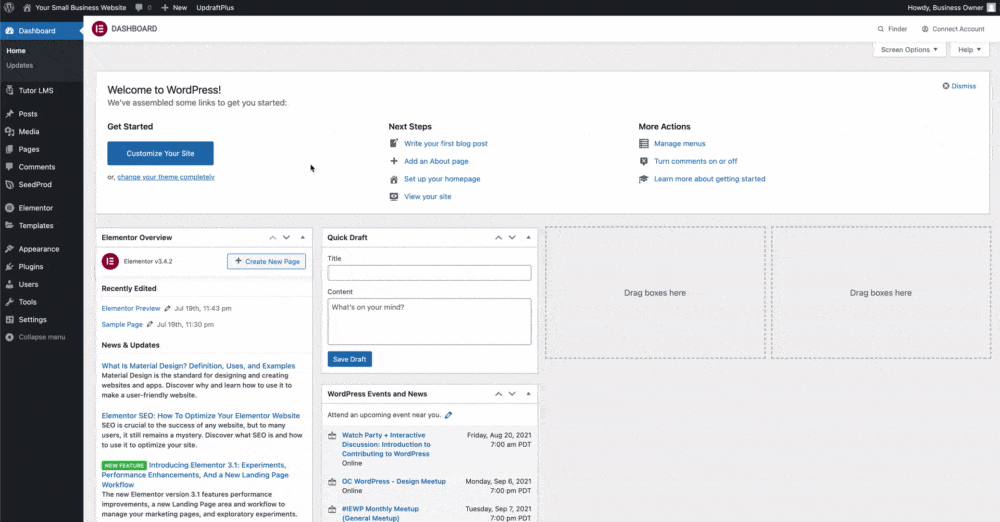 7. Build Your Online Course
All WordPress LMS plugins are different, but they all have at least one thing in common: They require creating a course and lessons within that course. Most are straightforward; for instance, from the WordPress Dashboard, navigate to the name of the plugin or find "Courses" and then "Add New."
Note: If these options are not available, consult with the documentation of your installed plugin.
Once you create a course, you begin creating lessons.
Note: If you are unsure how to create your first lesson, consult with the LMS plugins documentation.
Frequently Asked Questions (FAQs)
How do you sell online courses?
You can sell online courses using WordPress as an LMS in a variety of ways. For instance, you can sell individual lessons, bundle several lessons into a course, become a certified topic or clock-hour instructor, offer tiered or all-access subscriptions, sell one-on-one in-person consulting or coaching sessions, and more.
Can you create an online course with Wix?
Yes, you can. Wix has "Classes & Courses" website templates for you to create online courses for your Wix website. You can also create your own unique e-learning platform from scratch if you prefer to build a Wix website yourself.
How much does WordPress cost?
WordPress is free to download. Other costs for using WordPress typically include your domain, hosting, registration privacy, and SSL site security as well as your theme, plugins, and drag-and-drop page builder. If you build it yourself, these costs usually run between $50 and $300, while hiring a professional designer may cost anywhere from $400 to upward of $10,000 (but it may be worth it). Find out how much WordPress costs by reading our guide.
Bottom Line
It's easy to build an online course website using WordPress as an LMS. You can follow our steps above to build an e-learning platform for your business; however, many businesses choose to pay for professional web development to save time while also ensuring their online course websites are built properly. You may be surprised at how affordable it is to hire a web designer; thanks to marketplaces like Fiverr, you can hire freelance designers for as little as $5.
You Might Also Like…