Site123 claims to be the easiest and most intuitive website builder on the market—boasting three simple steps and no technical expertise needed to create a website. We decided to put Site123 to the test to see how it stacks up. While we would argue it requires five steps, not three, to create a professional site, follow along to learn how to build a website with Site123 in under an hour:
1. Sign Up on Site123
Go to www.site123.com and choose the industry your business is in. If you aren't quite ready to build your website and are just looking to see how the steps compare against other industry providers, here are some helpful pros and cons about the service to keep in mind:
PROS

CONS

Easy-to-use site editor and straightforward interface
Limited storage and bandwidth capacity, even on the premium plan
Affordable plans starting from $12.80 per month (12-month contract)
Very limited customization options
Varied contracts (3 months minimum, 60 months maximum)
No drag-and-drop editor
Great live-chat feature for 24/7 customer support
Well-rounded built-in tools for email marketing, social media integration, search engine optimization (SEO), and so forth
Support for multiple languages
Unlimited pages and websites
Free SSL certificate
Enter your business name and sign up. Note that you can also sign up through a Google or a Facebook account. Then, you'll be asked to provide which industry your business is in. This information will help Site123 to provide you with a recommended template (which you can change later, if you'd like).
2. Fix Your Design
Once you've successfully signed up for an account, a template will be generated for you. You can edit the template's design through Site123's editor, or choose a different one entirely.
Each tab is straightforward:
Dashboard: Directs you to your dashboard.
Homepage: Edits your banner text, background photo, buttons and forms, website structure, and templates. You can edit the banner text directly on the editor, but you have to use the tabs for the corresponding content text.
Pages: Edits the pages on your website and the order of how they appear. You can edit your content by pressing "Edit" beside the page you want to change.
Design: Edits the color, fonts, and general style of your website. You can also choose to edit your header, footer, and mobile menu design.
Settings: Edits your website name and logo (which you can upload), plus time zone and website type (i.e., single-scroll page or multipage). The languages, app settings, plugin, and coding sections are only accessible through upgrading your free plan.
Domain: This tab shows the list of domain names you can purchase by upgrading your plan. Unfortunately, the free plan comes with a domain that looks like this: https://6075a77fa107d.site123.me.
3. Add Pages to Your Site
Now that you have a cohesive design for your website, add extra pages through the "Pages" tab. You can choose from different categories, including an appointment page to enable online bookings.
For the free plan, this appointment page will direct the client to an order form with the payment to be settled outside of the platform. The client will receive a confirmation email letting them know the date and time of their appointment, the services they booked, and other relevant details.
This booking will automatically be added to the schedule. Click on the "Schedule Booking" button in your dashboard to change your services and payment schemes, plus to see the services clients have booked. Note that online payment gateways are only accessible with premium plans.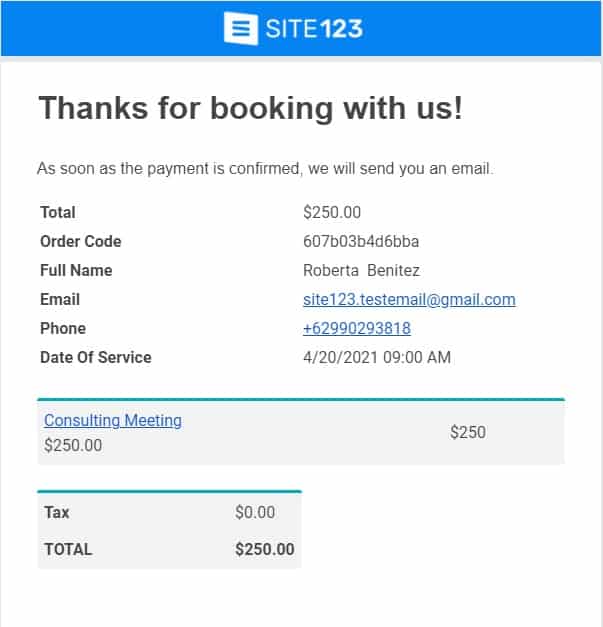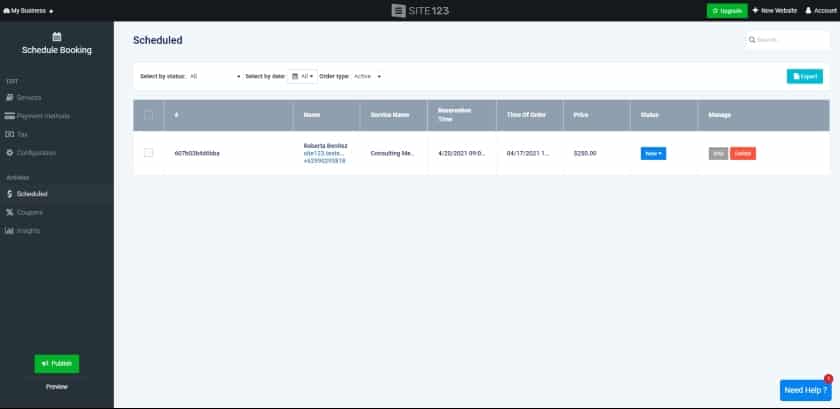 4. Publish Your Website
Once you're happy with how your site looks and performs, click "Publish." On the dashboard, the button should be on the lower-left corner of your screen. On the editor, it will be in the upper right-hand corner.
All changes on both the front-end and back-end are automatically saved as drafts. To see the changes reflected on your website, you'll have to publish your pages.
5. Upgrade Your Plan
For $12.80 a month (on a 12-month plan), you can get a professional-looking site with Site123. Before biting the bullet, know that you can easily create a robust free website with Site123—it offers a significant amount of features without having to pay. But to change your domain name or to connect an existing domain, you'll need to upgrade to any of its paid plans.
Not What You Were Looking For? Try a Site123 Alternative
Site123 is a great website builder with a wide range of built-in tools. However, its customization is extremely limited, in part due to the lack of a drag-and-drop editor. You can choose to inject custom code into your website (a feature only offered with their paid plans), but for an absolute beginner, there's only so much you can do.
If you're looking for more in-depth customization, here are other intuitive website builders:
Wix: An extremely popular all-in-one website builder with a true drag-and-drop editor and a wide selection of templates for an easy customization experience that focuses heavily on design.
Squarespace: An all-in-one website builder with an intuitive editor and a variety of plugins and coding abilities, plus a commerce feature that makes selling physical products online a breeze.
GoDaddy: Another all-in-one website builder with affordable pricing and a great appointment booking system, perfect for service-oriented businesses.
Need more information on the best website builders out in the market? Check out our website builder reviews.
Frequently Asked Questions (FAQs)
What's the best website builder for beginners?
Wix is very popular for beginners, and for a good reason. It has hundreds of templates available and a true drag-and-drop editor to help you customize your website to your specifications. Its features are also quite robust for its affordable pricing. In short, Wix has everything you need to set up a professional website. Learn more about building your own business website.
What's the most customizable website builder?
WordPress has been used by millions of people—and by both small and large businesses alike—to build professional websites. It offers thousands of templates, plugins, and elements to really give you the site you envision. However, it needs a little more technical experience than many of these other site builders, and its learning curve is quite steep. Build your WordPress website today.
Is Site123 good for SEO?
Site123 has great built-in features, one of which is the SEO Adviser. The SEO Adviser audits your website to check the areas you can improve on for search engine optimization (SEO). Do note that on the free plan, you can audit three pages on your website.
Aside from the SEO Adviser, Site123 does easy 301 redirects. It also allows you to customize your URLs, adds webmaster tools, and edits your meta tags. For a full breakdown of their SEO capabilities and some short guides, check out how to use Site123 with SEO.
Bottom Line
Site123 makes it easy for anyone, even those who have zero technical knowledge, to build a professional website in just a few short hours. What it lacks in customization abilities it makes up for in the varied range of built-in tools it offers. With just five simple steps, you can get your site up and running on your own. Build a website with Site123 today.
You Might Also Like…