Building a professional real estate investment team is critical for successful real estate investing. Real estate investment teams help investors find, buy, manage, and sell rental properties throughout their real estate investing tenure. As newbie investors grow their rental property portfolios and their expertise, their real estate investment teams continually evolve and grow with them.
Real Estate Investment Team Starting Lineup
There's an old saying, "If you're the smartest person in the room, then you are in the wrong room." Applying this ancient wisdom to choosing your real estate investment team, you want to hire experts who have experience working with real estate investors and with the types of investment properties you're looking to buy.
If buying storage units is your thing, you don't want a real estate pro who specializes in hand-holding first-time homebuyers, or you don't want to hire a real estate agent who only has experience working with investors who buy multifamily buildings. Find a real estate professional who has experience with commercial properties, industrial storage units, or similar types of properties.
The Real Estate Investment Dream Team
In addition to licensed real estate agents, your team will consist of many other professionals who will help you along your journey.
Your real estate investment team works with you to reach your SMART Goals. SMART Goals are Specific, Measurable, Relevant, and Time-Bound. They save you time and money as you evaluate deals, perform due diligence, and secure financing. To learn more about the roles of team members, view the images for each team member to learn about their roles in the real estate investment process.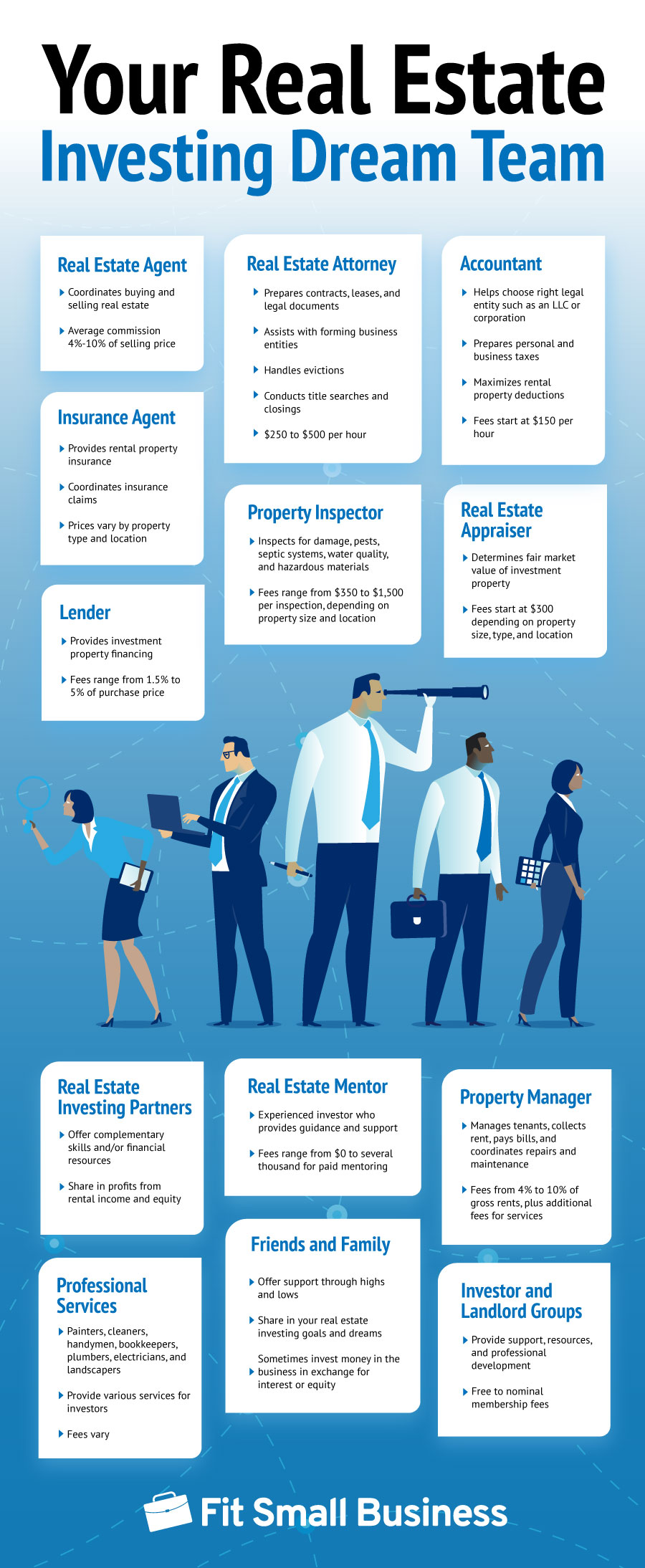 Real Estate Professionals
Choose a real estate agent with experience in the type of property you wish to buy. Real estate agents can find great deals based on your criteria, negotiate and coordinate the buying process for you, and often know about properties not listed on the multiple listing service (MLS). Find a real estate agent through referrals from other investors, landlords, or through an online search.
Agents must disclose upfront who they represent. When buying a property, work with a buyer's agent who represents you. When selling your properties, hire a seller's agent. Some work as dual agents, representing both buyer and seller, and some represent the transaction, meaning they act as an agent for the purchase transaction representing neither buyer nor seller.
What you'll pay: Real estate commissions are fees real estate agents charge for their services. Commissions vary by property type and are paid from the closing proceeds, so you won't have to pay money upfront. Commissions are typically 4% to 10% of the selling price, depending on the type of property being purchased.
Attorneys
Real estate attorneys prepare leases and other rental contracts, put together partnerships, file paperwork for business entities, review purchase, and closing documents, evict problem tenants, and know the landlord-tenant laws in their state. Lenders often use title companies or attorneys to run a title search, conduct closings, and record deeds. Some investors prefer to have their own attorney or title company handle these processes.
Although legal fees are costly, attorneys should be at the top of investors' list of team members. Hiring an attorney to set up your business early can save you money from potential lawsuits later. Once your real estate investment business is established, you won't need their services as often.
What you'll pay: Some attorneys may require a retainer, typically around $5,000. Legal fees are initially drawn from the retainer and range from $250 to $500 per hour. Some attorneys charge a flat fee of $100 to $200 for reviewing or preparing documents like leases.
Accountants
Accountants help you choose the right structure for your business, prepare business and personal tax returns, and help you maximize rental property deductions, keeping more money in your pocket. Choose an accountant who has experience with investment properties and who has other investor-clients.
What you'll pay: Accountant fees start at $150 per hour, and some require a retainer of at least $1,000. Accountants are good team members to include early on.
Insurance Agents
Insurance agents help find investment property insurance for both buy-and-hold and fix-and-flip properties. They can also provide renters and landlord insurance to protect against loss from property damage.
Prior to closing on a property, the lender will require you to get a 12-month insurance binder, so you'll need to find an insurance agent before you close. An insurance binder is a contract of temporary insurance pending getting a formal insurance policy or application rejection by the insurer. It is a temporary or interim policy until the formal policy is issued and is fully enforceable.
If you're buying a property to fix-and-flip, insurance agents help you find vacant home insurance coverage while you make repairs. If you need to file a claim, they can help you through the process. Most have after-hours emergency call centers. Insurance costs vary by property type, coverage type, property location, and deductible.
What you'll pay: To find investment property insurance rates, you'll need to call a provider, since these vary widely depending on the type of property, the location, deductible, and what type and amount of coverage you want.
Property Inspectors
You'll need different types of property inspectors with rental property. A licensed home inspector inspects the property before you buy and gives a written report of its condition within a few days of the inspection. The home inspection clause is one of the contingencies to include in your offer to purchase. It has a deadline for you to complete all inspections and decide whether to proceed with the purchase or negotiate repairs with the seller.
Home inspectors typically don't do septic or termite inspections, so you'll need to hire these inspectors separately. Home inspectors usually charge additional fees for optional radon, water, and hazardous materials testing such as asbestos, lead paint, and mold. General contractors can determine needed repairs and estimate repair costs. It's also good to know the local building inspector. The local building inspector can perform an annual inspection to ensure your property is code compliant.
What you'll pay: Home inspection fees depend on the type and size of property. A single-family home inspection ranges from $350 to $500 while a multi-unit or commercial property can cost up to $1,500. General contractor fees vary by contractor skill, the size and type of project, and the property location. Contractor fees are generally 10% to 20% of the total project cost.
Lenders
You may choose to work with several different lenders or just one, depending on your deal structure and needs. Building relationships with lenders early and getting a loan preapproval will help you compete with other buyers.
Mortgage brokers don't lend money but will shop your loan for the best deal based on your goals. Private money lenders focus more on the deal structure than buyer qualifications and also consider investor experience.
What you'll pay: You can learn more about the various fees lenders charge and how these fees are paid in our chapter Investment Property Financing Made Easy.
Appraisers
Real estate appraisers evaluate and compare properties to determine fair market value. Lenders choose the appraiser you will use when you buy property and will ask for the appraisal fee upfront or add it to the closing statement as part of your closing costs. Sometimes, sellers will hire an independent appraiser to make sure their property is priced competitively when they plan to sell, but this is not required.
A real estate agent can give sellers a preliminary comparative market analysis to determine a property's value. A common misconception is an appraisal and property tax assessment value are the same. An assessment is only used to determine property taxes. An appraisal compares subject properties with comparable for sale and recently sold properties to determine current market value. It's important to know the difference.
What you'll pay: Real estate appraiser fees vary by property type and size. An average single-family home appraisal is around $300 to $400. Small multifamily appraisals are around $600, and prices increase by property size and type.
Mentors
Finding a real estate mentor can help new investors avoid costly mistakes and learn how to evaluate deals effectively. Mentoring and learning how to invest in real estate come in many forms from working one-on-one with an experienced investor to paid mentors, coaches, and investor groups. New investors should have several mentors, and when they gain real estate investing experience, be willing to pay it forward.
There are certain mentor characteristics to look for. One key ingredient to finding a good mentor is to choose one who is an active real estate investor. When approaching prospective mentors, ask for a meeting and be clear about the guidance you're seeking. Share your strategic plan, goals, and how you plan to do all the work involved. Above all, respect their time.
What you'll pay: Fees for paid mentoring range from a few hundred dollars to tens of thousands of dollars for private coaching. Take advantage of all the free resources available to you before hiring a paid mentor. You can borrow books, audio, and video courses through interlibrary loan, or buy low-cost programs to get started.
Real Estate Investors and Landlords Groups
There are many ways to interact with investor and landlord groups, both in-person and online. You can find online investor groups through Meetup, LinkedIn, and Facebook groups or through national organizations like the National Real Estate Investors Association (National REIA) and the National Real Estate Investment Club (National REIC), where you can search by your location.
Landlord groups are another great resource and can be found locally and online. Two prominent landlord groups are LandlordAssociation.Org and the National Association of Independent Landlords. Many real estate investor and landlord groups offer professional development opportunities to members and are a great resource for finding other team members and mentors.
What you'll pay: Some are free, and others have an annual membership fee.
Property Managers
Property managers manage tenants, collect rent, pay bills, and coordinate repairs and maintenance. Whether you plan to outsource property management or self-manage your rentals, you want to learn about what property managers do. If you're growing a real estate portfolio, property managers can handle the day-to-day operations of your seasoned properties while you work toward buying additional properties.
What you'll pay: Property management fees vary based on property type, location, and fee structure. Baseline property management fees range from 4% to 10% of gross monthly rental income, plus additional fees for additional services.
Real Estate Investing Partners
Owning rental property with other real estate investors has its pros and cons and forming partnerships should not be taken lightly. Successful partnerships require clearly defined, written roles, typically in the form of a limited liability company (LLC) operating agreement. When seeking partners, first get clear on what you will contribute and which skills you bring and align with partners who will fill in the gaps.
Perhaps you are a general contractor and plan to put in sweat equity on a fix-and-flip and are seeking a partnership with an investor who has cash, but little time to work on the project. If you only seek a partnership based on what you can get instead of how both you and the partner will profit, it will be challenging to find the right partner.
What you'll pay: The fees associated with partnerships are the cost of filing a business entity with your secretary of state's office, which varies from state to state. You'll also want to decide upfront how profits are divided or used and expenses handled.
The People You Spend Time With
Entrepreneur, author, and motivational speaker, Jim Rohn, once said, "You are the average of the five people you spend the most time with," so it is essential to surround yourself with a real estate investment team that can help you reach your goals as well as a community of like-minded entrepreneurs. It has been said that the best way to learn something is to teach it, so it's also important to share your knowledge as you grow and learn. Seek opportunities where you can share your growing knowledge with others.
Other Service Professionals
Other service professionals who make a well-rounded real estate investment team include painters, cleaners, handymen, bookkeepers, plumbers, electricians, and landscapers. Building these relationships before you need them can help you avoid rushing to find someone when issues arise. Ask for word-of-mouth referrals from people you trust. Having a database of who to call is also a good idea.
Friends and Family
The best things in life truly are free. Having supportive friends and family as you embark on your real estate investing journey is critical to your success. Although mentioned last, they are not the least important. Having the loving support of those closest to you will help you through the highs and lows of starting a new real estate investing business.
Sharing your goals and dreams with those you love and letting them know how important they are to your ability to reach those goals will bring you closer together. A supportive or unsupportive spouse or partner can make or break your goals, so be sure to share your plan with them and ask for their support.
Finding Your Dream Team
If you're new to real estate investing, you may wonder how to start a real estate team and where to find the right professionals to help you reach your goals. Most people already know some of these service professionals or know of other investors and landlords to ask for referrals. You don't need to assemble the full team right away, but it's wise to begin building your team before you need their services.
The team members you can start with include:
Real estate agent
Mentors
Other investors or investor groups
General contractor for rehab properties
Some team members don't require upfront fees. We included in the team member descriptions above what you can expect to pay for professional services. However, it's important to do your research, call service providers for current rates, and include all anticipated fees in the cash flow projections you created in the chapter Why You Need a Real Estate Investing Business Plan. You're building a business, so you want to make sure to calculate every anticipated expense and deduct it from projected profits.
Vetting Your Dream Team
Real estate investors, landlords, and service professionals you know are the best resources for finding and vetting your team. These professionals frequently work together on real estate deals. Once you find a few you can trust, they can refer you to others. When asking for referrals, ask for their top two or three choices and ask why they recommend them. Interview a few and choose people who fit your work style and your goals.
You may not be able to find your full team through your network. By joining forums and local landlord and investor groups, you should be able to find most of the people you need. If not, do an online search. To begin the vetting process, read testimonials and reviews and interview face-to-face when possible.
Working Together to Fulfill Your Goals
The purpose of a well-coordinated team is to reduce your workload so you can focus on finding and evaluating deals. A real estate investment team operates like a well-oiled machine, but you'll need to do some advanced planning to manage your team and project.
Once you've figured out how to start a real estate team, you want to include them in your strategic plan so you can map out and coordinate your real estate investing activities using the services of your team members as needed. If you've vetted your team by getting quality referrals from your network, your team members likely will have worked well together in the past and coordinating efforts should be a relatively smooth process.
At some point, you may need to replace members on your team as your business grows or if the relationship is not working. You can find new team members by following the same process we've outlined above, tapping into your growing and expanded network you build with other investors, landlords, and entrepreneurs.
Summary & Quiz
In this module, you learned how to start a real estate team and which types of service professionals you will need on your team to reach your real estate investment goals successfully. Finding the right team members is critical to your success, so it is vital to begin building your team early in the process.
 Key Points to Remember
Building a real estate investment dream team can save investors time and money.
Begin building your team before you need their services, so you know who to call when they are required.
Choose team members who have experience with the types of properties you want to invest in.
Find team members through word-of-mouth referrals from your network.
Ask your referral network why they recommend these service professionals and ask for at least two recommendations so that you can find team members who align with your work style and goals.
Include anticipated service fees in your cash flow projections as part of your expenses.
Use groups and forums to connect with like-minded investors and entrepreneurs.
Take advantage of free resources before investing in mentoring programs and expensive coaching.
REI Dream Team Quiz
Answer a few questions about your business, and we'll give you a personalized product match.