We had an inspiring conversation with Hark Herold, region executive director of Bunker Labs to find out what skills veterans have that make them well-suited for entrepreneurship. He also explained how Bunker Labs' programs like their Military Veterans in Residence at WeWork help veterans and military spouses transition from military service to business owner.
Hark Herold, Region Executive Director, Bunker Labs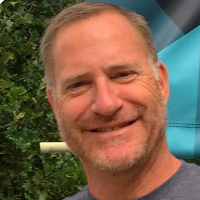 Hark Herold is the region executive director for Bunker Labs. He's a retired military officer who began working with Bunker Labs as a volunteer in Denver, Colorado. Herold became the executive director last December and is responsible for growing Bunker Labs chapters in the north and west regions. His duties also include cultivating partnerships to support Bunker Labs efforts to support veteran entrepreneurs.
We began by discussing how Bunker Labs started and how they help veterans.
Bunker Labs' Origin
Fit Small Business (FSB): How did Bunker Labs get started and what services are offered to help veterans and their spouses become entrepreneurs?
Hark Herold: Bunker Labs was started by Todd Connor, our CEO and founder, who recognized a gap between military veterans who want to start a business and those who start one. Each year, more than 200,000 military veterans transition from active duty. 25% of them say they want to start a business and less than 5% do. We're here to help close that gap.
Bunker Labs' Mission
FSB: What is the mission of Bunker Labs?
Herold: Our mission is to empower veterans and their spouses to become leaders in entrepreneurship and innovation.
Military Veteran Entrepreneurship Is on the Decline
In the course of our conversation, Herold later revealed some little-known historical trends and statistics around veterans and entrepreneurship.
FSB: How many military veterans pursue entrepreneurship, and what has this looked like historically?
Herold: Here are some interesting facts that a lot of people don't know. Nearly 50% of World War II veterans started a business after leaving military service. After the Korean War, about 40% became entrepreneurs. Compare this percentage to only 4.5% of post-9/11 veterans starting a business after leaving military service. We want to help veterans consider entrepreneurship as a viable option after returning from service.
Bunker Labs Looks to Reverse This Trend
FSB: I didn't know about this decline. Bunker Labs' mission is a very important one that will not only benefit veterans but our society as a whole. How does Bunker Labs go about fulfilling its mission?
Herold: We do three things. We inspire, equip, and connect the veteran community in becoming entrepreneurs. We inspire veterans to start and grow their own businesses. We equip them with resources and practical tools to build successful companies, and we connect them with people and communities to support them as business owners. We work with both entrepreneurs and aspiring entrepreneurs in all stages, from the idea stage to fully functional businesses.
5 Programs That Bring Bunker Labs Mission to Life
FSB: What specific programs bring Bunker Labs' mission to life?
Herold: We fulfill our mission through our programs. Here's a breakdown of our five programs.
Launch Lab Online is an online entrepreneurship program that is free and available to both veterans and nonveterans alike. The goal of this program is to take anyone interested in starting a business from idea to invoice.
Launch Lab Online forces you to answer a few really important questions every entrepreneur should ask themselves:
Is entrepreneurship right for me?
Is my idea a viable and sustainable business idea that can support me and my family?
Is now the right time, and do I have the right resources and support?
The online program also covers other important areas like identifying and getting to know your customer, exploring product-market fit, and uncovering how to make money with your business.
Bunker Brews focuses on the "connect" and "inspire" part of how we fulfill our mission. Bunker Brews is a monthly meetup where veteran entrepreneurs and aspiring entrepreneurs can connect in person in their cities with other nonveteran entrepreneurs, experts in a variety of areas that impact business, and individuals from organizations that support veteran entrepreneurship. These monthly events are free and open to both veterans and nonveterans alike.
Powered By Bunker Labs, the WeWork Veterans In Residence Program is exclusively for veterans and military spouses. In this six-month program, participants are provided with space to work, business mentors, business services, and community.
This program encompasses our three major areas of inspire, equip, and connect in terms of how we fulfill our mission. We are currently in 15 WeWork locations with 10 veterans in residence at each location. We plan to expand into 25 WeWork locations. This program is free of charge for veterans.
CEO Circle is for more established military veteran companies ready to grow or scale their businesses. Usually, the businesses in this program have generated more than $500,000 in revenue or have raised more than $1 million in capital. They have at least five employees and are looking to grow. Like the Veterans in Residence program, it's only open to veterans and their spouses. It's a monthly mastermind group that offers access to mentors, resources, and connections that can help facilitate growth.
The Breakdown is a Facebook Live program where we interview someone of interest to the veteran entrepreneurs community. It could be a fellow veteran entrepreneur or someone that may be of interest to veterans covering some aspect of business ownership. It's free and open to both veterans and nonveterans.
The Reasons Veterans Make Great Entrepreneurs
FSB: Having worked with veteran entrepreneurs through Bunker Labs, what would you say are three qualities that make veterans uniquely qualified to become entrepreneurs?
Herold: About one-third of veterans say their active duty skills translate into skills needed for entrepreneurship. There are three skills or qualities veterans have which come from their experience in the military. These skills include leadership, survival skills, and being mission-focused.
Military experience forces you to shape your leadership skills. You are often required to survive in ambiguous environments, and you must be mission-focused. When you're starting and running a business, you must take the lead so that your business goes in the direction you want it to go. Very few things are clear when it comes to entrepreneurship, so being able to survive in ambiguous environments is key to starting and running a business.
The best businesses have a clear and solid mission. Because veterans are mission-focused, they're used to staying focused on the mission at hand and focusing their energy and activities to achieve their mission.
How to Transition From Service to Entrepreneurship
FSB: What would you recommend as the steps a veteran should take to transition from service to entrepreneurship?
Herold: I'd recommend starting early to think about what's next after their active duty has ended. Include entrepreneurship among the options you're considering. Then, participate in a program like Launch Lab Online. It forces you to consider if entrepreneurship is right for you, and it gets you to put your idea for a business to the test.
Once you've decided that you want to take the entrepreneurship path, get connected with strong entrepreneurship communities. These should be a combination of veteran and nonveteran communities. For veterans and veteran spouses in cities with a WeWork and a Bunker Labs chapter, consider participating in Veterans In Residence Powered By Bunker Labs, a program also available to military spouses. It's a great way to connect, build a network, and get support for starting and growing your business.
What's on the Horizon for Bunker Labs
FSB: What's next for Bunker Labs?
Herold: Because veterans often end up in different cities than maybe their hometown after their military service, we want to grow our presence and to help them get plugged into the cities they end up. We are currently in 25 cities. In June [2019], we'll be in 26. During the next 24 months, our roadmap is to expand into all 50 states and Washington, D.C., so we're going to go from 26 to 70-plus chapters in 24 months.
Bunker Labs is one of my favorite organizations that supports veterans because it does so through empowerment and connection. Veteran entrepreneurship not only helps veterans start their own businesses. It also helps with veteran employment. During my conversation with Herold, he mentioned that veterans are 30% more likely to employ other veterans. This makes a big difference to veterans who may not want to or be ready to start their own businesses.
If you're a veteran and you're considering career options, I would highly recommend checking out Bunker Labs' programs. Their programs offer guidance, community, and support you'll need to decide whether or not being a business owner is right for you. Should you decide to become a business owner, they offer opportunities to help you grow and expand your business.
If you're a civilian, I'd recommend checking out Bunker Labs Launch Labs Online program and Bunker Brews. These programs are a great way to connect with veterans and offer support while you're learning about entrepreneurship. Should you decide to become a business owner, you'll have some connections within the veteran community to potentially do business with or hire.
How Bunker Labs Serves Veteran Entrepreneurs

Bunker Labs is a 501c3 nonprofit organization dedicated to supporting veteran entrepreneurs. Through its programs, Bunker Labs inspires, equips, and connects veterans so they can start and run successful businesses. Its programs include resources for both veterans and nonveterans like Launch Labs Online, Bunker Brews, and The Breakdown. They also offer veteran and military spouse only programs like the WeWork Veterans In Residence and the CEO Circle mastermind.
Bottom Line
Entrepreneurship is a viable way to earn a living when a veteran's tour of service ends. It's also a great way for veterans to support each other when their businesses are established enough to hire other veterans.
Bunker Labs is a great resource for veterans and veteran spouses, making the transition into entrepreneurship a lot smoother. It's also a great resource for civilians to connect with and support veteran-owned businesses. Check out their website for more details.