Business insurance for startups refers to several potential insurance policies that protect a startup's assets, investors' interests, and employees. At a minimum, startups need general liability and business property but may also need policies such as workers' compensation, professional liability, and key man insurance. A business owner's policy (BOP) combines these with prices starting at $500 annually.
Protecting your business with the right insurance allows you to continue operations and pay for damages in the event of a loss. Business insurance is essential for your startup's survival, and the small business specialists at The Hartford can get you the coverage you need. You can get a free, no-obligation quote online in minutes.
Startup Insurance Providers
A startup business needs a commercial insurance provider that makes insurance both easy to understand and easy to buy. New business owners may not have the background to understand what different policies do and how each financially protects their assets. Finding a carrier that can provide this information can be a huge benefit to a startup.
Additionally, business insurance costs for startups vary widely. One key differentiator is the industry. Different industries have different risk profiles, so national insurance carriers vary on the industries they prefer to insure. But other factors impact cost as well, including property ownership, number of employees, and industry experience. Consider the price and which provider is best for your company.
Top Business Startup Insurance Providers
| Provider | Best for |
| --- | --- |
| | Companies with traditional risks that want tailored options at competitive pricing |
| | Independent contractors seeking affordable coverage for general liability and home-based business property protection |
| | Financial institutions with employees or a group of independent representatives under the company name |
| | Companies with commercial auto needs for deliveries and service transportation, but not livery |
| | Startups that have raised capital and need quick access to affordable quotes and coverage |
With more than a million small business clients, The Hartford was one of the first insurers to dedicate a team specifically to small business insurance. Recent rankings put it in the top 10 carriers for commercial lines and workers' compensation.
The Hartford is the right choice for small Main Street businesses with traditional offices or retail locations. The company's experience insuring startups shows in one of the industry's most comprehensive BOPs that includes a Stretch endorsement that increases coverage in 31 areas for only an additional $100 annually.
Hiscox specializes in small business insurance, typically focusing on the risks other insurers can't write. The company's depth of experience allows them to develop innovative products designed for multiple markets.
Hiscox is the best choice for independent contractors, including artisan contractors, sole practitioners, and information technology (IT) specialists who work from home. With the capacity for $10 million in data and network breaches, Hiscox does especially well with cyber insurance and can usually write policies for startups that face cyber risks.
CNA's size and experience mean it can write a variety of business insurance policies across several industries. It offers quick claims services and flexible payment plans, including pay-as-you-go workers' compensation insurance.
CNA is the right choice for financial institutions such as investment firms, insurance agencies, mortgage companies, and title offices that have unique general liability and professional liability concerns. Where CNA stands out is its risk management resources for financial institutions. Policyholders can learn about business continuity, claims management, and other risk management topics through in-person classes, online tools, and webinars.
State Farm is a large, well-known insurer that offers a suite of small business insurance policies for startups. The company distributes its products through a network of 19,000 agents who can help you identify risk and purchase the appropriate policies, including BOP, professional liability, and individual health coverage.
State Farm is the right choice for a business that needs commercial vehicles for business operations. Floral deliveries, residential moving companies, and real estate agents may have additional exposure on the road that State Farm is best suited to cover. Plus, each agent is a local small business owner who understands the importance of risk management from both sides of the desk.
Embroker is an online insurance brokerage offering access to both top-tiered insurance carriers as well as specialized proprietary insurance products primarily designed for startups and growing companies. Embroker offers online binding coverage on more policies than any other online provider, giving them an edge with startups needing coverage quickly to meet new business contract demands.
Embroker is the right choice for startups that need to shop rates quickly with the opportunity to get bound policies for leases, investors, and banks. Embroker also has proprietary directors and officers insurance developed with the startup in mind. Fewer middlemen lead to lower rates and faster underwriting.

How Small Business Insurance Works for Startups
A startup has many risks inherent in the formation of a new entity. One of the most significant financial risks is having a loss or claim that the business doesn't have the money to pay for or defend against. Startup business insurance policies pay for claims that might otherwise cause the business to shut its doors before it had a chance to succeed.
Small business insurance for startups pays claims that include:
Slip-and-fall accidents
Fire loss or theft of office equipment, supplies, and inventory
Lawsuits for defamation of character
Lost revenues if the business is closed during a covered claim
Professional errors in workmanship or service
Employees injuries when hurt at work
Certain types of businesses have more exposure to certain types of risks, although the most common are third-party injuries with slip-and-fall accidents or business property loss coupled with closing the doors to repair or rebuild.
Who Needs Startup Insurance?
Not having coverage puts your business and, sometimes, your personal assets, at risk. According to an Insurance Information Institute press release, 40% of small businesses do not reopen after a disaster and another 25% close after a year. Even without the threat of natural disasters, the cost of customer lawsuits makes insurance a good idea.
As a result, startups need business insurance if they:
Work with customers or clients
Own business property
Rent business equipment
Advertise their business
Hire employees
Provide professional advice
Want to protect their personal assets
Additionally, many startups operate as sole proprietors in the initial phase and often for quite some time. While this is the easiest business entity to form, it doesn't separate business and personal assets. As a result, lawsuits that go against your business can drain your personal savings account.
Forming a limited liability company (LLC) can reduce the risk to your personal savings but not your business assets. Lawsuits over customer injuries and negligence can still hurt your startup and make business insurance a smart investment. Learn more in our article on LLC Insurance.
8 Types of Business Insurance for Startups
General liability and property insurance are fundamental business policies. However, your business may need other coverage. For example, many startups get workers' compensation once they start hiring staff. Some also buy cyber liability if they are responsible for client data or networks. The insurance your startup needs depends on what you do and how you do it.
Most Common Types of Small Business Insurance for Startups
| Type of Insurance | What It Covers |
| --- | --- |
| | Third-party lawsuits over property damage, bodily injury, and advertising injury |
| | Damage to business-owned property, including equipment, office space, furniture, and fixtures |
| | Client's allegations of negligence and errors in professional work |
| | Costs associated with data breaches, including fines, court costs, and civil awards |
| | Costs associated with car accidents and other events for business-owned vehicles |
| | Employees' medical bills and lost wages stemming from work-related illnesses or injuries |
| | Costs associated with lawsuits involving the hiring process and employer-employee relationships |
| | Death or disability of designated key employee |
There's no one policy for startups. Instead, you need business insurance for the risks your startup faces, like lawsuits and property damage. A different policy covers each risk, so you want to know which ones are a problem for your business so you can get the appropriate coverage.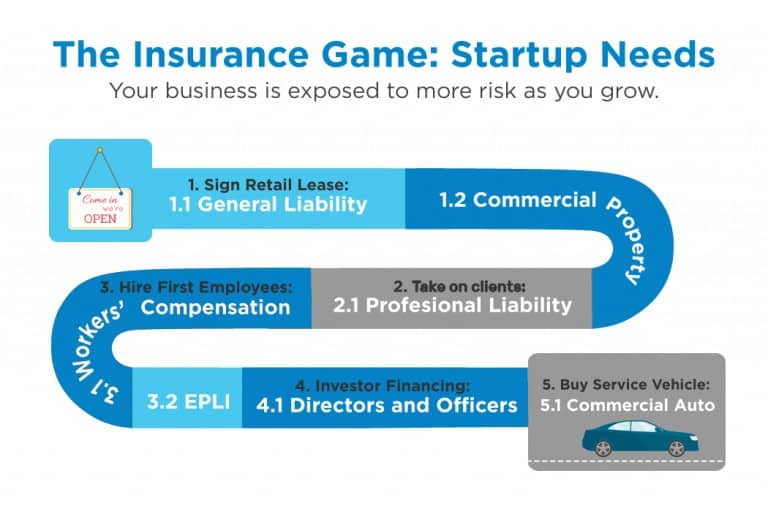 Consider covering your risks with one or more of these eight startup insurance policies.
1. General Liability Insurance for Startups
General liability insurance covers third-party claims of bodily injury, property damage, and advertising injury. Third parties are essentially people who aren't employees and can include anyone who visits your business.
Here are some examples of how general liability covers your startup:
Bodily injury: If a delivery person slips on your wet floor, general liability covers his or her medical bills and your legal fees if they sue
Property damage: If a fire in your workspace causes property damage for the business owner next door, general liability covers the repairs
Advertising injury: If a business owner claims you used their copyrighted material, general liability covers your legal fees when they sue
Most general liability insurance also covers product liability, so businesses that sell, manufacture, or distribute consumer goods also need coverage. However, it doesn't include liabilities that stem from your position as an employer or your professional services. You need other types of insurance for those liabilities.
2. Commercial Property Insurance for Startups
Commercial property insurance covers the value of property owned by your business, including fixtures, furniture, equipment, and physical location. When a covered event causes damage, your insurer pays the insured amount so you can make repairs.
Most commercial property policies cover damage caused by:
Fire
Windstorm
Hail
Vandalism
Theft
Startups with minimal property exposures like freelancers may forgo this coverage. However, before you decide you can skip property insurance, you want to weigh the risk of catastrophe and your ability to recover. If you can't operate without certain equipment, it may make sense to insure it. Please note that flood, hurricane, and earthquake are often excluded and need separate business insurance policies if you want coverage.
3. Professional Liability Insurance for Startups
Professional liability insurance, sometimes called errors and omissions (E&O) insurance, covers your professional work. If a client accuses you of making a mistake that costs them money, professional liability pays for your defense. It may also cover claims that you failed to meet contractual obligations.
E & O is for individuals who make a living off of specialized education and expertise, including:
Accountants
Architects
Engineers
Medical professionals
Business consultants
Information technology professionals
Financial advisors
Physical trainers
Artisan contractors
Some business owners, like restaurateurs, retailers, and cleaners, typically don't need professional liability. However, insurers have designed professional liability products geared to other industries, such as personal trainers and massage therapists.
4. Cyber Liability Insurance for Startups
Cyber liability insurance covers your costs after a data breach. There are two types of cyber coverage: first person and third person. Startups need first-person cyber liability if they store customer data like credit card numbers, medical information, or email addresses. Third-person cyber protects businesses that are responsible for client networks.
Cyber insurance typically covers:
Forensic services to discover the source of the breach
Customer notification and credit monitoring
Public relations and marketing services to restore your good name
Ransomware costs
Legal fees
Court-ordered judgments and settlements
Startups that don't store and don't have access to client data probably don't need cyber liability. For instance, if your business charges customers and never keeps the credit card number, then you may not need cyber insurance.
5. Commercial Auto Insurance for Startups
Commercial auto insurance covers business-owned vehicles. It's typically purchased as a standalone policy. However, you may be able to add it as a rider to your personal auto insurance if you personally own the car and it is used for both purposes. An agent can help you decide if that's the right option for your business.
As with personal auto, commercial auto comes with a variety of coverage options, such as:
Liability: For other people's property damage and injuries
Medical payments: For injuries you and your non-employee passengers sustain
Collision: For damage to your vehicle caused by a car accident
Uninsured & underinsured motorist: For when the other driver is responsible for damage but cannot pay
Most states require business owners to at least carry liability coverage for their business-owned cars and trucks. However, adding other coverage like collision and uninsured and underinsured motorists provides greater protection. You may also need commercial auto if you drive your personal vehicle for work because most personal auto insurance excludes business driving.
6. Workers' Compensation Insurance
Workers' compensation insurance is a state-mandated coverage that pays for employees' work-related illnesses and injuries. Policies typically cover the injured employee's lost wages and medical bills or pay death benefits to eligible survivors.
Every state has its requirements for workers' compensation. Some mandate coverage the moment you hire a single employee. Others require it only as your startup grows. Texas doesn't require it at all. You can find out your state's workers' compensation laws online. Get the contact information for the correct government department from the United States Department of Labor.
7. Employment Practices Liability Insurance
Employment practice liability insurance (EPLI) covers your interactions with current and former employees and job candidates. It's triggered by claims you failed to treat employees or potential hires fairly.
Events covered by EPLI include:
Sexual harassment
Wrongful termination
Slander and libel
Mismanagement of benefits
Breach of employment contract
Startups only need EPLI if they are planning to hire staff. This particular insurance policy becomes more important as management teams grow because it covers the exposure to employment and management risks.
8. Key Person Insurance
Key person insurance, sometimes referred to as key man insurance, is a life or disability insurance policy startups may want to take out on an employee, founder, or owner who is essential to the business's success. If the key person dies or is disabled and can no longer work, the insurer pays the business a cash benefit. This helps the business regroup after a significant loss.
The most common type of key person insurance is a term life insurance policy. This means you purchase the policy for a certain time frame, usually 10 to 30 years. The coverage only pays if the insured dies or suffers a disability while the policy is in force. Whole life, variable life, and disability insurance policies are used in specific business circumstances.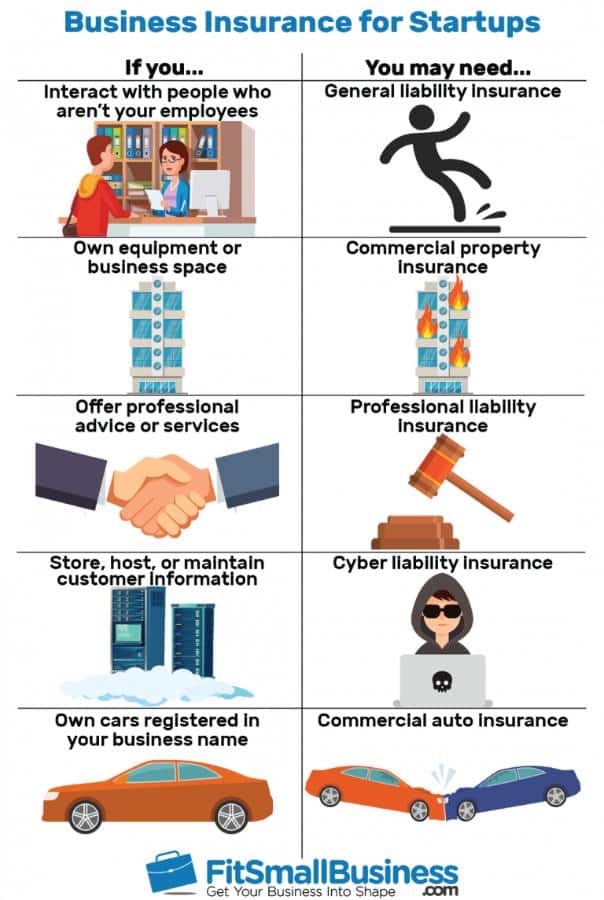 Business Insurance Costs for Startups
A fundamental insurance policy like general liability insurance can cost as much as $600/year. Property insurance adds additional costs, depending partly on the value of your biz-owned items. However, many carriers bundle these coverages in BOPs so they can offer them at a lower rate. BOPs typically cost $500 to $3,500 per year.
Small Business Insurance Costs & Deductibles by Policy
Insurance Type

Coverage Amount

Annual Premium Cost

Common Deductibles

General Liability Insurance

$1 million/$2 million

$400-$1,000

$0-$1,000*

Business Owner's Property

$1 million/$2 million GL
$5,000-$10,000 property

$500-$3,500

$500-$1,000

Professional Liability Insurance

$500,000/$1 million to $2 million/$2 million

$1,000-$3,000

$1,000-$3,000

Cyber Insurance

$1 million

$1,000-$3,000

$0-$1,000

Key Person Life Insurance

$500,000

$300-$5,000

$0

Commercial Auto

$250,000/$500,000

$1,200-$4,000

$500-$1,000
*General liability doesn't usually have a deductible, but insurers may require them for startups in hazardous industries.
Professional liability insurance tends to be the most expensive coverage for startups that need it. The lower premium represents $500,000 occurrence and $1 million aggregate coverage. The more professional coverage you need, the higher your premium. Startups that need $5 million occurrence/$5 million in aggregate coverage can pay up to $8,000 a year. Requesting a higher deductible can reduce that.
Businesses where customers come to a physical location like restaurants and retailers usually have higher general liability costs. General liability often doesn't require a deductible, but you can opt for one to keep your overall premium down. Commercial property always has a deductible but is usually the least expensive coverage for startups.
How to Get Inexpensive Startup Insurance
Business insurance is a smart investment for startups, but many entrepreneurs skip it because the costs seem to outweigh the benefits. However, you can keep your rates down by shopping around, bundling policies, raising your deductible, and managing your risk.
Here are some examples of how to get cheap startup insurance:
Compare rates: Every insurer has its own system for determining premiums, so some can offer cheaper insurance for your specific risk; working with a broker is a good way to get multiple quotes with one application
Bundle policies: Insurers want your business, so they usually give discounts for combining key coverage; ask your insurance agent about a BOP; most BOPs bundle general liability and commercial property, but some add in additional coverage
Raise your deductible: Raising your deductible lowers your premium because it reduces your insurer's share; before you do this, however, you want to think about how much cash you typically have on hand
Lowering your limits: Choosing a lower limit reduces your overall costs; however, remember that lower limits mean less insurance reducing protection plus some businesses or landlords that you work with may require certain limits in their contracts
Manage your risk: Your claims history is one of the factors insurers consider when determining your premium; many insurers offer discounts for having burglar alarms, sprinkler systems, and other safety features
"Low-risk businesses with minimal property coverage could spend less than 1% of their revenues on insurance. Alternately, higher-risk businesses that cover significant property may spend 5% of their revenue on insurance. If you are going to insure a commercial structure that you own, that could be an additional percentage of the building¹s value."

—Jamie Imus, Chartered Financial Consultant & Financial Representative, Country Financial
Remember, too, that cheap startup insurance isn't a great deal if you end up underinsured. You can be held financially liable for any difference in coverage and claims. Evaluate the carrier's rating and the policy terms before you select the most affordable option.
Tips on Getting Business Insurance for Startups
Buying business insurance for your startups is a process. To make sure you find coverage that is appropriate for your business, you need to understand the various policies and get them in place so that your business is protected.
Here are three tips to help you when shopping for startup insurance.
1. Establish Insurance Coverage Priorities
It is important to cover the biggest risks and coverage needs for your startup. While you may have some exposure in many areas, the reality is the budget and need to define what policies are priorities. Most startups start with general liability or a business owner's policy to cover the biggest needs and requirements of a new business.
2. Plan Ahead
Some policies can be bound within hours of applying, particularly general liability, commercial property, and BOP. The turnaround for others, like workers' compensation, can take a few days or even a week. Planning ahead gives you time to identify what policies you need, compare quotes from quality carriers, and get coverage in place.
3. Define your Risk Exposure
Risk exposure is the amount of money a potential claim will cost the startup. When it comes to physical property, this is easily defined, but as a startup looks at liability and lawsuits, the numbers can become extreme. Talk to an insurance agent about finding the balance between potential claims and costs.
"Look at what loses can't be sustained to continue operations. There should also be an analysis of the business's assets and the owners' assets. If there are no assets there is nothing (really) to insure."

—Shawn McBride, Corporate Lawyer, McBride Attorneys
Frequently Asked Questions (FAQs)
Below are a few of the most frequently asked questions about business insurance for startups.
Is business insurance mandatory for startups?
Business insurance is usually optional for startups, but landlords, equipment leasing companies, investors, or clients may require certain policies. One major exception is workers' compensation insurance, which is required by law in most states. You might also find that many of your contracts include insurance requirements.
Do I need business insurance for my LLC?
An LLC is a business structure established designed to protect business owners' personal assets, but it doesn't cover the business' assets. As the owner of an LLC, you want to evaluate your risks and get policies that cover them. Some common policies include general liability, commercial property, and professional liability insurance.
Do sole proprietors need business insurance?
Unless it's required in contracts, sole proprietors without employees are generally not obligated by law to get business insurance. However, every sole proprietor should consider what would happen if their equipment was lost or how they could fund their defense in a lawsuit. Sole proprietors need to look at their risk to determine which policies make sense.
Does commercial auto insurance cover injured employees in an accident?
Employees injured in car work-related auto accidents are always covered by workers' compensation insurance. Commercial auto insurance pays for damages and injuries in an at-fault auto accident. The liability portion covers damages and injuries to the other parties. Collision coverage repairs the company vehicle. Medical payments pay a small amount for injuries to non-employee passengers.
Bottom Line
Even successful startups can struggle to survive when trouble hits. The cost of lawsuits, data breaches, and customer injuries can bankrupt them if they have small business insurance. At the very least, startups need general liability insurance to cover the most common lawsuits business owners face.
Protecting your startup is easy when you work with The Hartford. Its small business specialist can tailor business insurance for your startup and send a quote in minutes. Get started by filling out a short application today.