Business interruption insurance, or business income insurance, covers a business' lost income after operations cease resulting from covered damage. Covered damage includes fire or wind and is found in the business property insurance policy. Pricing varies, but business interruption insurance typically ranges from $500 to $1,500 per year.
Business income insurance is often an extension of commercial property or written as part of a business owner's policy (BOP). To make sure you're protected against a potential loss of income, contact The Hartford. Their team can assess your needs to find the right insurance policy for the best possible price. Get your free, no-obligation quote in minutes.
How Business Interruption Insurance Works
Business interruption insurance covers lost income if your business has to cease operations due to damage from an event covered by your property insurance policy, such as fire or wind. Business interruption insurance is not typically bought as a standalone policy.
Most insurance providers offer business interruption as an extension of your property coverage, which means it is usually included in a business owner's policy. Standalone business interruption policies can be purchased through surplus lines brokers for unique risks.
What Business Interruption Insurance Covers
Business interruption insurance is often called business income insurance because it replaces the income your business would have earned if the damage to or destruction of your property had not occurred. Many of these policies also cover operating expenses, such as utilities and payroll, that continue even though normal business operations have temporarily ceased.
Business interruption insurance typically covers these expenses:
Income you would have earned if the incident had not occurred
Normal operating expenses that continue even though the business is closed, such as utilities and payroll
Expenses of moving your business to a temporary location, including moving and rent costs
Your insurer pays for these losses when they are the result of covered perils claims, such as fire, theft, wind, falling objects, and lightning. These are the most common coverage events, but policies do differ among insurance providers.
What Business Interruption Insurance Doesn't Cover
Although business interruption insurance can help you replace lost income and pay expenses while your business is closed due to a covered event, it won't pay for every cost your recovering business may incur. Therefore, it's important to keep these exclusions in mind when applying for your policy.
Common exclusions in business interruption insurance include:
Utility bills that are no longer being charged to you during the temporary closure of your business due to damage or destruction of your property
Income that isn't documented in your financial records or above the income cap on your policy (keep this point in mind when applying for coverage and as your business grows; you might only have $50,000 in revenues in year one but grow to $500,000 by year five)
Losses from closures caused by perils not covered in your property insurance policy, such as flooding or earthquake
Damage to business personal property (e.g., inventory, furniture, and equipment) is not covered by business interruption insurance. These items, such as inventory, business furniture, and equipment, must be covered by commercial property insurance or the property portion of a BOP.
Understand Contract Details for Business Interruption Insurance
Many small business owners know that any deal is only as good as the fine print details; business insurance is a contract between the business and the insurance company and is no different. There are some terms that might affect your rate as well as your ability to collect remuneration in a claim.
Here are the common insurance terms to examine in your business income policy:
Waiting period: Extended waiting periods can reduce premiums but delay the time to get coverage. Most policies have a 72-hour waiting period.
Proof of loss: Don't insure for an exorbitant amount of revenues. Insurance carriers request recent as well as historical income if available. Setting your revenues at $1 million when they are only $100,000 means you are overinsuring.
Unique coverages: Confirm what is covered and what isn't. A common exclusion is business income losses resulting from an external utility failure such as a city-wide power outage that you might expect to be covered under the equipment breakdown clause.
Actual loss sustained: The amount your business would have earned had it not had a claim and closure (based on revenues, operation costs, and payroll).
Business income: Your business' net profit or loss (before income taxes) plus your normal operating costs, including payroll.
Period of restoration: The period for which insurers are liable for the loss of business income, often defined as the length of time required to rebuild, repair, or replace the damaged or destroyed property.
Utility Disruption Extension Coverage
Commercial property insurance policies, including specialized policies such as equipment breakdown, have different ways of covering utility disruptions as they relate to business income loss. Generally, property policies cover internal disruptions of utilities, such as a circuit board getting overloaded and causing an internal power loss.
External forces, such as a car accident hitting a power line and leading to several blocks of outage, may not be covered unless you elect an extension of coverage. Have a conversation with your provider about different scenarios of power or utility loss to determine what is covered and what needs an additional extension.
Who Needs Business Interruption Insurance?
Businesses that rely on physical locations and assets, such as equipment or machinery, should have business interruption insurance. For example, retail stores, hair salons, and restaurants all need their buildings to operate and generate revenue. These businesses need business income insurance in case a fire, hailstorm, or other covered event causes them to shut down.
"Our research suggests that one in five small businesses would shut down within 30 days if sales stopped, yet only 23% have business interruption insurance. This means any hiccup in cash flow can put the business at risk. For example, 67% of owners with less than a month of reserves consider floods, fires, and other disasters 'extremely damaging,' but only 14% have business interruption insurance to maintain cash flow during a stoppage. In general, business owners aren't properly insuring themselves against risks to revenue."

– Brad Plothow, VP of Brand & Communications, Womply
Business Interruption Insurance Providers
Major insurance providers offer business income insurance tailored to industry needs. A food truck operator has much different needs and risks than a pie plate manufacturer. Consider the cost and coverage based on a carrier's understanding of your business' real risk for interruptions and the potential for costs beyond lost revenue.
Top Business Interruption Insurance Providers
| Provider | Best For |
| --- | --- |
| | Businesses seeking an affordable all-in-one insurance solution that includes business interruption |
| | Small businesses wanting extra support during the first 48 hours of a claim |
| | Business owners unsure what they need and seeking help to shop insurance providers |
| | Companies in areas where city-wide utility loss due to weather is a large concern |
| | Businesses that want extra expense coverage to pay additional operating expenses during an interruption |
Here are five of the top insurance providers offering business interruption insurance policies:
The Hartford is one of the best small business insurance providers in the nation, and their business interruption insurance is a primary offering in their extensive lineup of coverage types. Their business income protection comes in seven different types, including business income "extensions" for essential personnel, cloud service interruption, off-premises operations, and more.
The Hartford is a great choice for small business owners who want a business owner's policy that is both reasonably priced and has comprehensive coverage. In addition to quality coverage, The Hartford is known for its excellent claims service that helps small business owners get back to full operations sooner than later.
Farmers Insurance is a national provider for both personal and commercial lines of insurance. The Farmers' University helps small business owners understand various risks and how to mitigate them to keep costs down over time. Agencies are independently owned and work in the communities they serve, making it convenient for small business owners to get the personalized service they desire.
Farmers Insurance helps guide their business customers through the first 48 hours after a claim with quick access to disaster restoration contractors to quickly assess damage and restore the business back to normal operations. Contracted restoration companies often work directly with the claims adjuster to properly value the claim for expedited service.
AP Intego specializes in all the coverage that your small business needs to be protected. They're a nationally licensed broker, which means you have access to top-rated insurance companies, such as Travelers and AmTrust, through one quick application.
AP Intego is the right choice for small business owners seeking to shop rates among different insurance providers without having to make 10 calls and complete 10 applications. AP Intego takes one application online and then assigns your business to a representative who works on your behalf. This process takes all the guesswork out of comparing insurance providers.
Nationwide
Nationwide is the national provider for personal and small business insurance. Small business owners can keep all insurance policies in one location and enjoy the exceptional service Nationwide is known for.
Nationwide is a great choice for the business owners in areas where power outages are more likely to occur due to weather. Their basic business income coverage can be expanded to include utility services damage in the event you have a power outage and loss of income due to a covered event, such as high winds taking down a power line.
Travelers Insurance is one of the largest providers of small business insurance in the nation. They work with small and large companies on a variety of business insurance needs, including business interruption insurance and commercial property policies. Independent agents offer Travelers Insurance, adding a local touch to a national brand.
Travelers Insurance is a great choice for companies that would potentially have extended closures due to property claims. Travelers offers extra expense coverage in addition to their business interruption insurance. Not every provider offers the extended protection that covers the unexpected costs of setting up and running a business from an off-site location.
Cost of Business Income Insurance
The cost of business interruption insurance typically runs between $500 and $1,500 per year, but can be much higher for some businesses. Determining factors that may increase the cost for business interruption coverage include larger business size, higher coverage limits, and geographic location.
Business Income Insurance Costs by Industry
| Industry | Coverage Limits | Typical Annual Premium |
| --- | --- | --- |
| Construction & Contracting | $1 million / $2 million | $500 - $1,500 |
| Building Design | $1 million / $2 million | $400 - $1,300 |
| Cleaning | $1 million / $2 million | $750 - $1,300 |
| Food Services | $1 million / $2 million | $500 - $7,500 |
| Retail | $1 million / $2 million | $800 - $2,000 |
| Business Consulting | $1 million / $2 million | $400 - $2,500 |
Keep in mind that business interruption insurance is commonly included in the commercial property portion of a business owner's policy. It is rarely sold as a standalone policy.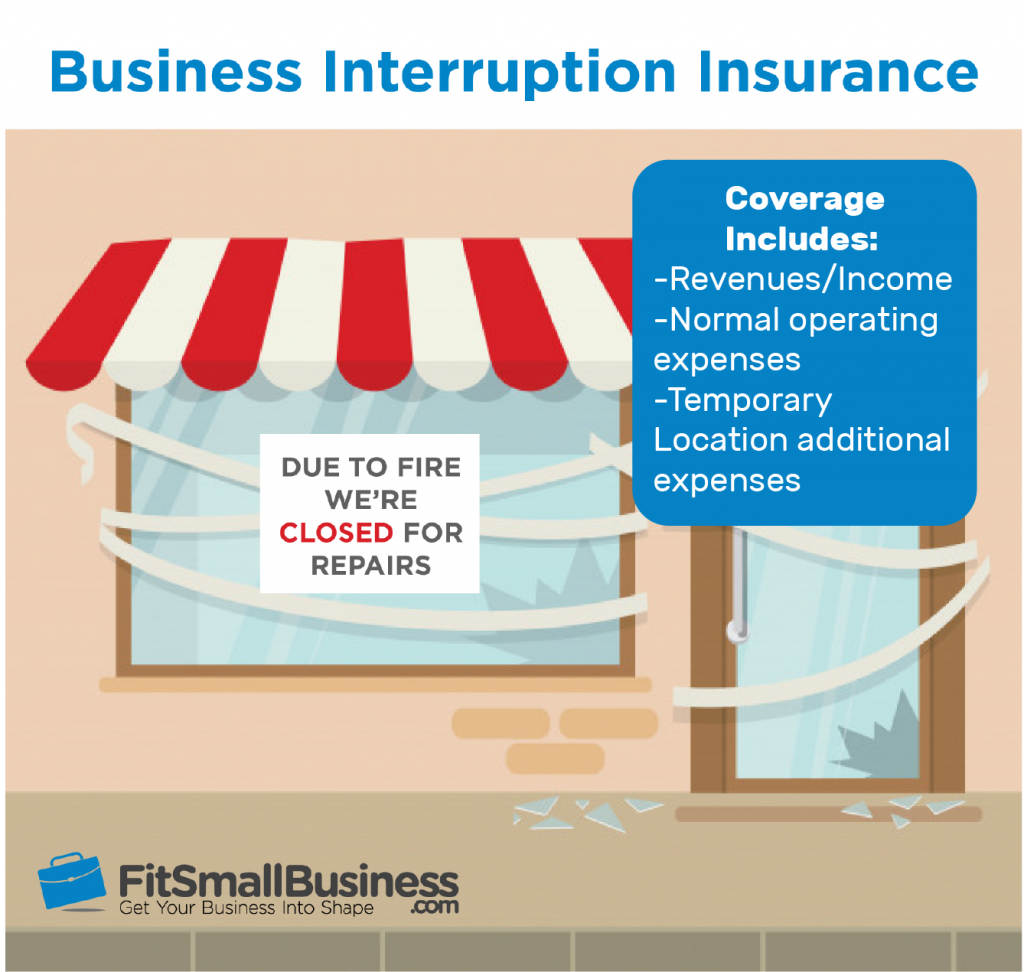 Other Types of Small Business Insurance You May Need
Since business interruption insurance is often packaged in a business owner's policy (BOP), business owners are often well covered with one policy. However, there are other ways to construct business insurance policies to cover a wide variety of risks beyond business income loss.
Small business owners potentially need several insurance policies or coverage including:
1. Commercial General Liability
Commercial general liability (CGL) insurance covers third-party bodily injury, property damage, and related legal costs. CGL is the most common policy type purchased by small business owners. It's especially important coverage for small business owners who interact with the public or work directly with their customers.
For example, if you have a physical location with foot traffic from customers or if you work on a site open to the public, you'll need a CGL policy in the event a customer or other third party is injured or their property is damaged. These are often referred to as slip-and-fall accident policies.
2. Commercial Property Insurance
Commercial property insurance protects against losses due to fire, theft, vandalism, and extreme weather. This insurance pays to replace the cost of business property, structures, and inventory required for daily operations. For example, if your business has to temporarily close as a result of a fire, your business interruption insurance would cover the lost income.
3. Commercial Auto Insurance
Commercial auto insurance is needed if you use your vehicle for purposes other than commuting to and from your business. This coverage protects you if your commercial vehicle is in an accident where third parties are injured or suffer property damage and you are held liable.
For example, if you own a business in an industry, such as construction and contracting, that requires traveling to various job sites and you get into an auto accident, your commercial auto insurance will cover injuries and property damage suffered by the other driver and their passengers.
4. Workers' Compensation
For businesses with employees, workers' compensation is required coverage in most states. Workers' comp insurance provides benefits such as medical expenses and lost wages to your employees in the event of work-related injuries or illnesses.
For example, if one of your employees tripped and fell at your work location breaking his leg, your workers' comp insurance would pay medical bills and wages from lost work time, if applicable.
5. Commercial Umbrella Insurance
Commercial umbrella insurance adds additional coverage to other insurance types, such as commercial general liability. Umbrella insurance typically increases the limits of coverage by $1 million or more, and is a cost-effective way to increase liability limits on multiple policies, including general liability, workers' comp, and commercial auto.
Let's consider this example where you have a commercial auto liability insurance limit of $250,000 with a commercial umbrella limit of $1 million, and you experience a claim where your employee hit a school bus, causing $700,000 of injuries to multiple children. Your commercial auto covers the first $250,000 and then the umbrella kicks in and pays the remaining $450,000 (and in most cases, additional legal fees to defend you above the injury settlements).
Tips on Applying for Business Interruption Insurance
Business interruption insurance is usually included as part of a business owner's policy (BOP), specifically as part of the commercial property insurance coverage within the BOP. Therefore, you won't specifically apply for business interruption insurance, but you will need to know what to look for when applying for your small business insurance policy.
Here are three tips when applying for business interruption insurance:
1. Determine How Much Business Income Coverage You Need
Business interruption insurance has a coverage limit, which is the maximum amount your provider will pay if you have a claim. If you had a claim that exceeded your coverage limit, you would be responsible for this amount. Use your current revenues and operating expenses to determine what your coverage needs are.
2. Estimate How Long It Would Take to Reopen
Business interruption insurance claims restoration period is the amount of time it may take to rebuild and reopen. Insurance covers you for the time you are not able to operate, with a cap on the length. Extensive mechanical operations may take longer to restore than a basic office. Make sure the maximum period of restoration will properly cover your need.
3. Confirm Business Interruption Coverage When Buying
Don't assume that every business owner's policy (BOP) or property policy includes business interruption. Even if it does include the coverage, you'll want to see what the minimal limits are based on the policy and increase them as needed.
"If you're just talking about BOPs, Business Interruption is always included at Actual Loss Sustained (ALS) for 12 months. You can typically increase the period of indemnity to 18 or 24 months for a negligible charge. If you're insured on a commercial package policy other than a BOP, you'll need to endorse Business Interruption onto the policy. Some carriers will endorse a specific dollar amount and period of time, others will endorse ALS for a period of time."

– Tabatha Myers, Agent, Myers & Hayden Insurance
Business Interruption Insurance FAQs
Because business interruption insurance is rarely sold as an independent insurance policy, it can be very confusing to understand what it is and where you find it. Below are some of the most common questions about business income insurance.
What is the difference between business income & extra expense?
Business income is the actual net income and operating expenses you incur during a covered loss that are normal to your business. Extra expense covers the additional costs a business may incur while trying to continue operations after a loss, such as fees to connect utilities at a temporary location.
What is actual loss sustained in business income insurance?
The actual loss sustained (ALS) is an insurance term defining what the business' true loss is. ALS is the net income before taxes including all regular operating expenses during the period of restoration. A small business owner cannot get more from a claim simply because his coverage limits are higher. He only gets the ASL determined by financial records.
Does business income coverage include payroll?
When defined as a continuing expense in a business interruption policy, payroll can be included for a set time. If it is covered, the circumstances may be limited to the type of closure and the duration of the coverage. Payroll is often included for the duration the business is completely shut down (usually capped at 12 months) and while the business is setting up a temporary location.
Does business interruption cover losses resulting from natural disasters?
Business income insurance covers losses resulting from claims covered by the policyholder's commercial property. For example, businesses are generally covered for tornadoes as part of windstorm coverage but not for earthquakes, hurricanes, or floods unless specifically included. Businesses need to have these additional disaster policies in order to be covered for some events.
Bottom Line
Business interruption insurance, also known as business income insurance, is usually included in a business owner's policy (BOP). However, small business owners who rely on their physical locations to generate income should still confirm they have this coverage and possibly consider increasing it.
To be sure you have sufficient coverage from business owner's insurance, speak with an insurance professional. The experts at The Hartford will help identify your exact coverage needs to find you the best insurance policy for the most affordable price. Get your free quote today.