Business proposals are documents outlining the terms of a sale for potential buyers. They're typically used by B2B businesses that require detailed explanations of their products and services, pricing, and scope of work. Proposals can be custom but typically follow a standard format, which is why using a repeatable template is important for continued success.
In addition to using a proposal template, you'll also need a CRM, like Freshsales, to manage your leads through the sales pipeline. With Freshsales you can keep track of tasks, deadlines, contacts, and proposal details, which can help you close more deals. Click here to try Freshsales.
Free Business Proposal Template (PPT/Google Slides)
To help you speed up your sales process even further, we have created a business proposal template in PowerPoint and Google Slides you can download for free. Simply download the templates and customize them for your business proposal needs. You can then adjust the branding to reflect your company image.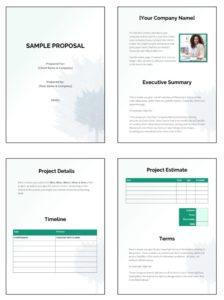 Click here to open in Google Slides
Click here to download in PowerPoint
How to Improve Your Business Proposal Win Rate
Using a high-quality business proposal template is a good way to speed up the process, but there are a few important steps to help ensure that your proposal, once delivered, is seriously considered. We'll walk through the entire proposal process, including must-have proposal features and tips for following up with your potential clients.
Step 1: Schedule a Follow-up Meeting
To maximize your chances of closing the deal, we strongly recommend conducting a follow-up meeting or call with your prospective customer shortly after your initial sales pitch and discovery call. The purpose of this meeting is to ensure that you have properly addressed your customer's objections. If you have not addressed any objections, your proposal may be rejected or not taken seriously.
Once customer objections are addressed, you can go on to discuss costs and terms. Ideally, being able to gauge your customer's reaction to costs and terms before you formally communicate with them in your proposal will allow you to discuss and resolve concerns before sending your proposal. With this step covered, you are now ready to write your proposal.
Step 2: Customize & Complete Your Proposal
If you choose to use our template or work off one of your own creation, you'll want to modify your proposal with basic details, like giving it a title and adding the name of your customer. In addition, you will want to add custom data, images, and charts so your proposal addresses the prospect's needs, wants, and potential objections.
Step 3: Send Your Proposal to Decision-Makers
Once your business proposal is complete, you should send it to your primary point of contact and primary decision-maker. However, it is usually a good idea to also copy known individuals who might influence the final decision.
A CRM like Freshsales keeps your contacts organized, helps ensure you've included all the right people on your distribution email, and provides insight into how your customers have responded to your proposal email with its email tracking features. Best of all, its Sprout plan allows you to manage your contacts for free. Visit Freshsales to learn more.
Step 4: Monitor Your Business Proposal Engagement
One advantage to using Google docs or slides for your proposal is being able to monitor your prospective customer's engagement with your proposal. When you communicate with your potential customer, encourage them to write notes on the proposal. Google docs and Google sheets will allow you to give them access to make comments. These comments will allow you to address any objections and further adjust the proposal.
Step 5: Follow Up at Strategic Intervals
After sending the proposal and tracking their email and proposal engagement activity, follow up with your potential customer to discuss any issues. If you've noticed that only one of them has opened your email, follow up with that one person, ideally within 24 hours, and request feedback. Then follow up with other team members as a gentle reminder to review your proposal and ask for sign-off.
Step 6: Close the Deal
Once you've followed up with your prospective customer, addressed any objections, and have gotten them all on board with your business proposal, it's time to close the deal. Either schedule another meeting or simply follow up via a call to secure an agreement and either a signed contract or purchase order so that the deal is closed. Once the deal is closed, send an invoice to the appropriate person in accounts payable.
Step 7: Welcome Your New Customer
It's also very important to remember that while this may be the end of your new customer sales process, it's also the beginning of a new customer relationship. Using a CRM like Freshsales can help you stay in touch with the customers you convert. This will put you in a great position to sell additional products and services and to get referrals from them in the future. Click here to try it for free.
How to Make Your Own Business Proposal Template
While every business proposal is different, if you want make your own template, there are seven main components it should have, including a cover page, table of contents, product information, pricing, and terms and conditions. Having these sections of a business proposal template ensures you communicate the most important information about your product or service that your prospects need to make a decision.
Below are details about what each section should entail.
Cover Page
The cover page sets the tone of your proposal. This your opportunity to express your brand and the nature of your proposal. Some cover pages are graphic or image heavy. Others take a minimalist approach, with very few graphics and little more than the title and date of the proposal. The approach taken on the cover page should be reflected throughout the proposal.
Table of Contents
A table of contents makes the job of the reader much easier, especially when proposals are over 10 pages. It helps them quickly locate sections of the business proposal without having to search through all of the pages. Electronic business proposals that link tables of contents with their respective sections make this especially easy.
Summary of Problem/Opportunity
Including a section that describes the prospective customer's problem or opportunity reminds both you and the customer of the purpose of the proposal. It keeps you focused on what they need and it reminds them of what they told you their needs were. This section is a great precursor to your solution and how it solves your customer's problem.
Proposed Solution
Your proposed solution should solve your prospective customer's problem. In this section, you demonstrate how your product offering is the answer they need to either make a problem in their business go away or become less painful. This section should articulate why they should buy your proposed solution.
Costs
The costs section outlines how much money your proposed solution will cost. It gives your prospective customer an idea of how much money they will need to spend or invest to make their pain points go away or become more tolerable. The previous sections of your proposal, along with your selling activities up to this point, should have addressed their concerns and objections, making the costs justifiable.
Terms & Conditions
Many B2B sales come with terms and conditions. They add more detail around who does what and what products and services are included in the sale. Most often, they are outlined in a contract, but a good business proposal outlines them to ensure both you and your prospective customer are on the same page and understand what's included and what is not.
Next Steps
Good business proposals contain a section for next steps. This section tells your prospective customer what they need to do now that they have all the information they need to finalize their buying decision. This section serves as a call to action where their next step should be signing a contract and paying for your proposed solution.
Where to Find Other Business Proposal Templates
Besides using our free template, there are other ways to create your own business proposals and business proposal templates. The two ways we suggest include using a cloud-based business proposal creation software and hiring freelance designers to create business proposals and business proposal templates.
Cloud-based Business Proposal Template Tools & Software
If you're looking for a more professional business proposal solution, there are several easy-to-use alternatives on the market, including Better Proposals, Proposify, Qwilr, and Canva. The advantage of using proposal solutions like these is that they will save you time and potential headache. They also have features like tracking, e-signatures, and interactive pricing that can help you close your deals.
Better Proposals
Better Proposals' proposal software is affordably priced, starting at $19 for up to 10 proposals per month. They offer professionally-designed templates along with analytics, notifications, digital signatures, and custom domains.
Better Proposals' Consulting Proposal Template
Proposify
Proposify proposal software is cost effective starting at $19 per month for up to three users. They offer beautiful designs and an extensive business proposal template library. Features include interactive quoting, notifications, metrics, and online signatures.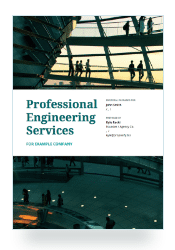 Proposify's Professional Engineering Services Proposal Template
Qwilr
Qwilr's marketing documents and proposal creation software is affordable for small businesses, with pricing starting at $29 per month for three users. They offer beautiful designs, a template library, ability to create unlimited proposals, and the ability to approve and accept payments.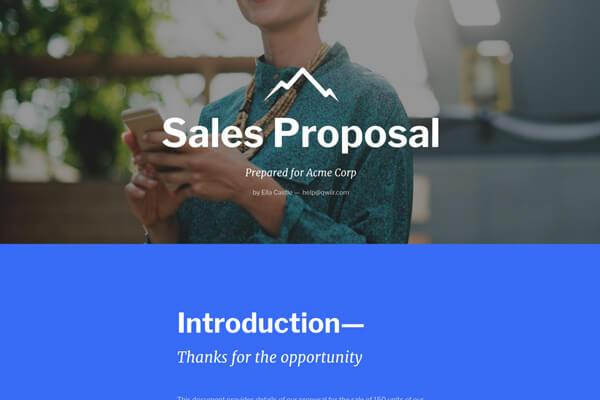 Qwilr's Sales Proposal Template
Canva
Canva is an online design tool that allows everyday people with no design skills to make their own business proposals and other marketing materials with drag-and-drop images and editable text boxes. If you decide to use Canva, we suggest selecting a design you like and using the business proposal components we've outlined to customize your template. Pricing for this service depends on the number and type of images selected.
Business Proposal Template Designers
You can also hire freelance designers to create a business proposal template for you. There are several resources you can use to affordably create a business proposal. Below are a few you should look into.
The Bottom Line
A business proposal template can be a great way to quickly generate proposals so you can better focus your time and efforts on the tasks needed to increase your conversion rates. While we've provided a free proposal template, there are also several tools out there to help your proposals stand out from the crowd.
However, a great business proposal can only take you so far. Before you even get to the business proposal stage, you need a full-featured CRM like Freshsales that will help you efficiently build relationships with the right people and increase the number of deals you close. Sign up for a free trial today.