Writing a business proposal is a key stage in the B2B sales process. It occurs after your sales pitch and once your prospects objections have been covered off. In this article, we provide a basic free business proposal template and access to 40 much more powerful Proposify Business Proposal Templates, which will help you close more deals.
You'll also need a CRM, like Freshsales, to manage your leads through the sales pipeline. Freshsales makes following up easy by allowing you to make calls and send emails directly through the CRM. With Freshsales' you can keep track of deadlines, contacts, and other proposal details. Click here to sign up for their free startup plan.
Free Business Proposal Template (PPT)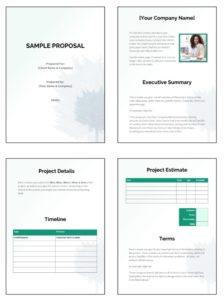 Click here to open in Google Slides
Click here to download in Powerpoint
Business Proposal Templates (Proposify)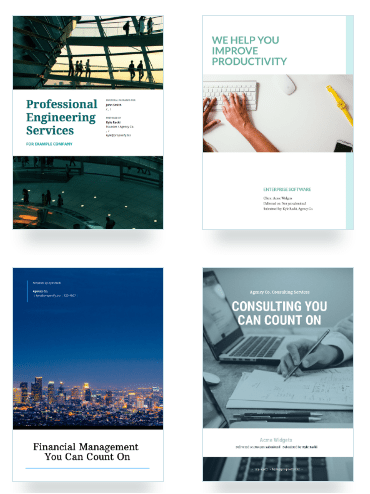 Click here to try Proposify's proposal writing software free (40+ templates)
If you're looking for a quick and simple business proposal template, click the left hand option to get our template in Google Slides and PowerPoint. Simply download them and fill out each section with your own business and project information.
If you're looking for a more professional and longterm solution, we recommend checking out Proposify on the right hand side. Proposify is a bit easier to use than PowerPoint, and provides a lot more features, like interactive pricing tables and email-open tracking. The designs are more modern than most PowerPoint templates, and clients will enjoy the ability to pay deposits online, among other conveniences.
---
How to Improve Your Business Proposal Conversion Rate
Using a high quality template is a good start, but there's few more important steps to help ensure your proposal is seriously considered.
Next, we'll walk through the entire proposal process; including how to must-have proposal features (like a pricing table) and tips for sending and follow-up with your clients.
Step 1 – Have a Follow-Up Meeting
To maximize your chances of closing the deal I strongly recommend having a one-to-one follow-up meeting or phone call with your prospective customer a day or two after your sales pitch. The purpose of this meeting is to ensure that you have properly covered off all of your customer's objections. If you do not cover off all of their objections first, your cost proposal is likely to be rejected outright, or at best devalued.
Once customer objections are covered off, you can go on to discuss the cost implications and your business terms. Being able to gauge your customer's reaction to costs and terms before you formally communicate your cost proposal will allow you to discuss and resolve issues before sending a formal proposal for sign-off. Sales experts expect to get 100% formal sign-off once they send their formal proposal because there should be no nasty hidden surprises.
With this step covered off, you are ready to write your proposal.
Step 2 – Choose A Proposal Template That Fits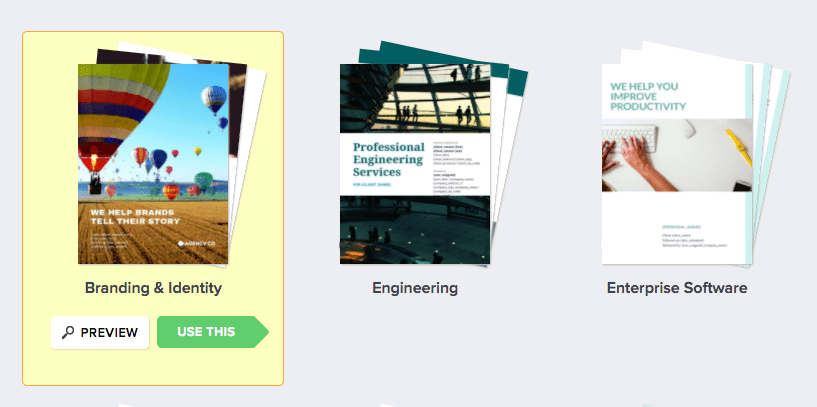 Select the business cost proposal template that most closely resembles your business type. Proposify has over 40 different templates in a range of industries, so we recommend heading there to start. Don't worry if you can't find a perfect match, however. Proposify templates are 100% customizable, so you can always change text and images to make it fit. In the image above, you can see that I have selected the brand agency business proposal template buy clicking Use This.
Step 3 – Customize Your Content
Regardless of what template you choose, you'll want to add custom data, images and charts. After adding some basic details in Proposify, like the title of your proposal and the name of your customer, head to the "Editor" to start modifying your proposal.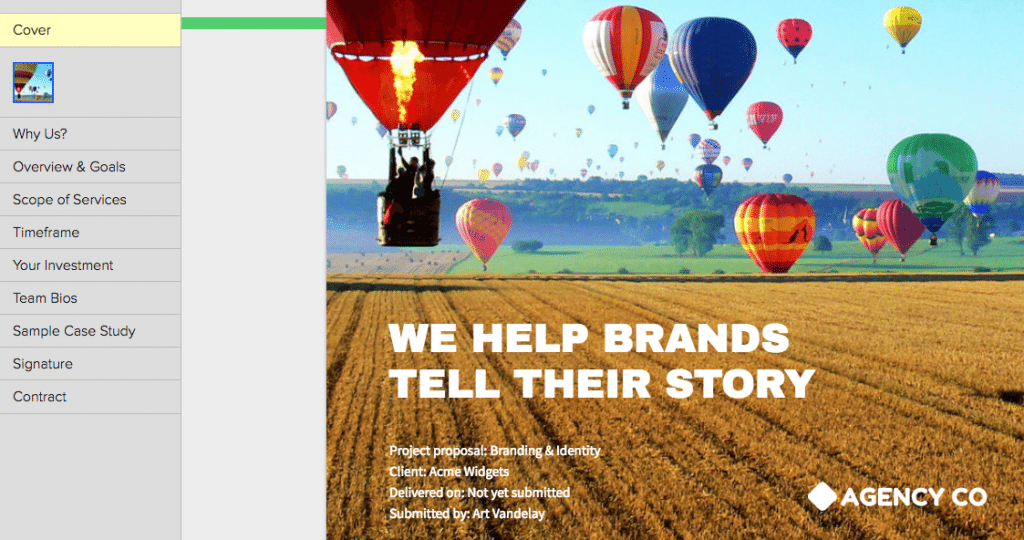 On the left hand-side you can see the title of each section for this business proposal template, which starts with Overview & Goals and finishes with Contract.
It's really very easy and intuitive to edit your content in six ways:
Editing Text – Editing text in Proposify in very straightforward and pretty much the same as editing text in MS Word or Google Word docs.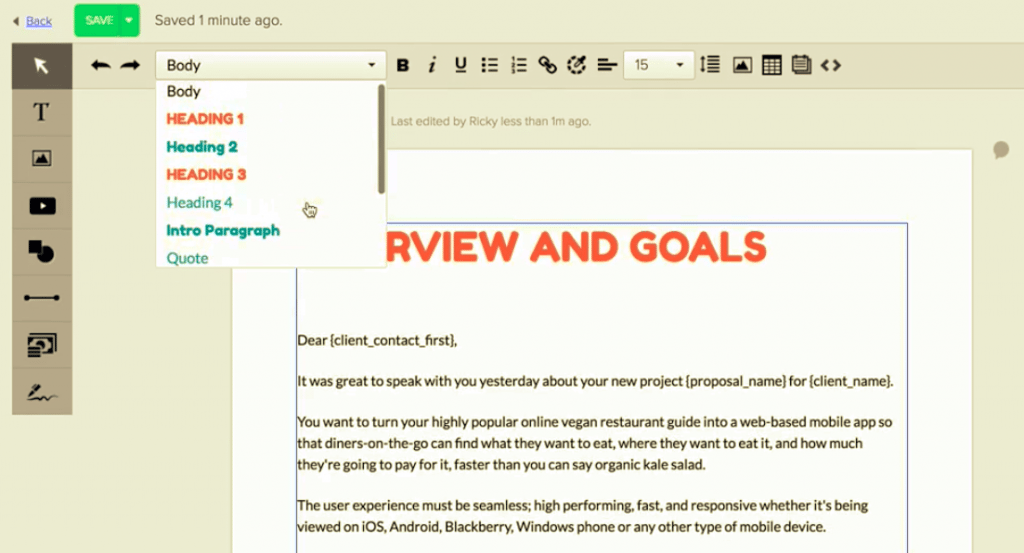 There's a list of different text styles to choose from and you can edit these in all the usual ways the ensure your text style is consistent throughout your template.
Adding & Editing Images – You can add images to your proposal. If you want to add an image, you simply click on the image button in the toolbar and all the images in your library come up.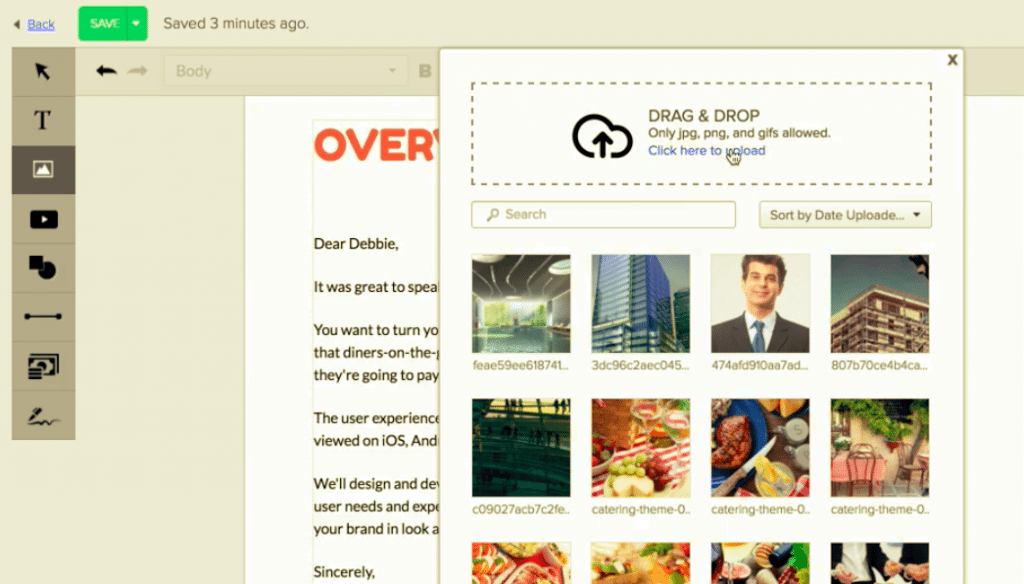 To insert the image, you can click to select or just drag and drop. You can then use edit tools for example to resize or rotate your image.
Adding & Editing video – You can insert videos from YouTube, Vimeo and Wistia. I recommend Vimeo and Wistia because even though they are paid video hosting platforms, both provide reader analytics and heatmaps so that you can see who viewed your videos and what parts of the video they were most interested in.
Adding & Editing Fee Tables – These allow you to communicate each cost of your proposal and they automatically add up to the total cost. After clicking on the fee table icon, you can choose the kind of fee table you want to use and then you simply edit the table the suite your purpose.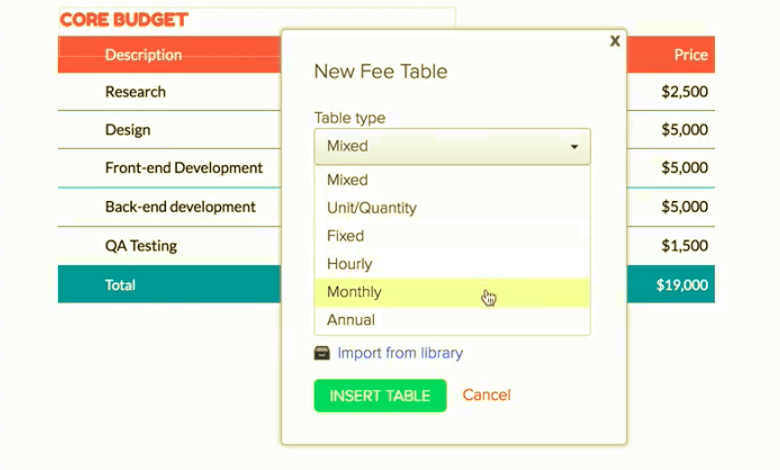 This feature is really simple to use and very powerful. For instance, you can add different types of fee like fixed or hourly. You can also decide which line entries to include in your total and you may just want to express some as options. Once you have finished editing, simply click save.
Adding & Editing Content Tables – These you can use for instance to communicate a timeline, milestones, lists or any other tabular kind of text content. Let's say you want to add a content table to express the timeline in your proposal.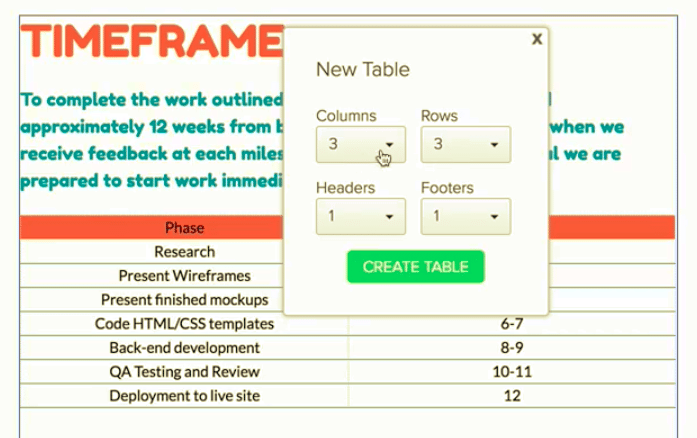 After clicking on the text icon, you then click the table icon, give your table a title and select how many rows and columns you need. It's really very intuitive and easy to use.
Adding a signature – The signature tool allows you to get a legal online sign-off from your customer to officially close the deal.
All you have to do is drag and drop your own signature button and your customer's onto the sign-off page. If you don't already have them on the system you simply click add contact and type in their name.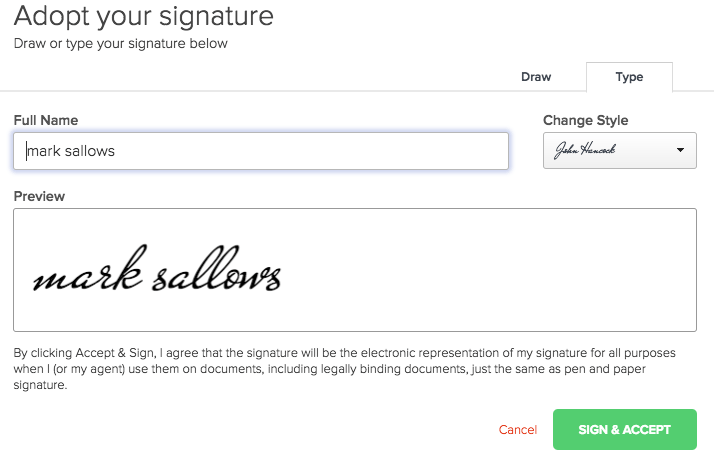 It's also easy for your customer to accept your proposal as the system will auto-generate an electronic signature for them and all they have to do is click Accept & Sign to confirm that the signature will be the electronic representation of their paper signature for legal purposes.
Once you have finished editing your business proposal template you are ready to send it to your customer.
Step 4 –Send your Business Proposal
Simply click the green arrow again in the top right corner and it takes you to the send screen. On this page you will be able to see all of the people that you have given signature buttons to.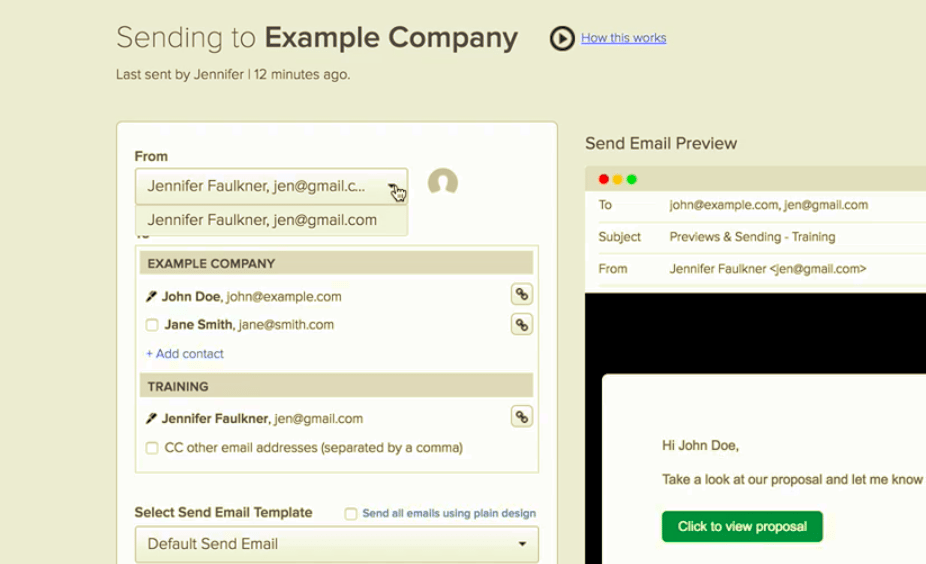 These people cannot be de-selected as they all have to sign the proposal. However, you can add more customer contacts if you wish.. You can also set-up a reminder email to go out if they haven't responded within a certain number of days.
Step 5 – Monitor your Business Proposal Analytics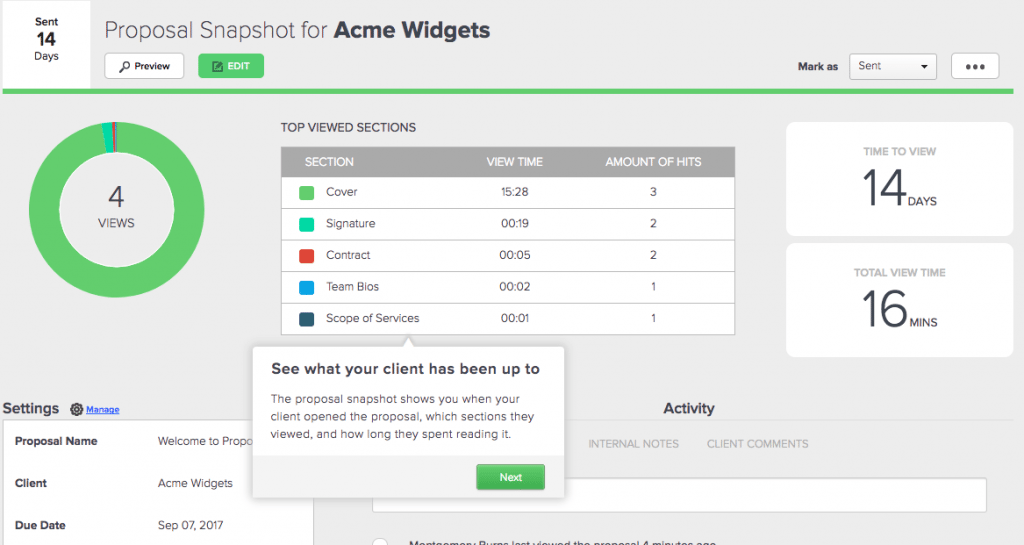 The proposal snapshot shows you when your client opened the proposal, which sections they viewed, and how long they spent reading it. It will also inform you when they accept your proposal and you can setup an automatic email to thank them when they do.
Step 6 – Follow-up with Your Prospective Customer
Any seasoned sales professional knows that more often than not your prospect will need following up before they get round to signing-off on your proposal. Proposify allows you to automate email reminders, as I explained above, but I would recommend picking up the phone to find out what's causing the delay if more than 5-working day's pass. Remember, the sooner it's signed, the less risk there is of something unforeseen causing your business proposal to "go south."
Step 7 – Congratulations, you have a New Customer!
The system will automatically notify you by email once your business proposal has been signed-off. You can also setup a thank you email, which will be automatically sent when all of the signatories have accepted the proposal.
Step 8 – Invoice your New Customer
Don't forget, the business isn't 100% secure until you have invoiced your customer and received their first payment into your bank account. Proposify can be integrated with small business accounting apps like Xero and QuickBooks to make this whole process more seamless and super-efficient.
Step 9 – Welcome your New Customer Onboard
It's also very important to remember that this may be the end of your new customer sales process, but it is also the start of a new customer relationship. Using a CRM like Freshsales, you can stay in touch with the customers you convert as a sales rep to ensure that they are successfully on-boarded. This will put you in a good position to get referrals from them further down the road. Click here to sign up for their free startup plan.
The Bottom Line
In this article I have provided you with a step-by-step guide, which you can use to write your own cost proposal and design your own business cost proposal template.
However, if you are generating proposals on a regular basis, I strongly advise using a business proposal writing app as it will not only save you more time than it costs, but it will also provide you with user analytics, which will help you to close more deals.
When you have a business proposal software, use it in conjunction with a great CRM like Freshsales to increase your chance of getting the sale.