The coronavirus has changed everything. Nothing is business as usual anymore, and nothing will ever be back to "normal" again. And, while businesses across the country are finally re-opening, people have had to find various ways of adjusting during these endless months of quarantine.
Fit Small Business, a leading digital resource catering to small business owners, dove into its own traffic trends and spikes, as well as Google trends, to answer the question: What were people searching for during the height of lockdown? We analyzed 3,000 articles across all categories on our website to find out which of our pages had the greatest increases in traffic (and Google searches) from March to April 2020—the period of the most severe stay-at-home orders in the U.=S. Here are seven Fit Small Business articles that saw some of the greatest traffic increases during lockdown, and what we can learn from their popularity.
1. How to Sell Art Online (401% increase in page views from March to April)
This article teaches readers how to develop new income streams by selling art online on a range of different platforms. Two factors may have led to the dramatic increase in interest in this topic. First, the move to online sales in art has mirrored the growth in ecommerce compared to retail across the board. No one is going to stores, let alone galleries, and to the extent that there's a market, it's shifted online. Second, as small businesses across the country have been struggling, there's been a significant shift toward buying local rather than ordering from megacorporations. Change has been fueled by social media, too. As TikTok has risen in popularity, many artists started sharing and selling their art on the platform.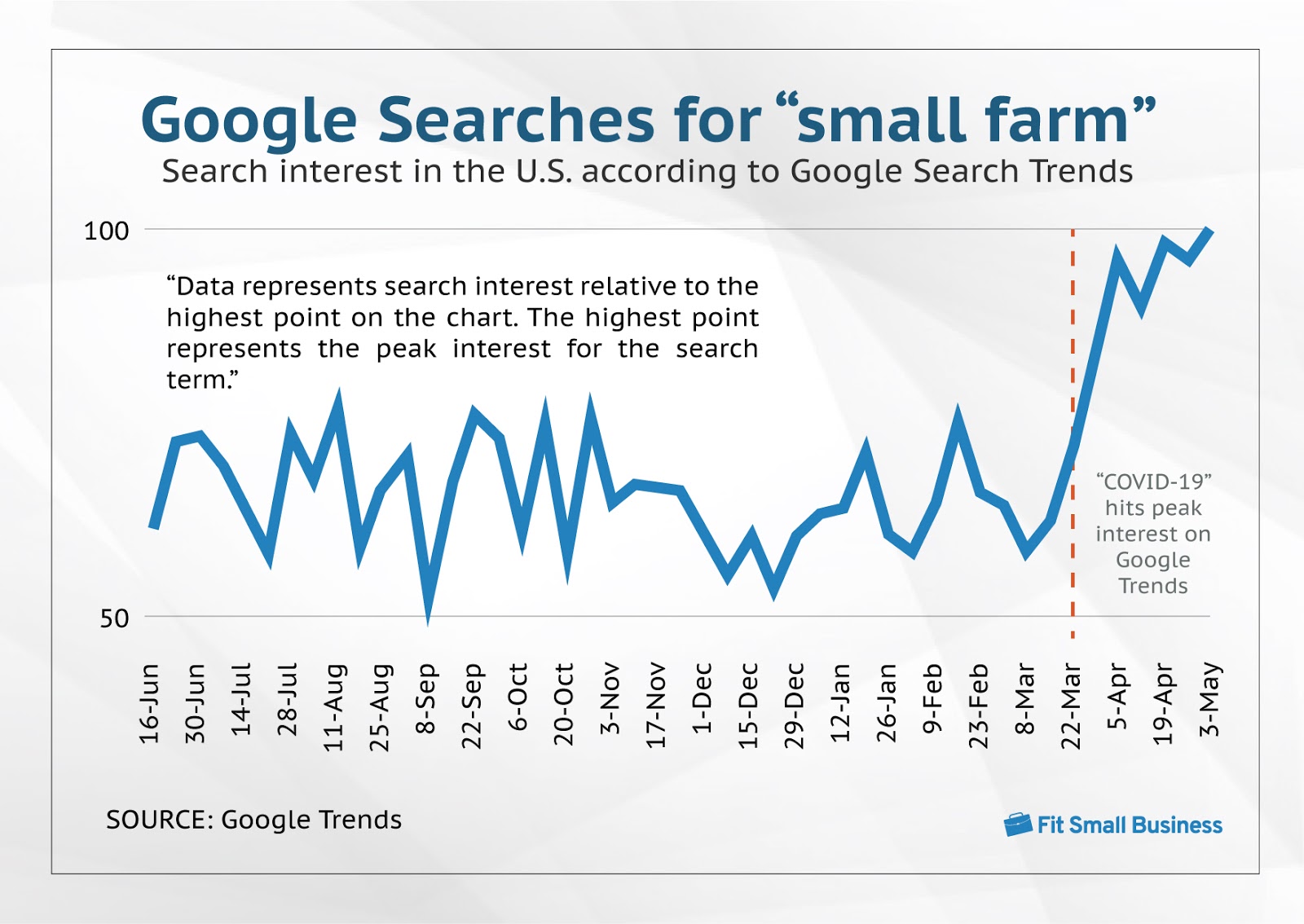 Our article is about the most profitable small farm ideas for people living in both rural and urban environments. Farming, like many industries, has taken a massive hit during the pandemic, and the government has provided a range of assistance programs to help farmers in need. The reasons for the surge in traffic, and the skyrocketing trend line for the Google search term? While people may be turning to our article for side-gig ideas when money is tight for everyone, many are using small personal farms just to feed themselves.
Because of the pandemic, many agents who were resistant to adopt virtual tour technology have been forced to dive into it headfirst. Even outside a national lockdown, virtual tours have advantages; they allow buyers a three-dimensional experience without leaving the couch. These virtual tours can also boost agents' internet presence, helping them compete in an increasingly online industry. Indeed, in some parts of the country, real estate has emerged relatively unscathed compared to harder-hit fields because of this technology. Virtual tours are likely here for the long haul.
4. How to Publish an E-book (27% increase)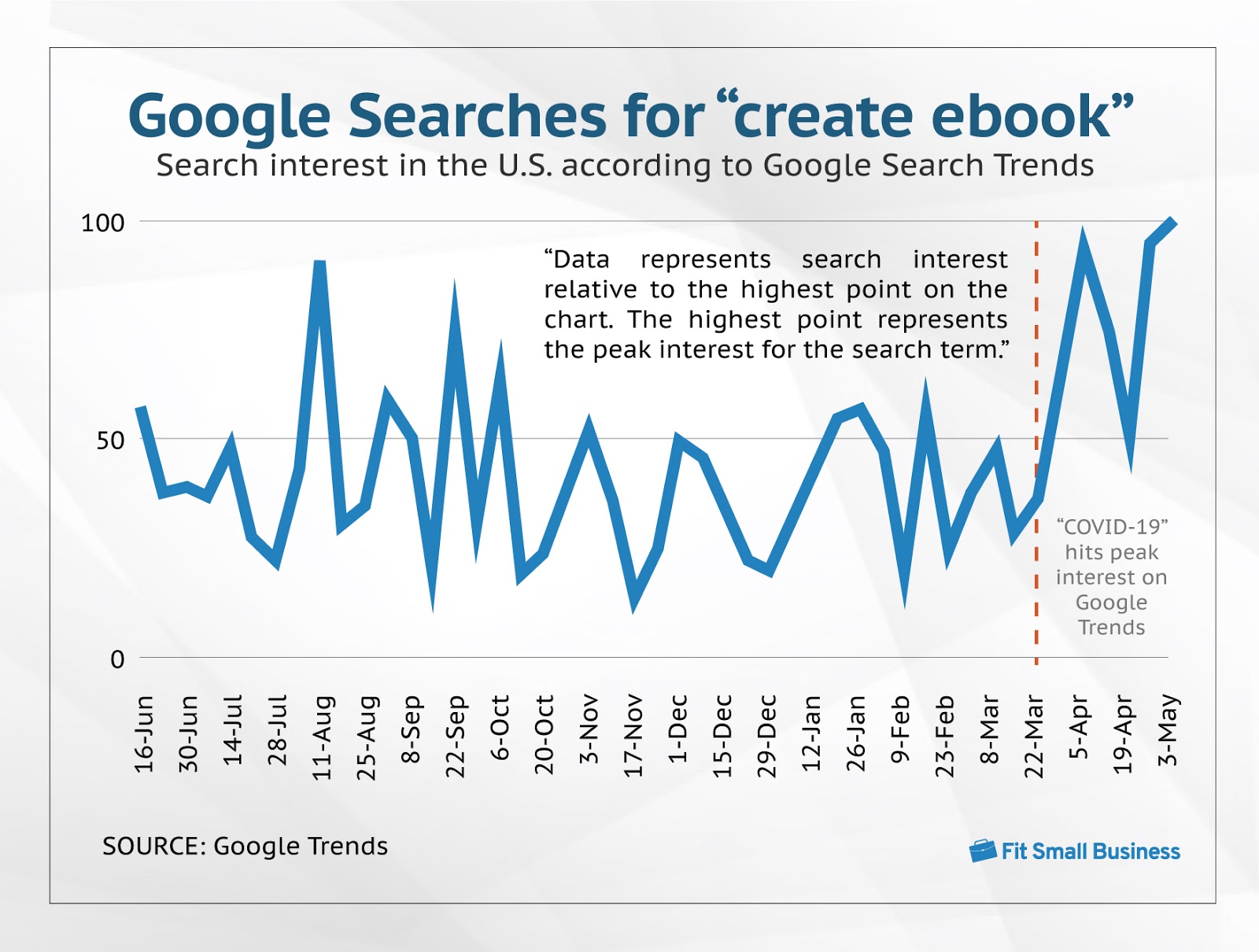 Our article educates readers on the steps involved in writing and publishing an e-book across various platforms. So why the traffic bump? With Amazon deprioritizing book shipments in favor of essential supplies, and many independent bookstores going belly-up, e-books are skyrocketing. Publishers are making more of them, and readers are responding.
Before all this began, e-books were already an increasingly popular way for aspiring authors to get their names out there with more reach, a faster turnaround, and zero overhead.
Now, writers have nothing but time on their hands to focus on writing—but the publishing industry can't keep up. Thus: how to publish an e-book?
With the movement to support local businesses surging, owners are capitalizing on this by promoting their own businesses themselves within their communities. Many businesses, such as these in Santa Fe, have turned to their local communities to drive positive brand awareness and to support others who may need help themselves.
This year, we've seen a significant shift toward subscription-based models for many businesses. and many of those same businesses have proven surprisingly resilient throughout the pandemic and subsequent economic downturn. Subscription models that have seen the most growth during the pandemic include beauty product boxes (for those who are hurting without their usual hair stylists, beauticians, and waxing technicians), meal kits (for everyone tired of their own cooking), and boxes of wine—for people who enjoy a drink or two in a trying time and like to have someone else pick the good stuff for them.
7. How to Sell an Online Course (92% increase)
An online course is a smart way to turn anything you know how to do into money. With over 40 million people having lost their jobs due to the shutdowns, many are using this time to build new skill sets. What's more, many educational technology firms are seeing a significant customer boost from both students and professionals. And it's looking like this trend will continue after the pandemic is over, as online courses are lower cost, more convenient, and wider-reaching.