Buying a Duplex, Triplex, or Fourplex: The Investor Guide
While duplexes, triplexes, and fourplexes are types of multifamily properties, purchasing these types of properties takes a keen knowledge of finances and investor strategy. The first step to buying a duplex, triplex, or fourplex is to decide on your budget. This process requires understanding each property type and all the requirements needed to manage tenants, finances, and maintenance successfully. While owning multifamily properties enables investors to consolidate expenses, they could also yield higher management demands and turnover rates.
One of the most important factors of investing is getting the right financing to make a strong offer and generate a profit. Roofstock is made to help you find, evaluate, and purchase a property, with extensive search filters, property data, third-party lenders, and tools to make an online offer. Start using Roofstock today to find your next deal.
Differences Between Duplexes vs Triplexes vs Fourplexes
Deciding on buying a triplex, duplex, or fourplex is an important step that will impact your investment strategy and financial outcomes. It's important to start with a clear understanding of the differences between a duplex vs triplex vs fourplex. A major difference is that duplexes, triplexes, and fourplexes have separate entrances for each unit—unlike complexes or condos that share a common entrance. These multi-unit properties also come with a variety of floor plans and have many different names, like doubles, triples, over-and-unders, or quadplexes.
Duplexes
A duplex is generally the most well-known type of multifamily property, and it is essentially defined as a single building with two living units. Some duplexes are symmetrical, but many others have units with two completely different layouts and entrance locations. In general, all duplexes share a wall or are stacked on top of each other. Duplexes do not have an interior connection between units.
When considering the purchase of a duplex, keep in mind that there are multiple strategies to generate a profit. For instance, you can learn how to rent out a duplex and combine the two rent payments to cover the costs of the building. Another common strategy is for the owner to live in one of the units and use the income from the second unit to offset their living expenses. Using this duplex investment strategy is a great way to build wealth and begin investing in real estate.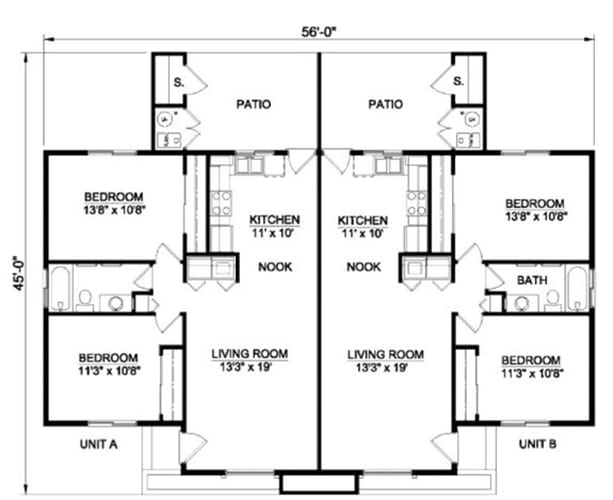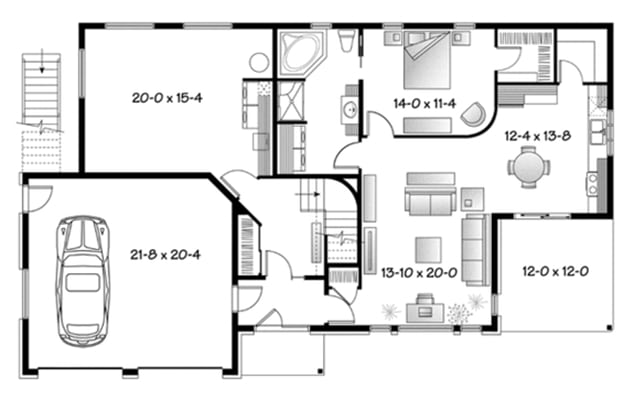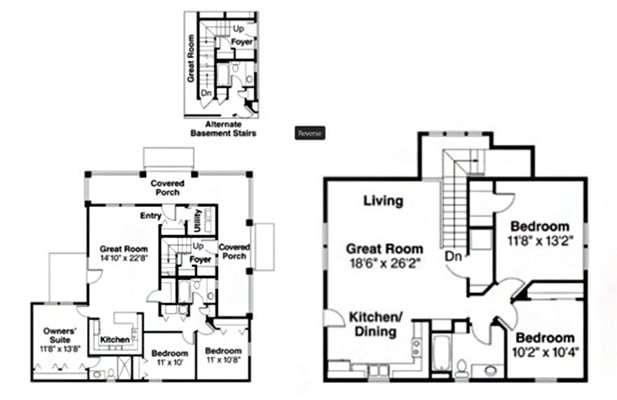 ---
However, the risk of using a duplex as an investment property and your primary residence is the impact of a vacancy. If your tenant moves out, you may lose a significant portion of your income. Therefore, it's important to have several months of reserves so you are prepared for emergency situations or vacancy possibilities. Another possible way to mitigate this risk is by buying a triplex, which can offset the financial loss from vacancy.
Triplexes
A triplex apartment building includes three separate living units. It can be one or more stories tall, depending on the building's layout. A triplex apartment building can also be connected to other units or buildings, like row houses and townhomes. Investors looking to buy their first rental property often choose duplexes and triplexes because of the variety of ways to generate income and minimize expenses.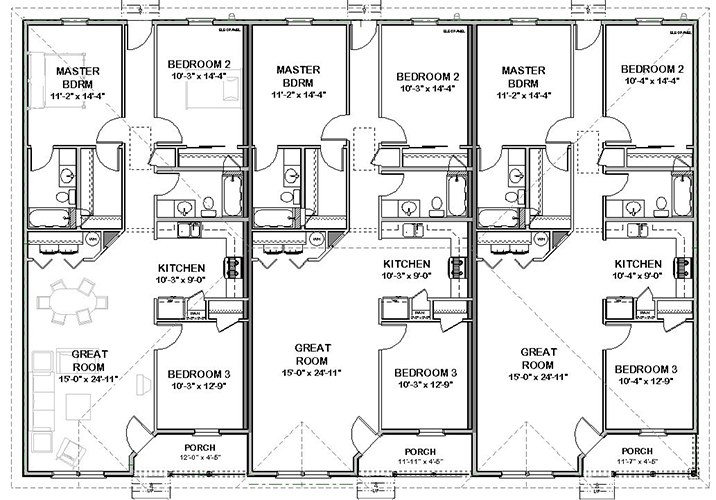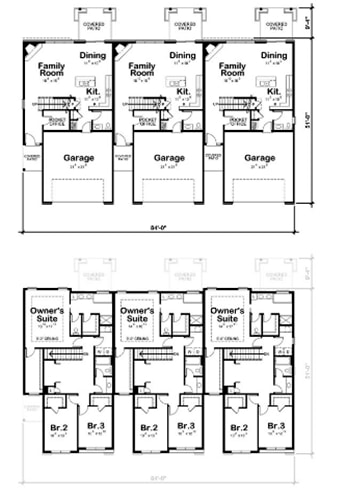 ---
Fourplexes
On the other hand, a fourplex or quadplex is a building with four units and four separate entrances. With fourplexes, the management demands can increase significantly. However, buying a fourplex can also generate a high profit and minimize the risk of income loss from vacancies. Even if you have a vacancy in one or even two units, the income from the remaining units can still cover expenses and maintain a positive cash flow.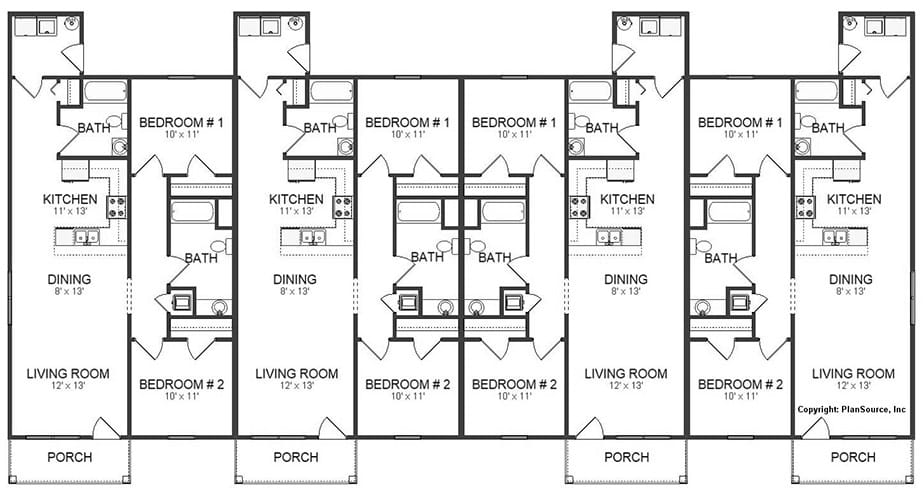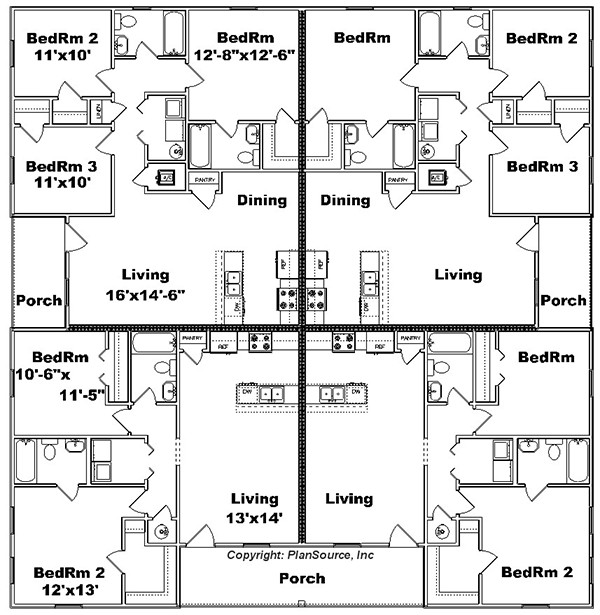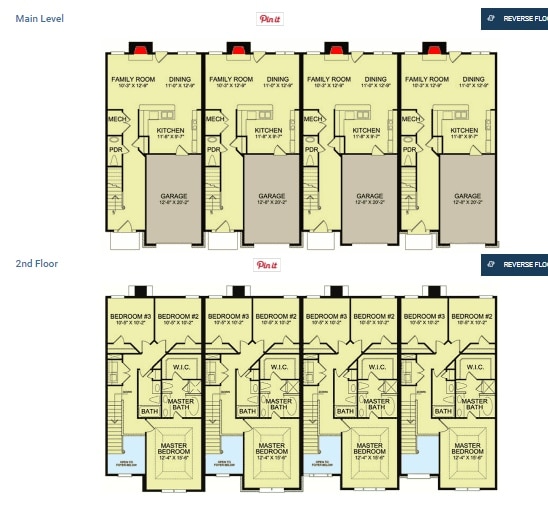 ---
Ultimately, the size of the building you select—whether it's a two-, three- or four-unit building—should be based on your financial evaluations and ability to balance rental income and managerial responsibilities. The more units, the higher the potential income, but the more intensive it will be to keep the building rented, handle tenant issues, and manage maintenance and repairs.
Make sure to evaluate each property individually, and research the most important things to know before buying a duplex, triplex, or fourplex, like the property condition, potential repairs, and management costs and requirements. Compare the potential income, benefits, and risks of a multifamily property with other investment property types.
Comparison With Other Investment Properties
To determine if buying a duplex, triplex, or fourplex is the right way to start or build your real estate investing career, you need to compare and evaluate other investment strategies. Depending on your current finances, income needs, real estate knowledge, availability, and ability to find investment properties for sale, multifamilies may or may not be the best investment decision.
A few other common real estate investment properties and strategies are:
Regardless of the type of property you purchase, having a property management strategy in place is integral to your success. With Avail, an all-in-one property management tool, you can immediately implement efficient systems for every area of property management. Features span from screening tenants, setting rent prices, and collecting rent payments to managing maintenance requests and communicating clearly with tenants. Learn more about how Avail works for landlords.
Pros & Cons of Duplex, Triplex & Fourplex
Every real estate investment strategy has strengths and weaknesses and varying levels of risk. In fact, even between two relatively similar duplexes or triplexes, each individual property comes with unique pros, cons, and potential risks. In general, however, owning a duplex, triplex, or fourplex will create similar benefits and drawbacks. Carefully evaluating the strengths and weaknesses of all multi-unit properties you find and making wise decisions is what will determine your success as a real estate investor.
When considering a multifamily property investment, the top pros and cons to consider are:
PROS

CONS

Good entry to investing
Live near tenants
Ability to live in one unit and generate income
Higher management demands than single-family properties
Diversifies rental income
Higher tenant turnover
Consolidates expenses
Less tenant care
Pros of Investing in Duplexes, Triplexes & Fourplexes
For new or inexperienced real estate investors, buying a duplex, triplex, or fourplex can be an incredible strategy to build their portfolio, wealth, and gain experience as a landlord. In fact, you can purchase a multi-unit property as a primary residence and rent out the remaining units to minimize the financial pressure.
Owning a multiplex property, living in one unit, and collecting rent from the others is a powerful strategy to break into real estate investing, diversifying your rental income at the same time. With triplexes and fourplexes, the rental income can fully cover the mortgage and additional expenses because expenses like maintenance costs are often consolidated in multi-unit homes. For instance, if you own four single-family homes, that's four roofs to maintain. If you're buying a fourplex, you are only concerned with one roof.
In effect, you'll purchase a place to live, and your tenants will pay for you to live there—all while the property increases in value and builds equity. Some owners later buy another home to live in and rent out their former plex-unit residence, increasing profits even further.
In addition, learning how to buy a duplex, triplex, or similar property and renting out spaces gives you a good entry into many aspects of being a real estate investor. You'll learn more about the financing process, how to market a rental, how to screen tenants, and what it takes to manage multiple renters. You may choose to hire a property management company if it fits your budget, or you may opt to do the work yourself with the help of property management software like Avail or TenantCloud.
Finally, one of the most important benefits of investing in a duplex or other multi-unit property is diversification. When owners of a single-family rental property have a vacancy, their income plummets to $0, although the expenses do not decrease. Multifamily property owners, on the other hand, have multiple streams of income from each unit. Even if and when a unit is vacant, there is still income to cover expenses and potentially even continue to generate a positive cash flow.
---
Cons of Investing in Duplexes, Triplexes & Fourplexes
Even though there are many financial advantages to buying multiple units, it is not a risk-free, care-free, or hands-off investment. Before buying your first duplex, triplex, or fourplex, make sure you're aware of the risks and prepared for the downsides.
For example, if the property is your primary residence, you'll be living in extremely close proximity to your tenants. This can pose challenges, especially if you do not set clear expectations with your tenants. On-site landlords have been known to have tenants knock on their doors at inopportune times and feel like they're on-call constantly.
In addition, the unfortunate reality with most multi-unit renters is that tenant turnover is high and tenant care is low—especially when compared to single-property rentals. Renters of duplexes, triplexes, and fourplexes tend to have more of an "apartment mindset." Unlike single-family renters, who often treat the home as their own and get involved in their community, apartment renters are more transient. They don't always care for the property as much as you would prefer, which can increase maintenance costs and repairs.
---
9 Steps on How to Purchase a Duplex, Triplex, or Fourplex
The process of buying a duplex or multi-unit home may seem similar to buying a primary home, but there are many additional steps and important evaluations to make. For instance, both transactions require you to create a budget, find a lender, and decide what type of property to search for. However, the budget, lender, and type of property in a multifamily investment property will look much different than buying a single-family home, and typically require more in-depth knowledge, research, and time.
Before purchasing a multifamily home, make sure that you know the steps involved in the process and be prepared to do plenty of research and evaluations. The steps to buy a multifamily home include:
Decide on your budget: This calculation should include your finances, closing costs, carrying costs, renovation costs, and potential repair costs.
Examine different types of multifamily properties: Research specific differences between duplexes vs triplexes vs fourplexes in order to choose the best type of property for your financial goals and level of commitment.
Research neighborhoods and choose a location: The location of your property may be the difference between a profitable investment and a major financial loss. Run a rental market analysis (RMA) to get a better understanding of potential neighborhoods and the local rental market.
Choose a lender and get approved: There is a wide variety of investment property financing options, and it's absolutely key to choose the right type of loan and the right lender.
Choose a real estate agent: Not all agents are familiar with investment property searches, but finding an agent who knows how to find and evaluate potential investments is key to making smart choices.
Find a duplex, triplex, or fourplex: Finding the right investment property can be the longest part of the buying process, but taking the time to evaluate each property in detail will pay off in the end.
Estimate profits, losses, and other investment calculations: Before you submit an offer, make sure to calculate how much to charge for rent, total expenses, and use the gross rent multiplier (GRM) to evaluate your investment.
Make an offer: With your calculations in hand, submit a competitive offer to the seller.
Get funding and close on the property: The closing process is typically about 45 days when you work with a lender, and you'll get the keys on closing day.
Make sure to use the right tools during the purchase process. For example, Zillow can help you gather many property and real estate market details and has extensive search filters to help you easily find potential deals. Every listing includes tax history, property value estimations, and important community information. Search for multifamily properties with specific features, or use keywords like "triplex" or "quadplex" to further narrow down potential properties. Start using Zillow for free.
Bottom Line
Multi-unit properties, including duplexes, triplexes, and fourplexes, can absolutely be a strong investment for first-time, new, and experienced investors. Learning how to buy a triplex, fourplex, or duplex is more involved than residential real estate purchases, but with the right steps, it can lead to a strong return on investment.