A "foreclosure" is the process in which a lending institution tries to recover a portion of the outstanding mortgage balance from a homeowner who has defaulted on their loan. They typically do this by selling the property at a foreclosure auction. Buying a foreclosed home offers real estate investors a great opportunity to buy low.
If you want to buy a foreclosure and need financing, contact Visio Lending. They can get you prequalified online in just a few minutes and they offer competitive interest rates. Their loans can be used for the acquisition and renovation of a foreclosed home.
Here are the 5 steps needed when buying a foreclosure:
1. Understand the Foreclosure Process
Foreclosed homes are generally 1-4 unit residential properties that have been repossessed by a lender because of nonpayment by the previous owner. The lending institution forecloses on the home and then tries to sell the property in an attempt to recoup as much as it can. It's typical for lenders to sell foreclosures at a discount.
A foreclosure goes through a process before the property is actually sold. First, the lender must file a public notice with the county recorder's office, most often referred to as a notice of default (NOD). In many cases, the lender is also required to post a foreclosure notice on the front door of the property.
Once the NOD is issued, a grace period – also known as pre-foreclosure – goes into effect for one month or more. During this time, owners have an opportunity to settle the debt, either by paying it off or by selling the property through a short sale. A short sale is when the lienholder agrees to sell the property for less than the balance of the outstanding mortgage. Keep in mind, buying a short sale is a longer process than buying a non short sale and can take 90 – 120+ days to close.
If the owner can't settle or sell the property, it will be offered at a foreclosure auction. The pending sale is recorded with the county and often reported in the legal notices section of the local newspaper. Real estate auctions are typically held either on the courthouse steps, at the subject property, or at an auction house. The property is then sold to the highest bidder.
If the foreclosed home doesn't sell at auction, the lender takes possession of the property, at which time it becomes real estate owned (REO). The lender will attempt to sell REO properties by listing them for sale with a local real estate agent or at a liquidation auction.
When it's a Good Idea to Buy a Foreclosed Home
It's a good idea to buy a foreclosure if you want to purchase a property at a discount. This could be beneficial to you if you're a fix and flip investor as well as if you're a long term investor. Beware, however, that while not all foreclosures are in distressed condition, many of them are since the owner often can't afford to keep up with the repairs.
2. Choose an Area and Research it
It's possible to find foreclosures in almost any neighborhood and at almost any price point since 1 out of every 2,043 properties in the country is a foreclosure. Even homes in affluent neighborhoods are susceptible to foreclosure. What this means for you is that you can find foreclosure opportunities in growing neighborhoods that offer a great investment.
Don't think that just because you're looking for a foreclosure that it has to be a beat-up house in a run-down neighborhood. Make sure that the foreclosures you're looking at are located in a neighborhood that attracts tenants and home buyers. Zillow and Trulia can help you better understand how vibrant a neighborhood is in terms of population growth, public goods, and price appreciation.
When choosing a neighborhood to purchase in, look at the school district rating, take note of abandoned or vacant properties, and don't buy on a street that has multiple abandoned properties since this brings home values down. Look at the walkability score of the neighborhood online and see how far away shopping and public transportation are. Remember that a tenant or buyer is going to live in the neighborhood, so you don't want all the businesses to be closed, streets littered or no access to public transportation.
Check out our guide on finding properties to flip, which goes into detail on how to choose a neighborhood, what amenities are important, and more. It's a helpful guide for both short term flippers and long term buy and hold investors.
"Once you've chosen a neighborhood you want to purchase in, you need to research it. You need to know city and suburban distinctions and how to do great comps so you have a realistic after repair value (ARV) that your renovated property can sell for. For example, houses even a half mile away may not be a true comparable sale based on age, size, neighborhood or school boundaries." – Debra Nemeth, Senior Managing Partner, Urban Prairie Invest
3. Find Foreclosures for Sale in Your Area
Real estate investors can find foreclosed homes a number of ways. Banks and mortgage lenders typically make their foreclosure auctions and REO listings public. Online sources and newspapers are other ways to find foreclosures. We recommend looking online yourself and working with a real estate agent at the same time.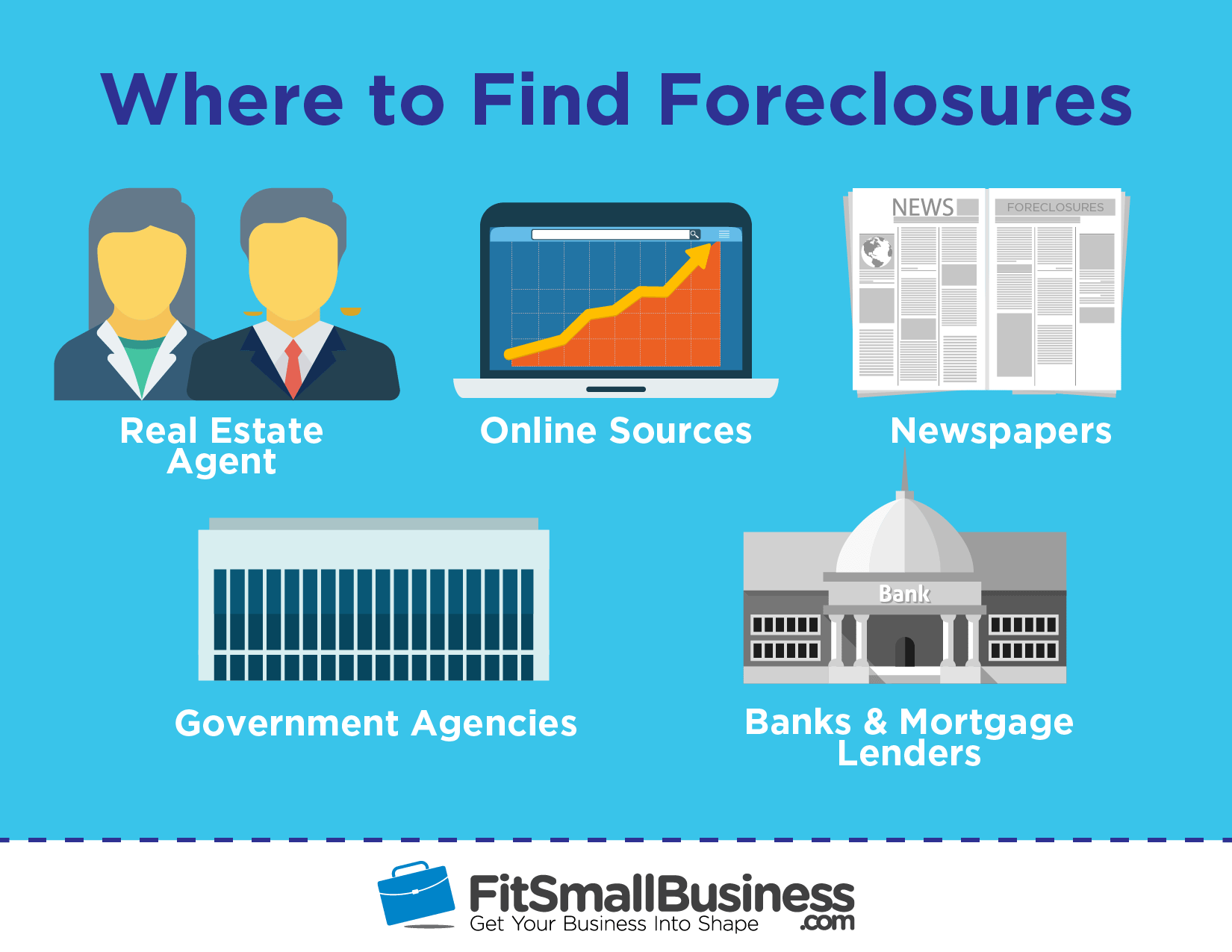 Specifically, there are 5 ways in which you can find a foreclosed property for sale:
Find Foreclosures with Real Estate Agents
In addition to helping you in the buying process, real estate agents can also be excellent sources for finding foreclosed homes. Their connections to other sellers, agents, and lenders mean they will typically have the best sense of the foreclosure market. We recommend that you work with an agent while doing your own search concurrently.
You can find real estate agents by asking friends and family for referrals. Your local bank, credit union or mortgage lender can usually provide their recommendations for real estate agents too. Other good sources include contacting a neighbor who has recently sold their home and visiting an open house in your neighborhood. If you're still having trouble finding a real estate agent, look on Google, Zillow or Trulia.
Pros and cons of finding foreclosures with real estate agents include:
Pros:
Leverage their time and expertise (it's their full-time job)
Multiple listing service (MLS) give agents access to a large number of foreclosures
Banks often list properties with agents
Agents can help with price negotiations
Cons:
Inexperienced agents can waste your time
Most real estate agents are seller's agents, which means they must represent the interests of the property seller
Agents are motivated to sell, not necessarily get you the best deal
Find Foreclosures through Online Sources
You can find foreclosed homes through online sources, which can include online county public records databases as well as websites that specialize in listing foreclosed homes, such as Foreclosure.com, Zillow, Hubzu, and RealtyTrac.com. You should use these sites to find out more information about the foreclosures in your area.
For example, you can use search functions on foreclosure sites that let you narrow down your search by zip code and price range. Then look at the property photos, the size, and condition of the house and the property type (single family home, etc.). You should find out as much about the foreclosed property as you can online before you get in the car to go look at the property.
Once you've found out about the property, pop the address into Zillow and see what homes in that area are selling for. Keep in mind this isn't an exact science, and a real estate agent can better help you with comps, but it gives you an idea of what you should pay for the house.
The pros and cons of using online sources to find foreclosures include:
Pros:
Ease of access
Expand your search nationally
Set specific search criteria
These websites often offer helpful tips, tools, and calculators
Cons:
Heavy competition
The best deals will be snapped up quickly
County public records searches can be tedious and recordings may be outdated
If you want to get more information on a foreclosed home such as the price, size, and type of property, check out Foreclosure.com. They offer a comprehensive list of nationwide foreclosed properties and they offer a free 7-day trial to use their site.
Find Foreclosures in Newspapers
Local newspapers can be the best sources for properties early in the foreclosure process, such as when NODs are issued or when properties are going to be offered in public auctions. Since more investors are using online sources, newspapers can be a good way to get a head start on finding foreclosures.
Grab a few local newspapers and go through their lists of foreclosures as many newspapers have the same information as online. They often list foreclosures under the legal notices section. If there's a local legal newspaper in your community, it's a good idea to look for foreclosures and auction sale dates in that. For example, in Philadelphia, The Legal Intelligencer publishes a list of sheriff sale dates and the houses that will be up for sale.
Pros and cons of using newspapers to find foreclosures include:
Pros:
Source of distressed properties before they reach the general market
Can get a steeper discount by working with the homeowner, or with the lender before they take possession
Good early source for FHA and VA properties (discussed further below)
Cons:
Lots of competition from the most sophisticated investors
Properties found at this stage may need to be purchased as an all-cash deal
Find Foreclosures through Government Agencies
Government agencies often include a list of homes that have gone into foreclosure for non-payment of the mortgage but may also be related to property seizures for violations. Primary sources of government foreclosures include Fannie Mae, Freddie Mac, and HUD's interagency listings (including FHA, VA, IRS, etc.).
You can use government agencies to find foreclosed properties that aren't always listed in other sources. HUD has their own list of foreclosed homes and these are specifically for properties that had an FHA loan that was defaulted on. You can look at all the government agencies listed above and see which homes are in your area that appeal to you. Most of the sites let you search by price range and zip code.
Pros and cons of finding foreclosures through government agencies include:
Pros:
Buy properties before they reach the general market
Large selection & low prices in general
Often have time to obtain financing
Some agencies, like FHA, may provide financing
Cons:
Buying process is more paperwork-intensive
Buying process can be slow
All cash purchases required on certain properties
Find Foreclosures at Banks & Mortgage Lenders
Banks and mortgage lenders can be excellent sources of foreclosed homes that either didn't immediately sell at auction or are REO properties. These are properties that lenders are selling themselves and most major lenders like Bank of America, Chase, and Wells Fargo will have their REO homes listed online.
You can browse these sites the same way you would look for non foreclosure homes. Most of these banks have REO sites that let you search by zip code, city, and price range as well as number of bedrooms. You can then contact the REO agent – whose contact information is beside the listing – to set up an appointment to see the property.
Pros and cons of finding foreclosures through banks or lenders include:
Pros:
Process is most similar to purchasing non-foreclosure homes
No auctions
Can use financing to make the purchase
Can order inspections and searches prior to closing
Cons:
Heavy competition
Prices are less heavily discounted
Property must be purchased "as is"
Banks may attempt to wait for better offers
4. Choose a Property Below Market Value
It's sometimes possible to find foreclosures that sell for as little as half of their fair market value at auction. When you're assessing potential foreclosure purchases, the most important thing to check is its sale price (or starting bid price) versus the value given by real estate websites such as Zillow or Trulia.
If the REO price or the auction price rises above the fair market value, it's probably not a good investment. If the sale price is below market value, however, it could be a great opportunity and should be explored further. While there's no hard rule, you should aim to buy foreclosed homes at least 30% less than the market price.
What you look for in foreclosures depends on your exit strategy. You may want a turnkey property that is more expensive but doesn't need any repairs if you're going to buy and hold the property and don't have time to renovate it. If you have the time or expertise for renovating the property, then don't be afraid to buy a property that needs to be fixed up.
Usually, it's a tradeoff, the more expensive the property the better condition it's in. Most fix and flippers want a less expensive property that requires more repairs so there's enough equity once the property is rehabbed. Regardless of if you're a long term investor or a fix and flipper, the property should fit in with your budget and your exit strategy.
5. Finance Your Foreclosure Purchase
Cash is the preferred way to purchase foreclosed properties since it enables a quick sale. This is because cash deals aren't subject to lender requirements, which are strict when it comes to the purchase of foreclosed properties. However, if you're not paying cash for a foreclosed property, there are three types of loans that will work.
Below is a table summarizing who each type of loan is right for:
Common Foreclosure Loans at a Glance
| Type of Loan | Best for |
| --- | --- |
| Hard money loan | A fix and flipper who wants short term financing to compete with cash buyers |
| Permanent mortgage | A buy and hold investor who wants permanent financing and lower interest rates |
| FHLMC HomeSteps | Investors who don't want to worry about an appraisal or private mortgage insurance |
Hard Money Loans
Hard money loans are offered by a variety of lenders and are available to investors who fix and flip houses or long term investors looking for bridge financing. Bridge loans allow borrowers to buy a foreclosure and complete major repairs, then refinance when the house is more likely to qualify for permanent financing.
Hard money loan rates, terms & qualifications include:
Down Payment: 10-20%
Credit Score: 550+ (Check yours free here)
Loan Term: 12 months
Rates: 7 – 13%
Origination fees: 1.5% – 3%
PMI: N/A
Funding Time: 10 – 15 days
For more information on where to find hard money loans, check out our nationwide hard money lender directory where you can search for a hard money lender by state.
Permanent Mortgage Financing
Permanent mortgages for investment properties can be either long term conforming or non conforming loans. They're available through nearly all major banks, mortgage providers, and mortgage brokers. Requirements vary for each of the three loan types. For example, while permanent mortgages are available for investors, FHA and VA loans are for owner-occupied properties only.
More significantly, all permanent mortgages for foreclosed properties are "end loans." That means the subject property must be in move-in condition, there can't be major deficiencies or safety violations. Unlike rehab loans, conventional mortgages aren't available for renovations in the event that the property needs major repairs, which is common with foreclosures.
Permanent mortgage for investment properties rates, terms & qualifications:
Down Payment: Single family – 15%, Multifamily – 25%
Credit Score: 640+ (check yours free here)
Term: 10-30 years
Rates: 4 – 6%
Origination fees: 0% – 1%
PMI: Required with less than 20% down
Funding Time: 30 – 45 days
For more information on investment property loans, how they work, terms and lenders, check out our investment property loan guide.
FHLMC HomeSteps
HomeSteps by Freddie Mac is a loan program available specifically for the purchase of foreclosed properties held by the Federal Home Loan Mortgage Corporation (FHLMC). Major advantages of the program are that appraisals and mortgage insurance aren't required for these loans. They are suitable for both investment properties and primary residences.
FHLMC HomeSteps are:
Not recommended for properties that require extensive repair or renovation
Available through three lenders: BB&T Home Mortgages, Nationstar Mortgage, and Regions Bank
Special note on condominiums: Project eligibility requirements may be waived
The program is available in just 10 states – Alabama, Florida, Georgia, Illinois, Kentucky, North Carolina, South Carolina, Tennessee, Texas, and Virginia.
FHLMC HomeSteps rates, terms & qualifications:
Down Payment: Single Family- 15%, Multifamily 25%
Credit Score: 620+ (check yours free here)
Term: 10-30 years
Rates: 4-6%
Points: 0-1
PMI: N/A
Funding Time: 30 – 45 days
Checklist for Buying a Foreclosed Home
Foreclosures are unique when it comes to buying property and you need to be aware of things that wouldn't concern you if you were buying a non foreclosure. Foreclosures often require repairs, so it's important to factor these repairs and the contractors who complete them into your budget.
Download your Free Foreclosure Checklist Here
Here are 7 things that you should keep in mind when looking for a foreclosure opportunity:
Find an agent specializing in foreclosure – A real estate agent who specializes in foreclosures is your best ally in the process. They can help narrow down the field of properties, based on specific criteria that you provide. They can also be a major asset when it comes to negotiating price and terms.
Get preapproved for a mortgage – If you'll require financing, get a pre-approval well in advance. Though you may not be able to get approval for financing on a specific property, you can at least make sure that you're qualified to buy at the price point that you want. A preapproval letter can help you compete with all cash offers.
Know how long it takes to sell a home in the market – If you're planning to purchase, rehab, and sell a foreclosure, you'll need to move as quickly as possible in order to maximize your return. Properties require carrying costs, such as financing, taxes, insurance, and utilities. The longer it takes to sell in a particular market, the harder it will be on your bottom line.
Know the market value of comparable homes – This important to know in order to understand what kind of discount you're getting the foreclosed home at. In addition, if the property will require repairs and renovations, you'll want to make sure that you can still make a profit after all the additional expenses.
Get a detailed home inspection – Foreclosed properties are typically sold "as is." That means that the bank will not make any repairs to the property prior to closing. For that reason, you must know in advance what the extent of repairs will be, as well as the approximate costs to complete them. This will affect how much you are willing to pay for the property. (In the case of auctions, you may not be able to get a home inspection.)
Have contractors lined up – Whether you plan to rent the property or fix and flip the property, you want any repairs and renovations completed asap. This will mean having contractors lined up and having a good idea of what they'll be charging you.
Have extra cash – Even a full home inspection can miss hidden damage. Those buying a foreclosed home will want to have extra cash (or rehab financing) available in order to cover unexpected expenses as well as the additional carrying costs caused by delays.
Pros and Cons of Buying a Foreclosure
Buying a foreclosure can be a great long term rental investment or a great short term fix and flip investment. However, it can also be challenging, especially for new investors. Navigating the foreclosure process takes patience and knowledge.
Here are the pros and cons of buying a foreclosure:
Pros:
Potential to purchase property at discounted price
You can generally use traditional financing if the condition of the property allows it
You can put sweat equity into the home
You may find properties that other investors aren't considering
Good for short term and long term investors
Cons:
If you purchase the property at auction you won't be able to inspect it first
Banks can be difficult to negotiate with and often try to wait for a higher offer
There may be code violations from work being performed by unlicensed contractors
Foreclosed condominiums can be difficult to get financing
You need to run a title search to make sure the property is free of liens
"Foreclosed properties are likely winterized by the bank. This process can wreak havoc on a structure, as modern houses are not meant to endure wide ranges of temperature and humidity. These houses also typically have their electricity and gas service shut off. Buyers should request that utilities be restored at least a day or two prior to a home inspection, to give the inspector the best chance of identifying issues. " – Welmoed Sisson of Inspections by Bob
8 Common Problems with Foreclosures
There are 8 common problems you're likely to encounter when buying a foreclosed home. To help you avoid these pitfalls, we've outlined each one below.
Foreclosure problems include:
Auctions – Auction sales can occur on the courthouse steps, at an auction house, or the property itself. While buyers can often buy auctioned properties at a significant discount, they can be tough for novice investors. That's because you're typically not allowed to inspect the property before buying it. Additionally, auction-style bidding has the potential to push the price of the properties to unprofitable levels. Buying a house at auction, especially foreclosures, is best left to those who have significant experience buying foreclosed properties or who are working with trusted mentors.
Damaged & unmaintained – When the property owner can't afford to make the monthly house payments, there are usually financial problems that also limit repair and maintenance. In an act of revenge, the owner might even intentionally damage the property. If the house has been sitting vacant, there is also the risk of vandalism. Anything of value – appliances, carpeting, and copper piping – may be removed from the property.
Code violations – In order to save money, the previous owner may have performed repairs himself. It's possible that the repair work done was not completed according to local building codes. For example, the homeowner may have installed a noncompliant hot water heater. In order to sell the property, you will have to correct those violations.
Insect/termite damage – A foreclosed property may not have a termite bond, or even had regular treatment for pests. Since termite damage is found inside the walls, you will need to get a termite inspection to specifically check for infestations and damage.
Lack of cooperation from the bank – Though it may seem logical that a bank will want to unload a foreclosed property as soon as possible, that's often not the case. Banks will often delay the process, in the hope of getting a higher offer on the property.
Competition from other buyers – This is most acute on the foreclosures that represent the best deals. Other buyers will want to purchase the same property, and that can both create a bidding war, or be a major cause for the aforementioned delays by the bank that owns the property, as they consider the offer that will provide them the greatest recovery.
Undisclosed liens – The bank selling the property may be interested only in recovering money to satisfy their loan on the property, but there could be other liens on it. This can include tax liens, as well as mechanics liens for work performed but not paid for. You could become responsible for these liens once you own the property. Make sure that you order a title search on the property, and obtain buyer's title insurance in order to protect you against that possibility.
Condominiums – In some areas, the market can be flooded with foreclosed condos. Though prices may be low, selling them profitably can be difficult. In addition, getting financing on condos can be complicated. If a project contains too many unsold or foreclosed units, or too many are already owned by investors, lenders may be unwilling to finance purchases in the development.
Frequently Asked Questions (FAQs)
Here are some frequently asked questions (FAQs) that we address to help you better understand the foreclosure process and debunk some common myths.
How Do You Buy Foreclosed Homes with No Money?
This isn't achieved very often, but it's possible. You can find an investor to put the money down while you do the sweat equity or you can find a lender who will cross collateralize another of your properties in exchange for the down payment. For more no money down options, check out our guide on flipping houses with no money down.
Is Buying a Foreclosed Home with Bad Credit Possible?
Having a high credit score (check your free here) is always helpful, but you can buy a foreclosure with bad credit. You can buy it cash, purchase it with a partner, or put the loan in a trusted family member's name. If you have experience fixing and flipping houses, you may still be able to get a hard money loan with a low credit score.
Can I Buy a Foreclosure with an FHA Loan?
The foreclosed home and the borrower must meet certain criteria to be able to purchase a foreclosure with an FHA loan. For example, FHA loans are intended for owner occupants and you must move in within 60 days of purchasing the property. The home must also meet the FHA's stringent inspection guidelines including being in habitable condition and free of any hazards.
However, an FHA 203k loan is right for foreclosures that need repairs since it rolls the purchase and repairs into 1 loan. Keep in mind, FHA loans take longer to close than hard money loans or cash offers, so you may miss out on a foreclosed home due to this.
Can I Buy a Foreclosed Home at Auction?
Yes, it's very common to purchase a foreclosed home at an auction. There are live and virtual auctions and you can use a hard money loan at most auctions, so you can compete with all cash buyers.
Bottom Line
Buying a foreclosed home can be profitable for investors whether they plan to rent the houses or fix and flip the properties. Similarly, foreclosed houses can have unexpected expenses, be purchased at inflated auction prices, and be much harder to find. Follow our steps and work with professionals to make the projects as profitable as possible.
When you're ready to move forward with buying a foreclosure, make sure you have the financing you need to close on a great opportunity when it arises. Getting prequalified online with Visio Lending takes just a couple of minutes and they offer competitive rates for prime borrowers.