HUD homes are 1- to 4-unit residential properties that have been foreclosed on by an FHA insured lender. As an investor, buying HUD homes is more involved than buying other foreclosed properties. Those purchasing a HUD property will find important differences in everything from finding HUD leads to financing the purchase of a HUD home.
If you decide that to move forward with a HUD home, check out Kiavi to meet your financing needs. Kiavi is an online hard money lender that provides financing up to $2MM. Get prequalified online in minutes and funded in weeks.
Here are the 8 steps to buying a HUD home:
1. Determine Which Type of HUD Home is Right for You
In order to determine which type of HUD home is right for you, you need to consider more than just if the home is a good value. This is because there are two types of HUD homes: insured and uninsured. Insured homes are better for owner occupants and uninsured HUD homes are better for investors.
These two types of HUD properties differ based on the condition they are being sold in. Uninsured homes need more repairs than insured HUD homes. They also differ on the order in which owner occupants and investors can bid and purchase them. For these reasons it's important to choose the right type of HUD home to buy.
Insured HUD Homes
Insured homes are those eligible for FHA loans, which are government backed loans that require low down payments and less stringent lending criteria.They're usually in better condition than uninsured homes and they're sold first to owner occupants since they require less repairs.
Insured HUD Homes are properties that need less than $5,000 in repairs to make them habitable. HUD has sent an inspector out to make this determination after the foreclosure process. If the inspector determines that the repairs fall under what's allowable for an insured HUD home, these repairs are completed after the home purchase.
However, the money for repairs is required to be put into an escrow account before the home is purchased. The buyer is responsible for paying for these repairs and if the repairs aren't completed, the buyer loses their escrow repair funds. This insured HUD home renovation process is attractive to owner occupants since they know repairs will be minimal.
Uninsured HUD Homes
Uninsured HUD homes are properties that HUD has determined need substantial repairs totaling over $5,000. They don't qualify to be financed with a typical FHA loan due to the extent of the repairs. Other financing options, such as all cash, a FHA 203K loan or hard money loan are alternatives to consider.
As is the case with all HUD homes, uninsured properties are sold in 'as is' condition meaning that HUD won't complete any repairs. It's important to consider the extent of the repairs and hire a property inspector before bidding on the property. This is more important than in other home transactions because it's more difficult to get a deposit back when dealing with HUD homes.
HUD Owner Occupant vs HUD Investor
An owner occupant is a buyer that will live in the HUD home for at least one year. The owner occupant must live in the property 50% or more of the time. This home can't be a vacation home and the buyer can't be purchasing an additional primary residence at the same time. A HUD investor doesn't plan on living in the home at all.
Owner occupants prefer insured HUD homes because there's little to no renovations required and they're buying a liveable home during a preliminary bidding period. Owner occupants also get the first opportunity to bid on HUD homes to meet HUD's goal of promoting home ownership.
Brian Sullivan, of HUD's Office of Public Affairs says that "The initial marketing period for owner occupants is to provide a stable presence in a neighborhood that already experienced a foreclosure. Owner occupants treat homes differently. HUD's goal is to provide homeownership opportunities to qualified buyers and in turn prevent blight in the neighborhood."
For HUD insured homes, an investor can't bid on a HUD home until the 16th day that it's listed for sale. On HUD uninsured homes, the investor can bid on the 6th day that it's listed for sale. However, investors typically still purchase uninsured homes since it's an opportunity to buy a property and fix it up with less competition from owner occupants.
Usually insured homes will be sold before the investor bidding period begins since they need the least amount of work. They attract owner occupants because these HUD homes are eligible for more financing options.
Conversely, an investor is purchasing the home as an investment property to rehab and rent out or to make money by flipping the property. The more repairs the property needs, the more likely it will make it to the period where the investor can bid on it. This is because a house that needs extensive repairs is overwhelming to an owner occupant who isn't used to rehabbing properties.
A warning to real estate investors thinking about pretending to be owner occupants; HUD takes this very seriously. The strict penalties for lying about occupancy include up to a $250,000 fine and potential jail time.
2. Find & Evaluate HUD Homes
HUD homes can be found in a few different ways. They can be found on the HUD authorized website, by using a real estate agent to access the MLS, and by driving around looking for HUD property signs. After finding a HUD home, you'll need to evaluate it to make sure it fits in with your investment goals.
How to Find HUD Homes
The most common way to find a HUD home is on the HUD authorized website. This site is called HUD Home Store. It provides the most up to date content in terms of what homes are available. When a home is sold, it is taken off the site, so you don't need to worry about outdated information, which is common among other real estate sites.
HUD Home Store is easy to use to browse for HUD homes. You can do a quick search by clicking on a state on the map. If you have detailed search criteria in mind, such as a price range or the number of bedrooms, you can use the search box to enter the information. Below is an example of what a search on the HUD Home Store site looks like.
How to Evaluate HUD Homes
After you find a HUD home on the site, it's time to evaluate the property. Check to see if it's insured, so you know what kind of financing is applicable. If it's not insured, look into getting a hard money loan. Factor in your repair costs and decide on your exit strategy. Will this be a long term investment as a rent and hold property or a fix and flip project?
Unlike other home purchases, HUD homes abide by a strict timeline and a strategy needs to be in place before bidding on the property. As is the same case with other home purchases, you need to evaluate the neighborhood and determine if the property is a good deal based on the comps in the area. Check out our in depth guide on how to find properties to flip which includes evaluating neighborhoods and using comps correctly.
If after evaluating a HUD home, you decide it's not for you, then consider buying an REO property or a foreclosure. These can both be purchased under market value. They also avoid the hassles that come with the HUD process and its strict guidelines. Foreclosure.com provides listings of pre foreclosures, foreclosures, short sales and distressed properties, along with comprehensive information about each property.
3. Obtain HUD Home Financing
It's important to line up financing for your HUD home prior to finding a HUD real estate agent because the HUD process has a strict timeline. It's a common misconception that HUD provides financing on its HUD homes, and this isn't true. They also don't accept financing contingencies from investors. There are several ways to finance a HUD home including FHA financing, 203K mortgage, conventional mortgage, all cash and private financing.
FHA Financing for HUD Homes
FHA financing is a loan issued by the Federal Housing Administration (FHA) to a qualifying property and a qualifying borrower. The borrower pays mortgage insurance to protect the lender if the borrower defaults on the loan. FHA loans offer low down payments, as little as 3.5%.
A borrower can only use a standard FHA loan to purchase an insured HUD property, one with repairs less than $5,000. A borrower can use a limited 203K Mortgage to purchase a HUD home that needs more than $5,000 in repairs. This financing product allows borrowers to roll the repair costs of a single family property into their mortgage, along with their purchase costs. The repairs can be up to $35,000 and if they go over that, then the borrower will need to pay cash for the difference.
Other HUD Home Financing
While owner occupants will likely seek FHA financing, many investors will opt for all cash offers.If you don't have cash and the property doesn't qualify for FHA financing, there are other options.
Other HUD home financing options include:
Conventional Mortgage which is typically used for properties that only need cosmetic work and is usually for 30 years with at least 10% down
HELOC which is a home equity line of credit which can be taken from another property you own and invested into a HUD home if the lender allows it
Hard money loan which offers investors a short term loan with a high interest rate to quickly close on a property with the goal of securing permanent financing later on
There isn't a financing contingency in the investor HUD contract, so financing needs to be solidly in place, so as not to jeopardize your deposit money. For a more in depth look at HUD home financing, check out our HUD loans article.
If you decide that a HUD property is right for you, contact Kiavi to check rates on a hard money loan. They lend up to 90% LTV and 75% ARV. They can prequalify you in minutes.
4. Find a HUD Real Estate Agent
Although it's fine for people to search for HUD homes on their own, you will need a HUD real estate agent to begin the purchase process, show you the home and bid on it for you. This differs from other types of purchases where buying a property with a real estate agent is optional.
Since it can take up to 6 weeks for the real estate brokerage to become HUD approved, it's important to choose one that is already approved. They will need to be registered with HUD to be able to bid on a property and they will have a name and address identification number(NAID).
You can call your local real estate company and ask them if they're registered with HUD, but the easiest way to find them is on this site. Since the HUD process is different than purchasing a property the traditional way, it's important to ask if your real estate agent has dealt with HUD properties before.
The properties are sold 'as is' and in most cases, the deposit is non refundable, so there's no room for error. The deposit usually ranges from $500 to $2000 which will be outlined in Step 5. Your HUD real estate agent will be your guide throughout the entire purchase process.
HUD provides property disclosures on each property. Those disclosures will list what their contractor has found wrong with the property. Your real estate agent will give this to you and then you can determine if you want them to schedule a walk through of the property.
5. Set Up a Walk Through & Prepare the Deposit
Now that you're working with a HUD real estate agent and have found a property of interest, your real estate agent will set up a walk through of the property. You will do the walk through with the real estate agent and a contractor. Then you will prepare your deposit so you're not rushing to do it if your bid is accepted.
During your HUD home walk through, be sure to thoroughly inspect every aspect of the property and take a lot of photos. Just as with any distressed property, there may be damage to the home. Although a full property inspection can't be done until after you submit a bid on a property, bring a contractor along for the walk through. This way, you can save yourself the time and the risk of losing your deposit if the home needs too much work for your budget.
You won't need the deposit until your bid is accepted, but it's best to have it prepared ahead of time due to the short time frame between bidding and turning in your documents. All deposits need to be certified funds, such as a money order or a cashier's check. If the property is $50,000 or less, your deposit will be $500. If the property has a sales price greater than $50,000, the deposit will be between $500 and $2000.
The deposit is ultimately determined by HUD and their guidelines may change at any time. Your real estate agent will need to confirm the deposit amount with the property's asset manager. It's also a good idea to review HUD's deposit guidelines on your own. This deposit will be due within 2 days of being notified of the winning bid.
6. Bid on a HUD Home
You've walked through the property, determined it's a good investment and have your deposit ready. Now it's time to bid on the HUD home. Bidding will be done by your HUD approved real estate agent. Unlike other home auction sites, you only get 1 bid per property.
Your HUD real estate agent will log onto the HUDHomeStore and find the home you're interested in and then start the bidding process. Here's what the HUD Home Store site looks like once you have found a HUD home and are ready to bid on it.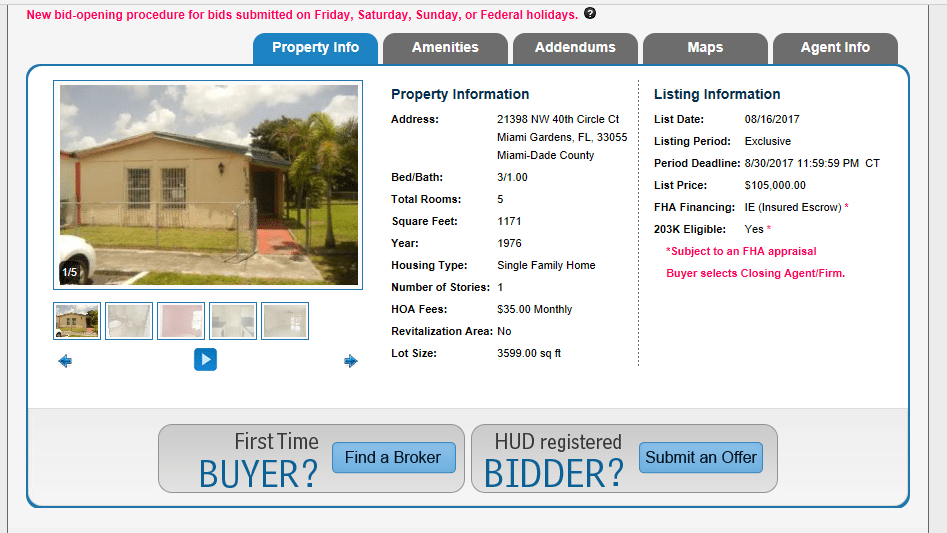 Your real estate agent has 15 minutes to complete the bid from the time they sign onto the system. You don't know how many other bidders there are or the amount of their bids. This is where the real estate agent's experience will be helpful, so the process can be done quickly and you don't miss out on a good deal. A listing price is provided next to the property address and you can decide on your bid based on this price.
There will also be a bid deadline, so you will know that after that date you will have an answer if your bid was accepted or not. Your real estate agent will submit the contract and your earnest money deposit based on the instructions on the HUD Home Store site. If you're not the winning bidder your deposit will be returned.
Guidelines on How Much to Bid
During this phase, you're typically competing with other investors, since homeowners have already had first dibs on placing a bid on the HUD home. HUD homes usually sell for 85% – 88% of the asking price or more. This depends on the condition of the property and how desirable the neighborhood is. Your real estate agent should run comps in the area to see what other properties are selling for and check the After Repair Value(ARV( that you can expect to get if you decide to sell the HUD home. More on calculating ARV can be found in our in depth guide on how to find properties to flip.
Below are some HUD home statistics including the average number of days the property has been on the market and the average bid as a percentage of the asking price of the property. For more statistics for the state you're interested in purchasing a HUD home in, click here. This information is helpful because it gives you an idea of what kind of offer to make.
HUD Home Statistics by State
| State | Average # of Days on Market | Bid as a % of Asking Price |
| --- | --- | --- |
| New York | 60.95 days | 88% |
| California | 50.74 days | 93% |
| Florida | 16.93 days | 94% |
| Texas | 26.34 days | 92% |
| Illinois | 25.86 days | 92% |
7. Conduct a Property Inspection & Appraisal
Once you place the bid and are the winning bidder, it's time to conduct a property inspection and an appraisal. A property inspection is recommended to find out what repairs will need to be budgeted for. The appraisal process depends on what type of financing you use, but we will cover a few common appraisal scenarios.
HUD doesn't allow a home purchase to be contingent on a property inspection, like most other home purchase contracts. It does, however, give you 15 days from the day the contract was accepted to conduct a property inspection. It is up to HUD if you get your deposit back or not, and in most cases, they keep your deposit if you decide not to purchase the property after the inspection is done.
It may take several days for the utilities to get turned on, so call the utility companies before scheduling an inspection or appraisal. The property inspector and the appraiser both need the utilities on in order to complete their findings. Your real estate agent will fill out the HUD forms to connect the utilities and sometimes there's a fee to turn them on, which is up to HUD's discretion and can be a couple hundred dollars. If the home's in a colder climate you may have to pay to dewinterize the house in order to prevent any pipes from freezing.
It's common that the utility providers won't turn on the utilities if there is a water or gas leak. If the utilities aren't on, an inspection and an appraisal can't take place. If you're purchasing an FHA insured HUD home with FHA financing, then the appraisal will already be completed and on file. If you're using cash then the appraisal is optional and will be paid out of pocket by you and scheduled by you.
In the case that you're receiving a hard money loan, other private money or a conventional loan then the lender sets the appraiser guidelines and will send out an appraiser of their choosing. They will also let you know if it will be an out of pocket cost to you.
8. Closing on a HUD Home
Closing on a HUD home is once again different from closing on another type of property, such as a foreclosure or an investment property on the market. The closing timeline will be determined by HUD and they will provide a closing agent to assist with the transaction.
Once the full contract has been submitted by your real estate agent and HUD has accepted it, you usually have 30 days to close on the property. If you need to extend the contract and schedule a later closing date for any reason, HUD can deny that and keep your earnest money deposit or they can charge you to change the closing date.
You will be responsible for finding your own title company, paying title search fees and for title insurance. In non HUD transactions, the responsibility of title insurance varies from state to state. Your real estate agent will be able to recommend a title company for you.
Once the title search is finished and the closing date has arrived, the actual settlement should be straightforward. You will pay the remaining balance of the sales price through certified funds, or through financing. Then you will receive keys to the property and you will be a HUD investor.
Just to recap, buying a HUD home differs from buying other types of homes. The process is done on a strict timeline and may take several months to complete. From the time your bid is accepted, you have 15 days to complete a home inspection. Closing is usually 30 plus days from the time the contract is signed. Below a timeline is laid out to better illustrate the process.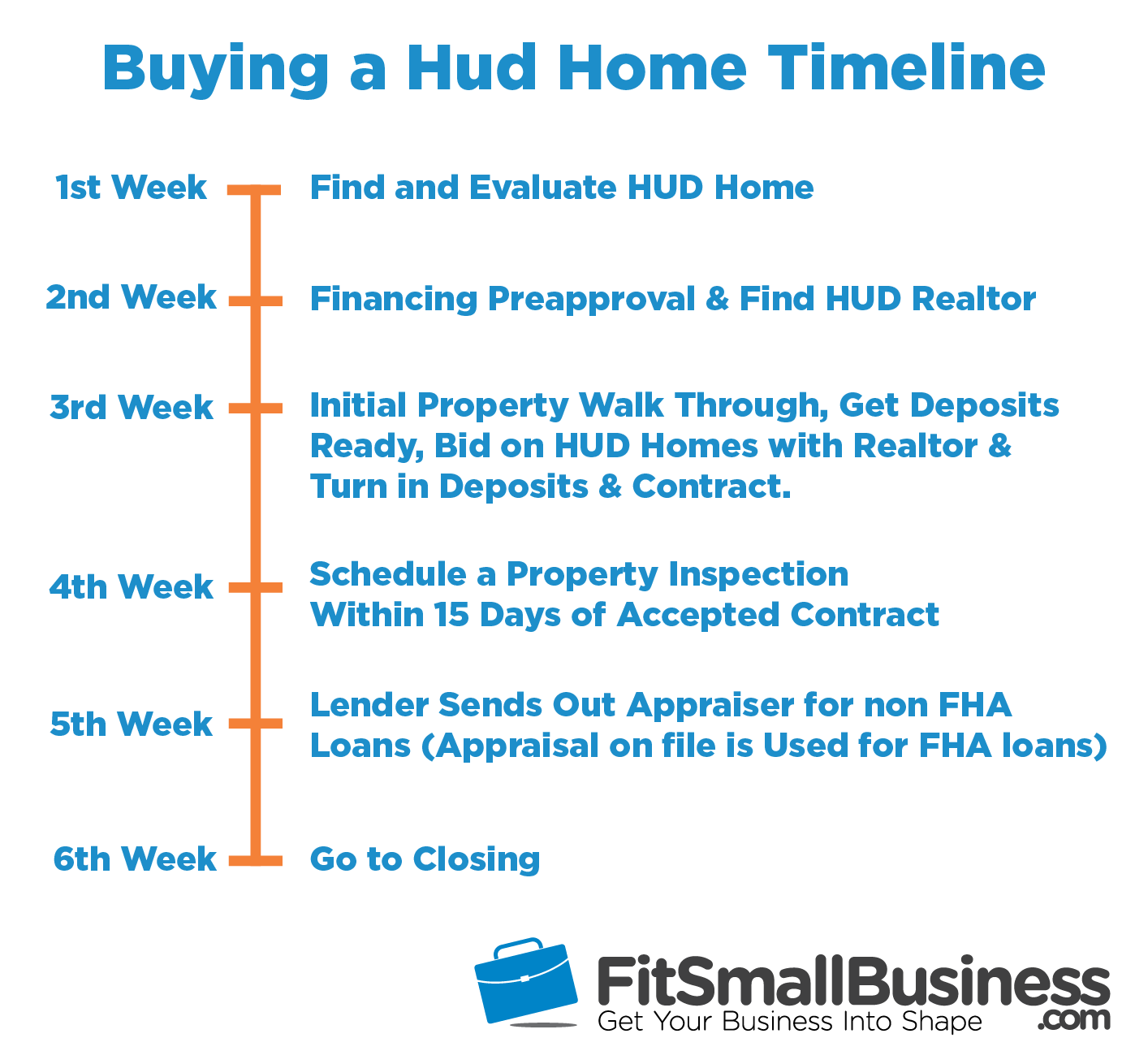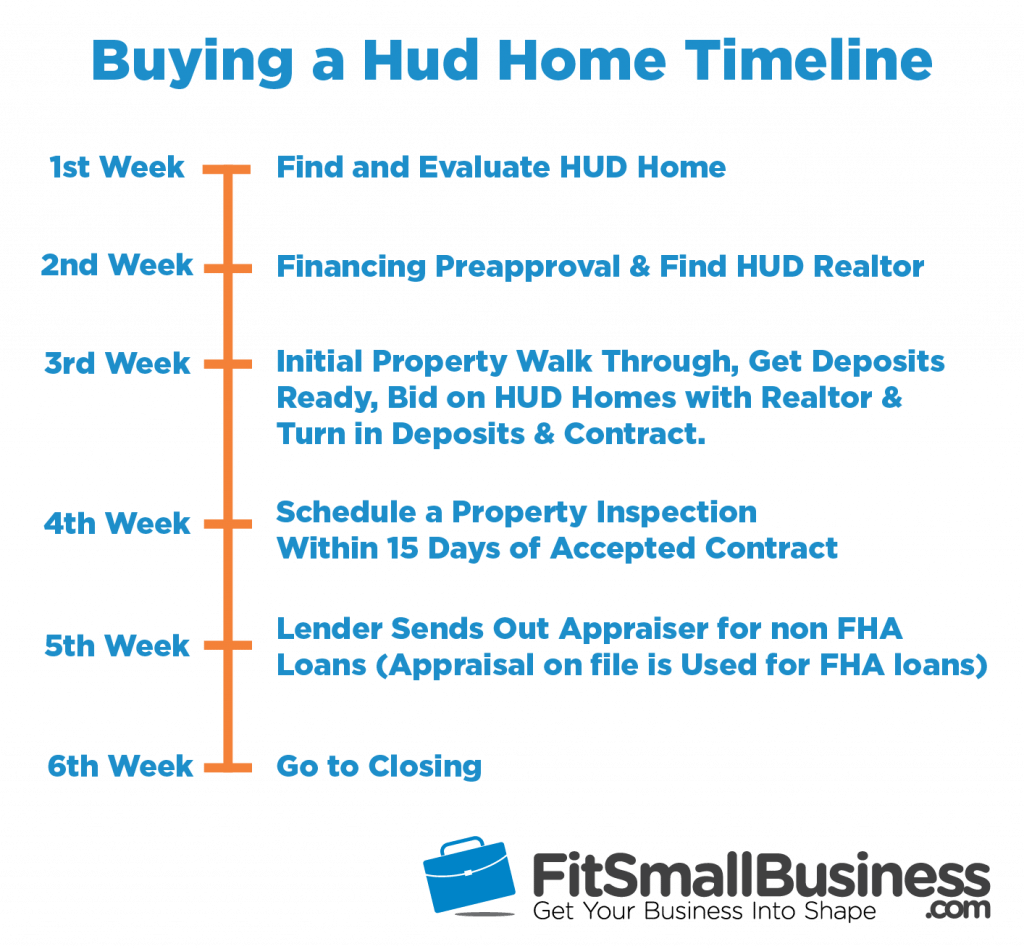 Buying HUD Homes Pros and Cons
Buying HUD homes can be a savvy, nontraditional way of purchasing homes at below market prices. However, the process is intense and you need to consider the risks and rewards before deciding that this is the right way for you to purchase investment properties.
The pros and cons of buying HUD homes include:
Pros
Not having as much competition as other types of investment properties, since the process is more time consuming
Getting a good deal on a property that otherwise would have a higher listing price
Being able to find all the properties on one site which is convenient
Evan Roberts, real estate investor and owner of Dependable Homebuyers loves purchasing HUD homes in Baltimore.
"We rarely have the time to view properties in person when they first come on the market. The great thing about HUD homes is that they include a repair report and photos that allow us to make offers online, sight unseen. This saves us a ton of time and the homes are priced where we can add a lot of value through renovations."
Cons
The often changing HUD process including how much the deposit money will be and if you will get it back
The homes are first offered to owner occupants so not as many are left for investors to purchase
Not being able to have contingencies in the contract so strong financing must already be in place
Mark Ferguson, a real estate investor and owner of Invest Four More has flipped over 100 houses and feels that the part where investors get into trouble is when they are trying to wholesale homes.
"Wholesalers love to assign contracts, but that's almost impossible with HUD homes. If you are constantly cancelling contracts because you can't find buyers to buy your wholesale deals that can also be an issue with HUD."
Bottom Line: Buying a HUD Home
Buying a HUD home, as an investor can be an arduous process but it can also be rewarding. Don't be intimidated by the HUD process, but have a trusty HUD approved real estate agent to guide you through. You may be able to purchase the property below market value and fix it up and rent it out or fix and flip it.
Now that you know what buying a HUD home entails, check out Kiavi to provide you with easy financing options. They fund up to 90% LTV and 75% ARV. Prequalifying online is easy.