Buying a Multifamily Home Investment Property in 6 Steps
Buying a multifamily home of two or more units is different than buying a single-family home because it's an investment and you need a loan specifically designed for a multifamily property. Buying a multifamily home takes six steps, such as researching the neighborhood and choosing your lender, and the entire process can be completed in two or three weeks.
If you need to finance a multifamily property, then contact Visio Lending. They're a reputable lender that offers loans for properties with one to four units. They offer competitive rates for prime borrowers and can get you prequalified in a few minutes.
Here are the six steps to buying a multifamily investment property:
1. Research Potential Neighborhoods Where You Want to Invest
The first step to buying a multifamily home is deciding on the right neighborhood to invest in. Although you may not be living in the neighborhood, you want it to be desirable to tenants so that each unit will rent as quickly as possible. You should first select a few neighborhoods that have multifamily homes for sale and then narrow it down to one neighborhood through your research.
The things to research in any potential multifamily home investment neighborhood include:
School ratings: Poor overall public and private school ratings can deter tenants
Public parking: Tenants need to have places for themselves and their guests to park
Amenities/attractions: Parks, restaurants and shopping should be nearby
Walk score: The area should be walkable
Nearby businesses: The business district should be thriving and businesses should be open
Overall condition of area: Street lamps should work, trash should be picked up and sidewalks and homes should be well-maintained
Public transportation: Tenants want easy access to and from work, school and other necessities
Condition of other properties: Run-down buildings deter prospective tenants from living in the neighborhood
This research can be done from your computer, by working with a local real estate agent or by driving around and checking out neighborhoods in person. We recommend doing all three of these things so you're armed with as much neighborhood knowledge as you can. You don't want to invest a lot of money into a property that's value will be hurt in the future because of its location.
Check out sites like Zillow and LoopNet to see what neighborhoods have multifamily properties for sale and how much they are. Specifically, on Zillow you can search by property type and choose a multifamily property, which is under its "apartment" for sale section. LoopNet is solely for commercial properties, and you can filter by multifamily properties and city or ZIP code. Both sites are free to use to find multifamily properties.
After you do your research online, drive around the area in both the daytime and nighttime and see what the traffic, parking and overall neighborhood activity is. Then enlist the help of a real estate agent to verify your information and who can help you become even more familiar with the happenings of the area.
Narrow Down Your List to One Neighborhood
Once you've searched around for a few neighborhoods near you and completed your research, you should narrow it down to one neighborhood that you want to target. This one neighborhood will be within a manageable distance of your location and have most of the above-mentioned points like amenities and a good school district.
Keep in mind that you may need to be open to other areas around your desired neighborhood because there are less multifamily properties on the market than there are single-family properties. As of this writing, for example, there are 264 duplexes and triplexes for sale in Miami, which represents only 4.5% of total homes for sale in the area.
A good rule to remember is to buy in a neighborhood less than one hour from where you live. This makes it much easier to drive to the property, conduct inspections, meet contractors or make a service call. Keep in mind that you can fix up the multifamily property, but you can't fix up the neighborhood.
If you want to buy a multifamily home that's not in a market near you, consider looking into turnkey real estate. Turnkey properties come with existing tenants and property managers, allowing you to earn passive income without having to manage the property yourself. On Roofstock, you can browse listings in up to 40 different markets and invest in the turnkey property that's right for you.
2. Choose Your Lender & Get a Pre-approval Letter
After you've found a neighborhood that you want to invest in, the next step is to choose a lender and get your pre-approval letter. You need to find a lender that offers multifamily loans in your state and has an easy application process and dedicated customer service. Then, they will give you the pre-approval letter, which is necessary to make an offer on a property.
How to Choose the Right Lender
The best place to find a lender for your multifamily property is online. Since it's a niche lending area, you'll need to find someone that specializes in these properties, which can be difficult to find in your local area. Here's a list of some commercial multifamily lenders. We also have an in-depth guide to multifamily financing which includes lenders like Visio Lending and Patch of Land.
Usually, a lender will finance a multifamily property with two to four units, and you don't have to live in one of the units since it's an investment property loan.
Criteria for choosing a multifamily lender include:
Rates: Compare rates between lenders and choose the most competitive one
Terms: Pay attention to the terms, some loans like hard money loans offer short terms of one to three years and others may offer long terms up to 30 years
Areas covered: Make sure the lender lends in your state
Customer service: You want to be able to get in touch with the lender easily so check out its website and hours of operation and how to contact them through email, phone and chat
Property condition allowed: If you're buying a multifamily that needs to be rehabbed, make sure the lender offers rehab loans because not all lenders offer them
Although it's more difficult to find, you may be able to work with a lender through a referral from a local real estate agent, another real estate investor, or from your bank or credit union. For more information on where to find a multifamily loan, how to apply and what types of loans are offered, check out our guide to investment property loans, guide to multifamily financing and our in-depth FHA multifamily loan article.
Get Your Pre-approval Letter
Once you find a lender that you're comfortable working with, you will be asked for some preliminary financial information. This will help get you prequalified or pre-approved.
The lender should give you a pre-approval letter, which will tell you how much you can qualify for and what the interest rates might be. However, this rate may change until you lock it in with your lender.
A pre-approval letter is typically a requirement before working with a real estate agent or making an offer on a property. It shows the sellers or their real estate agent that you're a serious buyer and can afford to purchase the property. This is different than a single-family home purchase because these multifamily purchases are typically investments, which makes it harder for some to get a loan.
Information needed for a pre-approval letter includes:
Your credit score (check yours for free)
2 to 3 months of bank statements
2 years of tax returns or pay stubs
Employment history
Use Pre-approval Letter to Set Your Budget
Once you have a pre-approval letter you can set your budget, which doesn't necessarily have to be the same amount as your pre-approval letter. You don't want to overextend yourself, so you should set a budget while keeping your pre-approval amount in mind and still have money set aside for repairs and maintenance and to pay your carrying costs if a unit is vacant.
Things to consider when setting your budget are:
Closing costs: Generally 2% to 5% of the sales price of the property and include lender fees, title insurance, property insurance and property taxes. The higher the sales price, the higher your closing costs
Carrying costs: Monthly recurring costs including your mortgage, taxes, insurance and utilities
Renovation costs: Consider how much you need to spend if the multifamily property needs to be rehabbed prior to renting it out
Ongoing repair costs: These are variable costs and may pop up anytime something needs to be fixed
Timeline: Your timeline is directly related to our budget and the longer a renovation takes, the higher your carrying costs are
Basically, you want to make sure you can afford to purchase the property, fix it up if necessary and pay for all of the monthly costs, including any necessary repairs or maintenance. Keep the pre-approval letter in mind as a maximum purchase amount and then purchase a property that you can comfortably afford, even if it's not fully occupied.
Discuss the occupancy of the property with your lender. Some lenders are fine with a property that's not fully occupied, and others want to see it at least 90% occupied. The same goes for seasoning, which is how long the property has been occupied or, in this case, how long it's been rented. Some lenders require 90 days to six months of seasoning before they will offer a multifamily loan.
3. Work with a Real Estate Agent
It's great to know your budget and research neighborhoods yourself, but ultimately you want to work with a real estate agent who has knowledge of multifamily properties and the neighborhood. A real estate agent can help you find a property, set up showings and negotiate an offer. Most multifamily properties are listed with real estate agents on the Multiple Listing Service, so it's much easier to work with a real estate agent than navigate the process alone.
Generally, multifamily properties need advance notice for showings since they may be tenant occupied. It's a good idea to work with a real estate agent who is an investor themselves or has experience working with investors. This is important because they need to know what to look for in an investment property, how to negotiate the deal based on comparable properties and comparable rents as well as what questions to ask.
For example, they may be comparing cap rates between investment properties, asking for rent rolls or asking questions about tenant payment history. A real estate agent who solely sells single-family homes won't know to ask these questions and may not get you the best deal, or they may overlook something important like a tenant with a history of late payments.
A real estate agent who deals with multifamily properties will also have access to CoStar, which has an inventory of more than 500,000 commercial properties and offers analysis on multifamily properties, neighborhoods and a property manager directory.
How to Find a Real Estate Agent
You can find a real estate agent through your mortgage lender, attorney, certified public accountant or as a referral from a friend or family member. It's a good idea to ask other landlords and investors which real estate agents they use and how satisfied they are. You can also call a local real estate office and ask for someone in the commercial division or someone who specializes in multifamily properties.
Some things to look for in a real estate agent for multifamily properties include:
Experience: Look for a real estate agent with at least two years of experience working with investors and multifamily properties
Niche/specialty: Most real estate agents specialize in something, make sure yours specializes in investment properties
Availability: Choose someone who has time to work around your schedule, not the other way around
Location: The real estate agent's office or main area of business should be near the neighborhood you want to purchase in
For more information on selecting a good real estate agent and knowing what questions to ask, check out our article that lists tips for choosing a real estate agent.
4. Narrow Down Your Search to One Multifamily Property
After you have researched neighborhoods, gotten pre-approved and chosen a real estate agent to work with, it's time to narrow down your search to one multifamily property that you want to purchase.
While your budget and desired neighborhood should automatically narrow down this search for you, it's important to find a property that will be cash-flow positive now and in the future.
Other things to consider to help you narrow down your search include:
Property condition: Take into account how much time, money and work the property will need in order to be rent-ready
Rent roll: Look at the current rents and compare them to the average rents in the area to see what the property should rent for and can help influence your buying decision
Revenue & expenses: Look at what rental revenues are coming in and what the current expenses are and see if it makes sense, remember to add in your approximate carrying costs to see if you will be cash-flow positive
Vacancy rate: Look for a vacancy rate below 10% and see how long each unit is vacant per year so you can figure that into your carrying costs
You want to make a sound decision when buying a multifamily property because it's a big financial commitment. Be aware of red flags such as no written leases, small security deposits and missing paperwork. If you're an investor, especially a new investor, you'll want to know what you're getting into. Make sure you personally verify tenant applications, employment verifications, proof of income and rent receipts.
To minimize the risks associated with buying a multifamily home, consider investing in turnkey real estate. Roofstock has a wide range of turnkey property listings which you can filter by price, location, and more to find the property that's right for you. It offers seasoned investment properties that are already generating cash flow, reducing your financial risk.
5. Make an Offer on Your Multifamily Property
After you have narrowed down your search to one multifamily property, it's time to make an offer. This is where your real estate agent will carry the load and where you will need your pre-approval letter to go with an earnest money deposit. Your offer should be contingent on an appraisal and on your financing.
This means that the property must appraise for at least the agreed upon sales price, or you don't have to purchase the property. This also means that if you were honest on your application and your loan doesn't get approved through no fault of your own, you'll get your deposit back.
Generally, your deposit is a "good faith" deposit, which takes the property off the market for you. Typically, 5% to 10% of the purchase price is a common deposit amount for multifamily properties and it's given to your agent to put in an escrow account until settlement. At that time, the title company disperses it to the seller.
An offer on a multifamily property usually has more contingencies than an offer on a single-family home because you'll need to complete due diligence on the property's rental history. This due diligence is a set time period, often 15 days, that the buyers will receive the rent roll, tenant payment history, utility bills and other reasonable documents that they can request and examine before deciding if they want to continue with their offer.
6. Get Funding & Close on the Property
Once you have made an offer on the multifamily property and presented your pre-approval letter, it's time to finalize your funding. This is when you receive a financing commitment, which is stronger than a pre-approval letter since the lender has more information and has had more time to review your information, as well as the purchase contract.
In order to fund the loan, the lender generally will need the following:
Complete mortgage application
Application fee if applicable
Documentation showing where downpayment is coming from
Property details
List of current assets and liabilities
Property appraisal
Purchase contract
Rent roll and copies of leases
After the lender has approved the loan, it's time to close on the property. The real estate agent will schedule a closing date that is convenient for all parties. Closing usually takes about 60 to 90 minutes and is held on a business day at the title company.
The real estate agent will recommend a title company if you don't already have one. You will need to bring your identification, checkbook for incidentals and certified funds. Your lender will provide you with the closing costs and the amount of funds you need to bring with you.
You will also need to have property insurance and landlord insurance before you go to closing. At closing, you and the seller will sign the documents, the security deposits will be transferred to you, and you will receive the keys to your new multifamily property.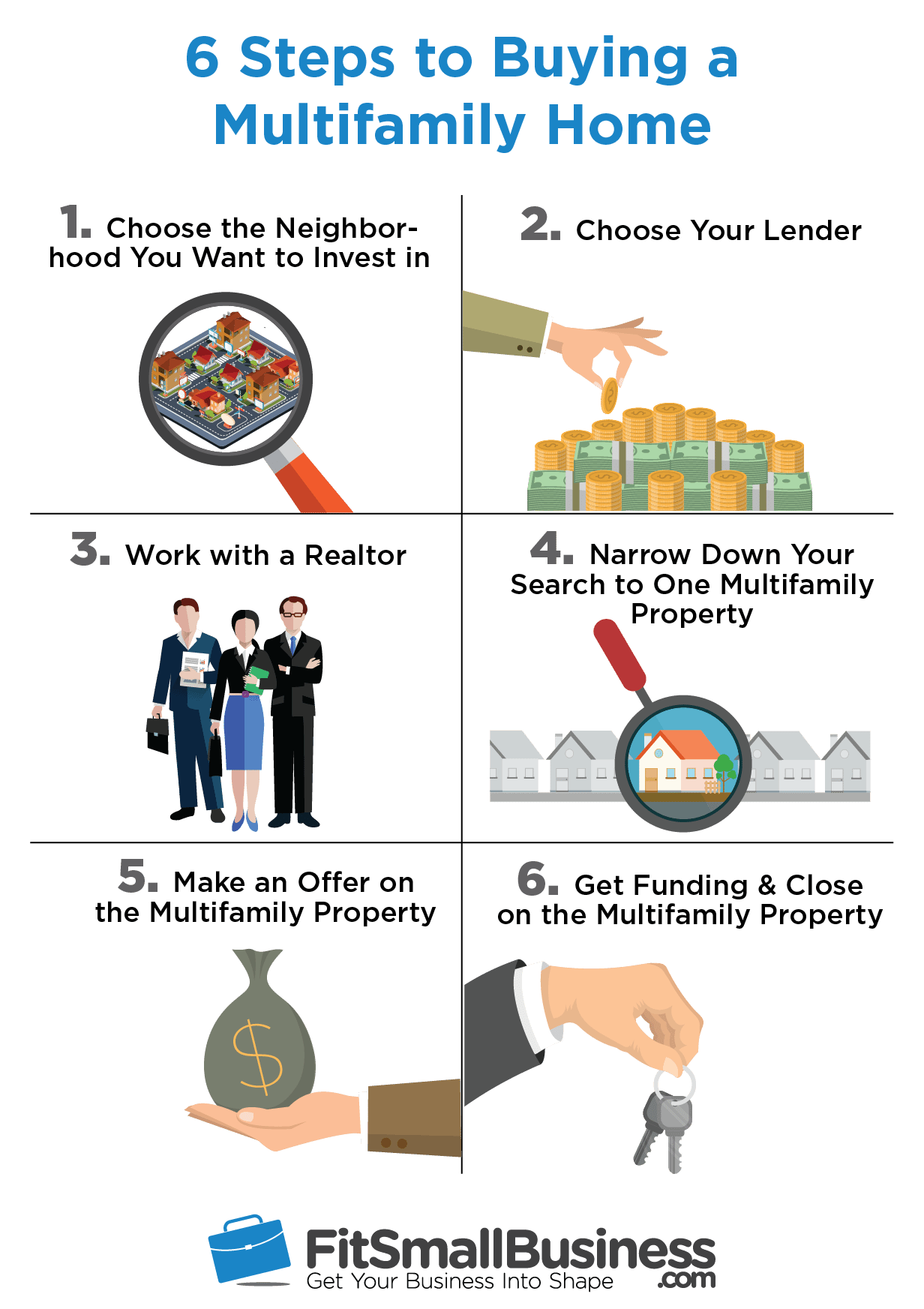 Questions to Ask When Buying a Multifamily Home
There are some important questions to ask when buying a multifamily home. You want to know more than just the value of the property and how much rent is being collected. You need to consider how to pay for the property, the property's overall performance and who's going to manage it.
Some important questions to ask when buying a multifamily home include:
What kind of loan can I get? A multifamily loan can finance your multifamily property. They're set up to offer investors long-term loans for their buy-and-hold properties.
What building financials do I need to know? You need to know the rent roll, monthly rents received, monthly expenses, occupancy rate, taxes and average common utility bills
What's the cap rate? The cap rate is the ratio of net operating income (NOI) to property value. To calculate the cap rate you divide the NOI by the sales price of the property. If the property has an NOI of $100,000 and a sales price of $1 million, the cap rate is 10%
Who's going to manage the building? Decide if you're going to have the time to manage the building yourself or if you want to hire a property manager. Keep in mind property managers generally charge 8% to 12% to manage a property, and renting units, evictions and paying bills are additional costs
For more information on multifamily loans, including their rates, terms and qualifications, check out our in-depth guide on multifamily financing.
Differences Between Buying a Single-family Home vs. a Multifamily Property
A single-family home is usually purchased to live in as an owner-occupant or as an investment to rent out to a single tenant. However, a multifamily property is usually purchased as an investment and is set up as a business with business expenses like common area utilities, taxes and insurance.
There are some key differences between buying a single-family home and purchasing a multifamily property. Unlike a single-family home, you can live in one unit and rent out the others in a multifamily property. Further, when you're buying a multifamily property you will most likely need to get an investment property loan.
Key differences to note when buying a multifamily property include:
Multiple tenants if the building is rented
Keeping track of security deposits
A rent roll
Leases for all of the rented units
Zoning: You want to ensure the property is zoned for what it's set up as it's very common to see a triplex that is only legally zoned as a duplex
You can live in one unit and rent out the others
NOI: The revenue minus the necessary operating expenses
Landlord insurance instead of property insurance
"Buying a multifamily property differs from buying a single-family home because, with a single-family home, you're looking for a home that meets your own desires and expectations. Buying a multifamily property is like buying a business and additional factors must be considered, such as the tenants, occupancy rates, rental history and what comparable properties in the area are selling and renting for."

— Kristina Paulter, Attorney, Cornerstone Law Firm
Frequently Asked Questions (FAQs)
Is a Condo a Multifamily Home?
A condo is not considered a multifamily home. Although a condo is located in a condominium building, each unit is usually owned by an individual owner. However, sometimes the building that houses the individual units is considered a multifamily home and may consist of condos and apartments, both for sale and/or lease. This can get confusing so, in general, a condo isn't a multifamily home.
Can I use an FHA Loan to Buy a Duplex?
You can use an FHA loan to buy a duplex if you're going to be an owner occupant in one of the units. The FHA has strict occupancy requirements for its loans, and you can rent out the other unit, but you must reside in one of the units. You can't use the FHA's multifamily loan to buy a duplex since they don't consider a duplex as a multifamily property and, instead, only consider buildings with five or more units as multifamily properties.
What Should I Know Before Buying a Fourplex?
Before buying a fourplex, you should know what the neighborhood is like, the average rental rates in the area and what the occupancy and vacancy rates are. These can be found by doing some online research on sites like Zillow or by asking a local real estate agent. You should also know the rent roll of the fourplex and the tenant's payment history. You can find those out from the current owner or property manager.
How to Buy a Multifamily Property with Tenants?
When you're buying a multifamily home with tenants you want to speak to the owner, property manager or real estate agent first to coordinate showings and to find out if the tenants know the building is for sale. There's a fine balance between accessing the unit and not upsetting the rent-paying tenants. You also want to find out the building's financials including the NOI, rent roll and if there are any problematic tenants.
The Bottom Line
Buying a multifamily investment property can be a time-consuming process, but it can also be a profitable investment if done correctly. The most important thing to keep in mind is that you'll need to put in the effort to perform the needed research so that you can find the right multifamily property and lender for you.
If you have found a multifamily property you like and want to finance it, contact Visio Lending. It is a reputable lender that offers loans for properties with one to four units. It offers competitive rates for prime borrowers and can get you prequalified within a few minutes.