Looking for a way to make easy income at your business location? If so, buying an ATM machine for your business could be a great option. But, not all businesses can make money on an ATM. That's why we will help you figure out whether an ATM actually has legitimate potential to make your business money and walk you through the process and details of buying an ATM machine for your business.
If you want to make money off an ATM without spending thousands to install and maintain it, we recommend using an ATM service such as Prineta. They'll install and service your ATM for free while you earn a commission on withdrawals. Click here to schedule a consultation today.
How You Make Money on an ATM Machine
The majority of your ATM income is going to come through transaction fees when a customer withdraws cash, generally a $2-$4 charge. If you own the ATM machine and stock the cash yourself, you generally get all of the transaction fee, other than a $.30 to $.40 processing fee. If you partner with an ATM provider, you will get anywhere from $.50 – $2 of that, depending on whether you provide the upfront cash to fill the machine or they do.
How Much Does an ATM Machine Cost?
If you have the cash to buy an ATM machine outright, you can get a pretty good machine for around $2000-$2500, like the GENMEGA 2500 pictured below.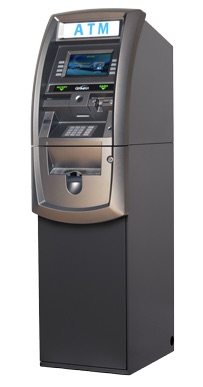 For a higher-end machine, your ballpark is in the $3,000-$4,000 range, like the GENMEGA C6000, which is sleeker and higher tech than the 2500, with a 15" color touch LCD screen and electronic safe lock.
---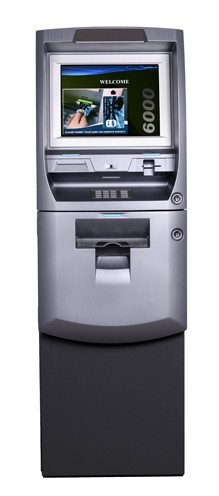 There are a variety of factors that affect the price you will pay, such as the level of security features, the size of the screen, how many notes it can hold, and the level of technology it possesses.  For example, if an ATM has a basic keypad, a dial-locking safe, and just connects via a traditional phone line, it will cost less than an ATM that has a touch screen, electronic safe keypad, and wi-fi connection.
---
Cost to Fill and Refill Machine
A lot of business owners factor in the cost of an ATM machine, but forget that if they buy a machine outright, they often have to also front the cash that is going to be put inside. In most cases, $2,000 or so is the recommended minimum to have in the machine (assuming it is serviced once a week).  If you are going to be in your business anyway everyday, you can get away with $500-$1000 in the machine, as long as you monitor and service it whenever necessary.
Other Costs
There are also other costs associated with running an ATM machine. For example:
ATM Insurance = $30-$50/month/machine

– Covers theft, damage to machine, etc. (Although in most cases your general liability for your business should cover it)

Connection Costs = $20-$40/month

– If you have a wi-fi machine

Processing Costs = $.30-$.40/transaction  –

Depends on processor and contract
Don't Have $4,000 Lying Around? Consider an ATM Placement or Partnership
If you are not able or willing to put $4,000+ down to start out, there are other options. The options vary some depending on the ATM service provider, but here are the main ones.
ATM Placement Service
ATM Placement is when the ATM provider does the majority of the work and you are not charged anything. They buy the machine (or use one they already own), ship it to your business, pay to have it installed, and manage the cash, all for no-charge.
Sounds great right? Well, the catch, is that your cut is significantly less. averaging around $.50/transaction. Since the ATM company is doing all the work, they take most of the income. The other issue, is that some ATM providers will only do a placement in "high-traffic" businesses. The definition of "high traffic" is different for each provider, but most require at least 300 transactions/month to be considered high-traffic. If you do a high-volume of transactions (350 or more), you can sometimes get more like $.75 to $1/transaction, because the more transactions an ATM company is getting the more they are willing to compensate you for the use of your business location.  
Ready to get started? Prineta will install and service your ATM for free while you earn a commission on withdrawals. Click here to schedule a consultation today.
ATM Partnership
An ATM partnership is more of a two-way street. There are several ways a partnership can work, either you buy or lease the machine and the ATM provider fronts and manages the cash, or vice versa. Either way, you are both fairly equally invested and as a result, most ATM provider's split the earnings 50/50 when they do a partnership with a business.
Lease-to-Own and Provide the Upfront Cash
The last option, is you can lease-to-own for around $65-$85 or so a month and provide/manage the cash inside the machine. This saves you the $2,000+ in upfront costs to buy the machine but still allows you to keep the majority of the transaction fee (minus processing costs).
The ATM Success Test: Will an ATM do well at your business?
Here are some quick questions to ask yourself to determine whether an ATM would do well at your location. If you answer yes to 3 or more of these questions, buying an ATM machine is a solid choice. If not, you better do a little more research before you commit.
Does your business or businesses next to you have cash-only services?
Does Your business or others around you have tippable services (bellhops, waiters, taxi drivers, etc)

?

Do you average 150 or more in foot traffic per day?
Would your ATM be the only one within walking distance of your location

?

Have customers asked you where the nearest ATM location is?
Do business in your industry commonly have an ATM at their location (hotel, convenience store, etc?)
Are you in a walkable neighborhood with lots of boutiques, restaurants, etc?
Are your customers frequently paying with a debit card and getting cash back?
How to Pick out an ATM Machine
Once you have decided to put an ATM at your location, picking one out can be difficult. The main problem, is that there are really not that many reviews or ratings out there in the industry, which makes comparing providers and machines a tough task.
Here are some questions to ask which will help you narrow down your options. If you want an in-depth comparison of some of the best machines, check out our ATM buyer's guide.  
1. What kind of ATM service do you want to use?
Are you going to buy the machine yourself and furnish the cash, or are you going to do a placement or partnership? The point here, is that if you are not planning on buying an ATM machine outright, then your choice of machine will be limited to some extent by the provider and service you select. So, the first thing, is to decide what kind of service you want, research which providers offer that service, and then see which machines they support or offer.
2. How much are you willing to pay?
The key, is to set your budget early-on so you are not wowed into spending more than you can afford. Honestly, from the research I have done and the experts I have talked to, you can get a solid machine for $2,000-$2,500. The only reason to go up to a $3,500-$4,000 model, is if you need a sleeker, more technological, and more professional looking machine to match a high-end location, like high-grade office space, a bank, or a ritzy hotel.
3. What kind of features do you need?
Honestly, many of the ATM machines have pretty similar features, at least when it comes to the standard features. But, there may be cases where you need specific features. For example, maybe there is no way to tap into a traditional phone line to process transactions. If that's the case, then you better make sure the machines you are considering have a wi-fi or ethernet connection capability.  Or, perhaps your machine will be outside and you need advanced security features that you wouldn't need inside (like an electronic keypad for quicker cash refill).
The important thing, is to take 30 minutes to write down a feature list before you get too far along in the process. Make two columns, a must-have column and a preferred-but-optional column. By cross examining a machine's features with your two lists, you should be able to narrow down your options to 2-3 machines without too much hassle.
4. Where are you planning on locating your machine?
If you are just planning on having a traditional stand-up machine in your business, then you will have lots of options. But, if you want a non-traditional mounting machine, like a wall-mount or a drive-through model, then your options and providers are going to be much more limited.
Where to Buy an ATM Machine
Once you have a general idea of what you are looking for, your last task is to actually buy your machine. Here are your main options:
Online ATM Provider
The majority of business will buy an ATM from an online ATM provider of some kind. There are a variety of reasons for this:
They generally have a variety of services they offer, from general sales to placements and partnerships.

Shipping is normally free

Their pricing is competitive

It's an easy way to shop around
Check out our buyer's guide to see which providers and specific ATM's we recommend.
Buying from a Local Business
Sometimes, a local business is looking to get rid of their ATM machine (unprofitable, going out of business,etc). This can be a great way to get a used machine at an affordable price. The main problem, is that there is no guarantee a local business will be getting rid of a machine right when you need one. Another issue, is that the ATM may be older and lack up-to-date technology.
Buying Used from Ebay or Craigslist
If you know exactly which machine you want and what features you need, sometimes you can find a used machine online via a sale site like Craigslist or Ebay. Craigslist can be good, especially because it is usually local meaning you do not have to deal with shipping. But, you are dealing with the same issue as above, availability. On Ebay, most of the ATM's are sold by ATM providers. If you go that route, you might as well just buy directly from the provider. The machines on Ebay that are sold by individual sellers, generally have really high shipping fees, which are not ideal.
Summary
If you are interested in buying an ATM machine, there are a lot of options, from buying a machine outright, to leasing and partnering with an ATM provider and splitting the profits. Whatever you decide to do, just make sure to do the research, set your budget, create a feature list, and then find a company you trust to work with. If you do your homework properly, buying an ATM machine can be a great way to add some income for your business.
For more information, schedule a free consultation with Prineta, our recommended full service ATM provider.