Negotiating investment property requires you to keep emotions in check as you work out the price, ask for necessary repairs, and request additional seller concessions. Buying investment property is like buying a home, although there are a few unique differences. In most cases, purchasing a nonowner-occupied rental property requires a hefty down payment of 20% or more.
In earlier chapters in this real estate investing guide—How to Find Investment Properties for Sale and The 5 Phases of Real Estate Due Diligence—we covered how to find, evaluate, and choose the right investment properties based on your goals. In this chapter, we will take you step-by-step through buying investment property, from what to look for when touring rental properties through taking possession of the property, including what you must bring to the closing.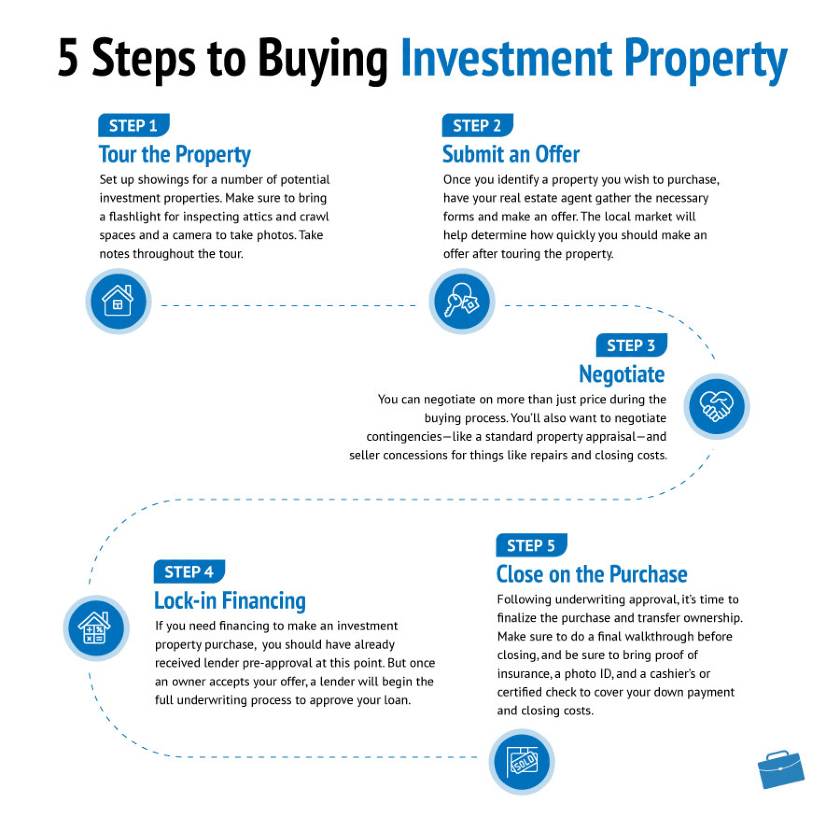 Tour the Property
After you've settled on the properties that you intend to tour, set up showings with your real estate agent or attend open houses if available. To save time, try to schedule property tours back-to-back and plan to spend several hours touring properties. Some investors like to make a full day of property viewing so that the rest of their week is free for other real estate investing or personal tasks. You will need to bring a few items with you.
6 Things You'll Need When Touring Properties
What to bring to the property tour:
Something to make notes: When you tour multiple properties, it's easy to forget what you've seen. Bring paper and pencil or use a note-taking app for recording things that you want the home inspector to review. Also, take notes on the layout and floor plan.
Flashlight: You'll need a flashlight for attics and crawl spaces. If the property is vacant and utilities are off, you'll also use a flashlight to look around. Having a flashlight for evening viewings is also helpful when looking at the property's exterior.
Tape measure: Measure the basement rooms, countertops, and other fixtures, or the building's exterior, for estimating repairs on a fix-and-flip.
Boots or other waterproof shoes: Bring waterproof shoes for walking the land and going into damp or wet basements, dirt cellars, and crawlspaces.
Comfortable, weather-appropriate clothing: Wear clothing you don't mind getting dirty since you'll be going into crawlspaces, basements, and attics. Wear seasonal outerwear for touring the land and exterior of the property.
Camera: Most cellphones today have video and photo capabilities. Take photos of various areas and rooms on the property or items that may need repair or replacement.
Take your time touring the property and ask clarifying questions. We've included a free property inspection due diligence checklist you can download and bring to each property you tour. This can help you keep track of different properties you look at as you move through buying a rental property. The checklist will be useful both during the tour and when making an offer.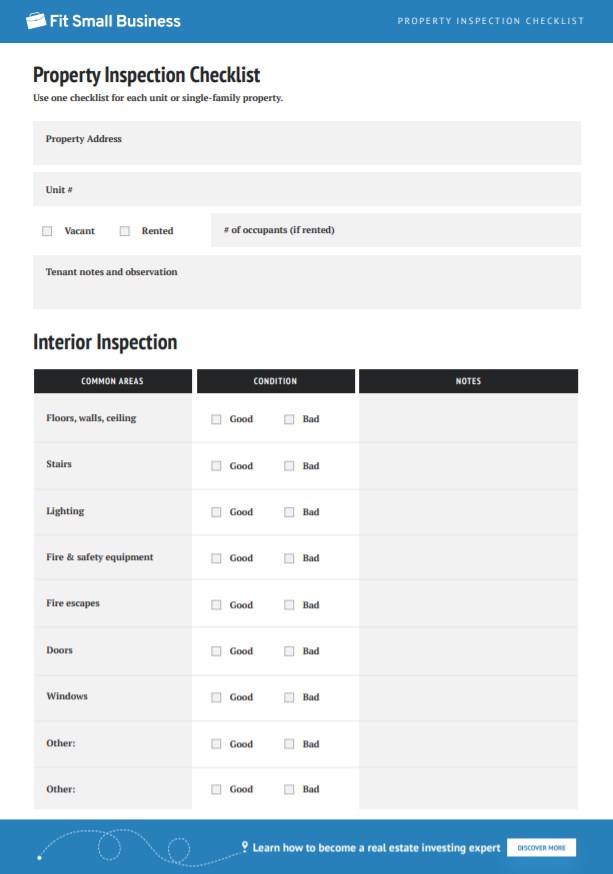 Download Property Inspection Due Diligence Checklist
What to Expect During a Property Tour
If you're buying investment property through a real estate agent, expect to sign an agency disclosure form. The agency disclosure is a required document that informs you of who the agent represents and his or her role in the transaction. Agents can represent the seller, the buyer, or both in a disclosed dual agency. Some agents represent the transaction instead of buyers and sellers. In the chapter, Building your Real Estate Investing Dream Team, we show you how to find the right team members to help you through the sale and beyond.
After greeting the agent at the property, he or she will bring you into the building and let you walk around and view the property at your leisure, making herself available for questions. Some will take you through the property inside and out, showing and telling what they know about the property. Agents often provide a property information packet. The information in the packet varies.
Items in a property information packet may include:
Realtors agency disclosure and business card
Detailed listing sheet with photos
Copy of the deed
Plot map or plan
Floor plan
Seller's property disclosure form
Seller's pro forma of all income and expenses for an investment property
Nondisclosure agreement if sellers require it before sharing financials
Copies of lead abatement certificates if available
Building code certificate if available
Some of these items are not furnished at the showing, except for the real estate agent's agency disclosure and listing sheet, unless there is an accepted offer. The seller's property disclosure form provides information about known issues with the property. For example, this form may disclose whether there is an underground oil tank, or hazardous materials on site, the age of major systems, such as heating and plumbing, or any known issues with the roof or foundation.
Submit an Offer
After touring the property, if you're ready to make an offer to buy, your agent will have the paperwork for you to do so. If you prefer to look at other properties on your tour list first, you can wait until you're done. Be mindful of the market. If it's a strong buyer's market, you don't want to wait too long to submit an offer. Some properties get several showings in a day and can go under contract quickly.
The real estate forms you need provided by your agent vary by state. In some states like Massachusetts real estate agents use a standard offer-to-purchase form, and upon acceptance of the offer, move to a purchase and sales agreement. In other states like New Hampshire, agents use only the standard purchase and sales agreements. If you're not working with an agent, you can find real estate purchase legal documents online for free or a small fee.
Sample Massachusetts Purchase Forms
Sample New Hampshire Purchase Form
You might not work with a real estate agent if you're looking at for-sale-by-owner (FSBO) properties, bank-owned properties, preforeclosures, or if you submit an offer on properties not listed on the market. If you're not working with an agent and use an online form, get it reviewed by an attorney in the state where you're buying property or use an online legal service like LegalZoom.
Offer Response Deadline
If the offer-to-purchase form provided by your agent doesn't include an expiration date, put it in your offer and give the seller 24 hours to respond. You don't want the response time to the offer left open-ended because it can interfere with your making offers on other properties and leaves an opening for sellers to get other offers or create a bidding war.
Negotiate the Offer
You can begin negotiating on price, repairs, closing costs, and tenants when you submit your offer. If the property is reasonably priced and generating decent income, don't submit a lowball offer. Some great investment property deals are lost because investors play hardball with sellers. Keep your focus on your cash flow projections, property evaluation, and long-term goals.
Along with your offer to buy the investment property, make a good faith deposit to show the seller you're serious about the purchase. The good faith or earnest money deposit is not your full down payment but is part of the down payment. When submitting your offer to buy the rental property include contingencies that release you from the contract with your earnest money deposit returned.
Negotiate Contingencies
Whether you submit an offer sight unseen, after touring the property, or through a real estate agent, there are several contingencies you want to include in your offer to purchase the property. Contingencies always have deadlines and include property inspections and financing. You can also include repairs and seller paid closing costs requests in your offer to purchase.
Purchase Contingencies
| Contingency "Subject-to" | Completion Timeline | Cost |
| --- | --- | --- |
| Property Inspections | 5 to 7 days | $350 to $1,000; larger properties may cost more |
| Property Appraisal | 2 to 7 days | $400; higher for larger properties |
| Financing Approval | 30 to 60 days | No cost |
| Satisfactory Document Review | 1 to 10 days | $100 to $500 if reviewed by attorney |
The contingencies you include when buying investment property buy you time to do a full evaluation of the property's performance and condition. They also give you time to secure funding. If you discover issues with the property's performance or cannot secure financing, you can walk away from buying the rental property and have your deposit returned, or you can renegotiate with the seller.
Property Inspections
A licensed home inspector inspects the interior and exterior of the property for damage and safety issues. Septic systems, pests, and hazardous materials, such as lead paint and asbestos, may require inspectors who do these specific types of inspections. If you do radon and water tests, there are additional lab and handling fees, and the results may not be ready with your inspection report.
You should receive the inspection report within a week and can accept the property as-is, walk away, or renegotiate. If renegotiating for repairs, focus on significant issues, such as failed septic systems and hazardous waste mitigation, before asking for other repairs. To show good faith, don't nitpick the inspection by asking for everything to be repaired. Negotiate items that make the property unsellable.
What you'll pay: Property inspection fees vary depending on the property's size and type. Fees can range from $300 to $2,500.
Property Appraisal
The lender will send a licensed appraiser to determine the property's current market value. You will pay this fee upfront or at closing. The property appraisal contingency states that the property must appraise at or below the selling price you negotiated in your offer to avoid overpaying for a property. If the property appraises for less than your agreed-upon price, you can counteroffer for the appraised value.
The appraiser typically completes the appraisal in five to seven days. You will receive a copy of the appraisal report within one to three weeks after the appraisal, sometimes longer. If the seller won't renegotiate the price, you will either have to come up with more money to cover the difference or walk away. The latter is advisable.
What you'll pay: Appraisal fees are around $400 for a single-family home and increase as property size increases since it is more work for the appraiser.
Financing Contingency
To compete with all-cash buyers, get lender preapproval before buying an investment property. A preliminary approval doesn't mean you're guaranteed financing. It also doesn't mean you gave up the financing contingency clause in your offer. A preapproval includes a credit check, verification of income, and proof of down payment funds. The loan still has to go through the appraisal and rigorous underwriting process.
If the underwriter disqualifies the property or you, the borrower, you can walk away and have your deposit returned. This underwriting approval process also requires that the property being conveyed has a clear title, meaning the property is clear of any kind of lien, and there is no question as to legal ownership. If your financing contingency deadline is approaching, and you don't have underwriting approval, you must get a signed extension from the seller to proceed with the purchase.
If the seller refuses to extend any deadlines in an offer, your earnest money deposit gets returned.
What you'll pay: Lenders fees vary and are typically 2% to 5% of the amount borrowed. They are paid at the time of closing and can be wrapped into the loan or paid from the seller's proceeds if the seller provides a closing costs concession.
Satisfactory Documents Review
If you're keeping existing tenants, you'll need time to review and verify tenant escrow deposits and leases. This is also the time to verify the income and expenses from the seller's pro forma. Deposits, tax returns, or copies of rent receipts can verify income. Copies of bills can verify expenses.
You need not hire a lawyer to review income and expenses but may want your attorney to review lease agreements so that you understand what your landlord responsibilities will include. When picking the deadline for a satisfactory review of documents, ask for no more than 10 days.
What you'll pay: There are no fees associated with document review unless you hire an attorney. Some attorneys will charge a flat fee of $100 to $200 per document.
Negotiate Seller Concessions
Don't be afraid to ask for some seller concessions in your offer. Most sellers expect buyers to negotiate but be careful not to offend the seller by asking for too many concessions. Seller concessions can save you a lot of money and help you avoid potential litigation.
Reduced Selling Price
Don't' blow the deal with a lowball offer. You may need to buy the property for a certain price to meet your goals but giving a lowball offer just to try to get a rock-bottom price on a fairly priced property rarely works and can anger the seller. If you must offer a lower price, offer something in return like a fast closing or all-cash purchase. Make the low offer your only request if you're buying with all cash but keep your property inspection, satisfactory appraisal, and document review contingencies in place.
Repairs Concessions
Only ask for repairs uncovered during the inspection that the seller would need to fix no matter who buys the property, such as a leaky roof, failed septic system, or a damaged underground oil tank. You also can waive asking for repairs if it fits within the property budget, or you can offer to cover a portion of the repair costs.
Closing Costs
Buyers often request sellers pay all or a portion of the buyer's closing costs as a fixed dollar amount or as a percentage of the purchase price, typically 2% to 6%. If you need closing costs help, you can still negotiate on price, but offer as close to asking price as possible. Your lender should be able to give you a general idea of what to expect to pay for closing costs.
Keep or Remove Existing Tenants
Tenants in leases are harder to have removed than tenants at will, unless there is a "lease termination due on sale" clause in their rental agreement or if the property is a foreclosure. If they're in a month-to-month agreement, the seller has to give them 30 days' notice prior to the first of the month.
If the seller rents to family members who are not in leases and are paying a reduced rent, you can offer to let them stay at their current rent for a specified time—typically up to one year. It's hard for sellers to evict family or worry about a loved one's rent increasing upon sale, making this a good option when asking for a much lower selling price.
Security Deposits
Security deposits are not a bargaining chip since the money held in escrow belongs to the tenant and can only be used for property damage, unpaid rent, legal fees, and what's specified in the lease, but it's important to write in your offer that all security deposits transfer to you upon closing.
Personal Notes
Buyers often include a personal note with their offer to buy the property, adding a personal touch to the negotiations. The personal note includes how interested you are in the property, what you love about it, and how you plan to take care of it. You can also share relevant personal information about you or your goals. For example, you may want to explain that you're buying property so you can earn money to send your child to college.
Negotiate an Offer 'Sight Unseen'
An offer written sight unseen is written the same as an offer where you've toured the property with one big difference: it includes a contingency that gives you time to tour the building. If you're not satisfied after the tour, you can walk away with your deposit returned. If you have a general idea of what the property looks like and how it performs financially, an accepted sight-unseen offer can be an effective strategy during a buyer's market.
When submitting a sight-unseen contingency, include a reasonable deadline of when you'll tour the property. A reasonable deadline is within five to seven days after the seller accepts the offer. You don't want to ask for a longer deadline since you're asking the seller to take the property off the market while you do your tour and meet your other contingency deadlines.
Financing Investment Property
In the chapter, Investment Property Financing Made Easy, we take a much deeper dive into investment property financing. If you need financing to buy investment property, get lender preapproval before making offers on properties. Having lender preapproval gives you greater leverage when negotiating deals and helps you compete with cash buyers. A preapproval is not a financing guarantee. You still must meet underwriting requirements, and the property will need to pass a title search and an appraisal.
A preapproval letter from a lender says that you're qualified for a mortgage up to a certain purchase price at the lender's quoted interest rate. It states the preapproval is subject to further requirements like the appraisal and underwriting. You should shop around for your loan to find the most favorable interest rate and terms. Unless you plan to live in the property, expect to show proof of the required 20% to 30% down payment.
The lender will begin the underwriting process and order the appraisal after you have an accepted offer. The lender will request further verification of income, employment, debts, two years of tax returns, savings, and investments. Even though the lender did a credit check for the preapproval when your loan goes to underwriting, they sometimes pull another credit report. The faster you provide requested documents, the faster you can potentially close.
Investment Property Closing
When the buyer and property pass underwriting approval, a closing date is scheduled by the closing attorney or title company. The timeline from acceptance of an offer to closing varies with each property. At the closing, you'll take ownership of the investment property. If you're planning to close in your limited liability company (LLC) and not your personal name, make sure before applying for loans that the lender allows you to close in an LLC.
If they don't allow it, ask if you can transfer the property to your LLC or other entity after closing. It's important to ask since some lenders can accelerate a loan if ownership transfers after closing. Most investment property lenders allow borrowers to close under their entity or transfer the deed to the entity after closing. In either case, most lenders require the borrower sign for the loan personally.
Closing Day: What to Bring
When your closing day arrives, you must bring a few things with you to the closing table. Expect to spend a few hours at the closing. You will have a mountain of documents to sign. The closing is attended by the buyers, sellers, real estate agents, and closing attorneys or title company representatives. Your insurance binder is sometimes sent directly to the lender from the insurance agent prior to the closing.
What to bring to closing:
Insurance binder: You must purchase a full year of property insurance prior to the closing day, even if you plan to escrow insurance. Sometimes, you will bring this to the closing.
Photo ID: All buyers need to provide their photo ID at closing.
Cashier's or certified check: You can't write a personal check to cover your down payment and closing costs, so you must bring a cashier's or bank certified check.
Buyers do a final walkthrough inspection of the property on the day of or the day before closing to make sure the property is being delivered in the agreed-upon condition, including any repairs. If you're working with an agent, they will meet you at the property. It's better to do the walkthrough the day before to allow the seller time to address anything that was overlooked.
Summary & Quiz
In this chapter, we covered the steps you'll go through when buying a rental property—from touring the property through negotiating an offer, securing financing, and closing on your loan. As a beginner investor starting with smaller deals, buying investment property is similar to buying a home, with a few exceptions.
Key Points to Remember:
When touring rental property, bring a flashlight, camera, tape measure, wear appropriate clothing, and take notes.
Schedule multiple tours on the same day to save time.
Don't wait too long to submit an offer.
Ask for a 24-hour response to your offer.
If your offer price is low, offer a fast closing or something else in return.
Include purchase contingencies and sellers concessions in your offer.
Get financing preapproval before looking at properties to buy.
Find out which lenders allow you to close in the name of your business entity or transfer to an entity without penalty before applying for a mortgage.
Do a final walkthrough of the property the day before closing to give sellers time to address any overlooked items.
Buying Investment Property Quiz
Answer a few questions about your business, and we'll give you a personalized product match.