Overview of Calendly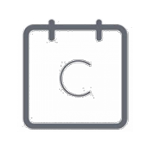 Calendly is an appointment scheduling software that lets you quickly and easily set up appointment scheduling for your business. Calendly integrates seamlessly with Google Calendar, Office 365, Outlook, and iCloud. The Pro version of Calendly also integrates with Zoom, GoToMeeting, Salesforce, PayPal, and Stripe. Automated email event notifications are delivered on all Calendly plans.
I find that Calendly is ideal for many different types of business professionals. Consultants, coaches, and other small businesses that have light-to-moderate appointment scheduling needs can all benefit from Calendly's flexible and versatile scheduling solutions.
What We Like
I like that Calendly is easy to use for both businesses and their clients. It's also easy to set up your Calendly appointment calendar, blocking out times you're not available and limiting the number of appointments you allow scheduled each day.
With just a few short steps, you can embed Calendly into your website. That means clients can book appointments directly online without ever having to leave your website. Email confirmations are sent out for each appointment; SMS appointment reminders are available through Calendly's Pro plan.
While integrations on the free Calendly plan are limited, the number of integrations on the Premium and Pro plans are considerable. With the Premium plan, Calendly lets you integrate with Zapier, which in turn connects you to more than 700 apps, including Slack, Mailchimp, WordPress, Infusionsoft, WooCommerce, Eventbrite, Kajabi, and all the most popular social media apps. With the Premium plan you can also integrate directly with Zoom and GoToWebinar.
With the Calendly Pro plan, you can integrate directly with Salesforce, which is a big benefit for some businesses. Plus, with the Pro plan, you can accept payments for appointments through Stripe or PayPal.
What We Don't Like
Every software comes with its fair share of downsides, and Calendly is no exception. With the free plan, Calendly limits you to one type of event. For example, you can only set up 30-minute meetings, or 60-minute meetings, or two-hour meetings. Whatever time frame you choose, you're stuck with it for all meetings, which obviously doesn't work well in the real world. The upside is that Calendly's paid plans offer unlimited event types.
Another major disadvantage to Calendly is that there is no telephone customer support, even with the paid plans. This can be a problem if you have urgent issues with the software. Email support for the software is available, but wait times for support tickets vary greatly. The online knowledge database is super-helpful but simply doesn't cut it when you're experiencing the occasional glitches that occasionally happen with all software.
I also don't like that clients can't search for a specific preferred meeting time, but instead have to scroll through available appointments one day at a time. I'd also like to see an upgraded look for the client-facing interface and more flexibility with that interface design for the paid plans.
Which Appointment Scheduling Provider Is Right For You?
Calendly Pricing and Plans
Calendly has three plans—Free, Premium, and Pro. The Premium plan costs $8 per user per month. The Pro plan is priced at $12 per user per month. The main difference between the Calendly pricing plans is the inclusion of certain integrations, such as Salesforce, Stripe, PayPal, and Google Analytics, which are only included in the Pro plan.
| | | | |
| --- | --- | --- | --- |
| Price | $0 | $8/user per month | $12/user per month |
| Scheduling App Integration | ✔ | ✔ | ✔ |
| Schedule Event Types | 1 | unlimited | unlimited |
| Removal of Branding | ✕ | ✔ | ✔ |
| Multiple Team Members on One Page | ✕ | ✔ | ✔ |
| Group Events | ✕ | ✔ | ✔ |
| Customizable Email Notifications | ✕ | ✔ | ✔ |
| Metrics and Reporting | ✕ | ✔ | ✔ |
| Zoom and GoToMeeting Integration | ✕ | ✔ | ✔ |
| Salesforce Integration and Support | ✕ | ✕ | ✔ |
| Stripe and PayPal Integration | ✕ | ✕ | ✔ |
Basic (Free)
The Calendly Basic plan includes calendar integrations with Google Calendar, Office 365, Outlook, and iCloud. You can schedule an unlimited number of events with the Basic plan, though only one event type (such as one-hour meetings). With Calendly's Basic plan, you get automated email even notifications and you can embed Calendly on your website, Customer support is offered through the Calendly knowledge base and email support.
Premium
The Premium plan costs $8 per month per user. In addition to all the features included in the Basic plan, Calendly's Premium plan includes two connected calendars, removable Calendly branding, group event scheduling, team calendar options, and customizable email notifications and reminders. You can also add links to event confirmation pages and you have access to reporting metrics.
The Premium plan also comes with over 700 app integrations through Zapier, plus Zoom and GoToMeeting integrations. Customer support for Premium plan clients includes email support and live chat support for 10 or more users.
Pro
The Pro plan costs $12 per month per user. When you upgrade from the Premium account to the Pro account you'll get access to color customization when adding Calendly to your website, SMS reminders for appointments, and meeting invitee redirects.
With the Pro plan, you can also integrate with Salesforce, Stripe, PayPal, and Google Analytics. If you want to accept payments for your appointments through Calendly, the Pro plan is your best option.
Calendly Features
Calendly offers a variety of features that make it one of the most popular appointment scheduling platforms available today. The Basic version, which is free, is feature-rich enough for an individual who has limited appointment scheduling needs. For more robust business needs, though, you'll want to upgrade to a paid plan to get the most out of Calendly.
Calendly Calendar Integrations
Calendly works seamlessly with a number of calendars. The Calendly software integrates with Google Calendar, Office 365, Outlook, and iCloud. You can quickly and easily set up your availability so appointments don't overlap other commitments.
Schedule Unlimited Events
Some appointment-scheduling software limits the number of events you can schedule. With Calendly you can schedule an unlimited number of events every month, even with the Basic free plan. With paid plans, you can still have unlimited events, but you also can have unlimited event types such as multiple length meetings and group meetings.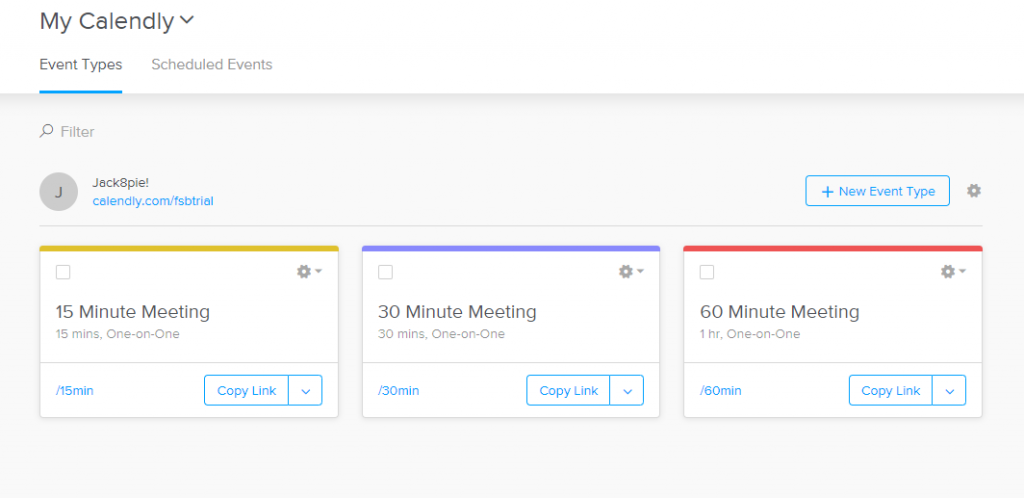 Zapier Integrations
With an upgrade to the Premium plan, you get access to Zapier integrations. This is a big deal for those who need to integrate their calendar with social media accounts, email providers, and other business applications such as Trello, Slack, Microsoft Excel, and Google Docs.
Automated Event Notifications
With every Calendly plan, every time someone schedules an appointment they automatically receive an email notification that the appointment was scheduled. This can help prevent a lot of no shows. Even better, with the Pro plan, Calendly can also send SMS appointment reminders for you; text reminders tend to drop no-show rates even more.
Stripe and PayPal Integrations
If you are in the business of charging for appointments, like many coaches, consultants, and services businesses are, then you'll want to be sure to upgrade to Calendly's Pro plan. With the Pro plan, you can integrate Stripe and PayPal into your calendar so that clients can pay for their services upfront.
Popular Appointment Scheduling Software 2019
| Appointment Scheduling Software | Best For |
| --- | --- |
| | Holistic appointment scheduling software with built in payments |
| | Intuitive and affordable appointment scheduling software for most types of businesses |
| | Industry-leading wellness software including POS and scheduling tools |
While Calendly works well for both individuals and small businesses, it's probably not the right solution for everyone. For example, Calendly may not be right for you if you require more customized scheduling needs or need to manage dozens of schedules at the same time. When it comes to scheduling software, you have many appointment scheduling options available to you. Some options are better for different types of business needs. The chart below includes three top alternatives to Calendly.
Calendly is the right option for many individuals and small businesses. Yet, it's important that your appointment scheduling software meets your unique needs, so be sure to explore alternatives before making a final decision.
Our Recommendation
I find that Calendly is a potent appointment scheduling software for individuals and small businesses that need a simple appointment scheduling software solution. I personally know several coaches, consultants, and service-oriented businesses that offer rave reviews for Calendly, noting that it's easy to set up and use, and it operates seamlessly for them.
One of the biggest downsides to Calendly is the limited functionality offered with the free program. The fact that you can only schedule one meeting type —and that a 30-minute meeting and a 60-minute meeting count as two types of meetings—is a big disadvantage for many users. Another downside to Calendly is that customer service does not include phone support.
Two of the biggest advantages to using a Calendly paid plan are the sheer number of integrations available plus the ability to accept payments through Stripe or PayPal. Plus, the Calendly interface is easy to use and scheduling works seamlessly both for you and those scheduling appointments.
If you need a basic appointment scheduling software and are fine with having only one type of meeting, then Calendly's free Basic plan is right for you. It's easy to use and the Basic plan should meet your needs.
If you want to integrate your calendar with other apps and require more scheduling versatility, upgrade to Calendly's Premium plan for $8 per month. If accepting payments directly through your scheduling software is important to you, then Calendly's Pro plan for $12 per month is the right plan for you. Visit Calendly now to test the software yourself.