CallRail Review: Is It Right for Your Business?
This article is part of a larger series on VoIP.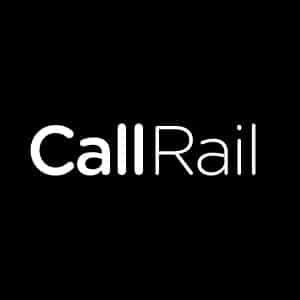 CallRail is a call tracking software with trackable phone numbers, local minutes, and text message credits. It also offers marketing and conversation analytics, enabling businesses to make more intelligent choices in their campaign spending. Monthly fees for basic features start at $45, including 10 local numbers, 500 local minutes, and 100 text messages. Based on our CallRail review, we found that it's a great choice for tracking campaigns and leads.
CallRail Overview
PROS

CONS

Team performance management available with mid-tier package
Call transcripts and form tracking locked in the most expensive package
Entry-level plan integrates with popular tools, like Facebook, HubSpot, and Slack
Phone numbers limited to the U.S., U.K., Australia, and Canada
Mobile apps compatible with Android and iOS devices
Limited customer service channels—only via email or support ticket
Automated scoring, unlike Convirza's manual scorecards
What We Recommend CallRail For
CallRail provides vital information on which marketing strategies and channels work best for your business. It is best for companies that do not mind paying more for a service inclusive of essentials, like trackable phone numbers and usage credits for calls and texts.
When to Use CallRail
Companies needing a subscription-based call tracking solution with free phone numbers: CallRail offers packages that come with trackable phone numbers and usage credits for calls and texts. It also allows users to exceed their usage with added per-minute fees—letting them pay only for what they need and consume. It is among our list of the best call tracking software.
Healthcare organizations and businesses: CallRail is Health Insurance Portability and Accountability Act (HIPAA)-compliant, ensuring your customers' sensitive data is kept private and secured.
Businesses that rely on various marketing efforts and channels in driving conversations and sales: If you are looking for a platform to track the effectiveness of your marketing efforts and communicate with your customers, CallRail is for you. It provides comprehensive insights that include your caller's relevant information, such as source and purchase journey.
When CallRail Might Not Be a Good Fit
Growing companies looking for a scalable call tracking software: If your business does not mind paying a higher rate for a more robust platform, then CallTrackingMetrics is for you. It comes with artificial intelligence (AI) for keyword identification and offers local and toll-free numbers in more than 80 countries.
Small teams that do not need text messaging capabilities and are looking for a cheaper call tracking software: CallRail's pricing is steeper than most providers, making it expensive for small teams that prioritize their limited budgets. Those who do not utilize text messages in their marketing campaigns may look into Retreaver. Note that Retreaver does not feature the anti-spam detection that CallRail has.
Businesses looking for a pay-as-you-go plan with advanced routing options: If you need advanced tools that CallRail lacks, such as geo-routing and outbound tracking numbers, check out Convirza. It also provides a call flow builder that other providers, such as CallTrackingMetrics, offer at higher rates.
Interested in other voice-over-internet-protocol (VoIP) systems? Check out our best business phone systems list to determine which product is best for your needs.
CallRail Pricing
CallRail offers four packages for various needs, where fees start at $45 per month. Its first plan has four tiers that are based on increasing usage. All plans come with monthly credits, including local numbers, local minutes, and text messages. Additional fees apply for excess use.
CallRail Plans

Call Tracking

Conversation Analytics

Marketing Analytics

Analytics Suite

Best For

Teams looking to determine which marketing campaigns are driving leads to call

Businesses that need conversation intelligence to improve contact analysis and service

Those who utilize website forms and need to analyze this data with call analytics

Companies that need both conversation and marketing analytics for customer insights automation

Monthly Pricing

($/Month)*

Starts at $45 per month

Starts at $95 per month

Starts at $95 per month

Starts at $145 per month

Monthly Local Numbers Usage**

10

10

10

10

Monthly Local Minutes Usage**

500

500

500

500

Monthly Text Messages Usage**

100

100

100

100

Call Recording

✓

✓

✓

✓

Call Forwarding

✓

✓

✓

✓

Call Transcripts

✕

✓

✓

✓

Custom Agent Setup

✕

✓

✓

✓

Form Lead Tracking

✕

✕

✓

✓

Custom Form Builder

✕

✕

✓

✓
*Monthly pricing excludes additional usage fees.
**Additional usage available for an added monthly fee. This includes up to 50 local numbers, 6,000 local minutes, and 500 text messages.
Users subscribed to the Analytics Suite can add the Lead Center for the complete CallRail platform experience for an additional monthly fee of $30 (for one to two agents) per agent, or $40 (for three or more agents) per agent.
CallRail's pricing page makes it difficult to compare its packages as you have to click on separate offerings. Other providers, such as CallTrackingMetrics, display features and inclusions in one view. Its pricing is steeper than alternatives, like WhatConverts, but it provides 100 text messages that the said competitor lacks.
Choose from the drop-down below to discover more about its plans:
Call Tracking
Users can choose from four CallRail Call Tracking tiers depending on their usage. Starting monthly fees range from $45 to $255 for up to 50 trackable numbers, 6,000 local minutes, and 500 text messages. You can also purchase popular add-ons, including:
White label for rebranding for $65 per month
Advanced call flows for $15 per company, per month
Premium integrations (e.g., Salesforce, Google Marketing Platform, Marketo, Optimizely X, and Kenshoo) for $65 per month
Call Tracking plans include offline and online call tracking, custom reporting, call scoring, unlimited call recording, call forwarding, and interactive voice response (IVR). Aside from the paid integrations, this plan includes connections to software like Microsoft Ads, HubSpot, and Google Ads.
Conversation Analytics
Apart from the Conversation Analytics plan's limited credits for calls, texts, and local numbers, it also comes with added conversation intelligence features that aim to help improve service. It also provides a mobile app, 10,000 call transcription minutes, and keyword analysis. Excess call transcription minutes cost 2 cents per minute.
Marketing Analytics
The Marketing Analytics plan offers its Call Tracking package's inclusions, plus a customized form builder and form tracking capabilities. These added features provide users with a side-by-side view of website form submissions and call analytics. Monthly fees include up to 1,000 form submissions and any excess costs 2 cents each.
Analytics Suite
The Analytics Suite combines the Conversation Analytics and Marketing Analytics plans. It comes with the same number of local minutes, text messages, call transcriptions, form submissions, and tools these plans offer.
CallRail Features
CallRail comes with some of the top VoIP phone features, including VoIP calling, texting, IVR, call recording, and analytics. It also provides comprehensive features for monitoring marketing campaigns and call conversions, as well as essential inclusions such as trackable phone numbers and call minutes.
Its platform is safe for marketers working for healthcare institutions as it is HIPAA-compliant. Additionally, CallRail signs a business associate agreement (BAA) with all their HIPAA customers to fulfill the said statute's requirements.
CallRail's packages include WordPress and Wix plugins and other tools to enable users to connect its platform to the existing software they utilize in their workflows. It allows API and webhooks access and integrates with widely used apps, including Zapier, Google Analytics, Slack, and Facebook.
However, not all tools supported can be connected to its software for free. For instance, premium software—like Salesforce—costs an additional $65 per month. If these extra fees turn you off, you can look into other providers, such as Retreaver.
General Features
CallRail provides robust call tracking features that enable users to match incoming calls and texts to your marketing efforts and channels. This capability allows you to measure your campaign's effectiveness for more optimized strategies.
CallRail utilizes dynamic number insertion (DNI) to monitor online activity, such as keywords, emails, social media posts, and pay-per-click (PPC) ads. You can also track offline marketing pieces, such as brochures, mailers, and billboards. Through CallRail, you can discover information such as a call's source and your lead's name, number, and location.
---
Call Attribution
CallRail enables users to easily measure their marketing campaign's return on investment (ROI) in just a few clicks. By tying its trackable numbers to data from a source—like a session, campaign, or keyword—it displays a caller's purpose for the call. Moreover, users can determine if their callers discovered an offer in any of their marketing channels, such as a flyer or a website.
Let's discuss its two types below:
Source-level tracking: It provides information as to which campaigns inspire most of the conversations—via channels, like calls and texts—to your business.
Visitor-level tracking: It shows the overall effectiveness of your campaign by tracking your customer's path to purchase.
CallRail lets you determine the specific moment your leads became customers through multi-channel lead attribution. It displays each interaction they had with your online and offline marketing efforts that led brand discovery to purchase.
---
Reporting
Apart from CallRail's capability to gather data on your campaign's effectiveness, it also provides views on multi-touch cost per lead, letting you know which marketing efforts are worth it. Additionally, you can classify your leads from your phone through its keypad scoring feature.
CallRail also offers insights into your team's performance. One of these capabilities is an operational reporting tool that helps businesses ensure there are available agents during peak call times. It also displays data on your teams' and agents' productivity metrics. Users can access analytics from anywhere through its mobile app.
---
Business Communication Features
CallRail comes with features that help improve lead communication. It has a call recording functionality that automatically captures your conversations as well as notifications that provide real-time alerts when your leads contact you. You can also track your missed calls from your dashboard, enabling you to return the calls promptly.
Other features include whisper messages—preparing your team before answering calls by providing relevant data. Additionally, CallRail's anti-spam detection feature avoids spam to keep your records' accuracy.
---
CallRail Alternatives
| | | |
| --- | --- | --- |
| | | |
| Best for: Businesses looking for a platform for multi-channel tracking | Best for: Marketers on tight budgets who need customizable call tracking service plans | Best for: Companies looking for a pay-as-you-go call tracking platform that comes with advanced routing options |
| Starting price: $39 per month, plus usage | Starting price: $25 | Starting price: $4 |
Looking for more options to consider? Read our list of the best call center software to determine which product suits your needs.
What Users Think of CallRail
Most CallRail user reviews commend it for being an excellent call tracking software, specifically for monitoring leads and campaigns. It is best for small businesses looking for a robust platform that captures conversions from marketing efforts across channels, including calls and forms. Those not focused on price appreciate its value as it provides inclusions that other providers don't. For instance, WhatConverts does not offer 100 text messages, unlike CallRail.
At the time of publication, CallRail has earned the following scores on popular user review sites:
Many users like its platform's ease of use and comprehensiveness. They appreciate that it has various tools they need, including integrations, lead and conversion tracking, and detailed reports. There are mixed reviews on its customer support, where the majority mentioned that its team is very knowledgeable and helpful in addressing their needs. A few others complained, however, sharing that not all agents are skilled in handling issues.
Bottom Line
CallRail is an excellent option for companies looking for a call tracking software offered in all-inclusive, subscription-based packages. Unlike other providers, such as CallTrackingMetrics, it provides phone numbers, call minutes, and text credits in their plans. If your business needs a straightforward platform for analyzing calls, conversations, and marketing efforts, CallRail is worth checking out. Try its software for free for 14 days to determine if it matches your needs.