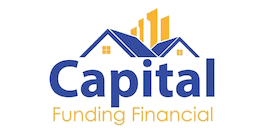 Capital Funding Financial
Capital Funding Financial offers hard money loans with rates that start at 7.99%. They lend up to 70% LTV and can fund loans in as quick as 7 days. Capital Funding Financial was established in 2015. They are rated 5 stars based on 12 Facebook reviews.
Lender Information
Capital Funding Financial Rates & Terms
Types of Properties
Single Family Residence
Multifamily (5-250 Units)
Commercial (office, retail, industrial, and hospitality)
Loan Amount
$100,000 to $25,000,000
LTV
up to 80%
ARV
up to 75%
Interest Rates
Start at 5.00 Plus Libor
Lender Fees
Origination Fee: 1.75 - 2.50 points
Closing Costs
No Prepayment Penalty

Loan Terms
12 to 48 months
Minimum Qualifications / Documentation
No minimum credit requirement
No Previous Experience Required
No Foreclosures, Short-sales, Or Bankruptcies In Past 4 Years
No Involuntary Liens Or Judgments
No Felonies Or Financial Fraud

Time to Funding
7 days or more
Other Financing Available
FHA Loans
Asset-Based Loans
Fix & Flip Loans
Foreclosures
Short Sales
*Exceptions may be granted. Lender information is updated often, however exact lender terms may have changed.
States Currently Lending In
Florida, Texas, Georgia, New York, New Jersey, Colorado, Virginia, Washington, Tennessee, North Carolina, South Carolina, and Hawaii.
Work For Capital Funding Financial? Claim This Page.