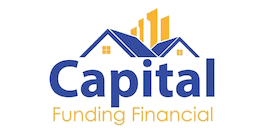 Capital Funding Financial
Capital Funding Financial offers hard money loans with rates that start at 7.99%. They lend up to 70% LTV and can fund loans in as quick as 7 days. Capital Funding Financial was established in 2015. They are rated 5 stars based on 12 Facebook reviews.
Lender Information
Capital Funding Financial Rates & Terms
Types of Properties
Single Property
Portfolios
Single Family Residence
Condos
Townhomes
2-12 Unit Multifamily
Commercial On A Case By Case Basis

Loan Amount
$100,000 to $5 million or higher
LTV
70%
ARV
No info
Interest Rates
Start at 7.99%
Lender Fees
Application Fee: $299
Origination Fee: 1.99 to 3.99 points
Closing Costs
No Prepayment Penalty

Loan Terms
1 to 3 years
Minimum Qualifications / Documentation
Credit Score: 550
No Previous Experience Required
No Foreclosures, Short-sales, Or Bankruptcies In Past 4 Years
No Involuntary Liens Or Judgments
No Felonies Or Financial Fraud

Time to Funding
7 days or more
Other Financing Available
FHA Loans
Asset-Based Loans
Fix & Flip Loans

*Exceptions may be granted. Lender information is updated often, however exact lender terms may have changed.
States Currently Lending In
Florida
Work For Capital Funding Financial? Claim This Page.