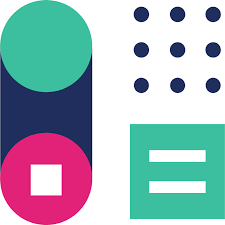 Capsule CRM is a simple CRM software that includes contact management, lead generation, and sales opportunities. It is available in three different plans: Free, Professional, and Teams. Some of its features are contact management and sales opportunity management. Capsule CRM is ideal for sole proprietors who need basic CRM features on a budget. We'll go into Capsule CRM reviews, pricing, features, and other information in more detail in this review.
Which CRM Provider Is Right for You?
Capsule CRM Pricing and Plans
Capsule has three available subscription plans: Free, Professional, and Teams. The Free plan is available for up to two users, while the Professional plan is priced at $18 per user, per month and the Teams Plan at $36 per user, per month. The main differences between the pricing plans are the amount of storage and the number of contacts and user accounts.
| | Free | Professional | Teams |
| --- | --- | --- | --- |
| Price | Free for 2 users | $18/user, per month | $36/user, per month |
| Number of Contacts | 250 | 50,000 | 100,000 |
| File Storage | 10MB | 10GB | 20GB |
| Integrations | Basic | Premium | Premium |
| Contact Management | ✔ | ✔ | ✔ |
| Calendar | ✔ | ✔ | ✔ |
| Task Management | ✔ | ✔ | ✔ |
| Workflows (Tracks) | ✔ | ✔ | ✔ |
| Sales Reporting | N/A | ✔ | ✔ |
| Activity Reporting | N/A | ✔ | ✔ |
| Team Management | N/A | N/A | ✔ |
| User Permissions | N/A | N/A | ✔ |
Free
The Free plan with Capsule CRM allows up to two users and 250 contacts, and includes deal management and support cases. Capsule CRM includes a simple, clean interface that makes it easy to find your lead and deal information without extra navigation or clicks. Capsule includes limited task workflow automation even in the Free plan, unlike many of its competitors.
Professional
The Professional plan is $18 per user, per month and increases the number of contacts to 50,000 and storage to 10GB. This plan includes premium integrations with services like Mailchimp, FreshBooks, G Suite, and others. Beyond that, most of the features are the same as the Free plan, though the contacts and storage limits give most small businesses plenty of room to grow. This makes it ideal for teams or individuals who want a CRM that can grow as they do.
Team
The Team plan is $36 per user, per month, and allows both additional contacts and storage. The contacts are increased to 100,000 and the storage for each user increases to 20GB. Most of the contact and deal management features are the same, with the biggest difference being the ability to group users into teams and assign different levels of permissions for each. This makes it a great choice for smaller teams that want a simple CRM for a variety of roles.
Capsule CRM Pros & Cons
Pros
One of the biggest advantages of Capsule CRM is that it is relatively simple and easy to set up. It also offers workflows, called tracks, that let you create simple project or pipeline workflows for handling customers and their needs. One of the other main benefits is that it feels much leaner since it only focuses on the core features, which makes it easier to get around and quickly find what you need.
Cons
Capsule CRM is relatively basic compared to many other small business CRMs. As a result, it lacks some of the pipeline management and reporting features found elsewhere. It also lacks some of the contact features like chat widgets, lead scoring, and email marketing automation that are becoming more and more common in CRMs. Finally, Capsule does not have the same level of advanced integrations with third-party services as more advanced CRMs have.
Capsule CRM Ease of Use
Capsule CRM is very straightforward, modern, and easy to use. While it doesn't pack as many of the advanced features found in other CRMs, it is well-suited for contact and deal management, and the intuitive interface makes it easy to navigate and use. Capsule also requires far less ramp-up and training than other options due to a streamlined and simple interface. Most of the important features can easily be found with just one or two clicks.
Capsule CRM Customer Support
Capsule CRM offers web form-based help during regular Monday through Friday business hours. The company also offers a self-help portal and library of common support issues, making it relatively simple to solve your issue without having to contact support.
Capsule CRM Features
Contact Management
Capsule CRM makes it easy to manage your personal contacts and organizations. You can add contacts manually, or import them from lead generation forms on your website. Contact profiles provide an at-a-glance view of all of the important contact details, relationship history, upcoming tasks, and opportunities. You can also attach files like proposals and quotes, and can manage customer support cases using tracks you set up.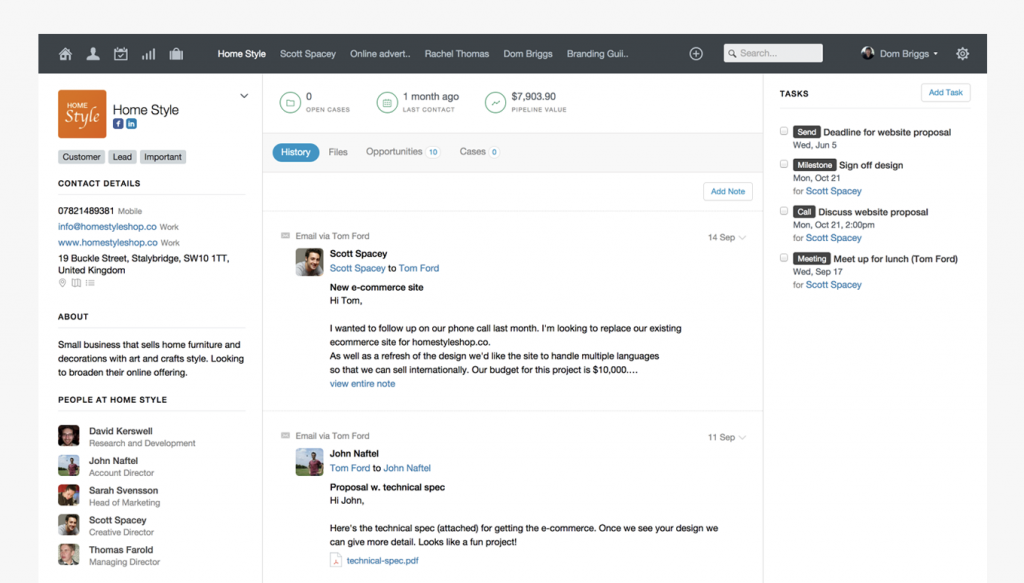 Sales Opportunities
Capsule CRM has a relatively straightforward interface for managing sales opportunities that closely resembles the contact information. Capsule allows you to link sales opportunities with both contacts and organizations and lets you create tasks or run tracks for each opportunity. Capsule will also help you track what percentage of your deals are closing, and what the total value of your pipeline is at any time.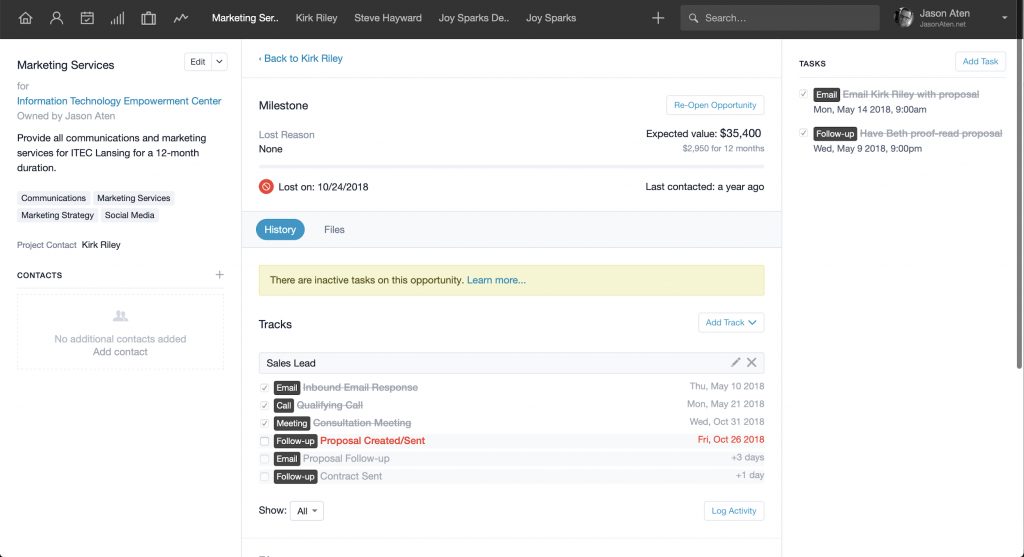 Tracks
Tracks are simply a process or series of activities organized into a workflow that allows you to create a preset list of tasks or events, and trigger them as they are completed. These are especially helpful for project workflows, sales pipelines, and support cases. You can create as many tracks as you need, letting you have a different workflow for handling different types of inquiries or projects. Tracks can be attached to a contact, organization, support case, or deal.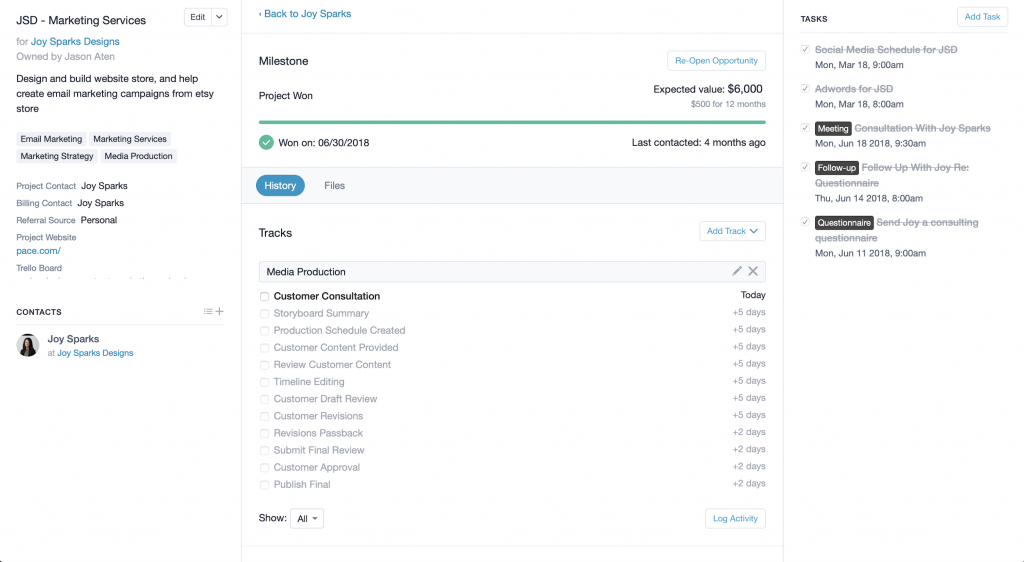 Popular CRM Software 2019
| Best CRM for Small Business | Best for |
| --- | --- |
| | B2B businesses that need a customizable, robust, and competitively priced CRM with built-in phone |
| | Small businesses that want a CRM with enterprise-class sales and support features |
| | Businesses that want a free, no-frills CRM with basic features and unlimited users |
| | Teams that want a user-friendly and visual pipeline to manage sales |
| | Organizations seeking free lead & management software with integrated reporting |
| | Businesses looking for a robust CRM with a top-notch mobile app |
Capsule CRM Integrations
Here is a list of some of Capsule CRM's popular integrations:
Mailchimp
Zendesk
Cin 7
Xero
FreshBooks
Wufoo
GravityForms
G Suite
Overview of Capsule CRM Reviews
Users who gave Capsule CRM a positive review said that it streamlines their tracking of prospects, sales leads, clients, and other contacts. They also added that its customizable fields enable them to craft dashboards to suit their needs. Users who gave Capsule CRM a negative review said that its task calendar can be difficult to navigate. They also suggested that the free plan should expand its accommodated contacts to more than 250.
Our Top CRM Picks
If you aren't sure if Capsule CRM is right for you, this article on the 10 Best CRMs for Small Business is a review of our top 10 choices. Our team looked at a variety of solutions and narrowed down our recommendations based on price, features, and customer support.
Capsule CRM FAQs
Can Capsule CRM users import contacts into the platform?
Yes. Capsule CRM users can import contacts by synchronizing the platform with Outlook, Google Contacts, Mac Address Books, Thunderbird, LinkedIn, Act!, or by uploading a spreadsheet containing their information. Spreadsheets must be uploaded as CSV files and should follow the format provided by Capsule CRM.
Is it possible for users to customize the categories they group their emails into?
Yes. Capsule CRM users can group emails in categories according to specific contacts, specific opportunities, or specific cases. This is done by going to the Actions Menu and generating a drop box email address and BCCing it in the email to be listed. This automatically puts the email in the category that corresponds to the drop box email.
Is Capsule CRM Right for You?
Capsule CRM is an intuitive and simple CRM software that includes contact management, lead generation, sales opportunities, and workflow "tracks." Capsule CRM is available as a free plan for two users, and paid plans are $18 per user, per month and $36 per user, per month, increasing contacts and storage capacity. Capsule CRM is ideal for sole proprietors who need an easy-to-use, basic CRM on a budget.
Free trials are available for the paid plans, which add more of the advanced features commonly found in other options. Visit their website to sign up for a free trial of their professional plan or get your free account today.