Carpenter's insurance is a series of policies for those who frame, trim, and finish wood components. Policy combinations protect against liability claims, theft, loss, and damage to tools and materials that may be left in a truck or at a worksite. Costs range between $500 and $2,500 or more, depending the combinations of policies.
If you are looking for an insurance provider who understands the higher risk of being a carpenter as well as the nuances that separate you from a handyman or general contractor, visit Hiscox. You'll get comprehensive coverage specific to your various jobs. Fill out their short form to get a no-obligation quote online in minutes.
How Carpenter Insurance Policies Work
Carpenter's insurance is a subset of a contractor's policy, and is usually less expensive than general contractors. A combination of policies including property coverage, general and professional liability, commercial auto, surety bonds, and builder's risk make up comprehensive insurance for carpenters.
There isn't one policy that covers everything a carpenter needs. Unlike handyman insurance that covers a wide variety of small jobs across different types of projects, including some plumbing and electrical work, insurance for carpenters covers specific liabilities exclusive to building, finishing, remodeling, and repairing homes and buildings.
One of the most common types of insurance for carpenters is a business owner's policy. A BOP is as close to an all-in-one carpenter's insurance policy as you can get. It covers general liability, business property, leased structures, and other potential issues such as loss of income if you can't provide services due to a loss. It packages this in one (often less expensive) policy.
Carpenters have a lot of risk inherent in their work. Clients, other contractors, or bystanders can get hurt on a job site leading to medical claims. Tools might get stolen from a company truck or a work site, preventing the ability to work. Clients might claim the work wasn't done to code and sue. Insurance for carpenters covers you for these and many other risks.
Top Carpenter Insurance Providers
Whether you need carpenter's insurance for a job requirement or because you want to protect yourself and your business, getting the right coverage for a competitive price is top priority. Some carriers are more competitive with bigger companies, but if you are a sole proprietor, you need a policy that won't break the bank.
Top Carpenter Insurance Providers
| Provider | Best For |
| --- | --- |
| Hiscox | Business looking for flexibility with certificates of insurance and combining liability with property. |
| Insurance321 | Carpenters who want insurance quotes from local experts in as little as four minutes. |
| Insureon | Any size company doing carpentry work at all levels, from repair to new developments. |
| Liberty Mutual | Independent contractors and small businesses focused on remodeling and single home construction. |
| State Farm | Sole proprietor whose business vehicle isn't classified as a commercial auto. |
Utilize your insurance carrier as a business partner protecting your interests. Insurance providers focus on the major risks, and then look at secondary policies to tie things together contingent on the size and risk exposure of your company. A sole proprietor may not even have an officially designated commercial truck to carry his tools, while a carpenter with a regular crew may have three commercial vehicles to work various jobs.
Some of the top carpenter's insurance providers include:
Hiscox Insurance provides comprehensive commercial insurance in all 50 states. This is an A.M. Best A-rated company with good customer reviews for commercial claims. Carpenters growing their business can get policies that grow with them and easily adjusted with Hiscox.
Carpenters who need to manage teams on larger projects appreciate the flexible rating options Hiscox offers. Adding business property to a general liability policy in a hybrid business owner's policy is easy, with tiers of $5,000 worth of property added with a click of a mouse.
Insurance321 is an online insurance marketplace known for connecting small business owners and individuals with local independent insurance agents. The process is simple: you send the company your contact information, and a representative calls within minutes. They verify your risk so they can get you in touch with a local agent who specializes in carpenter coverage.
Working with an independent agent has numerous benefits. First, you have the ability to shop and compare multiple quotes. Since they aren't tied to a single carrier, independent agents work to find the right coverage for you. Another benefit is local expertise. A local agent is more likely to know area-specific risks, like weather and crime, and can guide you to the appropriate insurance. Visit Insurance321's website to get quotes in as little as four minutes.
Insureon specializes in helping business owners shop for insurance across many carriers. Its online quote system makes it simple for business owners to put information in once and get matched with insurance companies. Business owners wanting to find the best coverage for the most reasonable rates are able to do this quickly on the Insureon platform.
Insureon is ideal for a sole proprietor to get a quick quote online. Find the right coverage with all the requirements, including builder's risk and professional liability. The process requires one online application, making it easy for a busy carpenter at job sites to get coverage.
Liberty Mutual is the fourth largest property and casualty provider offering coverage across the United States. They hold an A rating, meaning the company is highly solvent. Independent contractors working on individual projects are served well by the policies that focus on helping the little guy.
As a provider for commercial insurance, Liberty Mutual provides straightforward policies for business owners less in-tune with insurance language and more in-tune with running their business. Carpenters with business and personal policies enjoy the ability to have all policies maintained in one location.
State Farm holds an A.M. Best rating of A++, representing financial superiority. State Farm is the largest property and casualty insurer in the country; it is most well-known for auto and home insurance but has competitive commercial lines as well. For those already with State Farm for personal insurance, potential risk gaps for sole proprietors are caught.
For carpenters with one or more personal autos used for business, State Farm offers competitive risk classification for vehicles that allows bundling with other home and auto policies for discounts. The company does not insure general contractors, but does write for risk on subcontractors like carpenters and plumbers.
Types of Insurance for Carpenters
Insurance for carpenter's policies include general liability, business property, commercial auto, and professional liability. Bonds are a small stop gap in the insurance industry that licensing bodies require. No one policy covers all the potential risks of a carpenter. A carpenter may also obtain workers' compensation if he hires assistants.
Most Common Types of Carpenter Insurance
| Type of Insurance | What it Covers |
| --- | --- |
| Commercial General Liability Insurance | Covers clients and general public from accidental injury or property damage carpenter is responsible for.   |
| Commercial Auto | Provides liability protection and vehicle coverage if the carpenter is in an auto accident. |
| Surety Bonds | Minimum protection required for licensing and permit acquisition. |
| Professional Liability | Protects against lawsuits claiming work was done incorrectly, not complete or resulted in failure. |
| Builder's Risk | Theft, vandalism and damage to materials, supplies and equipment left on site. |
By understanding what various policies do, you can better shop for the best policy or combination of policies for your company. Don't be "sold" on policies. By asking questions about your risk exposure, such as business property, types of jobs, and general contractor needs, an agent will suggest policies.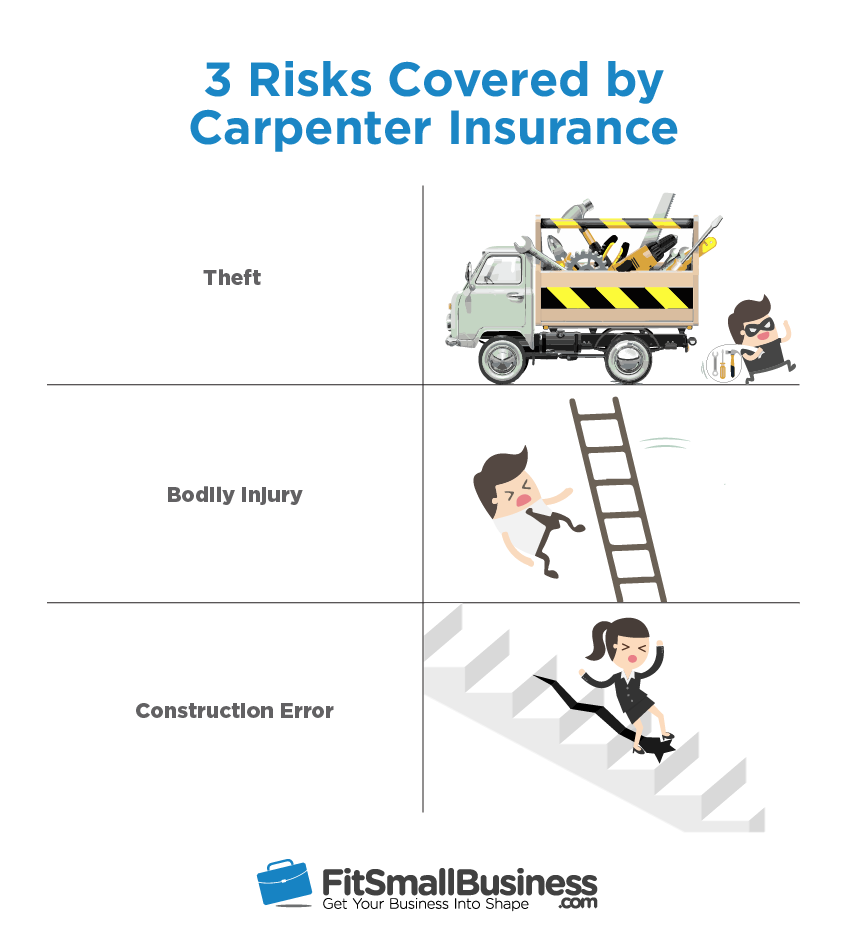 This might seem like the agent just wants to sell you more insurance, but the reality is agents hate when a client has a claim and they don't have a policy in place to cover it. It doesn't make anyone feel good. Determine what policies are most important to you and elect to get coverage where that fits.
General Liability Insurance for Carpenters
Commercial general liability insurance covers carpenters from what can be one of the biggest types of losses: lawsuits. Carpenters are classified at an elevated risk category because they have tools on site, many being extremely sharp or heavy. These types of claims range from a few thousand dollars up to $1 million in coverage.
If a general contractor (GC) asks for an insurance certificate, general liability is the basic coverage needed to satisfy that. The GC wants to protect himself from someone getting hurt from your presence on any site. So if a client, another tradesman, or anyone visiting the job site trips over your tool box and throws their back out, your insurance pays that claim.
Commercial Auto Insurance for Carpenters
If your truck is used for your business, make sure it is covered for your business pursuits. That means either your personal truck must have a policy rider that states rates and charges you for work use. If the vehicle is used exclusively for work, it needs to have commercial auto insurance on it.
Commercial auto insurance covers liabilities in accidents using company cars. It covers employed drivers and company owners from injuries and property damage. If you get in an accident while going to or from a job, getting supplies or meeting with clients, a commercial auto policy or business pursuits rider covers you. Remember that tools stolen are covered by business property policies such as a BOP and not the vehicle policy.
Surety Bonds for Carpenter License Requirements
A surety bond is not an insurance policy; it is an insurance product. State licensing boards require carpenters to carry a bond. An insurance carrier collects a small fee for the bond and guarantees coverage, often between $10,000 and $25,000. The claimant gets paid, and then the insurance carrier reclaims the money from the carpenter.
This is different than insurance which collects a fee and pays a claim; policy holders don't repay the claim proceeds. Bonds are inexpensive ways to protect consumers from small issues. While insurance policies protect both consumers and carpenters from major claims, they may not have the funds to cover it.
Professional Liability Insurance for Carpenters
Professional liability is different than general liability. It covers liabilities if you didn't do your job correctly. This covers injuries, damage, and other loss resulting from not doing the work according to building codes and safety standards. If a flight of stairs collapsed because it wasn't built to code, this is covered under professional liability.
For example, assume you are hired to frame a two-story house. You complete the job and get paid. Six months later, the stairs collapse under the homeowner's feet. With mounting medical costs and home damage, it's determined that workmanship led to structural failure. You are required pay the costs of repairs, medical bills, and even mental anguish. General liability won't cover this.
Builder's Risk Carpenter's Insurance
Builder's risk protects against loss and vandalism of tools, supplies, and materials maintained at someone else's property, normally on the job site. It covers things like vandals coming in and breaking plywood or weather damaging the progress of a build. While some commercial property policies may have coverage integrated, others exclude builder's risk.
Clients are not responsible for the costs associated with what a carpenter loses on the client's premises. Some carriers allow riders for builder's risk on existing policies for short-term needs. If a carpenter is working on multiple sites or is constantly having supplies delivered prior to starting a job, builder's risk insurance is important to consider.
Business Owner's Policy for Carpenter's Insurance
The business owner's policy is really a step above just having general liability. It combines the exposure of high-cost liability claims and then protects the carpenter if his tools and equipment (other than his vehicle) get damaged, stolen, or lost.
Carpenters often leave their tools in their van or truck when not working. If those tools are stolen out of the truck, the business owner's policy covers the carpenter less his deductible to replace his tools. Because the BOP is a more comprehensive policy, it might also give the carpenter payment in the claim for lost income because he can't work, and thus can't get paid while waiting for the claim to get processed.
Workers' Compensation for Carpenters
Workers' compensation covers someone if they are injured on the job. Both injuries and loss of income are covered. Most independent carpenters opt out of workers' compensation since it can be thousands of dollars each year. However, some general contractors (and even clients) require carpenters to have it.
If a carpenter thinks he is going to hire an assistant for a particular job, but hasn't yet, he might want to get a "ghost" policy. This is a workers' compensation policy that pays a minimum premium based on $0 payroll, but provides coverage should an injury happen to a worker not listed on the policy yet.
Carpenter Insurance Costs
Expect to pay a minimum of $500 for a small business owner's policy. More significant coverage that covers a contractor framing homes or doing large permitted home remodeling should have broader coverage that will cost anywhere from $2,500 to $5,000 annually. A BOP with commercial auto coverage are most commonly paired.
Carpenter Insurance Costs & Deductibles by Insurance Type
The variety and combination of carpenter's insurance policies directly affect annual premium costs. A carpenter should consider the risks, the requirements of general contractors, and credibility to clients when choosing insurance coverage for his business.
Here are some average price ranges found nationwide for insurance for carpenters:
General Liability: Most companies offer zero deductibles for general liability claims with policies ranging from $1,000 to $2,500. Premium pricing is not only contingent on location and claim history, but on the type of carpentry done and overall annual workload for the carpenter, defined by revenues.
Business Owner's Policy: These policies range between $500 and $1,500 for annual premiums. Pricing goes up as general liability coverage is increased or more business property is added. Tools and equipment are a considerable cost component of the premium. Increasing the deductible reduces premium.
Commercial Auto: The cost of commercial autos ranges from $1,000 to $2,500 based on whether the vehicle is actually a personal auto used for business or a commercial truck based on weight standards. Increasing deductibles reduces premiums.
Surety Bonds: These are required for all licensed carpenters in most states. The cost is contingent on state requirements and ranges from $50 to $300.
Professional Liability: Getting coverage for work errors averages around $2,500 in the nation. While these policies have no deductible, the cost does vary depending on total coverage, previous loss history, and duration of coverage. Some policies extend coverage beyond the policy term for work done during the policy period.
Builders Risk: Builders risk ranges from $1,000 to $2,000 for short-term jobs under 30 days in duration. Costs rise contingent on the job site size, security, and location as well as how long the job duration is. Risk goes up over extended periods of time.
Carpenter Insurance Costs
| Insurance Type | Premium Cost | Deductible |
| --- | --- | --- |
| General Liability | $1,000 - $2,500 | $0 |
| Business Owners Policy | $500 - $1,500 | $0 - $2,000 |
| Commercial Auto | $1,000 - $2,500 | $0 - $2,000 |
| Surety Bonds | $50 - $300 | $0 |
| Professional Liability | $2,500 | $0 |
| Builder's Risk | $1,000 - $2,000 | Varies |
Factors that affect the costs of policies vary. A finishing carpenter insurance policy is less expensive and easier to obtain than a framer's. The risk is much higher for a framer who has a significantly higher need for professional liability compared to a cabinet installer. The size and weight of a work truck will move it from personal auto pricing with business use classification to a much more expensive commercial policy.
Insurance for Carpenters Examples
A carpenter has many needs for insurance because there are many possibilities for loss and liability. For most carpenters, their home is their office, they drive to and from job sites with tools, and go to supply centers for materials. Dangerous tools, job site commutes, and work vehicles sitting idly in parking lots are all potential loss opportunities.
Here are examples of instances where you need carpenter's insurance:
Part of General Contractor Crew: You started shopping for an insurance policy because a general contractor (GC) you are working with required a certificate of insurance. The GC requires this from independent contractors to protect himself from liability claims; you add him as a covered party on your policy for the project. You purchase a business owner's policy and get the certificate.
Auto Accident on Job Site: On your way to the job, you don't see the mason backing out from behind some supplies on site and you run into his car. Who is responsible? Even if you have personal auto insurance on the truck, if your carrier discovers the truck is not properly rated for commercial use, you could be denied a claim or see the claim paid amount reduced.
Damage to Materials Purchased for Client: You ordered new custom cabinets for a client that you are doing the kitchen remodel for. The cabinets are delivered to the worksite and left in a carport while you remove the old. A rainstorm with high winds sweeps through, damaging the cabinets before they ever made it into the house. You are deemed responsible because you didn't secure the items during construction.
Clumsy Clients on Worksite: A client walks into the work site and trips over your tool box, falling over and hitting his head. He goes to the hospital with several lacerations from falling on your tools and a potential concussion from hitting his head. This is bodily injury that you are responsible for, even if the client owned the property where the work is done.
Having carpenter's insurance allows carpenters to get more work through general contractors and protect themselves from claims over things that might not have been their fault. Just because clients are clumsy doesn't mean you aren't liable if they get hurt on the job site, ironically a property they likely own.
Tips on Getting/Applying for Insurance for Carpenters
Get a Certificate of Insurance for Clients
When a general contractor or a client is requesting a certificate of insurance, your insurance provider will need to create this. Some providers do this for free while others may charge $25 per certificate. Check when getting quotes to see if this is included. The certificate of insurance lists the third party as a temporary insured on your policy, waiving their liability on claims against you. Most certificates require a minimum of $1,000,000 in general liability coverage.
Keep Updated Inventory of Equipment, Tools, and Supplies
Most business owners underestimate the cost of replacing business equipment and supplies. Take the time to look at your tools and supplies that you must have to do your job. Add up the cost of all tools and supplies and what it would take to replace them. As you buy new tools, keep receipts. If you make a large purchase, consider speaking with your insurance agent to increase the business property coverage.
Talk to Other Contractors About Potential or Odd Claims
Ask other contractors what types of policies they have. Get their experience on what types of claims typically happen and how their insurance covers those claims. Understand how a claim is processed and the timelines to make sure you aren't left waiting for a claim to pay you before you can return to work.
"A bond does nothing to protect the customer after work is performed. A bond is set up as an insurance to protect a financial investment but once the job is complete, the bond no longer covers the damage occurring as a result of services performed."

—Flash Shelton, Founder United Handyman's Association
Carpenter Insurance Frequently Asked Questions (FAQ)
There are a lot of variables when choosing insurance for your carpentry business. If you still have questions, here are some of the most frequently asked questions about carpenter's insurance.
1. What Is the Minimum Recommended Coverage for Carpenter's Insurance?
A carpenter can get a policy for a minimum of $300,000 in general liability coverage for under $1,000. However, most clients or general contractors require a minimum of $1,000,000 in general liability coverage to be hired as a subcontractor, which averages approximately $2,500 in annual premiums.
2. Does a Handyman Need a License and Bond?
Handymen usually work on smaller projects that may or may not be related to carpentry. Most handymen work on jobs up to $500 in total and don't require a license, bond, or insurance. However, everyone is prone to risk and a handyman could get protection with handyman insurance.
3. Do Independent Contractors Need Workers' Compensation Insurance?
Workers' compensation covers actual employees. Independent contractors are not employees and should carry their own insurance. A general contractor who hires a carpenter requires a certificate of insurance. If the carpenter employs his crew, he must pay payroll taxes and maintain workers' compensation.
Bottom Line
Carpenter insurance falls into the contractor's category for insurance risk, and costs are therefore higher than for businesses sitting behind a desk. To get more consistent work with general contractors, carpenters should carry $1,000,000 in general liability and enough business property coverage to make sure they can show up for work with tools to do the job.
For specialized coverage with your small business's needs in mind, reach out to Hiscox. Its experts provide policies tailored to the risks your business faces. Receive a no-obligation quote online in minutes.