2022 CDGcommerce Review: Is It Right for Your Business?
This article is part of a larger series on Payments.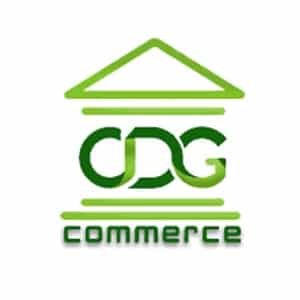 When to Use CDGcommerce
I've looked at dozens of credit card processors for multiple industries and am impressed with what CDG offers—including its pricing. Rather than a one-plan-fits-all approach, it offers both flat-rate and interchange-plus pricing and monthly membership plans. Even so, the pricing is straightforward and easy to understand. It also provides strong features for different industries.
In short, CDGcommerce is best for:
Restaurants: CDGcommerce is our top pick for merchant services for restaurants because of its flexibility, including flexible pricing, and features that enable easy tip adjustments and integration with restaurant POS and reservation software.
Businesses selling high-ticket items: CDG's monthly plans remove the percentage-based fees, making it less expensive for processing high-ticket items like appliances or expensive jewelry.
B2B and wholesalers: CDG's pricing works well for wholesale and B2B sales, and it provides Level 2 & 3 Processing discounts.
When CDGcommerce Would Not Be a Good Fit
New businesses, occasional sellers, or businesses with low sales volumes: While the interchange-plus percentage is low, the monthly fees and additional flat rate may make it more expensive in the long run for those not making regular sales. Smaller sellers would be better served by a free merchant account with no monthly fees.
Low-volume businesses needing a POS system: If you don't process a lot of credit card transactions and need to purchase or lease point-of-sale (POS) hardware, then you may find a cheaper option with POS systems that include payment processing or a mobile POS app.
CDGcommerce Overview
PROS

CONS

Monthly memberships; no contracts
Charges an insurance fee for its free card reader
Multiple pricing tiers to match sales volume
Best membership rates require 12 months' advance payment
Direct integration with POS systems
Only provides rented payment terminal
Free recurring billing management
Invoicing feature is an add-on
Since our last update:
We took a detailed look into CDGcommerce's pricing models and features. We also added more detailed information on its available integrations.
CDGcommerce Deciding Factors
Multiple pricing models based on sales volume
Mobile card reader: $65
Card terminal rental: $79/year
Approval turnaround time: 1–3 business days
Contract: Month-to-month
Early termination fee: $0
Multiple payment gateway options
Gateway fee: $0
Recurring billing fee: $0
Chargeback fee: $25
Add-on chargeback protection tools
Advanced CRM/Invoicing tool: $199/year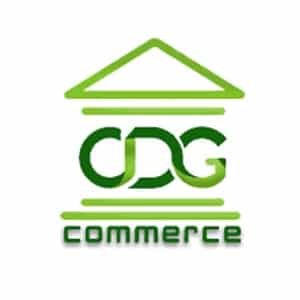 CDGcommerce Payments Calculator
Enter your current in-store and/or online sales volumes and average order values for an estimate on the monthly fees you would pay using CDGcommerce.
Top CDGcommerce Alternatives & Fee Comparison
| | | | | |
| --- | --- | --- | --- | --- |
| | | | | |
| Best for | Small businesses needing free POS | Processing over $10,000/mo. | Occasional sales or processing less than $1,000/mo. | Cheap credit card processing |
| Monthly fee | $0 | $25 | $0 | $59–$99 |
| Card-present transaction fee | 2.6% + 10 cents | Interchange + 0.15% + 8 cents | 2.29% + 9 cents | Interchange + 8 cents |
| Keyed transaction fee | 3.5% + 15 cents | Interchange + + 0.15% + 8 cents | 3.5% + 49 cents | Interchange + 15 cents |
| Ecommerce transaction fee | 2.9% + 30 cents | Interchange + 0.2% + 11 cents | starts at 2.59% + 49 cents | Interchange + 15 cents |
| | | | | |
Looking for the lowest rates? The payment processing rates you will pay can vary based on your business size, type, and average order value. To find the most affordable option for you and compare multiple processing rates, read our guide on the cheapest credit card processing.
CDGcommerce Pricing
CDGcommerce offers flat-rate, interchange-plus, and monthly membership pricing. Pricing models depend on your monthly sales volume, with a flat rate for businesses that process $1,000 to $10,000 per month, interchange-plus if you sell from $10,000+ to $200,000 per month, and membership pricing for businesses that process over $200,000 per month.
Best for: Businesses that process $1,000–$10,000 per month
| | Swipe | Mobile | Online |
| --- | --- | --- | --- |
| Monthly fee | $0 | $0 | $0 |
| Transaction rate | 2.75% + 30 cents | 2.75% + 30 cents | 2.90% + 30 cents |
| Keyed-in Surcharge | N/A | 0.15% | N/A |
| AmEx Surcharge | 0.25% | 0.25% | 0.25% |
Includes:
Customer management
Loyalty management
Email and text promotions
Invoicing
Virtual terminal
Ecommerce store builder
Scheduling and appointment setting
Fully integrated credit card terminal
Nonprofit donations & campaign management
Best for: Businesses that process $10,001–$200,000 per month
| | Retail | Nonprofit | Online |
| --- | --- | --- | --- |
| Monthly fee | $0 | $0 | $0 |
| Transaction rate | Interchange plus 0.25% + 10 cents | Interchange plus 0.20% + 10 cents | Interchange plus 0.30% + 10 cents |
| Payment tools | Supports payment terminals and mobile card readers | Over the phone and in-person payments | Free payment gateway |
Includes:
Customer management
Loyalty management
Email and text promotions
Invoicing
Virtual terminal
Ecommerce store builder
Scheduling and appointment setting
Fully integrated credit card terminal
Nonprofit donations and campaign management
Breach protection plan for up to $100,000
Complete PCI security tools
Best for: Businesses that process $200,000+ per month
| | Basic | Standard | Plus | Premium |
| --- | --- | --- | --- | --- |
| Monthly fee billed annually in advance | $49 | $79 | $99 | $199 |
| Transaction rate | Interchange plus 10 cents | Interchange plus 10 cents | Interchange plus 7 cents | Interchange plus 5 cents |
| Processing Limit | $25,000 | $75,000 | $200,000 | Unlimited |
Includes:
Customer management
Loyalty management
Email and text promotions
Invoicing
Virtual terminal
Ecommerce store builder
Scheduling and appointment setting
Fully integrated credit card terminal
Nonprofit donations and campaign management
Breach protection plan for up to $100,000
Complete PCI security tools
If you process over $200,000 per month, CDG will put you on the Wholesale Subscription/Membership plan, but other businesses may find it advantageous. For example, if you sell high-ticket items, then it may be worth the monthly fee to remove the percentages and take a lower cents-per-transaction fee. To lock in the best rates, you'll want to pay an entire years' worth of monthly subscription fees upfront.
For those who do not want to pay for a full year in advance, CDGcommerce also offers a custom pricing plan. However, while you can return your rented card terminal at any time, make sure this is still the case in a custom plan without being tied to a long-term contract.
Additional fees include:
Chargeback fee: $25
PastePay (invoicing and advanced CRM): $199/year
Fraud Loss Reimbursement Program (fraud protection): Call CDGcommerce for pricing
CDG360 (risk management): Call CDGcommerce for pricing
Authorize.net, PayPal Payflow Pro, Braintree integration (alternative payment gateways): Call CDGcommerce for pricing
CDGcommerce Hardware
Each CDGcommerce subscription includes a free EMV- and NFC-compliant card reader for all subscription levels. However, it costs $79 per year to insure the equipment, which includes upgrades. The most popular terminal is the DejaVoo Z11, which retails for $274 on Amazon and has 5 out of 5 stars from users.
It also sells the Walker 2.0 Bluetooth EMV-capable card reader for mobile solutions. It's compatible with Apple and Android and costs $65.
CDGcommerce does not provide POS hardware, but it can work with many popular terminals such as Harbortouch, POSitouch, and ShopKeep. It can reprogram many existing terminals and works with TSYS.
| | |
| --- | --- |
| | |
| Walker 2.0 | DejaVoo Z11 |
| Bluetooth, EMV payments, compatible with all Apple and Android devices | Wi-Fi connectivity, touch screen, EMV + NFC payments, built-in printer |
| $65 | $79/year |
CDGcommerce Features
CDGcommerce works with all business types—retail, restaurant, service professionals, nonprofits, B2Bs and even international merchants. It also makes a point to highlight niche businesses that do not fall into specific categories (or fall into multiple categories). CDGcommerce's website lists features available for each business type but the most notable features are as follows:
Contract & Merchant Agreement Terms
Signing up for CDG is simple. You can call, email, or live chat with a representative to get answers to all your questions and select the best plan for your business. Then, you fill out the application online. CDGcommerce will work with you to reprogram your POS system if needed, and you should be ready to accept payments in a couple of days.
While offering a pay-as-you-go plan is normal for merchant providers like Stripe (with zero monthly fees) and Dharma Merchant Services (with wholesale subscription pricing), they don't automatically include rented-out equipment in their plans like CDGcommerce. However, CDGcommerce bills its users one year in advance, which is most likely why they don't require a mandatory contract length. It's important to take this into consideration before signing up for a plan.
---
Payment Processing
CDGcommerce allows you to accept credit card, digital wallet, and ACH payments for both online and in-person transactions with discounted rates for large-volume (like B2B) businesses and nonprofit organizations. Online and card-not-present transactions are supported by payment gateways, and in-person transactions are accepted using mobile card readers and credit card payment terminals that are fully integrated to your POS software.
For B2B and professional service businesses, CDGcommerce supports invoiced payments processing and recurring billing, which includes Level 2 and 3 data processing and secure customer data vault for subscriptions. While you can download its free mobile app, CDGcommerce also supports a mobile-friendly virtual terminal for businesses such as housekeeping and service technicians.
Other payment processing features include:
Recurring billing or subscriptions
Automated billing
Mobile payments
PCI certification
Debit and small-ticket discounts
Reservation software integration for restaurants
Integration with over 350 applications, such as QuickBooks and MaxMin
---
Online Sales
CDGcommerce can create for you an online store with inventory tracking. It also has a virtual terminal if you want to collect payments over the phone. The ecommerce package includes integration into third-party billing software, recurring billing, discounts and loyalty programs, automatic email receipts, and mobile processing.
CDG integrates with the most popular ecommerce software such as Shopify, BigCommerce, Magento, and X-Cart.
---
Payment Gateway
CDGcommerce can help you select the right payment gateway and works with Authorize.net and Quantum to waive gateway fees, which can save you hundreds of dollars a year. It can also support services like Shopify, PayPal, Braintree, NMI, and others. However, between the two preferred payment gateway applications, merchants subscribed to a flat-rate plan can only use Quantum Gateway.
Deciding on which payment gateway to choose will depend on the payment tools you need for your business. For instance, Authorize.net is best if you have a subscription-type business, because it includes an automatic card updater, so you're assured that payments always go through. However, B2B businesses need both level 2 and 3 processing, which is only available with Quantum Gateway.
---
PastePay CRM
For an additional $199 per year, you can get the PastePay program through CDGcommerce. This is a third-party CRM that offers billing and marketing tools. You can store customer data and create customer groups for loyalty programs or to email and text promotions. PastePay has a scheduling and appointments function that can include up-front payments. Further, you can create invoices, issue electronic gift cards, and create buttons for your website for appointments or sales.
If your business does not need a full POS system, you may find this a cost-effective addition. Not many merchant account service providers offer a similar, fully integrated CRM feature. Stripe comes close with its partnership with myCred but will require you to have some technical skills to be able to plug in a few lines of code. However, you'll notice that you need this feature to be able to create payment buttons or share payment links which almost all other payment gateways, like PayPal and Shopify, provide at no extra cost.
---
Chargeback Protection
CDG's chargeback program deserves a special callout. Its fraud protection feature evaluates each transaction in real time and automatically rejects ones identified as high-risk. It can also customize the level of protection by providing you with security tools that allows you to set your preferred risk tolerance. In cases where claims are filed, CDGcommerce provides immediate notification and assistance in disputing chargebacks. It also has a fraud loss reimbursement program of up to $100—or up to $250 if you sign up to CDGcommerce' Fraud Defense Suite.
Some providers like Square Payments also reimburse successful chargebacks up to a certain amount. However, you'll rarely find merchant account providers that partner with nationally accredited collections agencies where you can submit your claim and help you collect any lost payments. You get 50% of any collected on your behalf, which is better than losing the money completely.
As with other leading merchant account services providers, CDGcommerce has authorization-level fraud prevention tools such as IP Identity Verification, Address Verification, and 3D Secure available for all its merchant account plans.
---
CDGcommerce Ease of Use
Ecommerce Integrations
CDGcommerce provides integration with more than 350 apps, most of which are for ecommerce features. For instance, while it recommends Quantum Gateway and Authorize.net as payment gateways, there are other platform options that work with the software:
SlimCD
PayPal Payflow Pro
Braintree
Cayan
NMI
CyberSource
eProcessing Network
Shopify
It also supports a variety of shopping cart and online store platform integrations:
Shopping Carts

Online Store Platform

3dcart
Ecwid
Foxy cart
Zen cart
Xcart
And more

Shopify
BigCommerce
Magento
WooCommerce
POS Integration
PastePay leads the list of POS that works with CDGcommerce. However, this cloud POS is advertised on the CDG website mainly for its advanced invoicing tools and CRM features. For those looking for a full POS system, PastePay also offers appointments and scheduling features, subscription and recurring billing management, and payment terminal integrations.
Other POS integrations include Vital POS and Echo POS, both of which offer full POS software and hardware features that integrate directly with CDGcommerce.
Other Integrations
CDGcommerce does not list all of its partner integrations. However, it highlights other business management tools such as QuickBooks for accounting, Dejavoo, Verifone, and Ingenico for payment terminals, and authentication tools like Verified by Visa and MasterCard SecureCode.
Customer Support
The 24/7 support is highly praised by users; a review of a new business owner on its website noted that they felt comfortable going to them with all their newbie questions. CDGcommerce lacks any online demos or a knowledge base, however.
What Users Think of CDGcommerce
I searched multiple review sites and found few reviews for CDGcommerce by users. Those we did find were over 3 years old. These older reviews ran hot or cold, either praising customer support to the stars or calling the company a scam. One positive reviewer even went so far as to accuse the one-star review of being spam.
Bottom Line
CDGcommerce is a cost-effective merchant service that does credit card processing at flat rates or interchange-plus rates, depending on your sales volume and needs. It handles in-person and online transactions and integrates with a multitude of POS and ecommerce platforms. Contact CDGcommerce today and see how it can help you lower your credit card processing expenses.