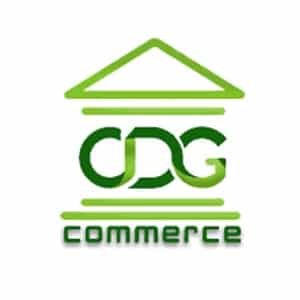 CDGcommerce's merchant services started in 1998, and it has since become a leader among merchant account providers. It claims a 97% customer retention, which is fantastic in an industry where being disappointed with your credit card processing service can seem the norm. Its transparent but flexible pricing and strong billing features make it a good choice for retailers, restaurants, and B2B sellers.
When to Use CDGcommerce
We've looked at dozens of credit card processors for multiple industries and we're impressed with what CDG offers—including its pricing. Rather than a one-plan-fits-all approach, it offers both flat and interchange-plus pricing and monthly membership plans. Even so, the pricing is straightforward and easy to understand. It also provides strong features for different industries.
In short, CDGcommerce is best for:
Restaurants: CDGcommerce is one of our top picks for merchant services for restaurants because of its flexible pricing, restaurant-specific tools, and flexibility.
Businesses selling high-ticket items: CDG's monthly plans remove the percentage-based fees, making it less expensive for processing high-ticket items like appliances or expensive jewelry.
B2B and wholesalers: CDG's pricing works well for wholesale and B2B sales, and it provides Level 2 and 3 Processing discounts.
When to Use an Alternative
New businesses, occasional sellers, or businesses with low sales volumes: While the interchange-plus percentage is low, the monthly fees and additional flat rate may make it more expensive in the long run for people who don't make regular sales. Smaller sellers would be better served by a free merchant account that has no monthly fees.
Low-volume businesses needing a POS system: If you don't process a lot of credit card transactions and need to purchase or lease point-of-sale hardware, then you may find a cheaper option with POS systems that include payment processing or a mobile POS app.
CDGcommerce Overview
PROS

CONS

Monthly memberships; no contracts
Different pricing for high-risk businesses, including CBD sales
Multiple pricing tiers to match sales volume
Best membership rates require 12 months' advance payment
Direct integration with POS systems
Does not sell POS hardware
CDGcommerce Pricing
CDGcommerce offers two types of pricing structures: flat rate and monthly membership. Flat rate pricing is designed for new and small businesses. Membership models are for established and growing businesses.
All plans include customer tracking, loyalty, and promotions, invoicing, virtual terminals, ecommerce, and a credit card terminal. They also incur a $25 fee on chargebacks, which is industry standard. The plans vary in interchange rate and how much you usually process in a month.
Per Transaction Pricing
Businesses that process $10,000 or less per month can get a flat rate:
2.75% plus 30 cents per transaction for swiped, dipped or tapped in-person transactions
2.90% plus 30 cents per transaction for manually entered, online, and card-not-present transactions
Businesses that process anywhere from $10,000 to $200,000 per month may be offered interchange-plus rates:
Interchange plus 0.25% plus 10 cents per transaction for swiped, dipped, or tapped in-person transactions
Interchange plus 0.30% plus 15 cents per transaction for online and card-not-present transactions
Includes $100,000 data breach protection plan and PCI tools
Membership Pricing:
CDGcommerce also offers memberships, where you pay a monthly fee in exchange for lower transaction fees. If you process over $200,000 per month, CDG will put you on this plan, but other businesses may find it advantageous. For example, if you sell high-ticket items, then it may be worth the monthly fee to remove the percentages and take a lower cents-per-transaction fee. To lock in the best rates, you'll want to pay an entire years' worth of monthly subscription fees upfront.
| Monthly Sales Volume | Monthly Fee | Transaction Fee |
| --- | --- | --- |
| Up to $25,000 | $49 | Interchange plus 10 cents |
| $25,000–$75,000 | $79 | Interchange plus 10 cents |
| $76,000–$200,000 | $99 | Interchange plus 7 cents |
| $200,000+ | $149 | Interchange plus 6 cents |
CDGcommerce also offers as an add-on purchase the PastePay CRM program for $199 per year. It provides invoicing and billing tools, inventory management, and online sales.
Top CDGcommerce Alternatives and Fee Comparison
| | Square | Dharma Merchant Services | PayPal | Payment Depot |
| --- | --- | --- | --- | --- |
| Best for | Small businesses and artists needing POS | Businesses processing over $10,000/month | Occasional sales | Cheap credit card processing |
| Monthly fee | $0 | $20 | $0 | $49 |
| Card-present transaction fee | 2.6% + 10¢ | Interchange + 0.15% + 10¢ | 2.7% | Interchange + 5–15¢ |
| Keyed transaction fee | 3.5% + 15¢ | Interchange + + 0.15% + 10¢ | 3.5% + fixed fee | Interchange + 5–15¢ |
| Ecommerce transaction fee | 2.9% + 30¢ | Interchange + 0.2% + 10¢ | starts at 3.4% + 30¢ | Interchange + 5–15¢ |
| | | | | |
Looking for the lowest rates? The payment processing rates you will pay can vary based on your business size, type, and average order value. To find the most affordable option for you and compare multiple processing rates, read our guide on the cheapest credit card processing.
CDGcommerce Features
Signing up for CDG is simple. You can call, email, or live chat with a representative to get answers to all your questions and select the best plan for your business. Then, you fill out the application online. CDGcommerce will work with you to reprogram your POS system if needed, and you should be ready to accept payments in a couple of days.
Payment Processing
CDG can help you select the right payment gateway and works with Authorize.Net and Quantum to waive gateway fees, which can save you hundreds of dollars a year. It can also support services like Shopify, PayPal, Braintree, and others.
CDG's chargeback program deserves a special callout. It has a dedicated Risk Department for dealing with disputes. It provides immediate notification, assistance in disputing chargebacks, and has other services to help protect you from fraud such as high-risk scores and the ability to reject payments. In addition, the merchant account includes services with an accredited collections agency to help you collect any lost payments. You get 50% of any collected on your behalf, which is better than losing the money completely.
Other payment processing features include:
Recurring billing or subscriptions
Automated billing
Mobile payments
PCI certification
Debit and small-ticket discounts
Reservation software integration for restaurants
Integration with over 350 applications such as QuickBooks and MaxMind
Hardware
Each CDGcommerce subscription includes a free EMV and NFC-compliant card reader for all subscription levels. However, it costs $79 per year to insure the equipment, which includes upgrades. The most popular terminal is the DejaVoo Z11, which is available elsewhere and has 5 out of 5 stars from users.
It also sells the Walker 2.0 Bluetooth EMV-capable card reader for mobile solutions. It's compatible with Apple and Android and costs $65 each.
CDGcommerce does not provide POS hardware, but it can work with many popular terminals such as HarborTouch, POSitouch, and ShopKeep. It can reprogram many existing terminals and works with TSYS.
Online Sales
CDGcommerce can create for you an online store with inventory tracking. It also has a virtual terminal if you want to collect payments over the phone. The ecommerce package includes integration into third-party billing software, recurring billing, discounts and loyalty programs, automatic email receipts, and mobile processing.
CDG integrates with the most popular ecommerce software such as Shopify, BigCommerce, Magento, and X-Cart.
PastePay CRM
For an additional $199 per year, you can get the PastePay program through CDGcommerce. This is a third-party CRM that offers billing and marketing tools. You can store customer data, and create customer groups for loyalty programs or to email and text promotions. PastePay has a scheduling and appointments function that can include up-front payments. Further, you can create invoices, issue electronic gift cards, and create buttons for your website for appointments or sales. If your business does not need a full POS system, you may find this a cost-effective addition.
CDGcommerce Ease of Use
24/7 year-round live support
Chargeback support includes defense, notifications, and reimbursement assistance
Live chat (business hours)
CDGcommerce works with well-known POS systems and payment gateways and will take care of reprogramming your equipment for you. The 24/7 support is highly praised by users; a review of a new business owner on its website noted that they felt comfortable going to them with all their newbie questions. CDGcommerce lacks any online demos or a knowledge base, however.
What Users Think About CDGcommerce
I searched multiple review sites and found few reviews for CDGcommerce by users. Those we did find were over three years old. These older reviews ran hot or cold, either praising customer support to the stars or calling the company a scam. One positive reviewer even went so far as to accuse the one-star review of being spam.
Bottom Line
CDGcommerce is a cost-effective merchant service that does credit card processing at flat rates or interchange-plus rates, depending on your sales volume and needs. It handles in-person and online transactions and integrates with a multitude of POS and ecommerce platforms. Contact CDGcommerce today and see how it can help you lower your credit card processing expenses.