In a comparison of business internet service providers (ISPs) CenturyLink vs Cox, you'll find that CenturyLink offers lower prices, but also lower speeds. Cox Business provides slightly higher top speeds, but it's only available in 19 states. Monthly pricing for CenturyLink starts at $65, and Cox Business begins at $74.
When to Use CenturyLink
CenturyLink is a great option for businesses that want flexibility. The business ISP offers prepaid, month-to-month services that might appeal to startups and small businesses on a budget. The prices and speeds are reasonable when compared to Cox Business.
When to Use Cox Business
Use Cox Business when there are no other options available. The prices for the speeds it offers far exceed not just those of CenturyLink, but all the other business internet providers we looked at. Its top offering of internet speeds up to 200 Mbps for $340 per month is wildly disproportionate to other services. At 3 years, it has the longest contract lengths as well. It's hard to justify paying top dollar for a Cox plan that's only marginally faster than the entry-level CenturyLink plan and costs five times as much.
CenturyLink vs Cox Business at a Glance
| | CenturyLink | Cox Business |
| --- | --- | --- |
| Pricing | $65-$90/month | $74-$340/month |
| Installation Cost | $60 | $25 |
| Availability | 37 states | 19 states |
| Speed Options | Up to 140 Mbps | Up to 200 Mbps |
| Contract Required | Varies | ✔ |
| Equipment Lease | ✔ | ✔ |
| Data Cap | N/A | 1TB |
| Type of Internet | Cable, fiber | Cable |
| More Information | | |
How We Evaluated CenturyLink vs Cox
To help you choose the best business ISP, we compared features and factors that go into choosing an ISP, such as CenturyLink and Cox Business. We paid close attention to the ongoing monthly costs, how fast you can expect your connection to be, availability in your area, and feedback from both industry watchdogs and real-life users.
We considered these evaluators in this comparison:
Price: We considered how much internet services cost per month.
Ease of installation: We compared the cost of installation cost and whether you can perform a self-installation.
Internet speeds: We looked at the top speeds each company offers.
Uptime: Reliability is important, and while most ISPs promise more than 99% uptime, we considered whether CenturyLink or Cox offer guarantees.
Availability: Even if a service is excellent, it doesn't mean much if it isn't available in your area. We compared the availability of each of these ISPs.
Contract length: We considered whether you're required to commit to a long-term contract with these ISPs and whether you'll have to pay cancellation fees if you break that contract early.
Customer support: We reviewed the various ways you can get help through the ISPs' websites and customer support team. We also considered how well the company scores in customer satisfaction studies
User reviews: We also looked at highlights of common complaints and compliments left by real-life customers across the internet.
Based on the above criteria, CenturyLink is the clear winner. Not only is CenturyLink more affordable than Cox, but it also is available in more areas, doesn't include a data cap, and offers fiber connections in some areas.
CenturyLink vs Cox: Pricing & Features
The decision between Cox vs CenturyLink is likely going to come down to speed and price for you. CenturyLink has a distinct advantage in terms of price because it offers lower fixed monthly rates and no contract plans. However, Cox can deliver higher speeds than CenturyLink, but they come with a hefty price tag.
CenturyLink Pricing & Features


CenturyLink's business internet offerings all hinge on simplicity. If you need an internet connection and nothing else, the Simple Internet Plan is great. Its speed tops out at 140 Mbps, but that should work for most small business offices. Bundling internet with phone service unlocks some extra perks.
CenturyLink Tiered Plans
| | CenturyLink Simple Internet | CenturyLink Simple Internet + Traditional Phone | CenturyLink Simple Internet + Digital Phone |
| --- | --- | --- | --- |
| Pricing | $65 | $84.99 | $90 |
| Speeds Up to 40 Mbps | ✔ | ✔ | ✔ |
| Speeds Up to 140 Mbps | ✔ | N/A | ✔ |
| Unlimited Nationwide Calling | N/A | ✔ | |
| Voicemail and Visual Voicemail | N/A | ✔ | N/A |
| Instant Messaging and Mobility Features | N/A | ✔ | |
| Microsoft® Office 365 Business Essentials Included | N/A | ✔ | |
| Business Extras | N/A | ✔ | |
| Contract Length Required | | 2 years | None |
| Prepaid plan | ✔ | N/A | |
| No Cancellation Fees | ✔ | N/A | |
CenturyLink Simple Internet
Sometimes all you need is a connection. The Simple Internet Plan is an ideal fit for those times. You'll get a dedicated 40 to 140 Mbps connection for $65. More than enough for day-to-day internet usage. No contract, no phone lines―just internet. However, top speeds are not guaranteed at that price in all areas.
CenturyLink Simple Internet + Traditional Phone
If your business needs a landline telephone, this plan gives you that plus the basic connection of Simple Internet. The phone service offers unlimited local and nationwide calling along with video mail and voicemail. Plus, you get two licenses to Microsoft Office for your business. The drawback to this particular plan is that it slashes your internet speeds from 140 Mbps to 40 Mbps, and you must sign a two-year contract.
CenturyLink Simple Internet + Digital Phone
If you need phone service but don't want to sacrifice your internet speed, this is the CenturyLink plan you want. You get all the benefits of the traditional phone bundle while maintaining 140 Mbps internet speeds. Unlike the traditional phone plan, this one allows you to go month-to-month instead of tying you into a two-year contract.
Cox Pricing & Features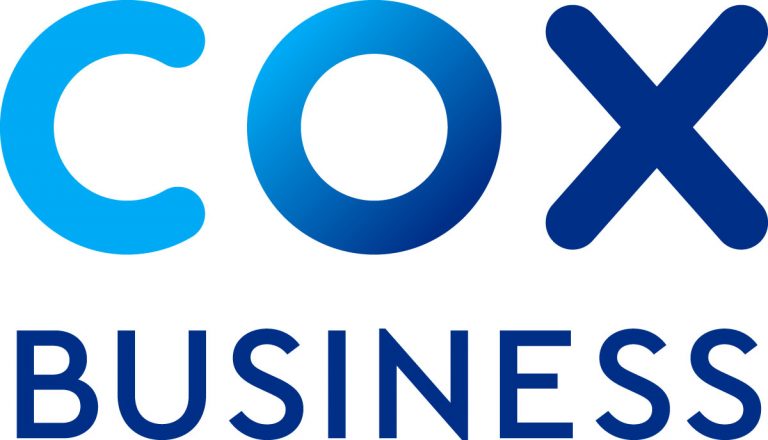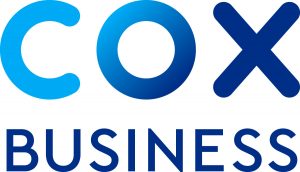 Cox's business internet plans are probably the most straightforward of all the providers we evaluated. Its plans are solely about picking the connection speed that's right for your business. However, it's much more expensive than CenturyLink and may not be worth the price for what you get.
None of the business internet plans include phone service on their own, but you do have the ability to add phone lines should they become available in your area.
Cox Tiered Features
| | Cox Business Internet - 50 | Cox Business Internet - 100 | Cox Business Internet - 200 |
| --- | --- | --- | --- |
| Pricing | $74-$190/month | $104-$260/month | $154-$340/month |
| Speeds Up to 50 Mbps | ✔ | ✔ | ✔ |
| Speeds Up to 100 Mbps | N/A | ✔ | ✔ |
| Speeds Up to 200 Mbps | N/A | N/A | ✔ |
| 1 Static IP address | ✔ | ✔ | ✔ |
| 25 Security Licenses | ✔ | ✔ | ✔ |
Cox Business Internet – 50
Cox's entry-level business internet offering gives you a simple connection with up to 50 Mbps internet speeds, which will do fine if your business is one or two people who aren't power users. However, it may be too slow of a connection for a large office to share. CenturyLink's opening bid offers more than double the speed for less and with no contract.
Cox Business Internet – 100
This plan is the same as the entry-level plan, except you can get internet speeds up to 100 Mbps. You still get faster speeds with CenturyLink's Simple Internet plan—and for much less. It should be noted that every tier of the Cox Business Internet plan locks you into a three-year contract. Cox will bill you at an introductory rate for the first six months. In this tier's case, $104 per month. For the remainder of the contract, you'll pay $260 monthly. At $104, a connection at only 100 Mbps is already considered expensive.
Cox Business Internet – 200
This is the only pricing plan Cox Business offers that has speeds that exceed CenturyLink's entry-level plan—up to 200 Mbps. However, the price is too expensive to justify for that service. The introductory rate is $154 per month for the first six months, and then $340 thereafter.
CenturyLink vs Cox: Availability
Cox Business is quite limited when compared to CenturyLink and most other business ISPs. You can only get it in 15 states, whereas CenturyLink is available 37 states. However, even though CenturyLink might be available in your state, it may not be available in your area. Plus, availability doesn't mean that you'll get the advertised speeds. In many localities, they are much slower.
CenturyLink Availability
You can sign up for CenturyLink Business in the following states:
Alabama
Arizona
Idaho
Illinois
Indiana
Iowa
Kansas
Louisiana
Michigan
Minnesota
Mississippi
Missouri
Montana
Arkansas
Colorado
Nebraska
Nevada
New Jersey
New Mexico
North Carolina
North Dakota
Ohio
Oklahoma
Oregon
Pennsylvania
South Carolina
Florida
Georgia
South Dakota
Tennessee
Texas
Utah
Virginia
Washington
Wisconsin
Wyoming
Cox Availability
Cox Business Internet offers service in the 15 states listed below:
Rhode Island
Connecticut
Massachusetts
Ohio
Virginia
Georgia
Arkansas
Florida
Louisiana
Oklahoma
Kansas
Arizona
California
Nevada
Idaho
CenturyLink vs Cox: Ease of Installation
CenturyLink and Cox Business offer installation services, which makes installation of your internet quite easy. If you have the know-how or the equipment to set up your internet, you may not need to have a technician come to your home. If one does need to come, it shouldn't cost you very much.
CenturyLink Ease of Installation
CenturyLink will install a cable modem at your business for $60. You can do a self-installation if you'd prefer, and CenturyLink will waive the $60 fee. If you choose to self-install, make certain that the person doing it is qualified. A simple mistake by unqualified personnel could potentially cost you more than  $60.
Cox Ease of Installation
Cox does not allow you to install its service on your own. However, all you'll pay is a $25 activation fee for your modem. Cox does allow you to provide your own equipment for the connection, but you'll have to consult with a technician to see if what you have qualifies.
CenturyLink vs Cox: Speed & Uptime
Both CenturyLink and Cox Business guarantee uptimes exceeding 99%, which is typical for business ISPs. It's the speed that matters with these two companies, and they're mostly comparable.
CenturyLink Speed & Uptime
CenturyLink's business internet speeds top out at 140 Mbps. This certainly isn't lightning-fast but is good enough for a small to midsize operations. As long as you're not engaged in things like heavy, sustained data transfers or broadcasting high-definition video on a regular basis, it's a speed that should suffice.
CenturyLink promises 99.9% uptime, which means you can expect a reliable connection. However, this uptime doesn't include scheduled maintenance time.
Cox Speed & Uptime
The business internet plans offered by Cox offer top speeds of 200 Mbps. Which is similarly beneficial for small offices and groups for daily, moderate usage. Cox Business claims 99%+ uptime, but it won't commit to a specific percentage above 99%. Of course, this also does not include scheduled downtime for maintenance of servers.
CenturyLink vs Cox: Customer Service
CenturyLink and Cox offer similar methods for you to seek help should a need arise. You can find an answer online, chat with a representative, or give a support team a phone call. The biggest difference between these two business internet services is hours of availability.
And although customer support is there to help, the ISP industry is notorious for low customer satisfaction scores. The American Customer Satisfaction Index (ACSI) gives the industry as a whole a score of 64%. Cox and CenturyLink both fall below the industry average.
CenturyLink Customer Service
If you need to contact CenturyLink's customer service department, you have a few options. You can chat with someone on the provider's website, send an email, or call to speak with someone. Phone support hours are 7 a.m. to 9 a.m. Eastern time Monday through Friday. If you prefer to look up the answer yourself, you can search the support page for articles about common issues.
CenturyLink's latest customer satisfaction score of 59 isn't the worst in the industry, but it falls in the lower ranks. While it's been steady for the past three years, it's on a long-term downward trend. For comparison, CenturyLink had a score of 64 in 2013—today's industry average.
Cox Customer Service
When it comes to the methods of reaching customer support, Cox has CenturyLink beat. You can chat with an agent 24/7 from Cox's website. You can call the support team, which is also available 24/7. And there's an option to text your questions—also 24/7. There's also a large repository of guides, articles, and answers to common questions on Cox Business' support page.
Cox is just barely squeaking by CenturyLink in customer satisfaction ratings. It's only one point higher on the ACSI at 60.
CenturyLink vs Cox: User Reviews
To temper what the ACSI reports, we looked to online user reviews of Cox and CenturyLink to find out what people's personal opinions are of the two ISPs. For the most part, the results seem to align with the ACSI scores.
CenturyLink User Reviews
Of the review sites we consulted, CenturyLink usually averaged a rating of three out of five stars. We saw very few 5-star reviews and many single stars. Most of the complaints lamented slower than advertised connection speeds, poor customer service, and various unresolved technical issues. However, many users praised technicians for their knowledge and professionalism. Additionally, the company's knowledge-base was pointed to as a great resource to get your tech issues solved.
Cox User Reviews
Cox Business fared worse than CenturyLink in user reviews. Cox's average score on the review sites we visited never broke 3 out of 5 stars. Reviews of 1 and 2 stars dominate every other score. Some 4- and 5-star reviews exist, but they are extremely rare. Complaints ran the gamut from slow speeds, onerous contract requirements, and indifferent customer service representatives. The positive reviews gave a general, and much shorter, praise for delivering the service and speed they expected.
Bottom Line: Cox vs CenturyLink
If Cox and CenturyLink are your choices for business internet, you're likely to have better service and availability with CenturyLink. Also, CenturyLink is more affordable than Cox, even if speeds are slightly slower.