It's no wonder that retailers large and small want to provide a retail financing option to their customers. In-store financing gives shoppers instant buying power and is proven to drive higher sales volume and increased order values. But traditional financing programs can be difficult for small and mid-size businesses to manage, and simpler online methods like PayPal Credit won't work for brick-and-mortar stores.
These are a few of the challenges that Greg Lisiewski set out to solve when he founded Blispay in 2014. Available to any in-store or online seller that accepts Visa, Blispay's retail financing product now boasts over 500 active merchants and just announced $12M in expansion funding. Clearly, Lisiewski spotted a niche in dire need of a solution and crafted the perfect fit.
With Blispay touted as the next-gen answer for sales-driving, risk-free SMB retail financing across all channels, we wanted to find out more. So who better to ask about his reasons for founding Blispay, and where the $12M expansion funding will take them next, than Lisiewski?
The following Q&A is based on my interview notes and not representative of his exact words.
Blispay lets small and mid-sized sellers offer retail financing to better compete with giants like Amazon, Home Depot, and Macy's. How did you first see this opportunity and know the Blispay solution was the answer?
When I left BillMeLater (now PayPal Credit), I knew that simple, no-risk retail financing helps online sellers of all sizes compete against the internet's major players. I also knew that a huge part of the retail market was underserved, namely small to mid-sized brick-and-mortar retailers. Clearly, an online payment solution like BillMeLater wasn't right for them. However, most didn't have the revenues or management structure needed to support traditional in-store financing products.
My goal was to create a simple, no-risk retail financing product for these sellers, and at the same time give consumers access to financing anywhere they shop. Our solution had to work for in-store, online, and mobile sellers. Plus, it needed to be completely risk-free, low-cost, quick to set up, hands-off for employees, secure and, most importantly, appealing to shoppers. We developed a Visa-based deferred payment financing product to this exacting criteria, and Blispay was born.
Blispay's Visa-based solution lets any seller that accepts Visa offer financing to their customers. Shoppers apply in just minutes via their cell phone or online, so our merchant isn't responsible for handling any sensitive information. Once approved, shoppers instantly get a Visa card number to use, and our merchant completes the sale and gets paid like any other Visa payment.
Since we offer special financing rates*, shoppers tend to buy even more once approved. Most merchants actively promoting Blispay report increases in order values from 75% to as much as 200%. Plus, shoppers can use their Blispay account anywhere Visa is accepted, which makes it even more appealing to them.
* No payments and No interest on all purchases over $199 if paid in full in 6 months. Read our in-depth article to learn more about offering customer financing with Blispay.
Obviously Blispay is a huge addition to the small business toolbox. Do you see consumer financing as the last major sales hurdle separating SMB's and large corporations? Or are other big-business tools still out of reach for SMBs?
Technology narrows the gap between small and large sellers every day, and retail financing is a great example of that. Due to revenue minimums and technology restrictions, consumer credit was once accessible only to larger companies, but now even a day-old startup can offer their shoppers financing.
Other things have improved the small business toolbox, too. Fast funding via groups like Kabbage allows small businesses to act swiftly on opportunities like their larger counterparts. Data harvesting, insights, logistics, and forecasting also are more accessible to small sellers thanks to inexpensive online SaaS providers. But despite the best technologies, there's one thing small store owners never seem to have enough of, and that's time.
Larger companies have specialized staff and entire departments to manage every detail, from operations to growth planning. Most small business owners have to run their shop throughout the day and often are in a reactive, not proactive, mode. They only get to focus on the actual business and make important decisions after hours. There's not a tool in the box to solve the time dilemma yet, though adopting time-saving, revenue-driving technologies wherever possible is a good first step.
About 500 merchants now offer Blispay, and you plan to double that with your latest round of funding. What types of new merchants are you hoping to bring into the Blispay family?
90% of commerce still happens in-store, so we made a conscious decision to focus our growth on brick-and-mortar retailers when we rolled out Blispay. We'll continue that plan as we expand, but we aren't at all restricted to a single sales channel. Blispay is a true omnichannel solution that aligns well with all of the sales channels our merchants use, in-store, online, and mobile.
Size-wise, we don't restrict merchants based on revenue levels or average order values. However, merchants who have a high percentage of sales over $200 tend to have higher conversions since our $199 special financing threshold aligns well with their buyers. The majority of our merchants fall between $1M and $2M in annual sales, and a handful reach $100M in sales, but even a new store or online seller can offer Blispay from day one. It's that user-friendly.
Currently, ecommerce shoppers apply for Blispay via their cell phone or on Blispay's website. Will new funding go to integrations that let shoppers apply within a store's checkout?
Conversions are a sacred thing in online sales, and typical checkout logic states buyers should never be interrupted within the checkout flow. That said, instant credit financing is on a very short list of things proven not to disrupt an active shopper's buying pattern. This is because the interruption actually expands a buyer's capacity to make the purchase. Studies show that shoppers welcome a financing opportunity that defers payments with no interest, even in the late stages of the checkout flow. Plus they often increase their order to meet a special financing minimum purchase.
As shown below, our online merchants find that site-wide awareness drives engagement and is the best way to introduce Blispay financing to their shoppers.
Online merchants who feature our special financing offers on their home, category, item, and checkout pages, and in marketing emails and social posts, see higher Blispay conversions compared to those who offer it only at checkout. They also see higher order values since customers start browsing with our $199 special financing offer in mind. Since the Blispay application takes only 2-3 minutes from entry to approval, it's barely a hiccup in the shopping process.
While we don't currently integrate with ecommerce platforms, adding data-sharing integration points within the checkout flow is something we're looking into as part of our expansion and continued improvement.
Blispay is unique in retail financing since consumers can use it to finance purchases anywhere Visa is accepted. Are you going to earmark new funding for consumer-facing marketing?
Not at this time. While Blispay is a transparent and empowering product with a strong value proposition for consumers with flexible financing almost anywhere they shop and 2% cash back, we do not plan to market to consumers directly in the near future.
Our expansion will continue our efforts to make both offering and obtaining retail financing simple for merchants and consumers. Our funding will be used to bring our flexible, honest, transparent, and easy Visa-based retail financing solution to more merchants of all sizes, across all channels, nationwide.
About Greg Lisiewski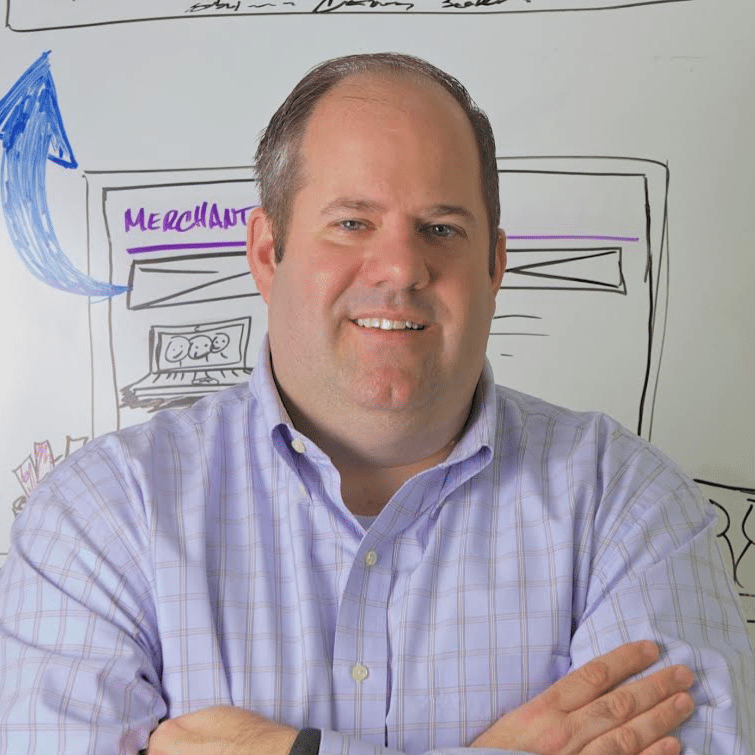 Greg Lisiewski founded Blispay in 2014 and currently leads the company as CEO. Before Blispay, Greg served as the head of Global Credit Products at PayPal, and before that was VP of Consumer Product and Marketing at Bill Me Later. He obtained his bachelor's degree in Management Information Systems from Loyola University Maryland. He also holds an MBA in management from New York University – Leonard N. Stern School of Business.