Chartbeat is a business intelligence platform focused on analyzing how audiences interact with a company's published content. The software helps users understand and evaluate the impact of their content across various channels, platforms, and devices — enabling them to leverage on trending topics in real time. There weren't a lot of available reviews about Chartbeat, but of the ones we found, they seem to have generally positive ratings. We also share their subscription price points.
Chartbeat Customer Reviews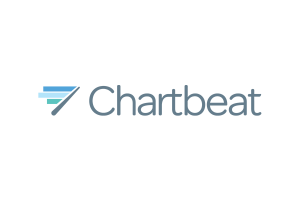 Overall Experience: Excellent
Ease of Use: Excellent
Customer Service: Excellent
Pricing: Customized
Summary of Chartbeat Customer Reviews
What Chartbeat does well:
Users who recommend Chartbeat said that the platform is effective in helping them figure out the kinds of topics that resonate with their audience. Users also like the feature that allows them to see real time traffic on all their sites in a single page. Reliable customer service was also cited.
What Chartbeat does not do well:
Users who left negative reviews of Chartbeat said that they encounter lags and delays when using the platform. Some users also mentioned that it has limitations in providing historical data.
Most Helpful Positive Review
A user who left a positive review on G2 Crowd said that Chartbeat allows them to see real time which pages their readers are viewing. She highlighted that the source of traffic to their page and the level of engagement from visitors are both hugely important to them, so she finds it really useful that both available through Chartbeat. She added that the platform's UI is extremely easy to use, and all critical information about their website can be conveniently seen in one page.
Most Helpful Negative Review
A user who left a negative review on G2 Crowd said that there were occasions when numbers and data wouldn't refresh for no reason, and the login page didn't work. She said that they also struggled with some administrative functions because only one user can access the tool, but highlighted that their customer support is very responsive and accommodating.
Chartbeat Pricing
Chartbeat employs a customized pricing scheme and doesn't publish its subscription plans online. According to third party sites, prices start at $7,000 per year. The three key feautures are its data dashboard, reporting and content optimization.
The three key published features include:
Data Dashboard: Enables users to understand how their content is being received across various platforms. It can filter data by sections, authors, location, traffic source, and device type. It is also capable of segmenting data by visitor frequency, subscriber status, and native app traffic.
Reporting: Provides auto-generated insights in each report to identify unique and noteworthy patterns and trends in a user's audience data. It also allows users to preview individual reports, manage subscriptions, and share reports through email format.
Content Optimization: Allows users to run headline tests that optimize for reader engagement, so that they can maximize each story's readership by ensuring it has the best headline.
Compare Chartbeat Competitors
Not sure if Chartbeat is the right analytics software for your business? Check out our reviews of all analytics software.