Statista projects that the number of professional chefs in the United States will reach 154,000 by 2026. This increase in competition means that, aside from skills, chefs will have to improve their branding and marketing strategy to be noticed. Start by designing a business card that brings out your personality.
Here are 25 creative examples of professional chef business cards to inspire your next design.
---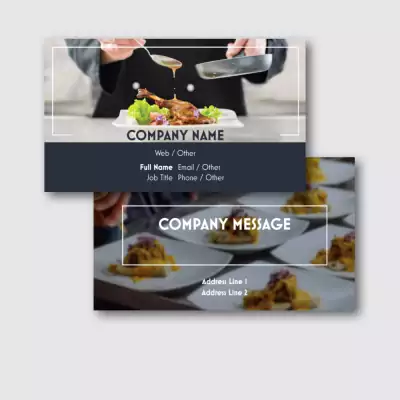 As a personal chef, your best bet to attract new clients is to give them an idea of how you work. Add a photo showing your best form and a peak on you finished dishes to impress your audience. Once you have the perfect photo, make sure your business cards come out sharp and clear by having them printed professionally with Vistaprint. Vistaprint is the business card provider of choice for small businesses with its affordable price and great turnaround time. And if you still haven't finalized your business cards design, you can choose from its more than 10,000 templates or get help from one of its professional designers.
---
2. Tools of the Trade Template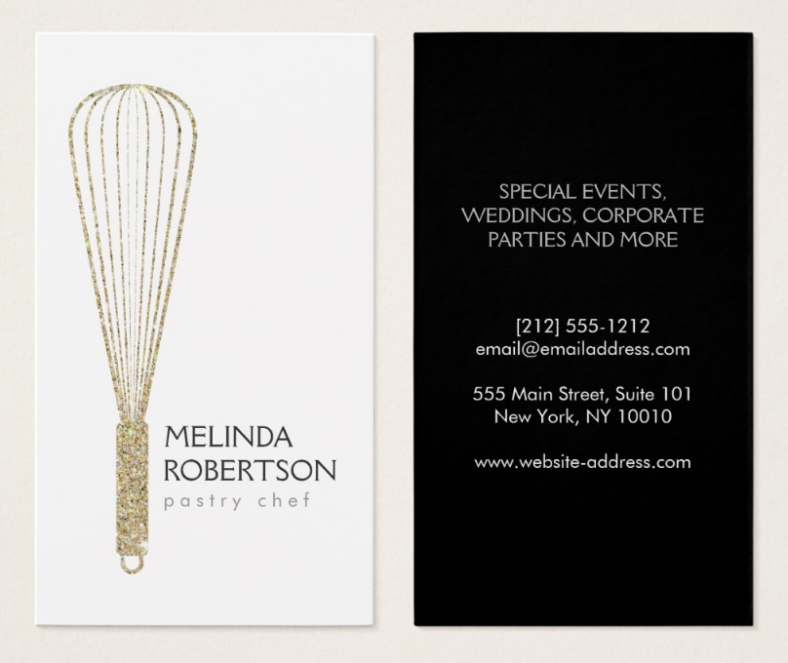 An effective business card should be able to show the owner's personality, even when using common symbols of your trade. In this example, the pastry chef's diamond whisk is both recognizable and unique at the same time. Try this for a unique take on a classic look.
---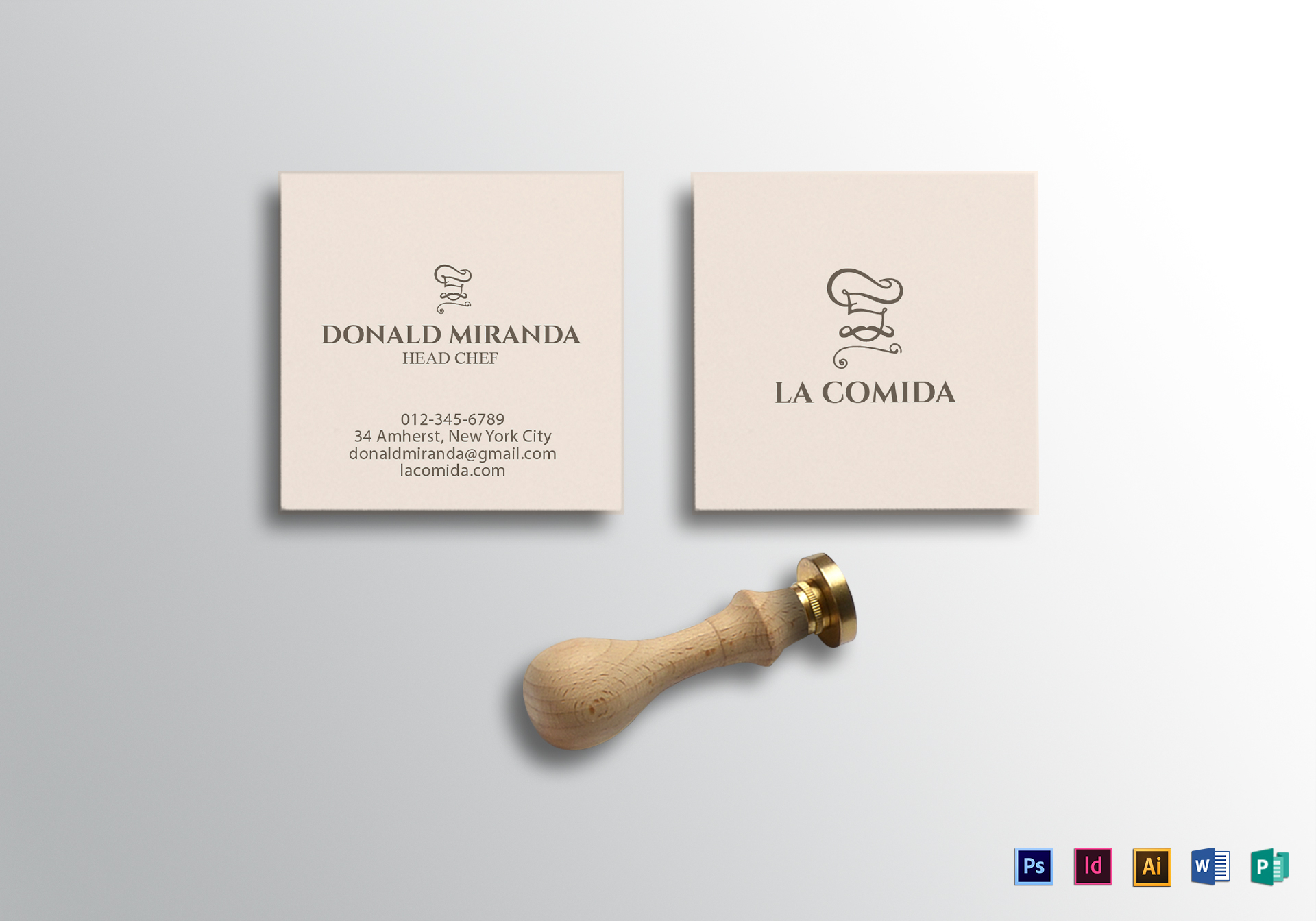 Square business cards get noticed by being different. Try to incorporate the clean lines and symmetry of the shape to your branding idea, including your choice in layout, fonts and colors. Alternatively, you could have a unique logo that creates the right contrast on a square business card like the one in our example.
---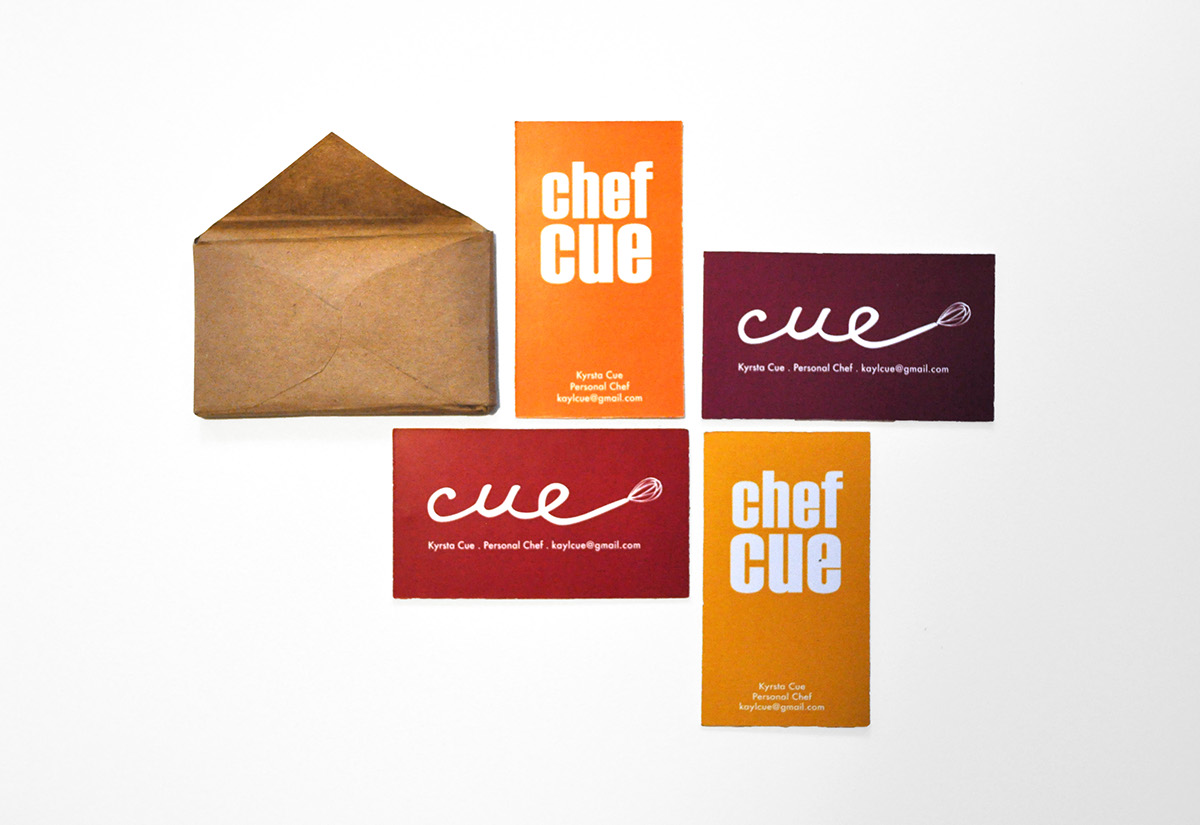 A unique design, this business card doubles as an envelope and enclosed with seeds. The tagline on the flap is also a brilliant way to cap off this marketing strategy. This example is ideal for landscaping businesses promoting eco-friendliness in their marketing materials.
---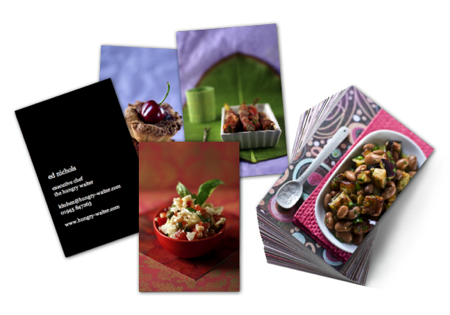 Your signature dish is the perfect focus on your business card. It emphasizes your cooking and plating skills that clients will always look for in a chef. You'll also want to use a variety of designs to feature more than one dish, but working on a budget can sometimes limit your options. Moo offers a money-back guarantee service with its Printfinity program. Print a different design, double-sided, in full color on every business card or fix a typo or request a design change at no extra cost. You can also choose from its wide variety of designs or upload your own and customize using its online design tool. Sign up with Moo today and get started with your business card design for as low as $19.99.
---
6. Cutting Board Texture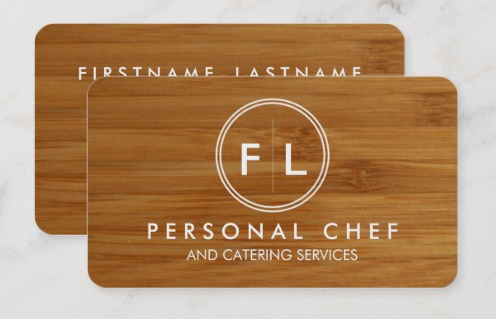 Moving away slightly from the traditional chef symbols, a cutting board makes a good design background to your business card. The color and texture will make any visual element stand out. You can keep it simple with a white font and logo like in the example or add images like a partially sliced fruit or vegetable to create a pop of color and perspective.
---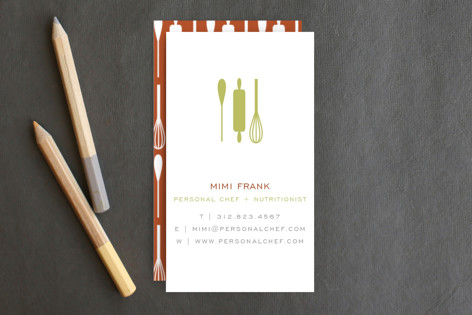 Chefs work in the background so that they let their personality shine through their dishes. This business card is designed to show personality even before customers try their food. One side is a minimalist style perfect for chefs whose personality is all about simple dishes that impress while the other side is a louder, more adventurous look. Stand out with your versatility in this modern chef business card.
---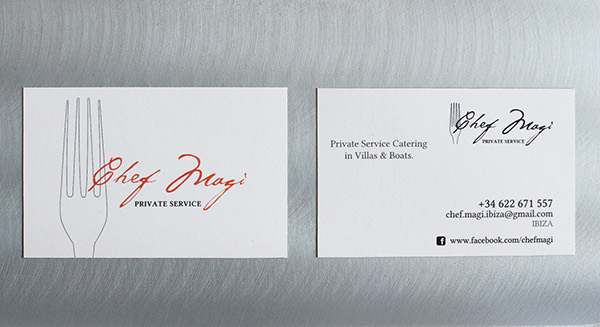 Sometimes, all a business card needs to stand out is your business name and logo. In this example, the designer chose a look that focuses on both. The overall look is simple black and white, with the chef's name emphasized by using accent color.
---
9. Elegant Overlay Design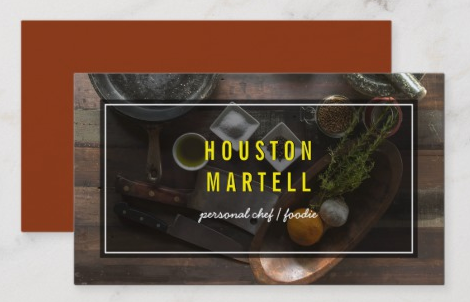 An overhead image of your work table can be a unique background for your business card design. Top it off with an elegant overlay like a signature to brand your work, and you end up with a very personal design for your business card. When choosing a color for your box frame, think of the emotion you want your customers to feel about your food.
---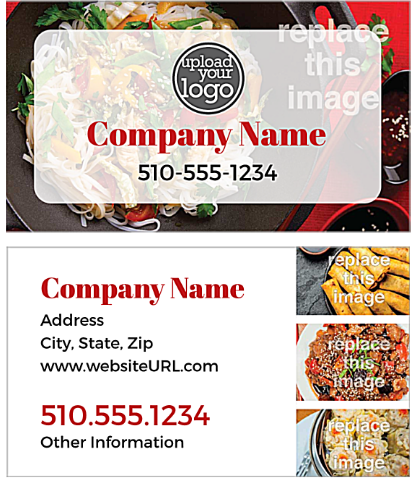 Chefs are creative and unique in every way. Showing your personality through images of your special menu and signature dish can help create excitement for your customers. Begin your idea and personalize your design from start to finish with PsPrint. PsPrint has a wide range of papers and styles, as well as helpful guidelines and free file review for the business cards you create. Click here to start making your business cards.
---
11. Black & Gray Business Card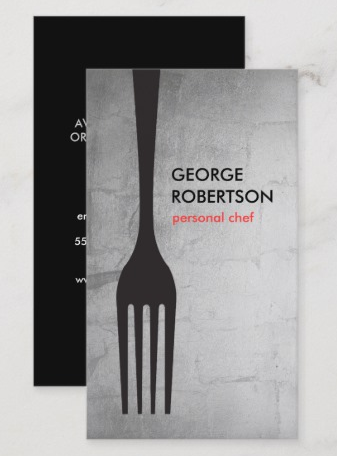 Black and gray is a versatile combination and can create just about any vibe with the right combination of visual imagery. In this example, you can sense strength and reliability with the use of a stone slab texture background. It's also accompanied by a combination of an oversized shadow image and the choice of font. Notice how the accent color is used to highlight the job title.
---
The unique feature of this business card is the cut-out design in the middle. Although it's more focused on the restaurant's business name and logo, this can very well work for a professional chef. You can change the cut-out design and switch positions of the chef and the restaurant's name.
---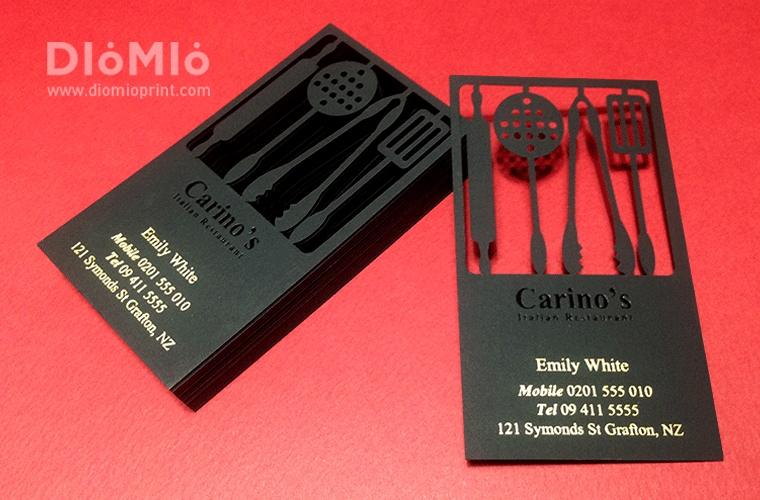 If you want a more elaborate design on your business card, this example is good inspiration. The card is made of plastic, and the laser cutouts of cookware utensils give the business card a stand-out feature.
---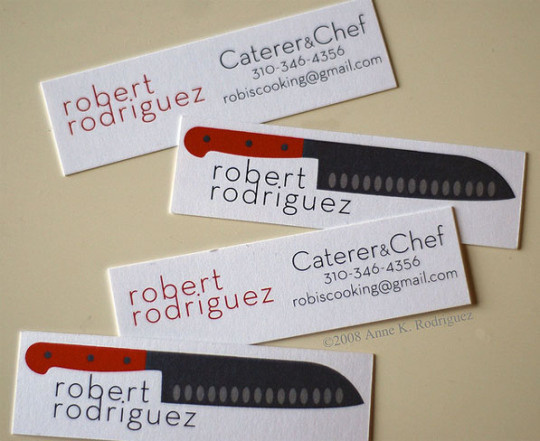 We love the way this business card is shaped more like a knife sleeve. It gives the business card a lot more personality and a stand-out style that reflects on the chef. Notice how the fonts are large enough even with the unique paper size. On the side with the image, you can try replacing the chef name with a tagline to help build your brand.
---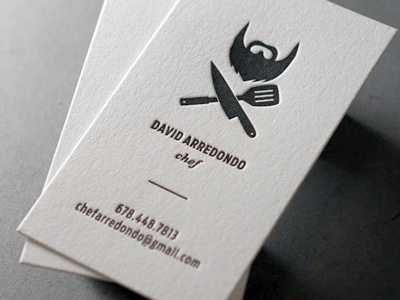 Combining letterpress printing with a minimalist style gives your business card an elegant vibe. Use it for fonts, images or both, but the idea is to keep the visual elements clean and small so that the print is clear and easy to understand.
---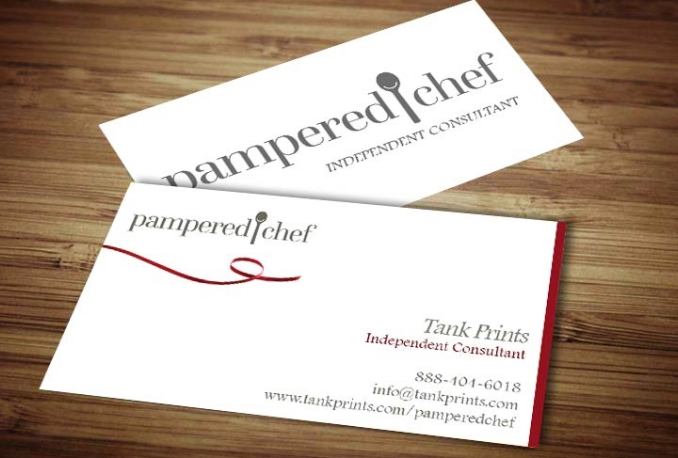 We found this design among the many versions for the "pampered chef" business card, and we decided that this was a good example of a good, simple design style. It has all the concept of a minimalist look but with a modern twist by adding a flair in the use of fonts. Most of all, the idea was to be able to express the idea of the keyword "pampered" and this design has managed to show that with a simple flourish of a red ribbon as an image.
---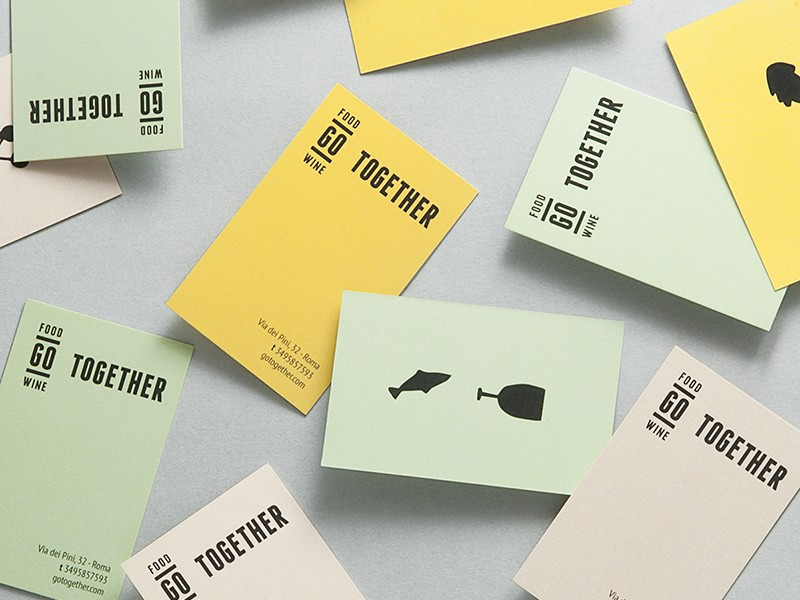 This design isn't directly a chef's business card, but the potential is there for creating one that's worth keeping. A chef's knowledge about food is something everyone would love to have so coming up with tips about the topic can add value to your business card. The example above highlights how important it is to keep the message simple making use of symbols whenever possible.
---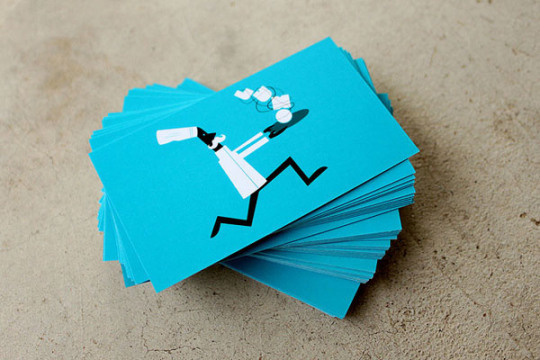 This example creates instant recall with its straightforward design style. It features a funny illustration on a basic, bright blue background. Combine color psychology and your drawing to create a message that shows your personality to customers.
---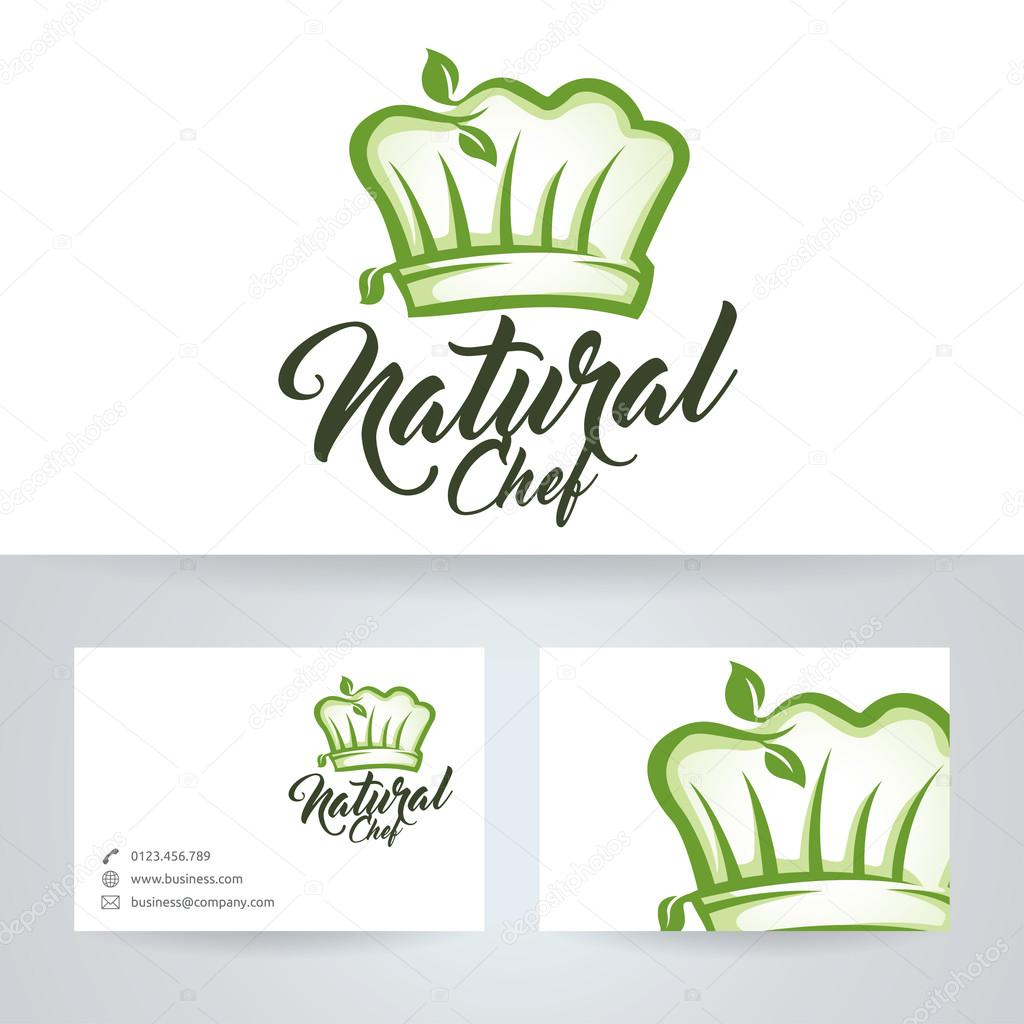 The oversized logo on the front makes for a perfect design for this business card example. This chef is all about using organic ingredients, hence the name "Natural Chef" and adding an oversized green chef's toque is an effective way to emphasize the brand. Explore other symbolism, and try this idea with your own business card.
---
20. Colorful Cutlery Design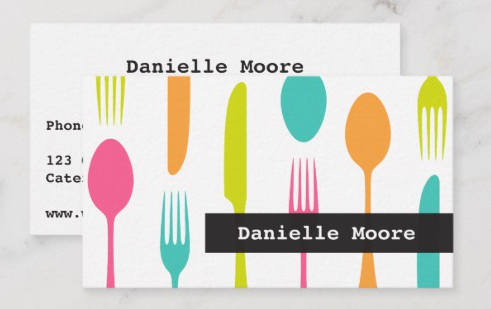 If you're a chef that runs a catering business, this example is for you. The background of party utensils and the bright colors contributes to the fun vibe of this business card. Use fonts and writing style that adds your personality to the overall design.
---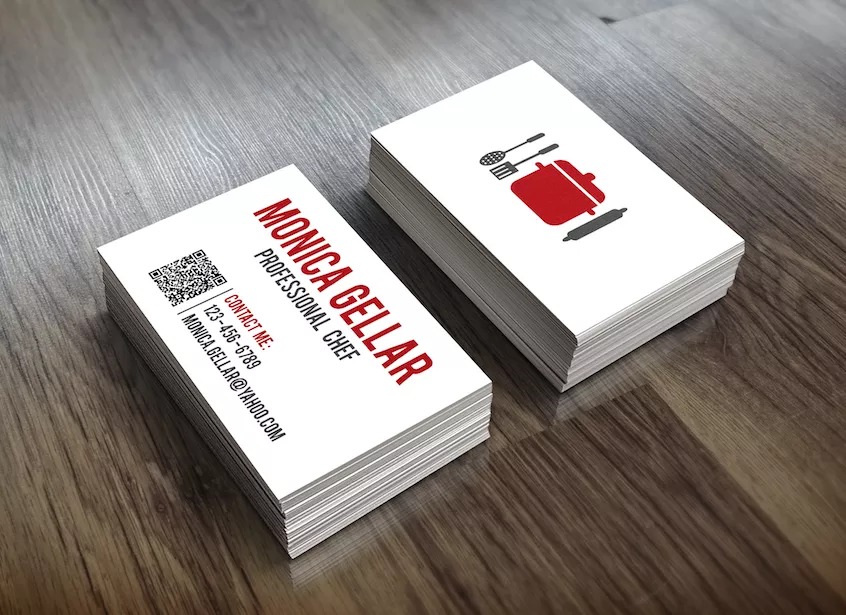 If you maintain your own business website, add a quick response (QR) code on your business card. With the use of mobile surfing increasing in today's customers, it's important that your business card is updated to keep up with the times. Remember to make the QR code stand out significantly but still look like it's part of the overall design.
---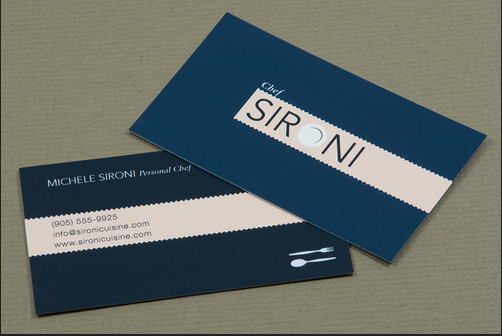 Colors play an important role in your branding, so it's natural that your business cards have a way to incorporate this into your messaging. Check out the meanings of each color and its effect in creating the right emotion from potential clients. We also love the choice of fonts and the framing style used in this business card.
---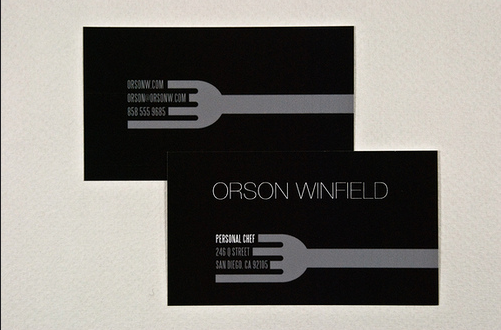 This example is on our list because of its creative layout. While overlapping image and text is usually discouraged as it can create confusion for the audience, this one manages to keep it clean while being interesting. Try this for your business card but use brand colors for the background or as an accent to create more contrast.
---
24. Organic Images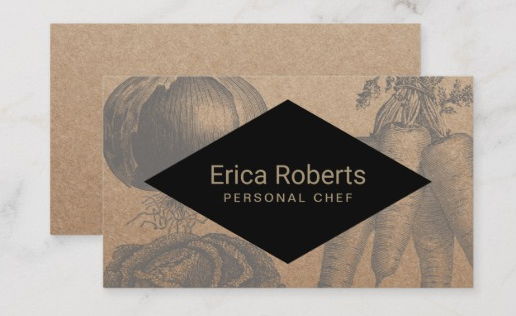 Here is a more earthy, organic look for a business card. If you are a personal chef that wants to create a brand around healthy or home-cooked meals, this is the idea you should try. We like how the focus is on the chef's name while creating some personality with the background.
---
25. Simple Logo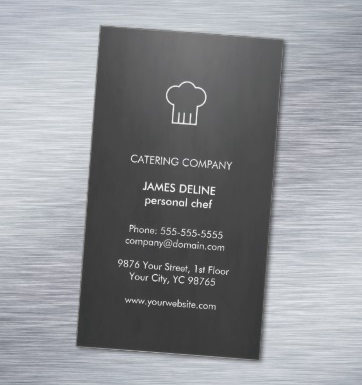 This example uses a minimalist style combined with a chalkboard effect. Simple lines and handwritten fonts are placed on a grayish white background to make audience associate your brand with homestyle dinners known for personalized meals. Use this for your design if you want to create a similar brand.
---
Over to You
Professional chefs have colorful, unique personalities that can create the most interesting business card design. Take time to go through our list of chef business cards and find your inspiration for your next business card. Then, take the first step to designing your own card by choosing a business card provider from our best-of list.
Did we miss out on your favorite chef and food business cards? Share them with us in the comments.