This time of year, it can be a challenge to capture consumers' attention, given the number of holiday sales and promotions they're bombarded with. Take note from a few of these unique Christmas promotion ideas to come up with your own way to boost sales for the holiday season.
1. Give a Gift Card with Purchase
-AJ Saleem, Academic Director of Suprex Tutors Houston
I am the owner of a startup tutoring company, Suprex Tutors Houston, and my company is near a Starbucks. My unique promotion is a free Starbuck's gift card with any tutoring package, and it is especially great during times when Starbucks is busy and has special drinks like holiday drinks. I usually see a 25% increase of new clients and new packages.
At Fit Small Business, we also recommend that you help your customers give the perfect gift to friends and family during the holidays—gift cards from your business. Visit Square to learn how simple it is to start selling gift cards.
---
2. Throw a Business Block Party
-Evan Harris, co-founder and CMO of SD Equity Partners
Creating a networking event disguised as a block party with your immediate business neighborhood is a fantastic way to increase sales over the holidays. Everyone loves to celebrate, and getting different businesses involved with a "Block Party" is a great way to drive traffic to brick-and-mortar stores, while also providing a creative outlet for websites and content creation.
These types of events are incredible lead building tools as everyone has big plans for the upcoming business year. It is a great opportunity to roll out new projects and products as well.You can take this a step further and include a charitable aspect to the party and help spread the holiday cheer.
Last time we had this type of event, it resulted in a few dozen leads, which carried us well into the new year.
---
3. Run a holiday-focused email campaign.
-Jacky Chou, Vancouver SEO Expert
At the end of the day, email marketing is still the highest converting channel for an e-commerce site. A email drip campaign with the theme "12 Deals of Christmas" was a strategy I used for my clients which turned out to be the highest converting campaign to date. To go into more granular details, you would have separate automated drip campaigns depending on what they have purchased in the past. This can be achieved through tools such as Zapier, or Hubspot.
---
4. Offer a Gift with Purchase
-Zondra Wilson, Founder and CEO at Blu Skin Care
Blu Skin Care, LLC offered free weight bands and 1-pound free weights with purchases of $100 or more. We also offered a 20% discount off all purchases for the holidays. It has worked very well for our company. In 2015, we experienced a 15% increase in sales during this time, and the promotion went from Black Friday through Christmas Eve.
---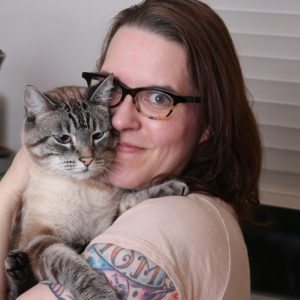 5. Get Featured in Gift Guides
-Jennifer Boaro, designer and COO at The Cat Ball
One of my favorite Christmas promotions is to get our product included in Christmas gift guides.
We create and make the Cat Ball® cat bed, a modern pet bed design with a unique hexagonal shape and two openings. Christmas gift guides work well for us because our product is really photogenic, and we can provide entertaining images for bloggers and magazines. We got published in some top gift guides, including a "weird gift guide" in the Huffington Post.
---
6. Pay Attention to Holiday Keywords
-Brian Gill, founder and CEO of Gillware Data Recovery
One of the things that we pay attention to during the holiday season is keyword research. Some business owners will target the same exact keywords each and every holiday season. As a result, they wonder why their sales are down. While every business will always have their main, core keywords, it's critical to take advantage of seasonal searches.
One of the best ways to do this is by utilizing Google Trends to figure out new keywords that can really jump start holiday campaigns. If you're able to associate core keywords with trending terms, you will likely be able to capture some new website traffic.
Each holiday season, we notice a great amount of search queries dealing with winter storms, blizzards, ice storms, power outages, and disaster recovery. With that seasonal knowledge, we're able to mold marketing campaigns around it.
---
7. Host a 12 Days Giveaway
-John Birchall, Social Media Marketer for Proko
We had our first "12 Days of Proko" event last year and it helped carry sales through January. The promotion allowed some of our free users to try out samples of the premium drawing courses that we offer on our site (along with getting other fun goodies). It also increased daily traffic to our site because users wanted to see what we would offer each day of the promotion.
We promoted the 12 Days of Proko event across all of Stan's social media accounts and his newsletter. You can look through the promo images we made for it on his Instagram.
Traffic increased on average by about 20-30%. Some days we saw our visitor amount double for the day.
Sales spiked dramatically on the days where we offered sales and were low during the rest of the event (most likely caused by people waiting and seeing if there would be more sales on another day). After the event, sales picked up from where our average was and remained steady going into January and beyond.
---
8. Focus on Niche Holidays
-Mike Catania, Chief Technology Officer of PromotionCode.org
We're going into our eighth holiday cycle and we've learned we have better success by focusing on the niche holidays like Green Monday and Small Business Saturday rather than going full-bore towards Cyber Monday and Black Friday.
Of course, the traffic we receive by targeting these two holidays pales in comparison to a Black Friday or Cyber Monday, but we do see about 300% the traffic on these niche holidays compared to when we weren't targeting them, and that churns up a significant revenue boost for us.
Even though, by comparison to Cyber Monday and Black Friday, sub-holidays like Green Monday are considered niche, they're still worth a lot of money to small businesses — Green Monday was a $1.4 billion dollar day in 2015 in online sales alone. It's been a valuable day for us the past two years — so much so that this year we doubled-down on it and acquired Green Monday Deals earlier this year.
Small Business Saturday is also an exciting day for a lot of partners — about a third of the 15,000 stores we work with are small businesses so we push extra hard to help them get placements and make sales. Like Green Monday, Small Business Saturday is only abstractly niche — spending was over $16 billion last year.
---
9. Take a Stand to Stand Out
-Shaun Walker, Creative Director/Co-Founder of HEROfarm Marketing & Public Relations
In Christmas 2011, my marketing and PR agency brought tongue-in-cheek humor across subtly to customers of a little-known small business with almost no budget allocated to the endeavor. Not only was this idea successful, it was downright fun.
The small shopping-comparison-website-meets-social-network brand JoeShopping.com asked us to come up with a way to promote their site for the 2011 holiday season on a shoestring budget. What made them different than Amazon or others like it? Absolutely nothing. There wasn't anything special about it really. So, like all good advertising folks, we've decided to exploit everyone's favorite holiday and scare the bejeezus out of all shoppers by reminding them that if the world did, in fact, end in December 2012, the year 2011 would be the last Christmas on Earth.
At its core, the campaign was designed to inspire customers to spend what could be their last days doing the things on their bucket list (i.e., climbing a mountain, starting a band). There was even a section devoted to choosing products based on your expected destination after the Rapture: Heaven or Hell.
Constantly scan the news and see if there is any way you can hook yourself onto a developing story and how doing so will benefit the public. This way, you take interest in something that has already garnered headlines. If you take a stand with the story or issue you can become a first mover, and then you easily become a shaker.
---
10. Promote through Facebook Ads
-Regina McRae, owner of Grandma's Secrets
I use social media to promote. I have business pages and I post constantly to them. When my followers need a cake, they come to me after drooling for months!
I promote through Facebook. I boost certain cake photos or run an ad. I target my local area for delivery, what my promotion budget will be, and how long to run the ad for. A boost costs me $30 for the month. One pie is $35! When I run the ads, it's about $40 for the month. My custom cakes begin at $200 and can go as high as $650, so it is a magnificent return on investment!
---
11. Come Up With a Clever Promotion Campaign
-Marc Haddad, Owner and CEO of PGA Junior Golf Camps
We launched a promo last summer to push summer camps for the PGA Junior Golf Camps. We did a reverse of the standard, 'Christmas in July' to a 'Summer in December' by bundling a gift (in this case a golf club) which parents could put under the Christmas tree and then a gift card for the summer camp. We positioned it as the gift which 'celebrates a kid's two most favorite times of the year — Christmas and Summer vacation.'
We utilized the usual — digital, PR, email, etc. and beat sales expectations by 30%.
---
12. Host an Irresistible Event with Prizes
-Laura Cummins, Chief Creative Officer of Nine Dotz Consulting
I helped a client coordinate a 'Bring a Friend' holiday shopping event. Throughout her spa, we had set up stations that offered mini treatments, a sampling of the spa's most popular services.
Customers who brought a friend were entered into a grand prize drawing. The grand prize was a gift basket filled with spa products and a gift card for their most popular spa package. Customers were so excited.
Everyone received a goodie bag filled with awesome samples, plus a special promotion, such as a discount off their next visit or a buy one, get one half off voucher that they could use when they brought a friend to the spa.
This event gave retail and gift card sales a mighty boost. Most importantly, the spa gained new customers by showcasing their space, services, and products. We had close to 30 people attend throughout the evening. There were only two people who did not make a purchase that evening. We did have about 10 people book future services based on the sample services they received that evening.
---
13. Make a Fun Holiday Video
-Tim Calpin, CMO of ChannelApe
As an inventory management platform, it's hard explaining what we do and what our value proposition is to potential clients. So we created a dynamic video — something shareable that could also act as a webmercial. We wrote a rock n' roll theme song and cut our brand video to it. Check it out here: https://youtu.be/e9DONGpvBPQ
Now that the holiday really is approaching, we are going to release a version of this that's "themed." We'll put a Santa hat on our logo and record a song in the vein of "Rockin' Around The Christmas Tree" or "Santa Claus Is Coming To Town."
---
14. Give Your Customers Money
-Ivana Taylor, Publisher of DIY Marketers
Honestly, my favorite holiday promotion is one that's designed to drive traffic to your store or site. This is ideal for retailers, but it can be adjusted or adapted to other businesses.
It's direct mail. You write a letter to your "neighbor." In the letter, you tell them that you've decided that you want to give them the money to come to your business. Remind that this is NOT a coupon, it is cash (a gift card). If they come and spend less, you will give them change, but trust me — that will not happen as much as you think it will.
The next element is deciding on the value of the gift certificate. Make it something significant, something worth driving or taking action for. If you're a restaurant, consider $25; if you're a gift shop, consider $50.
Take the money you would have spent on advertising — say $5000 — and instead use it to run this holiday campaign. Do not trade quantity of people for quality of gift. In other words, you are better off sending 100 letters with $50 inside than 1000 with $5 inside. It's the value of the gift certificate that drives the traffic, not the volume that you send.
---
15. Ask for Referrals and Give an Incentive
-Brenda Stoltz, Founder & CEO at Ariad Partners
We ran a 12 Days of Christmas campaign for one of our SaaS clients with a goal of increasing their email list and subscribers. Each day, subscribers received an email asking them to refer a friend and offering an incentive for each friend they referred that signed up.
The campaign successfully brought on 600 new subscribers. The email unsubscribe rate remained low throughout the campaign, and six months later, 98% were still customers.
---
16. Match Your Promotions to Your Content & Social Strategy
-Susan Payton, President of Egg Marketing & Communications
Often businesses have several things going on at the same time during the holidays: they've got whatever promotions they're doing, and then they have their social media campaigns and blog calendar. Often these things aren't aligned.
If you create a calendar of promotions, you can tie them all together. For example, if you're planning a mega Black Friday sale, you could write a blog post on how to stay stress-free on the big shopping day, and you could post sneak peeks of whatever you're marking down on Instagram. By aligning your marketing efforts across the board, you'll have better results for your holiday promotions.
---
17. Update Your Ad Copy
-Dan Shewan, Web Content Specialist at WordStream
However you choose to position your products or services this holiday season, be sure to dust off your ad copy and create ads that are fresh, compelling, and topical. Smart advertisers will revisit their ad copy before launching their campaigns for the holidays.
Yes, rewriting ad copy takes time. It takes even longer to do it well. However, by writing unique ad copy to launch your holiday sales, you're putting yourself ahead of many advertisers who don't have the time or inclination to do so. Even if you don't specifically mention holiday promotions in your ad copy, including seasonal messaging tells your prospects that whatever you are offering is current, providing further incentive to click on your ads.
---
18. Leverage the Power of a Handwritten Letter
-Michael Green, Chief Engagement Officer at Builder Media
A handwritten holiday card can be even more impactful than a gift. Decades ago, expressing thanks and gratitude with a handwritten note was always done. Now, it is an exception. Stand out from the crowd. Make your business personal.
---
19. Target through Ads and Watch Ad Spend
-Kris Johnson, Marketing Coordinator for The Gantry Restaurant & Bar
One of the best ways to promote a business during the holidays is through paid advertising on social media. As a restaurant, we've found it really useful for showcasing our holiday menu and any special events that we're hosting.
Facebook in particular offers incredible targeting options, which allows us to really zero in on our desired demographic. It's also very cost effective, and it creates opportunities to reach new audiences. I prefer Facebook ads over Google Adwords because they're way more visually appealing. Facebook Ads are only allowed to be 20% text, which means there's a ton of space to grab your audience's' attention while motivating them to click through or buy. Our return on investment has been phenomenal with this approach.
Our average cost per click for all campaigns (prompted posts and ads) was roughly $0.25. Our engagement rates averaged 1.5% with impressions in the six figures.
---
20. Leverage Your Email List
-Allison Tetreault, Content Marketing Strategist at Toast POS
The holidays are a great time to utilize the customer list that you've been building all year, whether through email campaigns, loyalty programs, or online ordering. Send an email out to your customer base early, and encourage them to make reservations before the rush.
Plus, incentivize these guests with gift cards. Gift cards are a great way to give back to your customers and keep them coming back.
---
21. Lure 'Em In With Mystery Envelopes
-Jeremy Hood, President of Independent Restaurant Consultants
Our best Christmas promotion actually targets sales in January but begins in December. The first time we did this we saw a 15% increase in January sales.
This is a restaurant promotion that generates a lot of excitement (and maybe a little greed). You will want to schedule this for the month before one of your slowest months of the year. We have ran this in December and June.The idea is to generate additional sales in the next month (January/July for us), and it is very easy to execute.
First, you will want to come up with a list of prizes. We mostly give away food or merchandise. Next you will need to have a printer print these prizes on cards with corresponding envelopes and stickers to seal the envelopes. Make sure the promotion rules are printed on the outside of the envelope as well. The rules should include:
One envelope redeemed per visit per customer.
Customers must open the envelope in the restaurant in front of staff (to prevent them from peeking).
Put an expiration date on it (creates a sense of urgency).
One envelope redeemed per 24 hours (this is optional, we give out so many we needed this one to prevent a few customers from abusing it).
We would give away about 1,500 "mystery envelope gifts" and get about 20% back in the slow month. Of the 1,500 envelopes, about 1,450 would be small prizes like free drinks, appetizers, desserts. There would be one grand prize and a handful of some bigger items like merchandise or catering packages.
---
22. Christopher Meloni, Marketing Manager of Dealslands.co.uk
Dealslands came up with a special section that only focuses on the festive deals making it simple for their users to find offers. This section is promoted during holiday seasons such as Black Ffriday and Christmas, with their goal being to bring the best active deals from different retailers and brands in the UK.
---
Over to You
Thanks to everyone who shared their Christmas promotion ideas. Do you have an idea that we missed? Let us know by sharing in the comments below.