Clamshell packaging is king in many industries. For example, according to market research firm Freedonia Group, clamshell packaging represents 65 % of the packaging market for produce businesses and is expected to grow another 20 % by 2019.
We're all familiar with clamshell packaging whether we know it or not. Clamshell packaging is the clear, rigid plastic packaging that fully encases a product. It allows for products to be seen while providing a level of protection and security that is hard to match.
In this guide, we spoke to small business owners and industry professionals to get insight about the following:

Before we dive into the details on this topic, we also suggest you check out FullfillmentCompanies.net for a free quote on fullfillment services. Visit FullfillmentCompanies.net to learn more.
Where Can You Buy Clamshell Packaging?
Clamshell packaging can be purchased from many different companies. What company is best for your business will vary depending on a number of factors which we discuss later in the article. Below are three of the top manufacturers and suppliers in the space.
Placon
National Plastics
Visipak
Minimum Order Online
N/A
1 Carton
(125-1000 units)
1 Case
(50-500 units)
Samples Upon Request
Yes
Yes
Yes
Online Store
No
Yes
Yes
Custom Packaging
Yes
Yes
Yes
Stock Packaging
Yes
Yes
Yes
Custom Inserts
Yes
Yes
Yes
Discounts on Larger Orders
Yes
Yes
Yes
Placon: Great for custom clamshell packaging
Placon is a leader in the clamshell space. They will help your business design and manufacture a custom clamshell package to highlight and protect your product. Small businesses will work directly with one of Placon's reps or one of their distributors. As Placon says, this helps ensure that you get a clamshell packaging solution that you'll be happy with.
They also sell stock clamshell packaging for those businesses that don't need or can't afford custom packaging. And while some people might find it inconvenient that they aren't able to order the packaging online, Placon wants to make sure your businesses ends up with great packaging.
National Plastics: Great for stock clamshell packaging
Other clamshell packaging suppliers will let small businesses that are placing smaller orders for stock packaging to order directly from an online store. If you have some experience working with clamshell packaging already, this might be a great way to go.
One such place is National Plastics Inc. While National Plastics Inc offers custom clamshell, blister, and tray packaging, they stand out for their wide selection of stock clamshell packaging.
In addition, many small business owners will appreciate how clear their pricing is. All your pricing options, including the reduced rates available for larger volume orders, are in one spot.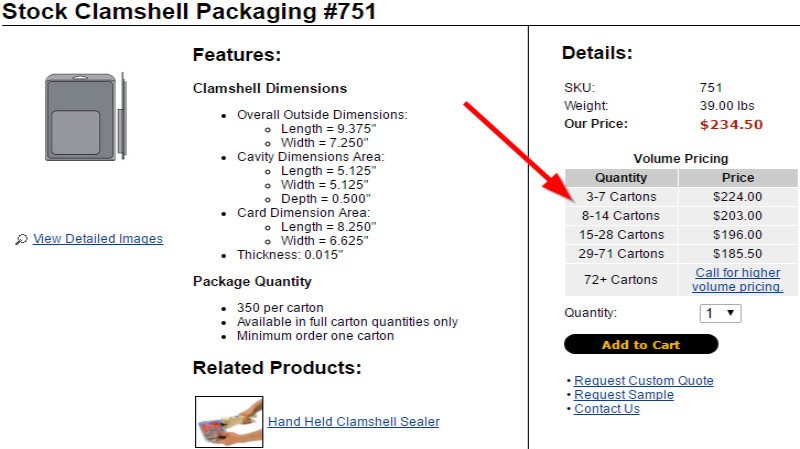 How Much Does It Cost?
There's no one price that can be put on clamshell packaging. Clamshell packaging can vary widely in size and shape, the material used and its intended purpose, in whether the packaging is a custom design or from a stock mold, etc. The range of pricing will reflect these variances.
However, there are four primary factors that will impact the cost of of clam shell packaging:
Volume
Size and Shape
Custom or Stock
Requirements / Material
Volume
In general, the more packaging you're buying, the steeper the discounts you can work out with the supplier. This is true whether you're buying stock or custom clamshells, require inserts or not, etc. The same is true for most bulk products like packaging.
Size and Shape
The larger the packaging, the more material will need to be used. This will naturally increase the cost of the product. It will also increase the shipping weight, which can result in higher costs. The volume taken up by the clamshell packaging can also have an impact here. If the shells are not easily nestable, it can result in higher shipping charges.
Custom or Stock
Custom clamshell packaging will be far more expensive that stock clamshell packaging. Custom clamshell packaging will require you to purchase custom tooling which will run between $3K – $5K. In addition, the minimum order requirements will likely be 30K units or more.
Stock clamshells will not require any tooling and will have minimum order requirements of as few as 20.
Requirements / Material
Another factor that will impact cost is the type of material being used. Your manufacturer may be able to offer more eco-friendly plastics or other materials (including composite fibers), but those options will likely come at a premium.
How to Choose the Best Supplier for Clamshell Packaging
The best clamshell supplier for your small business depends on three main factors:
Volume

– How Much Packaging Do You Need?

Custom or Stock

– Packaging to Fit Your Product and Your Budget.

Other Considerations

– Manufacturer or Retailer? Food or Medical?
A general tip: When shopping around, lean on the supplier's expertise. See what types of packaging they recommend. Often, this will help save you money. Also, many times, the company you're buying clamshell packaging from will help you with the inserts (i.e. the marketing material that goes inside your clamshell packaging). The supplier will often have a relationship with printing companies, so that the inserts are ready for you very quickly.
If you're ordering stock clamshell packaging on your own, you'll need to to have your own design and printer for the inserts. We recommend finding a designer on 99designs and using VistaPrint to print your inserts.
Another tip: If your business is using a POS system that allows you to create customer barcodes, like Lightspeed POS, you can actually have the barcodes printed directly onto your inserts. Learn more about Lightspeed POS and their inventory management here.
How Order Size Impacts Which Supplier is Best
We all know that buying in bulk usually reduces the cost per unit of a given item. And that is true in the world of clamshell packaging as well. But volume will come into play two other ways:
Many manufacturers will have minimum order requirements even on their stock clamshell products.

Minimum order requirements are even higher for custom clamshell packages.
For most suppliers, the minimum order requirement for stock packaging will be in the ~20-50 unit range. Others will be looking to sell several hundred at a time, and still others will expect to sell several thousand at a time.

Minimum order requirements should be one of the first questions you ask any potential supplier. John Krekoska from JR Reeves Company agrees. He says that your budget needs to be part of the very first conversation you have with your potential clamshell supplier. John said, "Most small businesses are looking for hundreds, maybe a thousand clamshells. They aren't looking for tens of thousands right off the bat."
If your supplier is used to smaller orders but you need a very large order, turnaround time might become an issue. If your supplier is used to very large orders but you only need a small amount, you probably won't get the attention you need and might be pressured into paying more per unit.
If your business needs a completely custom clamshell package, you'll be asking a manufacturer to mold packaging that they can only sell to you. Since they can't do a large production run of the packaging and sell it to any of their customers, they will likely require you to commit to purchasing a large quantity.
Custom Clamshells vs. Stock Clamshells with Custom Inserts
It shouldn't surprise you to learn that custom packaging will be more expensive than stock packaging options. What might surprise you is why custom clamshell is packaging is more expensive and how much you can actually customize a stock clamshell option.
For small businesses, typically the best value will come from buying stock clamshell packaging. You will have many options available, varying by size and shape, but they won't be custom, form fitted packages. Of course, the inserts which you add to the packaging to market and describe your product will be customized for your business.
A custom designed clamshell requires tooling. Tooling is the master blueprint that will be used for your packaging and is a large block of aluminum that's shaped like your custom packaging. No one else will be able to use this tooling for their packaging, ensuring that your packaging is unique.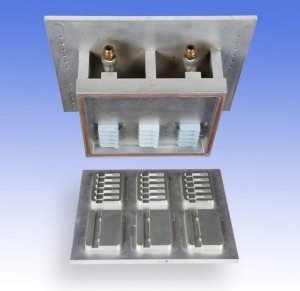 John said, "Tooling will typically cost you $3K – $5K. But you'll also need to place larger minimum orders. Usually much larger." Combined, these costs can price out many small businesses.
Despite the higher cost, custom packaging will be essential for some businesses to separate your product from all the others. If a stock clamshell product has worked well for you in the past and you can support the large volume requirements of a custom order, custom clamshell packaging might be just the thing to take you to the next level.

Other Considerations When Selecting Clamshell Packaging
Manufacturer or Retailer
If your small business manufactures a product which you then sell to wholesalers or retailers, you will likely have some unique packaging concerns.
You've poured tons of time and money to create a great, one-of-a-kind product. Its size, shape and design, the materials and colors chosen, all of these were selected to create a great product and further your brand. You're  going to want packaging that highlights what's great about your product and furthers your brand. And that means you need a company that will help you develop a custom clamshell packaging solution.
The majority of retailers, on the other hand, are selling other companies' prepackaged products. However, some small businesses are retail shops that also sell their own products (think crafters, artisans, etc.). If this sounds like your business, you might be interested in using clamshell packaging as part of a marketing strategy, as a way to expand your products into other retailers' stores, or simply as a way to better protect your products. While a custom design might make sense, your business might also be served well by stock clamshell packaging option which will be much more affordable.
Industry
Most non-perishable consumer goods (like a beading kit or headphones) don't have to meet any special packaging regulations. However, packaging for medical devices and food will have additional regulations that must be adhered to. A good supplier will be able to advise you on what packaging will meet those requirements and which will not.
A custom clamshell package will be made to order and will meet all packaging regulations. Suppliers will also have stock clamshells that meet these requirements. If you're ordering packaging online without consulting a supplier's representatives, make sure you do your homework.
DIY Clamshell Packaging – How Does It Stack Up?
While working with a clamshell packaging supplier is the best option for most small businesses, some small businesses might want a packaging option they can do on their own. If you're doing a very low volume of sales or are just looking to test out clamshells, many stock options can be obtained through Amazon.
Try Amazon Prime for 30-Days Free
If you're clamshell packaging is not simply a snap-to-close package but has the more secure heat seal, you need a heat sealer.
In fact, many small business that order heat sealed clamshells from a supplier find that having a heat sealer on hand is a good idea. It allows you to fix any flaws in the seals if your order arrives in less than perfect condition and also allows you to reseal returns from customers.
How Clamshell Packaging Can Benefit Your Small Business
Now that you know how to choose a supplier to buy clamshell packaging, let's take a step back: why use clamshell packaging at all?
Clamshell packaging is a form of blister packaging that folds onto itself. The whole package is made of thermoplastic but is often accompanied by a cardboard or paper insert inside filled with product information and marketing material.
Clamshell packaging has four primary benefits for your small business:
Displays the product you are selling

Protects the product

Deters theft of the product

Adds value to your product
While a cardboard box might protect your product, you really can't see the product. Somewhere in the back of the consumer's mind, he or she is wondering if the product will actually look like the picture or if there is damage to the product. Enclosing your product in clear plastic allows customers to examine the product in great detail. There is no question about what kind of shape the product is in. Plus, the product remains in a protective covering so it is not easily damaged in transit, in the stockroom, or on the shelves.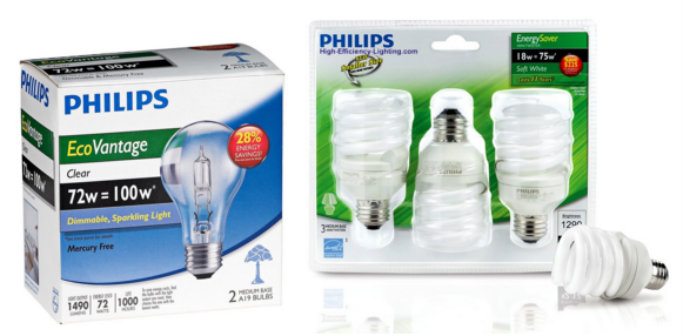 Clamshell packaging is also an effective deterrent to would-be thieves. The packaging is typically much bigger than the actual product. So a product that might easily be slipped into a pocket without packaging would now not fit or stand out like a sore thumb. Also, the packaging is nearly impossible to open without a sharp tool. All of this means that small but valuable items can be sold more safely out in the open rather than behind a glass case or behind a sales counter or cash wrap.
All of these aspects of clamshell packaging may together boost the value of your product. The kind of care and transparency that clamshell packaging provides subtly connotes a product with more value.
Pros and Cons of Clamshell Packaging
| Pros | Cons |
| --- | --- |
| Product remains on full display | Difficult for customer to open |
| Tamper-proof packaging | Potential for brand clash |
| Protective packaging | Pricing for custom packaging increases quickly |
| Displayed both hanging and standing | Requires more space (storage and shelf) |
| Customizable, form fitting packaging | |
| Customizable cards and inserts | |
| Nestable on shelf or rack | |
| Impression of greater product worth | |
Best Alternative to Clamshell Packaging
For most small businesses, that pros of clamshell packaging outweigh the downsides. However, for some businesses, traditional plastic clamshell packaging just won't be a great fit.
Let's face it: if you're selling a product that is branded as green, all natural, or Earth friendly you probably will want to avoid wrapping your product in plastic. There are alternatives to clamshell packaging that can give your product similar visibility and protection.
We recommend Sustainable Packaging Industries (SPI) for small business owners who want an environmentally friendly alternative to clamshell packaging.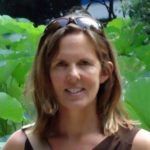 Allison Reed, president and founder of SPI, says, "Our customers are small­-to-­medium sized companies looking for creative and  eco-­friendly packaging solutions. In general, these companies do not have the time, volume, or resources to develop custom packaging," Allison said. "We offer them high quality, eco-­friendly and design­-forward packaging solutions that are affordable and readily available off­-the-­shelf."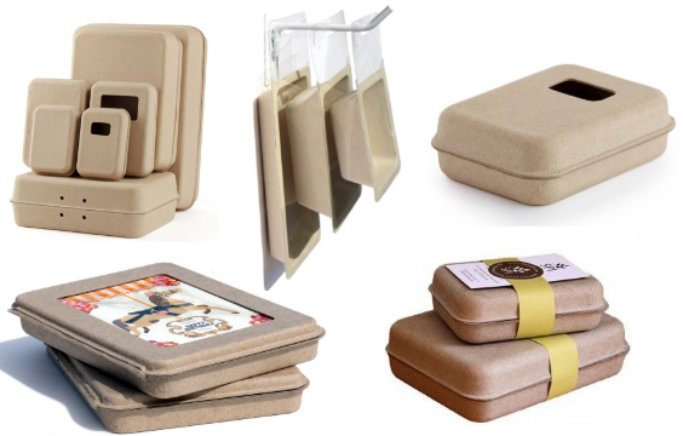 SPI's packaging is made from molded pulp, a composite of a variety of fibrous materials, such as recycled paper, cardboard, or other natural fibers (sugarcane, bamboo, wheat straw). Not only can it be made from recycled materials, the packaging can also be easily recycled. Not only that, but the fibers in pulp packaging are biodegradable, unlike plastic and Styrofoam packaging.
SPI is a great option for small businesses looking to dip a toe into alternative clamshell packaging. You can actually buy a small quantity of their products online. If you want to order larger quantity cases, you're just a quick call away. Depending on the packaging you're looking at, each set comes with 20-40 units and costs around $25.00.
If you need a larger quantity, you can also buy a case, which comes with around 75-500 units. As you probably guessed, buying by the case will give you a lower per-unit-cost than buying by the set. Buying multiple cases at a time will likely entitle you to even further discounts.
Like manufacturers of traditional clamshell packaging, SPI can also provide completely custom packaging. The same basic rules apply though: you'll have to pay more for custom tooling, and the minimum order will jump to 30,000+.
Looking for great looking inserts, packaging bands, product cards, or stickers?
Get up to 40%-off at VistaPrint.
Clamshell Packaging: A Case Study with Warped Mind Games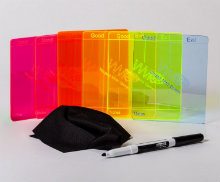 We spoke to Brian Mead, owner of Warped Mind Games, a small business that designs and manufactures custom acrylic tokens and accessories for a wide variety of tabletop and role playing games. Warped Mind Games' top product is Tablet of Life.
At first, Brian was selling these products direct to consumer in what was "essentially a glorified sandwich bag." He was soon contacted by retailers who wanted to sell his product. There was just one problem: retailers were telling him the packaging had to look more professional.
So Brian got to work. He looked at cardboard boxes, boxes with windows, but those didn't make his product pop. Then he found clamshell packaging and he could clearly imagine his product wowing customer in that packaging.
But where was he going to get the clamshell packaging from? "I didn't have a clue what I was doing," Brian said. "When I was doing things on my own, I was hitting every landmine you could hit. I probably spent 60-80 hours doing research and going back-and-forth with salespeople who wanted to sell me 50,000 units or more."
But selling his product retail was a new venture. He wasn't sure how successful it would be and didn't want to be stuck with a big big and tons of unused packaging if things didn't work out. Brian really only wanted a few hundred units of packaging at first.
That's when Brian's search led him to JR Reeves Company who is a Placo distributor. He worked with John Krekoska, who we also spoke to. John suggested that he look into stock clamshells. They wouldn't require expensive custom molding or huge bulk orders but the packaging could still be customised with a product insert.
Brian sent in one of his products and John produced a couple mock-ups for him to choose from. "The initial contact and mockups was very quick, maybe 2 to 3 days. We received the samples a few days later so that we could feel and see the product in the package. Once we made the decision to order the packaging, we received the first cases in about 5 or 6 business days. It was really a collaborative process and my customers and retailers love the new look."
Bottom Line
Clamshell packaging can be a great way to protect your product from damage or theft while also showcasing the product to the consumer. While custom clamshell packaging can be expensive, there are many affordable stock clamshell options out there. Combined with a custom insert, clamshell packaging can be affordable and effective for a small business of any size.