Whether you're an owner of a startup or a well-established cleaning business, it's important to set yourself apart from competitors to grow your business. This begins with memorable cleaning service business cards. We've curated some of the best examples from around the web to help get you started.
Here are 25 of the best cleaning business cards from around the web to inspire your own.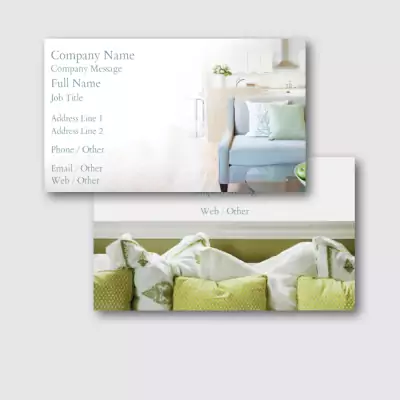 Any service-oriented business wants to show clients their professional results. This is why having a business card that displays what you can do is important. Add images from your portfolio to show clients what to expect. Once you have your design, make sure your business cards come out sharp and clear by having them professionally printed with Vistaprint. Vistaprint is the business card provider of choice for small businesses, with its affordable price and great turnaround time. And if you still haven't finalized your business card design, you can easily choose from their over 10,000 templates or get help from one of their professional designers.
2. Wood Finish Design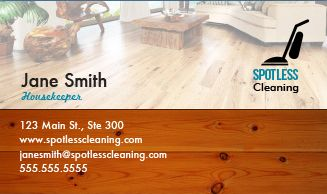 House cleaning businesses need a business card design that can show their final output. A wood finish style with a home background gives the impression of professionalism and efficiency, as it gives clients an idea of expected results. Notice how the logo is small but large enough to be noticed.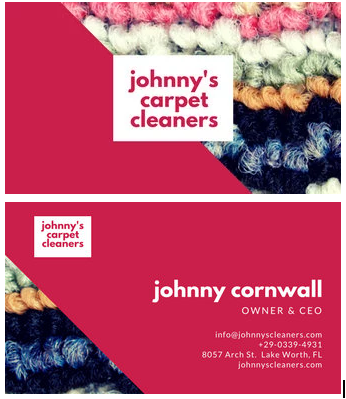 If your business is carpet cleaning, you should think of adding interesting colors and patterns to your business card design. In this example, the chosen image is a colorful, textured carpet, followed by a diagonal border that uses the business brand colors. Once the message is added, the overall look is a colorful and interesting design that will attract more clients.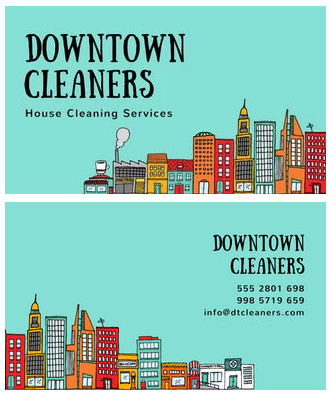 This is an unusual approach towards a cleaning services business card design. Instead of the usual images, what we have is an illustration of a city skyline to match the business name. The cartoon-styled illustration, the pop of colors and playful fonts add a humorous touch to your business card for a very memorable brand. Just be sure this style matches your other marketing materials for a consistent brand image.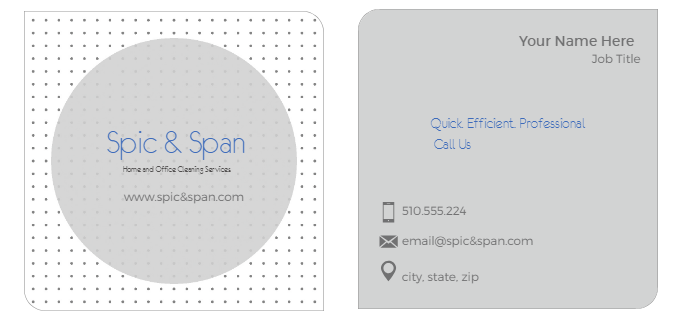 Cleanliness is the theme for any type of cleaning service business. In this example, cleanliness is emphasized with color choice as well as the dotted background. It doesn't use an image, but the finished look is interesting enough and allows for negative space to be included in the design. The square shape is accented by two curved corners to create an elegant style.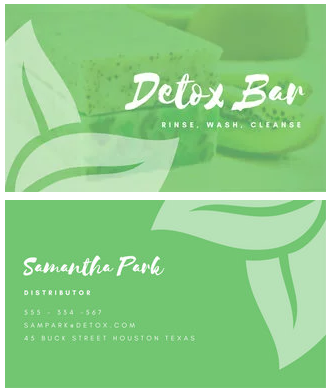 This example is a combination of natural colors, leaf patterns, and beautiful script typeface. The color choice gives the card a clean and revitalizing look. Green always emits a feeling of freshness, which is why this business card looks truly clean and revitalizing. Notice also how the background is actually overlaid on a full-sized image.
7. Water Border Design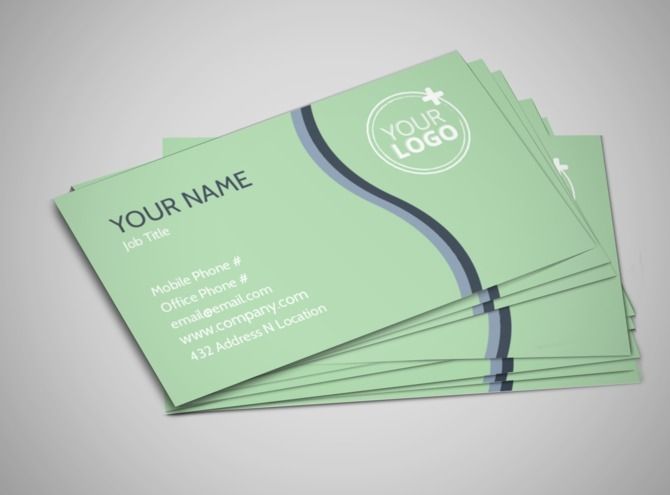 This design uses a very simple layout but see how the addition of a fluid, water-like border added life to the overall look. This visual element is simple but striking and can easily draw attention to your business card. Use your brand colors when adopting this style to reinforce your brand.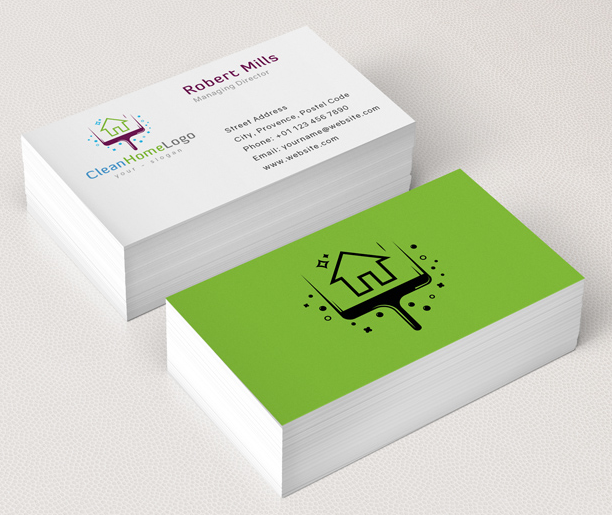 When working with an interesting logo like in this example, it's best to choose a design that doesn't take away the focus on your image. This business card also managed to keep the attention on the logo without overwhelming the design. One smaller sized, full color at the front and one larger silhouette at the back.
9. Personal Touch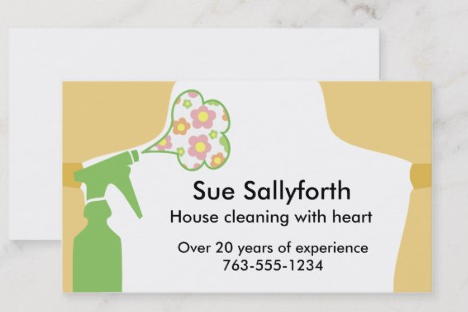 This business card design gives a very personal vibe that works well for a startup or a solo business. The colors and image make it look handmade and add a personalized touch to the brand. We also like that it includes a tagline to help build trust of potential clients.
10. Watercolor Feather Duster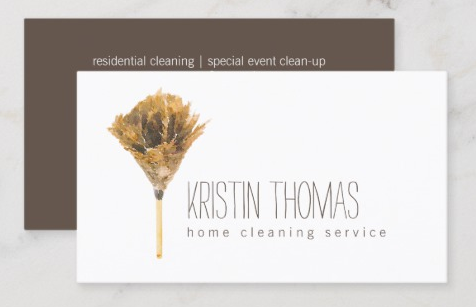 The use of watercolor makes for a simple and elegant design. Even with the handwritten style font, the overall look creates an elegant feel. Also notice how brown is the color theme from the background, text and the touches in the water color feather duster image.
11. Keep Calm and…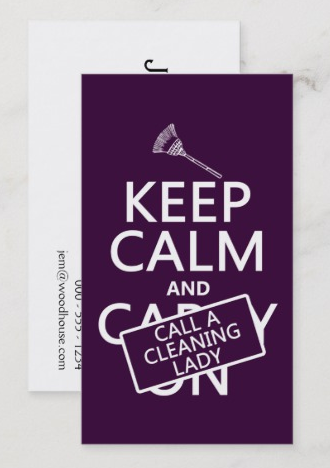 Adopting a popular slogan for your business card makes it easy to attract the attention of potential clients. Aside from being humorous, it's also catchy and easy to remember. The color is also unique but has enough visual elements to identify your brand.
12. Pink Vacuum Cleaner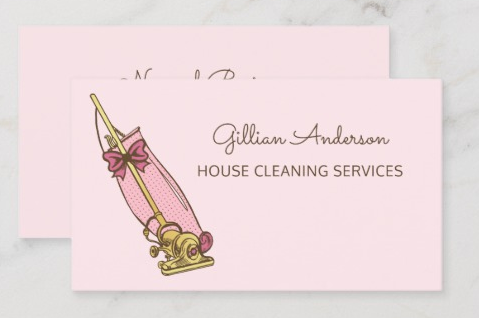 This example is for businesses that want an overall feminine design for their brand. Cleaning services look to adapt a professional brand but at the same time, would also want to be known to give meticulous attention and care that comes from a personal feminine touch. This design is pink, with flourishing fonts and a dainty illustration that complete the look.
13. Modern Square Business Card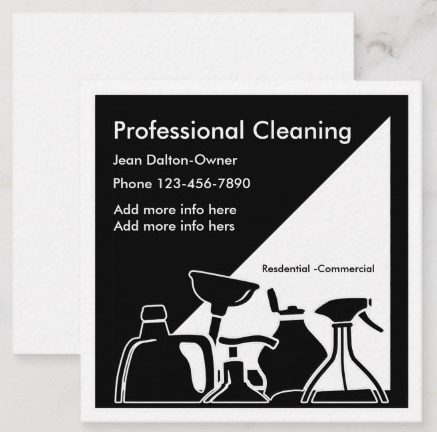 This is a modern, square business card that uses black and white instead of bright colors in order to stand out. The theme uses image silhouettes to create interesting shapes that add to the design. The back of the card is intentionally left blank to provide space for the user to write notes and add value to the material.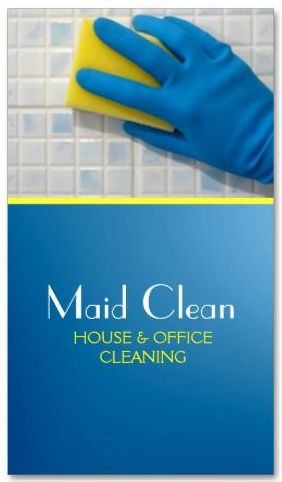 This example makes use of a full image for the business card. The blank background is added to make it look like it's part of the image and holds the business information. Also notice how the blue, yellow and white is used on both the image and the text.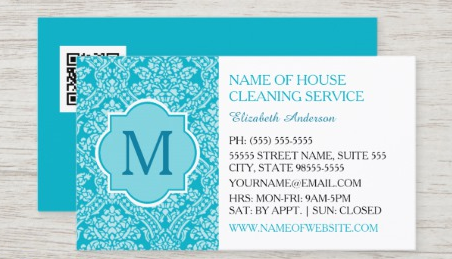 A very different take on a cleaning service business card is making use of monograms. It gives the design an elegant look that can impress any type of client. Notice how the floral background pattern is added but doesn't overwhelm the overall design.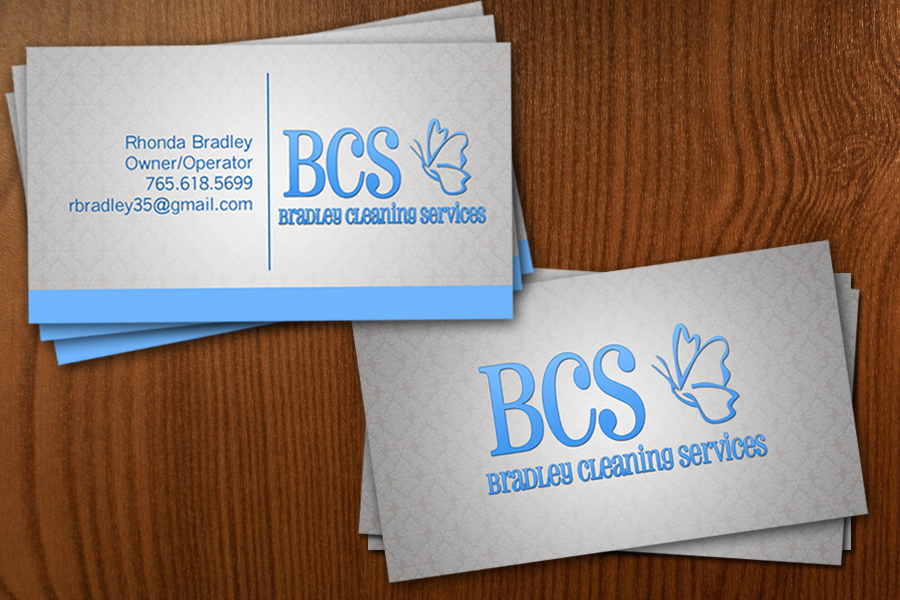 Interestingly enough, the butterfly design on this business card was taken from a Dingbat font. Adding visual effects, such as spot UV, color gradients and a slight emboss, elevates the look of both the logo and the business name.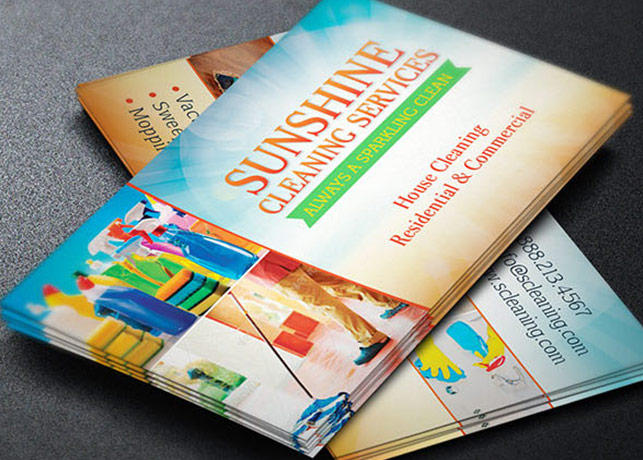 This is a more colorful design for a cleaning service business card. It veers away from the usual blue, turquoise and white theme to make it stand out above the competition. Notice how the font used for the business name is in orange to match the brand.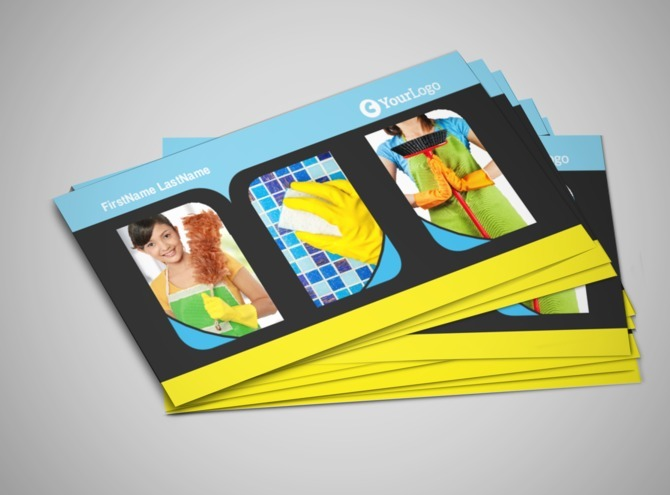 This design gives a more commercial look. The choice of colors and layout with unique shapes and frames adds to a professional feel while keeping the images friendly. Perfect for cleaning service businesses that cater to corporate clients.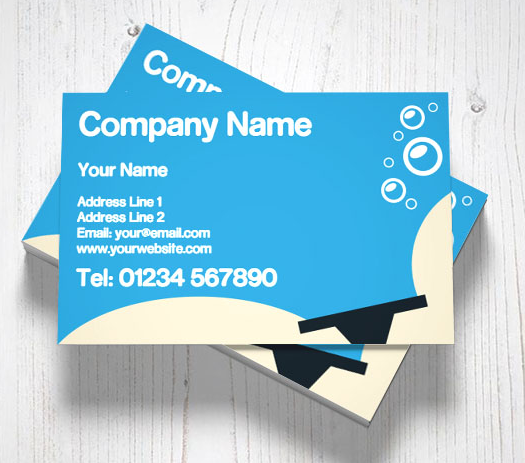 This blue and white business card makes use of a squeegee and bubbles illustration that fits a cleaning service business. The font is kept simple and follows a hierarchy to emphasize message and information about the business. Make sure that your illustration doesn't overwhelm the text when creating your own design.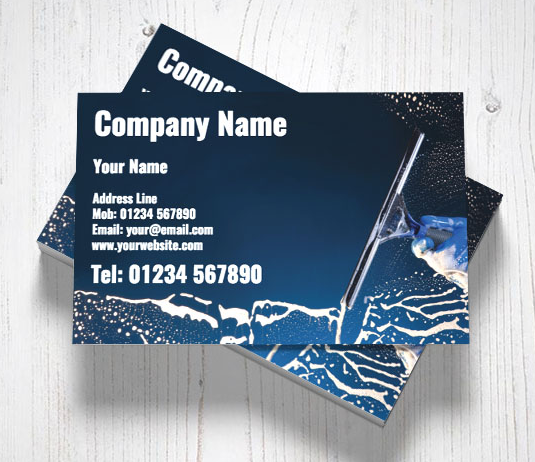 This design is meant to give an animated feel by showing the cleaning process. The idea is to use the entire background as glass and add a transparent image of a gloved hand and wiper. White patterns are used to create soapsuds to complete the look.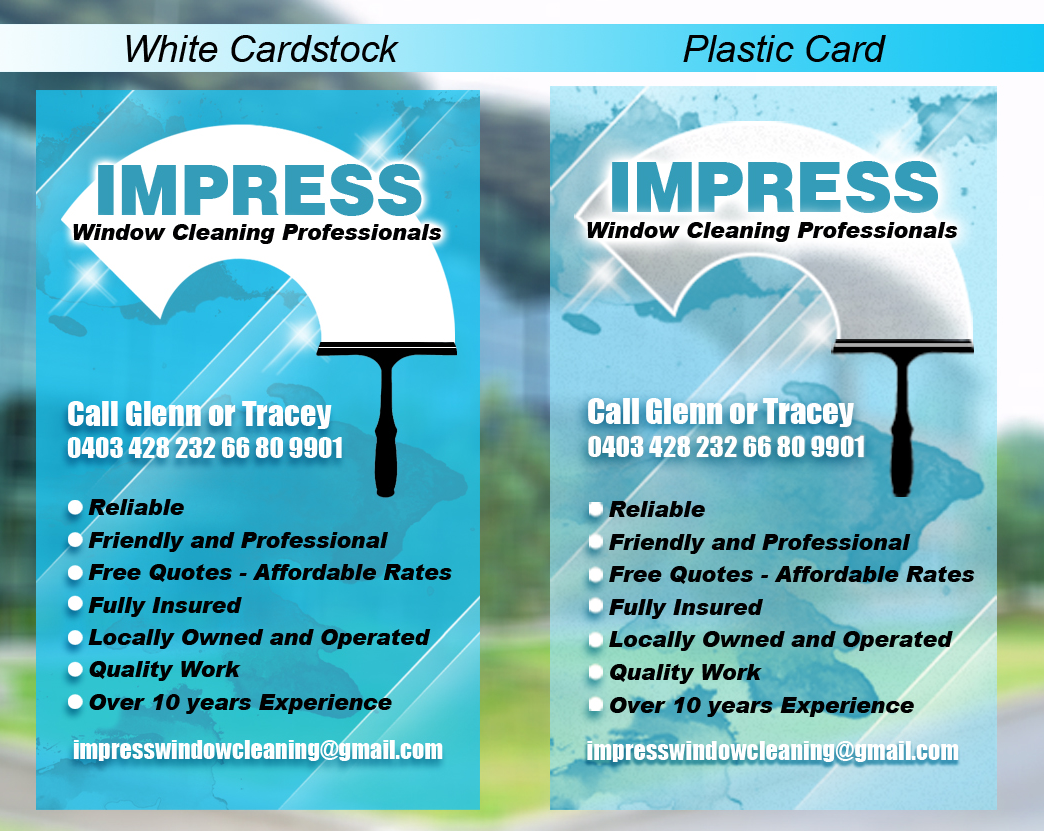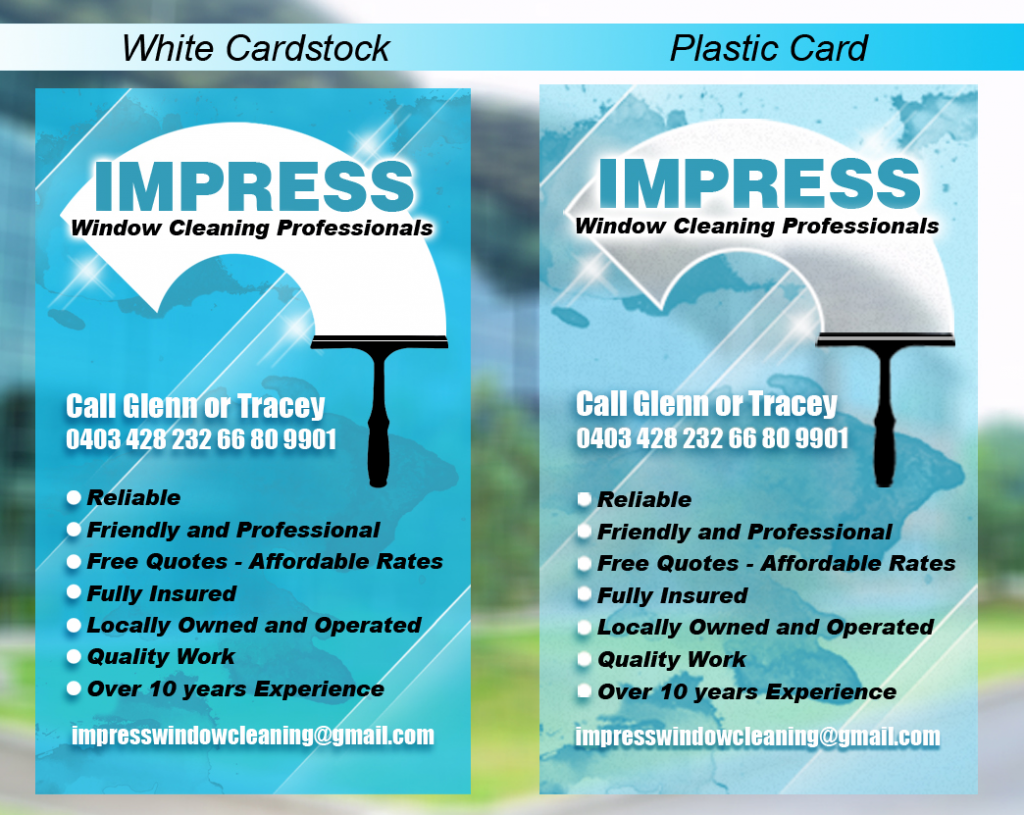 The objective of this design is to mimic a clean glass window. This example presents two card stock options that show the difference in the overall look. While a plastic card presents a more window glass effect, a white card stock can also produce a similar image with the right visual elements, such as a spot UV or metallic finish.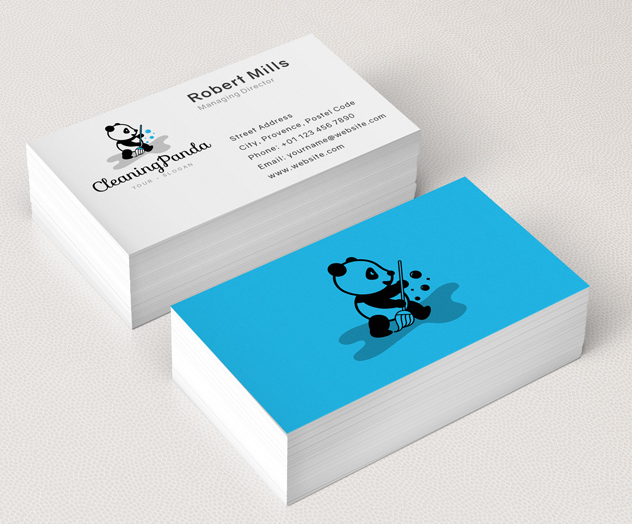 For this design, the business name itself is self-explanatory, which is why the business card should show the same simplicity. Notice how the logo takes center stage and is placed on a clean surface, free of other visual elements that can take attention away from the image. The use of blue at the front as an accent, and at the back as a background, adds to the unique look.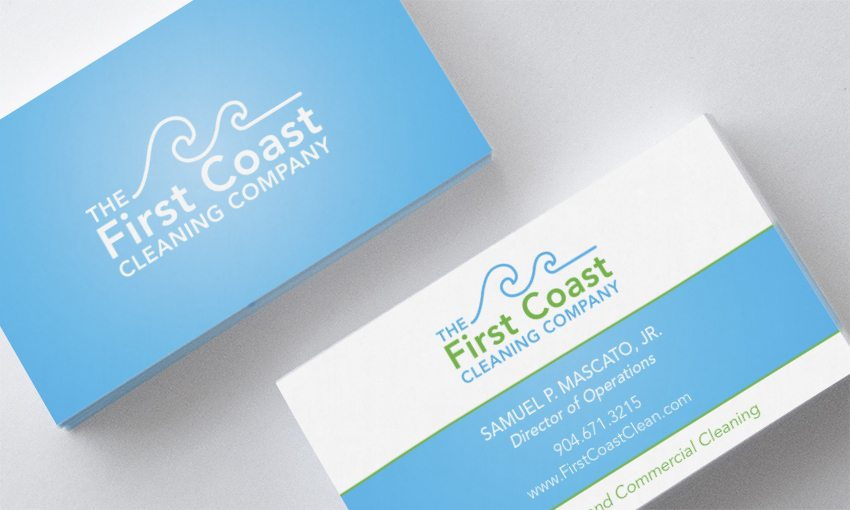 This design begins with a simple logo and the clean, simple look is reflected in its other visual elements. The colors are bright and the typeface used reflect the same clean lines in the logo. Notice how the overall color theme is blue and white except for the business name, letting it stand out on the business card.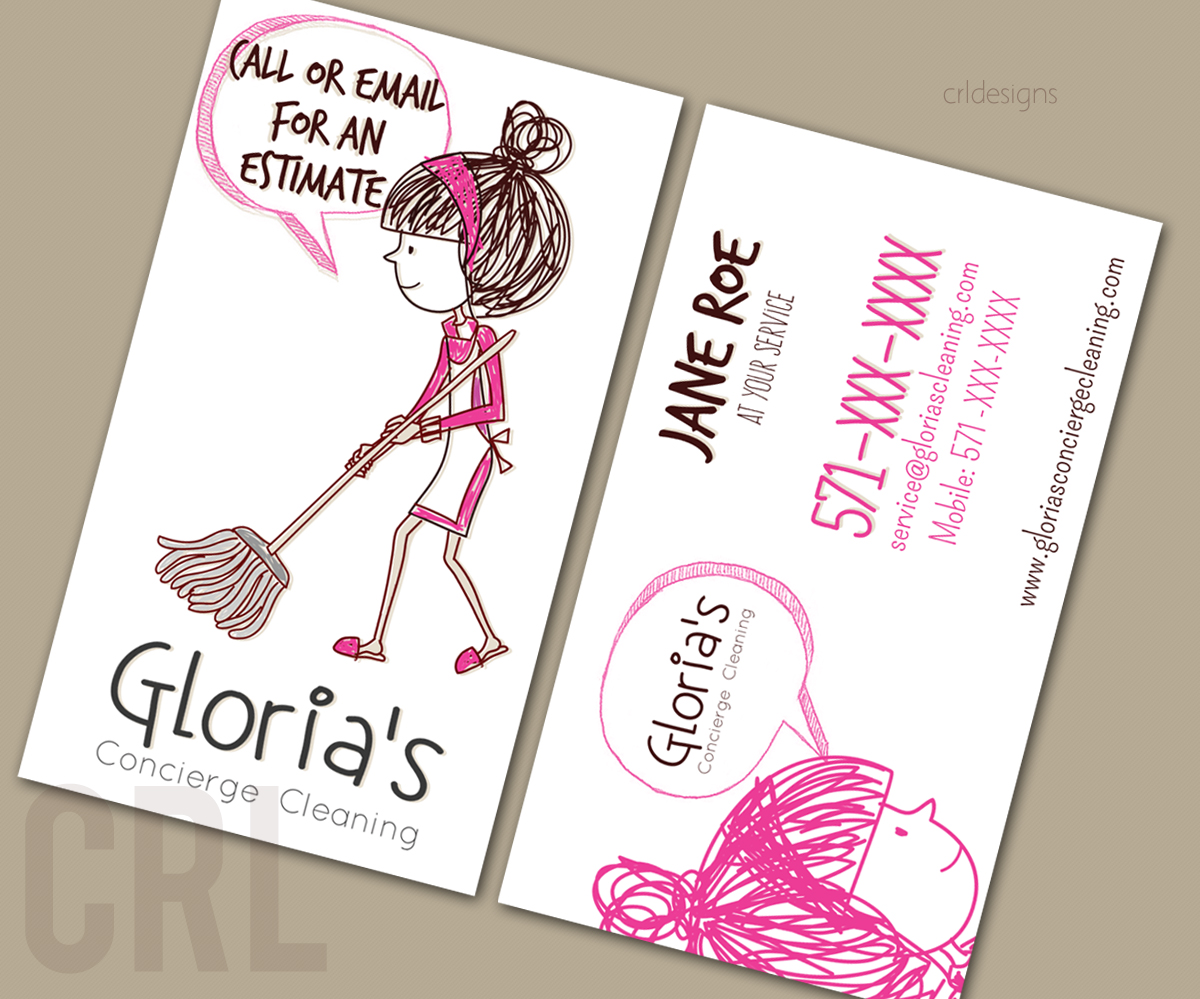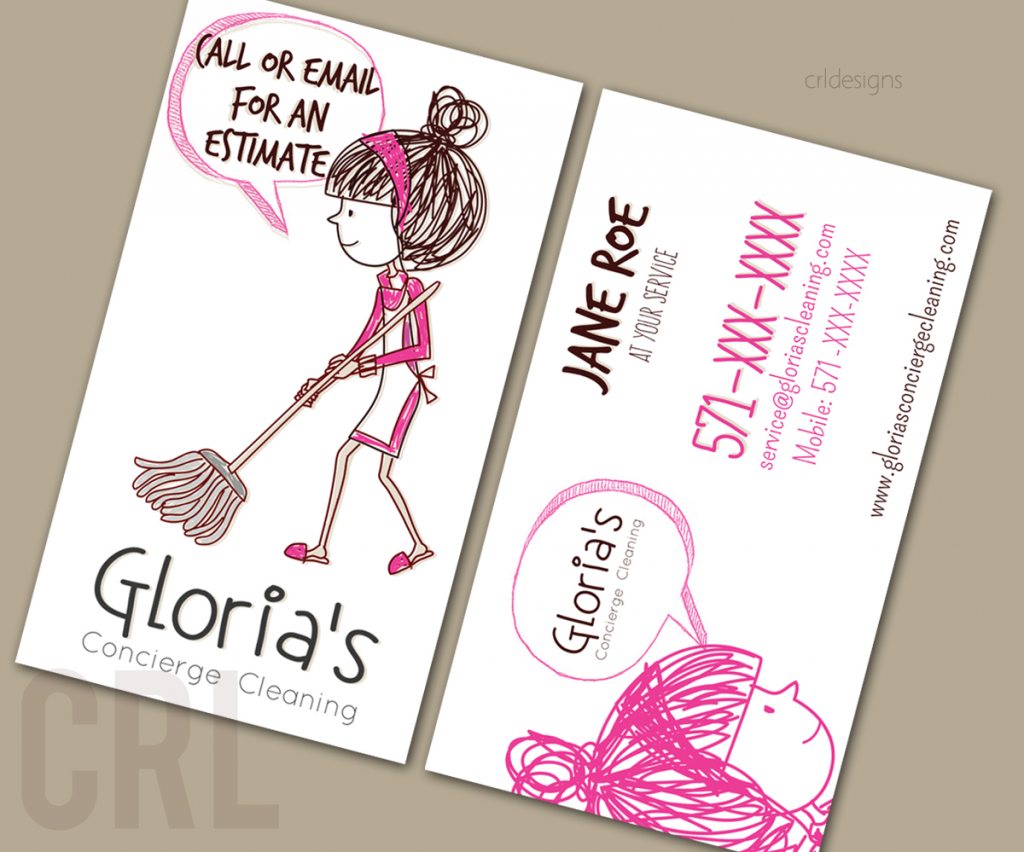 This brand is all about friendliness, but that doesn't mean it's less than professional. The illustration is made to look like playful doodling, but the layout is clean and attractive. The conversational text makes it look quite informal, but it also follows the font hierarchy concept to make sure the message is always clear.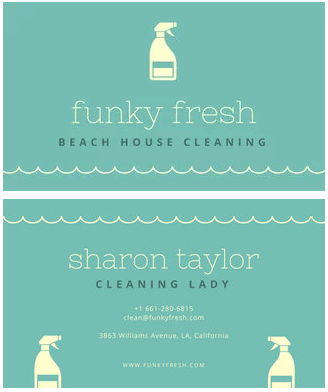 This cleaning business card is designed for a specific niche. The owner of the business card focuses on servicing beach house residences, and that's reflected in the design. The minimalist look gives it a fresh, simple overall feel, completed by a turquoise background and vector wave icons.
Over to You
If you feel that your business has yet to fully reach its target market, then now is as good a time as any for an upgrade. Get inspired with our list of business card examples to help keep your business on top of the competition. Once you're inspired, take the first step by choosing a business card provider from our best-of business card provider guide.
Want to add to our list of inspiring cleaning service business cards? Share them with us in the comments.