The coffee industry is unique with its approach to franchising. All the top coffee shop franchises (with the exception of Dunkin Donuts) are either company-owned or are not currently franchising in the US, including Starbucks, Caribou Coffee and Peet's. However, many smaller chains and international companies have embraced franchising in the US.
Did you know? If you have more than $50,000 in your retirement account you can use this money to start or buy a franchise without paying early withdrawal penalties. It's called a rollover for business startups (or ROBS). Click here to learn more.
Visit Guidant - Our Recommended ROBS Provider
Research Franchise Opportunities By Cost, Location and Industry: Here
Here we review 6 of the best coffee shop franchises and compare their unique market position, growth, investment costs and franchise terms. Find our recommendations below, along with an overview of other top choices:
To learn more about how to evaluate a franchise see our article 7 Steps to Starting a Franchise.
Best Coffee Shop Franchise: Biggby Coffee
Total Initial Investment: $159.9k – $316.1k
No. Existing Locations: 168
Employees Required: 15
Royalty Fees: 5%
Agreement Length: 10 years
Location: Midwest & South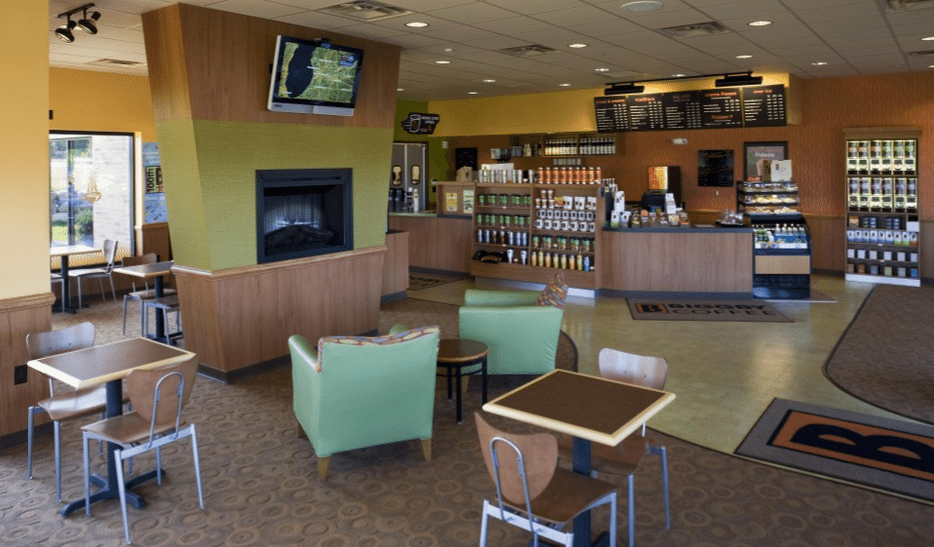 Although you may not have heard of this franchise (unless you're in the Midwest or South) they're actually one of the largest coffee franchises that's open to new franchisees. They take a traditional approach to the American coffee house: Their mid-sized interiors (1,000 to 1,200 square feet) resemble a modest office lounge, and their menu includes a variety of coffee drinks, flavored lattes, cookies, parfaits, fruit cups, bagel sandwiches and other baked goods.
Compared to some of the other coffee shops on this list, Biggby Coffee is modest and familiar. This makes it ideal for smaller markets that are not as adventurous in their coffee consumption, and is the reason why we recommend it as the best all-around coffee franchise. Biggby's drive through capabilities, likewise, make it a good choice for suburban and rural markets.
Growth has been steady over the past few years – from 120 units in 2011 to 168 units in 2014  – which is more that can be said about other coffee franchises we came across. Biggby's investment cost is also on the lower end, ranging between $160k and $316k. Their franchise agreement length is 10 years and the ongoing royalty fee is 5%.
It's not too early to start thinking about financing! In fact, you should be thinking about how you are going to finance your franchise 3 to 6 months before you open your doors. The first step to preparing to finance your franchise is getting your credit score above 700. If you don't know your credit score, you can find out for free here.
Even if you have a strong credit score most lenders will want you to put up at least 30% of the funds required to launch. A popular option is using funds from your retirement account. This can be done without incurring an IRS penalty using a ROBS. Is a ROBS right for you?
Best Upscale Coffee Franchise: Caffebene
Total Initial Investment: $414.5k – $899.6k
No. Existing Locations: 1,433
Employees Required: n/a
Royalty Fees: 6.9%
Agreement Length: 10 years
Location: Nationwide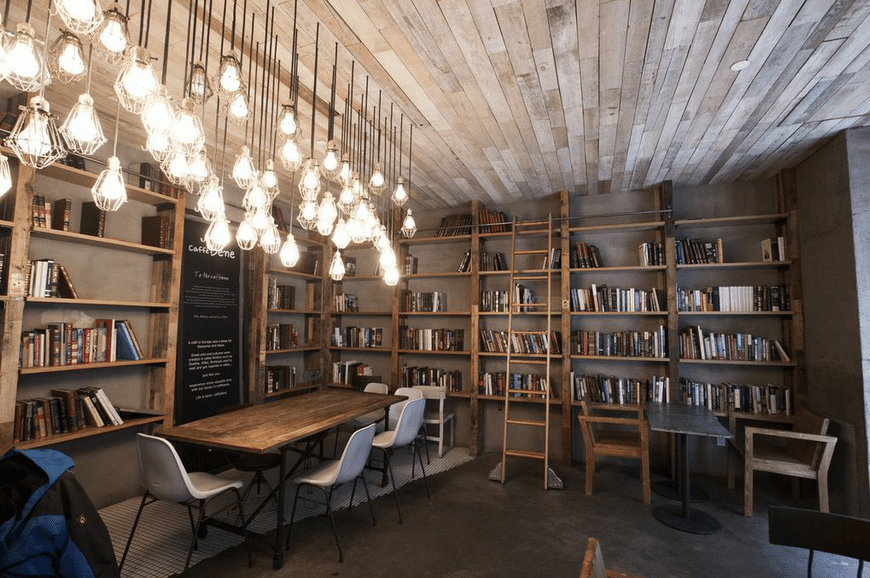 Caffebene is a coffee lounge with many specialty items, including frappes, smoothies, Mojitos, Belgian waffles, Gelato and gourmet sandwiches. Based in South Korea, they have over 1,600 locations worldwide but only 38 in the US. Dozens more are coming soon, however.
They hope to give Starbucks a run for their money with a more diverse menu and a homelier interior with reclaimed wood decor. Their generally larger stores encourage patrons to stay longer and purchase more than a cup of coffee. The idea has worked so far in South Korea, and if their rapid expansion through the US is any sign, it's looking to be a fair fight.
With a minimum initial investment of $415k, this is not a bargain franchise. However, if you're looking for a coffee franchise that can impress patrons in a coffee-saturated urban market, then Caffebene is definitely worth a look. Their franchise agreement is for a length of 10 years and their ongoing royalty fee is 6.9%.
Best Coffee Shop Franchise Under $150k: Cafe2U
Total Initial Investment: $109k – $155k
No. Existing Locations: 241
Employees Required: 1
Royalty Fees: $175/week
Agreement Length: 10 years
Location: Nationwide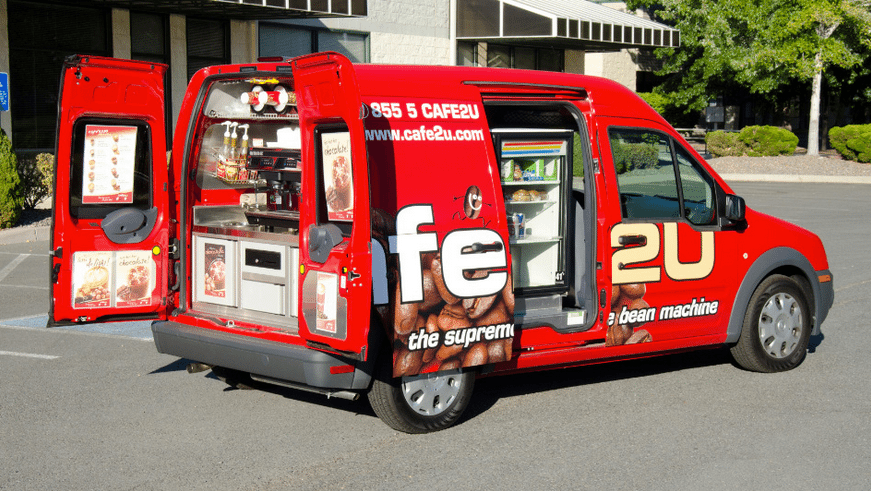 A mobile coffee business, Cafe2U sells high quality coffee at offices, factories, parks, campuses and more. Franchise owners sell coffee straight from their Cafe2U van, which is equipped with all the gear needed to make espresso, cappuccinos, lattes and other premium drinks. The franchise is a hit in Australia and is now making slow headway in the US.
Some of the benefits here are the low investment cost, the fact that you can work alone and the ability to choose your own hours. On the other hand, there's a lot of driving and working outdoors in all types of weather. Also, you need to be persistent with clients and maintain top-notch customer service to excel in sales.
Although Cafe2U has proved successful in Australia, they only have 5 units the United States, so there is a certain gamble in your investment. If you live in an area, however, with a lot of office/industrial parks and not too many retail locations, then Cafe2U might be an ideal choice. Cafe2U has a franchise agreement length of 10 years. Their ongoing royalty fee is $175/week.
Research Franchise Opportunities By Cost, Location and Industry: Here
Other Popular Coffee Franchises
Total Initial Investment: $216k – $1.5m
No. Existing Locations: 11,310
Employees Required: Varies
Royalty Fees: 5.9%
Agreement Length: n/a
Location: Midwest & West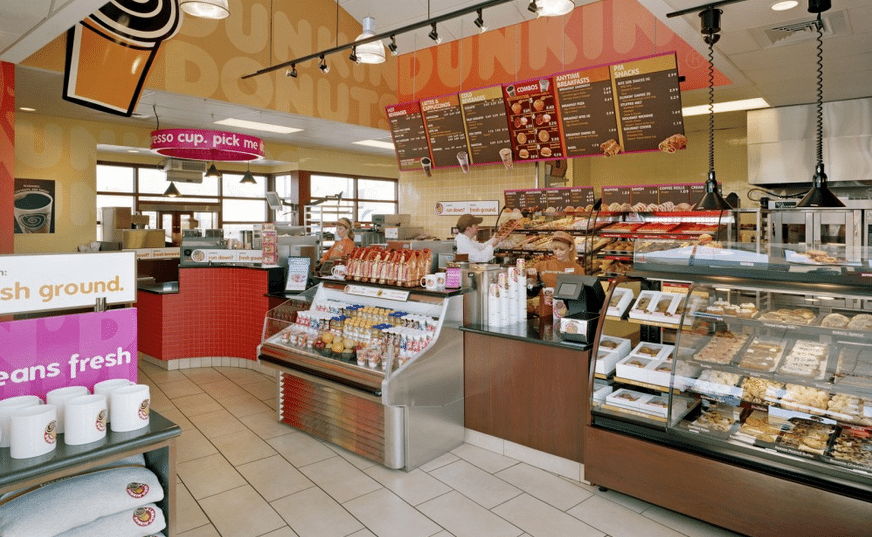 What list of coffee franchises would be complete without Dunkin Donuts? The monster coffee and doughnut chain has been around since 1950 and is now one of the fastest growing and most profitable coffee franchises in the world. Their numbers have grown every year the past decade, even putting up impressive numbers during the recession.
So what's the catch? It's tough to get your foot in the door as a new franchise owner. For new owners there's a rigorous selection process. Existing owners seem to have a critical advantage, as 90% of new stores are opened by current franchisees.
Another issue is geography. The chain has strict requirements on choosing a location. Being already-saturated on the East Coast, franchise owners are limited to Midwest and Western states. The warning goes, however, that the further west you go, the less brand recognition you'll find. So a franchise in Nevada, on average, will experience less sales than a unit in Pennsylvania, for example.
Despite their popularity, there's little publicly available about the Dunkin Donuts franchise agreement. With many different types of units available – from kiosks to large stores with drive through windows – the number of employees required and minimum initial investment vary widely. We do know, however, that they have a 5.9% royalty fee across the board.
Total Initial Investment: $272.5k – $398.5k
No. Existing Locations: 121
Employees Required: 3 to 12
Royalty Fees: 6%
Agreement Length: 10 years
Location: Midwest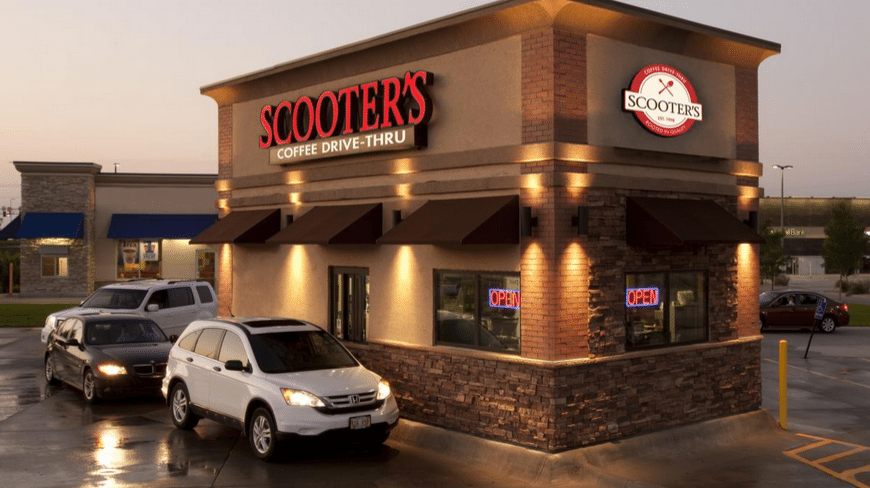 Scooter's Coffee is a drive-through coffee chain with both smaller kiosks (pictured above) and full-scale restaurants. Their menu includes a big variety of hot and cold specialty coffee, such as mocha, cappuccino, lattes and frappes in a variety of flavors. They also serve smoothies, teas, muffins, cookies, breakfast burritos and other pastries.
Given their traditional (and large) gourmet coffee menu, modest interiors and drive through capabilities, Scooter's is a close competitor of Biggby Coffee. We ultimately recommend Biggby because they have slightly more locations, faster growth and lower investment costs, but Scooter's should not be overlooked. They too have growth in the past few years (from 100 units in 2012 to 121 units in 2015) and their drive-through kiosk gives you the unique option of operating in a smaller space with a smaller number of employees.
Scooter's requires a 10 year franchise agreement and their franchise royalty fee is 6%.
Total Initial Investment: $75k – $300k
No. Existing Locations: 203
Employees Required: 2 to 3
Royalty Fees: 6%
Agreement Length: 10 years
Location: Nationwide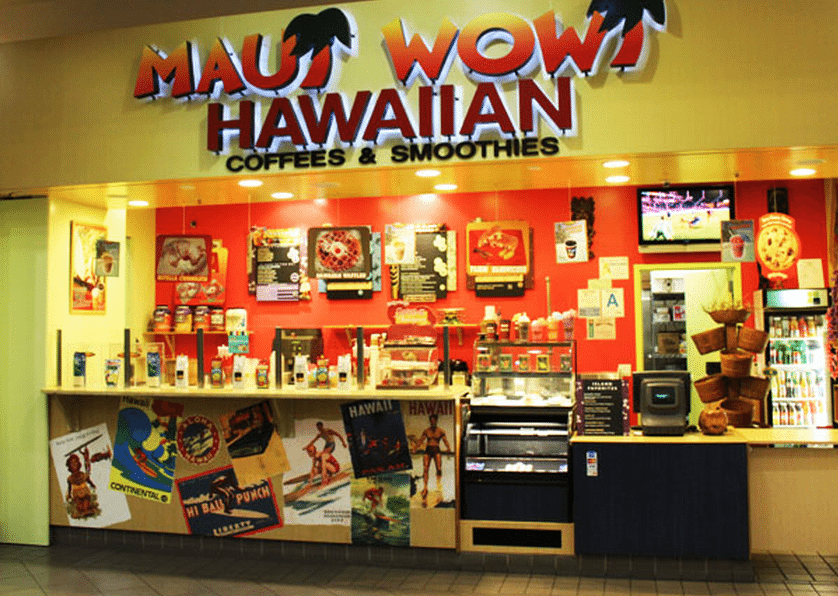 Maui Wowi specializes in hot and cold hawaiian coffee and fruit smoothies. Their units vary from full-scale restaurants to mall kiosks, food trucks and portable carts. Due to these smaller-scale options, Maui Wowi can be one of the least expensive coffee franchises to open. (See our list of other franchise opportunities under $25,000)
Maui Wowi has been shrinking in the past 5 years – from 365 units in 2010 to 203 units in 2015, according to Unhappy Franchise. They've also received complaints from franchisees about their lack of support, which some say is contributing to their high failure rate. Despite this controversy, Maui Wowi made it onto Entrepreneur's 2015 list of top 500 franchises, with a spot at #438.
Altogether it's probably not a wise investment for most prospective owners. However, if you're looking for this type of niche business and are capable of finding business in the winter, Maui Wowi may be a good low-cost choice – just beware the risk!
Bottom Line:
While the larger coffee chains aren't options for those looking for franchising opportunities, there are many smaller chains looking to expand that you'd do well to consider. Once you've decided upon the right franchise for you, you'll want to consider how to finance the project. We discuss start up financing in detail here. If you want to avoid loans and have more than $50,000 in your retirement account, you can consider a roll over for business startups (ROBS). ROBS let you use retirement money  to start or buy a franchise without paying early withdrawal penalties or taxes.  Click here to learn more or speak with the pros at Guidant.