The first email sent to potential clients is meant to create a reply-worthy first impression. However, with the average cold email response rate down to less than 1%, sales professionals should carefully review their strategy for engaging new leads. We asked experts to share email tips with examples that helped them achieve their goals.
Here are 25 cold email examples from the pros:
---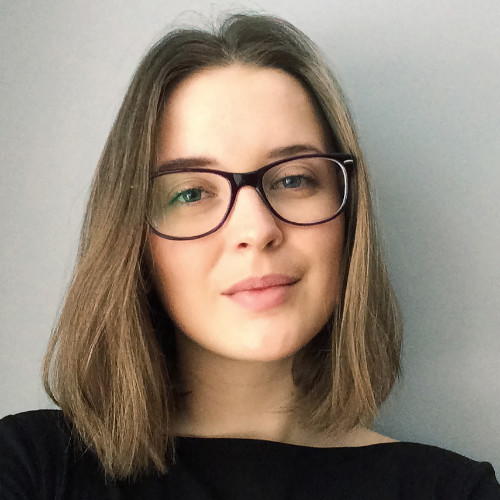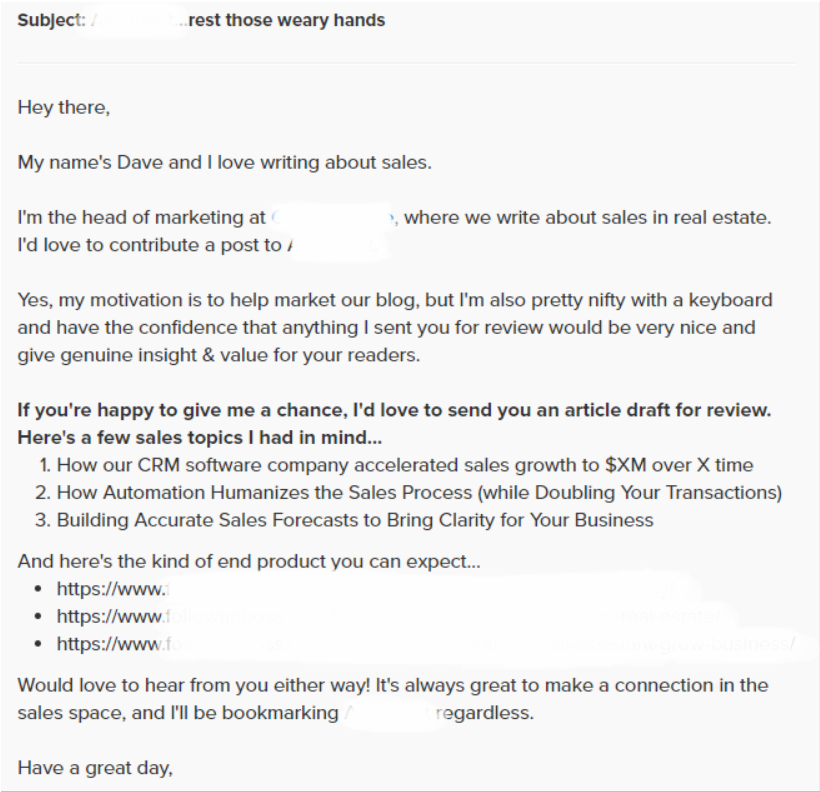 ---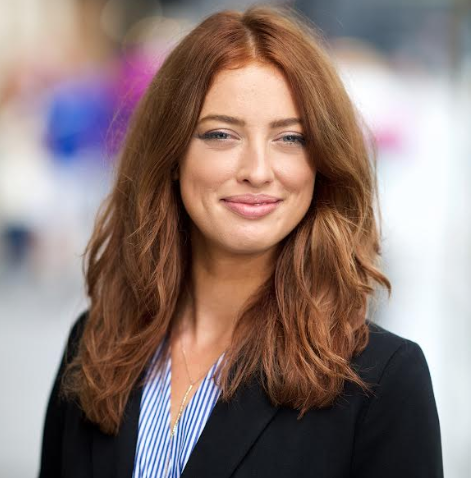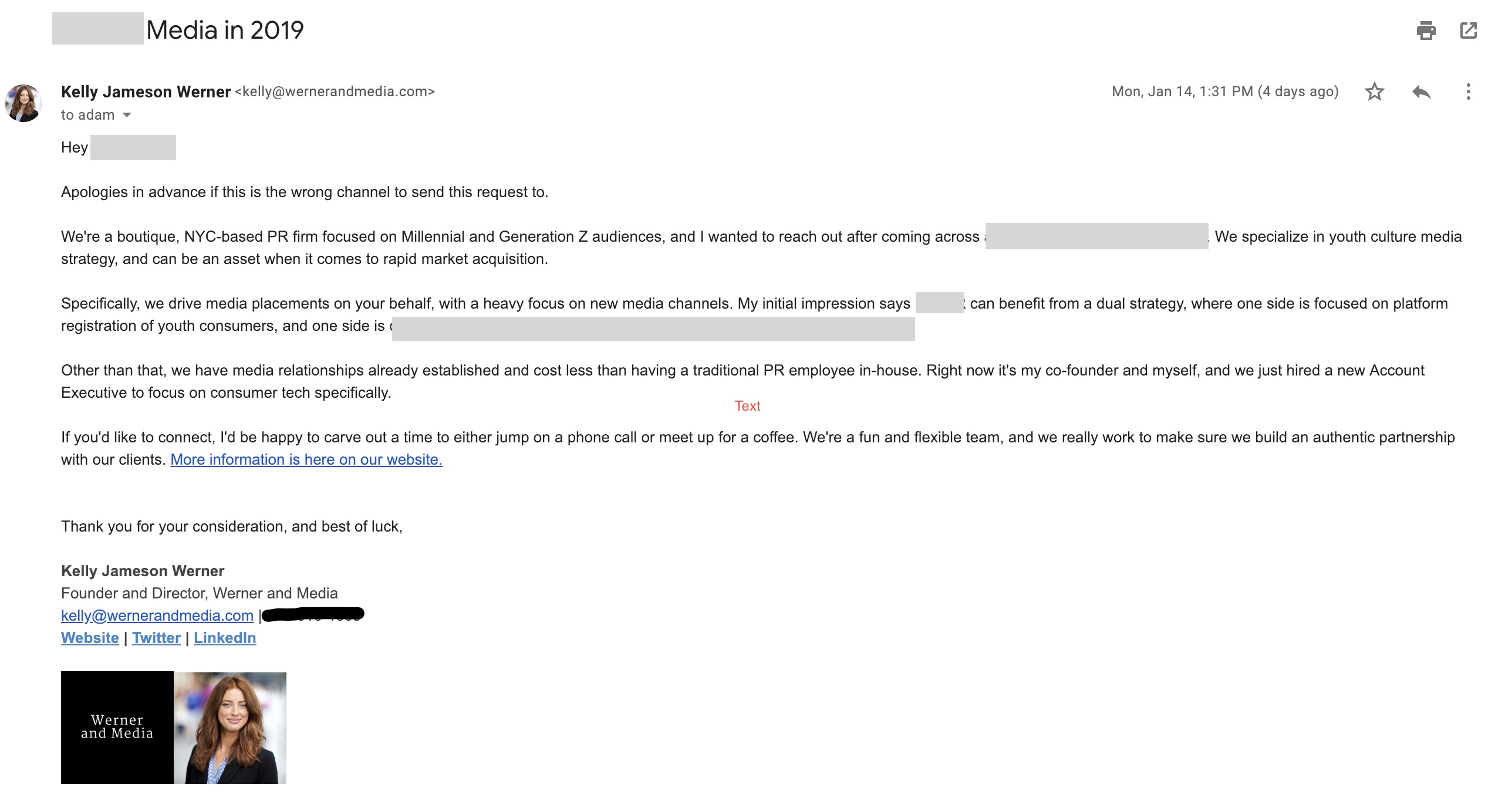 ---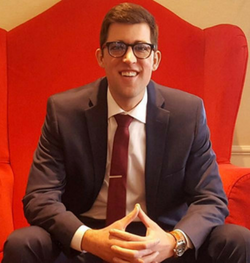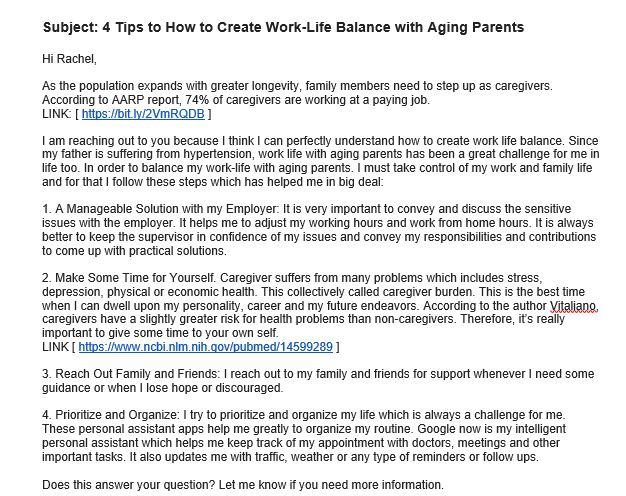 ---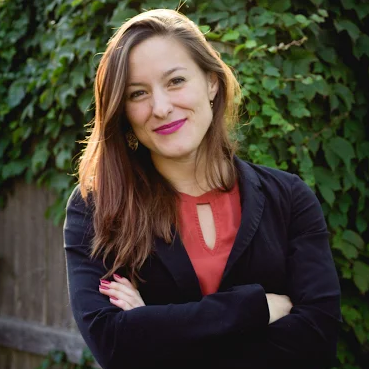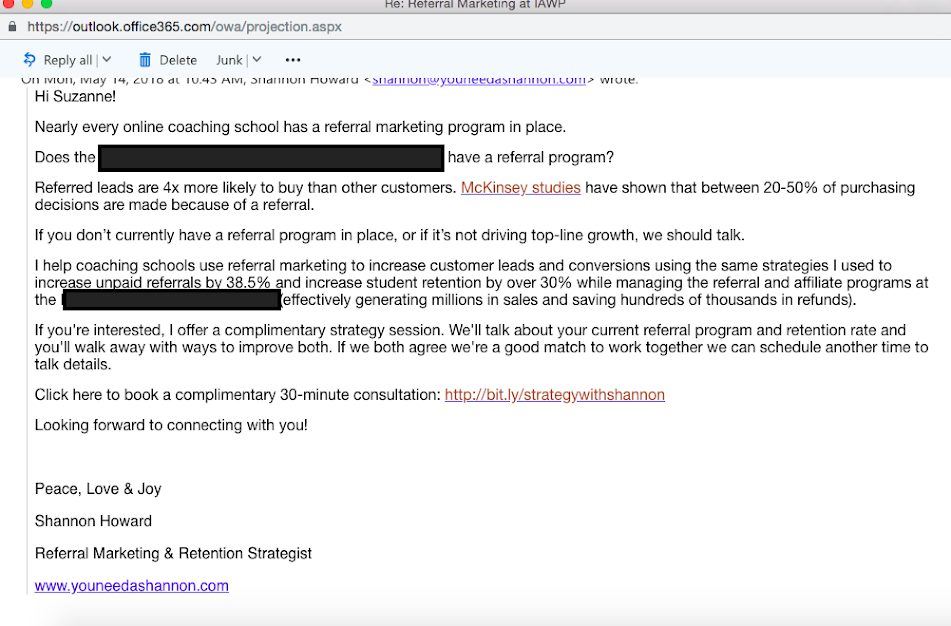 ---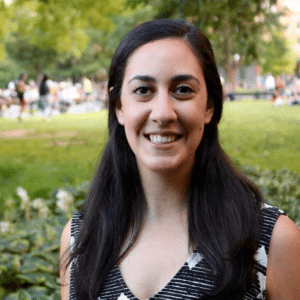 ---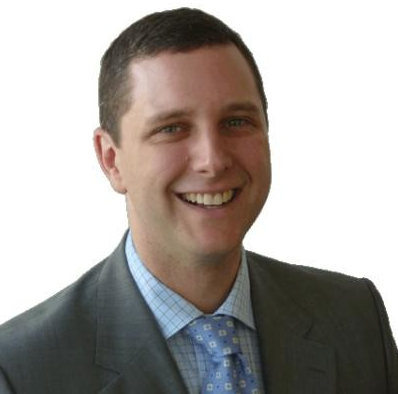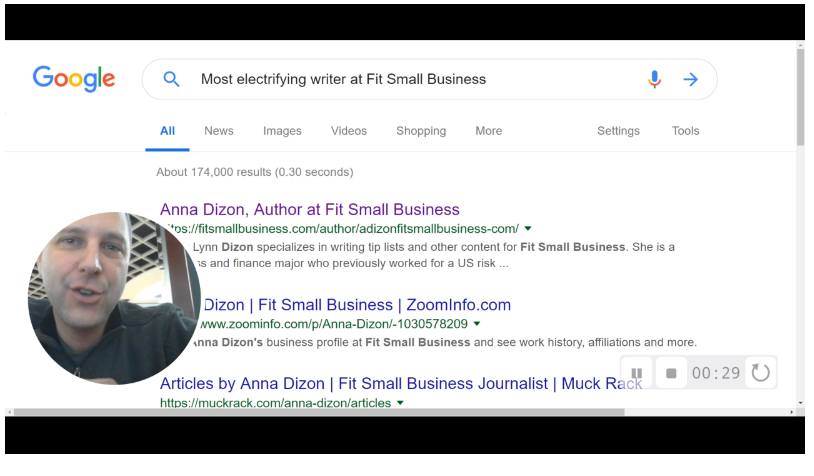 ---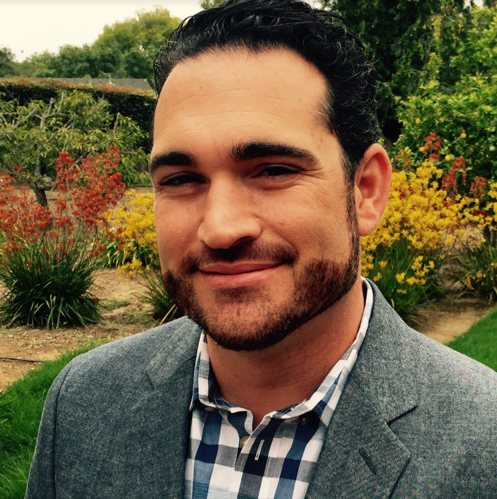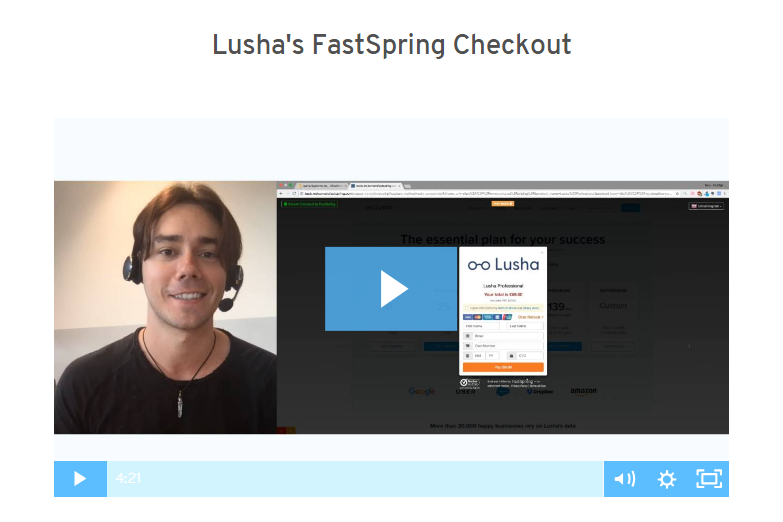 ---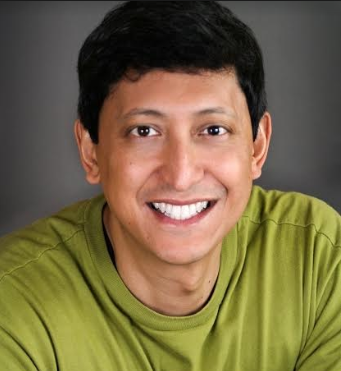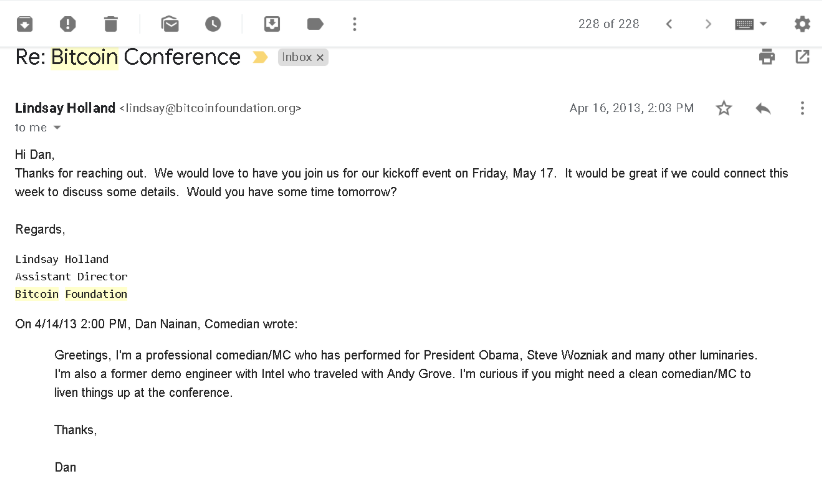 ---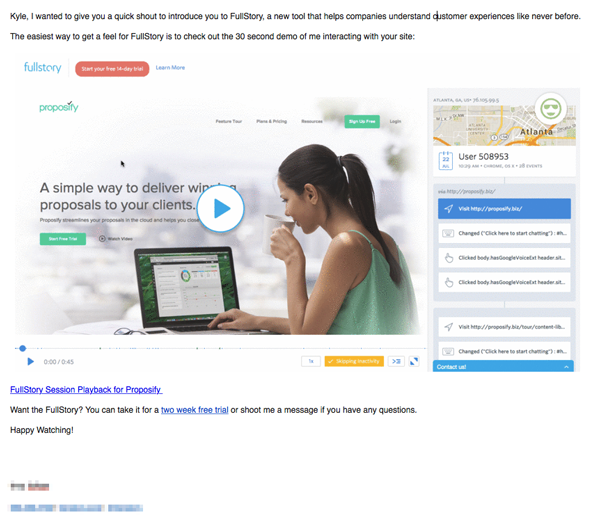 Remember your readers are also busy people, so avoid complicated call to actions, as elaborate requests discourage your readers from responding. Keep it simple and very easy to complete. This gives your prospect a sense that you are confident enough with your product or service that there is no need to ask much to prove its value.
---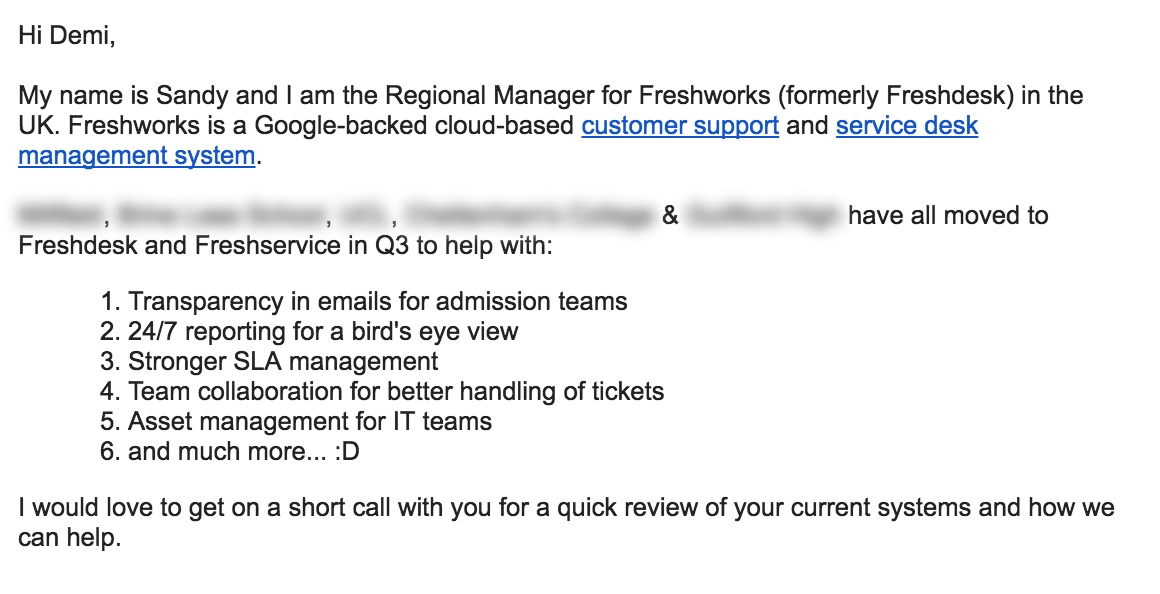 Maintain an email structure that makes it easy to read so as not to lose the interest of your readers. Use separate paragraphs for your opener, your objective, social proof, and call to action. Remember that your cold email should not be longer than it has to be. Keep your sentences short and your paragraphs to three lines maximum. You should also use bullets when explaining longer ideas.
---

Be honest and direct. Let them immediately know your purpose for sending them a message but at the same time, give them a reason why they should hear you out. To achieve this, make sure your message is short, concise, and personalized. Your message also needs to be interesting to convince them that they not only finish reading your email, but respond to it as well.
---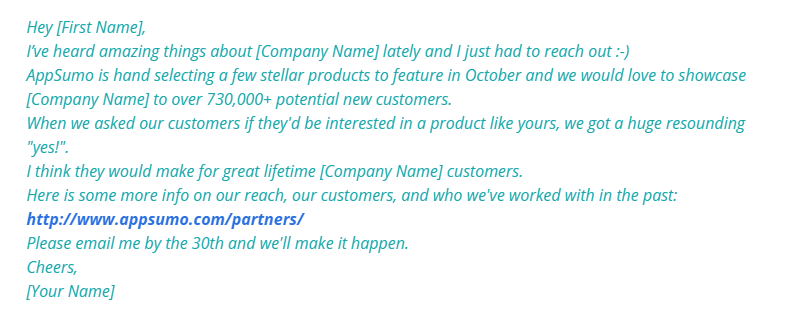 The key here is to offer a deal that your reader can't ignore. Your cold email should be presented as an opportunity that your prospect would fear missing out on. Showcase the value you can deliver and offer an exclusive deal to make them feel special. Make sure that you have researched enough to identify what kind of product or service will appeal to your prospect.
---

Once you've identified your prospect's pain point, be ready to share the product or service you offer that can provide them a solution. Instead of going into lengthy detail explaining what your company does, give them a quick overview and include a list of solutions to their pain points. Then let them know that you are free to answer any questions and would gladly hop on a call at their earliest convenience.
---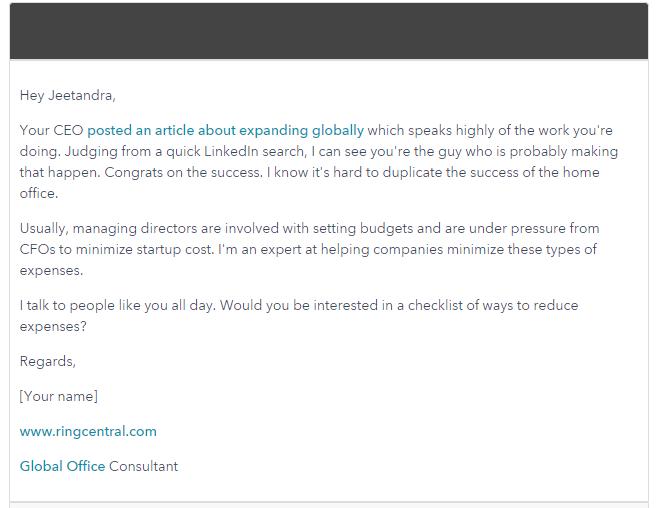 Another good source of information you can use to customize your cold email is your prospect's online publication. The topics they write about on their blog will tell you a lot about their interest and let you know what product or service you offer will most likely warrant a response. Remember to provide some feedback or insight to let your prospect know that you actually read their article.
---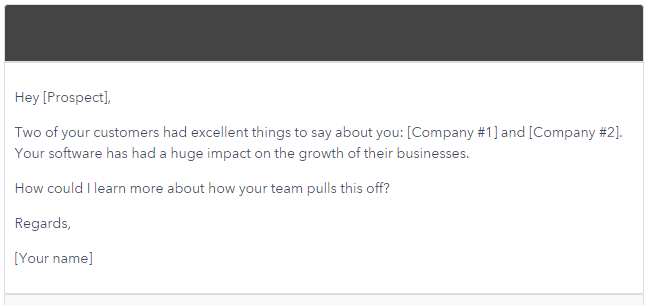 While you're in the process of researching your prospect, why not take note of feedback from their customers as well? Check out online reviews and case studies on their website when available and lead with this information in your email.
---
Injecting humor in your cold email, when used right, can get you the response you need from your prospects. Remember to keep your message focused even as you attempt to get a laugh from your reader. Notice how the writer included an image in the example while still focusing on their brand.
---

You will often be reaching out to prospects who are likely using your competitor's services. This is where knowing your competition comes in handy. Use their issue as an opportunity to offer your product or service to help your prospect. Justify their frustration, and let them know you offer a solution. Make sure to use keywords in your email that will make them feel safe while mentioning some of your clients to build their trust.
---

Notice how the writer leads with valuable information to hold the reader's interest. Sharing performance statistics about your prospect's industry is an effective hook to introduce your product or service. It also shows that you're knowledgeable and have done your homework, establishing your credibility in your field.
---
If you're working on leads that you've gathered through your participation in a networking event, make sure you start with this information in your email. Engage your prospect's interest by mentioning an event highlight that you both can relate to. You should also connect your offered product or service to the activities in the networking event, when possible.
---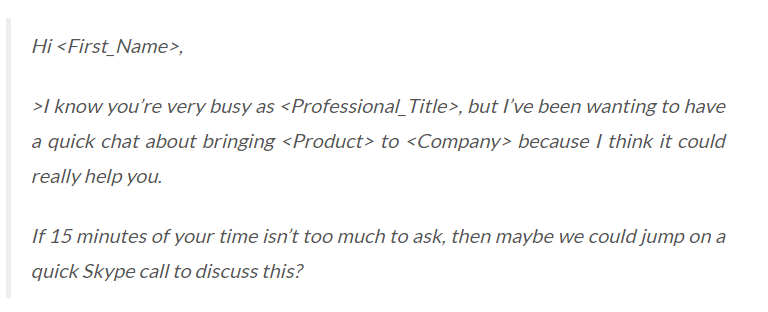 Acknowledge the value of your recipient's time and highlight this in your message. This will assure them that your message will be short, but may also offer a benefit that can be useful to their business. Your email should briefly explain your intention to talk about what value you can bring to your prospect's company.
---
Start with a compliment that is quick and indirect, as this will add a sense of sincerity to the message. Leading with a compliment like in the example also grabs your reader's attention just enough so it piques their curiosity. Don't forget to also acknowledge your reader's time and offer value that addresses their pain points.
---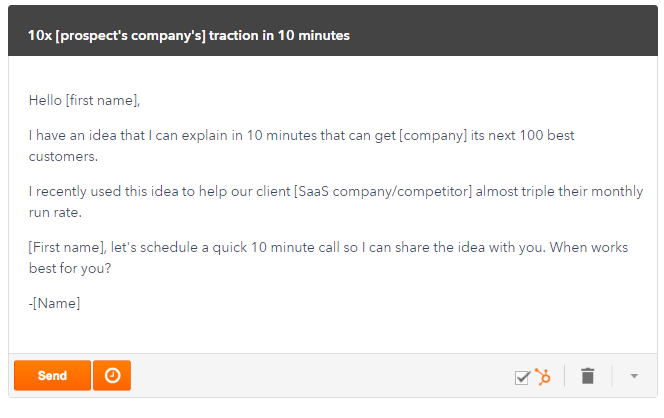 Your email's subject line is crucial to your recipient's decision to click, or not click, on your email. This means you need to put an extra amount of effort to come up with a subject line that gets the initial action you want from your readers. The research you conduct on your prospect can provide you valuable material that can attract their attention. Keep it short, compelling, and intriguing.
---

Identify your prospect's goal or milestone, and then offer something relevant. Ideally, this would be something free as a way of demonstrating the benefits of having your business by their side. It's important that you exercise patience. Ask yourself how you can contribute to their goal and offer valuable insight without expecting anything in return.
---
Your prospect is also likely a business that values its customers. So begin your message by telling a personal story that talks about interacting with your prospect's products or services. They would love to hear feedback from their own customer and would certainly take the time to read your email. You can also use the same strategy for your subject line.
---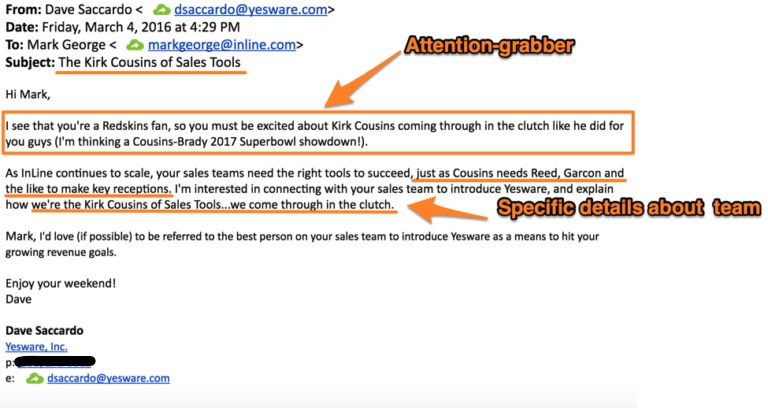 When doing research to customize your cold email, you end up uncovering your prospect's interests. This will be a good basis for creating an attention-grabbing email for your recipient. In this example, the prospect's favorite sport is used to get their attention, beginning with the subject line. Use this topic to relate to your prospect and end by looping back to the purpose of your email.
---
Bottom Line
A well-written cold email is your first step towards gaining a new client. If you feel that your current cold email strategy isn't getting the response you expected, don't be discouraged. Take a page from our list of cold email examples and get more responses to your outreach in no time.
Have your own cold email examples worth sharing? Let us know in the comments.