Commercial flood insurance protects a business' building and contents in the event of a flood. This specialty insurance protects against water damage that isn't covered by other insurance policies. Federal Emergency Management Agency (FEMA)-backed pricing varies depending on where a business is in a flood zone but starts at $650 and can exceed $10,000 annually.
Floods can destroy entire communities. Repairing and replacing your business damaged property might only be half the battle. You may see a temporary decline in your customer base that last months longer than it takes you to get back on your feet. This is why a comprehensive policy that covers business interruption is imperative in covering flood losses. Hiscox has one of the most comprehensive commercial flood insurance policies on the market. Get a no-obligation quote in minutes.
Commercial Flood Insurance Providers
Most flood insurance is purchased through carriers brokering FEMA-backed policies on behalf of their clients. Providers rate buildings on size, location, elevation, and a number of other factors. With skyrocketing premium rates due to recent natural disasters, several private carriers have entered select markets to offer a more competitive solution.
Top Commercial Flood Insurance Providers
| Provider | Best For |
| --- | --- |
| | Companies exceeding the maximum coverage limits of the FEMA program |
| | Small business owners that want flood insurance combined with other business insurance |
| | Businesses in locations where flooding is very likely |
| | Small businesses seeking a simple online platform to buy flood insurance |
| | Owners who want to shop rates among multiple private carriers |
Hiscox is a specialized small business insurance carrier focused on the needs of solopreneurs and small- to mid-sized businesses. Hiscox has built a reputation for offering affordable yet comprehensive insurance solutions to its customers. It entered the private flood insurance market in 2016.
Hiscox is a great choice for business owners concerned about the lower limitations of the National Flood Insurance Program and offers a comprehensive policy that has extended limits and loss of use policies, broader definitions of what constitutes a flood claim, and provides business owners with protection against loss of use.
The Hartford is a leading carrier for small business insurance throughout the country. The Hartford's reputation is built on more than 100 years of delivering promises to customers who need to file a claim. It offers flood insurance as a broker through the National Flood Insurance Program.
The Hartford is the right choice for business owners looking for comprehensive coverage across multiple lines of insurance. This carrier is well known for providing additional coverage on its standard policies without increasing costs. Any small business owner that wants to make sure his commercial business property policy aligns properly with his flood insurance should call The Hartford.
Private Market Flood is backed by international commercial insurance powerhouse, AIG. It is a specialty arm of the carrier and focuses risk management solutions exclusively for business flood insurance. Private Market Flood has a tailored rating system, expanded from the FEMA system, allowing the carrier to adjust costs in a way that are more directly related to a small businesses real risk.
Private Market Flood is the right choice for a small business concerned about increasing flood insurance rates. With its rating system, the carrier can adjust anticipated risks and offer pricing with rates locked for up to three years. This helps businesses in known flood zones to keep costs down, manage risk over extended periods of time, and have a major carrier backing their claim.
Neptune Flood Insurance is a specialty flood insurance broker. As the name suggests, they primarily focus on covering things underwater. Don't let the cute name fool you. Neptune Flood Insurance works with the largest private carriers in the world as well as the National Flood Insurance Program to help small business owners find the right coverage for the right price.
Neptune Flood Insurance is ideal for a small business looking for an online solution that offers choices. Their on-demand platform makes it easy for a business owner to see the difference with coverage options and build the right policy for its own unique business needs. Neptune Flood Insurance's online portal is simple and straightforward, even for those who don't speak insurance.
Cheap Flood Insurance is a specialty insurance broker that offers coverage in some of the riskiest states west of the Mississippi for flood including Texas, Hawaii, and California. Cheap Flood Insurance is taking a stance on the expensive rates offered by the National Flood Insurance Program.
Cheap Flood Insurance is a great choice for businesses located in high-flood zones in the Western states where insurance tends to be much higher than the national average. Using this broker, a small business owner can find a carrier with the appetite to cover risks in the risk zone, helping keep costs down for business owners.
What Commercial Flood Insurance Is
Flood insurance pays for damages to property and contents after a flood caused by external water rising that commercial property insurance doesn't cover. While a general liability insurance policy will cover flooding from a burst pipe in the bathroom, commercial flood insurance covers floods from flash flooding, storm surge, levee breaks, and rising rivers. To qualify for coverage, a flood must cover at least two acres.
FEMA and the National Flood Insurance Program
FEMA is the largest provider of flood insurance in the United States. This federally backed agency underwrites policies through the National Flood Insurance Program (NFIP) and is sold by insurance brokers and agents in offices nationwide. NFIP is designed as an alternative to disaster assistance required in the aftermath of hurricanes, flash floods, and other natural disasters.
FEMA has mapped out geographic regions across the country to determine the highest flood-risk zones. The Flood Map Service is available to anyone wanting to see the level of risk to their business based on geographic location. Those falling into high-risk flood zones pay a higher premium compared to those in regions deemed less risky. The maximum coverage limits through the NFIP are $500,000 for building property and $500,000 for business personal contents.
Private Carriers Offering Business Flood Insurance
In recent years, deregulation of the flood insurance industry has sparked growth, with private carriers providing more competitive pricing and comprehensive policies. In 2017, for example, Private carrier flood premiums more than doubled in every state except Maine. The expansion of competition is good news for small business owners who have traditionally been left to the one option with the NFIP and a few private choices.
By diversifying the risk among carriers, the NFIP is also able to price its own policies more competitively. Every small business owner looking for flood insurance should shop rates and policy options as carriers do have different coverages available. Many carriers are increasing business coverage limits beyond the NFIP to meet the needs of business owners.
What Commercial Flood Insurance Covers
Commercial flood insurance covers business assets that are damaged, lost, or destroyed during a flood. Some policies cover a business' loss of income as well as reasonable expenses paid to take precautionary measures or mitigate damage from an impending disaster.
Commercial flood insurance covers your business for losses associated with:
Structural components: Anything attached and used to build the structure including floorboards, walls, doors, and all other attachments
Building utility infrastructure: Electrical, heating, and plumbing systems within the building
Reasonable expenses: Costs to secure, move, or otherwise mitigate flood damage, such as purchasing sandbags or transporting inventory to a safe zone
Foundation and staircases: Cement or raised foundations as well as staircases attached to the structure internally or externally
Contents and appliances: Contents within the structure owned and used for regular business operations
What Business Flood Insurance Doesn't Cover
Commercial flood insurance has exclusions for the following:
Detaches structures: Sheds, trailers, and detached garages may not be covered under standard policy options
Commercial vehicles: Cars, trucks, ATVs, and golf carts must be covered through commercial auto policies with the comprehensive coverage option
Landscaping: All exterior landscaping, as well as sidewalks and lighting, are excluded
Septic systems: External plumbing systems and components are not considered part of the structure
Business interruption: Loss of income from business operations is not covered under most standard business flood insurance policies
Preventable damage: Any damage including mold or mildew may not be covered if the small business owner didn't take reasonable measures to prevent it
Every small business needs to evaluate the risk of flooding and its impact on business operations. Not every business is required to have flood insurance but having it could be the difference between starting over or declaring bankruptcy.
How Commercial Flood Insurance Works
A business can purchase flood insurance at any time but there is a waiting period before coverage starts, so it's best not to wait until a storm is coming. While waiting periods from private providers vary, the NFIP through FEMA has a 30-day waiting period before the policy kicks in.
A flood is defined by FEMA as a temporary condition where normally-dry land is completely inundated with water. The cause of the flooding could be overflow of bodies of water, unusual and rapid runoff from any water source, or mudslides.
Who Commercial Flood Insurance Is Right For
No business is immune to a flood. Whether you live near coastal waters, any inland body of water, a creek, or even where there is high snow drift that can melt, you may need flood insurance. Weather patterns have changed through the years, and new areas are becoming prone to flooding, so it's important for every business to have some level of coverage.
Identifying Flood Zones
FEMA has mapped out and rated different geographic regions based on the likelihood of a flood and from what type of risk. Flood hazard areas are broken down into A, B, C, D, V, and X zones, with many having subsets of risk.
Flood Zone Map Ratings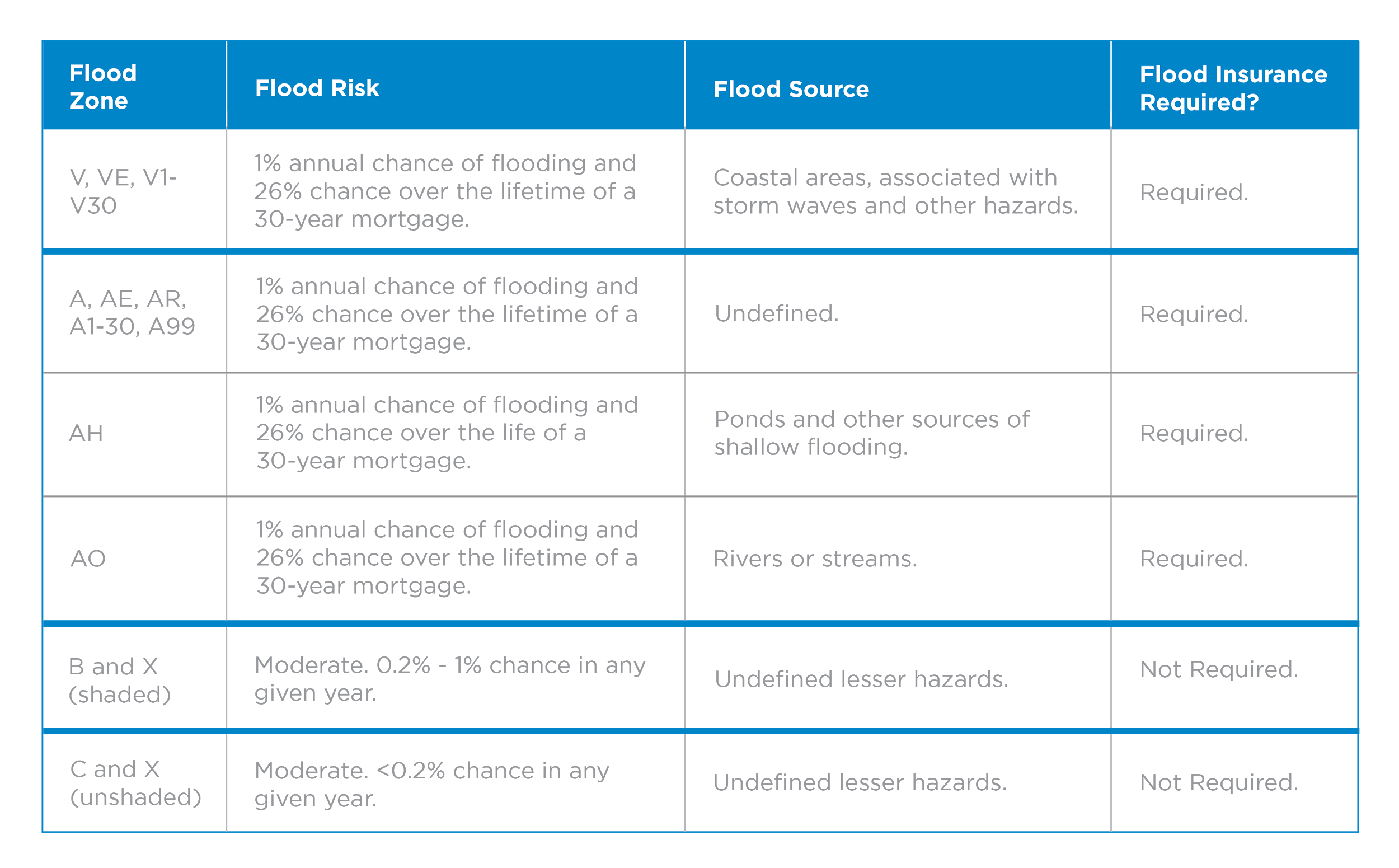 The highest risk, mandatory flood zones based on risk include:
Flood Zones V: Coastal areas where waves and storm surge are likely
Food Zones A: Inland regions close to bodies of water where banks can overflow or shallow flooding can occur
Determinations are based on the one percent chance an area will equal or exceed annual flooding defined by a term ― the 100-year flood. Don't be misled by the term as the 100-year flood can happen in back-to-back years and merely describes hydrologic events that increase the probability of flooding.
Example of Business Flood Insurance
Imagine a small town experiencing record winter snow. An unusually warm day melts the roof-level snowdrifts, and local businesses in the area have water streaming into their stores. An art gallery takes preventative action and transports sculptures to a storage facility, made sure paintings were hung so as not to be endangered, and placed sandbags around the stores' entryways.
This small business has taken reasonable precautions. If a flood were to happen in their area, this business would be reimbursed for the costs of relocating art and protecting the business along with any losses that occurred from the snowdrift melting.
Commercial Flood Insurance Costs
Commercial flood insurance costs can vary dramatically even block-to-block in the same city. A business' location, local terrain, proximity to natural water sources, and flooding history can increase premiums dramatically. Small businesses in a known flood zone can expect to pay at least $5,000 annually for $250,000 in building coverage and $100,000 for contents protection.
Typical Commercial Flood Insurance Costs
| Flood Zone | Building Coverage | Contents Coverage | Annual Premium | Deductible |
| --- | --- | --- | --- | --- |
| V Flood Zone | $50,000 | $100,000 | $17,500 | $5,000 |
| V Flood Zone With Elevation Cert | $50,000 | $100,000 | $11,800 | $5,000 |
| A Flood Zone | $250,000 | $100,000 | $6,500 | $5,000 |
| B, C or X Flood Zone | $250,000 | $100,000 | $650 | $5,000 |
Many factors affect the pricing of business flood insurance beyond the zone and proximity to hazards. How the structure is built plays a significant role in pricing.
The location-specific factors are used to determine flood insurance premiums include:
Property grade: The grade of the property can increase the premium because the slope can cause water to accelerate towards and pool against the exterior of the building.
Basement or crawlspace: New construction with basements and crawlspaces in known flood plains is prohibited. Grandfathered and authorized subterranean spaces can have a 20% surcharge added. Having at least two flood vents can reduce this charge.
Elevation: A raised location above the base flood elevation will reduce the rate in all zones.
Certified elevation certificate: A professional evaluation of the exact height and foundation build of a property provided to the insurance company can reduce rates.
Breakaway walls: Walls not part of the structural integrity designed to breakaway as flood waters rush through, can prevent a pooling within the house and protect upper levels from flooding.
Location of utilities: Electrical, heating, and plumbing infrastructure located in basements or crawl spaces can increase rates with a surcharge.
Other Business Insurance Needs
As important as this coverage is, chances are that flood insurance isn't the first business insurance policy you need. Commercial flood insurance is just one component in protecting your business from loss. Here are other policies you likely need to ensure there are no risk gaps that could lead to company insolvency.
General Liability Insurance
General liability insurance covers your company from third-party claims to body or property. Common examples include slip-and-fall injuries or accidental property damage such as dropping a client's laptop. General liability insurance will pay for the claims, settlements, or even legal defense for fraudulent claims.
Business Property Insurance
Business property insurance covers a business' assets such as furniture, computers, equipment, inventory, and supplies from damage related to theft, vandalism, and fire. It also repairs or replaces items from water damage that results from an internal pipe burst but does not protect against flood loss.
Business Owner's Policy (BOP)
A business owner's policy (BOP) is a hybrid policy that combines both general liability insurance and business property insurance. Most BOPs also include business interruption service paying for lost income when a business is unable to open its doors after a loss.
Business property and BOPs often provide additional coverage above the coverage in commercial flood insurance. While the flood insurance covers assets damaged during the flood, if the business is looted after the disaster or a fire erupts in the building, these other policies provide protection.
The Flood Insurance Claims Process
The flood insurance claims process starts before you call the insurance company. Do what you can to secure the property and its contents. This may not be possible but is the first step to consider. Pay attention to whether items may have been swept away or looted. Assess any business assets and inventory lists you have along with your insurance policy information.
Small business owners may have more than one policy triggered in a natural disaster that includes flooding. If your business policy is at the same insurance carrier as your flood insurance policy, call your company to process one catastrophe claim. Most claims after a natural disaster are given a dedicated phone number and disaster response code known as a "Cat Code." This makes it easier for you to track the loss across multiple policies.
This process also helps claims representatives prioritize the needs and review options for multiple policy coverage. For example, if a hurricane hit and your building was flooded with three feet of storm surge and the roof has wind damage, both a hurricane and flood policy would require claims.
Tips on Getting Commercial Flood Insurance
Here are three tips when getting commercial flood insurance.
Look Up Your Location on the Flood Map Service
The Flood Map Service Center is a public portal for all residential and commercial property owners to access. It has mapped out most of the United States, categorizing locations based on risk zones. Know your risk zone before you look for insurance to make sure you buy the right policy.
Assess Your Building
A building with an elevation certificate, breakaway walls, and raised foundations may qualify for premium reductions. Get familiar with where utilities are, any history of flooding in the area, and how high. Create plans to mitigate potential flood losses. The more information provided to the insurance company, the better your chances are of qualifying for discounts.
Don't Wait for An Impending Disaster
There is a 30-day waiting period before you can have a loss that is eligible for a claim on the business flood insurance policy. This is to discourage consumers from gaming the system and buying it only for a short period of time when losses are likely. Some insurance carriers place a moratorium on existing policies leading up to hurricanes or snow storms to prevent adjusting deductibles and coverage options at the last minute.
Commercial Flood Insurance Frequently Asked Questions (FAQs)
Unless your lender or landlord require flood insurance, it is considered an optional business insurance expense covering gaps from other policies. Our mission is to provide you with the best answers to your questions.
Does my commercial property insurance include flood coverage?
Commercial property insurance excludes flooding from a rise in external water resources. Only specialty flood insurance purchased through FEMA or a private carrier will pay to repair or replace property and assets damaged in a flood.
What is an elevation certificate?
The NFIP through FEMA requires a certificate for properties located in high-risk flood zones to validate the height of the building in relation to ground level. Elevation certificates are used to demonstrate the reduced risk some buildings have by not being built directly on the ground.
What if my business straddles two flood zones?
A business that straddles two flood zones must insure based on the riskier flood zone. This is irrespective of the percentage the riskier flood zone maintains on the property. If five percent of the business property sits in Flood Zone V with the rest in Zone B, the business must maintain Zone A rates.
Bottom Line
Commercial flood insurance covers the gaps of damage and loss of small business owners particularly vulnerable to regional water hazards and storm systems. The physical building and contents are repaired or replaced after rising flood waters, mudslides, or avalanches. Commercial flood insurance costs increase the closer to hazards a business is.
Recovering from any loss, particularly a flood, is emotionally exhausting. Working with a company that understands the importance of making your business whole quickly can be paramount to surviving such a catastrophe. With its higher limits and inclusion of business interruption, Hiscox goes above and beyond traditional commercial flood insurance policies. Get a free, no-obligation quote in minutes.