Commercial property insurance covers the building that houses a business along with office equipment, inventory, signs, and machinery in owned or leased locations. Small business owners may consider commercial building insurance as a standalone lessors risk policy exclusively for the building or combine other coverage with typical annual costs starting around $750.
Top Commercial Property Insurance Companies
| Provider | Best For |
| --- | --- |
| | Lessors risk coverage for newer buildings and their contents |
| | Commercial property owners with multiple properties or managed real estate portfolios |
| | Homeowners associations requiring master policy coverage for structures and liability |
| | Property managers of units where risk is transferred to residents |
| | Business owners unsure about coverage needs and want help comparing carriers |
The Hartford is one of the largest carriers of commercial insurance in the nation, having served consumers and business owners for more than 200 years. It has a wide appetite for business risk, meaning it covers many industries and business sizes. Lessors risk real estate policies are one of the top types of business insurance policies they write.
The Hartford is the perfect choice for a business that wants commercial property insurance as a standalone policy or as part of a business owners policy (BOP). In both cases, The Hartford offers coverage in competitively priced packages. The Hartford prefers buildings less than 50 years old, but will often take additional steps to meet clients' insurance needs for older properties.
Travelers Group is a major commercial lines insurance carrier that often receives the highest ratings from insurance credit companies. Business owners who purchase insurance from Travelers Group gain a business partner seeking to help mitigate losses through safety and security programs offered for long-term savings.
Travelers Group is a great choice for commercial real estate investors who have multiple properties. While Travelers preference is for real estate portfolios capped at $50 million in market value, the company is able to underwrite larger classes of real estate with some additional underwriting.
Farmers is a national brand for personal lines of insurance but also has a very strong reputation for commercial insurance for small business owners. The company believes that education is the key to fewer losses for business owners. The University of Farmers helps business owners eliminate confusion so they can get the right policy for their specific needs.
Farmers is best-suited for homeowners associations (HOAs) that need a master policy for the various HOA-owned community structures and overall general liability. If you need coverage for a unit in a complex that already uses Farmers, you should consider Farmers so there are fewer gaps with fewer denied claims.
Hiscox is a growing small business carrier. Although Hiscox is a younger company, they remain financially strong through smart underwriting risk selection of company sizes and industries.
Hiscox is a great option for small residential unit and apartment building managers that need both structure and liability coverage. Hiscox understands that property managers may or may not require tenants to maintain renters insurance, and will help write the appropriate commercial property insurance policy.
Insurance321 is a broker that helps small business owners shop the rates and policy inclusions among the top insurance carriers. This not only saves time for the business owner, but also helps to make sure that the right carrier is paired to the right risk.
Insurance321 is the perfect choice for a small business owner who wants to compare carriers to make sure the right one is selected and the best price is achieved. Since Insurance321 isn't beholden to any one carrier, they offer objective advice for the best policies for business owners.
What Is Commercial Property Insurance Coverage
Commercial property insurance coverage, sometimes also called lessors risk, is the replacement cost for buildings covering losses resulting from fire, vandalism, explosion, some natural disasters, and water damage. Some policies exclusively cover the building while more comprehensive policies cover contents such as computers, furniture, supplies, and inventory.
Commercial property insurance and lessors risk covers four main areas of loss, including:
Building space: Pays for repairs or replacement of building damage (whether leased or owned) for construction and affixed items including furnaces, electrical, and plumbing.
Contents within the building: Covers costs of damage or loss to all items not affixed to the property and held within or on the premises, such as furniture, inventory, and supplies.
Other people's property: Protects items held under the business' care, custody, or control.
Signs and marquees: Replaces or repairs signs and marquees, whether affixed to the building or free-standing, due to damage or loss from wind damage, vandalism, theft, or fire.
Lessors risk insurance policies cover the structure and contents and add other necessary coverages like general liability into one policy. However, commercial property insurance on its own doesn't cover general liability.
Who Needs Commercial Property Insurance
Every business owner with a physical location should have commercial property insurance that covers the building, attached items, improvements, and signs. However, you may also need commercial property insurance if you lease all or part of a property, or if you store personal property in someone else's building.
A few types of business owners who need commercial property insurance include:
Building owners: Require coverage to appease mortgage requirements to repair or rebuild property if damaged or lost completely.
Tenants of commercial property: Property owners transfer risk to tenants based on the lease's square footage. Tenants must provide a certification of insurance listing the coverage amounts, policy dates, and landlords added as an additional insured.
Real estate investors: Protecting apartment buildings and fix-and-flip structures while under business ownership.
Pro tip: Business owners trying to secure a Small Business Administration disaster loan, including Economic Injury Disaster Loans, may be asked to show proof of hazard insurance. Commercial property coverage typically fulfills this requirement. However, they may need a separate policy if their business is located in a state that requires coverage for a specific hazard, such as earthquake, hail, or wind.
What Lessors Risk Insurance Is
Lessors risk is a commercial property insurance policy that protects building owners leasing the space with general liability and structure coverage. To qualify for lessors risk, building owners must occupy less than 75% of the building and lease the remaining space to tenants who have tenants commercial insurance policies. Small businesses that need extended coverage may also need policy additions.
What Commercial Property Insurance Doesn't Cover
Commercial property insurance sometimes only covers a landlord's building, while business property insurance covers any contents or fixtures. Business property insurance covers the contents and assets. While there are riders to cover signs, contents, and customers' belongings, these are additions to strict commercial property and lessors risk insurance policies.
General liability, workers' compensation, and errors and omissions are also not standard parts of commercial property coverage. Small business insurance policies that cover these other liabilities are often combined in a business owners policy (BOP), which can often help small business owners save money on commercial property insurance premiums.
Separate commercial property coverage to protect property from acts of God, including:
Hurricane
Earthquake
Flood
These types of natural disasters are standard exclusions from most commercial property insurance policies. If you are in an area where these perils are significant concerns, you may also want to consider additional commercial real estate insurance and business property coverage.
Commercial Property Insurance Costs
Most small business owners can expect to get commercial property insurance coverage for between $500 and $1,000 annually. Estimating commercial property insurance cost isn't easy because it varies significantly by state, building size, construction materials, and business use. Lessors risk policies can also be a less expensive way for business owners to insure business property and contents.
Commercial property insurance rates are based on the replacement cost of the building, the sum of contents, inventory, and supplies. Replacement cost is the cost to rebuild a structure that's totally lost, which is almost always different from the property's fair market value. Calculating assets and inventory values correctly help keep accurate premiums. The purpose of this insurance is to make you whole after a loss—not to make you a profit.
Typical Commercial Property Insurance Coverage Costs & Deductibles
| Coverage Type | Coverage Amount | Annual Premium | Deductible |
| --- | --- | --- | --- |
| Building Coverage | $300,000 | $750 | $1,000 |
| Contents | $15,000 | $300 | $500 |
| Signs | $5,000 | $250 | $500 |
| Inventory | $50,000 | $410 | $1,000 |
Commercial property insurance rates will vary based on:
Building size
Construction makeup
Upgrades and improvements
Business use
Affixed item values
A business owners policy (BOP) combines structure, property, and other business liability in one policy. Because of the single underwriting and administrative costs, BOPs are typically lower in price even though they combine multiple monoline policies. These start as low as $250 but average $880 for commercial property insurance policies.
As a business owner adds coverage for other business liabilities beyond the structure, costs increase further. Business property and inventory are two items stored onsite that definitely need coverage and increase costs. If a business keeps customers' personal property on location, this also increases the overall commercial property insurance cost.
Commercial Property Insurance Cost Example
Let's consider a marketing agency that buys a small building with three usable retail and office spaces. They intend to occupy the second floor offices as owner occupants and lease the other two locations out to a clothing store and a coffee shop. They will need a policy that covers the commercial property plus their own business assets and liabilities.
In addition to the landlord's coverage, both tenants will need to supply the marketing company (the landlords) with a certificate of insurance that proves the landlords are protected against each tenant's business pursuits. This helps mitigate the costs of insuring the entire building for all liabilities.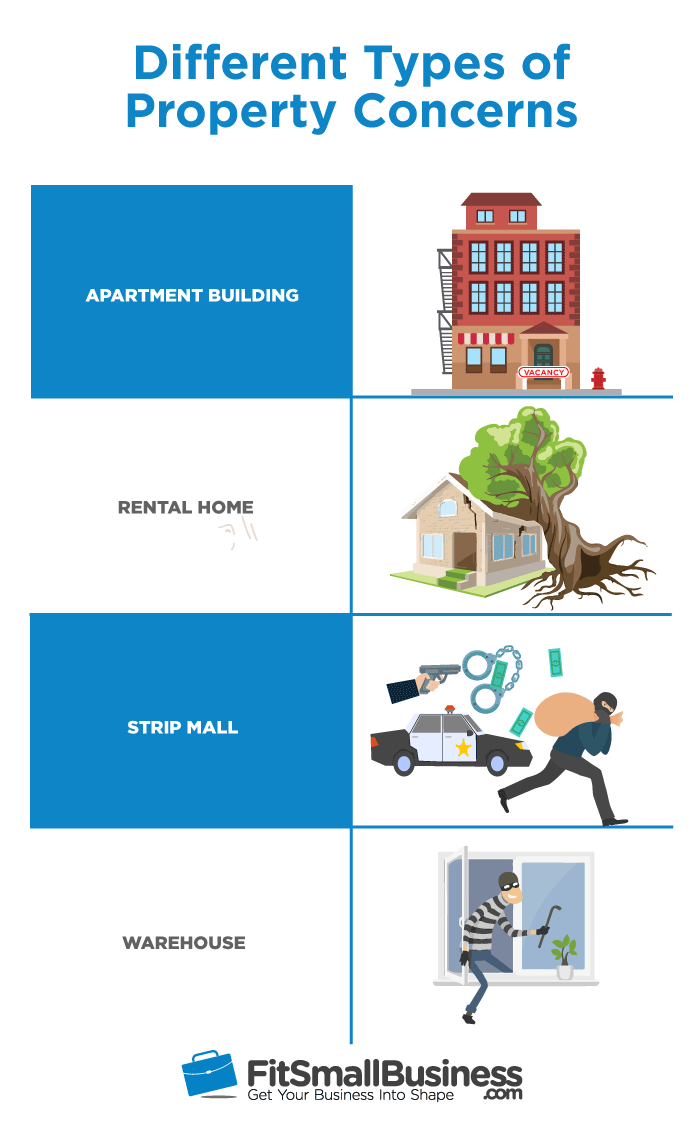 Tips on Applying for Commercial Property Insurance
"For a small business owner, it is important to consult an insurance broker or agent who has the ability to analyze the business and procure a commercial property policy that meets that business' specific needs. Commercial property insurance is not one-size-fits-all, and it is important to ensure that the coverage is tailored to the business' specific risk profile. Also, it's important that the insurer that ultimately issues the policy is financially strong, with an excellent reputation for claims service." – Tom Drennan, Commercial Litigator, Dinsmore & Shohl
Some tips for getting commercial property insurance include:
Determine the Type of Coverage You Need
To get the right commercial property insurance, you first need to make sure you understand the real risks facing your business. Protecting the physical structure is important, but you could be out of business if all of the contents are lost. Look at the various potential losses to determine what type of commercial property insurance you really need.
Don't Overinsure the Property
Commercial property owners usually think in terms of real estate values. This means they want to insure the building for the current market price or fair market value. Remember that insurance will rebuild the structure to its current condition. Building costs are often less than market value. This means you are paying premiums that would never yield a dollar in a claim loss.
Start the Process as Early as Possible
Sometimes getting commercial property insurance takes time. If you are leasing a building or in escrow to purchase one, get the quote process started as soon as possible. Quotes are usually good for 30 days, and if the underwriting team has any questions about the property, they can be addressed before a required effective date. Don't delay the start of business operations because the insurance company needs more information.
"Work closely with your insurance broker to itemize assets, including real property, equipment, and inventory, and to purchase insurance based upon the property's actual value (replacement cost minus depreciation) or its replacement value (cost of replacing the item without deducting for depreciation). Business owners should also consider a business owners policy (BOP), which is a 'package' policy that combines commercial property insurance with other types of coverage. The BOP typically costs less than if a company purchased a number of separate policies." – Andrew J Gibbs, Attorney, Lindabury, McCormick, Estabrook & Cooper, P.C.
All-in-One Commercial Property Insurance Policies
Small business owners need to cover business interests beyond just their commercial building and structure. A business owners policy (BOP) is a policy that has building coverage plus options for contents, inventory, and signage. A BOP also covers small businesses for potentially lost income due to business interruption and spoilage for equipment breakdown.
BOPs generally cost less than piecing individual commercial insurance policies together. When an insurance company can underwrite an entire risk, it leverages costs. This is why bundling your personal auto and home gets you a discount. The same principles apply with a BOP covering a variety of small business insurance needs.
Commercial Property Insurance Frequently Asked Questions (FAQs)
With so many things to consider when you shop for commercial property insurance, you may still have questions.  Drop a comment below to get answers to any questions about commercial property insurance. Our mission is to deliver the best answers to your questions.
Do commercial tenants pay building insurance?
Tenants of commercial property are usually required by the lease terms to obtain building insurance. Landlords can rightfully purchase the commercial real estate insurance policy, transferring costs to tenants in the lease. More often, both parties have a policy in the event a claim is brought upon both that is not covered by tenants policies.
What is business personal property?
Business personal property is the contents of the commercial building. Things such as computers, desks, and supplies are not attached and can be removed by business owners at will. Business personal property is covered either by a rider on a commercial property policy or through a separate policy designed to cover a business' tangible assets.
What is an additional insured endorsement?
An additional insured endorsement protects a third party from potential losses from damage to a property, its fixtures, or contents. Landlords often require tenants to list the landlord as an additional insured on a commercial property insurance policy, which is included on the tenant's certificate of insurance as proof.
What is a certificate of insurance?
A certificate of insurance is a simple form that lists the main coverages a third party needs to know about your business insurance policy. Commercial landlords often require tenants to show COIs that list your business, the liability coverage required by the third party, the dates of the policy period, and that names the landlord as an additional insured.
What is lessors risk insurance?
Lessors risk insurance is a policy property owners can use to protect their structure and affixed contents, along with general liability. Building owners must not be the primary owner occupants of the building, but they may have up to 25% of the building occupied, often as managers or for maintenance areas. The combined protection reduces the overall insurance costs for real estate owners.
Bottom Line
Commercial property insurance covers the physical building unless the policy has riders or is designed to be more than just commercial property coverage. This liability insurance policy protects property owners and businesses from third-party injury and property claims. Many policies, like a business owners policy, will cover the structure and contents and often save on premium costs.
Finding a policy that meets your exact commercial property insurance needs is easy with the right insurance partner. The Hartford offers commercial property insurance as well as one of the most comprehensive business owners policies on the market. Get a quote in a matter of minutes to see exactly how The Hartford can protect your business.