Getting your commercial real estate license is similar to getting a residential real estate license. You must complete prelicensing coursework, pass an exam, and find a sponsoring brokerage. However, training differs significantly for commercial agents, particularly in market knowledge, lead generation strategies, and marketing materials guidelines. Here are eight steps to guide you toward a successful commercial real estate licensing journey.
1. Understand What a Commercial Real Estate Agent Is
While residential and commercial real estate agents share common characteristics, they differ in terms of specialty, income, and transaction volume. Commercial real estate agents focus on working with businesses rather than individuals. These businesses can include a variety of sectors, including multi-use, retail, office, and industrial spaces.
Commercial agents tend to make more money than residential agents. This is because commercial transactions have longer deal terms than residential properties since business owners like to secure a property for longer periods of time to establish their business in one area. Therefore, commercial transactions are more complicated and take more time to complete, which results in fewer transactions per year than residential properties.
Here are the key differences and similarities between residential and commercial real estate agents: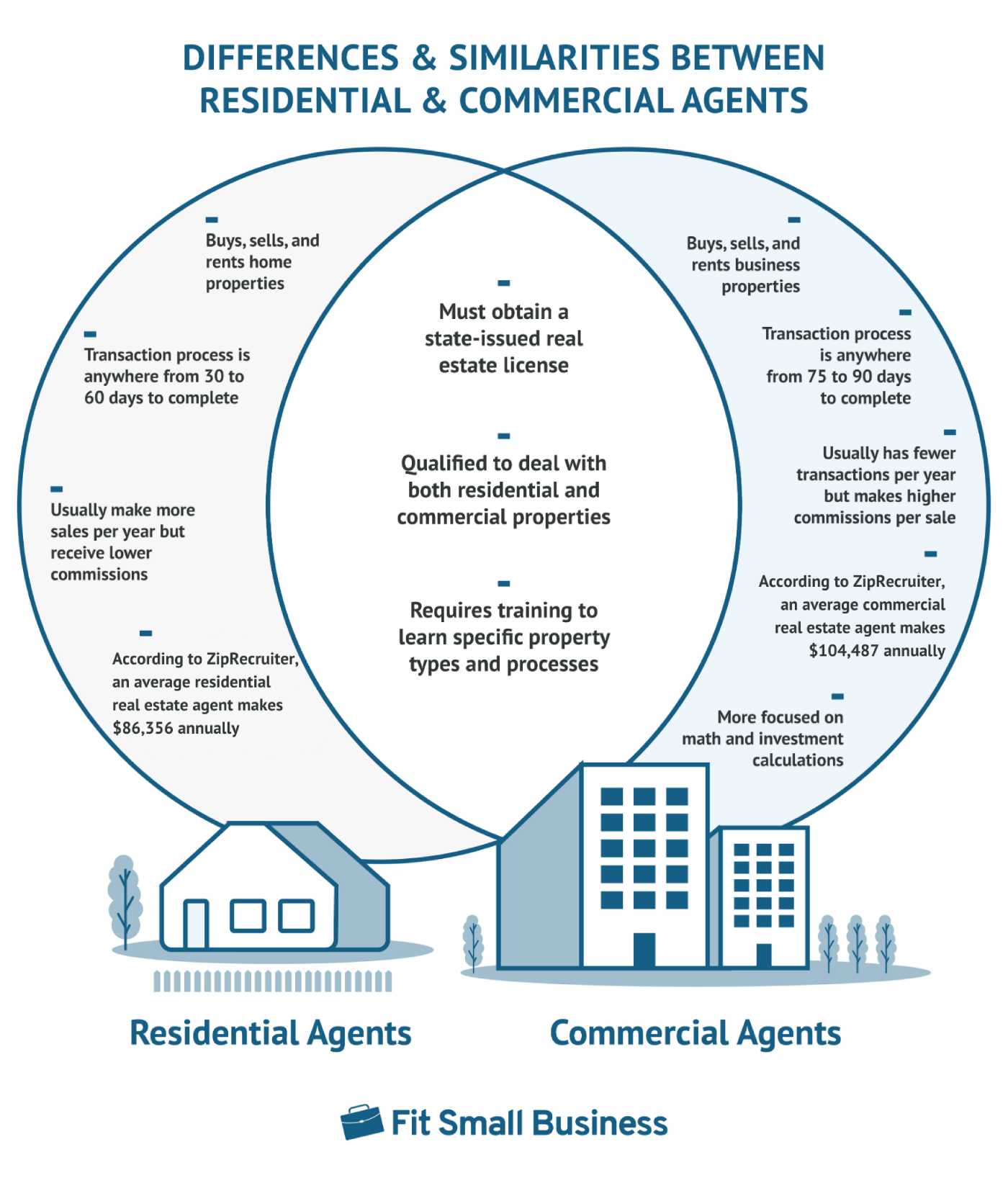 2. Consider if a Career as a Commercial Agent Is Right for You
Is a career in commercial real estate right for you? The list below outlines the pros and cons of being a commercial real estate agent. This comprehensive overview will help you make an informed decision about pursuing this career.
PROS

CONS

Higher annual income: A commercial real estate agent's expected annual income is typically higher than a residential agent's since they deal with larger spaces for business use.

ZipRecruiter reports that commercial agents earn about $104,000 annually, while residential agents make approximately $86,000. However, actual income varies based on education, certifications, and industry experience.
Highly competitive field: The commercial real estate field is highly competitive due to the higher commissions, high demand for commercial real estate services, and longer sales cycles. These may be factors in creating a competitive landscape.
More elite clientele: A commercial real estate agent's clientele comprises investors and business owners who may have a higher net worth. These clients also tend to be more data-driven than residential clients.
Complex and math-intensive: With larger spaces, transactions involving commercial properties are more complex and math-intensive, and contracts demand greater attention to detail.
Long-term relationships: Unlike residential real estate, which mainly involves individual transactions or rentals, commercial real estate involves building long-term relationships with clients who may seek your services repeatedly.
More networking expectations: Generating leads for commercial real estate requires agents to spend more time attending networking events. Since you're dealing with business owners in a competitive environment, you'll be spending more time and money on "wining and dining" potential clients to gain their business.
Weigh these pros and cons when you think of getting a commercial real estate agent license.
Is Becoming a Commercial Real Estate Agent Right for You?
3. Complete Your State's Real Estate License Requirements
The course requirements to get a commercial real estate license are similar to those for residential realtors. Each state specifies the necessary courses, which typically range from 40 to 180 hours and cover fundamentals like state and federal laws, professional responsibilities, and state-specific information. Some states include specialized training in commercial real estate.
Here are steps on how to get a commercial real estate license:
Meet the eligibility requirements
Complete the required coursework based on your state
Submit an application to the state real estate commission
Take an exam prep class
Pass the state exam
File identity verification
Did you know? While not mandatory, many commercial real estate brokerages prefer agents with four-year degrees in business, finance, accounting, or related fields. Such qualifications provide a deeper understanding of the complexities involved in commercial real estate transactions.
Prelicensing coursework pricing varies from $59 to over $1,000, depending on your state and learning format (e.g., live stream, in-person, self-paced, or on-demand video). After completing the coursework, pass the licensing exam and submit the necessary paperwork to obtain your real estate commercial license.
Start the prelicensing process now with Colibri Real Estate. It offers affordable course options to meet state licensing requirements. Utilize its exam prep assistance to feel confident on test day, and maximize Colibri's professional resources to grow as a commercial real estate agent.
4. Find a Commercial Real Estate Brokerage to Work For
After completing your education requirements, you can start looking for a company to work for. You can work for brokerages that manage residential and commercial properties, brokerages that only handle commercial properties, join a commercial team, or work solo.
| Options | What It Means | Who It's Best For |
| --- | --- | --- |
| Brokerage With Commercial & Residential Properties | Agents at this type of firm can pick and choose the transaction types they want to do. Some focus on one or the other, and some do both commercial and residential transactions. | Agents who are unsure which niche they prefer or want the option to work with both types of real estate clients and properties. |
| Brokerage With Only Commercial Properties | Agents at this type of firm exclusively focus on commercial real estate transactions. | Agents who are interested in starting and focusing on a commercial career immediately. |
| Join a Commercial Team | Agents in a commercial team work under a more experienced agent in the office. | Agents who are new or struggling will benefit from being surrounded by a group of mentors. |
| Work Solo | Agents working solo have to do everything, from lead generation to accounting. | Agents who want to have complete control over their business. |
5. Learn the Commercial Real Estate Market
As you learn how to get a commercial real estate license, it's essential to gain knowledge about the commercial market. Examine the market trends in your area, tour properties, and learn about each sector of commercial real estate. This knowledge will come in handy when speaking with clients and demonstrating your expertise.
The four main sectors of commercial real estate are office space, industrial space, multi-family, and retail properties. Additional property types for agents to focus on are:
Multi-family space: Mix of commercial and residential, complexes, and apartment buildings
Office space: Office buildings and hybrid workspaces
Industrial properties: Manufacturing and warehouses
Hospitality properties: Hotels, resorts, and restaurants
Healthcare buildings: Medical offices, laboratories, and hospitals
Retail: Malls, single storefronts, and shopping centers
Land: Lots, greenfields, and agriculture
Mixed-use: Some combination of all types, like residential, commercial, and retail in a single building
Moreover, you can use online platforms or apps for data gatherings like CoStar and Reonomy. These platforms will help you analyze the commercial real estate market conditions. Also, it allows you to explore properties in bulk or individually and compare properties based on sales history, ownership, and building facts on every commercial property.
6. Join Associations & Earn Certifications & Designations
Joining associations or earning certifications and designations enables commercial real estate agents to demonstrate their credibility, build valuable relationships, and get professional development benefits like training and continuing education programs that help advance their careers.
Here are some of the top commercial real estate associations and designations:
Real estate associations, designations, and certifications enable commercial real estate agents to specialize in particular areas, serve their market better, and network with other commercial real estate professionals to learn and build a reputation. Consider your area of expertise to help you expand your portfolio and grow your business.
7. Market Yourself as a Commercial Real Estate Agent
As a commercial real estate agent, you are essentially selling yourself and your services to clients and the marketplace. Potential clients seek out successful salespeople with a strong brand, online presence, and impressive marketing collateral.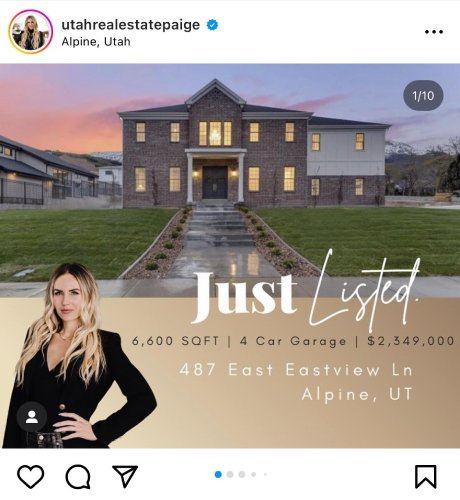 ---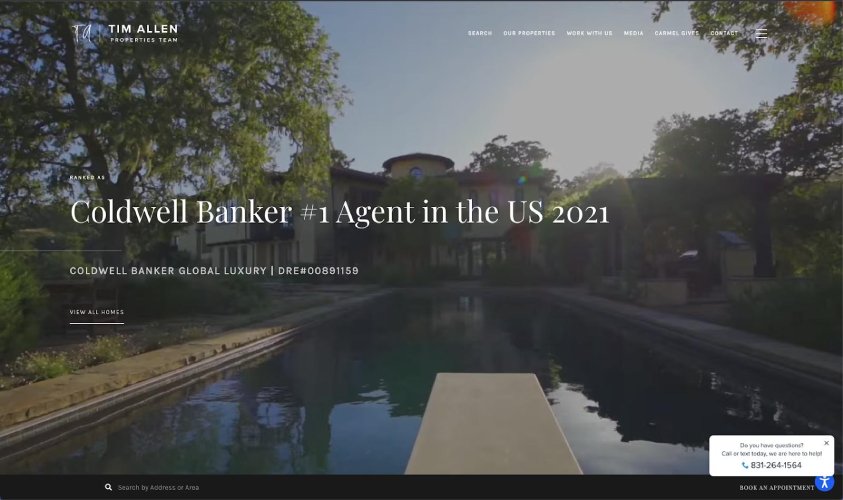 ---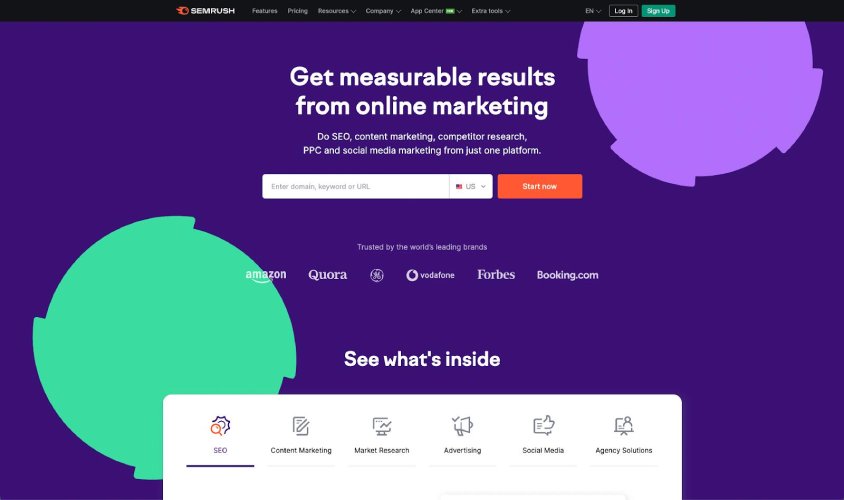 ---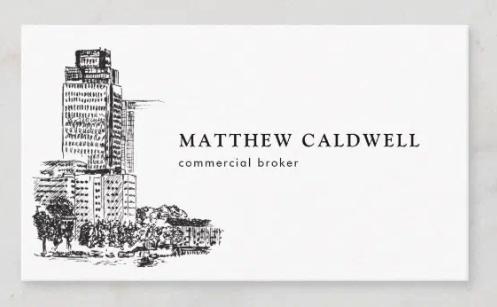 ---
Here are some ways to market yourself as a commercial real estate agent:
Social media marketing: Post your listings, comment, and share client wins and tips on Facebook and YouTube to generate commercial leads.
Build a website and blog: Create a custom website that includes your services, listings, and helpful tools for visitors. Including a blog will also position you as an expert in your marketplace, attract leads, build relationships, and increase your chances of converting leads into clients.
Use SEO optimization tools to boost website traffic: SEO optimization tools like Semrush and Google Search Console will help boost and track your website traffic. Try adding real estate keywords to your online platforms to increase visitor traffic.
Business cards and postcards: Having real estate business cards and postcards helps commercial real estate agents in networking, and it is also a great way to meet potential clients. You can design your postcards through Canva or PostcardMania.
Market Leader is an excellent platform to market yourself as a commercial real estate agent. It offers lead generation, website development, client relationship management (CRM), and marketing automation on a single platform. This will help commercial real estate agents create their websites, obtain exclusive listings, and build print and direct mail campaigns.
For more tips and inspiration for your real estate marketing, visit our article 21 Best Real Estate Marketing Ideas & Strategies for Success.
8. Generate Commercial Real Estate Leads
After creating marketing materials showcasing your value as an agent, the next step is to acquire strategies and tools to attract, generate, and convert leads. Utilize custom landing pages, social media ads, and lead generation companies to generate leads organically or through paid means. Here are some ideas to generate commercial real estate leads:
Use commercial real estate prospecting software
Add your profile to commercial real estate databases
Create and optimize the custom website and landing pages
Market to niche commercial real estate clientele
Purchase commercial real estate leads
As you build your clientele and succeed as a commercial real estate agent, remember to nurture past leads to establish yourself as the go-to expert in your community. Utilize commercial real estate CRM software like Freshsales. It provides an intuitive dashboard and valuable tools like Facebook Messenger integrations for customized, large-scale email campaigns targeting your niche market.
For more details and tools you can use to generate commercial clients, visit our articles 12 Ways to Generate Commercial Real Estate Leads and 8 Best Commercial Real Estate CRMs.
Bottom Line
Obtaining a commercial real estate license offers a higher median income and a lucrative career, but is not suitable for everyone. Excelling in this competitive and fast-paced field demands specific expertise, training, and qualities. Nevertheless, with the right skills and education, you can succeed as a commercial real estate agent.
Frequently Asked Questions (FAQs)
Becoming a commercial real estate agent entails getting a real estate license. To obtain a real estate license, you need to first ensure you meet the eligibility requirements set by your state regarding your age, citizenship, or educational background.
Then, you need to complete the required coursework specified by your state's real estate commission. After that, you must pass your state's licensing exam. Upon passing it, file identity verification documents as required during the application process.
---
The future job market for commercial real estate agents may relate to leasing, commercial sales, or property management and appraisal, depending on your preferences and expertise. Other types of commercial real estate jobs may include specializing in various property types, such as multi-family, industrial, office, retail, hotels, and more. If you're looking for a long-term role, you can choose a job with a commercial real estate firm.
---
As a commercial real estate agent, your responsibilities encompass buying, selling, or leasing income-generating properties for businesses. Additionally, you provide investors with market demographics, collaborate with analysts on environmental research, conduct financial analysis and projections, and handle other related tasks.
---