How to Get a Commercial Real Estate License in 7 Steps
Getting your commercial real estate license is similar to becoming a residential real estate agent, where you must complete prelicensing coursework, pass an exam, and choose a sponsoring brokerage. However, training about the market, lead generation strategies, and what you should include in marketing materials will be different as a commercial agent. Here are seven steps on how to get a commercial real estate license and embark on a successful commercial property-focused career.
1. Consider if a Career as a Commercial Real Estate Agent Is Right for You
Focusing on commercial real estate is not necessarily for everyone as it can be a very competitive field. The clientele of investors and business owners differs significantly from working with homebuyers and sellers in the residential sector. In addition, buying, selling, or leasing a commercial property is more complex because it is math-heavy, the contracts require more detailed nuance, and there are substantial differences between property types like retail space, warehouses, and office buildings.
A commercial real estate agent's expected annual income is typically higher than a residential agent's since they deal with larger spaces for business use. Salary.com reports that commercial agents make an average of about $104,000, while residential agents make an average of about $44,000 yearly. However, this number differs depending on education, certifications, and years of experience in the industry.
Is Becoming a Commercial Real Estate Agent Right for You?
2. Complete Your State's Real Estate License Requirements
The course requirements for becoming a commercial real estate agent are the same as for becoming a residential realtor. Each state specifies which courses to take, with total coursework hours ranging from 40 to 180. You will learn the fundamentals of the profession, such as state and federal laws, professional responsibilities, and state-specific information. Some states also provide specialized training in commercial real estate.
Did you know?
Although it is not required, many commercial real estate brokerages prefer that their agents have four-year degrees in business, finance, accounting, or other business-related fields. This gives them a better understanding of the business complexities of a commercial real estate transaction.
Regarding pricing, expect to pay anywhere from $59 to over $1,000 for prelicensing coursework, depending on your state and the learning format, such as livestream, in-person, self-paced, or on-demand video. Remember that after your coursework, you must pass your real estate licensing exam and submit the appropriate paperwork to obtain your license.
Check out Colibri Real Estate to get started with the prelicensing process right away. It provides a variety of low-cost course options to help you meet state licensing requirements. In addition, feel confident on test day with exam prep assistance and use their professional resources to help you excel as a commercial real estate agent.
3. Find a Commercial Real Estate Brokerage to Work For
After completing your education requirements, you can start looking for a company to work for. You can work for brokerages that manage residential and commercial properties, brokerages that only handle commercial properties, join a commercial team, or work solo.
Working for a brokerage firm that handles both residential and commercial real estate transactions is an excellent option for aspiring and new commercial real estate agents. It helps you gain industry experience while expanding your skills and professional network and keeping an open mind to learn about residential and commercial transactions.
This makes it an ideal decision for agents unsure of the type of real estate niche they'd like to focus on. However, since the brokerage handles commercial and residential real estate transactions, you may not be able to focus on and allocate more resources to commercial property transactions.
---
You can also start your career with a brokerage that exclusively handles commercial real estate transactions. These companies frequently provide training programs for their agents, allowing them to concentrate on learning how to manage and perform specifically on commercial transactions.
This is a perfect situation for agents interested in starting and focusing on a commercial career immediately. But for agents who want to expand to residential properties in the future, it might not be the best fit.
---
You can also join a team, which means that you are working under another, more experienced agent in the office, or go solo, which is what many people do when they begin a real estate career. Therefore, you must assess your short-term and long-term objectives to determine whether working with a real estate team or going solo is best for you.
Joining a team is typically the best option for new or struggling agents because you will get benefits like a group of mentors. This will enable you to learn how to run a real estate business properly from an experienced real estate agent. The team will also provide leads, so you can focus on working with clients rather than lead generation. On the other hand, joining a team often results in a lower commission split, flexibility, and autonomy.
As aspiring agents wanting to go solo, everything, from lead generation to accounting, falls solely on you. As a sole agent, you can make more money with a standard commission split and have complete autonomy over your business. Going solo, on the other hand, means you have no one to turn to for help and guidance. You must learn everything and start your business on your own.
---
4. Learn the Commercial Real Estate Market
To be successful as a commercial real estate agent, you must learn and understand how to get a commercial real estate license and its market. A commercial real estate license allows you to sell, buy, or lease non-residential real estate used for business purposes to generate income. The four most common classes of commercial real estate are office space, industrial space, multifamily, and retail properties. Still, there are additional types of properties that agents can focus on:
Multifamily space: Residential, complexes, and apartment buildings
Office space: Office buildings and hybrid workspaces
Industrial properties: Manufacturing and warehouses
Hospitality properties: Hotels, resorts, and restaurants
Healthcare buildings: Medical offices, laboratories, and hospitals
Retail: Malls, single storefronts, and shopping centers
Land: Lots, greenfields, and agriculture
Mixed-use: Some combination of all types, like residential, commercial, and retail in a single building
Moreover, you can use an online platform or apps for data gatherings like CoStar and Reonomy. These platforms or apps will help you analyze the commercial real estate market conditions. Also, it allows you to explore properties in bulk or individually and compare properties based on death history, sales history, ownership, and building facts on every commercial property.
Read through our article 6 Best Commercial Real Estate Databases to learn more.
5. Join Associations & Earn Certifications & Designations
Joining associations or earning certifications and designations enables commercial real estate agents to demonstrate their credibility, build valuable relationships, and get professional development benefits like training and continuing education programs that help advance their careers.
Here are some of the top commercial real estate associations and designations: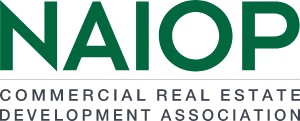 Real estate associations, designations, and certifications allow commercial real estate agents to specialize in particular areas of real estate to better understand and serve their market. It is also a great opportunity to network with other commercial real estate professionals to learn and build your reputation. Consider your area of expertise when choosing real estate associations, certifications, and designations to help you expand your portfolio and grow your business.
6. Market Yourself as a Commercial Real Estate Agent
As a commercial real estate agent, you and your services are the first product you need to sell to your clients, prospects, and marketplace. But potential clients also want to connect with great salespeople who have proven their knowledge and success through their brand, online presence, and marketing collateral.
Here are some ways to market yourself as a commercial real estate agent:
Market Leader is also an excellent platform to market yourself as a commercial real estate agent. It offers lead generation, website development, client relationship management (CRM), and marketing automation on a single platform. This will help commercial real estate agents create their websites, obtain exclusive listings, and build print and direct mail campaigns.
7. Generate Commercial Real Estate Leads
Once you've created marketing materials that show your value as a real estate agent, you need to learn strategies and have the right tools to attract, generate, and convert leads. Generate leads organically or through paid means using tools and resources like custom landing pages, social media ads, and lead generation companies. Here are some ideas for generating commercial real estate leads:
Use commercial real estate prospecting software
Add your profile to commercial real estate databases
Create and optimize the custom website and landing pages
Market to niche commercial real estate clientele
Purchase commercial real estate leads
As you build your client base and become more successful as a commercial real estate agent, don't forget to nurture past leads to make yourself the go-to commercial real estate expert in your community. To do that, you can utilize commercial real estate CRM software like Freshsales. It provides an easy-to-navigate dashboard and valuable tools like integrations with Facebook Messenger for customizing and deploying large-scale email campaigns to your niche or target market.
What Is the Difference Between Residential & Commercial Agents?
While residential and commercial real estate agents share common characteristics, they differ in terms of income and the number of transactions per year.
Here are the following differences and similarities between residential and commercial real estate agents: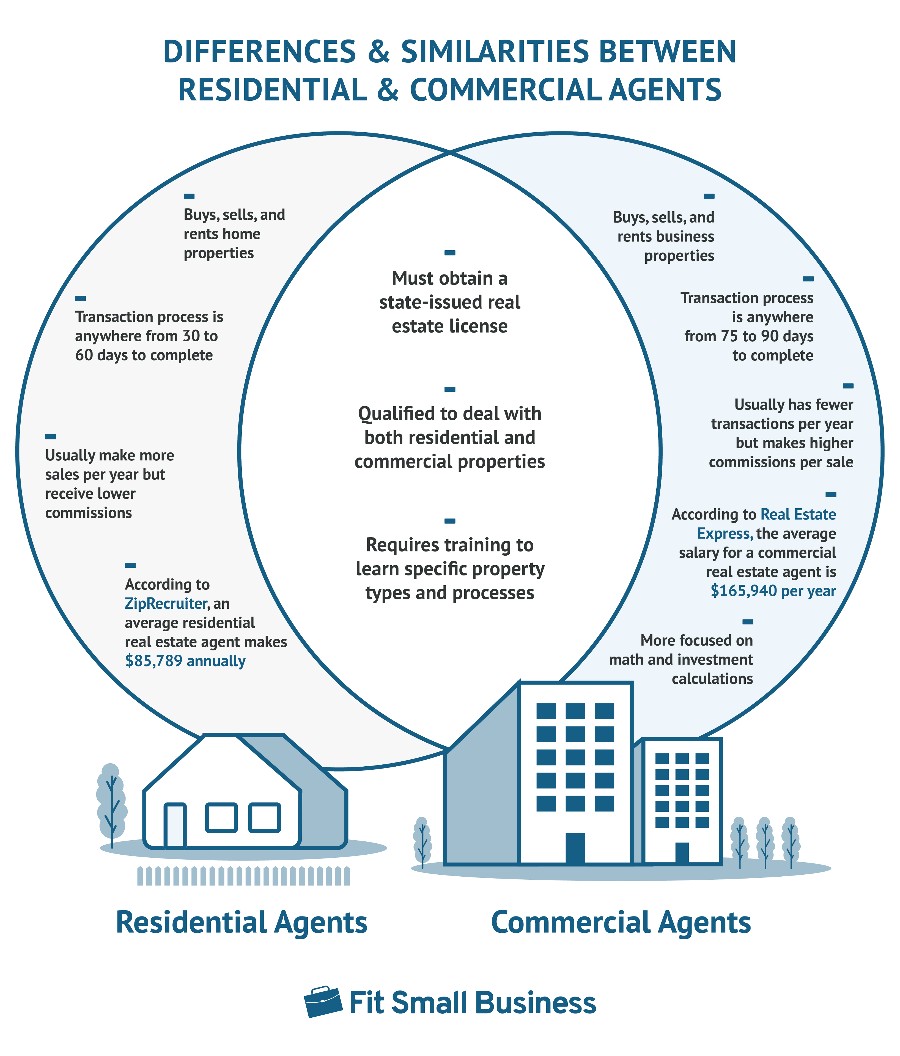 Bottom Line
Obtaining a commercial real estate license has a higher median income, but it is not for everyone. To excel in this competitive, fast-paced field, specific expertise, training, and qualities to excel are required. However, with the right skills and education, you can one day sell, buy, or lease commercial real estate properties.