Consultative selling is a sales management technique that involves seeking to understand a customer's circumstances, market, and industry to best provide solutions that add value and solve their specific problem. It seeks to serve your customer by asking open-ended questions, understanding needs, and positioning products and services that are best suited to that customer.
You can make consultative selling easier on yourself, however, by tracking your relationships with Pipedrive CRM. With Pipedrive, you can keep detailed notes on each contact, set reminders of when to follow up, and manage your sales pipeline on the go with their intuitive mobile app. Pricing starts at $12.50 per month per user. Visit Pipedrive to start a 14-day free trial today.
Transactional Selling vs Consultative Selling
Many salespeople view their role through the traditional model of transactional selling, which means trying to convince a prospect of all the reasons they should buy a specific product or service. They start with the idea that they know what's best for a potential customer and build a sales process that is designed to persuade the prospect that they're right. The goal is to close deals as quickly and as often as possible, which is fine for businesses like grocery stores.
Consultative selling, on the other hand, is based on recognizing that the customer is unique and has their own business objectives, challenges, market, and circumstances. It's often referred to as relational selling since it focuses on building a relationship with a prospect to understand their unique pain points and craft a solution that solves their specific problem. It is common in both business-to-business (B2B) and consumer sales, especially when selling complex products.
Transactional Selling vs Consultative Selling Approach
| | Transactional Selling Approach | Consultative Selling Approach |
| --- | --- | --- |
| Introduction | Salesperson receives contact form and calls them back immediately. | |
| Qualification | Salesperson asks a few basic questions about their business, then immediately begins matching them up with the best-fitting product. | Salesperson asks broader questions about their pain points and listens intently. |
| Closing | Once they show interest in a particular service package, salesperson aims to close the deal as quickly as possible. | Once a salesperson has a thorough understanding, they recommend the wisest possible solution—even if it doesn't result in a sale. |
Both methods have their pros and cons. Transactional selling is often faster and doesn't require as much expertise on the salesperson's end. Consultative selling takes more effort, but it often results in stronger client relationships. This, in turn, provides more repeat-sales and referrals—even if you don't sell right away. Both methods should be integrated into your overall
sales training
program.
Why Consultative Selling Is An Effective B2B Strategy
Consultative selling is effective because it focuses on having a conversation about a customer's needs and positions you as a trusted and reliable expert who can help them solve their problem. It requires you to engage with a customer and their specific needs and challenges and allows you to best offer the right set of products and services that will meet their needs.
First, consultative selling allows you to increase the likelihood that a prospect will become a customer since it allows you to dial in the specific pain points the customer is facing and position a solution that directly addresses it. Second, it gives salespeople an opportunity to qualify the prospects they interact with better and filter out those that are not a good fit and less likely to become profitable customers.
Finally, engaging with customers in a consultative sales process positions you as a trusted partner. Instead of waiting for prospects to research and explore all of their options and hope they end up calling you, consultative selling connects you with them earlier in the process so that you can come alongside them in their journey, and provide expert consultation that helps them make the best decision for their business.
Pro tip: It's as important to know what consultative selling isn't. It isn't a fancier way of positioning your product as the best option. It isn't some magical formula to sell to anyone who walks through your door or picks up the phone. It requires the hard work of building relationships and seeking to understand your customer's needs better.
Creating a Consultative Sales Approach in 9 Steps
Following these nine steps will help you to fully understand your customer and be prepared to meet their needs. While this approach requires a greater investment in time, it results in happier customers and more profitable sales as it positions only the right solutions for each customer.
1. Do Your Research
One of the best ways to demonstrate to a prospect that you value their time and want to be a valuable resource is to do your research ahead of time. Taking the time to review their website, check out their LinkedIn page, and read any recent news articles communicates that you want to understand who they are and what matters to them. Ultimately, a little research will help you establish credibility and avoid taking up more of the prospect's time than needed.
In general, there are two types of research that you should do: lead qualification and personal connection.
Lead Qualification
The first part of your research is to determine whether the prospect is likely to find a good fit with your particular product or service. You want to evaluate whether they have a genuine need for your solution, plus the decision-making authority and budget to make a purchase. There is no benefit to waste either your time, or your prospect's time, and knowing in advance whether they are likely to fit your ideal customer persona can save you a lot of wasted effort later.
The goal isn't to fully understand everything about your prospect by researching them online, but you should be able to find out whether they fit with your target market and customer persona, and whether their business is likely to be positioned to both benefit from and be able to purchase your solution.
Consider researching the following to understand whether your prospect is qualified:
Its website: A company's online presence can be a wealth of information about how the company is doing. News about recent hires, new customers, or a current portfolio can tell you whether they are active and growing, and likely to need your services.
Company search: A quick search on Google can tell you a lot about your prospect's business. For example, news articles talking about expanding to new locations or acquiring another company are signs of a willingness to invest in the business.
This research will help you determine whether the prospect is qualified and is an especially important step if you purchase leads from a third party. It can also provide you with opportunities to open dialogue or start a conversation regarding recent events and activities.
Personal Connection
The second type of research is designed to help you create a connection with the prospect. By conducting even brief research on the individual you will be speaking with, you can identify areas you have in common. These can help eliminate the natural barrier between a salesperson and a prospect by creating a way to connect personally. For example, you may learn that the prospect is a part of the same trade group that you are or attended the same college.
People want to do business with people they trust and like. A few minutes of research can provide you with the information you need to make a genuine effort at connecting personally with your prospect, which reduces barriers can help initiate conversation.
A few ways you can research your prospect include:
Social media: Profiles on LinkedIn and Facebook can be especially valuable for finding information about your prospect. Often, you may discover that you have colleagues in common, similar interests, or even the same educational background.
Personal search: While the goal isn't to be creepy, conducting a brief personal search can also reveal recent accolades or awards your prospect has won, which are a great way to break the ice.
Company biography: While more common when researching prospects from a smaller company, a company bio can help provide context about the person's role, accomplishments, and responsibilities within the company.
The best salespeople know that a few minutes of research can save hours of wasted time later and can also prevent the awkwardness of trying to force a conversation that isn't going anywhere. A good practice to follow is to spend at least 15 minutes researching each prospect and write down five questions you can ask during your consultation.
Pro tip: Another way to increase the effectiveness of your consultative sales efforts is to make sure you're connecting with the right person up front. Services like UpLead allow you to search for company contacts and let you sync contact information directly to most popular customer relationship management (CRMs) tools. UpLead pricing starts at $49 per month for 250 leads. Visit UpLead for more information.
2. Ask Open-ended Questions
Once you've done your research, gained an appointment, and are ready to engage with your prospect in a dialogue, it's important to focus your conversation on asking questions and letting them answer. Just because you've done your research, don't assume you know everything about a prospect's challenges, or how they'll answer your questions. Instead, listen carefully for what is important to them.
Yes or No Questions
The most common questions are yes or no. However, these are by far the least effective. While they allow the prospect to answer, they don't give you any context into the reason behind the answer. Additionally, the biggest problem with a yes or no question is that the prospect might say no. However, if you've done your research, you shouldn't ever ask a yes or no question that you don't already know the answer to.
Multiple Choice Questions
Multiple choice questions are better because they help direct the conversation and move the prospect to choose one of the options you offer, which continues to move the conversation forward. Still, they can be limiting since a prospect might feel that they have to fit their answer into one of your choices, even though they might have something else in mind.
Open-ended Questions
The most effective types of questions during these types of conversations are open-ended questions. An open-ended question calls for the respondent not to provide an answer, but rather to share information. For example, instead of asking someone, "Does your business currently face any challenges?" you might say, "What are some of the challenges your business faces?"
Open-ended questions provide an open space for your prospect to provide you with important and thoughtful information, which is the goal. Based on the research you completed before meeting with your prospect, you should have a list of questions you can use to understand their business and their specific needs.
3. Listen & Clarify
As important as the questions you ask is what you do next. The best salespeople know when to be silent and listen. Let the client answer the question you asked and resist the urge to guide their answers. Let them talk. The goal for you is to learn, which only happens when you are listening.
Eliminate Distractions
Your prospect deserves your full attention. If you are calling by phone, then make sure there is no background noise to distract you or your prospect. If you're meeting via video, it's better to be in a quiet, private location instead of a busy coffee house. If you're meeting in person, put away your phone. The last thing you need is to get distracted by notifications or texts or phone calls while you're trying to connect with a prospect and make them feel valued and important.
Take Notes
As you listen, it's often helpful to take notes. This practice has more than one benefit. First, the obvious benefit is that it helps you remember what the person said. In fact, researchers suggest that the very act of writing something down helps you remember it, even if you never go back to review it. Second, taking notes can inspire follow up questions to understand better. Finally, as you take notes, it creates space that your prospect will fill with the information you need.
Pro tip: Many salespeople like to record their sales calls. While I don't recommend it as an alternative to taking notes, it can be especially helpful later when trying to create a proposal or review what was discussed. It's also useful when other team members will be involved in the process but can't attend the meeting. Tools like RingCentral make it simple to place and record calls and capture notes within your CRM.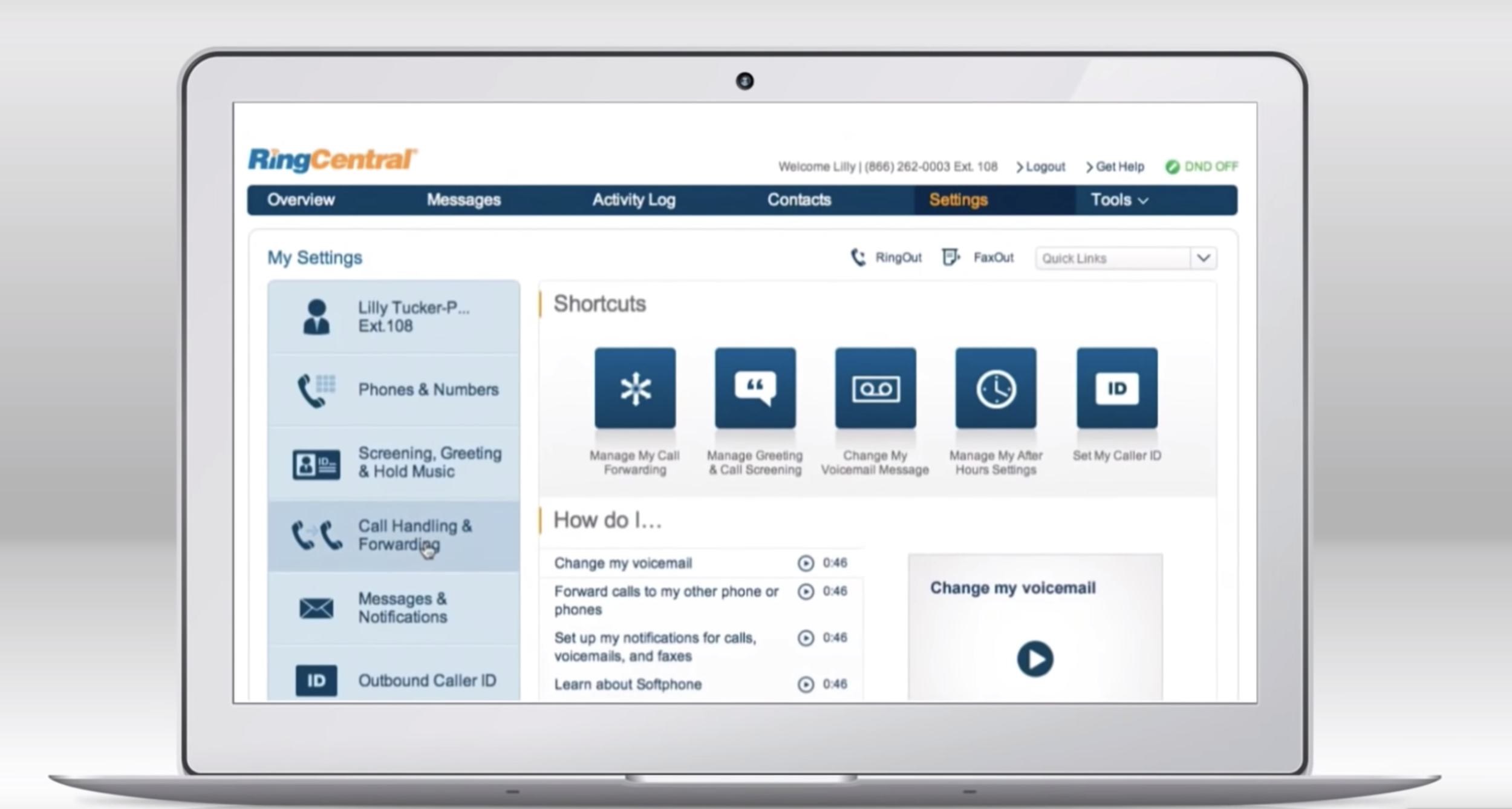 If you're looking for a VoIP tool that integrates with CRMs, RingCentral includes call recording and automatic call logs and is a great way for small businesses to centralize and manage their sales calling needs. Plans begin at $20 per month for up to 10 users, and RingCentral offers a 14-day free trial. Visit RingCentral today to get started.
Practice Strategic Silence
Silence is one of your most potent sales tools, especially during client consultations. As tempting as it may be to interrupt when it's clear that your prospect has a real need for your solution, don't. Instead, get comfortable with being silent. People naturally want to fill the void in a conversation, and by practicing strategic silence, often your prospect will fill that void with valuable information.
Clarify What You Heard
Once a customer has finished answering a question, make sure you understand by repeating back what they told you to be sure you captured it accurately. This serves as an opportunity to clarify so that you don't move forward with a misunderstanding about their business or their specific needs. It can also inspire new thoughts in your prospect's mind as they hear you repeat back their words, which can lead to more insights about how you can help their business.
4. Demonstrate Credibility
Demonstrating that you have credibility in terms of addressing a company's needs is critical in gaining their business. This is where you can position yourself as not only a trustworthy resource but as one who is capable and reliable when it comes to providing the products and services you offer. One of the best ways to demonstrate credibility is to turn the conversation around and allow your prospect to ask you questions.
For example, as you wrap up the conversation around their needs, you might say to them: "before we talk about how I think we might be able to help you, I want to give you an opportunity to ask any questions you have." While they will likely have questions after you've positioned a solution, this is a good time to give them a chance to ask any that they came with, or that have come up in your meeting.
Create a Credibility Statement
Even if they don't ask specific questions, this is your opportunity to demonstrate that you are credible by showing that you understand their business and their needs and are experienced in providing a solution. You want to craft a statement that incorporates their articulated needs, combined with your experience in their industry to give a simple demonstration of your credibility and expertise.
"In my experience, companies like yours are looking for a provider that offers not only the best price but also the most reliable turnaround time. That's why we're proud that we've been named a Platinum service provider by ABC professional organization for the last 5 years."
As you think through this statement, remember that your prospect wants to know the following:
Do you understand my business? Before they can feel comfortable with you as a trusted resource, your prospect wants to know that you have taken the time to understand their business and their needs.
Are you capable? They want to know that you possess the skills, experience, and resources needed to address their specific needs with professionalism and in a timely manner. This is where industry recognition, awards, and certification are helpful points.
Are you reliable? Not only can you do what you've promised, but will you do it. Your prospect wants to know that they can count on you to deliver what you've promised and that they can have peace of mind about choosing you to solve their problem.
Remember, this is your chance to show that you are credible before offering a solution. You don't want to turn the focus on the conversation back to yourself for too long, but rather point out why you are uniquely able to recommend the best solutions, which is where the conversation is headed. If done well, this will serve as a natural transition to positioning the best solution for their needs.
5. Position the Best Solutions
After you've taken the time to understand both your prospect's business and their specific needs, this is your opportunity to use the insight that you have gathered into your prospect's business and the needs that they have articulated. One important thing to remember is that this isn't the time to give your best sales pitch. In fact, in consultative selling, you should leave the sales pitch at home. At least as we've traditionally known it.
Instead, this is where you have a conversation about how you can address the pain point your prospect has shared. In consultative selling, this is when you become the trusted resource that comes alongside a prospect and helps them accomplish their goals. In fact, one of the principles we used when I was in corporate sales was that we should step back and consider what we would suggest if we had no financial interest in the prospect's choice, and then recommend that.
Don't Force a Match
Sometimes, providing the best solution means being honest with the customer that you can't provide the best solution and recommending they consider an option outside of your product offering. While this feels counterintuitive, the credibility you will have earned by making that recommendation will often be worth it in the long run. You've proven you have the customer's best interest in mind, and you'll be the most trusted resource if their circumstances change.
Use a Positioning Statement
Most of the time, you want to use a positioning statement that connects the line between their needs and the products and services you offer that address them. Since you are the trusted expert, your recommendation carries weight, and your goal is to share the best option, or sometimes options, to address their circumstances.
"Based on our conversation, it seems like overall value and reliability are the two most important factors in your decision making. I recommend Select Line of products as they offer an affordable option with the features that businesses like yours need. In addition, our award-winning customer service is provided on all of our products, which means that you'll never have to worry about whether you're covered."
6. Seek Agreement
Once you've positioned what you believe the best solution, the temptation is often to try to seal the deal. Instead, first, seek to gain agreement from the prospect regarding what you've shared. Ask questions like "how does that address the issues you've shared with me?" or "have we covered everything we need to address, or are there other concerns we should talk about?" Your goal is to find out if you and the prospect are in agreement before moving forward.
This is where you discern whether or not you've clearly understood their challenges and offered a solution that matches. Some salespeople refer to this stage as a "trial close," but it's better to focus on what is important, agreement with the prospect. While a "yes" now is a good sign, a "no" at this stage can often be addressed before it becomes permanent if you take time to ask.
The goal is to get buy-in from the prospect that you have fully addressed their needs and, if not, uncover any areas where you might need to dig a little deeper before trying to close a sale. This will help you transition to closing while minimizing the chances that you missed something important.
7. Overcome Objections
As you seek agreement, sometimes you will encounter an objection. A sales objection is any reason given by the prospect that they have some barrier to closing a sale. If a prospect tells you that they need more time, or are unsure about making a purchase, that is an objection. Likewise, if they express concern about pricing or that they need to take your proposal to someone else, that's an objection.
Pro tip: Many objections result from not fully qualifying your prospect at the beginning of the process. If you reach this stage and a client isn't ready to purchase, that's something you should have known up front. The same is true if you discover at this point that someone else needs to be involved in the decision-making process. A prospect without authority to make a decision isn't considered "sales qualified," and isn't a good candidate for the consultative sales process.
Handling objections doesn't have to be intimidating. In fact, the most effective way to handle objections involves circling back and doing what you've been doing this entire process, asking questions, listening to your customer, and positioning solutions.
Specifically, the process for overcoming objections involves taking a moment to:
Acknowledge: Restate what you understand the customer's objection to be and validate that they have a specific concern that should be addressed. "It sounds like you're considering several options."
Question: Ask a clarifying question that helps you to identify the cause of the objection and what is required to move forward. "Let me ask you, what would you say is the most important factor for you in making this decision?"
Position: Based on their answer, make a positioning statement that directly addresses the objection. "If turnaround time is most important, most of our client's appreciate that our five new production facilities mean that we can guarantee next day availability of any size order, making us the fastest in the industry."
Check: Ask an open-ended question to see if you've adequately addressed their concern. "How does that address your production turnaround concerns?"
Often, an objection is the result of indecision or lack of confidence on the part of the prospect. While it may not be your fault that your prospect is unsure, it is your problem. How you handle objections is usually the difference between a successful salesperson and one who struggles to close deals. Making sure you intentionally work through this process step by step is one of the best ways to minimize objections and overcome them when they arise.
8. Close the Sale
Closing is what most people associate with the job of salespeople. In fact, it's often what gives salespeople a bad reputation. However, when consultative sales are done right, closing is the logical conclusion of an intentional process that gives the customer exactly what they want and need. In the context of consultative sales, it involves a simple process of asking a closing question that formalizes the solution you've already agreed will best meet their needs.
There are three best practices you can use to close more deals with consultative selling are to be prepared, assume the customer wants to buy, and ask a multiple choice question.
Be Prepared
Whenever engaging with a prospect in a consultative sale, you should always be prepared to close. That seems obvious, but salespeople often get to this point and are unprepared when the customer wants to make a purchase. If you require a contract, have one with you. If you take payment up front, have a mobile card reader like Square handy to accept credit cards on the spot. Whatever you need to close the sale, make sure you are prepared and have it with you.
Assume the Customer Wants to Buy
Salespeople often approach closing with a sense of anxiety about whether or not they'll make the sale. They worry about whether or not their customer is going to buy, and that uncertainty shakes their confidence in their expertise and in what they're selling. If you've done your job to this point, it's safe to assume the customer has reached this point with the same conclusion in mind, making a purchase.
For example, when you walk up to the cashier in a department store, she doesn't ask you if you want to buy the items you place on the counter. You wouldn't be standing there if that wasn't the case. The cashier assumes you're there to purchase and acts accordingly. You should do the same with your customers. Move forward with confidence that they are going to say yes. If the answer is no, they'll let you know.
Ask a Multiple Choice Question
The goal is to ask a multiple choice question where every answer is yes. Think about the cashier again. Instead of asking you if you are ready to make a purchase when she finishes ringing up your order, she asks, "Would you like to pay for that with a check or credit card?" It doesn't matter to her which the customer chooses because either is a sale.
In your case, you might say to your customer "to get started on your project, we need to take a 50% retainer. Did you want to take care of that with a check or credit card?" It helps to practice this closing question so that it becomes natural and second nature for you. This will both reduce the anxiety that comes with closing and increase your credibility with the prospect since they will recognize and appreciate your confidence.
9. Follow Up
There are some cases where closing doesn't always involve making a sale, but it should always have a definite call to action that involves an agreement of the next steps for both you and the prospect. For example, you might agree to schedule a demonstration of a product or agree to meet again after a week to discuss a proposal. Sometimes these can feel like a delay in the process, but the goal should be to create action steps that keep moving the deal forward.
As the trusted expert, it's your responsibility to have a plan for follow up. It's not uncommon for businesses to have internal processes and policies that govern their purchasing decisions, and it's your job to understand these and stay on top of where the deal is at in their process. In fact, you can be an advocate for your customer by helping them navigate the process by providing the materials, information, and testimonials they need to move the internal process forward.
One best practice is to set a definitive time to follow up with a prospect before the meeting is over. If a prospect indicates they need a week to complete their next step, ask permission to follow up by phone at that time. This creates an expectation that the process is still moving forward, and that you're available to assist in any way that will help them navigate their responsibilities and procedures.
Bottom Line
Consultative sales work because it positions you as a trusted resource that your customers can depend on to offer the best solutions to their specific needs and problems. Learning how to move from a transactional sales approach to a consultative selling approach can help you close more deals and create valuable customer relationships that last.
Managing the consultative sales process with a CRM like Pipedrive helps you stay engaged with your prospects as they move through your sales process. Pipedrive features a highly visual pipeline tool along with contact and deal management with plans beginning at $12.50 per month, per user. Pipedrive offers a 14-day free trial. Visit Pipedrive for more information.