Contractors insurance refers to multiple policies that cover risks general contractors and other contractors face. Some insurers combine key coverages, like general liability and commercial property, into a business owner's policy (BOP) for a lower rate. Standalone general liability policies might cost $350 to $1,500, but contractors can usually get BOPs for $400 to $700 a year.
Applying for contractors insurance used to be a cumbersome task that took weeks. But CoverWallet's online platform is quick and easy, allowing you to get fast quotes from top carriers at a low cost. Complete a free, no-obligation questionnaire online and get covered in minutes.
How Contractors Insurance Works
Providers don't offer a policy called contractors insurance. They sell individual policies, like general liability, commercial property, and builder's risk, and you select the policies that best fit your operations. Many providers bundle contractors insurance into a business owner's policy (BOP). That way, they can offer important coverages at a discounted rate.
BOPs typically include general liability and commercial property insurance. General liability insurance covers the cost of third-party lawsuits, and commercial property pays to repair or replace your business property when it's damaged by a covered event. For contractors, insurers may include other essential policies, like commercial auto and workers' compensation.
Top Contractors Insurance Providers
| Company | Best For |
| --- | --- |
| | Contractors who want low-cost coverage and need quick access to certificates of insurance |
| | Construction business owners who want assistance from local experts |
| | Electricians, plumbers, and painters who need quick, affordable coverage |
| Insureon | Artisan tradespeople whose operations make getting insurance difficult |
| Surety Solutions | General contractors who need affordable construction license and permit bonds |
Our list of top contractor insurance providers focuses on national companies that can get policies in place fast. Most offer quality products and can often quote and bind coverage online.
CoverWallet is an online insurance broker that specializes in small business insurance. It provides fast quotes from top-rated insurance carriers, such as CNA and Liberty Mutual. The ability to receive multiple quotes from reputable providers can help contractors find a low-cost option they can count on.
CoverWallet's main value-add comes in the form of easy-to-use technology. Contractors of all types can apply for coverage and make payments online. Perhaps more importantly, they can often bind online and create certificates of insurance immediately after purchase. The process begins with a short online application, which returns quotes in seconds.
Insurance 321 describes itself as an online commercial insurance exchange. You fill out a simple form, and its technology matches your particular risk to local brokers. These brokers then work with carriers to offer you insurance.
Working with local agents and brokers is a good move for contractors. States and municipalities can have their own insurance requirements. Insurance321 matches you with the people who understand this and can identify the coverages you need.
AP Intego offers you the ability to work with nationally licensed agents to shop and compare multiple contractors insurance quotes from industry leading companies, such as Travelers and AmTrust. AP Intego strives to connect small businesses with the right insurance policy for the best price. That's why they will shop your exact coverage needs with their market of over 10 carriers to get you properly covered. Reach out for a free, no-obligation quote from a nationally licensed agent today.
Insureon is another online-only agency that gives you access to multiple insurers through a single application. The company only works with carriers with an A rating or higher, so you can trust your insurer is financially stable.
What sets Insureon apart is the ability to quote hard-to-insure contractors through non-admitted carriers. These carriers have the flexibility to write policies that standard insurers decline. Depending on your daily operations, Insureon may be the right option.
Surety Solutions
Surety bonds can be expensive, so it makes sense to comparison shop through an online broker like Surety Solutions. It's the leading provider of surety bonds in all 50 states, and claims to have worked with over 7,800 contractors.
You can apply for your contractor license and permit bonds online. Once purchased, Surety Solutions ships free of charge. The best part is the cost. Surety Solutions claims 90% of their contractors get bonds for less than $200.
Types of Contractors Insurance
Construction sites are risky places. These risks can result in injuries and property damage that threaten contractors' businesses. Contractors insurance protects their assets when the worst-case scenario happens. Most insurers bundle the policies that cover the greatest risks into a BOP. This gives contractors fundamental coverages at a discount. BOPs usually cost $400 to $700.
Most Common Types of Contractors Insurance
| Type of Insurance | What It Covers |
| --- | --- |
| General Liability Insurance | Legal costs stemming from third-party lawsuits over bodily injury, property damage, and completed operations |
| Workers' Compensation | State-mandated reimbursement of medical bills and lost wages for employees' work-related injuries and illnesses |
| Commercial Property Insurance | Value of your business property when it's damaged by a covered risk |
| Surety Bond | Your clients' financial losses if you fail to deliver on contracted services |
| Commercial Auto | Damage to and caused by business-owned vehicles |
| Contractors Equipment | Value of business property when it's in transit |
| Professional Liability (Contractors E&O) | Legal costs stemming from negligence claims |
| Builder's Risk | Value of structures in progress and on-site equipment and materials when damaged by covered events |
General Liability Insurance for Contractors
General liability insurance for contractors covers third-party lawsuits over property damage, bodily injury, and advertising injuries. A third party is essentially anyone who doesn't work for you. That may include delivery people, visitors to your worksite or business, and clients. If someone claims you're responsible for their damages, general liability covers your defense.
For example, general liability insurance typically pays for:
Property damage, such as paying for a customer's plate glass window you shattered when while bringing in your tools.
Bodily harm, like a customer's medical bills after they trip over the table saw in your workshop.
Advertising injury, such as your legal bills if a competitor sues you for libel after you tweet about correcting their shoddy work.
Most businesses need general liability insurance because of their interactions with non-employees. Learn more about this coverage in Commercial General Liability Insurance.
Workers' Compensation Insurance for Contractors
Workers' compensation insurance is a state-mandated coverage that comes in two parts. Part one pays lost wages and medical bills of employees injured on the job. It also pays benefits to survivors when an employee dies on the job. Part two covers the employer's liability by paying legal costs if the employee sues for negligence.
Every state has its own way of doing workers' compensation. However, one common thread is that most require construction industry businesses to get it. Even Texas, the only state that lets business owners opt out of workers' compensation, requires it for construction businesses that contract with government entities.
You can get more information about this policy in Workers' Compensation Insurance: Requirements, Costs, and Providers.
Commercial Property Insurance for Contractors
Commercial property insurance covers the value of your business property, like your workroom and the tools, furnishings, and fixtures in it. When these items are damaged by a covered event, your insurer pays you the insured value, so you can replace or repair them. Commercial property usually covers items loaned to your business, too.
Property coverage is a no-brainer for contractors because they rely so heavily on their tools and equipment. It helps you pay for repairs so you can get back to work sooner rather than later. Get more details in Commercial Property Insurance: Cost, Coverage, and Where to Find.
Surety Bonds for Contractors
Surety bonds are more like insurance for your clients than for you. They act as a guarantee that you will complete their project as your contract states. If you fail to deliver on your contract, your insurer reimburses your client. Typically, your insurer expects repayment for claims.
There are four types of surety bonds contractors usually need:
Contractor license bond – These bonds are required by law at the state, city, or county law level. Without a license bond, a contractor cannot get licensed and can face a fine if they try to work in the area.
Bid bonds – Bid bonds stop contractors from submitting unrealistic bids. They guarantee compensation for the project owner if you fail to honor your proposal. Not all projects require bid bonds.
Payment bonds – These bonds guarantee payments for your subcontractors and suppliers and protect project owners from having to cover these costs if you can't. A federal law requires contractors to get payment bonds before they be awarded a contract that exceeds $100,000.
Performance bonds – Performance bonds guarantee the project will be completed as outlined in the contract. If the project takes too long or fails to meet quality standards, the project owner can make a claim on the performance bond.
Government entities usually require contractor-specific surety bonds, but potential clients may ask if you're bonded and insured, too. For more information about surety bonds, you can read our ultimate guides on what a surety bond is as well as the different types of surety bonds.
Commercial Auto Insurance for Contractors
Commercial auto insurance is a necessity if your contractor business owns vehicles. Much like personal auto insurance, commercial auto has liability coverage to pay for other people's damage and injuries when you're responsible. You can also get coverage for your car's damage, your medical bills, and accidents with uninsured motorists.
Most states require at least liability coverage for your business vehicles. Even if you have personal auto insurance, you may need commercial auto insurance. Insurers usually exclude business driving from their policies. Our article on commercial auto insurance provides additional information.
Contractors Equipment Insurance for Contractors
Contractors usually need contractors equipment insurance to cover their tools as they move between job sites. Contractors equipment is a type of inland marine policy. Unlike commercial property, which is tied to one location, inland marine goes where your property goes. Contractors equipment also covers your mobile machinery, like forklifts and trailers.
The tools you own are covered by contractors equipment insurance, but equipment you rent may be a different story. Because renting is a common practice for contractors, many insurers design inland marine policies that cover it. However, this isn't always the case, so be sure to ask your agent about coverage for rented equipment.
Professional Liability Insurance for Contractors
Sometimes called contractors errors and omissions, professional liability insurance covers lawsuits over mistakes made by you and your employees. It pays for your defense should a client claim a financial loss due to your professional negligence. For instance, if a client sues for shoddy or incomplete work, professional liability covers lawyers' bills and awards against you.
This product is especially important for contractors who design and build projects. In fact, contractors errors and omissions insurance was created for them because designing projects increases your risk of being sued for negligence.
Builder's Risk Insurance for Contractors
Builder's risk insurance is a type of inland marine policy that insures structures under construction and onsite materials. Because they're written for individual projects, you can usually get them on a short-term basis. Policies typically pay for damage caused by vandalism, fire, and weather events.
Depending on your location, building codes may require builder's risk. Clients might require it in contracts, too. However, there is some debate as to whether general contractors or property owners should take out the policy. Your clients may prefer payouts go to them if they've already paid for the improvements.
Learn more about this coverage in Builder's Risk Insurance: Definition, Coverage, and Cost.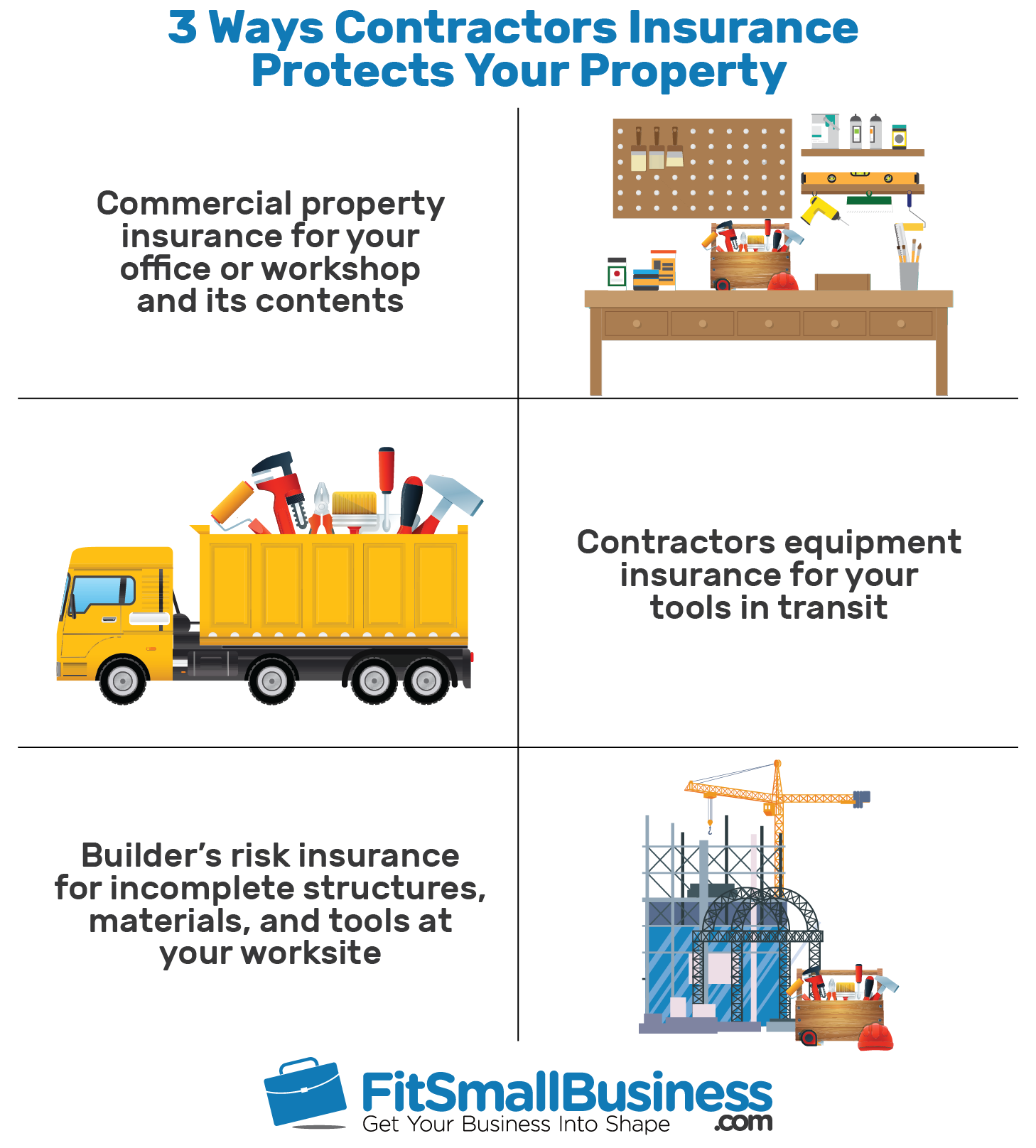 Contractors Insurance Costs
The main cost of contractors insurance is the combined annual premium of your various insurance types. Premiums can start as low as $350, but some exceed $10,000. The amount usually depends on coverage amounts, annual revenue, types of jobs, and other factors. Some policies also require out-of-pocket deductibles, which add to your overall cost.
Contractors Insurance Costs & Deductibles by Policy Type
| Insurance Type | Annual Premium Cost | Deductible |
| --- | --- | --- |
| General liability | $350 - $1,500 | $0 - $1,000* |
| Workers' comp | $5,500 - $7,500 | Varies |
| Commercial auto | $1,500 - $3,000 | Varies |
| Surety bond | $100 - $10,000+ | None |
| Professional liability | $960 - $1,800 | Varies |
| Builder's risk | 1-4% of a project's construction cost | Varies |
*General liability typically doesn't require a deductible; however, some insurers may include one for the construction industry.
As you can see, contractors insurance costs vary widely. That's because insurers consider a number factors when calculating the premium. Your costs may be significantly different depending on your specific profession, the size and types of the jobs you take, and what your insurer can offer you for your unique situation.
Tips on Applying for Contractors Insurance
Contractors insurance applications can be very detailed, but it's important to supply accurate information. It's how insurance providers determine whether they can insure you and how much it might cost. The more accurate you are, the more accurate your quotes and coverage proposals will be. These three tips can help.
Gather the Right Information
Unlike applying for financing, you don't to submit a bunch of documentation when you first apply for insurance. However, you'll be asked to provide some basic information to verify your business and to determine how much of a risk you might be to the insurer.
Before applying, you should gather the following information:
Business address
Full legal business name
Number of employees
Estimated business revenue for the next year
Number of years you've personally worked in the industry
Number of years your business has been in the industry
Details of any other insurance you currently have
Percentage of residential, commercial, and industrial jobs
Details of your business operations
Types and amounts of coverage you're interested in
Classify Your Workers Correctly
Applying for workers' compensation insurance usually requires classifying employees by job. It's important to get those classifications correct because it can save you money. For instance, office workers don't present much risk, so their coverage is typically less expensive.
Consider Working with a Broker
Brokers aren't tied to a single insurance carrier, so they can often find the best deal on contractors insurance. You'll still need to provide the same information to potential insurers, but you get to see which carrier can offer you the right coverage at the most affordable rates. However, brokers often charge fees that increase your overall costs.
If you decide to use a broker, find someone who has plenty of experience with many different insurance companies. They'll need this experience in order to give you confidence that they'll find you the best cost with the best coverage.
Contractors Insurance Frequently Asked Questions (FAQ)
If you're not sure what contractors insurance you need, our forum can be a great resource. You can also try asking the question in the comment section.
Some of the most frequently asked questions in our forum are listed below:
Do I Need Insurance for My Subcontractors?
You can be held liable for subcontractors' mistake. At the same time, including them on your contractor's liability insurance will cost you money. According to Marci Lall, an insurance specialist with FSB Insurance Group, the better option is to require all subcontractors to have liability insurance and for the general contractor to keep an updated copy on file.
Lall acknowledges that this can sometimes be difficult to do:
"As a general contractor, it may be hard to find good subcontractors who show up and perform their duties without a peep. Sometimes this relationship can become too casual and the general contractor allows the subcontractor to perform the work without any insurance. The exposures that the general contractor opens up to themselves are risky and dangerous."
What Kind of Bonds Does a Contractor Need?
There are four bonds contractors usually need. Contractor license bonds allow contractors to get licensed. Project owners may require bid bonds to guarantee contractors enter contracts for the original bid. Payment bonds guarantee subcontractors and suppliers are paid. These are typically combined with performance bonds, which protect the project owner from loss due to contractor failure.
How Can I Get a Surety Bond?
The first step to getting a surety bond is to apply with a bond agency. Getting a license bond is usually easier than the others, as long as you have decent credit. The other bonds typically require exemplary credit and financial statements. Once approved, you pay the premium and sign the contract. Most bond issuers require a full year's premium upfront.
Bottom Line
Getting contractors insurance is important to the creation, growth, and sustainability of your business. Contractors insurance protects your business from the things that may go wrong during a project so one mistake doesn't ruin your business. The key is to make sure you maximize your coverage while limiting your yearly insurance costs.
CoverWallet partners with top carriers that understand the insurance needs of contractors and have policies that cover the industry's risks. Its online platform provides you with multiple quotes fast, and helps you find the right coverage at a low cost. Complete a free, no-obligation questionnaire online to get started.