Convenience store insurance is a collection of policies owners purchase to protect their assets. One of the most common policies for convenience stores is general liability insurance, which covers third-party claims of bodily harm and property damage. When this is combined with commercial property insurance, convenience store owners can expect to pay $600 to $2,000 annually.
Store owners who want to find affordable convenience store insurance should consider submitting an application through CoverWallet. Its application takes just minutes to complete, and you'll receive multiple quotes from top-rated insurers in as fast as two minutes.
Convenience Store Insurance Providers
No two convenience stores are the same, so owners need to look for insurance providers that both understand the industry and offer the appropriate policies for their store's unique risks. This can be difficult to find, and many convenience store owners may have to look at specialty insurers or work with brokers that have access to multiple carriers.
Convenience Store Insurance Providers
| Provider | Best For |
| --- | --- |
| All Risks, LTD | Convenience store owners with 24/7 operations, car washes, and snack bars |
| CoverWallet | Convenience store owners who want to save time by comparing quotes from multiple carriers |
| AIG | Convenience store associations looking to offer affordable coverage to their members |
| Legends Environmental Insurance Services | Convenience store owners who need pollution coverage for underground gasoline tanks |
| EMC Insurance Companies | Convenience store owners who want to reduce their premiums with safety training |
Some top small business insurers for convenience stores include All Risks, CoverWallet, AIG, Legends Environmental Insurance Services, and EMC Insurance Companies.
All Risks is an insurance wholesaler that works with multiple specialty insurers to offer coverage to niche markets like convenience stores. Store owners can't get quotes directly from All Risks, but they can work with independent business insurance brokers who have access.
Business owners with 24/7 convenience stores and additional operations, including car washes and snack bars, should consider working with All Risks. Because the company has access to more than 150 carriers, All Risks agents can usually find coverage for these hard-to-insure risks.
CoverWallet is an online agency that partners with top-rated carriers to provide small business owners with a variety of coverages. Convenience store owners can find general liability insurance starting at $39 per month through CoverWallet. Opting for a business owner's policy (BOP) increasing the cost to just $49 per month or $588 per year.
CoverWallet is ideal for store owners who want to shop around before they buy convenience store insurance. Most receive multiple insurance proposals from a single application, saving store owners both time and money as they look for coverage.
AIG is an international insurance carrier that offers property and casualty products for businesses of all sizes. The company has a convenience store insurance program that covers a wide range of industry risks including gas sales, car washes, and liquor sales.
An insurance program is a product developed by carriers to provide coverage to groups of applicants with similar risks, so AIG is the best choice for convenience store associations or store owner groups who have banded together to get insurance. The program includes general liability with limits up to $3 million and commercial property up to $2 million, plus quotes come in 48 hours or less.
Legends Environmental Insurance Services specializes in covering businesses with any type of environmental coverage, designing affordable insurance packages for multiple industries. These packages typically include industry-specific pollution coverages as well as other key coverages.
Convenience store owners with gas stations may want to get a quote from Legends. The company's convenience store package starts at $500 per year for $1 million in coverage that includes underground tanks and propane tanks.
EMC Insurance Companies is among the top 50 property and casualty insurers in the United States, providing coverage to more than 500 different types of businesses. Convenience store owners can access EMC Insurance products through a network of independent agents.
EMC Insurance's convenience store insurance packages include some unique coverages, like equipment breakdown, spoilage coverage, and employee dishonesty. EMC also offers training on slip-and-fall prevention and injury management plus hazard control assessments, making them an ideal provider for store owners who want to control cost by implementing safety procedures.
How Insurance for Convenience Stores Works
Convenience store owners face multiple risks, most of which stem from their business operations. Each risk is covered by a different convenience store insurance policy. For example, a customer's slip-and-fall is covered by general liability, while commercial property covers repairs to the store owner's property, including the physical store and their inventory.
Most convenience store owners can bundle these coverages into a BOP to get a lower rate. However, this may not be enough to cover all of their insurance needs. Depending on their operations, convenience store owner may need additional policies to cover employee's injuries, underground gasoline tanks, or food service.
Types of Insurance for Convenience Stores
Despite the wide variety of risks convenience stores face, many of their fundamental coverages are similar to those most small businesses need. These include general liability, commercial property, and workers' compensation. However, additional operations typically require other coverages, including commercial auto and liquor liability insurance.
Most Common Convenience Store Insurance Policies
General Liability Insurance for Convenience Stores
General liability insurance covers third-party claims of property damage and bodily injury by paying for repair bills and medical costs. Policies also cover advertising injuries, such as defamation, copyright infringement, and misappropriation. If allegations like these end up in court, general liability covers your legal fees.
Examples of when a convenience store owner may need general liability insurance include:
An employee accidentally steps on a customer's smartphone
A delivery person slips in spilled soda and breaks their arm
A local celebrity sues after you use their image in your advertisements without permission
Convenience stores can see a lot of foot traffic from third parties — people who are not employees — so owners usually need general liability insurance. Owners can save money by combining general liability insurance with property coverage in a BOP.
Commercial Property Insurance for Convenience Stores
Commercial property insurance pays for damage to your store's business property, which can include the physical structure and any equipment, inventory, or furnishings within it. Store owners who lease their space can get policies that only cover the store's contents.
The perils covered by most commercial property insurance include:
Fire
Theft
Vandalism
Wind
Hail
If a covered peril causes damage to your convenience store, commercial property pays the insured amount minus your deductible. You can choose to insure your business property for the actual cash value, which deducts depreciation, or the replacement costs, which does not.
Liquor Liability Insurance for Convenience Stores
Liquor liability insurance covers your legal responsibility for selling alcohol to an obviously intoxicated person or a minor. If that customer causes another person property damage or bodily harm, the injured party is allowed to sue the business that either sold or served the alcohol.
For example, say your clerk sells beer to an underage customer without checking their identification, and the customer ends up getting drunk and crashing their car into their neighbor's garage. In most states, the neighbor can sue your business for their property damage. If you have liquor liability insurance, your insurer may cover the repairs or pay for your legal defense if there is a lawsuit.
Workers' Compensation Insurance for Convenience Stores
Workers' compensation insurance is required in most states and covers the costs that come with employees' on-the-job injuries and work-related illnesses. If an employee suffers one of these, they can file a workers' comp claim to have their medical bills and lost wages paid.
State law determines coverage, but coverage in most workers' comp policies include:
Traumatic injuries, such as falling from a ladder
Repetitive stress injuries, such as back strain from stocking shelves
Occupational illnesses, such as lung disease after exposure to toxic fumes
Many states require employers to purchase workers' compensation insurance even when they have just one part-time employee, and some also require employers to get coverage for family members.
Commercial Auto Insurance for Convenience Stores
Commercial auto insurance covers store-owned cars, trucks, and vans. Most states require convenience store owners to carry a minimum amount of liability coverage to pay for damages they or their employees cause in accidents. However, many store owners also opt for additional coverages, depending on their specific operations.
Other coverages convenience store owners can add to commercial auto insurance include:
Hired & non-owned auto: Covers your liability in cars you lease, hire, or borrow, including employees' cars when they run business errands
Medical payments: Covers medical expenses for you, your insured driver, and passenger no matter who is at fault
Collision: Covers damage to store-owned vehicles caused by an accident
Uninsured/underinsured motorists: Covers medical expenses and property damage caused by an at-fault driver who either doesn't have enough insurance
Comprehensive: Covers damage to store-owned vehicles when it is caused by something other than a collision, including bad weather or vandalism
Hired and non-owned auto liability is important coverage for convenience store owners who send employees to pick up lunch, run to the post office, or perform other business errands in their personal vehicles. Some insurers have an endorsement for hired and non-owned auto that can be added to their general liability insurance or BOP.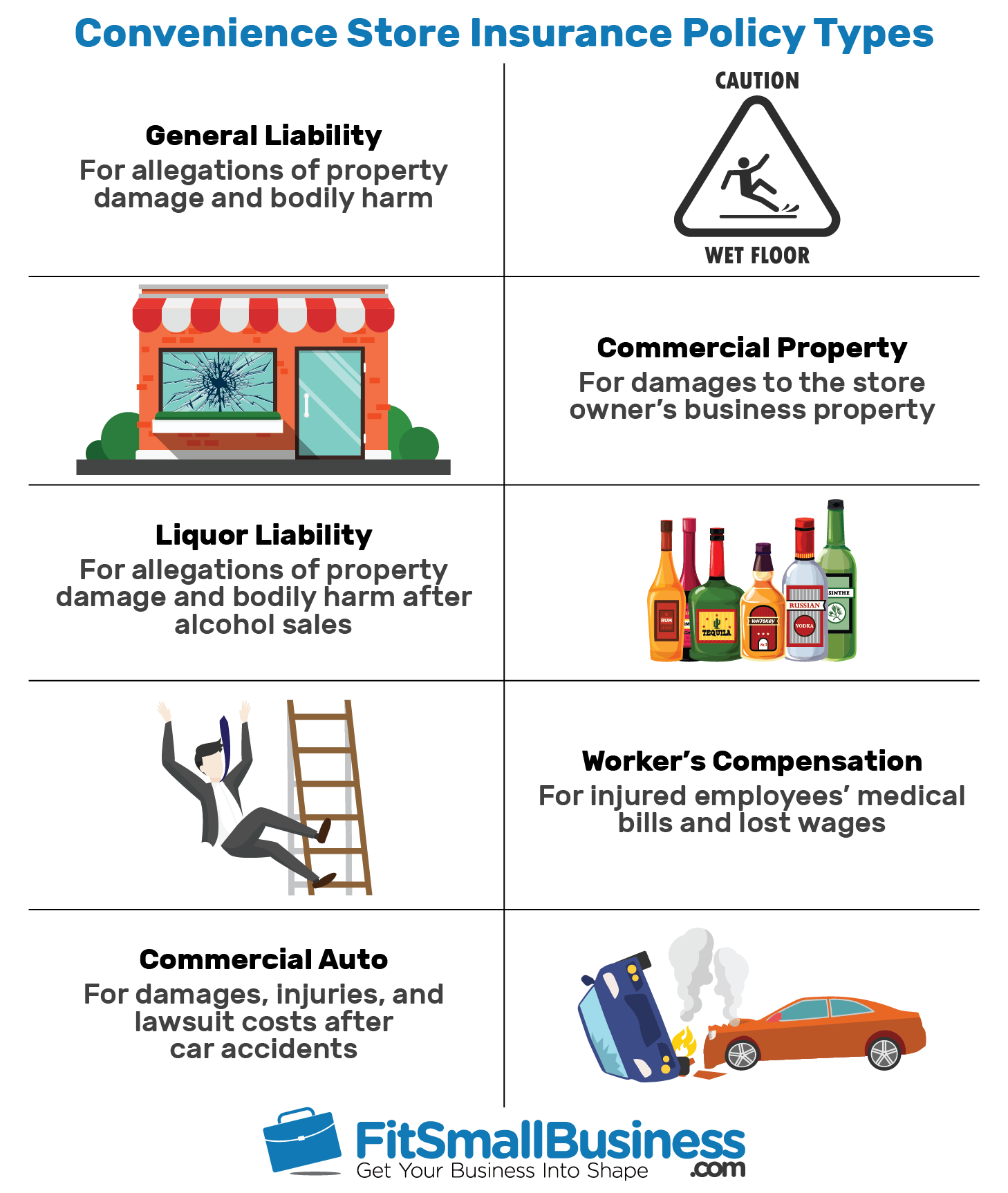 Additional Convenience Store Insurance Policies
Store owners who sell gas, operate a car wash, make minor auto repairs, or have a snack bar may find they need additional convenience store insurance. Many of these options cover gaps in insurance for convenience store and can be purchased as standalone policies or as endorsements added to other coverages.
Crime Insurance
Crime insurance covers financial losses from criminal activities committed by an outside actor or an employee. Unfortunately, convenience stores can be targets for theft, and commercial property insurance only covers damage from theft, not stolen money, and excludes employee dishonesty, so commercial crime insurance fills this coverage gap.
Pollution Insurance
Pollution insurance covers expenses associated with pollution cleanup. Policies typically pay costs such as property restoration after an underground gasoline tank leaks, medical bills if the pollution causes an individual's illness, or your legal fees if you're sued for contaminating the area. These costs are excluded from general liability insurance coverage.
Equipment Breakdown Coverage
Equipment breakdown coverage pays for losses sustained if business-owned equipment malfunctions due to internal forces including power surges, motor burnouts, and electrical shorts. Most policies often cover spoiled inventory, lost income, and repair bills. While business owners sometimes assume that these events are covered by commercial property insurance, that policy only covers external causes of loss, such as fires and vandalism.
Outdoor Property Coverage
Commercial property insurance only covers your building, its contents, and other people's personal property when it's in your care, custody, or control. Moreover, the coverage for these items only extends a certain distance beyond the address listed on the policy. As a result, outdoor signs that aren't attached to your building, gas pump canopies, and any outdoor furniture may only be covered if you add an outdoor property endorsement to your commercial property insurance.
Cyber Liability Insurance
Cyber liability insurance pays costs that follow data breaches and cyber attacks including customer notification, credit monitoring, and civil fines. Convenience store owners can suffer cyber attacks in the point of sale system, through email, and on gas pump skimmers criminals use to lift customers' credit card numbers.
Garagekeepers Insurance
Convenience store owners who offer minor auto repairs, such as oil or tire changes, may want garagekeepers insurance to cover customers' vehicles when you or your employees are servicing them. For instance, say vandals break into your convenience store's service stations. Garagekeepers insurance pays for the damage they cause your customer's cars.
Convenience Store Insurance Costs
Convenience store insurance costs depend primarily on the number of policies and the amount of coverage purchased. A small corner store may be fully insured with just general liability and commercial property, but only if it doesn't sell liquor or have employees. In that situation, general liability costs around $450 to $1,500 annually.
Convenience Store Insurance Costs & Deductibles by Policy
| Policy | Typical Yearly Premium | Coverage Limits | Deductible |
| --- | --- | --- | --- |
| General Liability Insurance | $450-$1,500 | $1 million per occurrence / $2 million aggregate | $0-$1,000* |
| Commercial Property Insurance | $450-$1,500 | Varies based on value of property | Varies based on value of property |
| Liquor Liability Insurance | $150-$500 | $1 million per occurrence / $2 million aggregate | $1,000 |
| Workers' Compensation Insurance | $400-$8,000 | No set limit | $0-$1,000** |
*General liability insurance doesn't usually require a deductible, but store owners may request one.
**Workers' compensation insurance deductibles vary by state.
Other factors come into play when insurers are determining convenience store insurance costs. For example, workers' compensation costs are a calculation that includes each employee's job risk and the store's payroll and claims history. Convenience store workers' risk for on-the-job injuries is somewhat higher than one might expect, so some states' workers' comp rates for them can be as high as $14 per $100 of revenue.
Additional considerations that factor into convenience store insurance costs include:
Deductibles: The amount you pay out of pocket for a claim is the deductible. Choosing a higher deductible typically lowers your premium because it decreases how much your insurer pays for a claim.
Claims history: Workers' compensation isn't the only premium impacted by claims history. In general, convenience store insurance costs are lower for owners with few claims because insurers see them as lower risk businesses.
Employees: Hiring staff increases your risk of in-store injuries, property damage, and theft, so insurers usually require higher coverage amounts for convenience stores with employees.
Property value: Commercial property coverage amounts and deductibles are typically based on what your property is worth. More property requires more coverage, and that increases your overall costs.
Revenue: Stores with more revenue typically have higher premiums because carriers assume that they have more to lose and raise costs accordingly.
Tips on Getting Insurance for Convenience Stores
Whether you own the corner bodega or a large store and gas station on the highway, getting the right insurance is essential for protecting your business. Knowing what types of convenience store insurance you might need is just the first step.
1. Work With an Agent Who Knows the Convenience Store Industry
While convenience stores are retail operations, they can have significantly different risks compared to the rest of the industry. They can even have different risks from one another based on their unique operations. As a result, insurance for convenience stores can have a lot of options, so it's a good idea to work with an agent who knows the industry and can spot your exposures.
Nathan Oland, a senior account executive with Federated Insurance, adds:
"Focusing only on the price of the policy is a big mistake. Owners have to balance price with the coverage and service quality, industry knowledge, and expertise that accompany it. Convenience stores have complex and often unique exposures, so working with a thorough insurance professional who asks good questions to understand what makes your store unique is a good idea. It is also important that the insurance professional can answer all the questions you have."
2. Read Your Insurance Policy Carefully
Convenience store owners should review their insurance policies carefully, preferably with an agent. The list of possible exposures for convenience stores is long, and many of the more unique risks are not covered by basic insurance policies such as general liability or commercial property. Reviewing these policies, particularly the exclusions, can alert store owners to a need for additional coverage.
3. Talk to Other Owners About Their Insurance
According to Vice President of Member Services Michael Davis of the National Association of Convenience Stores (NACS), getting insurance shouldn't be difficult for an owner with a good claims history, and new store owners can network to find the best options available in their area.
"For someone looking for more information or new to the industry, they could connect with business peers and find out who the best insurers are in their operating area. Also, they may want to speak with related state-based trade associations to see if they offer programs that can assist."
4. Manage Your Risks
Many business owners keep their business insurance costs down by reducing the number of claims they file. However, John Shaer of the New England Convenience Store & Energy Marketing Association (NECSEMA) says good risk management can help a new owner get affordable convenience store insurance. He learned a few tips from insurance agent Bill Braley of Braley & Wellington Insurance Agency.
"You want to be able to demonstrate to an underwriter that your operations are well-organized. Employee hiring and training are very important, so use a standard employment application and check references. So are detailed, documented procedures, such as security cameras covering inside and outside to provide important evidence of alleged slips/falls and robberies. Most underwriters want to see fire, burglar, and hold-up alarms that are monitored by a security company. Well-marked changes in elevation ― steps, curbs, and islands ― notice of wet floors, ice and snow removal, all help reduce slip-and-fall claims."
Convenience Store Insurance Frequently Asked Questions (FAQs)
One of the top concerns for convenience stores is getting insurance that covers their exposures without breaking their budgets. We've answered a few of the most frequently asked questions about both policies and costs here.
What is a convenience store insurance program?
An insurance program is a package of insurance policy geared toward a specific industry and sold to groups of business owners with similar risk profiles. Convenience store insurance programs are often sold through trade associations and are usually a good way for new owners to find coverage.
How can I reduce my convenience store insurance costs?
One of the best ways owners can reduce the cost of their convenience store insurance is to avoid filing claims. Some basic risk management strategies store owners can implement include immediately mopping up spills and posting wet floor signs, installing security cameras and burglar alarms, and updating the software on your credit card machine.
Do I need product liability insurance for my convenience store?
Standard general liability insurance policies have products-completed operations coverage for product liability. It pays for your legal defense if a customer claims a product you sold caused them harm. Typically, this is sufficient for convenience stores, but you may want to review your exposure with an agent.
Bottom Line
Convenience store owners face a variety of risks based on their business operations. While general liability and commercial property cover their basic risks, many store owners should also consider how selling gas or food can increase their exposure to customer claims and lawsuits. Ultimately, convenience store owners may want to work with an agent to evaluate their risk and pick the appropriate coverage for their needs.
CoverWallet lets convenience store owners submit online insurance applications on their own while also providing access to insurance professionals who can help store owners find the right policies. Applications often return multiple quotes too, giving convenience store owners the opportunity to compare offers from top insurers.