Copper is customer relationship management (CRM) software that helps SMBs using G Suite maximize its capabilities to build relationships. We sat down with Dennis Fois, Copper CRM's CEO, for a lively conversation on collaboration, relationship building, and efficiency using a CRM that leverages the power of GSuite in the fast-paced world of business-to-business (B2B) sales.
Dennis Fois, Copper CRM CEO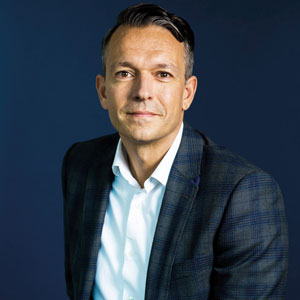 Fois is leading Copper as its CEO on its mission of helping businesses and teams thrive in the relationship era. Fois recently joined the company in May, having served as CEO of Newvoicemedia, which was acquired by Vonage. What excites him most about working at Copper is the opportunity to rewrite what it means to be a CRM company.
We sat down with CEO Dennis Fois to discuss how Copper facilitates building relationships.
How Copper Began & What Their CEO Most Enjoys
Fit Small Business (FSB): How did Copper get started?
Fois: Copper began in 2013 with the goal of reinventing the CRM. They wanted to create software that was easy to use, remove repetitive administrative tasks like data entry, and would make it easier for anyone, in sales as well as other areas within companies, to build relationships.
I joined the company as the CEO in May. What makes me most excited about my job at Copper is the opportunity to rewrite what it means to be a CRM company. CRM isn't just for sales teams anymore.
Importance of Relationship-building Beyond Sales
FSB: The B2B buying process can be complex, and we've seen a number of CRM tools offer functionality beyond lead tracking. What is Copper's take on the use of software for relationship-building?
Fois: Everyone at a company is a relationship-maker and can benefit from a tool that promotes employee collaboration and customer relationships. The salesperson is often the coordinator within the company collaborating with other teams to get customers and prospects the information they need to make a decision.
Making this collaboration easy is key to responding to customer needs quickly. Also, making it easy for others in the company to connect with those same prospects and customers enables more than the salesperson to be a relationship-maker. As the leading CRM for G Suite, Copper is built for the user first, focuses on delight and design, deploys instantly, and removes the majority of data entry.
Maximizing the Power of G Suite
FSB: What makes Copper unique, and how does it stand out amongst other CRM software?
Fois: Today's workforce is no longer what it was when CRM first hit the market in the 1990s. The way we communicate and interact in business relationships has evolved, yet most workplace software still requires onboarding processes and manual data entry. Employees today need a tool that will work for them and not the other way around. Enter Copper, the first CRM that lives natively in G Suite.
Copper is built for managing any type of relationship across the business—from finance to marketing and sales—without ever having to leave your inbox. It's integrated with all of Google's tools, including Docs, Sheets, Gmail, and Hangouts so that employees can work smarter and more efficiently. Copper's simple interface requires little-to-no onboarding, and its ability to work behind the scenes allows business owners to focus on what they do best, which is to run their business and provide great customer experiences.
How Copper's G Suite Integration Works
FSB: There are a few CRMs offering Google and G Suite integration to one degree or another. Walk me through how integration with G Suite works with Copper and why your customers find it beneficial.
Fois: Copper operates in the background so that employees never have to leave the task they're working on to track a status in a database like other CRM software sometimes requires. Instead, Copper integrates with G Suite so that everything is captured automatically like Gmail conversations, data within Hangouts or Sheets, and more. The seamless integration is key because employees are used to using G Suite every day, so Copper feels familiar and is easy to use.
How G Suite Integration Enhances Productivity
FSB: In my research, I've heard or seen the phrase "productivity" CRM being associated with Copper. What does being a "productivity" CRM mean to Copper and its customers?
Fois: Many people can relate to having 10 or more browser tabs open at once and the instant fear that kicks in when one is accidentally closed, or the computer crashes. This happens all too often when our work tools are siloed and hinder productivity. Collaboration suites like G Suite and Slack are challenging the norm by breaking down these silos and creating a much flatter and more collaborative workflow.
Copper Features & How They Work
FSB: What are some of the main Copper features, and how do they work?
Fois: For Copper, productivity suites and fostering collaboration means meeting employees where they already work in places like email, docs, sheets, hangouts, and so on.
G Suite Integration
Copper has a native integration with G Suite giving you access to Google productivity tools like Google Sheets, Google Docs, Google Slides, Google Hangouts, Google Drive, Google Calendar, Gmail, and Inbox.
You can add leads, manage opportunities, and close deals without leaving Gmail. You also have the ability to track email open rates within Gmail, which provides you with insights on email communications. Copper provides email activity alerts, giving you real-time open rates. Email templates and the ability to send bulk emails are included as well.
Productivity & Automation
Features such as workflow automation and email templates enable you to reduce the number of manual tasks and data entry. Profile enrichment allows you to gather intel on your contacts and prospects without all of the manual research. Copper finds new leads automatically and adds them to the contacts database.
Lead Management
Managing leads in Copper is easy because contact and company information is captured automatically right from your inbox. When you're in creating emails, you can see important lead information, such as contact details, social media profiles, scheduled appointments, and your recent interactions. Having this information while you're in your inbox eliminates toggling back and forth between your email and your CRM.
It's also easy to generate and track the effectiveness of leads in Copper. It has a Facebook Ads lead generation plug in to help you capture leads from Facebook. There are also tools that allow you to capture leads from your website, marketing campaigns, or email conversations easily. You can track the effectiveness of your lead generation efforts by creating useful reports such as lead by source reporting so that you know what's working and what's not.
Project Management
Project management features allow you to stay on top of projects so that you can communicate project status to customers. You can even access project details right from your Inbox. You can create a project Kanban board to manage your projects visually. There are also features to help you manage and assign tasks.
Reporting
Tools like Google Sheets and Google Data Studio lets you create reports that help track sales and other analytics. You can create dashboards with reports you need to reference often to run your business. You can also create leaderboards to keep your sales team up to date on how they're doing compared to their peers. Pipeline reports and sales forecasts are also key groups of reporting that Copper reporting features enable you to develop.
Other Integrations Adding Value
FSB: Other than Google, what other integrations help your customers maximize Copper, and what value do they provide?
Fois: Copper integrates seamlessly with many business apps as a way to create a seamless workflow experience. By leveraging these apps within Copper, employees can automate thousands of time-consuming tasks, structure and streamline deal and project management and even break down workplace silos. Some of Copper's integrations include DocuSign, Slack, RingCentral, Zendesk, HubSpot, QuickBooks, PersistIQ, Xero, and Mailchimp.
For example, our partnership with DocuSign enables employees to get signatures faster, track document status and, once signed, store related e-signed documents to accounts, contacts, leads, and opportunities in Copper automatically for quick retrieval.
One major milestone to improve its performance in the small business space was the unveiling of small and midsized business (SMB) productivity stack with four best-of-breed integrations. These four new integrations help SMBs be more productive and get the same leverage from technology investments as mid- and large-sized organizations. The four integration partners—HubSpot, Zendesk, QuickBooks and Xero—provide Copper customers with an integrated application stack that can share relationship data from customers, partners, vendors, investments and more, directly within their Gmail extension, as well as in Copper.
Who Copper Is Best For
FSB: Who is the typical Copper customer? Who's your target audience?
Fois: Copper is the ideal CRM for SMBs. The average company size of our small business customers is less than 100 employees. Our medium-sized business customers have an employee size ranging from 100 and 1,000. Customers come from a variety of industries, including creative agencies, technology companies, real estate companies, and consulting firms.
Here are more details on how companies in two major industries benefit from Copper features.
Creative Agencies
The project management tools are great for creative agencies because they can create and manage creative projects within Copper. They can also manage and organize numerous contacts within their agency, outside vendors, and contacts in their client organization.
External integrations with accounting tools also help keep billing for projects organized and accessible to project stakeholders in one place. Project management features allow creative agencies to manage creative projects by creating and assigning tasks actively,
Real Estate
The contact management, email campaign, and calendar management features are especially beneficial to real estate professionals because of the scope of their interactions. They not only manage many leads and prospects, but they also coordinate and communicate with a variety of stakeholders such as attorneys, other Realtors―both internal and external―inspectors, property managers, and more.
Contact management features allow them to add new contacts easily with the click of a button from email. Email campaign features enable them to create bulk email nurturing campaigns with tracking. The calendar integration features allow Realtors to schedule appointments and easily manage their calendars.
Copper Is an Affordable CRM for SMBs
FSB: Is Copper affordable for SMBs?
Fois: Our pricing starts at $19 per month for up to three users, which is a great value for small businesses. For the midtier plan, pricing begins at $49 per month, per user. The enterprise plan starts at $119 per month.
What Copper Does for Small Businesses

Copper allows SMBs to manage relationships and opportunities while minimizing data entry right from your G Suite inbox. It's an affordable, easy-to-use CRM with core and advanced features, including contact and opportunity management, automation, reporting and analytics, and project management. Because it's easy to use and cuts down on manual and repetitive tasks, it allows the SMBs it serves to close more deals more quickly.
For more information on Copper and how it can help your business, visit its website. There, you'll get more details about each feature category, and you can sign up for a free trial.
Bottom Line
The B2B buying process is complex and, in my experience, can involve four to seven people, depending on the purchase. As a result, sales professionals often introduce prospects to other subject matter experts in their company to answer specific questions and build peer-to-peer relationships that reach beyond sales.
Leveraging productivity tools like G Suite saves time and increases the chances of your sales team using and embracing the CRM. It also makes it easier for people in other business areas to contribute to the CRM and build relationships of their own. Copper is a great option for SMBs that want an affordable, easy to use, and robust CRM with native G Suite integration. Check out its website for more information and to sign up for a free trial.