While becoming a real estate professional is a lucrative career, there are many costs to prepare for when you begin your journey and associated costs throughout your tenure. Generally, these costs vary by state and can range generally from about $1,800 to $16,000. Licensing education, exams, and applications range from $65 to $645. Board dues and listing services range from $500 to $3,100. Marketing, lead generation, and advertising cost $500 to $5,000. Continue reading to find out how much it costs to become a realtor.
A reason why many real estate agents fail is that they don't account for these costs. Download our startup cost tracker to view the low and high end of each real estate expense and track your own. Then, continue through our article to learn the top 12 costs associated with becoming a realtor.
1. Real Estate License Education
The first cost of becoming a real estate agent is completing your state's real estate license education course. The cost of real estate school ranges on the low end from $119 for Florida real estate prelicensing education to the high end of $1,599 for Ohio real estate prelicensing education, with the other 48 states falling in between. Its mandatory hours vary by state and range from 30 to 180 hours. Most states allow you to take convenient online courses, while others still require you to attend in-person classes.
Pricing depends upon the school you choose to complete your education. Some schools provide exam preparation tools, like flashcards, videos, and practice tests. Depending on the school you choose, these may come at an extra cost, so you'll want to explore a few to find one that fits your needs and budget.
If you're looking for a high-quality online education, consider Colibri Real Estate. It provides prelicensing, post-licensing, continuing education, broker prelicensing, and exam preparation in most states nationwide. Choose from various course formats like livestream and self-paced learning to fit your needs. Also, learn from their Career Hub, which offers blogs, articles, and resources to help you throughout your real estate career.
Visit Colibri Real Estate
Use Promo Code FSB25 for 25% off
2. State Licensing Exam & Application Fees
Your state's licensing exam and application for licensure are required after you've completed your licensing to officially pronounce you as a real estate professional. Both fees depend upon the state where you want to practice.
Exam prices range from $15 in New York to $100 in Wyoming. Arkansas and South Carolina have the lowest real estate license application fee of $50, while a Colorado real estate application fee will cost $485. Along with your application, some states require fingerprints and a background check. These cost as low as $12 in Utah and as high as $80 in Florida and Ohio.
When researching real estate schools for your prelicensing education, check if the school offers a pass guarantee. The guarantee could include a full or partial refund or an opportunity to repeat the coursework. This can be a fail-safe if you don't pass your exam, saving you money. Also, if your state licensing board requires notarized documents, you should add this to your expense sheet.
3. Brokerage Desk Fees
To participate in real estate transactions, find a real estate brokerage to hang your license. Examine each brokerage's compensation structure and see what expenses are covered. Some brokerages charge a desk fee for supplying you with a desk, office supplies, access to the copying machine, Wi-Fi, and conference rooms. Many brokerages don't charge this fee but cover it with their portion of your sales commissions. Some brokerages charge from $50 to $2,500 per month, so it's essential to calculate this toward your monthly expenses.
Take a look at the estimated range of desk fees for these popular brokerages:
| Brokerage | Monthly Brokerage Desk Fees |
| --- | --- |
| Keller Williams | $50 to $200 |
| RE/MAX | $300 to $2,500 |
| Coldwell Banker | $50 |
| Spire Group | $600 |
| Realty ONE Group | $100 |
To decide on which brokerage is best for you, look at the whole package. You may be charged a desk fee but have a higher commission split. Some agencies take 50% of your gross commission and don't charge for desk fees, business cards, a website, internet access, office supplies, and signs. Others may offer a 100% commission, but you will sometimes pay for almost everything else.
If you have seed money to cover your expenses until you generate consistent revenue, an office with a higher commission split where you pay more out-of-pocket is an optimal choice. In contrast, taking a lower commission split and not worrying about fees before making money would be ideal if you are concerned about getting in over your head.
4. Sales Training Costs
Not everyone is a natural-born salesperson, but anyone can learn. When considering brokerages, ask what sales training is available and if you must pay out of pocket. More extensive franchises often have professional development opportunities, peer coaching, mentoring, and sales training courses. You may have to pay for some training, while other programs are free with your company affiliation. Paid sales training prices can range from $600 to over $2,000, depending on what the program includes.
According to a survey conducted by Inman, more than nine out of 10 respondents said their business increased by 10% or more during the first year they worked with a coach, and over half said the increase exceeded 25%.
Books that teach real estate selling skills are an excellent place to start if you're cash-strapped. They average around $20 or less if you buy used ones. On the other end of the spectrum, private coaching can cost several thousand dollars, but the rewards are worth it if you find a coach who is a good fit.
5. Errors & Omissions Insurance
Most brokerages provide their real estate agents with errors and omissions (E&O) insurance. This liability insurance covers you if you're accused of negligence or mistakes in professional services. If it is not company provided, or you want extra coverage, you must get a policy through an insurance company for around $500 to $1,000 per year.
If you join the National Association of Realtors (NAR), you will get additional E&O insurance at a discount through your Realtor benefits. Not every real estate agent or brokerage is a Realtor member, so joining the NAR is a great solution to outweigh the costs.
6. National & Regional Board Dues
If your broker is a member of the NAR, you must also become a member and pay dues. Not every brokerage or real estate agent is a NAR member, but you do have to join a local real estate board if you want to access the multiple listing service (MLS).
A NAR Realtor membership has an annual fee of $150 for 2023 and an annual Special Assessment for the Consumer Advertising Campaign (SACAC) fee of $45. These fees are added to your local Board of Realtors fees, so you can pay them when you renew your annual board membership. Regional board membership can cost several hundred dollars annually, depending on the state and the board's offerings.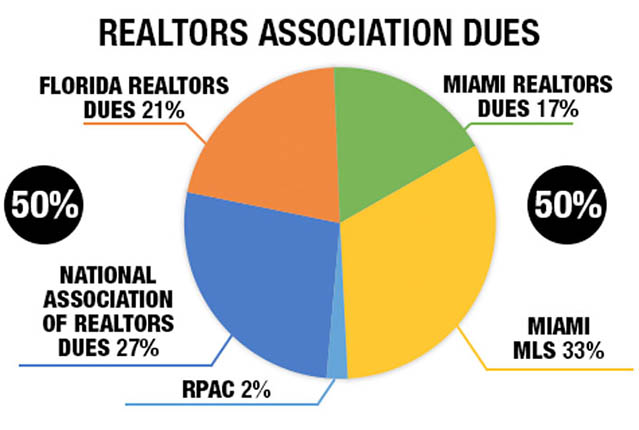 ---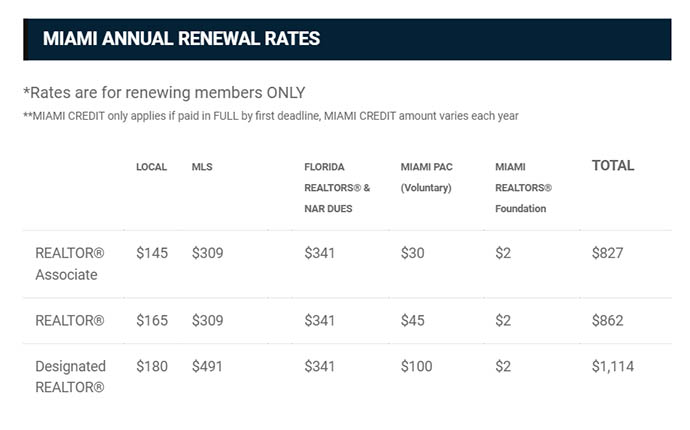 ---
This example from the Miami Realtors board shows board membership dues and what percentages of member dues cover. Dues vary by state and by which board you join. To join a board, your principal broker must hold a license in that state and be a member of the same board.
7. Multiple Listing Service
One expense you must remember as you learn how much does it cost to become a realtor is the multiple listing service (MLS). Your local MLS makes it possible to advertise, view, and schedule showings for listings in your area. MLS fees are typically between $20 and $50 per month, in addition to your board membership dues. Take a look at your local MLS to see the benefits and pricing.
Joining the MLS allows you to list, explore, and share local property listings with buyers, sellers, and other real estate agents. It's an efficient way of sharing property information and managing cooperative transactions while maintaining access to the most accurate and up-to-date property information available. It is also an excellent marketing tool for listing appointments as it integrates with many third-party sites, e.g., Zillow and Realtor.com.
Zillow Premier Agent is an online program that provides buyer leads by location. It has various pricing tiers and is suitable for real estate agents exclusively seeking buyer leads. It's an excellent product for enhancing your MLS listings. It frequently refreshes with the latest MLS updates and new listings, so prospects can see additions and changes in MLS shortly after you update them.
8. Marketing & Advertising Expenses
Part of the cost to become a real estate agent is investing in various marketing and advertising efforts. You need to consistently get your name out there to attract leads, so creating a marketing and advertising budget is crucial. New agents should spend about 10% of their gross commissions on marketing and increase the budget as the business grows. If you plan to make $30,000 in your first year, $3,000 will go toward your marketing budget for the year ahead.
You're not locked into this budget and can spend more since the more you strategically invest in your business, the greater the return. Diversify and stretch your marketing budget with online advertising, such as Google and Facebook ads and email marketing. Print advertising can include direct mailing, brochures, flyers, and local newspapers.
Joining networking groups is another way to market yourself and generate new leads, but this is an additional cost. Paid networking groups like Business Networking International (BNI) will cost around $600 to $800 annually, depending on which chapter you join. However, since you are making money from the connections you make, think about your return on investment (ROI) to guarantee the price is worth it.
As you connect with more people, you will need tools to grow, manage, and communicate with your network. Our article, 8 Best Real Estate CRM Software for 2023, compares the top client relationship management software (CRM) with robust capabilities and a plan for any budget.
9. Organization & Automation Tools
Client relationship management (CRM) software is an excellent tool for automating and organizing contacts, lead generation, listings, and marketing, such as social ads and email marketing. The cost of a real estate CRM can vary depending on the size of your team, features, and functionality. However, the price range can be from $0 to $300 or more monthly.
While there are many CRMs to choose from, take a look at the options we've highlighted below:
CRM Software

Best For

Best for real estate agents and teams that need a customizable CRM

Best CRM option for agents who are budget-conscious

Real estate teams and brokerages looking to enhance team communication

Real estate professionals who specialize in commercial real estate

Key Features

15-day free trial
Listing management
Data-driven reporting and marketing campaign results

Sales pipeline management to track and prioritize leads
Data integrations
Contact scoring and deal insights

Unlimited document storage
Gamification to increase collaboration
Social media lead prospecting

Mobile app
Personalized bulk email messaging
Built-in tools for managing sales activities

Starting Price

$20 per user

$0 for unlimited users

$0 for up to 10 users

$10 per user

Learn More
To read more about the above CRMs or look at other CRM options, read through the following articles:
10. Business Operating Expenses
Working as a real estate agent, you're operating a small business. Your brokerage carries some of the overhead since you work under its umbrella. While they cover some fees, you'll be responsible for deductible expenses and must pay Social Security and federal and state income taxes on your earnings. You will likely hire an accountant or tax preparer, so add that to your business expense column.
You can fund a Simplified Employee Pension Plan Independent Retirement Account (SEP IRA) to contribute a percentage of your net self-employment income toward retirement and purchase a health insurance policy. Some additional operating expenses include meals, travel, real estate for sale signs, name riders, cell phones, and internet service. According to the NAR, Realtors' most considerable business expense is $1,460 for vehicle costs.
11. Continuing Education
Every state requires real estate licensees to take continuing education (CE) every few years to renew their licenses. Pricing depends upon the school, the class' number of CE credits, and whether you're buying a bundle, package, or individual class. Individual classes cost around $15, while bundles and packages cost $400. Free CE courses may be offered periodically through your local board, brokerage, or the NAR. The required hours differ from state to state, as does the curriculum.
Online real estate schools offer packages that include CE classes, study aids, career resources, and access to instructors. Classes are offered in person, on-demand, or livestream, so you can find something to fit your schedule. McKissock Learning is an excellent resource for finding state-approved CE classes. It provides online continuing education packages and individual classes for most states.
12. Time Investment
While contemplating how much does it cost to become a realtor, it's essential to consider the time you will invest in starting your real estate practice. In the real estate industry, time is money, and your time investment is part of the cost of being a real estate agent, so you want to create a strategy to account for the time you're completing tasks.
Efficiency is vital, so you don't want to waste time on low-priority tasks. In the first year, it's a lot of work to generate sales, but once you're an experienced real estate agent, you can outsource some of your tasks and focus on your clients.
According to ZipRecruiter, the average hourly wage for real estate agents in 2023 is $44.82 per hour. You could earn more or less, depending on where you live, your commission rate, and the number of properties sold. To calculate your time investment, track your weekly or monthly working hours and divide it by your annual gross commission. So, if you work 40 hours per week and make $60,000 per year, divide $60,000 by 52 weeks per year to get your weekly gross income, and divide that by 40 hours to get your hourly wage.
Example:
(Annual Salary ÷ 52 weeks per year = Weekly Gross Income) ÷ 40 hours per week = Hourly Wage
$60,000 ÷ 52 = $1,154 ÷ 40 = $28.85 per hour
If you're in your first year, it will be difficult to know your salary, so make an educated estimate. A study conducted by McKissock Learning showed the average salary for new real estate agents under one year was $55,327. You can review our article 10 Best States to Be a Real Estate Agent to learn what agents are earning in your state. Use this salary information to calculate your hourly wage.
Frequently Asked Questions (FAQs)
Since real estate sales are commission-based, you don't receive a regular paycheck, so there can be dry spells where you have no income. In the first year, you may make a minimal salary unless you're heavily connected and get a lot of leads and referrals out the gate. If you stick with it, you can make money in real estate, and what once felt like hard work will become natural and lucrative for you.
---
Getting your real estate license is the first step toward becoming a real estate agent. After that, you'll need to choose a brokerage where you want to work. Choosing the right brokerage will also contribute to your success as a new real estate agent. You must develop skills to generate leads, market yourself and listings, write and follow a business plan, and keep abreast of market trends. It can be challenging initially, but if you're persistent and committed to your success, you can have a rewarding career.
---
Real estate sales can be stressful. You're working with people who may have broad emotional swings as they embark on one of their most significant financial decisions. Your role is sometimes as a peacekeeper, so you must keep your emotions in check.
There can also be periods where you don't make any money since real estate is commission-based, and deals frequently fall through. You also must invest time and money with a delayed return on your investment in your career. However, you can reduce stress if you're good with people and budget your income to last through slow times.
---
Bottom Line
The cost to become a real estate agent varies by state, but regardless, you will encounter a similar list of fees. You must account for real estate education, licensing, brokerage fees, marketing, advertising, and operating expenses. However, if you stick to a budget and invest in it wisely, you will have a fulfilling career as a real estate agent.